Book info
Sample
Audiobook
Media
Author updates
Lists
Synopsis
In Galway County, a chance at redemption is denied by an unforgiving killer …

Former New Yorker and interior designer Tara Meehan is eagerly anticipating the grand opening of her architectural salvage shop Renewals in her newly adopted home of Galway. She's in the midst of preparations when heiress
Veronica O'Farrell bursts in to announce she's ready for some renewal of her own. To celebrate one year of sobriety, she's invited seven people she wronged in her drinking days to historic Ballynahinch Castle Hotel in neighboring Connemara to make amends in style.

But perhaps one among them is not so eager to pardon her past misdeeds. Veronica is found lying in the ruins of manor house Clifden Castle with an antique Tara Brooch buried in her heart—the same brooch Tara Meehan admired in her
shop the day before, posting a photo with the caption: #Killerbrooch. Now she's a prime suspect, along with Veronica's guests, all of whom had motives to stab the heiress. It's up to Tara to pin down the guilty party …
Release date: July 27, 2021
Publisher: Kensington Cozies
Print pages: 370
* BingeBooks earns revenue from qualifying purchases as an Amazon Associate as well as from other retail partners.
Listen to a sample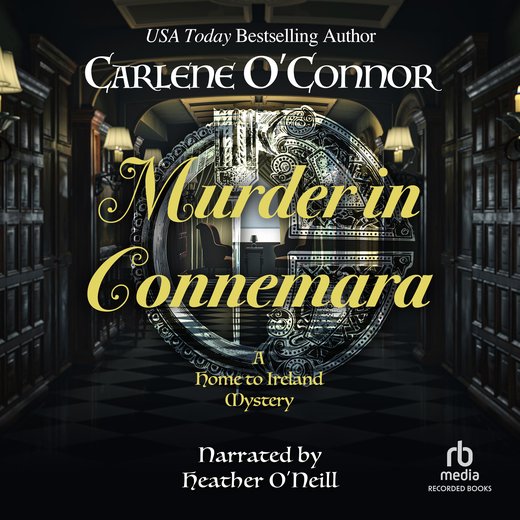 10:03:26
276.24 MB
July 27, 2021
Recorded Books
2020
Murder in Connemara
Carlene O'Connor
The stunning drive through Connemara made up for the month Tara Meehan feared for her life (and those around her) during her driving lessons. Roundabouts, jerky stops and starts, and the instinct to drive on the other side of the road had proven formidable obstacles, but now, taking the curving roads on N59 in her shiny red Jeep, surrounded by a mountainous paradise, she was grateful for facing her fears. Just do it. A delicious bit of advice. The scenery literally made her mouth hang open. Massive round mountains stacked in the background, rolling green pastures dotted with fat rocks (and sheep, and cows, and horses, and donkeys), a glistening bay twinkling in the distance, and patches of vibrant wildflowers completed the postcard-perfect scenes. There was no other word for it, she was experiencing pure joy. Nature was the antidote to feeling sad in this world.

She'd been wondering if moving to Ireland had been a mistake and feeling homesick for New York City: the hubbub of Central Park on a Saturday afternoon, toasted everything bagels with cream cheese and tomato, exchanges with the flirtatious Spanish men in her corner deli; but now it was all forgotten as she concentrated on the curving roads. According to her handy navigation app, the old stone house she had come to see was within a few miles. She needed to find a place to pull over. Her phone dinged that she had reached her destination, and just then she looked up to see it—the remains of an old stone house sitting at the apex of a hill. The sun shone directly behind it, almost setting it aglow. Dated to the 1800s, and supposedly up for sale, she was dying to have a look around it. She wasn't sure if she had Danny O'Donnell to thank for leaving the tantalizing flyer at her soon-to-be-open shop, but someone had definitely steered her right.

Up ahead, gravel delineated a tiny parking lot at the side of the road, (or at least that's how she was going to interpret it), so she pulled over, hoping if she was wrong she could still get away with parking here for a spell. The beauty of being in the middle of nowhere was the conviction that no tow trucks would be sweeping by here anytime soon.

The Jeep shut off with only a slight shudder, as if it knew they were in for another day of punishing heat. Unusual for Ireland, August had been tortured by the sun and nobody here knew how to handle it. She'd tried to make it here before noon, but she'd been too afraid to speed on these winding roads, so it was already half past. She grabbed her camera, took one more swig from her travel mug of coffee before pulling a bottle of water out of the glove compartment and dropping it into her backpack. She looped the strap of her camera around her neck, and nearly squealed with joy as she set off for the old stone house. The sign was only visible when she was halfway up the hill. It appeared homemade, a scribble on poster board: FOR SALE with a mobile number, taped to a piece of wood stuck in the ground. Must be the owner. She snapped her first photo of the beautiful, abandoned house.

How much would it cost to rebuild this stone masterpiece on this achingly beautiful hill? More than she could afford, that was for sure. But it was never too early to dream. She snapped more photos, already imagining one blown up and hanging on the wall of her loft in Galway.

She was nearly to the remains of the doorway, and admiring the variety of gray and blue shades in the stones, when a yelp rang out. She stopped short. An animal—but what, and where? It was a tone that in any language was a cry for help. The yelp sounded again. A dog. Obviously injured. "Hello?" Her voice carried into the air, sweat trickled down her face. Was the poor thing just suffering from the heat? She was ready to share her water. "Hey there." She scanned right and left for a dog. The yelp turned into little barks. Help, help, help, help. "I'm coming. I'm here." Where are you? The barking morphed into a heart-tugging whine. She reached the entrance to the remains of the old house and there, just inside on the dirt and grass floor, a terrified pug quivered.

"Hi, baby." She sank to her knees and reached for the bottle of water. He was the color of sand, and his tiny body was vibrating. Tara held out her hand. "Hey. Hey. It's okay." The pug lifted its big brown eyes to her sky-blue ones. Had some horrible human being abandoned it here? Danny O'Donnell wasn't trying to give her a dog, was he? It wasn't his style. Had someone else left the sale brochure and map underneath the lion's-head door knocker to her shop?

"It's okay," she cooed as she inched closer, taking it slow so the poor thing wouldn't dash away. Instead, it lifted its right paw as if reaching for her. She nearly melted on the spot. It had been a long time since something little and vulnerable had needed her, and she eagerly scooped the dog up and held it to her chest. Its heart beat rapidly against her as she stroked it. "It's okay, it's okay. I've got you. What happened?" It was wearing a bright pink collar. She continued to stroke it as she held the water bottle up to its mouth. She glanced and discovered the it was a she. "Poor girl." She drank greedily.

Tara was used to such heat back home, especially in August, but her Irish friends and family had taken to spending much of their day indoors, occasionally lifting the blinds with a bewildered curse, then retreating into the shadows like vampires awaiting nightfall. Tara gently checked the pug for injuries but found none, and the yelping had stopped. The poor thing was simply frightened out of its mind. She examined the pink collar. In the center, crystal letters spelled out a name: SAVAGE.

"Savage?" The pup swiveled its head and locked eyes. Tara laughed again. "Are you? Savage?"

An owner who buys a glitzy pink collar and gives a dog an awesome name like Savage hardly seemed the type to abandon it in the middle of nowhere on a blazing day. Savage happily tucked in her arm, Tara stood and traversed what used to be the inside of the old house, now missing a floor and a roof, and stared out at a magnificent view of the bay. She wasn't sure what bay this was, so many of them in this area, all leading out to the Atlantic Ocean. Imagine waking up with this view every day. It was a small house, but what did she need with a big one? She was already rebuilding it in her head: dark wood floors, a fireplace crackling with a basket of peat, fresh wildflowers in an old pitcher brightening the room up, and an old farmhouse sink underneath the massive window overlooking the water and the mountains.

She plodded to the other side of the space, bypassing what must have been the bedroom to the right, for she wanted to move closer to the water, where there was a bit of shade from a large tree. If there was anyone around to see her except the pug and farm animals, she knew she looked quite the sight. Boots and shorts, and a tank top. A bandana around her forehead. Sunglasses. An overeager explorer. Today was a good day to get dirty. She exited the house on the opposite side, eager to see the view. Instead, she got the shock of her life.

A woman was splayed out on her back in the grass, and Tara had nearly tripped over her. As Tara cried out, Savage peddled frantically in her arms, scratching to get down. She leapt to the ground and began racing around the woman as Tara knelt next to her. "Hello?" Was she passed out? Tara fumbled for her backpack, talking to her as she dug through it for her cell phone. She'd forgotten to charge it and only a little power remained. As she dialed 999, she noticed the woman's lips. They were blue. Oh no. Tara's hand shook as she tried to find a pulse on the woman's neck. The skin was stiff and cold to the touch. She leaned down to see if she could sense any breath coming from her. No. Tara found the woman's wrist, knowing she was gone, but wanting to make sure. There was no life left in her. The woman was gone, and from the stiff, cold feel of her, she had been for a while.

She appeared to be in her late sixties or early seventies, with short dark hair streaked with white. Her purple and white tracksuit looked too heavy for the heat. Had it been cooler when she ventured out here? How many days had this heat been raging? Savage continued to scramble around the woman, barking right next to her ear. "She's your owner," Tara said, the pieces clicking into place. Savage whined, pawing at the woman's face. Tara's heart tugged as she gently tried to keep the pup back.

Tara scanned right and left, desperate to see another human being, then realized she hadn't connected to 999. She dialed again. An operator promptly answered and asked her location and what services she needed. As Tara stared into the eyes of a large cow, she explained she needed an ambulance, then clumsily announced the woman had already passed, and stuttered as she fumbled for the flyer so she could give them the address. The operator assured her help would be there shortly. Several feet away, sheep and a donkey moved closer, as if drawn to the drama.

Tara checked the woman's pockets, but found nothing. Not a scrap of paper, or a coin, or even a stick of gum. She had no jewelry, no rings, or earrings, or watch. What had happened to her? Had she come with her dog to look at the old stone house and died of a heart attack? Was she robbed? There were no injuries, no blood, no blunt instruments tossed in the grass. Tara gazed out at the bay in the distance, but apart from a small rowboat bobbing near the shore, there wasn't another soul in sight. "I'm sorry," Tara said. Had someone left her the flyer in hopes she would find the body? Tara shook her head as if to toss out the thought. There was also a map. Leading her right here. It was just an odd coincidence. The flyer came with a map because who would find this house in the middle of nowhere otherwise? She thought again of the very unprofessional for sale sign stuck in the ground. Was it all a ruse? Had someone lured her here? Outlandish. No one could have known for sure that she would decide to make the trip. The heat was warping her thoughts. The guards are on their way. Do not panic. Tara stood, staring out at the mountains, wishing the hills really did have eyes, so they could spill all of their secrets. What was going on out here? This section of Connemara was a gorgeous but lonely place to die.

Tara waited at her Jeep, fearing the guards would never spot her if she remained up on the hill. In less than fifteen minutes (which felt like fifteen hours), three blue-and-white guard cars flanked her red Jeep. Soon a yellow ambulance pulled in behind, as a tall guard emerged from one of the cars. Something about shock was making Tara categorize everything by their color. Perhaps it was the interior designer in her, reverting to what made her feel confident and safe.

The tall guard approached. "Are you the woman who called for help?"

Brief introductions were made and then Tara pointed up the hill to the old stone house. "There's a woman lying in the grass on the other side of the house by the bay. She's . . . no longer with us."

His gaze traveled up to the old stone house. "Are you sure?"

"I'm afraid so. Her lips are blue. She's cold. There's no pulse or breath."

"Did you administer any type of aid?"

Tara suddenly felt guilty despite knowing that aid would not bring a woman back from the dead. "I was going to give CPR, or water—but it was apparent that she's been gone for a while." The way the dog quivered and drank, Tara guessed it had been alone for at least a day. "I'm sorry there was nothing to be done."

"Did you know the victim?"

"No." Tara lifted the pug. "I think this might be her dog. I found her huddling in the doorway of the old stone house. Before I found the poor woman."

The other guards and paramedics emerged from the car, and the guard who spoke first held his hand up as if to stop them as he put on gloves. He called out a number to them, which must have been a code for a deceased, for the paramedics stopped unloading their stretcher. Tara had learned, through earlier unfortunate circumstances, that bodies in Ireland were not moved until the state pathologist arrived or gave instructions for the body to be sent to the hospital morgue, where they could do a postmortem. "What brings you out here?"

"I came to see the house for sale."

"House for sale?" He sounded as if he thought she was spinning a lie.

"That one." She pointed to the stone house in the distance. The crude FOR SALE sign flashed through her mind, along with the flyer and map left at her shop. This wasn't the time to burden him with her uneasy feelings. "She's lying on the left side toward the water."

"Is there anyone else with you?"

"No."

"Do you mind waiting here for a minute while we have a look?"

"Of course." Tara gave them directions and four guards headed up the hill, followed by the paramedics. She turned the AC on in her Jeep and placed Savage inside.

Tara was too keyed up to stay in the car, so she hovered outside it. The ambulance driver stood outside his vehicle, head tilted back, gazing at the sky. He righted his gaze and shook his head. "This blasted sun. We've had heat strokes, severe burns, heart attacks. No doubt our insides are probably boiling with cancer."

"Sunscreen is key," Tara said.

They stood for a while, all small talk evaporating in the heat. Tara hadn't realized a guard had stayed back until the door to his car swung open and he stepped out. He clicked off his radio. "You're free to leave, as long as you write down your contact information. Are you on holiday?"

"No," she said. "I live in Galway."

He nodded and handed her a notebook. She dug into her purse and retrieved the new business cards she'd made for Renewals, her new architectural-salvage shop in the heart of Galway city. They were a lovely mint green with a treasure chest embossed in black, and RENEWALS sprawled across the top. She'd paid extra to have the treasure chest pop out, almost in 3-D, and it had been worth every penny. On her website, an identical treasure chest was featured on the home page. To enter the site, you clicked on it and the chest sprang open. She was thrilled to discover her interior design skills could be applied elsewhere.

"Here." She handed him the notebook along with her card. He glanced at it and nodded before jotting something down. From the direction of his gaze, she presumed it was her license plate number. Number plates as they called them here. Tara was fascinated by the tiny differences in phrasing between the United States and Ireland.

"Can I see your registration and motor license?"

She retrieved them from the Jeep and waited while he continued to scribble. "What about her dog?" Tara felt a twinge of panic at the thought of them taking her.

He glanced at the pug. "Do you want the name of a pound?"

"No." Not on your life. "I'd like to keep her until . . . can you have her next of kin contact me?" She held her breath, praying he wouldn't say no. There was no way she could leave without this pug. The poor girl had suffered enough. The guard glanced at the dog, then waved her away with a nod. "Come on, Savage," she said. "Let's get you home and fed." She smiled and nodded at the guard, although the truth was, if he had tried to take the pug out of her arms, Tara probably would have bit him.

Exactly one week later, Tara stood inside Renewals, sweat trickling down the back of her neck as she watched a pair of hungover lads try to mount her antique crystal chandelier to the ceiling. The rickety ladder didn't look strong enough to hold the lad climbing it, nor did the one bracing it seem to care. He was too absorbed in his mobile phone. "Perhaps you should check your phone later." The lad snorted out a laugh but shoved his phone into his pocket. "What are your names again?" Uncle Johnny had recommended them, and Tara was starting to doubt his judge of character.

"I'm Curly," the one with his phone in his pocket said. "And that's Moe."

The ladder jostled, the chandelier swayed, and Tara's heart lurched into her throat. "Please," she said, letting out a little gasp. The one bracing it gave her the side-eye while the one attempting to bolt it to the ceiling laughed, causing the Irish wolfhound and the pug (posing as a rug and a tiny pillow in front of the fire) to lift their heads and bark a chorus of disapproval. The barking caused the two lads to jump, the ladder to jostle, and the chandelier to sway all over again. Please, please, don't let it fall. Curly and Moe were going to be the death of her.

The stunning light fixture was from a thirteenth-century Irish manor house, and had survived too many turbulent times in history to be taken down by an unreliable ladder, a pair of cranky dogs, and hungover Three Stooges fans. "We won't work any faster with you gawping at us," Curly said.

Tara sighed, and headed over to her coffeemaker. She poured herself a cup, pretending she couldn't hear them laughing behind her back. She needed to think about something else. Anything other than the woman she'd found at the old stone house. It was hard to believe an entire week had gone by. Already ignoring her own advice, she went over to the counter where her laptop was perched, and typed the woman's name into the search engine, but there was nothing beyond what Tara already knew. Her name was Nancy Halligan, she was visiting from Dublin, and staying on Inishbofin Island—a forty-minute ferry ride away from where Tara had found her. She'd been taken to University Hospital in Galway where the state pathologist had yet to rule on the cause of death. Tara assumed they were awaiting the tox screens. She'd been gone at least twenty-four hours before Tara discovered her body. Tara had yet to receive a call about Savage, nor did she have any updates on the woman's family or friends. They had her information and all Tara could do was wait.

Waiting was something she was painfully familiar with.

It was now a mere ten days from what she hoped would be the grandest of openings. Located just off the pedestrianized Shop Street, Renewals, (an offshoot of the larger salvage mill Irish Revivals) was starting to take shape. Five hundred square feet of hand-selected treasures, and a back patio to boot. Gratitude had become her favorite word. She stood near the French doors to the patio as she watched them work. Her eyes landed on the opposite wall, painted a lively shade of mint green, where she had proudly hung the framed newspaper article:

The local newspaper reporter had been kind to write the article. Tara's second chance in Galway, she liked to think of it, given how rocky her first few months had been. The ladder jiggled, and Tara cried out. One lad laughed, the other cursed.

"Relax," Moe, or maybe it was Curly, said to Tara. "Have a smoke in your garden."

"I don't smoke." Also, it wasn't a garden, it was a patio with a small fountain and a few potted flowers, but she wasn't paying them to quibble with her so she kept that mum.

"You might want to start," he added with a wink as he barely braced the ladder for his partner.

Tara eyed the chandelier. Then the ladder. "It doesn't look steady."

"Neither do you," quipped the one screwing her precious crystal commodity into the ceiling.

He was right about that. She needed air. But instead of disappearing onto the patio, Tara escaped out the front door and onto the soon-to-be-teeming Quay Street. It was early morning and the City of the Tribes was still sleeping. A pair of familiar figures emerged on the footpath, Uncle Johnny and Rose. Holding hands, they made their way toward Tara. Rose's black hair was twisted into a bun on top of her head. Today she was wearing a flowered dress. She lived in a caravan by the Galway Bay and read fortunes to tourists. That included Tara. She had been skeptical at first, and there were times when Rose was slightly off, but several of her predictions were eerily on the mark. Tara was now a loyal customer; hardly a week went by that she didn't pay Rose to read her cards. Mostly, she had come to enjoy sitting in the eccentric woman's caravan, taking in the African violets on the windowsills, watching the Galway Bay ripple out the window as Rose concentrated on her cards. She could use some of Rose's wisdom today, as long as it was good news. Would her permit be in the mail today?

Uncle Johnny, in his usual denims and flannel shirt, looked more like Rose's stalker than her lover. His wild beard blew upward in the wind. Tara often imagined taking cutting shears to it while he slept. "How ya," he called as they drew near. In his hands he held an old Viking helmet. "For your opening," he said, hoisting it in the air.

"I love it," she said, taking the helmet. And she did. Uncle Johnny was a little rough around the edges, a bit of a wild man, but he had a keen eye for treasures and she'd already learned a lot from him.

"It's antique, but it's a costume. Real Viking helmets are difficult to source."

"Oh." Tara had so much to learn, but she was looking forward to the journey. "Why is that?"

Johnny shrugged, although Tara had learned that wasn't a stand-in for I don't know. The shrug was simply a warm-up to his take on things, his version of take what I'm about to tell you with a grain of salt. "Iron would have been heavy to wear, so perhaps a limited number of helmets were forged, but there's also a theory that only the upper strata of society wore them. Those trained to guard the king."

Rose came to an abrupt stop and put her hands on her hips, then swiveled her head to the sky as if reading a message written in the gathering clouds. "Guard the queen," she said.

"King," Uncle Johnny repeated.

"I'm getting queen." Rose continued to stare at the sky, so Tara followed suit. Heavy clouds hung in the distance, slowly marching their way. The heat wave was over and Ireland was back to its normal weather. For Tara's morning walks that meant a comedy of errors. Hat on, hat off, jumper on, jumper off, raincoat on, raincoat off, hat back on, hat off, sunglasses on, sunglasses off. The skies seemed to change their minds every freaking second, driving Tara a little mad. It was also part of its charm—as if even the Irish weather carried a good dose of sarcasm and mischief close to its heart. Lately, everyone had been hoping for a longer dose of rain, as if to permanently wash away all memories of the heat, and it looked as if today might be the day. The River Corrib had been rough this morning, a sure sign of turbulent weather on the way.

"A visitor," Rose said, pinning her dark eyes on Tara. "A very strange visitor indeed." Rose and Johnny already knew about the poor woman in Connemara, so she must have been picking up on someone else. Or making up someone else.

Tara gestured to the shop. "If you mean the lads hanging my chandelier, it's too late, they're already in there."

Rose shook her head. "No." She drew closer to Tara, her eyes cutting into hers like a precision laser. If it was all an act, Rose certainly had it down. "You shouldn't be left alone."

"What? Like a toddler?" Tara tried to keep her voice light, but a shiver went up the back of her neck. When Rose went into psychic mode, she had that effect on her.

Rose doubled down. "Today is not a good day for you to be alone."

A picture of Nancy Halligan in her purple tracksuit, lying all alone on the hill, flashed in her mind, and she shoved it down. "I'm not alone. I have you, Uncle Johnny, two fools calling themselves Curly and Moe on a ladder in my shop, Hound, and a sweet little pug named Savage." She placed the Viking cap on her head and grinned. "And this," she said, pointing to her head. "An antique Viking helmet, be it part of a costume or otherwise."

"You look ridiculous," Johnny said, flashing a grin. "It suits you."

"Tank you."

He frowned at her imitation of . . .
We hope you are enjoying the book so far. To continue reading...
Murder in Connemara
Carlene O'Connor
Copyright © 2023 All Rights Reserved