Murder at an Irish Christmas
Available in:
eBook
Paperback
Audiobook
Hardcover
Book info
Sample
Audiobook
Media
Author updates
Lists
Synopsis
This December in Kilbane, if you're planning to warm up with a cuppa tea at Naomi's Bistro, you may have a bit of a wait—the entire O'Sullivan brood has gone off to West Cork to spend the holidays with brother James's fiancée Elise's family, including her grandfather, the famous orchestral conductor Enda Elliot. Siobhán is so happy for James and Elise, but she's also quietly disappointed that she must put her own wedding to fellow garda Macdara Flannery on hold. Mac will have to join them later, so he can spend part of the holidays with his mam. When the O'Sullivans learn everyone will choose a name from a hat to buy a music-related Christmas gift for someone else at the gathering, it seems like their greatest concern—until the cantankerous conductor is discovered crushed under a ninety-pound harp in a local concert hall. With the extended family—including Enda's much-younger new wife Leah, a virtuoso violinist—suspected in his murder, it's up to Siobhán to ensure the guilty party faces the music. But as a snowstorm strands both families in a lavish farmhouse on a cliff, Siobhán had better pick up the tempo before the killer orchestrates another untimely demise...
Release date: October 27, 2020
Publisher: Kensington Cozies
Print pages: 338
* BingeBooks earns revenue from qualifying purchases as an Amazon Associate as well as from other retail partners.
Listen to a sample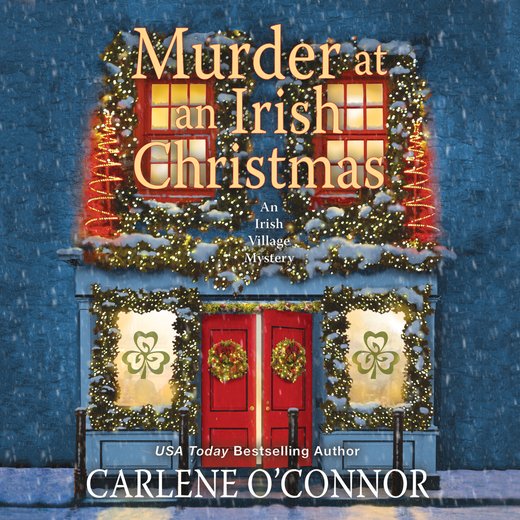 09:19:35
256.17 MB
9781666543131
October 27, 2020
Dreamscape Media
Murder at an Irish Christmas
Carlene O'Connor
Siobhán O'Sullivan and her brood were here, in a rocky pasture in front of an old stone whiskey mill in a colorful village in West Cork. Dubbed the "Wild West" of Ireland, and running from Kinsale to the Beara Peninsula, West Cork was known for its rugged coastline, unique peninsulas, and mountains, with villages spread out along the Wild Atlantic Way. The region attracted adventure seekers, water enthusiasts, and hikers alike. For Siobhán, the only thing on the agenda this year was peace, joy, and a little holiday fun. James, the eldest of the O'Sullivan Six, had yet to arrive. He and his fiancé, Elise, were due any minute. With the wind whipping around them, the O'Sullivans stood in the middle of a crowd, waiting for the doors to the mill to open. Siobhán wished the old stone walls could talk. Or pour her a drink. In the distance the field ended in a rocky cliff with the Atlantic Ocean churning below it. What a magical setting to celebrate the holidays. Even if this one did come with strings. An entire orchestra of them.

This holiday would be all about music and fun. Craic agus ceol. James was engaged to be married to Elise Elliot, and they had new family members to embrace. (Or kick in the arse.) Thoughts like the latter made Siobhán fear she wasn't dealing with it very well. When it came to family, change didn't come easy. At least he was marrying into a musical family. Hadn't she always wanted them to be more musical?

A colorful banner strung above old wooden doors marked the entrance to the old mill:

In front of the mill, an excited crowd had gathered. A sea of gloved hands clutched instruments and held boxes overflowing with wreaths, tinsel, and fat red bows. An enormous pine tree leaned against the front of the building, as if it had grown tired of waiting to be let in and adorned. A pair of donkeys brayed from the top of the nearest hill, browned off that they hadn't received an invite. And neither man nor beast could blame them. This is where the holiday concert would take place, six days from now on Christmas Eve, with their own private orchestra. Members of the RTÈ National Symphony Orchestra and a few musicians from London would be in attendance. It was all in honor of renowned conductor Enda Elliot. And Elise just happened to be his granddaughter. How exciting.

Christmas Eve was one week away, and musicians and villagers alike had volunteered to help decorate the old whiskey mill for the concert. A sense of excitement thrummed through the crowd despite that howling wind whipping Siobhán's auburn locks into her eyes. She tucked the errant strands into the back of her cap, then tightened her scarf. Rumors of snow had been dancing around, and she could smell it in the air.

"Why are they standing out in the cold?" Her jittery brother Eoin bounced beside her. Although he had safely driven them here from Kilbane, he'd been fueled by large mugs of tea and he was eager to get inside and use the jax. Ciarán, Ann, and Gráinne had yet to get out of the car; they were still in the back seat huddled over Miracle on 34th Street playing on the family iPad. Given they'd grumbled about watching a black-and-white film in the first place, Siobhán was over the moon that they'd fallen in love with it just as she had so many years ago. She remembered watching it with James and her mam and da, when it was just the four of them cuddled by a peat fire. Every Christmas that came and went brought those memories back into sharp focus, sweeter than any shiny wrapped gift.

"I'll see what's going on." Siobhán nudged, and then elbowed, her way through padded winter coats, and flutes, and trumpets, and cellos (or so she was guessing based on the sizes of their cases), wondering which of these folks were related to Elise. She lamented that the lovebirds were traveling separately, but no doubt they wanted some romantic alone time before being bombarded with family. A longing for her own fiancé, Macdara Flannery, rose in her, but she tamped it down. He needed to spend his holiday with his mam. He would arrive the day after Christmas, and they would at least have New Year's Eve together before heading back home.

In front of the doors to the mill stood a tall black man and a Korean Irish woman. Of course Siobhán recognized them immediately from her recent internet searches. She elbowed her brother. "Harry Williams and Leah Elliot," she whispered.

He grunted. "Don't talk to them, I can't hold it much longer. "

Siobhán couldn't talk to them if she wanted to, as her admiration rendered her mute. Leah Elliot, a world-class violinist, was born in South Korea, moved to Dublin with her family when she was barely a year old, declared a musical prodigy by two years of age, was performing solos by age ten, joined the RTÈ National Orchestra three years ago as first chair, and five years ago became Enda Elliot's third wife. That was a lot of dates and ages for Siobhán to keep in her poor head, but she couldn't help it—the violin virtuoso had officially turned Siobhán O'Sullivan into a cyberstalker. And now here she was, so close Siobhán could reach out and touch her.

Leah Elliot was a striking woman wearing a faux-fur purple coat with matching purple streaks running through her silky hair. The man beside her, Harry Williams, was another famous conductor from London and if the rumors were true, he was somewhat of a rival of Enda Elliot. His nemesis? Did such a thing even exist these days? There had definitely been some chin-wagging about it online. The buzz was that he was trying to lure Leah to London. Siobhán could imagine that didn't sit well with Enda.

It probably didn't help that Mr. Williams was younger and extremely handsome. Not to mention stylish in a suede golden coat. It looked so soft Siobhán imagined running her hands down the sleeves, which brought a flash of heat to her cheeks. Siobhán knew she was staring, her eyes ping-ponging between the renowned musicians as if trying to memorize the moment. Leah had a string of garland draped around her neck like a scarf. In her right hand she held a violin case, whereas Harry Williams gripped folding chairs.

Were they waiting for Enda Elliot? Siobhán did a quick scan of the crowd, wondering if he was standing in their midst, but there were too many old men to choose from. If he was here, he wasn't standing by his gorgeous wife. It was hard not to gawp at the age difference between them. Leah Elliot was clearly only in her early thirties, and Enda Elliot was seventy-five. Siobhán knew she shouldn't judge—perhaps a love forged by music knew no age. "It's dire straits," Eoin croaked. "I'm going to have to find a tree." He glanced at the Christmas tree propped up against the mill. Siobhán shot him a look—Don't you dare—then turned to Harry and Leah, smiled broadly, and pointed to the door.

"Is it locked?"

Harry and Leah turned to her in unison and blinked. Of course it's locked, you eejit, that's why everyone's standing out in the cold.

"Unless you have a key?" Harry Williams asked. He had a smooth, deep voice and an English accent.

"Sorry, no." Everything Siobhán wanted to say was stuck in her throat.

"Catherine Healy was supposed to be here already," Leah said. She had a lovely Irish accent and was even more beautiful up close than in all her glamour shots online. "Moira should have known better than to let her take charge of the key."

"I hear it's going to snow," Siobhán said. Eeejit, eejit, eejit. Say something intelligent. Or witty. "Happy Christmas!" Something festive would have to do.

"Happy Christmas," Leah echoed. "We're certainly going to remember this year."

"Happy Christmas indeed," Harry Williams said.

Eoin, who had apparently reached his threshold, bolted for the back of the building. Harry raised an eyebrow, and Leah tilted her head. Siobhán continued to smile as if she hadn't noticed. She prayed no one was around the back of the building to witness him watering the landscape, or her brother could be hauled off to the drunk tank despite being perfectly sober.

"There's Moira," Harry said, scanning the crowd. "Moira!"

Moira. Elise's mother. Siobhán turned to see.

An older woman brushed past the crowd in a black fur coat. The ends of her stylish gray hair fluttered beneath a soft pink hat. Siobhán suddenly wished she had worn something other than denims, a black jumper, and her bulky winter coat. These people were dressed to impress. "I can't get ahold of Catherine," Moira said as she neared. "She swore she'd be here bright and early to get a start on painting the mural." Moira Elliot was petite, like her daughter, with similar Bambi brown eyes. The pink hat matched her rosy cheeks. "Moira Elliot?" Siobhán asked.

"Yes?" Her tone was friendly but guarded.

"I'm Siobhán O'Sullivan. James is my brother."

"Right. Lovely." Her rigid smile betrayed her words, making it quite obvious the engagement wasn't exactly welcome news. Despite feeling the exact same way, Siobhán couldn't help but feel a bit stung. You're lucky to have us, she wanted to say. We're the O'Sullivan Six. Flawed, but adorable. And whatever you do, don't venture to the back of the building. Moira turned to the crowd. "I'm afraid we're locked out."

"James?" Leah said, flashing Siobhán a bright smile. "As in Elise's fiancé?"

"Yes," Siobhán said. "The very same."

Leah reached out and squeezed Siobhán's hand. Even though they were both wearing gloves, the thought flittered through Siobhán's head that she was never going to wash her hand again. "We can't wait to meet the man behind her cow eyes," Leah said, fluttering her eyelashes. Then she let out a sound that was too pretty to be called a laugh. Perhaps she was trying to moo. She was a delight.

Moira's mouth disagreed. It twitched in annoyance.

"We're thrilled to meet Elise's family as well," Siobhán said. I mean you. I'm thrilled to meet you. "We're not very musical ourselves." Now why did she go and say that? "But I do a bit of whittling." Another eejit remark. Maybe she could whittle Leah a violin. It had been too long since she'd practiced the craft taught to her by her grandfather as an attempt to keep her temper in check. Then again, she could never craft a violin that Leah wouldn't be able to play. Useless.

"Everyone is musical to some degree," Leah said with a grin.

Harry Williams leaned in. "The rhythm of life."

Leah nodded enthusiastically. "Exactly. If you stopped to listen now, what do you hear?"

Siobhán waited with rapt attention, realizing too late it wasn't a rhetorical question. She forced herself to listen. "I hear voices and the wind."

"Good," Leah said, her eyes bright and attentive. "What else?"

"Birds. Footsteps." Why doesn't she know the names of birds? She could sound sophisticated. I hear the ascending call of the curlew. But she wasn't sure what kind of bird it was, so she kept her gob shut. "I heard a donkey earlier, and it feels like I can hear the ocean."

"You're musical after all," Harry Williams said.

"Indeed," Leah chimed in. "Music is all around us, all the time, you'll be grand." She toyed with the garland around her neck. "Although you might find the Elliot family gift exchange a bit of a challenge."

"The what now?" Siobhán blurted out.

"Secret Santa," Harry Williams said, rubbing his hands. "I can't wait."

"Secret Santa?" Siobhán felt like a stunned parrot, just repeating everyone around her.

Leah held up a hand as if she didn't want to be blamed. "It's Elise's idea. We're all going to draw a name from a hat. Whoever you pick, you become his or her Secret Santa."

"And the gift you choose must be music related," Harry chimed in.

"Oh," Siobhán said. "Lovely." Horrible, horrible, horrible idea. How on earth could any of the O'Sullivans choose a musical gift for orchestra members? And in this tiny village in West Cork? What would they be able to find? Elise hadn't even arrived yet and she was already giving Siobhán a pain in the head. Did she even bring her headache tablets?

"You don't look too pleased," Leah said.

"It certainly looks like you struck a wrong note with that news," Harry agreed with a hearty laugh. Before Siobhán could think of anything else to say, a white lorry splattered with mud screeched into the drive, throwing up gravel, and all heads turned.

"Catherine," Moira said. "At least we know why she's late." Siobhán glanced at the driver of the lorry, a youngish man with an old-fashioned mustache and a wide grin. "Theodore Baskins." Moira spit the name out as if it were something distasteful. "I can't believe he has the nerve to show his face." There was a story there, but Siobhán didn't know them well enough to pry. Yet.

"Don't forget," Leah said in a singsong tone. "It's Christmas."

"Of course," Moira said. "What's a little theft between neighbors when it's Christmas?"

Ouch. There was so much water under that bridge it was floating. "Theft?" Siobhán couldn't help but ask.

Moira turned to Siobhán. "My father won a very important award last year, and a month ago yer one stole it right off his fireplace mantle."

"Catherine brought it back with her apologies," Leah said softly. "A drunken joke, apparently."

Moira's eyes said Bah humbug, and they didn't leave Theodore Baskins for a second, even as a middle-aged woman in the passenger seat got out of the lorry and headed for them. Baskins beeped his horn with a grin, making Moira and many others in the crowd jump. He threw his head back and roared with laughter.

"One of these days," Moira said under her breath.

"Where's Enda?" Harry asked, scanning the crowd and looking as if he wanted to change the subject.

Moira frowned, then glanced at Leah. "Didn't he meet you at the airport?"

Leah shook her head. "We had to rent a car."

Moira tilted her head. "That's odd. Did you call him?"

"Voice mail," Leah said. "You know your father." It was jarring, hearing Leah say "Your father" to the older woman. But of course, he was Moira's father. Younger wife. Older daughter. Did Moira resent the much younger wife? How could you resent someone as talented and beautiful as Leah Elliot? She was warm and had style. Anyone who wore purple faux fur with matching streaks in her lovely hair had to be fun to be around. Gráinne was going to like her based on the hair alone. Siobhán's younger sister was a personal stylist. But as wonderful as Siobhán found Leah, she could feel the tension between these nonblood relatives. No matter how different the village, family drama was always the same. And since it wasn't her family drama for once, Siobhán was glued to every word.

Catherine Healy trudged toward them in work boots, flannel, and denims as a wad of keys jingled by her side. Her long salt-and-pepper hair was so tangled, Siobhán found herself imagining a giant brush, combing it out. Wasn't she freezing without a winter coat? Siobhán was getting frostbite just looking at her. "I started a practice mural at home, and before I knew it night turned into morning," she said. A paintbrush was tucked above her ear, and specks of green shone from her hands and cheek. The keys continued to jingle like Santa's sleigh.

"The musicians are going to get frostbite," Moira said. She threw a look to Theodore, who still lingered in his lorry. "I hope they'll still be able to play."

"Sorry, sorry, sorry," Catherine said. "I told you it's my fault. There's no need to blame Theodore."

"I would never," said Moira. Leah gave her a look and shook her head.

Theodore leaned out the driver's window. "My fault." He too had an English accent, but not the same smooth baritone as Harry Williams.

"We know," Moira yelled back.

"Still a grudge, I see," Catherine said with a friendly lilt.

"Still shacked up with a thief," Moira replied, her tone equally as friendly.

Fascinating.

Despite the cold, beads of sweat gathered on Catherine's forehead, and she wiped it with the back of her hand, transferring the specks of paint to her face. Harry and Leah parted as Catherine stuck a key into the massive wooden door, jiggling it several times before the door finally groaned open. She turned to Moira and handed her the keys. "You should think about doing the Polar Bear Swim on Christmas morning."

Moira took the keys and frowned. "Me?"

"A shock of cold can do wonders for one's perspective."

"My perspective is quite clear, I assure you."

Just as Siobhán was about to push past the bickering women and enter, a yell rang out from behind the building. Siobhán recognized the voice immediately. Eoin. "What in the world?" Moira said.

"Eoin?" Siobhán called, heading for the back of the building. "What's wrong?"

An old man emerged, holding Eoin by his ear and dragging him along. Mother Bear instincts kicked in as Siobhán's adrenaline surged and she hurried toward them. "Unhand him right now."

Startled by her tone, the old man dropped his grip on her brother. "Caught him wetting me tree!"

Oh no. "An honest mistake," Siobhán said.

"Me Christmas tree!" he bellowed, drawing attention from those who had not yet wandered inside.

Siobhán glared at Eoin. Why on earth would he choose a pine tree?

Eoin's face reflected his embarrassment; nevertheless he shrugged. "To be fair I had no idea it was a Christmas tree." He pointed. "It's still planted, and it's not decorated."

"I was just about to cut it down!" Spittle flew from the old man's mouth. Siobhán knew she had better turn the heat down on this argument before the poor man worked himself into a lather. Before he could snatch Eoin's ear again, Siobhán took her brother by the arm and tugged him along. "Sorry! It will never happen again."

The old man was still incensed. "What about me tree?"

"I'm sure it will dry just fine," Siobhán said. She fumbled in her purse, found twenty euro, and held it out to him.

"That beauty is worth a lot more," he said, eyeing the money.

"He didn't kill the tree," Siobhán said. "Give it a little spray of water, and it'll be grand."

He took the twenty with a shake of his head. Siobhán hurried away before he could argue for more. Money was always tight around the holidays.

"Sorry I embarrassed you," Eoin said. From his red face, she knew he was mortified.

"We'll laugh at it someday," she said. Definitely not today. "Check on the young ones?"

He nodded. "Whatever you do, avoid the pine tree on the left," he said as he ambled back for the car, whistling as he went. Siobhán was headed for the entrance once more when a woman's scream rang out. The next thing she knew, the crowd had shifted directions, voices raised in panicked. "Call the guards," she heard a voice shout. "Call an ambulance."

"I'm a guard," Siobhán said, moving sideways to get clear of the stampede, getting jostled left and right. When she finally stumbled her way into the building, she encountered a large open space with a timber floor and stone walls. A second-floor gallery with a railing was situated just above their heads, and a spotlight shone on the space below. Harry, Moira, and Leah were huddled near the area in the center that was lit by the spotlight. Siobhán followed their gaze to a broken railing above, then to a felled ebony harp below. Why were they all so panicked about a harp? Was it that valuable? A harp doesn't need an ambulance. It took another second to see that the harp had a pair of wellies sticking out from its base.

"It's Enda," Leah called out. "He's not moving." Siobhán drew closer and took in the older man's face beneath the harp. He looked as if he was sleeping, but not quite peacefully.

"Oh no." She drew closer, and knew, from his thousand-yard-stare and the faint blue coloring of his lips, that he was gone. Nevertheless, she knelt and navigated underneath the harp to check for a pulse or breathing. His skin was cold to the touch, and there was no life left in him. It was impossible to ascertain from a glance if the harp delivered the final blow by crushing his chest or if the fall itself had taken his life. She turned her attention to the broken balcony. A tumble from that height could certainly be lethal, especially if you brought a harp down with you. At a glance, it appeared he must have fallen backward over the railing. Had he been pulling the harp out of the gallery and misjudged the distance of the railing? How terrifying. Bless his soul. Siobhán crossed herself, stood, and gestured for everyone to back away from the body.

"Do something," Leah said. "Somebody do something."

Siobhán wished she could. But that was one Christmas miracle even Santy and his sleigh couldn't deliver.

"We have to move the harp immediately," Harry called out. "I need a few men."

"We can't." Siobhán pushed forward, glancing at the body underneath the harp once more. "He's gone," Siobhán said. "Please, back away."

"No." Leah lunged forward. Siobhán grabbed her and held her back. "I'm so sorry. You must wait outside. The guards are on their way." It was too late for an ambulance, and the scene had to be preserved. It was the only way for the guards to figure out exactly what happened. Siobhán let go of the renowned musician but stood nearby in case Leah tried to lunge forward again.

"We can't just leave him like that!" Anguish poured out of the young wife.

"I'm sorry. You want answers, right?" Leah nodded, tears running down her face, her slim body vibrating. "It's the only way. Like a car accident—we must leave everything for the guards to piece together exactly what occurred."

"What does it matter?" Leah said. "He's gone."

It was too easy to forget that not everyone thought like a guard. "I'm so sorry," Siobhán said. "The truth always matters. I know this is a terrible shock."

Harry Williams pointed to the broken r. . .
We hope you are enjoying the book so far. To continue reading...
Murder at an Irish Christmas
Carlene O'Connor
Copyright © 2023 All Rights Reserved
Also in this series
Also by this author