Murder in Galway
Jump right into the beauty & splendor of Tara's Irish adventure! Gorgeous settings & a deadly mystery!
Shout-outs
Visiting Ireland through the eyes of an American with serious sleuthing skills

Good story and I look forward to more stories with these characters. I especially like the location as I've been lucky enough to be I. Ireland 3 times including visiting Galways twice. I've even been to Salthill. I enjoy revisiting these locations through the eyes of these characters. I can't wait to see what other adventures these characters will have in the future. Where else will they visit?
Maureen Addiego
This was a great read. I can't wait until the next one in the series comes out.I love this Author and enjoyed the many characters and the uncertainty of who the killer was. Tara was a very interesting protagonist and I enjoyed how her mind worked out this whole Drama. I totally recommend this book.
M. W. Nason
Book info
Sample
Audiobook
Media
Author updates
Lists
Synopsis
New Yorker Tara Meehan's first trip to Galway may be her last …
Tara never imagined her introduction to Ireland like this—carrying her mam's ashes to honor her final request:
"Tell Johnny I'm sorry … Take me home." She's never met her mam's estranged brother, Johnny Meehan, who owns an
architectural salvage business in Galway. Although Tara is immediately charmed by the medieval city, the locals seem
wary of strangers and a gypsy warns her that death is all around.
When Tara arrives at her uncle's stone cottage, the prophesy seems true. A dead man lies sprawled over the threshold
in a pool of blood. The victim turns out to be Johnny's wealthiest client, and her missing uncle is the garda's numberone suspect. In trying to find Johnny and solve the crime, Tara uncovers her mam and uncle's troubled past. But with
a desperate killer about, she had better mind herself, or they'll be tossing her ashes in Galway Bay …
Release date: April 28, 2020
Publisher: Kensington Books
Print pages: 223
Reader says this book is...: entertaining story (1)
* BingeBooks earns revenue from qualifying purchases as an Amazon Associate as well as from other retail partners.
Listen to a sample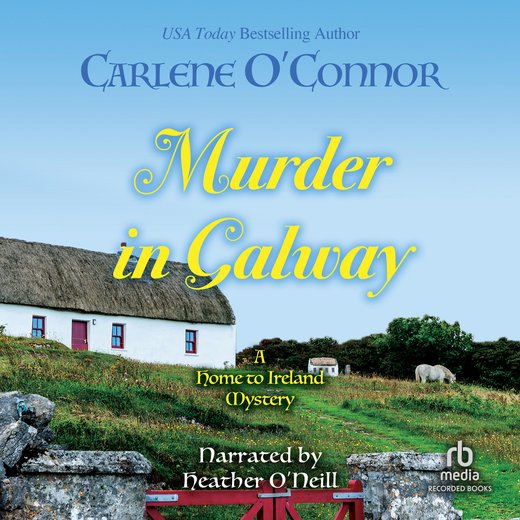 09:26:15
259.22 MB
April 28, 2020
Recorded Books
2019
Murder in Galway
Carlene O'Connor
Emmet Walsh never thought he'd find himself in the middle of a fairy tale, but if Johnny Meehan didn't answer his door and produce Emmet's prized pig, he was going to huff, and puff, and most definitely blow something down. He prayed with each plodding step on the way to the stone cottage, fists clenched at his sides, that it wouldn't come to actual blows. He just wanted what belonged to him. He'd paid Irish Revivals a fortune to source this collector's item, and he refused to put up with any more of Johnny Meehan's shenanigans. If Meehan was trying to hold out for more money, he was going to regret it. The agreed-upon sum was quite a dear one, it was done and dusted, and Johnny Meehan was going to hand it over. Today.

This rare gem, a cast-iron pig for the garden, was once owned by a Japanese princess. Imagine that, now. Emmet smiled as the photograph from the catalogue rose before him like a mirage in the desert, making his trek slightly less intolerable. The mud was thick here, something between a bog and a bother. The earthy scent of the Galway Bay was strong, effortlessly carried by the breeze that also succeeded in blowing stray hairs of his white beard into his mouth as he trudged onward. This hadn't been the plan when he woke up this morning. Johnny should have met him at the door to the salvage mill. How had it come to this, being forced to invade a man's home? Johnny Meehan had left him no choice. He had Emmet's money, didn't he? Why was he torturing Emmet?

He saw the pig in his mind's eye. It was photographed sitting in the garden next to that beautiful Asian princess. The cast-iron pig was about a foot high. Sitting on its bottom, the mouth open in a laugh, the hands (would you call them hands, like?) resting on its full belly, legs splayed out, mouth (snout?) open in a laugh. The patina of green around the ears. Gorgeous. And instead of hooves this little piggy had tiny fingers and toes. Eyes so open and real he could almost see the twinkle in them. And that was only from a photo. Emmet couldn't wait to feel the heft of the little piggy in his hands. Everything was made with plastic these days. Bollocks. Give him cast iron. Give him quality. Give him an item owned by royalty. He could not wait. Yet wait he had. He had waited, and waited, and waited. No more.

The sun was coming up over Galway. There wasn't a moment to waste. He picked up his pace, sweat breaking out on his brow.

He was already so in love. He would set the pig in front of his prize-winning rose bushes in the garden. It had taken Johnny Meehan an entire year to track the pig to a banker in Manchester, England, and another six months to convince him to sell. Emmet had paid dearly, both in desire and euro. Johnny Meehan was not going to get away with this.

The miscreant was hiding from him. Meet me at the mill bright and early and we'll work it out. What did that mean—work it out? The salvage mill was shuttered and locked tight. What kind of dirty trick was this? Irritation had morphed into rage. Emmet was Johnny Meehan's best client, his wealthiest client, and he would not tolerate this kind of disrespect. Maybe he would put Johnny Meehan out of business. Ben Kelly was mad to buy the mill, turn it into a boxing school. If Johnny's customers lost trust in him, he'd be forced to sell. Maybe Emmet would buy Irish Revivals . At least he'd have a place to store his treasures. Could all this have something to do with the shady folks Johnny surrounded himself with? Snakes, they were. Maybe it was time Emmet told Johnny everything he knew. Up until now, he'd kept the secrets to himself. Leave well enough alone was his motto. He was just the messenger and messengers never fared well. Neither did sneaks, and truth be told he had snooped around the mill a bit. Who could blame him? He had every intention of keeping his nose clean. But now Johnny's poor taste in people was affecting Emmet. Someone was messing with him. It would not stand. He was going to get to the bottom of this right here and now. If he had to point fingers then so be it, he would start pointing.

As Emmet rounded the bend, the tiny cottage came into view stone by stone. He couldn't imagine living in such a confining space. Emmet's mansion (some might call it a castle) was over three thousand square feet. Johnny's cottage was hardly bigger than one of Emmet's luxury bathrooms. He stopped to catch his breath and kick clod off his shoe. The only good thing he had to say about nature was that mostly it stayed outside where it belonged. Emmet had paved every bit of grass around his castle. More room for precious sculptures and a lot less dirt on his shoes. He should have brought his walking stick. A twig cracked behind him, and then another. He whirled around to see Johnny's dog—an Irish wolfhound—lurking behind him. The hound's tall body was on high alert, creamy fur blowing every which way, eyes wide and tracking, tail up in the air. Big as a small horse, he was in need of a good brushing. Emmet turned away. He much preferred items to animals.

His chest tightened, another reminder it was time to give up the smoking. It was hideous, getting old. What did he have to show for his time on earth? A wife and kids who wanted to be as far away from him as possible? Friends who took his money and left him empty-handed? Ungrateful. Everyone was so ungrateful. Except for his castle. And his items. Rare, architectural pieces that held real meaning. History. Stories. A pig owned by a Japanese princess!

The sun was fully up now, striking the surface of the Galway Bay and setting it on fire. From here, it stretched out to eternity. God's country. He'd like to see any man deny it. He turned back to the stone cottage and sized it up as if it were the enemy. The stones were rough and uneven, the blue door sported cracked paint, and the windows were smudged with grime. The last time he'd been up here, laughing with Johnny, having a whiskey to toast the regal iron gates Johnny had managed to source for his entry, the windows had been sparkling clean. His suspicions had just been confirmed. Something was seriously wrong with Johnny Meehan.

Emmet took the stone walkway at full speed, reached the house, and pounded on the door. Paint chipped off and fluttered to the ground like blue snowflakes. He waited and received only silence for his effort. "Johnny?" Emmet turned the knob and pushed. The old door swung open with an elongated creak, and seconds later a sour smell enveloped Emmet. What on earth was that odor? He stared into the dark. It smelled like mold and three-day bread, and something even worse. Like raw meat sitting on a counter for days. Emmet threw his sleeve over his mouth before he gagged. He could make out the sink in the wee kitchen to the left, piled with dirty dishes. He thought he saw something scamper across the mound and shivered. Had the dirty dishes been there so long they were attracting vermin?

"Hello?" Footsteps sounded on the path behind him, too human to be the hound. He turned. A figure lurked behind him, dressed in baggy dark clothing, face obscured by enormous dark sunglasses and an oversized hood. Some kind of costume. It looked like . . . the Grim Reaper. Fear rose in Emmet's throat. "Who are you?" The figure raised its right arm. Instead of a scythe, he or she was holding a cast-iron object. Was it the pig? Emmet threw his hand over his eyes. It was so hard to see with that blasted sun shining directly into his eyes, blinding him. He threw his hand up so he could see. "Is that my pig?"

His gut screamed that it did not matter. Death had come for him. The Reaper was real. His heart thumped, his voice quivered. He could not take his eye off whatever this thing was. And then the object was in the air. A blur flying directly at his head at warp speed. Try and catch it? Or duck? He tripped on the door frame and hit the ground, falling on his back, half in and half out of the house. He struggled to lift his head, muster a scream, but just as the thought struck, so did the object. It collided with his temple, sending a thundering pain through his poor head. The back of his skull slammed into Johnny's floor. He stared at the tilted beams in the ceiling as footsteps drew closer, and everything started to spin. The hood hovered over him.

He tried to speak but his mouth wouldn't move. Why?

The figure raised its arm and removed the hood. Emmet squinted. When his eyes adjusted, he could make out the eyes, nose, and mouth of his attacker, curled up in a cruel grin, eyes dancing with excitement. This was no Grim Reaper, this was all too human, and even more terrifying. For a second he forgot about the gash in his head as he pointed. "You," was all he managed to say. He stilled his body, held his breath. He heard a whoosh of air and pounding feet as his attacker fled. Coward. If only he'd listened to his wife and carried his mobile phone on him. He'd never warmed to technology. Did Johnny Meehan have a phone in the cottage? He could either spend his energy looking for it, or he could help the guards catch a killer. His poor head. There wasn't much life left in him and he knew it. He touched his fingertips to his wound, then used his dwindling energy to half crawl, half slide to the back wall. For once he saw the benefit of having a tiny home. He pushed onto his knees and began to write on the wall. He managed four letters before he fell back for the last time, and released his final breath with a moan. His last thought was of the princess and his pig.

Tara Meehan stood in the middle of the pedestrianized Shop Street, cradling the delicate tin box that held her mother's ashes, as she took in the pulsing city her mother called home. Galway, Ireland. The City of Tribes. Snippets of the song "Galway Girl" began to play in her head. And I ask you friend, what's a fella to do? 'Cause her hair was black and her eyes were blue . . . Having black hair and blue eyes herself, Tara had always been partial to the song.

"You're a lucky lass," her mother would say on those mornings when Tara was just a girl. Her mother was always gentle and patient while brushing Tara's thick black hair into something a little more manageable. "Black hair and blue eyes is a knock-out combination." Her mother always made her feel good. She was loved.

And now here she was. Not exactly a girl anymore at thirty-three, but that girl was still inside her, so excited to be here she was bursting at the seams.

Standing here, taking in the cobblestone streets, and pubs, and people, and music—there was live music playing from nearly every corner—her heart throbbed in her chest. It was love at first sight.

Shops splashed in bright colors cozied up on both sides of the street, and passersby crisscrossed from one side to the other as she stood still. Buskers staked out corners, filling the salty air with their songs, guitar cases flung open, crumpled euros and coins scattered inside. An Asian man in an orange jumpsuit was on the sidewalk up ahead, bent over a large dog he was sculpting out of sand, his thin hands kneading as people gathered to watch him work. Next to him a tall African man in traditional garb stood in front of a table filled with beaded jewelry. Young men lingered in front of pubs, cigarettes dangling from their fingers, smoke curling into the air, as their bright eyes followed the pretty girls in short skirts laughing up the street. Galway was one of the youngest cities in Europe, and for a second Tara felt ancient. This was a college town, an art town, a music haven. She could smell pints of ale, reminding her that Galway was sometimes called "the graveyard of ambition"—the numerous pubs and entertainment so tempting that one could find him- or herself partying seven nights a week and no one would blink an eye—right, he's drunk seven nights a week, it's up to himself to mind his own liver . . .

Up ahead Tara saw a throng of people circled around a street performer. The crowd hid him from view, but whoever it was, he was generating excitement. Curiosity pulled her forward. It was a young man riding a unicycle while juggling three large knives. The wheel of his cycle jutted back and forth as he pedaled, the large knives glittered as he twirled them high in the air. Something made him turn his head toward her, and stare. His eyes locked onto her tin box. He jerked his head upward. "Toss it up here," he said with a toothy grin. The crowd parted, practically panting in anticipation.

"No." Before she could protest further, the box was snatched out of her hands by a man in front of her and tossed up to the performer, who caught it effortlessly and added it to his rotation with a wink and a grin. The crowd cheered and clapped. The latch on the tin box remained clasped, but Tara knew it was only a matter of time. Was this really happening? "No," Tara said. "Please. Give it back."

"Don't worry, he's got it," a woman yelled out.

"It's going to come open," Tara yelled at the man. "Please." Panic eked out of her. The unicycling juggler ignored her as the box containing her mam's ashes tumbled helplessly in the air.

"Please," Tara begged. "Give it back."

"You heard the lady." A man appeared beside her, staring up at the juggler. He was tall, and Irish, and handsome, with tints of green in his hazel eyes and hair the color of sand, but all Tara cared about was the box. "Ronan," the handsome stranger said in a commanding voice. "Toss it here." The juggler—Ronan—nodded at the man, and with a flick of his wrist, the box was sailing back to her. Tara lunged to reach it, and although her hands caught it, her feet kept moving, until she tripped, and the box flew out of her hands, morphing into a projectile. There was the stranger again, standing right in its path. The box hit him squarely on the chest. The lid flew open and her mother's ashes exploded out, coating the stranger's face and chest in specks of gray. Tara could only stare. Oh, no. Sorry, Mam. He slowly gazed down at his body, then locked eyes with Tara. He blinked at the tin, which was lying at his feet, its tiny mouth open, contents expelled. His eyes met hers and locked on. "Tell me that's just a wee sandbox," he said in a low and easy voice.

Tara took a deep breath. Tried not to laugh. Tried not to cry. She forced a smile. "Is it too early to meet my mother?"

The man picked up the tin and tried to shake the ashes on his shirt back into the box, but the wind picked up and carried most of them away. Tara took a step forward. "I'm so sorry."

"You're joking me, right? This isn't your mother."

"It's my fault. I'm clumsy. She wanted me to bring her back to Ireland. She wanted her ashes spread near the Galway Bay."

He glanced down the street in the direction of the wind. "I'd say she's on her way."

Nervous laughter bubbled out of Tara. She grasped her mother's rosary that she'd tucked into the pocket of her jeans and silently said the prayer she'd prepared. She hadn't planned on spreading the ashes until she'd met her uncle Johnny, but on a whim she'd wanted her mother with her on her first exploration of the city, so she'd taken the tin out and carried it around for a bit of comfort. Foolish lass. She was sure they would have a different phrase for her: Eeejit Yank.

"Maybe she had a hand in this," Tara said. Her mother had had a wicked sense of humor. Some people hated it. Tara always loved it. It was just like Margaret Meehan to insist on doing her own thing.

"I'd best get this washed off me, I suppose," the man said, moving away. "No offense."

"Wait." Panic seized her, as if he were walking away with her mother. He stood still as she approached. She held her hands out, tears welling into her eyes. She did not want to cry. She held out her hands. "May I?"

He gazed at her intently, and nodded. She ran her hands over him lightly, his body strong and unflinching, until her palms and fingertips were soft and gray, and then she stepped back, feeling doubly foolish but somehow relieved. "Thank you."

He stood still as she picked up the tin from the ground and moved on, heading for the bay. She did not turn around, but she could feel him watching her. That was intense. She'd felt a flicker of something. That thing she hadn't felt since Gabriel. And Thomas. If held at gunpoint she would be forced to admit what it was: a spark.

Stop it. She was losing it. Jet lag and grief could do that to a girl. Tara took a deep breath and continued to the bay, where she prayed the waters would heal her heart, just a little, just for now.

The Galway Bay was spread before her, expansive and full of promise. Parked a few feet from the bay was a white caravan with a painting of a gypsy: long rainbow-colored hair blowing in the wind; big, knowing eyes; full red lips. FORTUNES sprawled across the side of the caravan in red paint, and underneath it: READINGS HERE. Paint cans were lined up along the base of the caravan, as if the job had just been completed.

As Tara took it all in, the door to the caravan was flung open, revealing a tiny woman with wavy black and gray-streaked hair down to her hips. She wore a long flowing yellow dress, her face was heavily made up, and a bright red rose was tucked in her hair over her left ear. A prickly sensation tickled the back of Tara's neck as the woman gazed at her openly. It was as if she had been expecting her. Tara laughed off the thought and lifted her hand in a wave. The woman lifted a crooked finger and beckoned Tara closer.

"Death is all around you," she said. "Why is that?" Tara started. Was the woman so observant that she'd already guessed the tin held her mother's ashes? But no. The tin was open and empty. "Go home," the woman said. "Before it's too late."

Anger surged through Tara. "I am home." In a way, it was true. Her mother had always referred to Ireland as home. Their home.

"Danger follows you."

So she was one of those. A con artist who used fear to draw in customers. Tara squared her shoulders. "Danger follows everyone."

The woman shook her head. Tara had to hand it to her, she'd certainly perfected an expression of alarm.

"This danger is coming straight for you."

"Let it," Tara said. "I'm a New Yorker."

The woman cocked her head and narrowed her eyes. "You've been warned." The door to the caravan slammed closed, swallowing the fortune-teller with it.

That was strange. What an eccentric city with a cast of characters to match. Rocks crunched beneath Tara's feet as she moved past the caravan to the water's edge. She gazed out at the bay, and said the Irish blessing that was the closest thing to a prayer she had memorized. May the wind always be at your back. She wasn't going to cry, but when she reached the last verse: May God always hold you in the palm of his hand . . . tears flowed down her cheeks as she held out her palms where the remains of her mother rested. "You're here, Mam," she said out loud. "You're home."

She stared out at the sailboats bobbing on the water until the breeze dried her tears. Her mother's last words echoed in her ear. Tell Johnny I'm sorry. So much time wasted. Take me home.

Sharp metal bit into Tara's fingers. She cried out, only to see she was squeezing the tin so hard it was cutting into the fleshy part of her hand between her thumb and index finger. She'd forgotten she was even holding it. Toss me. Tara hurled the tin into the bay. It struck the water with a splash and began to playfully dance along the surface. The sound of a flute floated overhead, a soft lilting tune. Tara blew a kiss, and watched until it slowly took on water and submerged. "Until we meet again." She wished her mother was at peace, in a joyful place, where she would receive céad míle fáilte, a hundred thousand welcomes, a place, well—a place just like this.

The Bay Inn was situated in the middle of a quiet street just off the Quay Street. It looked more like a detached Victorian home, although it shared its right wall with a lively pub. Inside, it was like stepping back in time, with dark wood, muted flowered carpet, and a winding staircase up to the rooms. The floors creaked as Tara made her way to the check-in desk. Behind it stood an older woman with white hair pulled up in a neat bun. Beside her, a young blonde in her early twenties was polishing the counter with gusto, working the manufactured scent of lemon into the air. A light sheen of sweat had broken out on her forehead and her tongue hung out of the corner of her mouth. The older woman hovered behind her like a ghost refusing to leave its earthly home. "I won't tolerate your tardiness anymore."

"I told you when you hired me that class comes first," the girl answered. "You try making a soufflé." She continued to polish the counter as if it was of monumental importance.

"If you're late again I'm giving you the boot," the older woman barked. "And what self-respecting Irishwoman would make a soufflé? Meat, potato, and veg—now that's the way to a man's heart."

"I agree. If by that you mean heart attack."

"I won't stand for any more of your sass."

The rag stopped moving. The girl's chin shot up. "Go ahead. Give me the boot. Nobody else will work with you—you old crow."

"Hey," Tara said. Where she came from you didn't speak to your elders like that, and she had half a mind to grab the girl by her pixie haircut and toss her out the front door.

The two heads swiveled her way, conversation screeching to a halt as they stared at Tara.

"Welcome to the Bay Inn," the older woman said with a practiced smile.

"Thank you," Tara said, keeping her eyes pinned on the young girl, hoping that her stern look was getting through.

"American?" the young girl said. She made a face.

"Afraid so," Tara said.

"Do you have a reservation?" So many reservations. The older woman pulled a giant tome out from underneath the counter and began to leaf through it. Tara stared at it, expecting a cloud of dust to rise with the turn of each page. "I don't, actually. I was being spontaneous," Tara said. "Do you have a vacancy?"

The young girl snorted. "We always have a vacancy. Because somebody refuses to catch up to the times."

"Why don't you catch up to the times by showing up when you're supposed to?" the o. . .
We hope you are enjoying the book so far. To continue reading...
Murder in Galway
Carlene O'Connor
Copyright © 2023 All Rights Reserved