Fire Song
Praised for her beauty and grace, deep down, Seren Pendragon fears a tempest rising inside her.
Available in:
Paperback
Audiobook
Hardcover
Book info
Sample
Audiobook
Media
Author updates
Lists
Synopsis
Medieval romance with a sprinkling of fantasy--"Perfect!" Says Kris Helt of Whiskey & Wit Book Reviews.
Praised for her beauty and grace, deep down, Seren Pendragon fears a tempest rising inside her. Her mother is a witch, her sisters are in peril, and she has been promised to a beast of a man who's already murdered one king. When she and her youngest sister seize the opportunity for escape neither realizes how much their struggle will cost, and it will take a terrible tragedy to unleash Seren's inner fire and true nature.
The Bastard of Warkworth is no stranger to misfortune. Everything he held dear vanished one night in a wisp of smoke and fire, and he has been scarred by his encounters with Seren's own mother, Morwen Pendragon. Even so, when one of the witch's daughters finds herself in trouble, Wilhelm must find the champion within and ride to her rescue.
Book 4 of Daughters of Avalon. A brand-new historical series, by New York Times Bestselling author Tanya Anne Crosby.
"Crosby's characters will keep readers engaged…" —Publisher's Weekly
"Tanya Anne Crosby writes remarkable love stories." —New York Times bestselling author, Lisa Kleypas
"Tanya Anne Crosby pens a tale that touches your soul and lives forever in your heart. —Sherrilyn Kenyon #1 NYT Bestselling Author
"Tanya Anne Crosby weaves a hauntingly beautiful spell with the stroke of a master's pen…" —RT Book Reviews
"Tanya Anne Crosby writes stories that light the darkest corners of history with the warm, glowing beacon of love." —Nationally Bestselling Author Pamela Morsi
Release date: September 21, 2019
Publisher: Oliver-Heber Books
Print pages: 492
* BingeBooks earns revenue from qualifying purchases as an Amazon Associate as well as from other retail partners.
Listen to a sample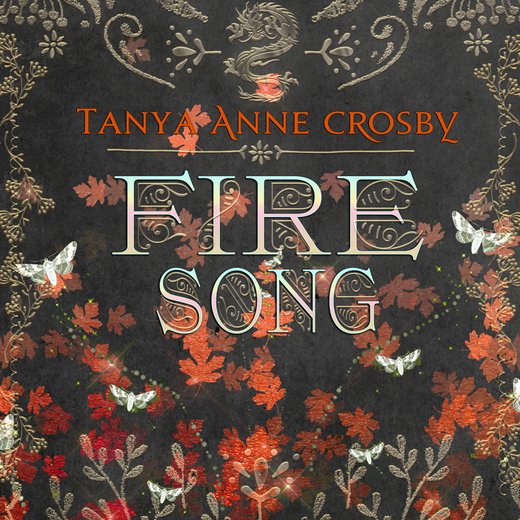 10:15:20
281.69 MB
9781094269054
March 1, 2020
Oliver-Heber Books
Fire Song
Tanya Anne Crosby
Prologue
Darkwood Inn, July 1148
Moonlight shone off the oily contents of an ornately carved tub, making the substance darker under its silvery light.
From a dark corner of the foul-smelling room came a persistent rap, tap, tap. This was Bran—Morwen's familiar—though it was impossible to say what the filthy bird could be doing. There were no lamps lit to chase away the shadows, nor even a stingy taper, and it was perhaps to her mother's delight that her three youngest daughters sat shivering on a dirty bed in the darkness.
What in the name of the Goddess did she expect they would do? Burn down the inn?
For certes, any one of them could do so without a candle. But even as frightened as they were, they would never, ever endanger innocent lives. There were others in residence here at Darkwood.
Rap, tap. Rap, tap, rap. Rap. Tap.
Instinctively, the three sisters huddled closer. Soiled and greasy as the sheets must be, they daren't leave its sanctuary. Not only was the room cold and dark, but the scent of something pungent and disturbingly familiar filled Seren with a terrible foreboding. It was a feeling she couldn't ignore, for in itself, intuition was a form of magik, ancient as the world was old. According to their grandmamau all men, no matter their blood, had a sense for such things. At the moment, her own sense of intuition was like a mantle of gloom, dark and oppressive.
How wrong she had been about their mother—how very wrong. For so long Seren had convinced herself that, deep down, their mother must love them—as any mother should. She had convinced herself that once Morwen found herself a proper benefactor she would send for her daughters, and then, they would all live happily ever after. Only now she realized… that was a fool's dream… a child's desperate fantasy. Morwen's disdain for her children couldn't be more apparent. It was tangible, evidenced by the curl of her lip whenever she deigned to acknowledge them. And yet, the truth was difficult to bear: Their mother loathed them, and whatever plans she had for them now, they would suit Morwen and no other.
Rap, tap. Tap, tap, tap. Tap…. tap.
Silence met Bran's application—a silence so complete Seren couldn't even hear her sisters breathing.
Even if they were brave enough to attempt an escape, it would be impossible with those two burly guards posted outside their door. In the overwhelming gloom of this room, she couldn't even see her own hand in front of her face, much less a means for escape.
And… no matter that they were alone, save for that dreary old bird, Seren couldn't shake the awful feeling they were being watched…
Rap, tap. Tap, tap, tap. Tap.
"It's just a bird," she said aloud.
For her sisters' sakes, she refused to be cowed. They were Pendragons, descended of Welsh kings. But more, she and her sisters were the last living dewines born of the blood of Taliesin, the great Merlin of Britain. They were true daughters of Avalon, children of the Earth Mother and maidens pledged to the hud. And despite that their mother believed them without wit or will, they had skills, thanks to dear, defiant Rhiannon, who was led from their cottage last night with hands bound and a length of rope about her neck, like a bloody hound.
Much to their dismay, they hadn't seen her since. The very instant she was wheeled away, their mother ushered them into one of Ersinius' wagons and spirited them here, to this decrepit little inn surrounded by dark, twisty woods. And then, immediately upon arrival, their mother's sycophant, Mordecai, led them up the stairs, leaving Morwen downstairs to barter with the innkeeper.
Hours later, the shock of their ordeal was slowly subsiding, but uncertainty bridled their tongues, until finally, Arwyn dared to breach the silence. "Where do you think they will take her?"
There was no need to ask of whom she spoke… even without mindspeaking, they were thinking the same thing. "I know not," answered Rosalynde.
Seren rubbed her left arm, at the very spot where Mordecai's fingers had gripped her flesh so meanly. "I heard tell Blackwood."
"Blackwood?" asked both her sisters in unison.
Equally confused by the disclosure, Seren shrugged. Only Elspeth had ever seen their familial estate, built high in the Black Mountains. It was served now by a new lord—one of King Stephen's known assassins—but it was Elspeth, not Rhiannon, who had been promised to that lord.
Like Avalon, the castle and its lands were now lost to them forevermore because of their mother's greed, but evidently, Morwen had a plan to retrieve it.
"What kind of beast would accept a bride delivered by tumbril?" asked Rosalynde.
Arwyn retorted. "What kind of mother delivered her so?"
"A mean, greedy witch," answered Seren.
And, aye, she'd meant to use that word with all the disgust most commoners felt for it. Witch.
It was a very good thing Elspeth fled the priory when she did, else she might never have gone, and even now if she learned of Rhiannon's fate, Seren had little doubt her eldest sister would return. After all, Ellie had been more a mother to them than Morwen ever was, and she would never have left them if she had known what travesty would befall them.
On the other hand, Rhiannon must have known something. She had been so insistent that Elspeth leave, and once Elspeth was gone… everything changed.
As life happened, her sister claimed, nothing occurred without consequence. There was a price to be paid for every decision made. Seren's only consolation was that Rhiannon must have understood her fate. She must have known that she would be expected to take Ellie's place… but to what end?
It was only after the rap, tap, tapping began again that she realized they'd been blessed with an interval of silence—silence enough to allow her to think clearly.
But now the bird pecked more ardently at some unseen morsel, giving Seren a shiver as she listened.
It was a long, long time before Morwen returned, and when she did, she wore a smile as black as her heart.
Carrying a torch, Morwen waltzed into the room like a cat who'd swallowed a mouse, and it was only then, by the light of her flickering torch, that Seren saw what it was that Bran was pecking at… bits of raw flesh. Blood stained the floor where he pranced. Her stomach roiled, but she daren't look at her sisters for fear that one of them might sob.
For the moment, ignoring her daughters, Morwen gazed fondly at her hideous bird. "Has my sweet pet been entertaining you with his supper?" she crooned, more to the bird than to any one of her daughters. "My beautiful boy."
As the girls watched, she placed her torch into a cresset, and then, still smiling, she flicked open a small compartment on her ancient ring, then moved toward the tub, turning the contents into the dark liquid. Only then, once this was done, she met Seren's gaze, and like a lover tempting a man, she removed her gown. Convulsively, Seren swallowed, desperate to look away, only self-preservation kept her eyes affixed on her mother. Once bared, she slid her nubile body into the tub, wading into the glistening liquid, and then, sat, like a seductress bathing in oils.
But it was not oil, Seren realized belatedly.
It was blood.
Dark as a plum.
Horrified, she watched as Morwen painted her lips with the oily substance, then, thoroughly amused by Seren's expression, she giggled, and giggled… and giggled… and then she began to sing:
When thy father went a-hunting,
A spear on his shoulder, a club in his hand,
He called the nimble hounds,
'Giff, Gaff; catch, catch, fetch, fetch!'

Chapter 1
Dover, June 1, 1149
The skies were blue again, streaked with wispy, white clouds that were moving too fast to cluster.
With plenty of wind to fill the sails, the harbor was bustling with last-minute preparations—supplies being hauled onto ships, deckhands inquiring after work.
Adding to the mayhem, the Maritime Market was teeming, drawing merchants and customers to the Saturday Feria after more than a sennight of storms.
Considering his best course of action, Wilhelm Fitz Richard stood chewing on a length of straw. Tall as he was—six-feet-five and weighing more than sixteen stone—it had been teasing the pate of his head, and rather than move aside, he'd wrenched the offending tuft from the awning and slid it between his lips, hoping to deceive his brain into forgetting about his complaining belly.
By now he was ravenous, and to make matters worse, the scent of fowl roasting somewhere nearby was making his mouth water and his thoughts go astray. Truth to tell, he hadn't enjoyed a good repast since leaving Warkworth, but so much as he craved a fat, juicy bird leg, he wasn't about to leave his post… not yet. He had a feeling in his gut that time was growing as thin as those clouds.
Two months ago, Arwyn and Seren Pendragon fled the palace in London. Best as anyone could surmise, they'd slipped away during the wee hours, very likely on the day their sister Rosalynde stole his brother's horse.
Fate was such a trickster, twisting circumstances every which way and that. Inexplicably, they'd abandoned one Pendragon in London only to escort another one north. And then, after all was said and done, his brother forsook his intended, only to lose his heart to her sister.
Wilhelm couldn't blame Giles, not really. Somehow, despite his bitter loathing for their mother, Wilhelm himself had developed a soft spot for Rosalynde. That was why he was here, now, searching for her bloody sisters.
Thinking it only naturally the direction they would go, he'd wasted weeks searching north. Stephen controlled nearly every port save Bristol, and so it had surprised him to learn their trail wended south instead, ending here, then going as cold as a witch's tatty thereafter.
So, it seemed, the sisters were slippery as wet eels, and knowing Rosalynde so well as he did, he suspected Arwyn and Seren must be using magik to avoid capture—magik he didn't particularly comprehend, though he'd witnessed firsthand what it could do. God's truth, if aught plagued him more than the memory of his decimated kinsmen, it was the memory of the Shadow Beast they'd encountered a few months ago in the woodlot south of Whittlewood and Salcey. To this very day he hadn't any clue how they'd defeated the hideous creature, and no matter how many times Rosalynde explained it, he couldn't wrap his brain about the doing of it—something about binding and transmutation, things he might never have dreamt of in his worst night terrors… leastways not before seeing it. Strange as it might seem, he owed his life to a slip of a girl, and God save him if he should ever encounter another.
Nipping at the straw, considering all the ships in the harbor, his best guess was this: If he were in their shoes, he might seek sanctuary with the Empress in Rouen. And, if this be the case, as a matter of conjecture, they must be aboard one of those larger cogs—the Whitshed perhaps.
Today, there were only three ships large enough to navigate the open sea—the Whitshed, the Achéron and the Cassiopé. The largest of these, the Whitshed, was owned by a known conspirator—a man who, though he remained suspect to the crown, was well protected by the Church, else his lands would have long been forfeit by now.
On the other hand, the captains of the other two vessels—the Achéron and Cassiopé—were fiercely loyal to the Crown. Even now, the Achéron harbored an emissary en route to St. Omer to bargain with Canterbury's exiled archbishop, Theobald of Bec. Perforce, Stephen would have Theobald crown his son though he still lived, though evidently, Theobald would rather keep his exile than put Eustace on England's throne. That was a good thing, because Wilhelm was like to commit treason if that fool was ever confirmed. As it was, it was all he could do not to take a torch to the royal palace and burn it to the ground.
Wasn't that what scripture ordained—an eye for an eye?
Aye, well… one day he still might.
One day he'd like to see every man and woman responsible for the slaughter of his kinsmen pay for their sins, and, aye, that included Rosalynde's wretched mother, Morwen Pendragon.
He bloody well wasn't afraid of her—or at least that's what he told himself every night before closing his eyes.
I'll see your skin turn black till it slips off your bones.
As it was with his loved ones.
All these months later, the memory threatened to purge his belly and ruin his appetite. God's truth, no matter how many years he lived, he would never forget… that stench… seared flesh. The eye-stinging smoke and ash that turned the landscape gray. Wilhelm had been the youngest of his father's sons, except for Giles, and in one fell swoop, he'd become the eldest, with two half-sisters gone, and an older brother as well. Only Wilhelm and Giles had survived, and only because neither were present at the time.
Pulling the straw between his teeth, he studied the Whitshed… he couldn't very well force his way aboard. If he tried, or even if he approached the situation with candor, and he was wrong about the captain's allegiance, it could very well alert the Crown of his intentions. Not only would he give away the sisters' location, it could bring undue attention to Warkworth—attention they could ill afford whilst Giles was busy conspiring with Matilda.
This was delicate business, but come what may, he'd sworn to find Rosalynde's sisters and see them safely returned to Warkworth and that's what he meant to do. Only he would need their trust. It would serve no one for him to go barging aboard that vessel to drag them away perforce.
Watching the deckhands trek from ship to ship, he thought perhaps he could inquire about work, perhaps ask to inspect the sleeping quarters… but, nay, that wouldn't do. There were more than enough willing and able bodies who didn't give a bloody damn about sleeping arrangements, so long as they had a belly full of victuals and a pocket full of coin. They were far more likely to turn him away.
But perhaps he could feign business with the captain…
He knew enough about Airard's history to know how to begin: As it so happened, his namesake and grandsire was the captain of the Mora, the flagship of The Conqueror's invading fleet, and judging by the simple fact that he'd followed in his father's and grandfather's footsteps (even despite that his own father also found his fate at the bottom of a salt-sea), meant that he was sure to be vain about his legacy. He could find a way to flatter the man, and then perhaps determine if the Pendragon sisters were aboard his ship. Alas, Wilhelm wasn't as sophisticated as Giles; lies tasted bitter to his tongue.
For the past two days he'd been watching the Whitshed's comings and goings. The only female he'd spotted was perhaps an elder sister of one of the deckhands. Arm in arm with a boy, she'd disembarked two hours past, although he didn't believe that could be Seren. He knew what she looked like and he couldn't imagine the sisters separating for any reason. Where one went, the other was sure to follow.
Unless…
He couldn't help but remember the morning they'd encountered Rosalynde in the thicket. She'd given herself what she called a glamour. The effect was hideous; it had been all Wilhelm could do not to look at her. Dressed as a nun, she'd fashioned herself in the most unappealing manner possible, with eyes crossed and a pocked face. How his brother had found the wherewithal to keep her on his mount was a mystery to Wilhelm.
To the contrary, it had been all Wilhelm could do not to gape at Seren when he'd met her in the King's Hall. She was easily the most stunning woman he'd ever beheld. Truly, even as lovely as Rosalynde might have turned out to be without the glamour, it was inconceivable to Wilhelm that any man—not even St. Giles—would rebuff Seren for want of another. Seren Pendragon was a paragon of beauty, rightfully earning her reputation as the Beauty of Blackwood. Even now, all these months later, and particularly whilst he'd been searching for her, it was much to his chagrin that he sometimes dreamt of the lady, even despite knowing she was not meant for him. And not only was she a coveted beauty, but she was an heir of the Pendragon line, a bastard child to Henry himself. All things considered, illegitimate or not, she was a valuable pawn in Stephen's game of Queen's Chess. Baseborn as he was, Wilhelm wasn't fit to kiss her slippers.
And by the by, if he couldn't win the hand of the daughter of a lowly baron, winning Seren would be hopeless.
Reminded of Ayleth of Bamburgh, Wilhelm's mood soured. With a grumble, he tossed down the tuft of straw, kicking it annoyedly, finally losing the battle of wills with his belly—he was famished, damn it all to hell.
Twenty minutes—that's all he needed. Those bloody ships wouldn't be going anywhere in the meantime. Merely twenty minutes, he reasoned, and then it was time to take more drastic measures.
Morwen Pendragon was due to be released from the Tower on the morrow, and she would immediately set out to accomplish what her minions could not. She would ferret out her daughters more easily than Wilhelm ever could, and judging by what that Shadow Beast had been capable of, its contemptible mistress was a force to be avoided at all cost.
No bloody wonder her daughters ensconced themselves like moles, never daring to peer out of their holes.
One way or another he was going to find a way aboard that ship… but first things first; it was time to silence the beast in his belly. His temper would be far less offensive if he shoveled something down his gob, and with that decided, he cast a last glance at the Whitshed, then made straight for the smoking brick building at the edge of the market, his nostrils flaring over the scent of freshly cooked fowl.
* * *
After all these months, Ellie and Rose must be worried sick. Seren was right; they couldn't depart England without sending news. But as the time neared to depart, Arwyn grew more and more anxious by the second.
Pacing relentlessly, she chewed at her nails.
Much as she loathed to confess it, she understood why Seren didn't wish for her to accompany them to the courier: Arwyn hadn't much composure, nor even a smattering of her sisters' dewine skills, but alas, she needn't have any dewine skills to sense impending doom.
Even now, safe in the bowels of this vessel, with so many of Matilda's allies surrounding her, she knew...
Something dreadful was looming, something she couldn't see or hear, but something she could feel… deep, down in her bones, like an ague.
Back and forth.
Back and forth, she paced.
The wooden floor was dry and full of splinters. Her slippers were ragged, catching every sliver as she passed. Muttering an oath, she took off her shoes and cast them away.
Ten long days they'd awaited opportune sailing weather—ten fear-filled days, wherein every second of every day they'd worried Morwen would find them. After all, Dover was no bastion, for Matilda and Stephen's guards were here in droves. It defied logic to be here at all, in the heart of Stephen's domain, but Seren, in her wisdom, had argued against doing what everyone expected them to do. Instead of fleeing north, they'd talked a fisherman into ferrying them east, traveling by night on the Thames all the way to Gravesend. Then, afoot they'd gone to Canterbury, where they sought shelter with the Church.
Fortunately, even after all these years, their Empress sister still had friends in high places. Escorted by Matilda's allies, they'd come south to Dover only to bide their time aboard this vessel. Now, very soon, after all the stories Elspeth told about Matilda, they would finally embrace their half-sister. And, so much as Rhiannon loved to begrudge Ellie's affection for their father's only true remaining heir, Matilda must not be so terrible as Rhi liked to believe—not if she so willingly offered her protection. By sundown, if everything went well, they would disembark in Calais. From there, they would venture to Rouen—safe at last out of Morwen's grasp.
On her birthday, no less, they would finally depart England, and with a bit of luck and wind, Captain Airard assured them they could make the journey in less than three hours' time—only so long as Seren returned before the tide turned, and so long as their mother remained ignorant of the journey.
Faith, she commanded herself.
Have faith.
After all, it was faith that brought them to Dover.
Where are you, Seren?
By now, Arwyn's nails were spent to the quick, and regardless, she couldn't stop fretting.
What a heinous way to spend her birthday.
What if, after all, their mother should glean their intentions? All it would take to endanger the crossing would be for Morwen to have a small inkling they were traveling. Even from her tower prison, she could send a fog like the one she'd sent to doom the White Ship.
Look at the bright side, Arwyn…
There was no sign of Mordecai, nor any of her mother's minions. And despite that fact, with so much at stake, Arwyn could no more find peace in her heart than she could have remained in her mother's keeping. Perhaps, after all, she should have insisted on going with Seren…
"It'll be faster if you remain aboard ship," her sister maintained. "No one will be searching for a woman alone with a young boy. And besides, Arwyn, you'll attract undue attention."
"I would cast a glamour," she'd argued.
"Will you?" her sister had said, and Arwyn had blushed, because, nay, she could not. Her glamour spells were sorely deficient, and in the end, she was apt to move five freckles to one side of her face. Therefore, she'd relented—and here she remained, with sore fingers and a sulky mood.
Truth be told, the simple fact that they had avoided capture so long was more a testimony to Matilda's influence—none so much to their own ingenuity. Seren had no guile and Arwyn had no magik, but, thankfully, no matter that Arwyn and Seren had no true relationship with their Empress sister, they were bound by blood—and more, they were bound by a common purpose. More than anything, they would love to see Stephen deposed. Perhaps he wasn't as wicked as their mother, nor so greedy as his sour-faced wife, nor even as mean as his son, but he had nevertheless forsworn a sacred oath to their father, and his ignoble actions placed England at war—fourteen long years now. God help them all if Morwen should succeed in replacing father with son.
So much death.
So much destruction.
So much deceit.
All about her, the ship creaked like a bag of old bones. Arwyn could hear them trampling over deck with last-minute preparations. It was a continual reminder that she was alone amidst strangers—whether or not they be allies. After all, it would only take one traitor to reveal them, and it would be a terrible travesty if they were discovered so close to escape, when there was hope at last.
Seren is fine, she told herself.
It must be true, else she would know it. If aught should ever happen to any of her sisters, she would know it deep, deep down. They were connected, one to another, and each to the other. As dewines, they shared a very special bond, and she and Rose deeper yet because they were twins.
Somewhere up on deck, there came a dreadful thud, followed by a long interval of silence, and the heavy silence unnerved Arwyn even more than the preceding racket.
Irritated with herself—particularly, because this worrisome behavior was precisely why none of her sisters ever trusted her to comport herself accordingly—she reached into a hidden skirt pocket, and plucked out the shard of crystal she'd stolen from her mother's chamber.
She and her sister both had a piece of Merlin's Crystal. It was the last thing they did before leaving Westminster—shatter the scrying stone so Morwen couldn't seek them.
However, for much of the time since leaving London, Arwyn's shard had remained dark. At the instant it was flickering softly, and the light pulse managed to calm her nerves as words alone could not.
Fire was Arwyn's one true affinity, but though she liked to jest that Rosalynde had leached her powers in the womb, her lack of skill could simply be because their bloodline was no longer so pure. Her grandmother was not the first to wed a commoner. Long, long before Morgan Pendragon married a prince of Gwynedd, their great, great, great grandmother, Yissachar—the elder daughter of Creirwy and Taliesin—married a Briton. She and her sisters were of a very noble and ancient bloodline, but little by little, their dewine legacy was dying… Like the shard in her hand, her dewinefolk were broken and scattered.
It was heart-wrenching to see what remained of such a venerable heirloom.
Mesmerized by the flickering in her hand, she sat upon the bed, wondering idly if she would ever wed, and if her children would be more inclined to the Craft. Unlike Elspeth, Arwyn had no fear of the hud at all, and though she knew enough to respect it immensely, she desperately longed to wield it like their sister Rhiannon.
And perhaps she still might… they had the Book of Secrets after all. Once she was reunited with Ellie and Rose, she could apply herself to the Craft, study hard, and perhaps someday she would wield magik at least as well as Rose.
"Happy birthday, sweet Rose," she said fondly. Until this terrible travesty, she and her twin had never spent a day apart, much less a birth anniversary.
How she missed Rose. Rose understood her better than anyone, and though they couldn't be more different, her twin was everything Arwyn was not, and Arwyn was everything Rose was not. Together they were whole.
Above deck there came another boom, and the shard in her hand glowed a little brighter. Strange but… she was no longer afraid. Comforted by the crystalized flame in her palm, she wondered what the flickering meant. So often it seemed the shard was like the piece of a puzzle, showing bits and bobs. Betimes it was possible to put hers together with Seren's and more easily recognize a face, or a place. But it was impossible to say what this meant.
Turning the crystal, she studied it intently, in much the same manner she would, as a girl, sit for hours and stare into a hearth fire. No matter that she could never see what Rhiannon saw in those flames, she could still feel things. They'd had a maid called Isolde who'd claimed the world was born of fire and that someday it would be consumed by fire. Nothing about this prophecy frightened Arwyn. To the contrary, it intrigued her. Her soul was akin to fire and, even now, she could feel the intensity of her affinity simmering through her veins.
I am fire, fire becomes me.
Mollified by the glow in her hand, she marveled over what she held… the tiny shard, along with the Book of Secrets… they were all that remained of their dewine legacy. And yet for all that her name meant enlightenment, Arwyn herself was a testament to a dying breed. Sadly, the sons and daughters of Uther and Yissachar would be the last to bear Taliesin's blood, for it was one thing to be a Pendragon, and another to be a dewine born of the blood of Taliesin. These two things were not one of the other; they were each unto their own. Uther Pendragon was not a dewine, and neither was Taliesin a Pendragon. As a matter of due course, their dewine blood would continue to thin until not one drop remained, and no men or women were left who could conjure a mist, less remember the Promised Land.
Feeling a chill in the cabin, she tore her gaze away from the crystal and returned the shard to her pocket, focusing on the tinder in the brazier. There, ribbons gathered and converged into a point of light. Her dewine eyes could see what other folks might not—the twisting and turning of the aether as sparks ignited in the brazier. Encouraged by the ease of her magik, and only to try it—because she was thirsty—she laid out a palm, attempting to gather water from the aether as Rosalynde could do… Already, there were particles in the air, and her dewine senses could feel them, but unlike Rosalynde, she couldn't bring them together. It was no more a fantastical feat than to watch a lodestone draw metal, but it seemed that leaves could do a better job than she could, gathering dew by morn, whilst she accomplished naught.
Her palm remained dry as a bone and her tongue parched. She daren't go above deck without Seren, and she knew the men were all too busy to serve her.
Frowning, disgusted, because she understood very well how it all worked and simply couldn't perform the magik, she flicked another glance at the brazier.
By now, she had studied the Craft as dutifully as her sisters, and she kept her faith in the Old Ways, but for all that, she could only mindspeak with her twin, and draw a simple fire; that was all. She was a poor excuse for a witch.
Startled by the turn of the doorknob, Arwyn glanced up. The door creaked opened, revealing a black-hooded figure—a man she didn't recognize. Startled, she bounded up from the bed, her heart hammering over the look on his face.
"What is it?" she demanded. "Is it my sister? Where is Seren?"
The man's grin slowly unfurled. His dark eyes narrowed, and his canine teeth pressed ruthlessly over his lips. It was only then, as he glared at her, that she realized his black eyes held an unnatural gleam, and fear sidled down her spine. All the calm she'd managed to attain vanished in the blink of his eyes. Not once during the past ten days had she encountered this man aboard ship, neither below deck nor above.
"Who are you?" she demanded.
"Your sister will return soon," he said, smirking as he closed the door. He reached up to pull the bolt across to bar it.
Arwyn took a step backward, the tiny hairs on her nape prickling. "Who are you?" she asked again.
In answer, his grin spread wider, the pressure of his canines turning his lips bloodless.
"Who I am is of far less import than who sent me, my dear. Your mother is heartily aggrieved not to be able to celebrate your birth anniversary as she longs to."
Betrayed!
We hope you are enjoying the book so far. To continue reading...
Fire Song
Tanya Anne Crosby
Copyright © 2023 All Rights Reserved
Also in this series
Also by this author