Book info
Sample
Audiobook
Media
Author updates
Lists
Synopsis
A new resident is moving to Seagrove! Heath Dutton has spent the last three years trying to heal his wounds, but no matter how many places he travels, his heart is still broken when he arrives in Seagrove. Will a current resident help heal his heart and turn out to be his soulmate? Colleen and Tucker arrive back in Seagrove after months of travel, but they're keeping a big secret that could cause a rift between Colleen and her mother. Janine is adjusting to being a new mother, but when she ends up in the ER with her new baby girl, will everything turn out well? Dixie gets unsettling medical news and has to make big changes to her life. Plus, SuAnn becomes famous. Can she handle the pressure?
Release date: February 28, 2023
Publisher: Rachel Hanna
Print pages: 216
* BingeBooks earns revenue from qualifying purchases as an Amazon Associate as well as from other retail partners.
Listen to a sample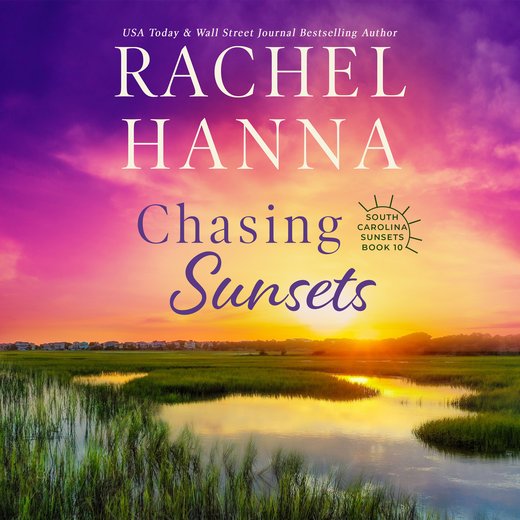 03:47:12
104.01 MB
9781666642223
March 26, 2023
Dreamscape Media
Chasing Sunsets
Rachel Hanna
He stood on the beach, his toes right at the edge of the water. The foamy waves rippled over his feet as he let out a long sigh. It had been a long three years, and he was glad to have a home base again. Seagrove wasn't a place he'd ever visited, except only in his mind. The pictures he'd seen of the sunrises and sunsets were beautiful, and he was looking forward to seeing them in person.
Tonight, however, the moon was his view. It was a clear night, even though a big storm had blown through just hours ago. The sunset he'd hoped to see on his first night there was blocked by dark clouds and a lightning show unlike any he'd ever seen. In fact, he'd seen those bolts rain down from the sky and hit the nearby lighthouse, a place he wanted to visit as soon as he was settled in.
Three years. That was the length of time he'd been on the road. Of course, what he'd really been doing was running. Running away from life. From grief. From memories.
Now, as he stood in the middle of the dark beach, the sound of the waves lapping at his feet, he was forced to actually feel his feelings. Running hadn't eliminated the pain. It was there, like a fresh wound ready to remind him of the past.
He stepped back a few feet and sat down, making sure to keep a safe distance between him and the water. The clothes he was wearing were all he had until his personal belongings arrived from his storage unit. Traveling for three years with a backpack and his paint supplies had meant he didn't get to have a full wardrobe. He had two pairs of pants, two shirts, a pair of now ratty sneakers, and enough underwear to not scare other people away.
In the past three years, he'd been all over the world painting sunsets. Aruba. Bali. Italy. Now, he was finally back in the states and ready to start rebuilding his life, if that was even possible.
Losing his wife of fifteen years was a shock to his system in ways he couldn't put into words. The love he'd shared with Katherine had been deep and abiding. When cancer came and ravaged her body, taking her away only three months after diagnosis, he could barely breathe.
Katherine had been his rock. They'd met in his last year of college, where he'd gotten an art history degree. He'd done nothing with it, of course, choosing instead to live the life of a starving artist for years. His paintings didn't sell well for many years, but Katherine had continued encouraging him while supporting them both with her job as a nurse.
For most of their marriage, they'd lived along the Gulf Coast of Florida. There wasn't a huge art scene there, but people did like buying from local artists. One person who'd purchased from him was Georgia Daynes, the owner of a prominent gallery in Atlanta. Over time, they'd worked out a deal where he supplied her with pieces, and she sold them. It was a great deal for Heath and Katherine, especially as they tried to build their family. They'd waited many years to have children, mainly because Heath wanted them to be financially stable first.
Instead, fate had other plans. When they couldn't get pregnant after over a year of trying, they went to a fertility specialist expecting to be given medication or options for IVF. Instead, the doctor saw something, and it didn't look right. In what seemed like a whirlwind of appointments and tests, Heath marveled at how strong his wife was. He knew she was scared, but she didn't show it.
When the doctor came in after her final round of testing, his face said it all. Heath's heart shattered when he explained that she had stage four ovarian cancer, and the treatment options were limited. It had spread - metastasized he called it - to her liver and beyond. They could "try" chemo, but it would likely make her very sick and not prolong her life. The chances were slim, and they needed to make decisions.
Heath wanted to beg his wife to take the treatments, to do anything and everything they'd let her do. But he knew it wasn't his choice. Everyone had one life, and they got to do with it what they wanted. In the end, Katherine chose no treatments. Being a nurse, she'd seen what some of them did, and she didn't want to experience that as her final weeks or months on earth.
It went fast, which was something he was angry about and thankful for at the same time. No amount of years would've been
enough, but three months was definitely too little.
He closed his eyes and sucked in a deep breath of the sea air. Katherine's favorite place had been the ocean. Any ocean. She didn't care which one. It was probably one of the reasons he'd taken off after her death, intent on spending his evenings on beaches around the world, painting the sunsets she'd never get to see. He liked to believe it was his connection with her.
"You okay, sir?"
Heath was startled by the sound of a young boy behind him. He quickly turned and looked up, the boy's face partially illuminated by moonlight.
"Oh, I'm fine." He wondered if he was on private property or something.
"My mom and dad own that inn over there. The one with the string lights on the deck. I'm Dylan." He reached out his hand to shake Heath's, which struck him as so unusual with kids these days. Most of them didn't know how to look up from their cell phones.
Heath shook his hand and then stood up. "I'm Heath Dutton. I just rented the little red cottage down the road."
Dylan nodded his head. "The one with the dock out back on the marsh?"
"That's the one."
"That's a cool house. I ride my bike down there sometimes."
"Dylan? Are you out here?"
A woman's voice permeated the night air. "Over here, Mom!"
She walked over and smiled, putting her arm around her son's shoulder's. She was probably wondering why he was talking to some strange man on the beach at night.
"Hi. I'm Heath. I just rented the cottage down at the end of the road. Near the lighthouse?"
She nodded. "Nice to meet you Heath. I'm Julie. I guess you've met my son here, who is supposed to be taking a shower right now," she said, looking down at him.
"Sorry," he muttered before running toward the house.
"Nice to meet you, Dylan!" Heath called.
"He's a bit of a scatterbrain, that kid," she said, laughing.
"I was just down here having a quiet moment. I hope you don't think I'm some weirdo talking to kids on the beach at night."
Julie smiled. "No. I'm well aware my son can interrupt a quiet moment very easily. We're all pretty friendly around here. My husband, Dawson, and I own The Inn at Seagrove over there."
"That's what Dylan said. What a beautiful place you have."
"It's been in my husband's family for many years. I'm blessed to call it home now."
"Well, I don't want to take up any more of your evening."
"Of course. Enjoy the beach as long as you want. That's what it's here for, to heal us." She started walking back toward the inn.
"Hey, Julie?"
She turned around. "Yes?"
"How did you know I need healing?"
She shrugged her shoulders. "We all do."
The room was loud as the children ran around screaming. Dawson's eyebrow's knitted together as he looked at his wife. "We should've brought earplugs," he said loudly.
She giggled. "I think this might mean we're getting old."
He shook his head. "In our forties? No. I cannot accept that notion. Take it back."
Julie patted his leg. "It's a blessing to get older, honey."
Their granddaughter, Vivi, ran around with the other kids, twirling and laughing about this and that as Dawson and Julie sat in the audience. The performance would be starting soon, but for now, the kids were just energized by chocolate milk and cookies.
"Dylan said y'all met a new neighbor last night?"
"Oh, yes. His name is Heath, I believe. You know how bad I am with names."
"Yes, I know, sweetie," he said patting her leg. Julie had never been good with names, even of people she'd met several times.
"Anyway, he seemed like a nice guy. Dylan said he's renting the red cottage."
"Oh yeah? That one has a great dock over the marsh. Wonder if he likes to fish?"
She laughed. "You don't have time to fish, Dawson. You're behind on projects as it is."
"That's because my honey-do list keeps getting things added to it, so I can never catch up!"
"Hey, y'all. Thanks for coming. Sorry I'm late," Meg said, rushing over to them, out of breath. She sat down next to Julie and tossed her giant tote bag on the floor.
"Traffic?" Dawson asked, jokingly. Seagrove never had traffic, unless it was a line of ducks trying to make its way from the pond to the marsh.
"No. I had a job interview, actually. And then Christian called because he forgot his lunch, so I had to take that over to the college."
Julie and Dawson were at Vivi's preschool for grandparents' day, and Meg had decided to meet them there since she was one of the room mothers.
"How'd the interview go?"
Meg smiled. "I got the job!"
"Really? What will you be doing?"
She leaned over to whisper. "I'll be a teaching assistant right here at the preschool. Nobody knows yet."
"Oh, honey, I'm so happy for you! I know you'll be glad to be near Vivi during the day."
"I will, plus I really love helping with the kids. I'm hoping to work my way up to a full-time teaching position."
"That's wonderful, Meg. Congratulations," Dawson said.
"Mommy!" Vivi, as usual, seemed to come from nowhere, almost tackling her mother. She was a strong kid to be so petite.
"Hey, Vivi! How are you doing today?"
"We're gonna sing for all the grandmas and grandpas!"
"I know. Are you going to sing real pretty?"
She put her hands on her hips and rolled her eyes. "I always sing pretty, Mommy!"
And just like that, she was gone again, like the busy little bee she was. Julie loved her spunk. She hoped she kept it her whole life, even when things tried to knock her down.
"That kid," Meg said, laughing. "She keeps me on my toes."
"She keeps all of us on our toes," Julie said, watching as the teacher tried her best to corral all her students onto the little stage at the same time.
"Have you heard from your sister lately?"
"She called me last night and said she and Tucker are coming home soon. ...
We hope you are enjoying the book so far. To continue reading...
Chasing Sunsets
Rachel Hanna
Copyright © 2023 All Rights Reserved
Also in this series
Also by this author