Another Time, Another Place
Book info
Sample
Audiobook
Media
Author updates
Lists
Synopsis
The twelfth book in the bestselling Chronicles of St Mary's series. If you love Jasper Fforde, Ben Aaronovitch or Doctor Who, you won't be able to resist Jodi Taylor.

'It's time, Max.'

And so, a whole new chapter opens up...

It's long been known that if a thing can go wrong, it will. With knobs on, usually. Disasters start to pile up. A new colleague with no respect for the past and a great deal to prove. Historians lost in time. And - worst of all - Rosie Lee on her very first jump. Then there's the small matter of Max's dishonourable discharge.

From Tudor England to the Tower of Babel - it's all going horribly wrong.

Jobless and homeless, Max receives an offer she can't refuse. Another time, another place. A refuge, perhaps.

She's got that wrong, too.

(P)2021 Headline Publishing Group Limited
Release date: April 15, 2021
Publisher: Headline
Print pages: 352
* BingeBooks earns revenue from qualifying purchases as an Amazon Associate as well as from other retail partners.
Listen to a sample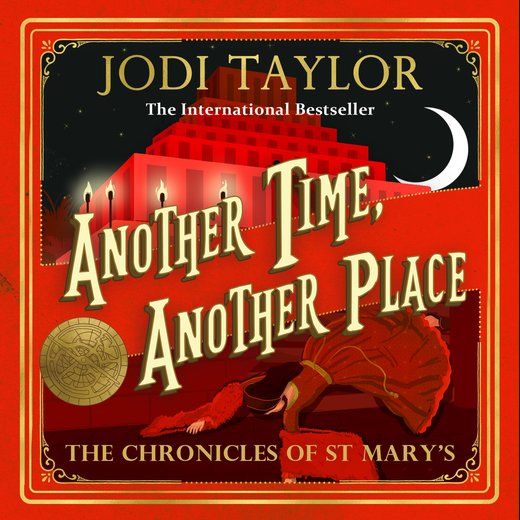 12:18:10
337.92 MB
9781472273215
April 15, 2021
Hachette UK
2021
Another Time, Another Place
Jodi Taylor
Dramatis Thingummy

St Mary's Personnel

Dr Bairstow

Director of St Mary's.

Mrs Brown

Aka – Lady Blackbourne. North's mother. High-ranking member of the Civil Service. Busy lady.

Mrs Partridge

PA to the Director.

 

 

History Department

Dr Maxwell

Head of the History Department.

Miss Van Owen

Mr Clerk

Miss Prentiss

Mr Sands

Historians. But possibly

Mr Roberts

not for much longer.

Mr Bashford

Miss Sykes

Mr Atherton

Rosie Lee

PA to the Head of the History Department. Time-travel virgin. But not for much longer.

 

 

Technical Section

Chief Technical Officer Farrell

Sensibly not very involved in this one. Too busy whisking the younger generation off to a place of greater safety.

Mr Dieter

Turning a blind eye.

Mr Lindstrom

Never says much.

 

 

Research and Development

Professor Rapson

Head of R&D. Exploring the possibility of bypassing gravity. Proud rapid chicken-firing gun owner.

Miss Lingoss

Charioteer and bride.

 

 

Others

Dr Dowson

Head Librarian. Who else would take a rapid chicken-firing gun to a church?

Mrs Enderby

Head of Wardrobe.

Mrs Midgley

Housekeeper. Both of them very helpful in relocating St Mary's supplies to an alternative site. All right – stealing.

Matthew, Mikey and Adrian

They and their talents are being moved to a place of greater safety. Out of the way for the time being but storing up big problems for the future.

 

 

Security Section

Captain Hyssop

Off to a really bad start.

Scarfe

Half-Wit

Lucca

Another Half-Wit

Glass

Yet another Half-Wit

Harper

And another one

Jessop

Yes, him too.

The one whose name no

Un-named Half-Wit

one can ever remember

Evans

Real security guard

Keller

Another real security guard

Gallacio

Yet another real security guard

Cox

And another one

Mr Strong

Caretaker and handyman. Dr Bairstow's first recruit to St Mary's.

Markham

The Con part of Pros and Cons.

Hunter

His family.

Baby Flora

Commander John Treadwell

Quite likeable, actually. Unless you're Max.

Halcombe and Sullivan

Released from captivity.

The Reverend Kevin Aguta

The Rev Kev. An impressive example of Christian tolerance and forgiveness.

Martin Gaunt

Security superintendent at the Red House. A man in love with his own authority.

Various Red House

security staff

Josiah Winterson

We never meet him but he gets a good kicking nevertheless.

Jack Feeney

We do meet him. He wishes we hadn't.

Assorted distressed maidservants who suddenly discover what their boots are for

Sir Richard Verney

He shouldn't be here! What is happening?

Amy Robsart

Look where you're going – whoops – too late.

The mysterious inhabitants of a mysterious litter

Your guess is as good as mine.

People and priests of Babylon

Abilsin

Son of Sin but quite a nice boy.

A silk merchant and slave owner

A couple of overseers at the brickyard

Pennyroyal

An alleged butler.

Lady Amelia Smallhope

A member of the aristocracy. Bounty hunter. Sorry – recovery agent.





I'd forgotten how cold it can be just before dawn. And quite dark, too. On the other hand, I've been clandestinely creeping around St Mary's since the moment I arrived all those years ago. I know every twist and turn. Every creaking door. Every squeaky board. As long as Professor Rapson hadn't carelessly left any half-constructed bear traps or acid baths around the place, I didn't even need a torch.

I ghosted around the gallery and down the stairs, carefully keeping to the edges to minimise the creaks, although the whole edifice does tend to groan like a clipper in a strong wind whether anyone is standing on it or not.

The Great Hall was no problem. I could weave my way in and out of whiteboards, trestle tables, chairs, stools, piles of files, whatever, with my eyes closed. And frequently had.

I passed silently through the vestibule. The front doors were already unbolted. Easing my way through, I paused to zip up my body warmer. The morning was cold, dank and silent. It was lighter outside, although, sensibly, even the birds weren't up yet. Moisture beaded every surface. Tendrils of light fog drifted across from the lake. Perfect conditions for a discreet getaway.

The car stood ready and waiting – a small family hatchback of an indeterminate grey colour. There must be millions of them around. You can't avoid CCTV cameras completely, of course, but I would bet any money Leon had stowed a couple of alternative registration plates in the boot. I love that people think he's so respectable.

I skipped down the steps, my frosty breath billowing and making substantial contributions to the fog and general non-visibility around me. Actually, skipped is the wrong word. Skipped implies light-hearted, joyful, carefree and so on, and I wasn't any of those. People do leave St Mary's. Sometimes under quite happy circumstances. But not today. Today was not a happy day.

Leon loomed up out of the fog. Very visible in his orange techie jumpsuit.

I tilted my head to one side. 'You do know this is a stealth assignment, don't you? Short of attaching an SAR beacon, is there any way you could be more obvious?'

He put his arm around me because I was just putting on a brave face and we both knew it. I asked him if everything was ready.

He nodded. 'It is.'

I paused.

He said, 'It's time, Max.'

'I know,' I said, staring at my feet. 'I know. It's just . . .'

'I know,' he said, rubbing my shoulder. 'But the moment has come to say goodbye.'

I nodded. No putting it off any longer. Leon shut the boot and I walked around the car.

Hunter was sitting in the back seat. Markham had muffled her up well but she still looked a little pale and tired. Baby Flora was sleeping soundly in her car-crib.

I crouched down to talk to Hunter. 'All right? Got everything?'

She smiled. 'I hope so because I don't think we have room for anything else.' And I laughed because, trust me, the amount of supplies and equipment needed to transport a tiny human from A to B is mind-blowingly colossal. They could probably go off and discover another continent with what they had packed in that car.

I myself had contributed a little to their burden. I'd gone into Matthew's bedroom and taken down the little suitcase of baby clothes that was all that remained of his childhood. Most of it unworn because he hadn't had his childhood for very long. I don't know why I'd kept them. It wasn't as if I'd ever need them again.

'Here,' I'd said to Markham. 'Everything from six months onwards. Babies grow fast and you'll need them more quickly than you think.'

He took the case very carefully. 'Are you sure?'

I nodded. I'd kept back one or two small items, together with the blanket Helen Foster had knitted, but there was no point in hanging on to the rest. The sensible thing to do was to give the stuff to someone who would need it.

Back to the misty morning . . . Hunter gripped my hand. 'Max . . .'

'I know,' I said, near to tears myself. 'But it's not forever. You'll be back before you know it.' I glanced over to Markham who was giving last-minute instructions to Evans. Or talking about the football – it could be either. 'He's done everything he can to keep the three of you safe. I have complete confidence you'll all be fine.'

'Absolutely fine,' she said with a small laugh.

'Take care, Di.' I straightened up and shut the door.

As I did so, the front door opened and Peterson and Evans made their way down the steps towards us, both of them looking even less happy than me.

Markham was shaking hands with Leon who was wishing him luck.

Markham nodded and turned to Peterson. They looked at their feet for a moment and then Markham mumbled, 'For God's sake, look after Max – you know what she's like.'

Peterson nodded and shoved his hands in his pockets. The world was utterly silent. Not a sound anywhere. The fog seemed to be thickening.

Markham looked over Peterson's shoulder. 'I . . . um . . .' He stopped.

'We can only hope your daughter grows up to be more articu­late than you,' said Peterson gravely. 'Although that wouldn't be difficult.'

Their laughter had a forced sound to it.

'Should be going,' mumbled Markham.

Peterson clapped him on the shoulder. 'Yeah.'

'OK. Well. I'll be off, then.'

'Take care.'

'Yeah, mate – you too.'

Markham saw me waiting and came over, presumably before either he or Peterson forgot they were British and embarrassed themselves and each other in public. 'Max.'

I couldn't speak and I think he was having some problems as well.

'Max . . . I'll never forget what you did and . . .'

I nodded because I couldn't do anything else.

He swallowed. 'I'll find a way of staying in touch.'

Honour compelled me to say, 'Don't do anything stupid,' which, as futile efforts go, was probably slightly less effective than Cnut trying to halt the oncoming tide.

He nodded.

I said, 'Keep them safe,' and he nodded again, squeezed my hand one last time, climbed into the car and started the engine. There was no cheery toot of the horn, just the crunch of tyres on gravel as he pulled slowly away. The gates were already open. He slowed carefully, indicated right and disappeared into the fog.

Peterson and I stood for a long time, looking at the place where Markham used to be.

Evans clapped Peterson on the shoulder. 'Early breakfast, I think. Before all the scrambled egg disappears.' They headed back into St Mary's leaving me and Leon alone on the steps.

'All right?' said Leon and I nodded, although I wasn't. I don't know why. It wasn't as if this moment had leaped on us out of the blue. We'd been a week preparing for this. As far as the rest of the world was concerned, Markham was simply taking Hunter and Flora away for a spot of family time. No one could blame him for that – St Mary's is not particularly conducive to the successful rearing of small humans, trust me on that. I mean, yes, it's fine if you want your offspring to grow up with an intim­ate knowledge of all the murkier aspects of History, or how to convert six inches of lace and a teaspoon into a weapon of mass destruction, or how to defy and subvert authority – although all kids seem to have an instinct for that anyway – but St Mary's can do all that and more on an industrial scale.

Anyway, with Markham there were other factors in play. I'm not going into who he is because it's not my secret to tell, but he's someone the authorities would very much like to have under their control and his tiny daughter, Flora, had, by her appearance, upped the stakes considerably. So Markham was taking his little family away to a place of greater safety. No one knew where. No one had asked, actually – as Dr Bairstow had said, it wasn't something you'd want tortured out of you, was it? – and I hadn't been entirely certain he was joking.

And for those of you still puzzling over my comment about the murkier aspects of History – that's what we do. We're the St Mary's Institute of Historical Research. We're just outside of Rushford – out of harm's way, as the authorities so wrongly think – and we investigate major historical events in contemporary time. Especially the murky bits. Please feel free to call it time travel if you like. Dr Bairstow's had a stressful time recently and opportunities for him to vent his spleen don't come often so you'd be doing us all a favour.

And now he was gone. Markham, I mean. The winds of change were blowing again. Guthrie, Grey, North, and now Markham. I sighed and looked around. We had choices. A very early breakfast or . . .

I said to Leon, 'What could we do for an hour?'

'Eh?'

I draped myself enticingly around him and said patiently, 'We have an hour's unexpected free time. What shall we do?'

'I don't understand.'

I remembered I was talking to a techie. I should keep things simple for him.

'Option A – full-on, head-banging sex. Option B – a bacon butty. Choose now.'

'Hmm,' he said, staring into space. 'Tricky . . .'

 

I was Dr Bairstow's ten o'clock that morning. Something about which he didn't seem tremendously enthusiastic.

I sank gratefully into a chair. I'd partaken fully of Options A and B and thanks to that and my very early start, my internal clock now thought it was time to wind down and go back to bed.

'Dr Maxwell, I thought we'd have a quiet word before you resume your duties after recent events.'

Great. The Boss wants a quiet word – just what every employee loves to hear. I smiled brightly to mask my misgivings.

'How is everything?'

'Absolutely fine, thank you, sir. I have a weekly session with Dr Stone, when he forces me to drink cocoa and talk to him.'

All that was true. At my last session he'd asked me how I was feeling.

'Oh,' I'd said, 'completely overwhelmed by the pointlessness of my life. Trying to pluck up enough courage to hurl myself from an upstairs window before I'm enveloped in a miasma of despair and hopelessness.'

'Big improvement on last week, then?'

'I think so, yes.'

I didn't mention any of that to Dr Bairstow.

'No,' he said quietly. 'I mean – how are you really, Max? With everything that has happened – Markham – his past – his future – everything at Mechelen – now that you have had a while to assimilate all this – how are you feeling about that?'

I opened my mouth to say, 'Absolutely fine,' again, but paused. Absolutely fine wasn't quite true in this case so why should I lie about it? Tell the truth, Maxwell. Just for once – tell the truth.

I said carefully, 'I know why, once you realised who Markham was, you had to keep the truth from me. And I can't argue with your reasons. I don't like that you had to do it but that's not really important, is it?'

'Isn't it?' He paused. 'I don't regret my actions, Max, but I do regret the necessity of them.'

'Sir, it's not your job to be nice. I've got that side of things pretty much covered. It's your job to make the right decision.'

I paused. Well, he'd started the conversation. Never ask a question if you're not prepared for the answer. 'You are the Director of St Mary's. To be effective you need to possess certain qualities. Your job is to do the right thing. Not the nice thing or the acceptable thing or the legal thing or whatever, but the right thing. Which, in this case, was to safeguard Markham as best you could. And to protect me, as well. Secrets can be dangerous – this one certainly is and I wish I didn't know anything about any of it – ignorance really is bliss – but now, sadly, I do.'

I looked down at my hands. 'I myself once had to manipulate Mary Stuart into . . . a situation. My job was to ensure she and Bothwell got together and I'm not proud of the way I did it. But, she and Bothwell had to happen because they'd already happened. I had to do the right thing. I didn't have the luxury of sparing my own feelings. My own weakness, my failure to make a difficult decision and live with the consequences, would have brought disaster down upon all of us. It was the same for you with Markham. Unpleasant choices must be made by the few so the many don't have to. It's like Pharaoh.'

He blinked. 'I'm not aware of the similarity to which you allude but I am certain you are about to enlighten me.'

'Pharaoh, sir.'

'Which one?'

'Any of them. Or all of them. Their job was to ensure the sun rose every morning. They knew that if they couldn't make the hard choices then the sun wouldn't come up and everyone would die.'

Dr Bairstow sat for a moment. 'I think I can honestly say I have never regarded myself in that light.'

'Now might be the time to start, sir.'

He nodded. 'I shall certainly bear your comments in mind. Thank you, Dr Maxwell.'

Passing through Mrs Partridge's office, I was struck by a sudden thought. Well – why not? Pausing at her desk, I said, 'Dr Bairstow asked me to tell you he's ready for his Nubian concubines now,' and pushed off while the pushing was good.

 

Back in the Hall, historians were settling down to start work on our Minoan Crete material. I stood back for a moment and watched them sorting themselves out. We'd had a week or so to recover from the assignment and now it was time to get stuck in.

Bashford opened another box, peered inside, sighed and said to Sands, 'There's a lot here, you know. We're going to be at this for weeks.'

The problem with David Sands is that although he's tall, dark and handsome, he also comes with the world's worst collection of knock-knock jokes. I can't tell you how we've suffered over the years. He'd had a lot of it knocked out of him but, as subsequent events would show, he'd recently regrouped and modified his plan of attack.

He looked up, grinning. 'Tell me about it. We work for Cunard, you know.' He paused, expectantly.

'Do we?' enquired Bashford, never the brightest historian in contemporary time. 'When did that happen?'

'No, no. It's a joke. When I said we worked for Cunard, I'm actually saying . . .'

Bashford appeared confused. 'So we don't work for Cunard?'

'Well, no, but . . .'

'So why did you say we did?'

'I was trying to . . .'

'It's very misleading.'

'It's a . . .'

'We work for Dr Bairstow.'

'Yes, but . . .'

'Everyone knows that.'

'I was trying to . . . no, wait, come back . . .'

I found my own stack of archive boxes, whipped the lid off the first one and got stuck in.

 

The next day, Peterson and I had our usual Wednesday morning update with Dr Bairstow. We seated ourselves around the briefing table and Dr Bairstow opened the batting, saying thoughtfully, 'I find myself uneasy about the future.'

I blinked. 'Ronan's dead, sir.'

Yes, he was. He'd been an evil presence in my life almost since the day I walked through the gates of St Mary's and now he was – finally – dead. I'd watched him die. It hadn't been a good death. Or a quick one, either. But he was gone. The circle had been closed. I was looking forward to a much more peaceful future. A little gentle jumping here and there. More time with Leon and Matthew. Spending long hours in the Library reading papers and actually doing historian things. To say nothing of enjoying a little breathing space.

Dr Bairstow sighed. 'Yes, but he wasn't the only threat out there.'

Well, this was worrying. I exchanged a look with Peterson and asked, 'Do you have a specific threat in mind, sir?'

'Ronan did not operate alone. Whether he employed others or they employed him – or thought they did – I have no idea. Whoever they were and what their plans for us might be – again, I have no idea. However, after our enforced evacuation of St Mary's last year, I have no intention of being caught unawares again. I think we must consider our original remote site now compromised and commence the search for a new one. And as soon as possible.'

He paused for a moment and then said, 'I suspect that our days of operating with autonomy might be coming to an end. Thinking back over the years, I remember those shadowy figures behind Laurence Hoyle. And, of course, the very unlamented and sadly unleprous Mr Halcombe and his friend Major Sullivan and their attempts to control St Mary's. If there is a government connection, however nebulous, we could find ourselves in some difficulties. I am particularly concerned about safeguarding our Archive. Maintaining a true record is what we're all about, and in these days of fake facts and government-sponsored misinformation, it's more important than ever. If anything should happen to the Archive, then all our endeavours over the years will have been in vain because we can't go back and do it again. We should never forget – there will always be those for whom the truth is an inconvenience to be removed as quickly and quietly as possible.'

Peterson stretched out his legs. 'There are a lot of people out there with vested interests in upsetting the status quo.'

I nodded. 'If, right now, the authorities turned up to confiscate our Archive then there wouldn't be a lot we could do about it. Apart from resist and be arrested, of course.'

Peterson looked at Dr Bairstow. 'And having acquired it, what would they do with it?'

He shrugged. 'My fear is that it could be altered, amended, adjusted . . . and re-presented as the official record.'

'Censorship,' I said.

'Indeed. As the Time Police are so quick to say – the Time Wars were all about people thinking they could go back and rearrange History to represent their particular interests – religion, politics and so on – in a more favourable and much less controversial light. Imagine if you could produce evidence the Crusader Sack of Constantinople never actually occurred.'

'The Time Wars happen in the future, sir. As do the Time Police. And I can assure you the Sack of Constantinople did occur, sir. I was actually there.'

'But without the evidence, Dr Maxwell, it is just your word against less well-informed others.'

'Never mind our Archive,' said Peterson slowly. 'Anyone possessing our pods could write their own History.'

Dr Bairstow sat back. 'That is my second great fear. Let us be dramatic for one moment. Those who come to control St Mary's might think they control History as well. From often bitter experience we know better, but how many would have to die before the more fanatical elements would accept that History cannot be changed. We've already endured Mr Halcombe's attempts to prove the crucifixion took place. I am convinced he was attached in some way to the government. Or a part of it. A department so obscure that perhaps even the mainstream government itself is unaware of its existence.' He frowned. 'Mrs Brown is pursuing that particular avenue of enquiry.'

Mrs Brown was a member of the government department that has specific responsibility for St Mary's. Ostensibly, we were part of the University of Thirsk, from whom our funding came. Over the years this government department had more or less kept its distance – I suspected that, deep down, they just wished we'd blow ourselves up and solve their problem for them. They didn't want us, but they didn't want anyone else to have us either. I can't think why not – we're quite delightful.

Dr Bairstow continued. 'I accept I may be overreacting but I think I would rather set up emergency procedures which may never be needed than trust to luck and possibly lose everything. I shall therefore be instructing Chief Farrell to find us a new remote site. I always feel happier when I know we have a safe refuge, while any unpleasantness is dealt with somewhere else. I shall also request Dr Dowson to transfer the Archive to our big pod, TB2, where it will be ready to go at a moment's notice.'

I was sitting down but the sands were shifting beneath my feet. The foundations of my life – never terribly secure in the first place – were slowly crumbling beneath me. St Mary's was my home. It was the place I always came back to. And now there was the possibility it might not be here for much longer. It wasn't a good feeling. Something was coming.

Dr Bairstow still hadn't finished. It was just one damned thing after another this morning. 'You should also be aware I may not always be the Director of St Mary's. The people with whom I set up St Mary's – allies at Whitehall – have mostly moved on. New individuals have taken their place. People with different priorities. Different ways of thinking. It is entirely possible you may wake up one morning to find another in my place. We will need to devise strategies for such a contingency.'

Peterson stirred. 'We successfully challenged Halcombe on the grounds his attempt to take over St Mary's was illegal, but I suspect you are talking about a government-authorised transfer of power and therefore perfectly legal.'

Dr Bairstow nodded. 'I think we should assume so, yes.'

'And that would not be something we could challenge?'

'Not if legally carried out, no.'

Peterson hadn't finished. 'I am assuming also that one of the main reasons for new ownership might be our consistent failure to make any sort of profit.'

'I think we should assume that also.'

'Then, sir, may I suggest we adopt a more aggressive policy of search and rescue? Rescuing historical items from the past. Valuable historical items. Raise our profile a little.'

'An excellent idea, Dr Peterson, but we should beware of opening whole new cans of worms. It is very possible the government would consider those items to belong to them, rather than the country in which the artefacts are discovered. There could be controversy. There might even be unpleasantness.'

'With respect, sir, that would not be St Mary's problem. We simply locate the items. What happens to them afterwards would not be our concern. In the same way a doctor gives her patient a new heart but does not necessarily impose any moral or social obligations on that patient to render themselves worthy of a new heart.'

'The logic of your argument is not lost on me, Dr Peterson. And, in the short term, such a course of action would, I think, keep those in charge of the country happy. For a while. People rarely object to additional fame and fortune. Their demands would increase, I'm sure, and to the detriment of our normal duties, but we should be able to buy ourselves a little time. Perhaps you and Dr Maxwell could put your heads together over the next few weeks.'

We nodded. He picked up another file. 'In the meantime, I have appointed Mr Evans as our temporary Head of Security. I shall make the announcement tomorrow. Should anyone ask, Mr Markham and his family are on parental leave and we expect they'll send us a postcard in due course. I don't see that we can do much more to protect ourselves. Not until a tangible threat materialises.'

And materialise it did. The very next day.





The following morning, I was down in the Great Hall with the rest of my department, all of us still wading through the Crete stuff. Notes, recordings, sketches, holos, everything. Our bull-leaping holo was particularly spectacular. We'd watched it several times – once for the actual bull-leaping – once to focus on the spectators, their dress, social status, ethnicity and so on – and once to concentrate on the king, the priestess, and their court in the royal box. The Minoans had been a matri­archal society, with women taking precedence over men, and this had led to some discussion. Why there? Was it because Crete was an island? Was it because they were a trading nation and in permanent contact with other cultures? In which case, why hadn't these cultures adopted Minoan beliefs? The discussion became brisk. That's St Mary's speak for no one had actually come to blows yet. When the discussion became classified as vigorous, I would probably have to step in.

It was a perfectly normal day – Peterson was out of the way in his office, doing whatever it is Deputy Directors do all day long. I've never been able to work it out and I suspect he doesn't know, either. Our liaison officer, Kalinda Black, was in her office, hopefully massively exaggerating our achievements to our overlords at Thirsk and securing our funding for the next twelve months. Dr Dowson was assisting the History Department in sorting through our written material. I'd no idea where Professor Rapson was but he was probably with Miss Lingoss so I wasn't too concerned. Nothing was on fire. No sinister green gas was seeping through the building melting everything in its path. Bashford was actually present and conscious. Everything was lovely – St Mary's was functioning exactly as it should do and there was toad-in-the-hole for lunch. You see – we can do it when we try.

I knew a visitor had arrived but I was concentrating on my last recording – the giant tsunami heading towards Crete to bring death and destruction on a massive scale – and, as usual when major events occurred at St Mary's, I was looking in completely the wrong direction.

I was recalled from scenes of the island's utter devastation by Dr Bairstow's voice in my ear requesting the pleasure of my company. My conscience was clear – both on my own account and that of my department because we hadn't been back from Crete long enough to get into any real trouble – so I bounded confidently up the stairs to his office. Mrs Partridge waved me through.

Dr Bairstow had a guest. A square, stocky woman with crinkly brown hair and a professionally blank expression. I thought she looked like an athlete. There wasn't an ounce of fat on her – it was all muscle. I suddenly became very conscious there wasn't an ounce of muscle on me – it was all fat.

'Dr Maxwell, may I introduce Captain Hyssop, seconded from the army to be our temporary Head of Security and . . .'

Her head snapped up. 'With respect, sir, not temporary. I am your new Head of Security. As my papers show.'

I'm an historian and I know an argument when I've just walked into the middle of
We hope you are enjoying the book so far. To continue reading...
Another Time, Another Place
Jodi Taylor
Copyright © 2023 All Rights Reserved
Also in this series
Also by this author