Book info
Sample
Audiobook
Media
Author updates
Lists
Synopsis
A Christmas short story from the 'Queen of Time', internationally bestselling author of The Chronicles of St Mary's, Jodi Taylor.

'Jodi Taylor is quite simply the Queen of Time. Her books are a swashbuckling joyride through History' C. K. MCDONNELL

Once again, the Toast of Time falls butter side down. Dr 'Max' Maxwell prepares for her very first Christmas away from St Mary's...

It's that most wonderful time of the year once more. But Max and Markham are a long way from St Mary's. What sort of Christmas will it be without their loved ones?

Settle down with a mince pie and a small sherry and prepare for an unlikely combination of Flying Auctions, Fabergé eggs, duped Time Police officers, the Parish Council, a TWOCed Bentley (no, not that one), legendary swords and a belligerent ram.

Will it be Peace and Goodwill to all men? Well, we all know the answer to that...

Readers love Jodi Taylor:

'Once in a while, I discover an author who changes everything... Jodi Taylor and her protagonista Madeleine "Max" Maxwell have seduced me'

'A great mix of British proper-ness and humour with a large dollop of historical fun'

'Addictive. I wish St Mary's was real and I was a part of it'

'Jodi Taylor has an imagination that gets me completely hooked'

'A tour de force'

(P) 2021 Headline Publishing Group Ltd
Release date: December 25, 2021
Publisher: Headline
Print pages: 320
* BingeBooks earns revenue from qualifying purchases as an Amazon Associate as well as from other retail partners.
Listen to a sample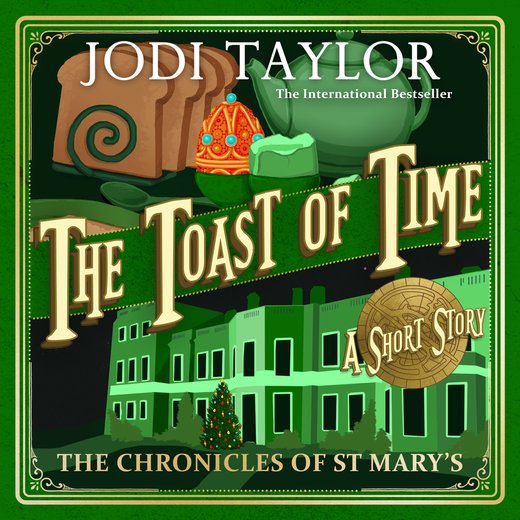 02:28:23
67.93 MB
9781472283474
December 25, 2021
Hachette UK
2021
The Toast of Time
Jodi Taylor
The Toast of Time
It anything likewas the toast that started it. Markham and I were making toast. Or rather, I was making it and he was in charge of the buttering because, apparently, I don't butter all the way into the corners. Once I would have argued fiercely. I would probably even have held him down while I demonstrated just how much butter it is possible to get into even the most remote corner – and not necessarily using a piece of toast, either. Or even butter. But that day I just couldn't be bothered.
He finished buttering, passed me back the appropriately garnished baked bread product – without looking what he was doing, obviously – and I reached out for it – without looking what I was doing, obviously – and rather like the British Relay Team, we dropped the baton at the crucial moment and the toast crashed to the floor. Butter-side down, obviously, because toast doesn't know any other way.
Both Markham and I stared at it. I, because butter-side-down toast just about summed up my life at that moment, and Markham . . . well, I've no idea why he does anything, let alone stares at a piece of toast.
Neither of us moved. The rain smacked against the windows, the kettle switched itself off, the toast obviously wasn't going anywhere unaided, and Markham and I were watching it go nowhere.
Markham sighed. 'Once again the Toast of Time falls butter-side down.'
I nodded. Of course it did.
We might be there still if Pennyroyal hadn't come in.
'Well, pick it up,' he said. Pennyroyal runs a tight ship, and random slices of toast littering the spotless kitchen floor were never going to be his favourite thing.
I bent to pick it up while Markham wiped up the butter.
I looked around. I was pretty sure the five-second rule would apply so I blew on it, cut it neatly in half and buried it at the bottom of the pile. No one would ever know.
Markham brought over the teapot and I wrangled the plate of toast on to the table.
Pennyroyal accounted for the top layer.
Markham moved more quickly than me and snaffled the next tier.
Which just left me and the gravity-damaged bottom level.
I sighed and slathered it an inch thick with marmalade because everyone knows marmalade kills ninety-nine per cent of all known germs. Dead.
We ate in silence.
For anyone wondering about the cause of my depression, it was that time of the year again. The time of jolly and holly and Christmas pudding and carols and arguments and bickering and presents and goodwill.
And families.
This would be the first time for ages that I'd been away from St Mary's for Christmas. I don't know how Markham was feeling about that but I really wasn't in a festive mood at all. Au contraire, as our French friends would say.
I missed Leon. I missed the way he smiled for me alone. The way he looked for me whenever he entered a room. And I missed Matthew. Especially our nightly battles over face-washing and teeth-cleaning.
I even missed St Mary's. The lunchtime scrum. The noise. The smells. And continually having to step over an unconscious Bashford. Or Roberts and Bashford glaring at each other over a grinning Sykes. Or Sands and his never-ending knock-knock jokes. Even Angus crooning happily from the top of a cupboard.
Normally, at this point, I'd go on to describe St Mary's, what we did, warn people against saying 'time travel' in Dr Bairstow's hearing, talk about the pods without mentioning the word 'cabbage' in every sentence and just generally bring people up to speed on how things stood at the moment.
But not this time.
For a start, Markham and I were no longer at St Mary's. Neither was Dr Bairstow – whose whereabouts are, at present, a closely guarded secret to be dealt with at another time. Along with Mrs Brown. I can only say they're not at St Mary's. And that's it. That's all anyone's getting from me.
Back to me and Markham, living wild and free on toast.
Smallhope and Pennyroyal had given us a home. A very comfortable home. There was good food and plenty of it. And excellent pay and conditions, together with lots and lots of rules to break, bend or completely ignore, but nothing could compensate for not being at St Mary's any longer. And, worst of all, we'd both of us lost our families. Leon was out there somewhere, jumping up and down the timeline, keeping Adrian, Mikey and Matthew on the straight and narrow, possibly assisted by Professor Penrose but more probably not. And Hunter and Baby Flora were safely hidden away from the world. Markham saw them occasionally – not as often as he would like to, I suspected – while I hadn't seen Leon since I left St Mary's.
But, we were here and we were safe. We shouldn't complain. We had a roof over our heads and a certain amount of job satisfaction as we apprehended various lowlifes (lives?) who thought it would be a good idea to conceal themselves in another time to escape the attentions of the Time Police, but failed to take into account the Magnificent Markham and Maxwell – bounty hunters.
Sorry – recovery agents.
I really didn't have a thing to complain about. Compared to how badly things could have turned out, everything was fine – it really was. But so dejected were Markham and I that neither of us could be bothered to argue about whose turn it was to clear away the breakfast things and load the dishwasher. We just got up and did it in silence.
'It's like a wet weekend in here,' said Pennyroyal, rummaging in his briefcase.
I looked out of the window at the rain. He wasn't wrong. It was indeed a wetter weekend in here than it was out there.
'Perhaps this will cheer you up,' he said. 'New assignment for you,' and dropped a file on the table.
We looked at it. 'Anything interesting?' said Markham, poking it with his finger.
'Depends,' Pennyroyal said. 'Take a look and tell me what you think.'
Markham opened up the file. Lady Amelia and Pennyroyal always preferred paper to electronics. Their home was as secure as they could make it but there was always the chance of something unexpected erupting through the door and catching them in the act, so paper was their preferred way to go. That way one of them could shove the evidence in the range while the other launched a small nuclear strike at their unwelcome visitors. No – I'm not joking.
'Where did you get this?' asked Markham.
'An announcement on the Dark Web,' Pennyroyal said. 'Useful place if you know where to look.'
According to the single sheet of paper in the file, a Flying Auction was to be held. That was it – no other details. Just the announcement and two long lines of coordinates at the bottom of the page.
I stared at it. 'What on earth is a Flying Auction?'
Pennyroyal was pouring himself a coffee. 'Flying Auctions are markets of no fixed abode. They simply occur as and when required. They are an established way of disposing of items that can't be widely advertised. Or even advertised at all. This one purports to be selling historical artefacts.'
'Fake historical artefacts?'
Pennyroyal grinned. 'Not if we're very lucky.'
'So would we be buying? Selling? Observing?'
Pennyroyal shook his head. 'In these sort of circumstances, Lady Amelia always favours keeping our plans fairly loose. A fast and flexible approach enables us to take advantage of sometimes rapidly changing situations.'
'Ah – gotcha,' said Markham. 'Make it up as we go along.'
'Yes. We appreciate this is the first time for you two, and if you feel it would be wiser to limit your ambitions to something fairly modest then that is entirely up to you. On the other hand, of course, you might well encounter a set of circumstances from which it would be criminal to walk away empty-handed.'
You had to admire his use of the word criminal.
'Well, let's go and see, shall we,' said Markham, picking up the file, and we moved into the room next door, leaving our host to his coffee. This was the closest thing Pennyroyal and Smallhope had to an office. There was a data table, scratchpads, reference material, writing stuff – and an industrial-strength shredder probably robust enough to shred both me and Markham in the not-unlikely event of our hosts deciding they were tired of our company and needed to dispose of the bodies.
I fired up the data table and laid in the coordinates as Markham dictated them.
We double-checked the lat and long and viewed the result with equal astonishment and amusement.
'Cheeky buggers,' said Markham. He nodded with his head at Pennyroyal's end of the farmhouse. 'Do you think he knew?'
I nodded. If someone told me there was nothing Pennyroyal didn't know then I'd believe them.
The coordinates translated to a decrepit old country house just outside of Rushford. Somewhere remote and that had been empty for some time. You would know it as the future Institute of Historical Research at St Mary's. The date was November 1921.
'Standard procedure,' said Pennyroyal, coming in to view the result and to have a bit of a laugh. 'They choose somewhere out of the way and forgotten, give it a bit of a temporary tart-up, invite a few select punters and auction off a ton of very dodgy gear.'
'Does that mean some of it's fake?'
'No – as often as not the stuff is all genuine. It's the acquiring of it that is the dodgy bit.'
'Stolen?'
'Yep. Looted. Pillaged. Smuggled. Just generally nicked. Can't be sold on the open market, obviously – hence the Flying Auction.'
'What sort of very dodgy gear?' I asked. 'What can we expect to see?'
'Could be anything. Quite often you don't know until you get there.'
I gestured to the twirling data stack. 'Isn't that a bit of a risk? Publishing the where and when, I mean.'
Pennyroyal shrugged. 'Got to get the punters in somehow. This was only up for thirty minutes last night. You have to be quick. Any longer and some sort of virus comes winging its way through your system and your whole electronic life collapses around your ears.'
I nodded. Yes, Major Ellis – then Captain Ellis – of the Time Police had once explained that particular tactic to me.
'You have to know where and when to look,' Pennyroyal continued. 'I had a bit of a tip-off. Someone owed me a favour. The trick will be to get in and out of the auction before those Time Police buggers track it down.'
'So where did the organisers get whatever they'll be selling?' asked Markham.
'No idea, but it won't have been legal.'
'Specific instructions?' said Markham.
He shrugged. 'Don't get caught.'
Smallhope and Pennyroyal are not in business out of the goodness of their hearts. Making money is their prime objective. Something to which neither Markham nor I objected because – as I always said – they're not my rules so why should I bother? And we were making a fair bit of money as well. When all this came to an end – if all this ever came to an end – then both Markham and I would find ourselves quite well set up for the future, which would certainly be useful if we had to make a fresh start somewhere else. I sometimes wondered what our chances were of ever enjoying a normal life again. To which Markham would invariably reply that we'd hardly enjoyed a normal life before, so there wasn't a lot of difference really, was there?
He would also like to point out that I haven't explained where we were, what we were doing and why, so here goes.
Obviously, we're not at St Mary's any longer. I was sacked after falling out big time with the new Director, Commander Treadwell, then head-hunted by our charming hosts, before going on to break Dr Bairstow out of a secure government establishment. As you do. It had been a lively couple of months.
Markham and his family had quietly disappeared before the authorities could take it into their heads to do more than sack him, and here we both were, earning a dishonest crust. Although where here is isn't quite clear. Nor are we in our own time, which is a source of grief to Markham because his baby daughter can't join him here. And Leon's busy with his own problems – which, since they involved controlling Matthew, Professor Penrose, Mikey and Adrian, would be extensive.
We're living in a large farmhouse – aptly named Home Farm – along with Lady Amelia Smallhope, who is a genuine member of the aristocracy – sister of the current Lord Goodrich, I think – and Pennyroyal, her butler. And bodyguard, thief and thug as well, and who could probably kill you in a million different ways while mixing the perfect margarita at the same time.
They'd offered us both a job and so far, it was going quite well. It turns out that there are a significant number of people who, having made their own time too hot to hold them any longer, relocate to the past, together with a dozen or so big bags of gold, to spend their days in peace and prosperity, living off their illicit gains. In some cases, they simply pick up where they'd left off, but in a different century. A whole new time and place to exploit and terrorise. But not for long, however, because Markham and Maxwell are on the job now. We zoom in, overpower the illegals by whatever method seems good at the time and then hand them over to Smallhope and Pennyroyal who, in turn, present them to the Time Police in return for a very handsome reward. A very handsome reward indeed. Pennyroyal then deducts expenses and we split the rest between us. Yes, Markham and I really weren't doing too badly at all.
One day I knew I'd be reunited with Leon and Matthew, but even so . . . This was my first Christmas away from St Mary's since I'd gone to work there. There was no reason why we wouldn't have a perfectly pleasant Christmas here, but . . . well, it wasn't home.
On the other hand, neither Markham nor I were on the streets. Or in prison. Or dead, so there was no real reason for my mood. I sat up. I had a living to earn and I should get on with it.
Where was I? Yes – back to the plot. If that's what you want to call it. Our loose brief. Arrive, sum up the situation, bring back anything that could be translated into cash. Don't get caught. Have a good day.
Markham and I went off to select our costumes.
The costume room is next door to the office. The costumes are arranged on racks, more or less chronologically. The majority of outfits appeared to be from the 1800s onwards. I guessed not many people ever wanted to be relocated to the Middle Ages. It's by no means as picturesque as the entertainment industry would have you believe.
My instinct was to wear something from 1921, but as Markham pointed out, that wasn't really necessary, was it? No contemporaries would be present at the auction. We could both wear ordinary clothes and be comfortable, just for once.
'We don't want to be too distinctive,' said Markham, rifling through a rack of clothes ranging from Roman and Greek tunics, European doublets, Tudor and Stuart silks and satins, huge Georgian skirts, Regency breeches, Victorian frock coats, sharp 1920s suits, fringed flapper dresses – I held my breath because you never know with him – mumsy 1950s housewife stuff, and even a few mod outfits from the 60s, including the classic Mary Quant Mondrian dress which I actually quite fancied myself. 'Never make it easy for people to describe you to the authorities,' he continued. 'Simple, good quality, tasteful. A bit like me, really.'
'You once went through an entire assignment dressed in pink,' I said. 'I hardly think that marks you out as an expert on quiet good taste.'
'It was rose,' he said, hurt.
'It was eye-catching,' I said. 'And that was without the giant feather in your hat.'
He disappeared into another rack of clothes, muttering as he went.
In the end, I went for a rather nice pair of black trousers, a white shirt, a khaki jacket and a casual scarf, loosely knotted. Scarves are good. They can double as bandages, slings, or blindfolds. You can tie people up with them, or use them to carry away your loot. At a pinch you can even wear them, although for some reason, only Frenchwomen seem able to achieve that effortlessly nonchalant careless look. I laboured for nearly thirty minutes over my effortlessly nonchalant careless look and in the end Markham did it for me.
He himself was simply dressed in a leather jacket and dark jeans. We surveyed ourselves in the mirror.
'Looking good,' I said.
He smirked. 'We're Markham and Maxwell – bounty hunters.'
'Recovery agents,' I said gently.
Our pod was parked around the back. The perfectly genuine farmhouse had a perfectly genuine farmyard at the rear. A couple of people came in every day and did farming things while Smallhope and Pennyroyal got on with the business of living dangerously but making a lot of money at the same time. There were barns, stables, sties, all with various bits of agricultural equipment scattered around. Real chickens pecked in the yard – something which always caused Markham some disquiet because he's not completely at home with the animal world.
The big building to the left – accessible from the house in case we ever needed to make a quick getaway – was, ostensibly, a barn, but actually it was the rural equivalent of Hawking Hangar. Our pod was in there – actually it was Leon's pod, but currently enjoying temporary new ownership. It was usually neatly parked alongside our employer's slightly larger pod and connected to the power supply by thick black umbilicals. Pennyroyal was very keen on any pod being ready to go at a moment's notice.
I was surprised they had only the one pod – what happened if they needed to split up, for instance? – but Markham reckoned they had one other at least, carefully tucked away somewhere else that we didn't know anything about. Thinking about it, that made sense.
Ours was the only one here today because Lady Amelia was off doing her Christmas shopping. Why she couldn't have taken the car like a normal person was never satisfactorily explained. Perhaps she was avoiding London's notorious parking problems. I don't know whether Harrods provided parking for their customers but I could just picture her pod occupying a premium spot while she herself zipped around, credit card in one hand, margarita in the other, buying up half the shop.
I think out of kindness to me and Markham, she and Pennyroyal had declared this Christmas a 'no gift' zone (something with which I'd been happy to comply – I'm not sure what would constitute the perfect gift for a wayward member of the aristocracy and her thug of a butler), so I assumed it was her family for whom she was shopping. And Christmas food, of course. Pennyroyal had produced an extensive list of delicacies without which Christmas could not possibly proceed.
A sneak peek had revealed our Christmas would be enhanced by:
Every bottle of claret in the western hemisphere. That would be Pennyroyal. He's very partial to the occasional glass.
Three rivers' worth of salmon – smoked and otherwise.
Hand-shot venison – what? Is there any other way? Unless our Caledonian cousins have taken to pursuing deer across the highlands with a trebuchet. On the other hand, it's Caledonia – anything is possible.
A vast quantity of esoteric cheeses including Stinking Henry. A cheese so pungent that the law required it to be served underwater for the safety of society.
Icelandic tea bags – don't ask me what that's all about.
Organic sprouts – yeah, like that renders them any more acceptable.
The world's most expensive coffee – yuk. Sticking three noughts on the price does not render coffee any more drinkable, people.
Twiglets – Pennyroyal again.
Two gross of macaroons – although I might have misread the quantity.
Hand-picked peanuts – what was the alternative? Feet-picked?
Château Cusheeyonne's world-famous champagne – obviously. To be read with a French accent. Obviously.
Two boxes of Pennyroyal's specially designed Christmas crackers – one hat, one joke, one hand grenade, presumably.
Taylor and Edwards's Magnificent Self-Igniting Christmas Pudding with free fire extinguisher.
And a turkey hand-reared exclusively on the finest corn and so free-range it had apparently been on a walking tour of the Lake District.
Well, shopping for that lot should keep Lady Amelia occupied for a while.
Our pod – well, my pod – all right, Leon's pod – looked very small in the vast space of the barn. That's partly because it is very small. It's a single-seater with some unusual features. Markham and I both fit inside quite neatly, although once I'd had four people and a ton of boxes and crates in there and things had been more than cosy.
The barn was chilly. I called for the door and we entered the pod. We carried nothing personal and we certainly weren't armed because that would be asking for trouble. We had our invitations to the auction, of course, printed off by Pennyroyal, without which there was no chance of getting in, even if we promised to buy everything in sight. Apparently, they contained some kind of hidden code that would sort the goats from the sheep. I had a perfectly genuine credit card in the name of Smallhope tucked in an inner pocket, because who would attend an auction without the means to purchase something, and just in case there was any trouble and we had to prove who we were to the authorities, Markham and I both carried SmartCards, each disguised as a small business card, on which our fake names were neatly inscribed but with a hidden hologram, the reading of which by a Time Police scratchpad would identify us as acting under their authority. For any other authority we'd have only our wits on which to rely. So, as Pennyroyal said, completely on our own, then.
I have to say, this being on the dodgy side of the law business is excellent. I can really recommend it. There was no tedious checking each other over for inadvertent anomalies, no uncomfortable clothing, no hours of boning up on the appropriate subject matter – you just strolled into your pod and went. So that's what we did. We strolled into our pod and went.
Early November, 1921. The war had been over for three years but there still weren't a lot of men around in the village. They hadn't built it yet, but there would be a war memorial up by the church to the eighteen men who hadn't come home again. That's a lot for a small place like this. I often wondered how they would have felt if they'd known that thirty years later, they'd have been inscribing yet more names on the memorial. That the War to End All Wars actually hadn't.
Gloomy thoughts for a gloomy day. It was autumn out there. Chilly and damp. I could see dew-drenched cobwebs hanging in the hedgerows and the grass was beaded with moisture.
We'd parked in the field behind the Falconburg Arms. A number of grubby sheep peered curiously as we exited the pod.
'There's a ram,' said Markham, nervously. He and the animal kingdom don't love each other, as I say. I looked forward to seeing him being beaten up by the kitten that young Flora would inevitably demand.
'It's that time of year,' I said. 'Just make sure he doesn't see you as competition and you'll be fine.'
'Fun Fact,' he said, taking care to walk on the non-ram side of me.
Markham and his allegedly Fun Facts are one of the great curses of the modern world. The secret is not to let him get started. 'I don't care. Just keep your eye on Big Boy over there.'
He was big, too. And his horns were impressive. He stared at us and stamped a warning hoof.
'No,' said Markham. 'Listen. This could be useful. Did you know that if a ram backs away from you it isn't because he's intimidated but simply because he's lengthening his run-up?'
'That was your Fun Fact?'
'No – my Fun Fact is that if that happens then we should walk towards it.'
'Walk towards it?'
'Yes. And don't run. He'll think you're charging and respond appropriately.'
'And if that doesn't work?'
'Wave a stick. They don't like that.'
'Bugger,' I said, looking at our stickless state.
The ram stamped its foot again. All its wives had stopped eating to watch the entertainment.
'I think it's going to charge,' said Markham. 'Stand your ground.'
'No – you stand your ground. I'm off.'
He grabbed my arm. 'No – don't do that. Just stand still and then, as it rears up on its hind legs, you step smartly to one side.'
'You do know you're insane, don't you?'
'The important thing is not to run, Max. These things can hit thirty miles an hour. Can you?'
Since I couldn't, I tried to stand behind Markham. Since he was trying to stand behind me, we were going nowhere.
The ram snorted a funny snorting sound. We were going to die.
'OK,' said Markham. 'If all else fails then one of us should wrestle it to the ground.'
'What?'
'Grab its horns and wrestle it to the— hey, wait for me.'
We ran. At speeds of very nearly thirty miles an hour in my case. The ram watched us with contempt then lowered its head and continued eating. As did its many wives.
'Well, that was embarrassing,' said Markham, clambering over the gate to stand beside me.
'Not for the ram,' I said, dusting myself off and looking up and down the main street.
There was a great deal more commercial life going on than in my time. Apart from the Falconburg Arms I could see at least two more pubs, together with some kind of all-purpose shop with its contents spilling across the path outside, a bakery, and what looked like a haberdasher. Milk and meat must come round on a cart, I reckoned. The most modern building was a garage with a single solitary petrol pump at the top of the hill. Markham craned his neck.
'What are you doing?'
'Trying to see how much they charge for petrol.'
Men do this. Football, beer and the price of petrol. Incomprehensible, but the best thing to do is let them get on with it.
Not all the little cottages were occupied. A good many were still boarded up. Perhaps they'd been abandoned during the war and for some reason the inhabitants never returned. The Great Slump wouldn't happen until the late 1920s, but here in rural England, the post-war depression was already biting.
There were no street lights. The hedges bordering the road were untrimmed. I don't know what the road was made of. Most of it was covered in a lethal mixture of mud and fallen leaves. The trees were bare, silhouetted against the sky, and there was no colour anywhere in the world.
There were no people about, either. Such men as had returned from the war would be working, either in the fields or in Rushford. Women would be in the home and the kids in school. Everyone in their proper place.
The bridge over the stream was a rickety wooden affair that didn't look capable of supporting the weight of a car. Or even a laden wagon. We picked our way across very carefully. There was definitely no road on the other side. A muddy track, badly rutted by wagon wheels, led up to St Mary's, very visible between the bare trees.
The day was cold. Not one of the bright and frosty days. This one had a chill that struck right through to my bones. No wonder sheep were so bad-tempered, living in a muddy field in these temperatures. Perhaps we should have parked closer, but caution – and Pennyroyal – had advised keeping the pod a safe distance away. Should the Time Police appear and attempt to arrest us all, we didn't want our pod swept up with all the others.
St Mary's had that blind look common to empty houses. The windows were shuttered but both the gates were open. One was hanging off its hinges so it probably wouldn't have shut anyway. Between weeds and potholes, the drive was barely visible. I wondered when someone had last lived here.
We'd been careful, but others hadn't been so cautious. Or, more likely, too lazy to walk that far. Two or three small rectangular boxes were parked in the long grass on what we'd come to know as the South Lawn.
'There's another two under the trees over there,' said Markham. 'And I reckon there'll be some more round the back.'
I began to do some calculations in my head. Say an average of two people per pod, five pods that I could see, probably more. Lady Amelia always charged top whack for her bounty, saying that if we didn't put a high price on our services then how could we expect anyone else to do the same? So that was a possible ten people – minimum. A lot of people. And that didn't include those running the auction. Although how two of us would manage ten people was a bit of a mystery. Never mind – we'd think of something. There was a lot of money parked here.
I grinned at Markham. 'Are you thinking what I'm thinking?'
He grinned back again. 'Seriously, Max, we were born to do this.'
We carried on slowly up the drive. St Mary's looked truly decrepit. There were things growing out of the chimneys. The stonework was crumbling quite badly. In fact, two heavy wooden buttresses were pushing it upright in one place, and everything was stained with rainwater because the gutters and downspouts had been pinched for the lead. It would be horribly damp inside. I never before realised how much work Dr Bairstow had had to do to make it habitable – or nearly habitable. And even after all his work, there was always something falling down. Or off. Or in. Although, to be fair, this was quite often not unrelated to events within St Mary's itself. Professor Rapson's dandelion wine had blown out the windows. The kitchen and admin staff had brought down the lantern roof in the Great Hall. Frozen chickens had demolished the Library. To say nothing of dead dogs flying through the windows, runaway monoliths, exploding rocks . . .
I was quite unprepared for the sudden and unexpected attack of homesickness coming out of nowhere. I don't know why, because I was actually far more comfortably housed at Home Farm. It was warm, there was plenty of hot water and the food was good. I wondered what St Mary's was doing now. How were they getting on without me? Very much better, probably. Rosie Lee, my alleged PA, always claimed History Department efficiency soared when I wasn't around.
I snuck a glimpse at Markham to see how he was taking being back at St Mary's, but his face told me nothing. It never does if he doesn't want it to.
Hands in pockets, we strolled slowly up the drive, getting the lie of the land. No one else was in sight. The whole place looked completely deserted. We'd got this far unchallenged. I began to wonder if we were in the right place.
Markham nudged me. 'Bet you never thought you'd be doing this when you got up this morning?'
'No,' I said. 'We're very, very naughty people.'
'We certainly are,' said Markham. 'We're the Pros and Cons.'
I sighed. Every time I thought he'd forgotten that stupid name . . . he hadn't. He'd wanted a team name, he said, and since he'd done a bit of time here and there, that made him a Con. Short for convict, he would explain, convinced that if I could only see the joke, I'd adopt the team name with enthusiasm. He was always trying to get me to disguise myself as a prostitute so I could be the Pro part. It was never going to happen, but you can't fault his perseverance. Well, you can, and I was going to fault it with a clip round his bloody ear one day if he didn't give over.
On the other hand, Combat Wombat – his second choice – hadn't met much favour either – especially from Pennyroyal, whom I suspect has a very specialised sense of humour. Me bleeding to death at his feet would probably evoke a merry chuckle. Combat Wombat did not.
I had an idea Markham would never give up on Pros and Cons and that he'd be repeating his arguments ad infinitum, which is never fun, but at least it kept him off the Fun Facts – which, as you will have observed, are even worse.
'Fun Fact,' he said, as we approached the steps.
'Oh God . . .'
'Do you know,' he said, ignoring me, 'this is exactly how St Mary's looked the first time I clapped eyes on it.'
'Did you have any idea what you were getting into?' I asked.
'Nope. Did you?'
'None at all,' I said. 'I thought I'd come for a research job.' I stepped back and looked up. 'The house certainly looks deserted. Do you think we've come to the wrong place?'
'No.'
'How do you know?'
'Other than all the pods scattered around the place, there's a very modern security camera concealed behind the pediment.'
'Excellent,' I said, which, I admit, is not the normal reaction to finding oneself under surveillance, but it was good to know we were in the right place.
'Microphones?'
'Doubt it,' he said, shaking his head. 'Too much faff for only one afternoon. Plus there's too much background noise. Wind and whatnot.'
'I can't see any more pods,' I said. 'Do you think there'll be any hidden up in the woods?'
Markham frowned. 'Possibly, but I suspect these will be people too posh to walk.'
'We're walking.'
'We're not posh.'
'They don't know that.'
'We're eccentric.'
I nodded. 'OK. I can do eccentric.'
'Eccentric is my middle name,' he said.
'No, it's not.'
'You don't know that.'
Peterson would not have wanted me to miss this opportunity. His lifelong quest to discover Markham's real name occupied much of his waking hours. And as Deputy Director of St Mary's, it wasn't as if he did a lot of work anyway. Cunningly, I said, 'I don't even know your first name.'
'No, you don't, do you?'
And now we were at the front door, having walked up the drive, having a natural conversation and behaving perfectly normally. Which, trust me, is the best way to do it.
We broke off as the doors opened before us. I saw two men, both adhering to the 1920s setting. They were dressed in dark jackets, grey striped trousers and very nearly terminally shiny shoes.
'Hello there,' said Markham cheerfully. 'Are we in the right place?' He flourished his printed invitation which was immediately scanned.
The secret is not to watch anxiously, worrying about whether or not you'll pass muster, but to fix your attention elsewhere. We turned our back on whatever they were doing because it wasn't important and of course we'd get in, and surveyed the remains of the once and future South Lawn.
'I bet this was a nice place once,' remarked Markham.
I nodded. 'Shame to let these old places go but I suppose no one wants to live in them any longer.'
'No,' said Markham. 'Only idiots would live in a place like this.'
We turned back again.
'Everything OK?' said Markham, holding out his hand for the invite.
'One moment, please, sir. This is a polite request for you to surrender any weapons voluntarily.'
'Not armed,' he said sunnily, which was perfectly true. Unless we'd brought Pennyroyal's portable armoury with us, we'd never be able to match the sort of firepower our hosts – whoever they were – could probably muster.
We were wanded anyway, which displayed typical levels of trust between punters and puntees.
They stepped back. 'Everything is perfectly in order, sir and madam,' said Retainer One, not relinquishing our invite but imprinting a barcode on the back of Markham's hand. 'This will grant you access to all the parts of the building deemed safe. For your own safety, sir and madam,' he imprinted another barcode on mine, 'please do not deviate from the safe areas. Some parts of this building are in a fragile condition.'
'Be awful if you had to dig us out before we'd had the chance to buy something expensive,' said Markham.
'Our thoughts exactly, sir.' Retainer Two handed us a glossy catalogue. I couldn't wait to see what was being offered, but first things first.
Retainer Two continued. ...
We hope you are enjoying the book so far. To continue reading...
The Toast of Time
Jodi Taylor
Copyright © 2023 All Rights Reserved