Book info
Sample
Audiobook
Media
Author updates
Lists
Synopsis
From the million-copy bestselling author of THE CHRONICLES OF ST MARY'S.

'Jodi Taylor is quite simply the Queen of Time' C. K. MCDONNELL

---

Patience is not a virtue known to the Time Police. And Commander Hay is facing the longest day of her life...

After their heroic efforts to safeguard the Acropolis and prevent the Paris Time-Stop, the Time Police have gone from zero to hero. Then one fateful mission to apprehend a minor criminal selling dodgy historical artefacts blows up in all their faces.

An officer is attacked within TPHQ. A prisoner is murdered. And investigations are about to lead to the one place where no officer can legally tread.

Worst of all, trouble is brewing for Luke, Jane and Matthew as a shocking revelation threatens to tear Team Weird apart for good.

FOR FANS OF DOCTOR WHO, THE THURSDAY MURDER CLUB AND JASPER FFORDE.

Readers love the Time Police:

'This got five stars only because I couldn't give it six!'

'I don't think I've ever laughed out loud so much reading a book'

'I am always gutted when I finish a Jodi Taylor book as I know I will have to wait for the next one'

'Joyous, breakneck-speed adventures'

'Lots more in this series please'

'This book is BRILLIANT'

'Brilliantly conceived and flawlessly written'

(P) 2022 Headline Publishing Group Ltd
Release date: October 13, 2022
Publisher: Headline
Print pages: 416
* BingeBooks earns revenue from qualifying purchases as an Amazon Associate as well as from other retail partners.
Listen to a sample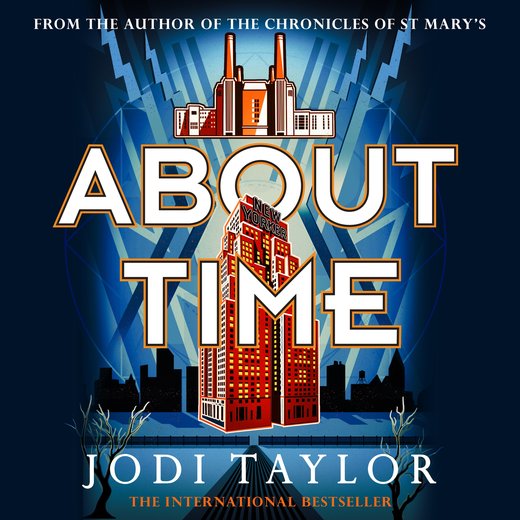 12:30:36
343.61 MB
9781472286932
October 13, 2022
Hachette UK
2022
About Time
Jodi Taylor
Roll Call

TIME POLICE PERSONNEL

­Commander Hay

­Commander of the Time Police. About to endure the longest day ever.

Captain Farenden

Her adjutant. Looking on the bright side has never been more difficult.

Amelia Meiklejohn

One half of the perfidious Meiklejohn siblings. About to embark on a new career with the Time Police. What could possibly go wrong?

Major Ellis

New head of BeeBOC (Big Business and Organised Crime, for the uninitiated).

Lt North

New head of Records/Historical Briefing. And heading up the first team to boldly go where no man has gone before.

TEAM 235

Lt Grint

Team leader. Still stumbling down the rocky road of romance.

Officer Kohl (Socko)

Officer Hansen

Officer Rossi

TEAM 236 – TEAM WEIRD

Luke Parrish

Self-­appointed team leader – but not for much longer.

Jane Lockland

Actually – she isn't.

­Matthew Farrell

Right in the middle and not happy.

SECURITY TEAM

Lt Filbert

Head of security.

Officer Varma

Persistent. Always gets there in the end.

Officer Wu

Officer Harvey

Officer Jessup

Officer Miller

MEDCEN

The doctor

Possibly even more depressed than ever.

Kelly

Medical orderly.

POD BAY & LOGISTICS

Senior Mech

Unhappy about the number of women in his life. The unnecessary number of women in his life.

Oti

From Logistics. Crate provider.

OTHER OFFICERS

Major Callen

Using his initiative.

Lt Dal

Lt Chigozie

All of these are relatively normal officers.

Lt Fanboten

Officer Curtis

Just don't mention sentient poo.

Officer Rockmeyer

Unwillingly hosting Officer Curtis's naked buttocks. Don't ask.

St MARY'S PERSONNEL

Dr Maxwell

Supposedly in charge of evacuating St Mary's but easily distracted.

Leon

Heroically fire-­fighting while his pod takes a bit of a bashing. Again.

Dr Peterson

Both disappointed at not being involved

Mr Markham

but still happy to shove their oar in.

Mr Dieter

Very nearly squashed.

Adrian Meiklejohn

The other half.

CIVILIANS

Mrs Lockland

Jane's grandmother.

Mrs Farnborough

The Home Counties' Valkyrie. In all sorts of trouble.

John Costello

It's his pod, so it's not really stealing, is it?

Nikola Tesla

Yes, him.

Henry Plimpton

Still rocking the benevolent grandfather look but he'll shoot you dead if you cross him. Sometimes, even if you don't.

His men

Assorted minions, including: Blue Coat/Broom, Jim, Tucker, Clore, Trip, Fisher, Otto and Andy.

Raymond Parrish

On really top form and rather enjoying himself.

Lucinda Steel

His PA. Sadly unable to bring the world to its knees this time round, but there's always hope for the future.

Ernesto Portman

Anthony Portman

Portmans, so no one likes them.

Bradley Portman

Portman Security

Not having a good day.

Lola

Cat-­loving call girl.

Lift attendant

Now knows not to mix his lights with his darks.

Waitress

Provider of very welcome coffee.

SUNNYSIDE NURSING HOME

Dr Anne Summers

Nurse Suti

Their patient

MISCELLANEOUS

Mellor

Time Police helicopter pilot.

Miles

Civilian pilot.

A small box of emergency tissues

Doesn't get out much. The Time Police do not have a procedure for sobbing.



­Commander Hay settled herself comfortably at her desk and picked up her mug of coffee.

'Right then, Charlie. Hit me with today's calamities.'

The usual procedure, established during their long working relationship, was for Captain Farenden to ease his commanding officer gently into a list of yesterday's disasters, following through with today's pending catastrophes, and then, depending on how things had gone so far, offer a teasing glimpse of tomorrow's possible misfortunes. As adjutant to ­Commander Hay, it was his job to expect the unexpected. The bizarre. The sudden. The inexplicable. And the downright stupid. Especially the downright stupid.

This last week, however, he had been spending his working days dealing with the Time Police's latest . . . 'recruit' was the wrong word. 'Acquisition' was perhaps more appropriate. Amelia Meiklejohn – one half of the perfidious Meiklejohn siblings and former illegal – was now, unbelievably, a member of the Time Police.

A much-­decorated and resourceful officer, Captain Farenden was struggling daily with all the feelings of exasperation and frustration traditionally experienced by anyone in a supervisory category coming into contact with either or both of the Meiklejohn siblings. However, he was an officer in the Time Police and challenges existed to be risen to. The alternative – and rapidly becoming his preferred option – was to shoot her dead, drop the body in the Thames and disclaim all knowledge of anything. This was a tactic that had always worked well for the Time Police in the past and he saw no reason why it should let him down now.

Captain Farenden was roused from these happy thoughts by his commanding officer enquiring whether he had gone to sleep.

He gritted his teeth. 'No, ma'am. I was merely arranging my thoughts in order to present today's agenda in a timely and efficient manner.'

'Good God, Charlie – you are in a bad mood.'

'Not at all, ma'am. Merely . . .' He paused.

'Merely . . . ?'

'Nothing, ma'am.'

­Commander Hay, having herself endured several frustrating interviews with Miss Meiklejohn over the last couple of weeks, had gone on to dump the whole business of their new recruit in her adjutant's lap, citing her need to concentrate on securing additional funding from a reluctant government. Having, therefore, a very good idea of the cause of his tensely uttered 'Merely . . .', she simply grinned and waited.

Captain Farenden pulled himself together. 'Well, ma'am. The situation at the moment is as follows: everyone involved in the Paris Time-­Stop and Acropolis incidents has completely recovered. Lt Grint is to be formally discharged later today, although he's been up and about for some time now. Ten days' light duties and if nothing drops off then it's a full return to work for him, as well.'

'That's good news. He's rather unique and I was worried we'd lost him in Paris.'

'Indeed, ma'am. And before you ask, there's no news of Henry Plimpton anywhere. If he has any sense, he'll go to ground for a good while. He must know we'll put the word out that he's a person of considerable interest with whom we would like more than a quick word after his recent attempt to stop Time. I've circulated rumours of a substantial reward.'

'Have we discussed this worrying tendency of yours to spend money the Time Police does not possess?'

'We have, ma'am. On several occasions.'

'And did we come to any conclusions?'

'I believe you expressed the appropriate sentiments, ma'am.'

'I'm certain I did and yet . . .'

'Would you like me to continue, ma'am?'

'Spending money we don't have, or today's sitrep?'

Recognising provocation when he heard it, Captain Farenden continued.

'Second stage reorganisation, ma'am. I've pulled together your thoughts on the latest changes to staff structure and this is how things look now.'

He activated a data stack. 'As you directed, Major Ellis is now the new head of BeeBOC with Lt Grint as his number two. And Officer North is promoted to lieutenant.'

'Well deserved. She kept her head at the Acropolis.'

'Indeed, ma'am, and she's now heading up the new Records/Historical Briefing section.'

Hay nodded. 'I'll see her after this meeting.'

'Yes, ma'am.' He made a note. 'And in today's good news – unbelievably, Team Two-­Three-­Six have finally made up their minds which department to grace with their presence. Form D12s have been completed and submitted and it would appear they have come to rest in BeeBOC, thus remaining the responsibility of Major Ellis. Much to the joy of everyone not Major Ellis.'

'Are we aware of Major Ellis's thoughts on this matter?'

'We are not, ma'am, but I suspect they may easily be guessed. Everything else stays the same. And Major Callen remains in charge of the Hunter Division.'

Captain Farenden paused invitingly but there was no visible reaction from his commanding officer. To be fair, there rarely was. ­Commander Hay had been injured in an accident during the Time Wars. The door had blown off her pod. She had been the only survivor. Half of her face was now considerably older than the other half. People found the effect disconcerting. ­Commander Hay found it useful.

'Actually,' she said. 'Just while we're on the subject of Major Callen, please can you instruct all personnel to cease referring to him as the Vomit Magnet. Within my hearing, at least.'

Casually, she reached over to blank her screen saver.

'Of course, ma'am.' Discreetly, Captain Farenden turned his scratchpad face down. An unfortunate incident involving Dr Maxwell from St Mary's, their own Major Callen, and a record-­holding amount of vomit had led to the acquisition of a substantial number of unofficial but amusing screen savers.

'And while we're discussing our last assignment, Charlie . . .'

'Yes, ma'am?'

'Your work minimising our part in the Paris Time-­Stop and the Tunguska event was exemplary. I intend to promote you to major. I should actually have done it a couple of years ago but quite often a commander is only as good as her adjutant. I've been selfish, but I can't hold you back any longer – it's not fair to you. What do you say?'

Captain Farenden slowly shut down the data stack and closed his file. 'Well, first thoughts, ma'am – thank you very much.'

She nodded. 'And your second thoughts?'

'With grateful thanks, may I decline?'

'You may, of course, but why?'

'Several reasons, ma'am. I'm not A1 fit. I'm only A2.' He laid a hand on his bad leg.

She shrugged. 'I'm not A1, either – doesn't stop me.'

'True, ma'am, but there's no getting around the fact that my days of leaping in and out of pods are over and done. But mostly, ma'am, I like this job, I'm at the centre of things. I'm able to use my initiative.'

'Such as spending the entire annual budget covering up our actions in Paris and Siberia.'

He looked at her reproachfully. 'You omitted the word "successfully" from that sentence, ma'am.'

'I also omitted the word "expensively", Charlie. Be grateful.'

'Yes, ma'am.'

Hay swivelled her chair to look out of the window. 'My sight is not improving. I may not be able to command the Time Police for much longer. My successor would certainly promote their own people. Refuse a promotion now and it might never be offered again.'

'I'll happily take that risk, ma'am.'

'I can promote you and still keep you on as adjutant.'

'It would be unusual to have such a high-­ranking officer in the post.'

She sighed. 'Do you want some time to consider this?'

'No, I don't think so, ma'am, thank you. I'm not likely to change my mind – but my grateful thanks for your consideration.'

'Very well. Moving on.'

He took a deep breath. 'Well, ma'am. Last item but one – our latest acquisition.'

'The one lurking in our deepest darkest dungeon.'

'Her workroom, ma'am. If you remember, you decided workroom was a much nicer word than dungeon.'

'It is the deepest darkest one we've got, though?'

'And correspondingly remote, ma'am. Accessed through the Pod Bay, past Logistics, past Storerooms 1 and 2 and right at the very end of a very long corridor. Behind the newly installed blast doors. I thought I could sell the location to Miss ­Meiklejohn on the grounds of health and safety.'

'And did she buy it?'

'She seemed completely unaware of the concept, ma'am. I gave up in the end. It was sapping my will to live. I'm not sure if you're aware of this, but she can be a . . . provocative . . . conversationalist.'

'Well, never mind – I'm sure you're giving it your best shot, Charlie.' She paused. 'Obviously, I'd attend to all this myself if only I wasn't so taken up with our funding issues. Alas . . .'

'Indeed, ma'am. Your regret shines through your every word. Fortunately, I find myself in a position to alleviate this disappointment.'

'Oh?'

He picked up his scratchpad again and flicked. 'I have good news.'

'Great Scott – we have good news? Actual good news?'

'We have very good news. I'm certain you will receive confirmation from the Right Honourable Mrs Farnborough very shortly, but my own sources tell me it looks as though the bill approving a substantial budget increase for the Time Police will soon be before the House and is certain to go through. Well done, ma'am. A complete turnaround from a few months ago when they were threatening us with cutbacks.'

'Well, I think our success in saving the Acropolis went a long way towards that.'

'Yes, we were lucky there. Failure could have meant the end of us. The Time Police went from zero to hero, ma'am.'

'In a single bound, no less. Arising from that, Charlie, please tell me Dr Maxwell has been returned to St Mary's.'

'Two days ago, ma'am.'

'I honestly thought her legendary luck had run out this time. Any lingering effects from her . . . experience?'

'She's St Mary's, ma'am, so it was hard to tell, but the doctor says probably not and it's not our problem anyway. I believe she passed the time in MedCen by assisting Meiklejohn with her investigation into the effects of using portable Time-­travel devices.'

'And their conclusion?'

'Don't.'

'Fair enough, I suppose, given what happened to them both. They were lucky. They might not survive next time.'

'With luck, there won't be a next time, will there, ma'am? Amelia Meiklejohn is now a member of the Time Police and safely ensconced within our walls. Not sure how safe that will be for us, though,' he added reflectively. 'Still, I expect we'll soon find out.'

'I think you should look on the bright side, Charlie. There is an outside chance that both we and Meiklejohn will not only survive her time here but actually benefit from it.'

'Speaking of benefits, ma'am, and the final item today – I've re­jigged the standard employment contract to reflect her . . . unique status.' He opened another file.

'And how have we defined the undefinable Miss Meiklejohn?'

'Consultant, ma'am.'

'Interesting.'

'The document clarifies her position and, I think, lessens the possibility of any future misunderstandings over what does and does not constitute reasonable behaviour.'

'You're imposing guidelines upon Miss Meiklejohn?'

'Rules, ma'am.' He sighed. 'I don't feel this is an area where ambiguity would be our friend.'

­Commander Hay, who knew her adjutant very well, hid a smile and settled back. 'Let's hear these rules, then.'

Captain Farenden cleared his throat. 'Well, ma'am, in no particular order: no experimenting on anything alive. Or dead, for that matter.'

'Sensible,' commented ­Commander Hay.

'Everything remains the property of the Time Police. Except for any blame, liability or expense, which will automatically revert back to the blamee – i.e. Meiklejohn.'

She nodded. 'Yes, good.'

'Any and all fines are to be met by the employee.'

'Good.'

'All gaol time to be served by the employee herself.'

'Well, I'm not doing it.'

'Exactly, ma'am. The Time Police reserve the right to repudiate the employee and all her works at any time.'

'Good thought, Charlie. That could come in very useful.'

'The employee is to report to you every Friday afternoon with a detailed account of her week's activities together with her proposed schedule for the upcoming week.'

'Thus buggering my peaceful Friday-­afternoon run-­up to the weekend. Thank you, Captain.'

'My pleasure, ma'am. At the discretion of the commander of the Time Police, the employee may be terminated at any moment. And her employment, too.'

'Can I shoot her myself?'

'I don't see why not, ma'am, although I only put that one in as a joke. To lighten the mood, so to speak.'

'No, I like that one best. Make that Rule One.'

'Yes, ma'am.'

'How is the Senior Mech coping with this addition to his empire?'

'Meiklejohn has a sign up which reads, "This way to the Batcave", so he's deeply unhappy, ma'am.'

'And how is she dealing with that?'

'Waves merrily every time she sees him.'

'I meant her office accommodation. Is she finding it adequate?'

'It has four walls and a workbench, ma'am, and she's from St Mary's, which means she's accustomed to primitive. She's probably grateful she has a roof over her head.' He paused. 'For the time being, at least.'

'You're quite enjoying this, aren't you?'

'Actually, ma'am, I am. I have all the entertainment of watching the cat among the pigeons without being the one responsible for actually putting the cat among the pigeons.'

Hay sighed. 'Have I done the right thing, Charlie? Bringing her here?'

'Oh, I think so. There's no doubt she could be useful to us. She's brimming with ideas. And as Dr Maxwell said, we don't want those ideas falling into someone else's hands. Now those ideas can benefit the Time Police.'

'Unless she manages to blow us all up first.'

'I was very carefully not going to mention that.'

'Your restraint is greatly appreciated, Charlie. What else does the contract say?'

'Not a lot more. Just the standard terms and conditions. She'll start on the same rate of pay as a Junior Mech but I've built in performance increments. Nothing extravagant, but I don't think this is an occasion on which to be stingy. Not that she seems to care much for money.'

'No, you've done the right thing there.' She paused. 'One thing that does cause me concern, Charlie – Meiklejohn is on the radar now and I can't help feeling Henry Plimpton won't give her up so easily. Especially after their showdown in Paris. And given the brutality with which he eliminated the residents of Beaver Avenue, we all know he doesn't like loose ends. At some point, he will come after her.'

'Yes, ma'am, in fact . . .'

'Yes?'

'Have you considered assigning her additional security? She's safe enough here at TPHQ, but it would be easy for him to snatch her off the street.'

'I take your point, Charlie, but I can hardly confine her to TPHQ for the rest of her life.' She appeared to consider this option again and then shook her head regretfully. 'No – sorry. Besides, it's Meiklejohn. She and her idiot brother evaded us for years. I can't help feeling anyone attempting to force either of them to do anything against their will would very soon regret it.'

'Including us, ma'am?'

'That is a possibility, I suppose.'

'Well, if I could just draw your attention to Clause 10 open bracket iii close bracket letter c, her contract does give us the right to shoot her if she doesn't do exactly as she's told.'

'Have the whole thing typed up and laminated with something heatproof and bombproof, and nail it to her office wall. Actually, put a copy on every wall in her workroom. We don't want her claiming ignorance of the rules, do we?'

Captain Farenden passed the document across the desk. 'I'll just leave this with you then, ma'am.'

She took it very reluctantly. 'Why?'

'For your meeting this afternoon.' He noticed her blank look. 'It's Friday, ma'am.'

­Commander Hay regarded him coldly.



At 1500 hours promptly, the Time Police's latest recruit presented herself in Captain Farenden's office, clutching several files and festooned with data cubes.

'I'm here,' she announced, presumably in case he hadn't noticed.

In modern holos, scientists are always depicted wearing white coats. Mad scientists clutch a phial of bubbling green stuff – while wearing white coats. Scientists up to no good carry briefcases, thus reminding the viewer that they are smuggling sensitive material out of their top-­secret labs – but still wear white coats while doing so. Even truly evil scientists – the cackling kind who habitually gather in ­hollowed-­out volcanoes – wear white coats. No one knows why they all do this. Presumably there's a scientists' code somewhere.

All attempts to persuade Amelia Meiklejohn to wear the standard Time Police uniform had failed. Ditto with the white coat.

Time Police officers – who tend to like things cut and dried – were somewhat confused by her attire, which consisted of a brand-­new leather flying jacket – the old one had met a terrible end in Paris, 1902 – and goggles. But at least she didn't cackle. Yet.

Captain Farenden frowned at her. 'Your meeting with ­­Commander Hay was scheduled for 1400 hours. You're late.'

'Am I? Oh. Sorry. Forgot the time. I can go away again if you like.'

She made gestures indicative of going away again.

Aware that boundaries were being tested, Captain Farenden paused to give her time to contemplate her sins. Sadly, very little contemplation occurred.

'Stay put. I'll tell the commander you're here. She may still be able to fit you in.'

'OK.'

He limped into ­Commander Hay's office. 'Miss Meiklejohn is here, ma'am.'

Hay's reply drifted back through the open door. 'So soon? I hope she hasn't cut short anything important. Ask her to wait two minutes, please.'

Captain Farenden nodded and returned to his office.

Mikey, who knew very well why she'd been told to wait, merely grinned at him and asked what was wrong with his leg.

'Helicopter crash,' he said, briefly.

'Did your leg cause the crash or was it damaged in it?'

'Most people are polite enough not to mention it.'

She beamed. 'Are they?'

Captain Farenden had no sisters but recognised deliberate provocation when he saw it.

Fortunately – or deliberately – or both – ­Commander Hay appeared at her door. 'Would you come in, please, Miss Meiklejohn? Yes, you too, Captain. I think we'll need minuting.'

She grinned at him as he entered because even a commander is occasionally at the mercy of her adjutant and revenge is sweet.

Amelia Meiklejohn had been gracing the Time Police with her presence for a fortnight now, but this was her first official visit to ­Commander Hay's office. That she was impressed was apparent.

'Cool.' She rushed to the window to stare out at the view.

The London skyline rose before her – all geometric shapes and flashing glass. The Gherkin, the Startled Hamster, the Shard, the Box of Tissues and the Sea Slug dominated the skyline, along with half a dozen giant mooring towers for docking airships. Just a little way downriver, the Wibbly-­Wobbly Bridge continued to provide a challenge to pedestrians and a delight to small children.

Overhead, a number of smaller airships ground to a halt and trod water – figuratively speaking – as Concorde took off from Heathrow's Runway Seven, clawing her way into the heavens before sticking out her nose and heading to Bahrain at Mach 2.5.

'Wow,' said Mikey, temporarily awed.

The Thames meandered past, glittering silver on this sunny afternoon. Public clippers queued at their moorings to discharge their passengers. Boy racers and the river police battled for supremacy in the fast lane and water taxis zipped in and out of the traffic, cutting up slower-­moving vehicles without a second thought.

­Commander Hay cleared her throat and gestured for everyone to seat themselves at the long briefing table.

'Well, Miss Meiklejohn, have you familiarised yourself with your operating instructions?'

'Not really. I thought it would be easier and quicker just to make a start on things and see what happens.'

'Have you had time to read your copy of . . . ?'

She shrugged. 'I sort of skimmed the first few lines but you seem to have an awful lot of rules and I'm not really very good at remembering that sort of thing, so I think the best thing for everyone is that I just keep going until someone tells me to stop.'

'I think you'll find things here are very different from St Mary's. The Time Police will expect you to take just a little more responsibility for your own actions.'

Mikey cocked her head to one side. 'No – I don't think that argument would work in a court of law. According to the rules – your rules – you own me and you own my work. It follows, therefore, that you own the consequences of that work, good or bad. I'm pretty certain that should I come up with something ground-­breaking you're not going to sit back and say, "Well done, Amelia. What a clever girl. Do enjoy spending all the money this will make you." We both know that everything I create – and sadly for you, that includes the stuff that goes horribly wrong – will automatically become the property and responsibility of the Time Police and not me. I think a good defence lawyer would pounce with delight on that particular contractual inconsistency, don't you? Just prior to having me acquitted from whatever you've accused me of.' Mikey gestured at her files and cubes. 'Shall I begin? So you can tell me to stop?'

Both ­Commander Hay and Captain Farenden sat in cold silence which their newest recruit, busy arranging her files and cubes, completely failed to notice.

'Firstly,' she said, 'you have a problem with your portable power source.'

Hay frowned. 'What portable power source?'

'Exactly. I mean, yes, you have solar panels on the pods and whatnot, but they're not a lot of use in Scandinavia in the middle of winter, are they? And the panels become less and less effective as a mission drags on, so in the end, before power drops to critical levels, the pod is forced to return to base for a proper recharge. I don't know how long-term some of your assignments are, but I bet it's a bit of a bugger if, after months of careful surveillance, you're all prepared to pounce but you can't because you're getting low on power. And, of course, using the camo thingy really eats into your power levels.'

­Commander Hay opened her mouth but there was no chance.

'So, I've had some thoughts and I think I could convert a pod into an actual power source.'

'But what about . . .'

'I'd strip out all the innards – everything not essential would go – then I'd pack it full of cells, batteries, power packs – the lot. I'd leave just enough room for a mech to pilot and do the hooking up. It needn't be a big pod, either. In fact, it shouldn't be because it's going to have to be able to access everywhere. And, if I can rig a couple more Parissa fittings – without damaging the shell, of course – then possibly it could recharge more than one pod at a time. And that could double – possibly triple – the length of time your pods can spend on site. And then the power pod returns to base, either swaps out its cells – you'd need a constant supply – or recharges itself again and then nips off to service someone else. I think that could be quite useful, don't you, but I'll stop if you want?' She looked up. 'Yes? No? OK – we'll call that a yes, then. If you can persuade Old Porky to give me a pod to tinker with, then I should be able to have something to show you in about a month.'

'Old . . . Porky?'

'Yes, you know. Fat bloke. Never smiles. Bald spot. Old. Shouts a lot.'

'I suspect you are referring to our Senior Mechanic.'

'Yes, him. Doesn't like women.' Mikey grinned. 'And he especially doesn't like me.'

'I suspect that has very little to do with your gender and more to do with your attitude.'

Mikey gave this serious consideration. 'Could be. Could be. Anyway, yes or no on getting me a pod?'

­Commander Hay nodded at Captain Farenden who said, 'The matter will be addressed. Is there anything else?'

'Oh God, yes. Loads. I was talking to someone. Can't remember his name. Big bloke. Looks like a puzzled mammoth.' She paused, but neither ­Commander Hay nor Captain Farenden were going to admit they'd recognised Lt Grint from that unflattering description. 'He was telling me about a time when an illegal pod got away from him because he couldn't get the EMP going quickly enough. Actually, as he progressed with the story, I rather think it might have been me and Adrian he'd been pursuing at the time. We used to get away from you quite a lot, didn't we? Remember that time in Pisa? Love the way you denied all responsibility for the Leaning Tower. And the eleventh stone at Stonehenge? That definitely wasn't our fault. Anyway, I'm thinking some kind of mesh. Or net, possibly. Light and flexible. You chuck it over the pod, switch it on and it neutralises the field in much the same way as an EMP but ten times quicker, and targeted as well. It would prevent the illegal pod from jumping away before you can get to it. You can't always spare the time it takes to set up an electro-­magnetic pulse and you always have to be careful not to disable your own pods, so I should imagine you'd find something like that quite useful.'

'I rather suspect,' said Captain Farenden, 'that an illegal p
We hope you are enjoying the book so far. To continue reading...
About Time
Jodi Taylor
Copyright © 2023 All Rights Reserved
Also in this series
Also by this author