The Good, The Bad and The History
Book info
Sample
Audiobook
Media
Author updates
Lists
Synopsis
BOOK 14 IN THE CHRONICLES OF ST MARY'S SERIES, FROM THE MILLION-COPY BESTSELLER JODI TAYLOR.

'Brilliant, hilarious, keeps you on your toes' Reader review
'The characters make me come back time and time again' Reader review
'I have not found another author who can tell a story involving time travel as well' Reader review

St Mary's is under investigation. Their director has been shot and Max is Number One Suspect. Can things get any worse? We all know the answer to that one.

Max needs to get away - fast - and a Brilliant Idea soon leads her to a full-scale uprising in twentieth-century China. If she can come by a historical treasure or two in the process, even better. That is, if she makes it out alive.

Then there's the small matter of Insight - the sinister organisation from the future hell bent on changing History for their own dark ends. Having successfully infiltrated their ranks, Max is perfectly placed to stop them. But she knows her cover will soon be blown - because it's already happened.

Can Max take down Insight before they come after her? The circle is closing, and only one can survive...

For fans of Terry Pratchett, Jasper Fforde, Richard Osman's Thursday Murder Club series and Doctor Who.

WHAT PEOPLE ARE SAYING ABOUT JODI TAYLOR

'Jodi Taylor is quite simply the Queen of Time. Her books are a swashbuckling joyride through History' C. K. MCDONNELL

'Wonderfully imaginative' SFF WORLD

'Every page bubbles with energy' BRITISH FANTASY SOCIETY

(P) 2023 Headline Publishing Group Ltd
Release date: June 22, 2023
Publisher: Headline
Print pages: 512
* BingeBooks earns revenue from qualifying purchases as an Amazon Associate as well as from other retail partners.
Listen to a sample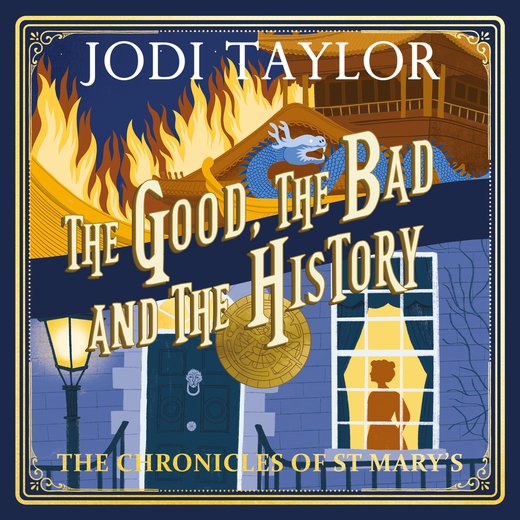 13:49:44
379.83 MB
9781035404957
June 22, 2023
Hachette UK
2023
The Good, The Bad and The History
Jodi Taylor
Dramatis Thingummy

Dr Bairstow

Director of St Mary's. Given all the recent excitement, a sensible director would opt for the path of discretion and definitely not defy the authorities and demand more money, more equipment and more staff and to be quick about it.

Dr Peterson

Deputy Director. Has a favour to ask of Max.

Dr Stone

Still struggling to persuade Max to do as he wants.

Mrs Partridge

PA to Dr Bairstow. Muse of History. Still manipulating events.

Rosie Lee

Former PA to Dr Maxwell. Don't mention nooks or crannies.

Captain Hyssop

Her alibi is keeping Max out of gaol. And vice versa.

Chief Technical Officer

Still hanging in there. Anticipating

Farrell

a long, happy and crisis-free future. We know differently, though, don't we?

Dr Dowson

Initiating his new library assistant into the Library Way.

Dieter

Is there to be a promotion?

Nurse Fortunata

Long-suffering as always.

Rosemary Salt

Seriously scary.

Miss Brooke and

Library shock troops.

Mr Bond

 

OUTSIDE SECURITY FORCES

DI Ivaan Mendis

His instincts are spot on.

Lt Den Trasker

As are his.

 

TIME POLICE PERSONNEL

Commander Hay

Commander of the Time Police.

Captain Farenden

Her adjutant.

Captain Ellis

Looking at promotion if he plays his cards right.

Commander Treadwell

You'll never guess what he's done.

Lt Filbert

Head of security.

Officer Varma

Security officer.

The Doctor

Not quite as depressed as usual.

Various other officers too numerous to mention.

 

INSIGHT PERSONNEL

The Board

Delightful, charming people. You'll never meet a nicer bunch of murderous megalomaniacs.

Bridget Lafferty

Head of Admin – and much, much more.

Eddie Middleditch

Ostensibly a filing clerk.

Geoff

Bleagghhhhh.

Maxine Forrest

Not who she seems.

Various security guards and others still too numerous to mention.

 

RECOVERY AGENTS

Lady Amelia Smallhope

Very successful bounty hunter.

Pennyroyal

Her butler and alleged member of the human race.

Markham

Appears to have taken up residence in a public convenience. Urine-stream expert.

Mr Evans

Formerly of St Mary's. Now a Pro and Con along with his colleagues.

 

CLIENTS

Svetlana Koslova

On the run.

Anastasia Koslova

Olympic-standard asker of questions.

 

PATARA INHABITANTS

Clerk

Doing very well. A happy family.

Prentiss

Little Max

Dorus

The baby

Lyssa, Anfia, Hestia

Part of the household and they know it.

 

MISCELLANEOUS

Sarah Greenwood

Provisional wing of the British Museum.

A couple of unpleasant

Recipient of their just deserts.

old men and their loom

A woman and her two

Rescued by our heroes. Eventually.

daughters

Potential firing-squad victim

Uses our heroine as a human shield. Don't waste your sympathy.

A pack of hyenas

Not a laughing matter.

Ramses

The first time-travelling Ancient Egyptian.

Mrs Brown

Member of the government department nominally in charge of St Mary's.

Jack Daniels MP

Ranked slightly below Ramses.

Martin Gaunt

You'd think he'd know better by now. Ranked slightly below even a politician.

Helen Peterson

Various soldiers, officials, staff, minions, panicking people, firing squads, bodyguards, etc.



There were two of them. Smiling, pleasant, devious, almost certainly lying through their teeth and definitely not to be taken at face value.

So that made three of us, then.

I was being interviewed in Sick Bay, which, I hoped, would confirm my credentials as a very sick person who shouldn't be bullied.

Neither of them were in uniform, and although I'm now so old that policemen are beginning to look positively embryonic, these two were around my own age, which probably meant they'd be patient, experienced and tenacious. Or perhaps they'd been brought in to reassure a nervous patient.

The nervous patient sat up straight, smoothed her covers and endeavoured to look frail and helpless but – above all – law-­abiding.

'Good morning,' said the elder of the two, flashing his ID. 'Detective Inspector Ivaan Mendis, and this is Lt Den Trasker, representing the military police. I expect you can guess why we're here.'

I nodded. Leon had warned me to keep my answers short and to the point and, most importantly, not to argue with anyone. I don't know why he thought I would.

They pulled up a chair each and sat down at my bedside. Not close enough to be intimidating but just that little bit too close. Invading my personal space but being very nice about it.

'Good morning,' said Trasker, carefully seating himself on my right. Mendis was on my left – all cleverly designed to split my attention. 'Do you mind if we call you Nicola?'

'Of course not, Den,' I said cheerfully. There was a more than slight pause and then we began again.

'Let's start with the easy stuff, shall we?' said Mendis, placing his recorder on my bedside table. 'Name?'

'Nicola Hay,' I said tremblingly. The very picture of someone who knew nothing but wanted to cooperate.

'And your occupation?'

'Library assistant.'

He'd placed his recorder so the blinking green recording light was just at the very periphery of my vision. Very irritating. And distracting.

'Where do you work?'

'Here – at St Mary's. In the Library.'

'And how long have you worked here?'

Shit. I didn't know. I hadn't thought that far ahead.

I said, 'Um . . . let me see . . .' and began to do complicated sums on my fingers, whispering, 'November . . . no, December . . .' until Peterson, who had demanded to be present at every interview to ensure any and all questions related solely to the Treadwell incident, said, 'About four years, I think.'

'Sorry,' I said. 'Still a bit hazy. You know . . .' and tailed away as if my strength was failing me.

Mendis peered at my dramatic facial injuries. My bruises were just transitioning from purple and blue to brown and yellow, which, trust me, was not an improvement. A face-­full of logs can do that.

'Yes,' he said, with genuine curiosity. 'What on earth happened to you?'

'I crashed my car,' I said piteously, letting my chin wobble. 'Although . . . I still can't remember . . .'

'Last week,' said Dr Stone, who was there to shore up my story with confusing medical details. 'Her recollection of that event is a little foggy although you should find she's clear enough over the events you're interested in.'

'Tell me what you do remember,' said Mendis.

'Do you mean my accident or the . . . the other thing?'

'Where did your accident take place?'

'In the car park.'

'Here at St Mary's?'

I nodded. That was my story, anyway. I was hoping the fact it had supposedly occurred on private property would muddy the issue a little.

'Was a police report filed?'

'I don't know,' I said, truthfully. 'I don't remember. Perhaps you should ask our Legal Department.'

That would be Mrs Partridge, so good luck with that, guys.

His gaze took in my surgical skull cap and bald head and then travelled on to my bruised face and forearms. 'It looks very painful,' he said. 'What exactly happened?'

I fiddled with the sheet. 'Oh, well, so stupid . . . I left the car in gear and when I switched it on, it jumped and I hit something – I can't always see very well – and then I tried to back away and I hit something else. Behind me. And I think I oversteered or something. And the car didn't go where I thought it would. And then there was the chicken and I panicked and I think I stamped on the accelerator instead of the brake and there was a big bang and this giant bag hit me in the face.'

I let anxiety bleed into my voice. 'I didn't hit anyone else, I promise. I just . . . sometimes I'm not very good at going backwards. In a car, I mean. Am I in a lot of trouble? Angus . . . ?'

I suspected anxious witnesses were Mendis's favourite thing. He twisted in his seat to look at Peterson. 'Someone was hurt? Who's Angus?'

'Bashford's chicken.'

'Who's Bashford?'

I felt safe answering this one. 'One of the people whose car I hit.'

Should they require any evidence corroborating my story, Bashford's car has sustained more hits than the surface of the moon during the Late Heavy Bombardment four billion years ago. The entire vehicle is peppered with impact craters. I leaned forwards and said, 'Please tell me she's OK.'

He looked baffled. 'Bashford?'

'Angus.'

Mendis glanced at Dr Stone. For enlightenment, presumably.

'The chicken,' he said briefly.

'Angus?'

'Yes.'

'She hit his car but not his chicken?'

'And another car and the bin store and a bollard and the kerb and part of the fence,' said Dr Stone, going into completely unnecessary detail.

Lt Trasker looked at me. 'What were you driving? A tank?'

'I don't own a tank,' I said primly. And unwisely, as it turned out.

'So what do you own?'

'I'm sorry?'

'What sort of car do you own?'

Shit again. How should I know the make and model of the wholly fictitious car I was lying to the police about?

'It's blue,' I said helpfully.

'I expect our Admin officer will be able to supply any details you might require,' said Peterson smoothly.

Mrs Partridge again, so, again – good luck with that, guys.

Mendis tagged his partner. 'Regarding the events leading up to the shooting of Commander Treadwell – I believe you saw the whole thing.'

'No.'

They exchanged looks. Mendis consulted his scratchpad. 'It says here . . .'

'I saw him shot. I didn't see who did the shooting.'

'Ah. What exactly did you see?'

'I saw Commander Treadwell being shot.'

He gritted his teeth. 'Where?'

'On the South Lawn.'

'No,' he said patiently. 'Where were you?'

I nodded my head towards Peterson, sitting in the window seat. 'Over there.'

Trasker got up and went over to the window, thus reminding me to be careful because they'd check and verify every word I said.

Mendis continued. 'What were you doing in the window?'

'Reading a book.' I held up David Sands' latest bestseller.

He pretended to be surprised. 'Really? You can't see well enough to drive a car successfully – or even at all – but you can read a book?'

I put on my specs. The ones that make me look both intelligent and sexy – although today I suspected they'd have a bit of a struggle – and beamed at him.

Baulked of his prey, he returned to the attack. 'Were you alone?'

He would know this already. I wondered if, given that I'd incurred my injuries a day or so before Treadwell was shot, they'd written me off as a suspect and the purpose of this interview was actually to verify whatever Hyssop had told them.

'No, Captain Hyssop, our temporary Head of Security, was here.'

'What was she doing?'

'Talking to me.'

'Why?'

'Well, I think I assumed she'd come to see how I was doing. Isn't that usually why people visit the sick? Other than questioning them, of course.'

He put down his scratchpad and stared at me. 'You're very defensive, Ms Hay.'

For one nasty panicking moment I couldn't think who he was talking to. Was the Time Police Commander here too? But no – I was Ms Hay. Concentrate, Maxwell. It was interesting that I'd chosen the surname Hay. Interesting psychologically, I mean. I thought I'd just gone with a variant of Nicola de la Haye because of our recent Lincoln adventure, but perhaps my reason was deeper and more sinister than that. Was Commander Hay a descendent of Nicola's, perhaps? Given the relentless powerhouse that had been Nicola de la Haye and still was Marietta Hay, I could well believe that.

I blinked back to the here and now because everyone was staring at me – these two security officers, Dr Stone, and Peterson in his capacity as my official employer (he wished).

My fellow patient and roommate, Lady Amelia Smallhope – and also my actual employer and, like me, convalescing bounty hunter – had been wheeled into a nearby airing cupboard and was almost certainly, at this moment, quietly quaffing a margarita among the piles of bedding. And no, she hadn't gone willingly. Pennyroyal – fellow bounty hunter – was currently fast asleep in the female staff toilets.

But back to my interrogation.

I peered at Mendis from under my skull cap. 'I don't think I have anything to be defensive about. I didn't shoot Commander Treadwell. Ask Captain Hyssop.'

He brushed that aside. 'I want to be absolutely certain of this. You and Captain Hyssop were both in this window here? Looking out?'

'Yes.'

'What did you see?'

'I saw Commander Treadwell being shot.'

'Before that.'

'Oh. Well, I saw him come out of the fire door.'

'That one down there?' said Trasker, leaning forward to peer out of the window. Peterson obligingly moved to one side.

'Yes. He came out of the door and set off across the grass.'

The lieutenant frowned. 'Where was he going?'

'I don't know for a fact, but he was heading towards the stables. Those buildings to your right.'

He peered again. 'So he was heading towards the stables when he was shot?'

'No.'

'You just said . . .'

'No – he'd stopped.'

'Why?'

'I don't know.'

'He just stopped?'

'Yes, he turned back to look up at the building.'

Mendis leaned forwards again, suddenly very interested. 'Do you think he heard something?'

'I don't know,' I said, genuinely trying to help because the sooner I was cleared from this investigation the sooner I could get out of here and resume my nefarious activities. 'The window was open and I didn't hear anything.'

'Did he do anything else?'

'No, he was just looking up at the building.'

'Why?'

'Checking the roof, perhaps.'

'Why?'

'Again – I don't know. I thought perhaps he was on his weekly inspection. You know the sort of thing – when the boss wanders around and appears just when and where you don't want him to.'

'But you don't know why he paused in that particular spot?'

I shook my head. 'It was a nice day. Perhaps he was just . . . you know . . . taking a moment to enjoy it.'

'For how long did he stand there?'

I closed my eyes, reliving the scene. 'About ten, twelve seconds.'

'And then?'

'And then I heard a popping noise. Like a car backfiring. Or a distant bird scarer, perhaps.'

'Not like a gunshot?'

'I don't think I've heard many gunshots,' I said. Seriously, I am never going to heaven. On the other hand, there was no point saying I'd never heard a gunshot at all because this was St Mary's and gunshots and explosions happened all the time.

'Could you tell where it came from?'

Sadly, yes, I could. The shot had come from inside St Mary's. Treadwell had been shot by someone inside St Mary's. I had no idea what Peterson or Dr Bairstow had told the officers, so I went with ignorance because that always works well for me. I shook my head.

'Can you describe this noise?'

I frowned. 'Not really. It wasn't loud . . .' Which was true. 'I assumed it was from some distance away.' Which wasn't true. One of these days I really must make a list of all the people – good and bad – I've lied to over the years. And the centuries in which I've done it.

'Are you certain?'

'No, I'm not.'

'You see, Ms Hay . . .' I really wished I'd gone with a name that didn't make me want to check behind me every time I heard it. 'All the evidence points to the shot coming from this side of the building.'

I widened my eyes in alarm. 'Does it?'

'And we wondered if it came from here.'

I pulled up the covers. 'Here? In this room?'

'No, I mean this part of the building.'

I shook my head. 'The shot didn't sound . . . inside . . . if you know what I mean.'

Apparently they did because they both nodded.

I thought I'd gained their trust enough to ask a question or two myself. 'Did you find the gun?'

Alas for this brave effort, they didn't answer, so I guessed no, they hadn't. I had an apparent inspiration. 'Perhaps he or she threw it into the lake. Have you searched the lake?'

'We are exploring all lines of enquiry,' said DI Mendis smoothly, which was probably police speak for we're not going near those bloody swans until we absolutely have to.

They refocused on me. Probably to prevent me making any more helpful suggestions.

'What happened after the commander was shot?'

I frowned. 'For a moment or two – nothing. Then Captain Hyssop told me to stay where I was. She ran out of the room shouting that Treadwell had been shot and for Dr Stone.'

'And you stayed put? As you were told?'

'Oh yes. I could barely hobble that day.' And then, because I felt the point couldn't be made too strongly, I looked down at myself. 'I'm not much better now.'

'And then?'

'Nothing. Not for a few seconds anyway. He just lay there. And then people started running out of the building. A couple of historians, then Hyssop appeared, then the medical team and so on.'

'And then what happened?'

I shook my head. 'I don't know. I felt rather sick and it seemed wrong to watch so I went back to bed.'

'And you didn't see anyone at all before Treadwell was shot?'

I shook my head. 'No, I'm sorry I can't help.'

Mendis looked up. 'Do you know, I find that quite hard to believe.'

Well, his instincts were spot on, weren't they?

'No,' I said tremblingly. 'I'm just a library assistant . . .' and prayed he'd have no knowledge of the extensive and improbable range of skills required for library work. Especially library work at St Mary's. 'You should talk to Captain Hyssop. She knows what's going on much better than me.'

'Captain Hyssop has already been interrogated,' said Trasker, and I didn't care much for the way he said that. Hyssop and I were each other's alibi, but suppose they decided we were in it together? I certainly couldn't afford any sort of investigation. It wouldn't take them long to discover that Ms N. Hay and Dr L. Maxwell were one and the same person. And that Dr Maxwell was responsible for liberating Dr Bairstow from a spot of illegal internment. And I was prepared to bet that Martin Gaunt – the unpleasant individual from whom Dr Bairstow had been liberated – would be attempting to make all our lives utter hell as soon as he was able. Especially me.

Or – an even worse possibility – suppose Hyssop had lied? She didn't love me. Suppose she told them I'd done it. Her word against mine. Yes, the sooner I was out of here the better. Remembering I was seriously injured, I yawned heavily and let my eyelids droop.

'That's enough,' said Dr Stone, and about time too.

Mendis was silent for so long I thought that the interview was concluded. I should have known things wouldn't be that easy.

Right out of nowhere, he looked up from his scratchpad and said, 'Do you know a Dr Maxwell?'

My surprise must have looked very genuine. Because it was. 'Yes. Well, I used to. Dr Maxwell used to work here.'

'Where is she now?'

'She's not here any longer, that's all I know.'

'Why not?'

'Well, she . . . um . . . she . . .'

'She what?'

It suddenly dawned on me that shifting suspicion on to that criminal mastermind Maxwell might be a good idea. They'd waste a lot of time pursuing that particular red herring, thus freeing me up to return to my life of . . . as Lady Amelia would describe it . . . apprehending miscreants. Or, as Pennyroyal would prefer to describe it – profitably apprehending miscreants.

But back to my current crisisette. The one where I was completely innocent. Of shooting Treadwell, anyway.

I let myself gabble. 'Dr Maxwell had a row with Commander Treadwell. Well, several rows, actually. And in public, too. Which is how I know about them. But everyone knows about them. They really didn't like each other.'

'He sacked her, didn't he?'

'He did, but I don't think . . .'

'Where is she now?'

I took good care to look startled. 'I've no idea. I didn't know her that well so I don't know where she might have . . .'

'Did you like her?'

'Oh yes,' I said unblushingly. 'She was lovely.' Behind the two officers, Dr Stone grinned and made gagging mimes.

'What about Mr Markham?'

'Our Mr Markham? He's on paternity leave, isn't he?'

I peered around Mendis to Peterson, who had gone back to the window seat.

He nodded. 'That's right. Due back . . . in about a month, I think. Mrs Partridge will know.'

'Do you have an address?'

'I don't, but Mrs Partridge will. Why do you ask? You don't think either of them . . . ?'

'As I said, we are pursuing all lines of enquiry,' he said smoothly.

'Of course,' said Peterson, equally smoothly.

'Who do you think shot Commander Treadwell, Ms Hay?'

Any right-­thinking human being who happened to have a gun in their hand at the time, was the obvious answer to that one.

'I don't know,' I said, beginning to feel it was time to wrap this up. 'He only ever spoke to me once and that was just to ask where Dr Dowson was. Perhaps someone was up in the woods – shooting – and they were careless . . . I really don't know.'

Dr Stone stood up and fortunately, so did they.

Trasker looked down at me. 'We'll be back.'

I was unimpressed. Seriously? I've been threatened by experts.

'Now,' said Dr Stone, intervening before I could tell them this, 'who would you like to see next?'

The door closed behind them.

Peterson lingered for a moment. He looked worried. I didn't blame him. All my breezy insouciance aside, St Mary's was an organisation with a lot of secrets. We knew where the bodies were buried because we'd buried most of them ourselves.

Future troubles were piling up thick and fast. Not just Treadwell; we were also hiding Smallhope and Pennyroyal following their recent punch-­up with Insight at Home Farm. And that bastard Gaunt would never give up on his relentless quest for me and Markham after we broke Dr Bairstow out of his – Gaunt's – supposedly high-­security establishment. I myself was here under very false pretences and God only knew where Markham was.

I sighed heavily and looked at Tim, whose face pretty much mirrored my own thoughts.

'These people you're trying to take down,' he said, 'Insight – are they likely to come after you here?'

I shook my head. 'There is absolutely nothing to link Maxine Forrest to St Mary's. We've been really careful, Tim.'

'I hope so. Anyone who can inflict that amount of damage on Smallhope and Pennyroyal . . .' He tailed away and then sighed again. 'Could things get any worse?'

'Oh,' I said comfortingly. 'I think we both know the answer to that one.'



After that brief excitement, the days in Sick Bay dragged past. And outside Sick Bay, too. St Mary's doesn't behave well in captivity, and after a few days of everyone being restricted to the main building and grounds, a sort of Colditz mentality set in.

First out of the gate – literally, as it turned out – were Bashford and Roberts, who disguised themselves as nuns. Why nuns was never actually established and Mrs Enderby was extremely unhappy over their unauthorised incursion into Wardrobe. Anyway, they'd blatantly strolled out of the gates and down to the village to enjoy a night's quaffing at the Falconburg Arms. And taking the opportunity to exchange news with Ian Guthrie, of course.

Their problems only began when they attempted – somewhat unsteadily and with a great deal of giggling – to break back into St Mary's and were caught trying to climb in through the window they had carefully remembered to leave open but Hyssop had since discovered, closed and locked. Even then they would probably have got in somehow had not the swans taken offence at this breach of the unofficial Swan/St Mary's Treaty as it related to nocturnal perambulations, and moved in for the attack. Our two swan-­shit-­covered rascals were eventually rescued, hauled before Dr Bairstow and subjected to massive sarcasm, the gist of which seemed to centre around the stupidity of being caught rather than the original transgression.

Exciting rumours that vital evidence revealing the identity of the shooter had been surreptitiously buried in the veg patch were sadly discovered to be untrue, but only after two squads of police cadets had turned up with wellies and spades and the entire veg patch had received a thorough and much needed digging over. A grinning Mr Strong's comments on the quality of their bastard trenching had not been well received.

Back in Sick Bay, Smallhope and I were briefly joined by Miss Sykes. Her attempt to induce Turk to wear 13th-­century horse armour had failed quite spectacularly. She'd ended up in the rhododendrons and he was subsequently discovered just outside B&Q on the Rushford bypass, attempting to rid himself of his decorative scarlet feather headpiece by rubbing himself against one of those diddy little smart cars. A comparatively minor event, you'd think, but equine intransigence escalated the situation considerably, eventually involving the car owner – trapped inside and terrified – the car park attendant, the police, several insurance companies, the Highways Agency, the farmer who owned the broken fence, Mrs Huntley-­Palmer in her capacity as local magistrate, a traumatised veterinary surgeon, and Dr Bairstow's entire range of diplomatic and political skills.

The R&D Zip Wire to Freedom (patent pending) went about as well as you would expect and a reluctant Dr Bairstow was eventually forced to authorise use of the cherry picker for the purpose of rescuing those left dangling precariously some twenty feet above the ground. Apparently, everyone's first choice had been to leave them hanging there for the sport of crows. Or swans, possibly.

'It's never dull here, is it?' said Lady Amelia, watching rescue operations from our window.

Well, no, it wasn't, but we couldn't afford to lie around much longer. Not least because I was bored out of my skull. Fortunately, there seemed to be a general feeling that a bored Maxwell boded badly for everyone. I was supposed to be a library assistant and apparently it was time I took up my duties, so they kicked me out of Sick Bay to report to Dr Dowson.

The Library at St Mary's is beautiful. It's one of the first things I saw when I arrived here for my job interview. It's a long room – but not narrow – with cases and bays all along one long wall and tall windows opposite with more bookcases in between them, because I suspect Dr Dowson is psychologically incapable of seeing a blank bit of wall and not shoving a bookcase against it.

The biggest section is History, obviously, but the whole Library is well stocked, and, like all librarians, Dr Dowson has friends in high – and low – places and can get you almost anything you want. And definitely everything you need. When I was Head of the History Department, a great pile of papers would appear on my desk at least once a month, all of which I had to read and initial. And persuade my department to read and initial, too. Everyone in the History Department is required to be current in their chosen field. Ancient History, before you ask. With British and European Medieval as my second speciality and the Tudors bringing up the rear.

Dr Dowson's giant desk stood in the back corner, littered with heaven knows what. Books, papers, the tools of his trade, what looked like a small handheld crossbow – for overdues, possibly – and occasionally the kitchen cat, Vortigern, because he fancied a different desk on which to snooze that day. I often imagine a couple of archaeologists roping themselves together for safety's sake, and indulging in a bit of exploratory excavation among the desk strata.

Behind his desk were two doors. One led to his office where he, me and Professor Rapson have shared many a toasted crumpet around teatime. The other door led to the Archive room – currently almost empty since the main body of material had been removed for its own safety.

Our Archive is really what St Mary's is all about. As Dr Bairstow always says – it's important to have a true record of events. Not the political version, not the religious version, not the version put about by the winners – and definitely not the bought-­and-­paid-­for version – but the actual, warts and all, correct version. Given the way History has been rewritten, reimagined or downright faked over the last hundred years or so, you can imagine how many people would like to get their hands on our Archive. To misrepresent, alter, amend or completely obliterate the inconvenient bits of History not quite in line with current fashionable thinking. And if that ever did happen, everything we had ever accomplished would be a complete waste of time because we wouldn't be able to go back and do it again. There are no do-­overs in History.

I should probably include a teeny-­tiny explanation here. The purpose of St Mary's is to investigate major historical events in contemporary time. To discover what actually hap
We hope you are enjoying the book so far. To continue reading...
The Good, The Bad and The History
Jodi Taylor
Copyright © 2023 All Rights Reserved
Also in this series
Also by this author