Hard Time
Available in:
eBook
Paperback
Audiobook
Hardcover
Book info
Sample
Audiobook
Media
Author updates
Lists
Synopsis
Team Weird are back causing havoc in the Time Police in this irresistible spin-off series by international bestseller Jodi Taylor, author of The Chronicles of St Mary's. If you love Doctor Who, Ben Aaronovitch and Jasper Fforde, you'll love the Time Police.

The Time Police do not have problems. They have challenges.

Idiots who want to change history have always proved 'challenging'. But now temporal tourism is on the rise - highly illegal but highly lucrative. If you're prepared to take the risk.

To face down this threat the Time Police will despatch their toughest undercover agents. Which is fine until the unthinkable happens. Replacements are needed fast and who better than three young officers who don't even look the part?

Step forward Jane, Luke and Matthew. They may be about to graduate, but there's still plenty of time for everything to go wrong. Throw in the Versailles time slip, a covert jump to Ancient Egypt and a race against Time itself and you've got yourself an assignment worthy of Team Weird.

Readers loved DOING TIME:

'This got five stars only because I couldn't give it six!'

'I don't think I've ever laughed out loud so much reading a book'

'Joyous, breakneck-speed adventures'

'Lots more in this series please'

'This book is BRILLIANT'

(P)2020 Headline Publishing Group Ltd
Release date: October 15, 2020
Publisher: Headline
Print pages: 352
* BingeBooks earns revenue from qualifying purchases as an Amazon Associate as well as from other retail partners.
Listen to a sample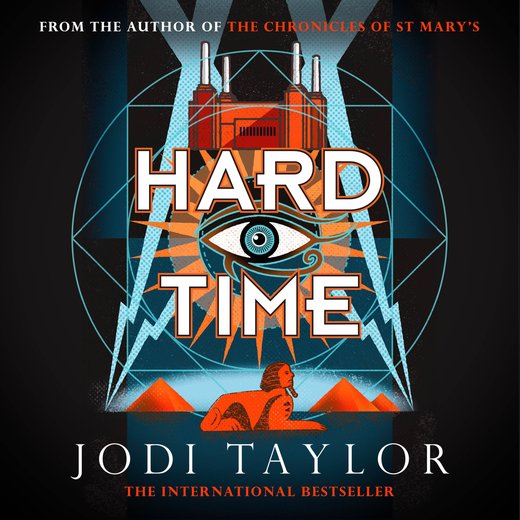 14:11:43
389.9 MB
9781472273178
October 15, 2020
Hachette UK
2020
Hard Time
Jodi Taylor
Roll Call

Time Police Personnel

Commander Hay

Beginning to realise Team 236 has its disadvantages as well as its advantages.

Captain Farenden

Keeping his boss on track. Mostly.

Major Callen

Now Head of the Hunter Division.

Officer North

Newly recruited Hunter.

Major Ellis

Surprisingly gunshot-free in this story.

Lt Grint

Is Hay now regretting giving him a second chance?

The Map Master

Possibly like Gollum, she's forgotten her real name. Even her mum calls her Map Master.

Officer Connor

Quite normal.

The doctor

Surprisingly compassionate in the face of an officer's personal disaster.

Officer Varma

Member of security team.

Other Time Police officers

Who come and go but rarely hang around long enough to say anything.

 

Team 236 – Team Weird

Trainee Farrell

Still not got his hair cut. Wounded again but this time by accident so that's all right then.

Trainee Lockland

Still blushing at her own shadow. Now developing signs of schizophrenia as well. It never rains . . .

Trainee Parrish

Completely unchanged. You'd think recent experiences would have rendered him thoughtful, considerate and hard-working . . . but no.

 

 

Team 235

Just for once, they're the screw-ups.

Trainee Hansen

Trainee Kohl

Trainee Rossi

 

 

St Mary's Personnel

A bunch of feckless pod jockeys, none of whom you'd want to meet on a dark night. Or even on a sunny afternoon at a charming riverside pub. Which might or might not be suffering from a nasty case of St Mary's-related E. coli. Or possibly salmonella. Whichever is the most serious, anyway.

Dr Maxwell

Matthew's mum.

Chief Technical Officer Farrell

Matthew's dad.

Dr Peterson

One of Matthew's many uncles.

Miss Lingoss

One of Matthew's many aunts.

Mikey

Matthew's special girl.

Professor Rapson and Dr Dowson

What those two can do with half a lime and two beer mats has been banned across seven continents.

Mr Markham

Head of Security. Another of ­Matthew's uncles.

Mr Evans

Yes, yet another, etc. Member of the Security Section and unofficial doorstop.

Previously on the Time Police . . .

A long time ago in the future, the secret of time travel was discovered and, people being what they are, the world nearly ended.

Just for once, however, and to the surprise of all, the world pulled itself together in time to avert disaster. Nation cooperated with nation and the Time Police were formed. Their purpose was to eradicate illegal time travel and restore the timeline – or as much of it as could be restored. Sometimes it was nothing better than a cut-and-shut job, but if that was what it took then that was what was done.

Ruthless, efficient and with their famous couldn't give a rat's arse attitude, the Time Police paid a high price – at one point there were only thirteen officers still standing – but they succeeded. Time travel was, more or less, eradicated.

Of course, once the situation was under control, the governments that had been so enthusiastic now began to regard the Time Police as pretty much having outlived their usefulness. No government is ever happy with an organisation better equipped, better funded and more efficient than they are. Especially one not answerable to that bunch of mindless, ungrateful, demanding, awkward-question-asking bunch of troublemakers usually referred to in public as the electorate. Behind the scenes, the diplomatic wheels began to turn.

The Time Police themselves were not unaware that, ironically, times were changing. The more astute among them prepared to adapt themselves to the hazards of peacetime. A new commander was appointed to guide Time Police boots down gentler paths.

But, although Time moves on, old threats can reappear in a new guise. Temporal Tourism, for instance, is illegal but extremely lucrative for those prepared to take the risks. And Big Business, often more powerful and frequently more intelligent than any government, is prepared to take that risk. As Commander Hay repeatedly reminds her unit, new threats require new methods of attack. Bursting in, shooting everyone within a five-mile radius and torching anything left standing – while having its merits – is not conducive to intel gathering. And intel is now a large part of the game. Under her direction, the Hunter Division has been strengthened and, under Major Callen, given virtual autonomy.

Grumbling and dragging their feet, the Time Police are preparing to meet new threats.

Enter Team Weird.

Luke

I can't believe I'm still in the Time Police. And this time it's all my own fault. I can't say I wasn't given every opportunity to blow them off for good. All I had to do was what my dad wanted – which is probably where it all went wrong because I've never been that brilliant at doing as dear old Dad wants.

Let's be clear – at this very moment, I could be sprawled in a luxurious, rent-free Hong Kong hideaway, with an Asian lovely in one hand and something long and cold in the other. A statement open to misinterpretation but I'm too frozen to care. My point is that I could be out there enjoying the excitement, the exhilaration, the buzz of cosmopolitan life and the wonderful, life-giving, incredibly hot sunshine.

I'd have my own office – offices, even. My own staff, every one of them absolutely drop-dead gorgeous, all leaping to do my bidding whenever I bidded. My every need would be catered for, and trust me, my needs are many and imaginative.

Instead of which I'm trapped here in the Time Police as a trainee, the lowest of the low. I've been shot at and scared shitless on an Egyptian hillside. I've been menaced by a rabbit – and before you laugh, you should have seen the size of the bloody thing. And it was pregnant. If you think pregnant women are cranky, you should meet an artificially engineered, lab-produced super-rabbit. We had to chase it nearly the length and breadth of Australia – a country which, I might add, has been very slow to show the sort of monetary gratitude that might have made it all worthwhile. I've been attacked by barely sentient denizens of the 20th century and their feral children. And don't even get me started on Sarah Smith. The list goes on and on and I'm not even a fully qualified officer yet.

Nor ever likely to be if someone doesn't find us soon. I think Jane's already slipped away. I can't wake her. I should let her go. I can't save her. I'd be doing her a kindness. I'll just close my eyes for a minute.

Perhaps I should have listened to dear old Dad after all . . .

1

Marietta Hay, commander of the Time Police, settled herself at her desk, fired up her scratchpad and gazed at her adjutant.

'Good morning, Charlie – what do you have for me today?'

'Well, ma'am, as you must be aware – an important part of my duties is, as far as I can, to mitigate the bad news with little snippets of good news. To lighten your working day, so to speak.'

She sighed. 'This does not bode well. All right, Charlie – hit me with a snippet.'

'Alas, ma'am. There are no snippets.'

'What? No good news at all?'

'Regrettably, ma'am . . .'

'Not even anything decent for lunch today?'

'Not even that, ma'am.'

'Well – I can regroup. Hit me with the least of the bad news.'

'Trainee Farrell's hair is still not benefitting from the adoption of a regulation hairstyle.'

'I thought he'd been specifically instructed . . .'

'He was, ma'am, and he did. Last Thursday.'

'Are you sure? I saw him this morning and couldn't see any difference. Did the barber actually have the nerve to charge him for that?'

'I doubt it, ma'am. He has it done at St Mary's.'

'That accounts for a lot. Who does it?'

'A Miss Lingoss.'

'Isn't she the weird one?'

'We are discussing St Mary's, ma'am. You will have to be more specific.'

She sighed. 'Tell him to put it up.'

'Er . . . put it up what, ma'am?'

'All female officers with long hair must wear it either up or back. Offer him a choice. Pigtail or ponytail. Tell him his ben­evolent leader recognises the importance of employee autonomy and therefore it is his choice. Up or back. Just make it very clear there is no third way and ribbons are not an option.'

'Yes, ma'am. If you have no objections, I will relay your instructions to Major Ellis for onward transmission to Trainee Farrell. As team leader, the appearance of his crew is his responsibility.'

'As you wish, Charlie. Just let me know which option he chooses, will you?'

'Happily, ma'am.'

'There – that wasn't so bad, was it? Next.'

'The reorganisation is not proceeding without problems, ma'am.'

'Challenges, Charlie, challenges. The Time Police do not have problems. We have challenges. To meet and overcome. Please can you draft an all-staff memo to the effect that if a great deal more meeting and overcoming doesn't start taking place PDQ then I will be forced to leave the safety and security of my office and mingle.'

He grinned. 'Steady on, ma'am.'

'Exactly, Charlie. I suspect the prospect of rounding a corner and finding themselves face to face with me will induce levels of challenge-meeting-and-overcoming my people did not know they possessed.'

'As you wish, ma'am.'

She moved a file across her desk. 'Well – so far so not too bad. What's next? What's the big one you've kept for the end?'

'Raymond Parrish has withdrawn his opposition to the parliamentary bill, ma'am. The one curtailing Time Police powers and responsibilities. Apparently, since his son has chosen to go his own way, Mr Parrish has no further interest in the future of the Time Police. We are, it would seem, on our own.'

She shrugged. 'I suspect the price of his support would have increased exponentially over the years. Looking on the bright side – we have escaped that partnership unscathed.'

'Not quite unscathed, ma'am. We are still the proud owners of his son. Luke Parrish, despite all forecasts to the contrary, is not only still with us but is actually on the verge of completing his gruntwork.'

'Yes, interesting, isn't it? Between you and me, Charlie, I'm rather hoping that bad business with Officer Smith has taught him a far more effective lesson than anything we could have done. Short of shooting him, that is.'

'It may yet come to that.'

'You see, Charlie – it's not all bad – something for us to look forward to. I shall implement a new strategy. Every Friday morning, I shall select someone at random and shoot them. To encourage the others. You know, I could really see that working.'

'I'm not sure shooting random staff would send quite the right message, ma'am.'

'All right. I'm not unreasonable. Forget the random bit – I'll shoot a specifically selected member of staff instead. A much better idea. It will make them feel valued to know they've been specially chosen. And with the additional bonus of encouraging the survivors to think more positively about our upcoming reorganisation. Genius, Charlie.'

'I'm happy to think my poor abilities have contributed to your unique solution to our difficulties, ma'am.'

'Yes, sometimes I don't know what I'd do without you. Anything else?'

'Actually, yes. The Rt Hon Patricia Farnborough has requested a private meeting.'

'The cabinet minister?'

'At 1400 hours this afternoon.'

'I feel sure I'm busy at that time.'

'I feel equally sure that you are not, ma'am.'

She sighed. 'You always manage to get your own way, don't you?'

'Only sometimes, ma'am.' He stood up. 'I shall go and look out the best crockery.'

 

The Rt Hon Patricia Farnborough was punctual almost to the second.

Captain Farenden collected her from the downstairs atrium and personally escorted her to Commander Hay's office.

Patricia Farnborough was the long-serving MP for South Rushfordshire. She was popular with neither her fellow members nor the public. So far, she had consistently refused to participate in any of the political activities so beloved of her colleagues. She had, for instance, refused to live in a jungle, or become embroiled in a sex scandal on a popular ballroom-dancing programme. Nor had she ever been compelled to apologise, photogenically tearful, for not having completely understood the really very complex rules pertaining to the claiming of what were almost perfectly legitimate expenses. Nor had she, for any reason, been obliged to welcome the opportunity to spend more time with her family.

'Much to her family's relief,' as one of the whips had once remarked.

She was, however, respected and known to be a safe, if unimaginative, pair of hands and a strong upholder of trad­itional values. Not family values, as she always made very clear – those frequently being a kind of shorthand for bigotry, intolerance and prejudice – but the traditional values of honesty, hard work and loyalty.

'Definitely in the wrong job,' the same whip had remarked to the same confidant.

Patricia Farnborough halted on the threshold of Commander Hay's office and turned to Captain Farenden. 'Thank you, Captain, but I think I can find my way from here.'

Captain Farenden raised an eyebrow at Commander Hay, who nodded and said, 'Thank you, Charlie.'

'And I shan't require any refreshments, either. What I do require is an uninterrupted thirty minutes with your commander.'

'In that case, ma'am . . .' said Captain Farenden, with well-concealed relief, and closed the door behind him.

The two took stock of each other. Commander Hay was a small, slight woman. It's not unusual to describe someone as being of indeterminate age but in this case, it was an accurate description. As a young officer, Marietta Hay had fought in the Time Wars and there had been an accident. Her pod had sustained serious damage and the door had blown off in mid-jump. The results had not been for the squeamish. One side of her face was now considerably older than the other. The rescue party had managed to get her out of the wreckage, but she had been the only survivor.

Patricia Farnborough was a large woman who strode the corridors of power with a firm tread. She wore her hair short, favoured dark suits, and her voice had been designed to be heard above the clamour of battle. The adversarial atmosphere of the House of Commons suited her perfectly.

'Like one of those Valkyrie women coming at you,' yet another colleague had said, recovering in the bar after a shattering three-minute interview.

The precise whereabouts of Mr Patricia Farnborough were currently unknown. And had been for some time. Unkind rumours postulated the theory that he had, at some point, been consumed during the mating process. Which, given the size of the Right Honourable lady, was entirely possible.

Mrs Farnborough seated herself and both women looked at each other in silence. Eventually, Commander Hay enquired politely how she might be of service.

'I will not insult you by swearing you to secrecy.'

If Commander Hay thought she just had, she said nothing.

'And before you ask, this is a private matter. Nothing to do with the government or politics. I should also make it clear I am not seeking any special treatment for my daughter. She has been foolish and must bear the consequences of her actions.'

'I think,' said Commander Hay, 'I understand you. However, I must make things clear. This is the Time Police and I am their commander. Should I become aware of any unlawful actions . . . I am legally bound to proceed accordingly. Do you wish to reconsider?'

'No. I understand.'

'You understand also that anything said now cannot later be unsaid?'

'I do. Thank you for the warning but it is unnecessary. I am here because I do wish you to proceed accordingly.'

'Very well. Now that we have established the parameters, would you like to begin?'

Mrs Farnborough smoothed her skirt, clasped her hands on her lap and began.

'I have a daughter. Imogen. She's not . . . she's not a bad girl. She's just the typical product of her age and class. And she has been foolish.'

'What has she done? Let me rephrase that: what has she done that involves my organisation?'

'She and a friend were offered an opportunity and they took it.'

'Could you be more specific?'

'They were approached and offered the opportunity to travel.'

'In Time, I am assuming. Please be clear, Mrs Farnborough. You are telling me your daughter and her friend have committed a crime. A serious crime.'

'It's worse than that.'

Commander Hay waited. As always, her face gave nothing away and she never hesitated to use that to her advantage.

'She . . . what is the expression?'

'Jumped?'

'Yes – she jumped back in time . . .' Mrs Farnborough stopped again.

'Yes, it really is difficult to describe this sort of thing without sounding like a bad science fiction novel, isn't it, but your expression is perfectly correct.'

Rather in the manner of one wanting to get the unpleasant part over with as quickly as possible, Mrs Farnborough said in a rush, 'She has gone off somewhere . . . jumped . . . and she did not return. I would like to take shameless advantage of your organisation, Commander, and ask if you could find her and bring her back.'

Commander Hay pulled out her scratchpad, set it to record, and laid it on the desk between them. Mrs Farnborough stared out of the window and watched the Paris airship descending through the clouds.

Commander Hay gestured towards her scratchpad. 'You understand, Mrs Farnborough, that from this moment on . . .'

'I do, Commander. Please proceed.'

'I have several questions.'

'Please.'

'How do you know that your daughter has engaged in illegal temporal activity?'

'The friend – who has taken steps to ensure they cannot be identified – although I'm sure you would have no trouble tracking them down should you wish – has sent me the information. I suspect out of a spirit of revenge.'

'I see. We'll get to that in a minute. Firstly, do you know to where and when they jumped?'

'I do.'

'It would be enormously helpful if you had the actual co­-ordinates?'

'I do.' Mrs Farnborough took out a sheet of paper, folded very small, and laid it on the desk at a point midway between them.

Commander Hay did not so much as glance at it. 'And the location is . . . ?'

'I have been led to believe . . . 17th-century England.'

'Was this her own choice?'

'The trip – planned by her friend – was to be a gift.' She gripped her hands in her lap. 'It was – the trip was supposed to incorporate – a proposal.'

'Of marriage.'

'Yes. The plan was to whisk Imogen away to somewhere exotic and, during the excitement of the . . .'

'The jump . . .'

'Yes, the jump . . . to propose marriage.'

'The plan being that Imogen would be so thrilled and excited that she would fall into her friend's arms and say yes.'

Mrs Farnborough nodded, remembered the recorder and said, 'Yes.'

'And what did actually happen?'

'I don't know all the details. The friend seemed disinclined to give them, but it would appear that events did not progress quite as planned.' Mrs Farnborough swallowed. 'This is the friend's version of events, of course, but it would appear that no sooner had they finished their proposal than Imogen . . .'

She stopped.

'Declined the honour?'

Mrs Farnborough closed her eyes briefly. 'She said she'd rather die in a ditch than be married to anyone, and when the friend pointed out the honour they were doing her and how much the trip . . . jump had cost, she announced she couldn't be bought and disappeared off into the crowds.'

There was a stunned silence.

'Pardon me,' said Commander Hay, recovering the power of speech. 'I wish to be perfectly sure I understand you. Miss Farnborough and a . . . close friend . . . embarked upon an illegal enterprise for romantic purposes . . .'

'I'm not sure Imogen can have been aware of the true purpose of the jump. Not initially. From things she has let drop recently, I don't think she regarded this person as anything other than a friend who was offering an exciting opportunity to do something new and different. Imogen does not deal well with long periods of boredom.' She considered for a moment before adding, 'Or short ones, either.'

'So, your daughter had no idea a marriage proposal was in the offing?'

'As far as I am aware – no.'

'And the young man . . . I am assuming it was a young man?'

Somewhat stiffly, Mrs Farnborough agreed that yes, the party in question was a young man.

'Only in these days . . .'

'I can confirm the person in question was definitely a young man.'

'This young man goes down on one knee – so to speak – and Imogen not only rejects the proposal, but the young man as well.'

'That would appear to be the case, yes.'

'Forgive me, but where exactly did this take place? Were there other people present? Did no one try to prevent her from leaving? Was the young man in question quite happy to just return to the present and leave your daughter there?'

'To take your questions in order, I believe Imogen and her friend had stepped outside to savour their surroundings, and when he returned to the pod to tell his tale, the people . . . the crew . . . simply packed up and brought him home.'

'Packed up?'

'From what I can gather, the . . . company . . . offers a number of what they call "packages", including the "Special Occasion" experience. It's extremely expensive – something Imogen's friend mentioned several times – and consists of an exclusive, specifically tailored excursion including costumes, catering, champagne and such, all of which had been brought with them and set up, but was, of course, not needed.'

'And they just packed up and left her there? Did the young man offer any sort of protest?'

'I do not believe that at that point he was inclined to consider Imogen's future welfare to be one of his priorities.'

'I can imagine.'

'The consensus seemed to be Imogen had made her bed and must lie on it. The company offers no sort of guarantee or accepts liability of any kind. It is clearly understood that everything is at the customer's own risk.'

'And having returned to this Time, this unfortunate young man came straight to you.'

Mrs Farnborough gritted her teeth. 'Actually, no. His feelings were, apparently, somewhat bruised, and his initial reaction was that she could bloody well stay in the 17th century and good riddance.'

Commander Hay, who had been in charge of the Time Police for some years now, found herself temporarily with nothing to say.

'However,' Mrs Farnborough continued, 'after several days elapsed, he appeared to relent and passed me a message detailing Imogen's recent . . . exploits.'

'And where is this young man now?'

Mrs Farnborough's expression was professionally blank. 'I am not aware of his current location.'

Commander Hay filed away that particular line of enquiry for future action. 'And Miss Farnborough is still, to the best of your knowledge, in 17th-century England.'

'Yes. London, to be precise. And has been for some days now.'

'Well, to put your mind at rest – that is not necessarily the case. We can jump back to these coordinates . . .' Hay gestured to the piece of paper still lying between them, 'and it is very possible we will be on the scene only an hour or so behind Imogen. Which might easily be long enough for her to have decided the 17th century is not a particularly safe place in which to reside. With luck, she won't have been there long enough to have incurred any serious injury. I suspect that with no training, no background knowledge and very little prep­aration for surviving in this period, she will almost certainly welcome the opportunity to be taken home. From our point of view, setting aside – temporarily – her illegal actions, she should certainly be removed as quickly as possible before any permanent damage occurs. Either to her or, more importantly, to the timeline. Which, I must inform you, Mrs Farnborough, will be our first priority.'

Mrs Farnborough lifted her head. 'I know I am in no position to ask a favour . . .'

'But you are about to nevertheless.'

'I ask – no, I plead – for leniency. There have been faults in Imogen's upbringing which should not be laid at her door.'

'That will be a matter for discussion on Imogen's return,' said Commander Hay, drily. 'And I must inform you I am unable to influence the courts. Those powers are denied me. Any recommendations I make will be taken into account, but the ultimate decision is not mine.'

'I understand. But I wondered . . .'

'Yes?'

'Imogen will be willing to provide you with valuable information in exchange for a light sentence.'

'Does Imogen know she will be willing to provide me with this valuable info?'

For one very brief moment, Mrs Farnborough's face showed the expression that had once, famously, caused a back-bencher to wet himself. 'Not at the moment, but you may rest assured she will.'

Commander Hay did not doubt it for one moment. 'I want us both to be clear about this. You wish us to locate your daughter and bring her home.'

'Yes.'

Commander Hay paused. 'Whatever it takes?'

'Imogen does not always act in her own best interests. This is one of those occasions.'

'If what you say is true, then Imogen has broken the law. I should tell you we make no exceptions. We cannot afford to. Each and every offence is prosecuted and we always push for the strongest possible sentence. Sometimes even . . .' She left the rest of the sentence unspoken.

Mrs Farnborough said quietly, 'I believe we might be able to come to some arrangement.'

Commander Hay tilted her head to one side and said sardonically, 'Do you now?'

'I would be willing to use my influence – my not inconsiderable influence – on your behalf.'

Commander Hay smiled and leaned back in her chair. 'I have learned to be wary of such offers.' She picked up her paper knife, turning it over in her fingers, an action that, had he been present, would have filled Captain Farenden with the gravest misgivings. 'However, as you say, it is very possible Imogen might have something we need.'

'You're speaking of my offer of intel. Information. Names. Places. Details of how they were approached and by whom.'

'Yes. Such information could be very valuable to us. However, you must understand – I don't want to be accused of misleading you – no matter how helpful Miss Farnborough is – or isn't – there will be a prosecution. There will be a prison sentence. I'm sorry, but we cannot be seen to display favouritism. Especially to a high-ranking member of the government. If such a thing ever came out it would cost me my job, you would lose yours as well and there would be a prison sentence for both of us. And Imogen. So, I will ask you now – is this a deal-breaker for you?'

'Not at all. Imogen out of circulation for a while might not be a bad thing. A short, sharp shock will do her no harm. She must learn to accept the consequences of her actions.'

Commander Hay chose not to mention that Imogen's shock might be less short and more sharp than her mother envisaged. 'I can despatch a team . . .'

'When?'

'Tomorrow.'

'But why the delay? You have the coordinates. You could go now.'

'This is a time-travelling organisation. It doesn't matter when we leave – it's when we arrive that's important. We could leave next year and still arrive at exactly the right Time and place.'

'Oh. I see. Foolish of me.'

'Not at all. It takes some time to get one's head around it. Do you have any details at all of the organisation that took her there?'

She said with some difficulty, 'No. Imogen and I do not converse daily.'

'No notes left behind? Any irregularities with her bank statement?'

'Imogen's bank statement is full of irregularities, but I know what you mean and no.'

'Did you have any idea? Any idea at all?'

'No, of course not.'

'Then neither you nor Imogen put up any part of the not inconsiderable sum of money required?'

'No. And you're right – it wasn't cheap. Imogen couldn't possibly have afforded it on her allowance, generous though it is.'

Commander Hay regarded the folded piece of paper still on her desk. 'And you want us to bring her back?'

'Of course I do.'

There was a long silence. Eventually, Mrs Farnborough said, 'So what will happen now?'

'I'll send a team. As I said.'

'No, I mean, how will they get her back? What will they do?'

Commander Hay smiled. 'Whatever it takes.'

 

Returning to Commander Hay's office, Captain Farenden reported he had escorted Mrs Farnborough off the premises.

'Did she say anything?'

'Nothing, ma'am. Apart from goodbye.'

'Charlie, ask Major Ellis if he can spare me a moment, will you?'

Ten minutes later Major Ellis was standing in front of her. 'Good afternoon, ma'am.'

'Good afternoon, Major. Something a little different for your team today.'

Catching a glimpse of Captai
We hope you are enjoying the book so far. To continue reading...
Hard Time
Jodi Taylor
Copyright © 2023 All Rights Reserved
Also in this series
Also by this author