Game On
Available in:
eBook
Paperback
Audiobook
Hardcover
Book info
Sample
Audiobook
Media
Author updates
Lists
Synopsis
Stephanie Plum returns to hunt down a new kind of criminal operating out of Trenton in the twenty-eighth book in the wildly popular series by #1 New York Times bestselling author Janet Evanovich.

When Stephanie Plum is woken up in the middle of the night by the sound of footsteps in her apartment, she wishes she didn't keep her gun in the cookie jar in her kitchen. And when she finds out the intruder is fellow apprehension agent Diesel, six feet of hard muscle and bad attitude whom she hasn't seen in more than two years, she still thinks the gun might come in handy.

Turns out Diesel and Stephanie are on the trail of the same fugitive: Oswald Wednesday, an international computer hacker as brilliant as he is ruthless. Stephanie may not be the most technologically savvy sleuth, but she more than makes up for that with her dogged determination, her understanding of human nature, and her willingness to do just about anything to bring a fugitive to justice. Unsure if Diesel is her partner or her competition, she'll need to watch her back every step of the way as she works to draw Wednesday out from behind his computer and into the real world in this "action-packed caper filled with crazy twists and some nail-biting suspense" (Booklist, starred review).
Release date: November 2, 2021
Publisher: Simon & Schuster Audio
Print pages: 320
* BingeBooks earns revenue from qualifying purchases as an Amazon Associate as well as from other retail partners.
Listen to a sample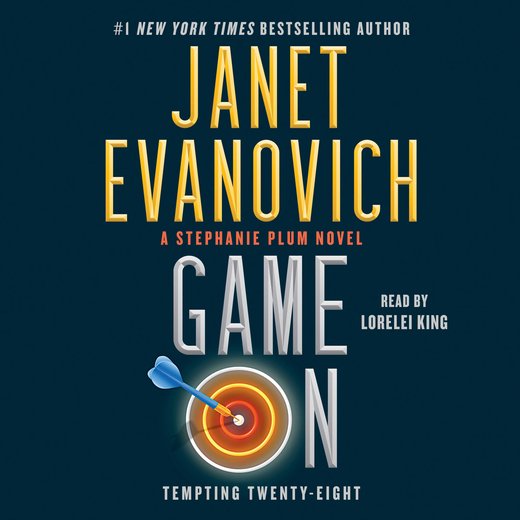 07:03:09
193.72 MB
9781797128450
November 2, 2021
Simon & Schuster
2021
Game On
Janet Evanovich
CHAPTER ONE
The clock on my bedside table said it was 2:00 a.m. Lights were off in my small apartment and my bedroom was totally dark. Something pulled me out of sleep and now I was in bed, awake and terrified. I was listening to someone moving around in my living room. My gun was in the brown bear cookie jar in the kitchen. My cell phone was charging in the bathroom. I kept a two-pound Maglite next to my clock, and at the moment it was the closest I could come to a weapon.
My name is Stephanie Plum and I'm a bail bonds enforcement agent. It's the sort of job that might require self-defense skills like kung fu and eye gouging, but I'm not proficient in either. I coerced my cousin Vinnie into hiring me during a time of desperate unemployment and to date I haven't migrated on to a better job.
I heard the intruder walk into my bedroom and drop something heavy onto the floor. I fought through the panic, clicked my flashlight on, and pinned the beam to a face. I recognized the man and went breathless for several beats before getting my heart under control.
"Diesel?"
"Yeah. You want to drop the beam a little, so I don't go blind."
Diesel is over six feet of hard muscle and bad attitude. He has sun-bleached hair that's thick and unruly, talents that are difficult to explain, and a job that's similar to mine but on an international level. Hell, for all I knew he worked at an intergalactic level.
"You scared the beejeezus out of me," I said. "What are you doing here?"
"I got dropped off here. I've got a job in Trenton. Lucky me. That's sarcasm in case you didn't figure it out. I'm beat. It was a long trip."
"Where did you come from?"
He kicked his shoes off. "Bangkok." He stripped off his T-shirt and dropped his jeans.
I sat up in bed. "What are you doing?"
"I'm going to bed. Move over."
"No. No, no, no, no. You aren't sleeping here."
"I always sleep here when I'm in town."
"Twice. Three times, tops, and I didn't want you in my bed then, either. And I haven't heard from you in what… two years?"
"Has it been that long?"
"I have a boyfriend. He doesn't like when I have other men in my bed."
"It isn't still the cop, is it? Bordatello?"
"Joe Morelli."
"I was close."
He dropped his briefs, and I snapped the flashlight off. "Would it be asking too much for you to at least leave some clothes on?"
"Yeah, it would be asking too much."
"Sleep on the couch."
"I don't fit on the couch."
"Terrific. I'll sleep on the couch."
I got out of bed, grabbed my pillow, and ripped the quilt off the bed.
"Your loss," Diesel said. "And you need to do something about the cranky attitude."
I slammed the bedroom door shut and carried my stuff to the couch. "One night and you're out of here!" I yelled back at him.
I have a long relationship with my current boyfriend, Joe Morelli. And I have an unconventional relationship with a security expert named Ranger. My relationship with Diesel defies description. I suppose it's more of an occasional friendship of convenience than a relationship. Kind of like a stray cat that shows up every two years, invites himself into your home, eats your food, and stays just long enough for you to get used to him. Truth is, I know shockingly little about Diesel.
---
Diesel sauntered out of the bedroom into the kitchen, squinting against the early morning sunlight. He was dressed for the day in jeans, scuffed brown leather boots, and an untucked gray T-shirt advertising tequila. He tapped on the glass aquarium that was home to my hamster, Rex, received no response, and moved to the coffeemaker.
"Is there anything alive in the cage?" he asked.
"Rex," I said. "He's sleeping in his soup can den."
Diesel took a mug from the over-the-counter cupboard and filled it with coffee. "I'm looking for a loser named Oswald Wednesday, also known as O.W. I don't suppose you know him."
"I absolutely know him. Vinnie posted a bail bond for Oswald, and he didn't show up for his court appearance. I've been looking for him for two weeks now and I have nothing."
"What's the charge on Oswald?"
"He broke into a townhouse that was rented to a cop and he came out on the losing end of a wrestling match. Oswald said it was mistaken identity, but he was charged with breaking and entering and assault with a deadly weapon. He was armed with a gun and a knife. He got released on a high bond. Why are you looking for him?"
"He's hacking into a system that's supposed to be secure. I work for one of the involved parties."
"How do you know it's him?"
"The IT people found his digital footprint. Now it's my job to physically find him."
"Are the police involved?"
"No. This is a private problem."
"Who is your employer?"
Diesel smiled. "I'd tell you but then I'd have to kill you."
It was a clichéd line, but I got the point.
"What do you know about Oswald?" Diesel asked me.
"He's fifty-two years old, five foot nine inches, black hair pulled into a ponytail, medium build, gave us an address of a short-term rental on Dugan Street. He hasn't been seen in the neighborhood since he was arrested. I wouldn't be happy if you snatched him up and whisked him away before I could collect my recovery money."
"Understood. Maybe you should rethink letting me live here."
"I don't need the recovery money that bad."
Diesel grinned. "That's brutal. What's wrong with me?"
"You don't know how to share an apartment. You take it over. You have no sense of personal space or privacy. You always have to get your own way and you have a problem understanding the concept of no."
"That's it?"
"That's the tip of the iceberg. You can't stay here. It'll be uncomfortably crowded in my bed when Morelli sleeps over."
"I'll concede that one."
I poured coffee into a to-go mug and grabbed my messenger bag and a sweatshirt.
"I have to go," I said. "Things to do. Make sure the door is locked when you leave."
I live in a one-bedroom apartment on the second floor of a three-story apartment building. It sits on the edge of Trenton proper, making it a twenty-minute drive to the bail bonds office, my parents' house, my boyfriend's house, and my favorite bakery. I took the stairs instead of waiting for the elevator, exited through the back door, and crossed the parking lot to my previously owned, slightly dented Ford Focus.
I wasn't entirely comfortable leaving Diesel alone in my apartment but I was a working girl and I needed to check in at the office.
CHAPTER TWO
Vincent Plum Bail Bonds is located on Hamilton Avenue, on the edge of my parents' neighborhood. I parked in front of the small storefront-type office and marched in. Connie Rosolli, the office manager, was at her desk and my coworker, Lula, was pacing back and forth across the room.
It's hard to say exactly what Lula's job entails, but she mostly hangs with me. She's a former professional erectile engineer who after years of practice has perfected the art of successfully squeezing her size 16 body into size 7 dresses.
"I've got a problem," Lula said when I walked into the office. "My hairstylist is moving out of Trenton. Can you believe it? Why would someone want to do that? And what am I supposed to do? Where am I going to find someone to replace her? She's a hair genius."
I have curly shoulder-length brown hair and Lula has hair du jour. At the moment it was a huge puff ball of midnight blue enhanced with silver pixie dust.
"It's not like I can have any kind of hair," Lula said. "I need hair that can hold its own with my big, voluptuous body. Most hairdos get overwhelmed with the rest of me. You see what I'm saying? And if that isn't problem enough, Connie didn't get doughnuts this morning. She got bagels."
I went to the box of bagels on Connie's desk and selected a sesame seed.
"I thought I'd change things around," Connie said. "Especially since the bakery got shot up last night, and I couldn't get past the crime scene tape this morning."
"Say what?" Lula said. "I didn't hear about that. Who would shoot up a bakery? That's just wrong."
"Was anyone hurt?" I asked Connie.
"No. It was after hours," Connie said. "It was empty except for the lunatic who broke in, went gonzo, and emptied a couple clips into the display case with the éclairs and cannoli."
"That's sick," Lula said. "What the heck's wrong with people these days. You just don't go around shooting éclairs and cannoli. If you gotta shoot something, you want to at least shoot something undesirable, like something with no gluten in it."
"Did they catch the shooter?" I asked Connie.
Connie spread cream cheese on an onion bagel. "The police responded to the alarm and caught the shooter leaving the bakery. Vinnie already bonded her out. Mary Jane Merkle."
"We went to school with her," I said to Connie. "She was a cheerleader. She was prom queen."
Lula took the file from Connie and paged through it. "Here's her booking picture," Lula said. "She looks like she stuck her finger in an electric socket."
I glanced at the photo. Mary Jane had fright night hair. It looked like she'd lacquered it with hair spray in the middle of a cat 4 hurricane. Her eyes were wide open and crazed. Her face was streaked with mascara. Note to self: If you're going to go gonzo and get arrested, use waterproof mascara in case you cry.
"You never know about people," Lula said. "One minute they're prom queen and then next thing they're whackadoodle."
"We had two new FTAs come in this morning," Connie said, handing me the paperwork. "Nothing big. A homeless guy who keeps killing and stick-roasting the ducks in the park, and an indecent exposure."
FTA stands for Failure to Appear. If you get arrested and don't want to hang around in jail waiting for your court date, you put up some money and you're released. If you haven't got the money, you can pay a bail bonds agent, like my cousin Vinnie, to essentially loan you the money. If you fail to appear for your court date or violate the rules of your release, Vinnie's money is forfeited. This makes him unhappy, and he sends me out to find you. If I bring you back in a timely manner, Vinnie can recoup his money.
"You need to find Oswald Wednesday," Connie said to me. "It's a high-money bond and Vinnie's bottom line isn't going to look good this month if Oswald is in the wind."
"Diesel dropped in last night," I said. "He's also looking for Oswald."
"Is that going to be a problem?" Connie asked.
"Possibly."
"That's a problem I wouldn't mind having," Lula said. "Diesel's that big, sexy, scruffy blond guy, right?"
"Right," I said. "You left out annoying."
"It's just I got priorities," Lula said. "Big, sexy, scruffy, and blond are high on my list compared to annoying."
I stuffed the two new FTA files into my messenger bag. "Run a credit check on Oswald one more time," I said to Connie. "It would help if a new address popped up."
Lula followed me out and stopped at my car. "Someone spray painted 'wash me' on your car in pink paint," Lula said.
"It's been like that for a couple weeks."
"I never noticed."
"It partially got absorbed into the top layer of dirt, but it rained last night and washed some of the dirt off."
"Goes to show you there could be benefits to dirt," Lula said, wrenching the door open. "Where are we going?"
"Dugan Street. I want to see Oswald's apartment."
"Inside?"
"Yes."
"I'm all about it."
Dugan Street's glory faded fifty years ago. At one time the large homes housed large, wealthy families, but times have changed. The grand old houses are now in disrepair and the interiors have been carved up into low-income apartments.
I took Hamilton Avenue to Chambers Street, turned at Greenwood Avenue, and after several blocks I left-turned onto Dugan. I parked across the street from Oswald's house and Lula and I watched the house for a couple of minutes.
"Doesn't seem like anything's happening here," Lula said. "There's some cars parked on the street but nobody's moving around."
"Let's look inside."
Oswald's apartment was one of three on the second floor of the two-story house. The front door wasn't locked, so we let ourselves in, climbed the stairs, and I knocked on Oswald's door. No answer. I knocked again and tried the doorknob.
"It's unlocked," I said to Lula.
"Seems like they don't lock anything here," Lula said. "It looks to me like this neighborhood might be sketchy and if it was me, I wouldn't be so trusting."
I opened the door, stepped inside, and yelled "bond enforcement."
Still no answer. We were standing in a small living room with a couch, a club chair, and a television. There were no personal items lying around. We moved into the kitchen. Nothing in the fridge. Minimal pots and pans, silverware, plates, and bowls.
"This is what you would find in a rental unit with no one living in it," Lula said, walking into the bathroom. "There isn't even a toothbrush here."
The bedroom also seemed untouched.
"Only one thing here doesn't make sense," Lula said, standing by the perfectly made bed. "There's a stepladder under the trapdoor in the ceiling. I think someone's going in and out up there. I bet Oswald might even be living there. Who knows what's in the attic? It could be all fixed up into another apartment. You hold the ladder steady, and I'll look into this."
Lula was wearing five-inch spike-heeled sling-backs, a black spandex skirt that barely covered her ass, and a yellow knit tank top with a scoop neck that was low enough to be in nipple territory. She looked like a giant bumble bee with blue hair.
"Are you sure you want to climb the ladder in those shoes?" I asked her.
"Hell yeah. These are good ladder-climbing shoes. And I'm not necessarily going into the attic. I just want to take a peek."
Lula went up the ladder and examined the latch.
"This isn't even locked," she said.
She unlatched the trapdoor and let it swing open. She climbed a couple more steps on the ladder and looked into the attic.
"It's dark in here," she said. "There's no light that I can see." She pushed the flashlight app on her cell phone and flashed the beam of light around. "Hello?" she shouted. "Anybody home up here?"
Chirping and fluttering sounds carried down to me and in seconds a hundred bats rushed out of the trapdoor and into the bedroom.
"Holy hell!" Lula screamed. "What the fork!"
She came down the ladder in a cloud of bats, missed a rung, and broke the heel off one of her shoes. She hit the floor, shrieking and dancing in place. "Eeeeeee!"
I grabbed Lula by the arm and pulled her into the living room. I slammed the door to the bedroom shut, leaving most of the bats behind.
Lula was bug-eyed, waving her arms, still dancing. "I got bat cooties. I can feel them. They're crawling all over me. Lordy, Lordy. And I got the rabies. I can't breathe. I can't swallow. Look at me, I'm drooling. Am I drooling? Am I getting all foamy at the mouth?"
"I don't see any foam and you're only drooling a little. You haven't got rabies. You have to get bitten by an infected bat to get rabies."
"They looked real infected to me," Lula said.
Her hair wasn't a perfect puffball anymore but aside from that she looked okay. "I don't see any bite marks on you," I said.
"Yeah, but I got that kind of skin that would make it hard to see a bat bite mark. It would be just two little fang marks and it could look like enlarged pores. I got some of them."
"I think the bats were mostly trying to get away from you."
I opened the front door to leave and bumped into Diesel.
"You're late for the party," I said to Diesel.
"I had to wait for my fixer to deliver wheels," Diesel said.
"You have a fixer?"
"Doesn't everyone?" He looked around. "What's happening?"
"Lula decided to investigate the attic and had a Born Free moment with a swarm of bats."
"It was terrible," Lula said. "They were bumping into me and chirping. I can still hear them. It's like they're in my head and won't go away.
"I can hear the chirping," Diesel said. "It's coming from you." He leaned in and studied Lula's hair. "You've got a bat stuck in there."
"What? For real?"
"It's looking at me," Diesel said. "I can see its beady little eyes."
"Eeeeeeee," Lula said. "Get it out. Get it out."
She jumped up and down and flapped her hands and the bat flew out.
"Problem solved," Diesel said.
"A lot you know," Lula said. "I got a broken shoe and bat hair. I probably got lice. And the stupid bat could have pooped, and now I've got bat poop in my hair. I gotta go. I need a hair salon. I need a cheeseburger and fries. I haven't got my car here." She looked at me. "You gotta take me back to the office so I can get my car."
I understood her dilemma. I wouldn't want to walk around with bat hair, either, but I didn't want to take off and drive to the office. This was Diesel's first stop. He'd look around, reach the conclusion that Oswald wasn't here, and Diesel would continue tracking. And knowing Diesel, he'd have some success. He had background information on Oswald that I didn't have. The horrible fact of life was that my best shot at catching Oswald was to stick close to Diesel.
I handed my car keys over to Lula. "I'm not done here. Leave my car at the bonds office. I'll catch a ride with Diesel." I looked at Diesel. "That's okay, right?"
"It would come with a price," Diesel said.
I rolled my eyes and grunted.
"There you go, thinking the worst," Diesel said. "You don't even know the price, and you're doing that eye-rolling thing."
"What's the price?" I asked.
He shrugged. "Let's see how the day goes and then we can negotiate."
Good grief.
Diesel did a quick scan of the living room. "I assume you've already been through the apartment," Diesel said. "Or did Lula get bat attacked early in the search?"
"I've been through the apartment. There's nothing to see. I suspect Oswald never lived here. ...
We hope you are enjoying the book so far. To continue reading...
Game On
Janet Evanovich
Copyright © 2023 All Rights Reserved
Also in this series
Also by this author