Book info
Sample
Audiobook
Media
Author updates
Lists
Synopsis
Will Tanner is no ordinary lawman. He's a force of nature. But when he's outnumbered by rustlers, outgunned by outlaws—and stalked by a killer fresh out of jail—he's in for the fight of his life . . .



Johnstone Country. Forecast: Deadly.



There's a storm brewing in Oklahoma Territory, and this time, it's deadly serious. Local cattle ranches are being targeted by Texas rustlers—and the only man who can keep it from turning into a bloodbath is U.S. Deputy Marshal Will Tanner. The newly married lawman hates to leave his beautiful bride Sophie, but duty calls—for better or worse. In Tanner's experience, it's usually worse.



An unexpected confrontation with outlaws is just the bloody beginning. Then an escaped convict catches wind of the fact that Tanner killed his brother. Now Will's really in the crosshairs.



Tanner knows he's riding straight into a perfect storm of vengeance and slaughter, with only one way to end it—a hailstorm of hot lead.



Live Free. Read Hard.
Release date: February 22, 2022
Publisher: Pinnacle Books
Print pages: 304
* BingeBooks earns revenue from qualifying purchases as an Amazon Associate as well as from other retail partners.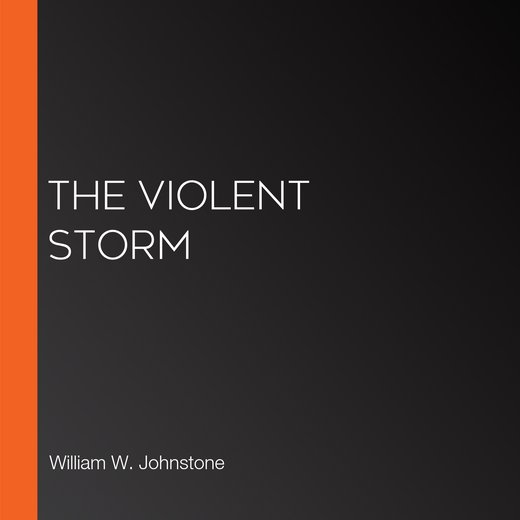 February 22, 2022
Tantor Audio
2022
The Violent Storm
William W. Johnstone
Making a journey he had made many times before, Will Tanner guided the buckskin gelding through a gap in a long line of hills that led into the San Bois Mountains. The gap was actually one end of a narrow passage that led through the hills and ended at a grassy clearing at the foot of a mountain. On the other side of the meadow, built against the base of the mountain, stood the log cabin of a man named Merle Teague. A little, gray-bearded man, Merle had become a friend of Will's, just as the original owner of the cabin had. It was built by a quaint elflike man named Perley Gates, who had also become a friend of Will's. But one day, Perley abandoned his cabin and left for parts unknown. Will had gotten into the habit of stopping to camp there whenever he was traveling into certain parts of the Nations. It was on the way and a convenient distance from Fort Smith. And he was always welcome because he usually brought coffee and tobacco. More times than not, he was able to enjoy a supper of fresh venison. So, one of the first things he looked toward was the large oak next to the porch where Perley, and now Merle, hung their fresh-killed venison to skin and butcher. He smiled to himself when he saw the carcass hanging from that tree on this occasion.

Merle spotted him as soon as he left the cover of the trees at the end of the passage. He dropped his skinning knife, picked up his rifle, and brought it to his shoulder before he realized who it was. "Will Tanner!" he exclaimed, delighted. "You musta smelled some of that fresh meat on the fire over yonder." He nodded toward the firepit at the opposite corner of the porch.

"Howdy, Merle," Will said. "That's something new. That firepit wasn't here the last time I came by. You're makin' a regular palace outta this place." He was glad to see the little old man was getting by. He pulled the buckskin and his sorrel packhorse to a stop in front of the cabin. "That's a dandy firepit you built there, with that low wall of rocks around it. You can sit right there on the rocks while you tend your cookin', can't you?"

"You sure you wasn't here since I built it?" Merle asked. "Has it been that long since you was here?"

"Six or eight months, I expect," Will answered. "Anybody up in that cave?"

Merle knew Will was referring to a cave up on one of the mountains that was a popular hideout for fugitives on the run. It had earned the name of Robbers Cave. "I ain't been up that way in a week or so. But if there is somebody holed up there, they ain't stumbled on me yet. And they usually do, so I reckon ain't nobody up there right now."

"Well, the least I can do is help you get rid of some of that deer meat," Will said. "I'll take care of my horses first." He pulled his saddle off Buster and the packsaddle off the sorrel, then turned them loose to go to the stream that cut through the meadow. He put his saddle and the packs up on the porch, then he commented, "I like a good cup of coffee with my venison, and I don't see your coffeepot settin' out anywhere."

"I'm sorry about that," Merle said. "I've been outta coffee beans for three months."

"Did you throw your coffeepot away?"

Merle grinned sheepishly. "No, I didn't throw it away. I knew you'd show up here again, so I kept it ready to go."

"Well, get it out and put some water in it," Will said, chuckling. "Here's a twenty-pound sack of coffee, ground, it ain't beans. That oughta last you a little while." Merle could not speak, for grinning so wide. "I brought you a sack of sugar, too. What about smokin' tobacco? Did you give that up, too?"

"About two days after I gave up coffee," Merle managed, still beaming like a kid at Christmas.

"Well, I reckon you can start again," Will teased. "You didn't throw your pipe in the fire, did you?"

"I swear, Will, if I had the money, I'd be happy to pay you double for this stuff."

"Hell, it's a fair trade for some fresh deer meat," Will replied. "I don't get to go deer huntin' like I used to. I brought you some flour. I bet you're outta that, too."

Merle just shook his head as if he couldn't believe his good fortune. Without further delay, he ran into the cabin, came back with his coffeepot, and went straight to the spring to fill it. "I knew this was gonna be a good day when I woke up this mornin'." They enjoyed a big supper of venison and fresh coffee and a long visit while Merle finished butchering his deer and prepared a good portion of the meat to be smoked on a rack that Perley Gates had made for that purpose. It was later than either man's usual bedtime when they finally turned in, Merle in the cabin, and Will in his bedroll on the porch.

"I swear," Lester Camp whispered to his partner, "I didn't think they was ever gonna go to sleep, but I reckon it was worth the wait."

"I'll say it was," Carl Babcock replied. They had trailed the old man after he had killed a deer they had been following for more than a mile. Lester had wanted to shoot the old man and take the deer right then and there, but Carl talked him out of it. He persuaded him to wait and follow the old man to see if he had anything else they could use. He figured the deer was theirs for the taking, even if he didn't have much else they could use. "I don't know if we woulda ever found this place, if he hadn't led us here. Then this other feller comes along, ridin' a dang good-lookin' buckskin horse and leadin' a packhorse loaded with supplies. It can't get much better'n this." He grinned wide with pleasure over the happenstance, knowing it was just plain luck.

"Ain't no trouble takin' care of the feller on the porch," Lester figured. "That old man might be a chore to get outta that cabin. Might have to burn him out."

"I hope not. We could use that cabin," Carl reminded him. "We mighta made a mistake waitin' for dark to take care of that old man."

"I thought it was you that wanted to wait and let him skin that deer and butcher it for us," Lester declared. "Besides, you saw how quick he had that rifle up when the other feller showed up. I don't care how old he is, it don't take much strength to pull the trigger on that Henry rifle he was holdin'."

"I say we oughta wait a little bit longer to make sure they go to sleep," Carl suggested. "And while we do, I'm gonna slip up to that little corral they put the horses in and lead that buckskin over closer to our horses back there. I mean to have that horse, so if anything goes wrong, and we have to run, I'm takin' that horse with me."

"Hell, ain't nothin' gonna go wrong," Lester insisted while he watched Carl sneak back to the horses they had tied on the other side of the meadow to get a rope. He almost chuckled as he watched Carl going to the trouble of sneaking up to the corral, where he removed the two rails that served as a gate. The horses started walking out of the corral, so Carl waited and stopped the buckskin. He quickly fashioned an Indian bridle with his rope, then led Buster halfway across the meadow before tying him to a small bush. Then he returned to take his place beside Lester.

"You ready?" Lester asked, and Carl said that he was. Lester drew his long skinning knife from his belt and tested the edge of the blade with his thumb. "When I cut this jasper's throat, if he don't make enough noise, I will. And when that old coot comes running out to see what's wrong, we'll give him a belly full of lead. All right?"

"Why don't you just shoot him?" Carl asked.

"If I shoot him, that old coot inside will grab his gun and bolt the door, and we'll have to shoot up a lot of cartridges tryin' to get him outta there," Lester explained. "Might have to set fire to the cabin to get him outta there before it's over. But if I cut the other feller's throat, I'll holler like hell, and the feller inside will come a-runnin' to see what happened. He might have his gun with him, but he'll be out of the cabin. And that's when you'll cut him down."

"All right," Carl answered. "You be careful."

"Always am," Lester replied. "Don't worry, I'll leave him with a great big smile, right under his chin." He got to his feet again and, hunkered over in a crouch, he approached the sleeping figure on the porch. Carl aimed his pistol at the cabin door and waited.

Lester paused at the edge of the porch to listen for sounds from the sleeping man. There were none, thanks to a contented belly, Lester figured. Good, he thought, best way to die, with your belly full of deer meat. He climbed onto the tiny porch and crawled over to his victim, whose back was turned to him. Even though he was on his side, his victim was turned more toward his stomach, so Lester didn't have a clear view of his throat. He laid a hand gently on his shoulder and slowly rolled his body toward him. The sleeping man offered no resistance, but as the body turned, the barrel of a Colt .44 six-gun came into view, and it was aimed straight at his face. "Was there something you wanted?" Will asked, his voice soft and calm. Lester Camp made the last and worst mistake in a long line of mistakes in his life. His reaction was to try to stab Will. With no time to think, Will pulled the trigger at the same time he tried to block the hand holding the knife. The result was a .44 slug sent into the forehead of Lester and a cut on Will's left arm.

Shocked almost to a state of paralysis, Carl nevertheless managed to fire a couple of rounds at the porch, but Will held Lester's body in front of him to catch both bullets. He returned fire then when he saw the spot the shots came from and rolled off the porch to take cover behind Merle's firepit. In a panic then, Carl didn't like the position he now found himself in, so he decided to run when he realized that Will didn't know exactly where he was in the darkness. It was so dark in the narrow valley between the mountains that Will didn't know Carl was running until he caught an image of a dark figure moving across the meadow. He had no way of knowing how many his attackers were before, but now he felt sure there had been only two. So he scrambled out from behind the low rock wall of the firepit and gave chase, ignoring the fact that he was without his boots.

Running as fast as he could manage, Carl was already out of breath when he came to the buckskin he had left tied to a bush. He untied the horse and jumped on his back. When he kicked the buckskin with his heels, Buster kicked his rear legs straight up in the air, with only his front feet on the ground, causing Carl to go flying over his head to land hard on his backside. Stunned for a few moments, he looked back to see the dark form of Will Tanner running toward him, and behind him, Merle Teague jumped off the porch to give chase as well. Again in a panic, Carl reached for his six-gun, only to find it missing from his holster, having lost it when Buster bucked him off. Almost crazy with fear now, Carl looked all around him for his missing handgun, crawling one way, then another until finally he found it. With Will almost upon him, he frantically fired one round and missed before he was struck in the chest by a round from Will's .44. He went down at once and never moved again. Hearing Merle puffing behind him as he ran to catch up, Will said, "He's done for. It's over." He then knelt beside the body and took the pistol out of Carl's hand, then slowly released the hammer. He realized then, that had the man been able to pull the trigger again, he probably would not have missed, for he was so close by that time.

"What in tarnation?" That was all Merle could think to say at the moment. "Was there any more of 'em?"

"Don't think so," Will replied.

"Are you all right?"

"Yeah, I'm all right. That one back there at the porch managed to give me a little cut on my arm, but that ain't my worst problem. I ain't got my boots on and I feel some sore spots on the bottom of my feet from runnin' after this jasper."

"That horse of yours is kinda particular about who rides him, ain't he?" Merle asked.

"Not so much," Will answered. "He'll let pretty much anybody ride him as long as it's me." That prompted him to remember. "The direction he was runnin' in was that way." He pointed to some trees on the other side of the meadow. "So I reckon we'll find their horses over that way somewhere. I'll go see if I can find 'em."

"While you're doin' that, I'll go back to the cabin and get a lantern, so we can take a look at these two buzzards," Merle said.

"That's a good idea," Will japed. "They mighta been some of your relatives come to visit you."

"If they are, we treated 'em the right way," Merle replied, then turned to go back to the cabin to fetch the lantern. Will walked toward the edge of the clearing until his eye caught the movement of forms big enough to be horses in the darkness of the trees. At that point, he drew his weapon again, confident that he wouldn't need it, but cautious enough to make sure he didn't blunder into a third person left to hold the horses. There turned out to be just the two horses, as he expected, so he untied their reins from the tree branches and led them back toward Merle's corral. He put all the horses in the corral and pulled the saddles off the two would-be assassins' horses. Then he went over and joined Merle, who was taking a close look at Lester on the porch. He picked up his boots, but decided against putting them on, since he had already torn the bottom of his socks and caked them with dirt.

"I brought their saddlebags over," Will said. "Thought I'd throw 'em on the porch, so you can look in 'em to see if there's anything worth something in 'em. I'll bring the saddles up, too, and you can see if you can trade them for something, but I wouldn't get my hopes up on 'em. You recognize him?"

"Never seen him before," Merle said. "He's just another one of those drifters who robbed somebody, or killed somebody, and came up to the mountains to hide. Don't know him, and I don't know his partner, but they were sure fixin' to settle your grits, weren't they?"

"Yep. Neither one of 'em gave me any choice. I had to shoot both of 'em."

"I sure thank the Lord you came along. This was my lucky day when you showed up."

"Well, I'm glad I happened to be in a position to help," Will responded. "Those two weren't plannin' to leave anybody in this cabin alive."

"Oh hell," Merle snorted. "I weren't talkin' about them two tryin' to kill me. They'da played hell tryin' to smoke me outta this cabin. I was talkin' about the coffee and the tobacco you brung me."

"Right," Will replied. "What was I thinkin'? Bring your lantern and let me take a look at the other fellow." They walked back out in the meadow to Carl's body and Will took a quick look. "I don't know him, either," he told Merle. "Did he have anything on him?"

"A Colt .45 Army revolver and a knife, eighty-five cents in his pocket, and that's all," Merle answered. "Oh, and a pocket comb. You want it? You've got hair."

"I don't want it," Will told him. "You feel like diggin' a hole tonight to put these two jokers in, or you wanna wait till mornin'?" Merle chose morning, saying he'd rather go back to bed now. That suited Will fine, so he dragged Lester's body off the porch to lie in the yard till morning. He moved his bedroll away from the puddle of blood Lester had left on the porch and retired to try to make up for some of the sleep the visit had cost him.

They were up early the next morning, in spite of the little interruption in their sleep the night before, and enjoyed another meal of fresh-killed venison for breakfast. They gave their two guests a rather undignified burial on the backside of the mountain before Will set out again on the trail to Atoka. "How long you figure you'll be down that way?" Merle asked. He was wondering if Will might stop by on his way back to Fort Smith.

"I don't know for sure," Will told him. "After I see Jim Little Eagle in Atoka, I'm gonna ride on over to the other side of Tishomingo. Tom Spotted Horse wired Fort Smith about some cattle rustlin' goin' on over near the Red River. So I don't know how long I'll be gone."

"What about all this stuff we ended up with after we stuck these two fellers in the ground?" Merle asked, already pretty sure what Will's answer would be.

"I figured it might be a little more trouble for you, but the next time you ride over to McAlester for supplies you'll have a lot more to trade for 'em. And you won't have to wait for me to show up to have coffee."

"I 'preciate it, Will. That's mighty generous of ya. I might keep one of them horses, that roan. He looks in pretty good shape and that sorrel I've been usin' for a packhorse is gettin' so dang old he ain't gonna be good for much of anythin' pretty soon."

"Yeah, that roan looks like he's got a lot left in him, and you oughta get something for the bay, too," Will allowed. "Well, I'd best get in the saddle. I've got a good day and a half's ride to get to Atoka. Maybe by the time I get there, Jim will have taken care of the problem, himself."

Will and Buster put in a long day after leaving Merle that morning. He wanted to arrive in Atoka around noon the following day because he planned to eat dinner at Lottie Mabry's dining room, which she had recently started calling Lottie's Kitchen. It was next door to a rooming house owned by her husband, Doug, and started out as the dining room for her husband's boarders. In short time, the quality of Lottie's cooking became quite well known, and consequently, the favorite place to eat in the little town. As much as he had enjoyed the fresh venison, he was hankering more toward a good homestyle dinner with some biscuits or corn bread and butter. So after a day's ride that he figured to be close to forty-five miles, he rode into Atoka a little after noon. He decided to eat first, then ride out to Jim Little Eagle's cabin on Muddy Boggy Creek. He knew Jim's wife, Mary Light Walker, would insist on fixing him something to eat, if he had not already eaten. The food would be good but not what he was hankering for on this day.

He pulled Buster up before the hitching rail in front of Lottie's and dismounted, wrapped the reins of both horses around the rail, and paused only a moment to admire the new sign that proclaimed the dining room to be Lottie's Kitchen. "Will Tanner!" Louise Bellone called out when she saw him come in the door. "I thought you musta died."

"Howdy, Lou-Bell," he greeted her by the name she was called by all her friends. "I couldn't die till I had one more dinner at Lottie's."

"So you're sayin' one more dinner here will kill you?" Lou-Bell replied. "I don't know if you oughta tell Lottie that or not."

"You know what I meant," he said. Knowing she was japing him, he gave up immediately. He knew better than to get into a battle of wits with Lou-Bell. "What's for dinner today?"

"Lottie made meat loaf," Lou-Bell said, not willing to give up that easily, "and it's pretty deadly. But if you wanna be sure, we can fix you up with something that's guaranteed to do the job."

"Just bring me the meat loaf and whatever else goes with it and maybe that'll do the job," he said. She shrugged and headed for the kitchen to fill a plate for him, passing Lottie on her way out of the kitchen with the coffeepot. He went into the back part of the room and sat down at one of the small tables, instead of taking a seat at the long table in the center.

"Howdy, Will," Lottie greeted him. "Is Lou-Bell giving you a hard time?" She turned the coffee cup right side up on his saucer and filled it with hot coffee.

"She always does," Will admitted. "I think she knows she's got a sharper wit than I have, and I know when I'm overmatched."

Lottie chuckled and said, "Sometimes I think I oughta put a gag in her mouth, but I'm sure half my customers come in here just to swap lies with Lou-Bell."

"Well, I'm in the other half," Will said. "I come in here because the food is the best in this part of the country."

"Why, thank you, sir," she responded, "I certainly appreciate that." She stepped to the side then to give Lou-Bell room to place his dinner on the table.

"Here you go, Deputy Tanner," Lou-Bell announced as she set his plate down. "Hope it does the job," she japed, and gave him a wink. She turned to Lottie then and said very softly, "Look who's coming in the door. I kinda hoped they wouldn't be back today."

Forgetting Will for the moment, Lottie said, "Well, let's not sit them at the big table today. Go tell Fred to clear the dishes off that table over there by the window. I'll seat them there." Lou-Bell went at once to the kitchen and Lottie turned toward Will again. "I'll check with you in a little bit." She started to leave, pausing only a few seconds when Will asked a question.

"Who's Fred?" During the many times he had eaten there, he had never seen anyone named Fred.

Lottie quickly explained, "You probably remember Lila, the elderly lady who used to work here as our dishwasher. She came down with arthritis so bad she couldn't work anymore. We couldn't find anybody to take her place, so her husband came in to do her job till we found someone else, and he's still here." She hurried away then to intercept the two men coming in the door.

"Good afternoon, gentlemen," Lottie greeted them. "You've come back to see us again."

"You said that like you're surprised," Clyde Vickery responded. He turned to look at his partner. "Didn't she, Sonny?"

"Maybe she's sayin' we ain't welcome," Sonny Doyle answered.

"We try to welcome everyone here," Lottie said. "We hope that everyone who eats with us is considerate of everyone else who's eating here. I'll call your attention to the table we've provided in the corner for firearms and ask if you'll be considerate of the other customers in the room and leave your weapons on the table until you're ready to leave. Yesterday, you refused. I'm hoping that today you'll leave them on the table. How 'bout it, you wanna make the rest of my customers feel more at ease?" Her earnest request failed to wipe the smirks off either face.

"How 'bout it, Sonny? You wanna make her customers feel more at ease?"

"I don't give a fat rat's ass whether her customers feel at ease or not," Sonny answered him. "I just care about how I feel, and I feel uncomfortable when I'm settin' in the back of the room full of sodbusters and my .44 is layin' on a table up front."

"Well, there you go, sugarplum," Clyde told her. "I reckon you've got your answer. Now the smartest thing for you to do is to bring us plenty of food and don't let none of them other customers bother us, and everythin' will be just fine."

Lottie hesitated. She glanced over at the opposite back corner at Will, already eating, apparently paying no attention to the two men she was talking with. She couldn't decide whether to ask him to order the troublesome two out of the building, or not. Maybe these men had no intention of causing anyone any trouble and just wanted to eat and get on their way. Finally, she made a decision. "All right, gentlemen, I'm gonna seat you right over here at a table by the window, best table in the room. It'll be cleaned off and set up with clean knives and forks." She led them over to the table. "Have a seat and I'll go to the kitchen and get your dinner ready."

Clyde and Sonny looked at each other with surprised grins on their faces. "Now, that's more like it," Clyde declared.

Watching from the kitchen door, Lou-Bell grabbed Lottie's arm when she walked into the kitchen. "What did you tell them?"

"I decided the best way to handle them is to treat 'em like a couple of kings, feed 'em good and fast, and get 'em out of here as quick as we can. Don't give 'em anything to complain about."

Surprised by her plan of action, Lou-Bell was quick to remind her, "We've got a genuine U.S. Deputy Marshal settin' right across the room from them. Why don't we just tell Will to order them out of here?"

"That was my first thought, too," Lottie answered while she set two plates next to the stove and put two healthy slices of meat loaf on each one. "But those two refuse to take their guns off, and if we get Will to thro. . .
We hope you are enjoying the book so far. To continue reading...
The Violent Storm
William W. Johnstone
Copyright © 2022 All Rights Reserved
Also in this series
Also by this author