The Constant Star
Available in:
eBook
Paperback
Audiobook
Hardcover
Book info
Sample
Audiobook
Media
Author updates
Lists
Synopsis
London in the Blitz - the story of The Wayward Wife continues in this compelling saga of love and war. Susan Cahill enjoys her job at the BBC - until a bomb destroys the building and brings unwelcome responsibilities and an autocratic new boss, Walter Boscombe. He has no time for ambitious young women from Shadwell and seems determined to break Susan's spirit - and her heart. Breda Hooper, Susan's widowed sister-in-law, and her small son are rescued from the East End's shattered docklands by Danny, Susan's estranged husband. Settled in a shabby caravan in the Vale of Evesham, Breda soon finds herself entangled in village affairs in more ways than one, with only her quick wits, her new friends and the ever dependable Danny to keep her out of trouble. For Susan and Breda, jeopardy comes not from the skies but in the terrible price each must pay for falling in love with men who are not all that they seem to be and who, even in the midst of all out war, will change their lives forever.
Release date: August 14, 2014
Publisher: Hodder & Stoughton
Print pages: 384
* BingeBooks earns revenue from qualifying purchases as an Amazon Associate as well as from other retail partners.
Listen to a sample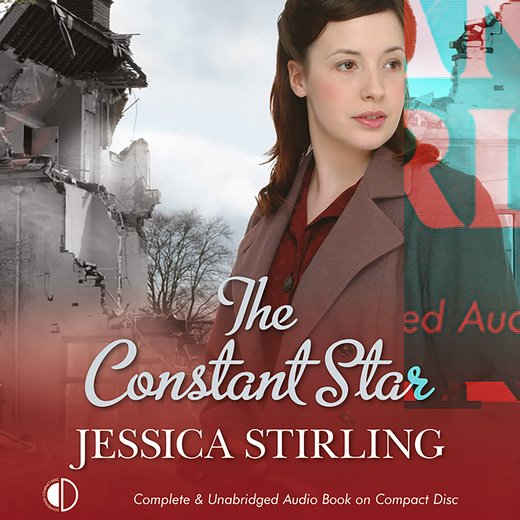 11:01:05
302.63 MB
March 1, 2015
Soundings
The Constant Star
Jessica Stirling
Susan Cahill was twenty-four years old, good-looking, well-spoken and, on the surface at least, amazingly self-confident. She had already notched up, in no particular order, one husband, two lovers and a responsible job in broadcasting but by October 1940, a month after the blitzkrieg on London began, she would willingly have traded it all for a good night's sleep.

Nodding off while leaning against the studio door, snoozing in a chair in the producer's office or huddled on a lumpy mattress on the floor of the BBC concert hall, which had recently been turned into a dormitory, were no substitutes for clean sheets, fleecy blankets and enough space to stretch your legs without sticking your foot in some grumpy stranger's ear.

She had been camping in her friend Vivian's mews house in Salt Street since her flat had been wrecked by a high-explosive bomb but the demands of producing a twice-weekly radio programme, Speaking Up for Britain, meant she was seldom there. Added to the unremitting ferocity of the German bombing raids, it was hardly surprising that she no longer dreamed of soft lights, sweet music and dancing until dawn but only of a comfortable bed in a quiet room far from the dust and rubble of a city under siege.

In September the journalist Robert Gaines, Speaking Up's American announcer, had suddenly upped sticks and returned to New York. Since then the programme had been making do with guest announcers, none of whom came close to filling Robert's shoes.

The board's first choice to take over from the renegade was a pompous Scotsman, recently transferred from Edinburgh. Unlike Susan's gruff Glaswegian husband, Danny, he trailed with him all the affected airs of the Athens of the North and producer Basil Willets, Susan's boss, would have none of him.

The next candidate was a former ballet critic of The Times who had sought refuge from the obscenities of war by pulling a few tutu-strings to obtain a staff job with the BBC. His florid style and mellifluous voice might go down a treat with elderly ladies in palm court hotels but, said Basil, not with hard-bitten station managers on the other side of the Pond – at which point the board lost patience and, behind Basil's back, appointed to the post a talented young broadcaster from the Bristol studio.

Susan had been on the telephone all afternoon trying to engage with jammed exchanges and her tolerance was wearing thin.

Mr Weymouth, a producer in Talks, had agreed to present the Tuesday programme and write a piece on 'Good Manners in Air-Raid Shelters' to leaven the gloom. The massing of Russian troops on the Rumanian border was a bit of news that couldn't be brushed aside, however, and Susan's task was to find a military expert who would make sense of the latest developments without boring the pants off the listeners.

Basil, who was married to Susan's friend Vivian, had nipped home to Salt Street to pick up a couple of shirts and have Viv pack some clean clothes for Susan. Alone in the office, Susan failed to hear the knock on the half-open door. Only when she glanced up did she realise that a stranger was watching her.

She covered the mouthpiece. 'What can I do for you, Mr …?'

'Powers, Stuart Powers.'

'I don't believe we've met,' said Susan.

'I don't believe we have. I've just arrived from Bristol. I'm here to speak with Mr Willets.'

Susan took her hand from the mouthpiece, said crisply, 'Thank you,' and replaced the receiver in the cradle. 'Basil – Mr Willets – shouldn't be more than ten or fifteen minutes. Please, have a seat.'

Stuart Powers was tall and slim, with a lock of fine fair hair spilling across his brow and eyes of the palest blue Susan had ever seen. She watched him pull out a chair, seat himself and stretch out his incredibly long legs. He wore a sports jacket over a roll-collar pullover, grey flannels and, on his feet, a pair of none-too-clean brogues. His casual style was appealing, a perfect fit for someone so tall and – yes – handsome. Remembering her manners, Susan squeezed out from behind the corner desk and offered her hand.

'I'm Susan Cahill, Mr Willets's assistant.'

She was all too aware how seedy she looked. Her hair needed washing, she'd neglected her make-up and had been wearing the same skirt and blouse for four days. He, in contrast, looked as fresh as if he'd been striding over Hampstead Heath all morning, not rattling about in a crowded railway carriage.

'May I smoke?' he asked.

'By all means,' Susan said.

He tugged a bashed cardboard pack of Du Maurier from his pocket, together with a box of matches, held out the pack and let her take one of the cork-tipped cigarettes. He struck a match and, cupping the flame in his palms, leaned down to light it.

'Am I right in thinking you used to be Vivian Proudfoot's Girl Friday?' he said. 'Plain Susan Hooper in those days.'

'I was, indeed, Viv's personal secretary for a year or two,' Susan answered. 'How do you know Vivian?'

'I don't. I was chummy with her former agent, Mercer Hughes, before he went abroad. He told me all about you.'

'Did he?' Susan abruptly changed the subject. 'More to the point, I take it you listen to our programme?'

'Of course I do.'

'Your opinion?'

'It hasn't been quite the same since the American left.'

'Fair comment,' Susan said. 'Robert was really one of a kind.'

'You must miss him?'

'I beg your pardon.'

'Mr Willets, I mean, must miss him.'

'Oh, he does. We all do, though Robert wasn't the easiest person in the world to deal with.'

At that moment the siren wailed, signalling another daylight raid, the third of the day. Stuart Powers stubbed out his cigarette.

'Where do we shelter, Mrs Cahill?'

'Fourth floor, Studio B. I wonder, awfully, if you'd mind carrying my typewriter. Where I go my typewriter goes too, on the off-chance I might get some work done.'

He hefted up the heavy Underwood, tucked it under one arm and offered a hand to Susan, as if she, not he, were unfamiliar with the maze of corridors, control rooms, offices and studios that filled the massive half-million-pound building.

'Which way?' he asked.

'This way.' Susan led him out into the corridor. 'We only use the basement shelters at night. The studios are safe enough during daylight raids, which never last long anyway.'

'I hope that isn't a case of famous last words.'

'Trust me,' Susan said and, glancing over her shoulder, flashed him a sample of her winning smile.

Some members of staff believed that the Luftwaffe was dumping bombs on the Borough of Marylebone simply to bring the BBC to its knees but knowledgeable chaps in the Air Ministry were not convinced that German pilots were all that clever or that accurate.

Broadcasting House was certainly a prominent target. The white walls had been painted drab grey to make them less visible from the air and the mammoth steel pillars that anchored the core of the building were so solidly embedded that folk working in the basements rarely heard the explosions that shattered windows and pitted the building's outer shell with shrapnel.

Daylight raids, while inconvenient, were too light and scattered to disrupt the putting out of programmes. Script-writers, editors and one or two musicians were milling about in the cramped studio while typists, machines balanced on every level surface, did their best to keep pace with producers' demands. The atmosphere within the soundproof room was overheated, the racket deafening, but there was no sign of panic, only the sort of organised muddle that Bob Gaines had dubbed typically English.

Mr Powers looked for a place to set down the Underwood and, finding none, cradled it, like a baby, in the crook of an arm while Susan, toting a sheaf of scripts, snatched a chair from under the nose of a rival from the Empire Service.

She dumped the scripts on the chair and nodded to Mr Powers to put the typewriter on top, though she doubted if she would do much work until Basil got back. Not for the first time she'd failed to find a pundit willing to interpret breaking news. Fortunately, she'd had the sense to drag in ever obliging Professor Cobbold, at half past eight that morning, to record a talk on the Prussian character which would fill the programme gap.

In a couple of hours the Speaking Up team would gather in the listening room next to the third floor's Studio C to broadcast for pick-up by stations in America. Mr Weymouth was already in the building. Sir Hugh Everett, from the Ministry of Defence, was always punctual and his talk on 'Invasion: What Now?' had already been rehearsed. Three items, a session of question and answer, two minutes and twelve seconds of recorded music and the Tuesday hour would be over and, with luck, Susan thought, she might make it back to Salt Street for a few precious winks of sleep.

'Tell me a little more about your time with Vivian Proudfoot,' Stuart Powers said. 'Was she really one of Mosley's supporters?'

'No, she was never a fascist,' Susan said. 'Why are you so interested in Vivian?'

'I'm not. I'm interested in you. If we're going to be working together then we should probably get to know each other.'

'Basil may not take you on, you know.'

'Basil has no choice.'

'You mean, you're it.'

'I'm it – like it or lump it.'

'I trust you haven't been sent to corrupt our sober contribution to the airwaves with rumba bands and catch-phrase comedians.'

'Far from it.' He hesitated. 'I take it you haven't heard?'

'Heard what?'

'Can't say, at least not until Mr Willets has been informed,' Stuart Powers said. 'By the way, since you're not Hooper but Cahill now, I assume you are married.'

'What if I am? What business is it of yours?'

'Is your husband in the forces?'

'With the monitoring unit in Evesham, if you must know,' Susan said. 'We don't see much of each other these days.'

'What does he do at Evesham?'

'Editor. He has poor eyesight and – don't laugh – flat feet. When the opportunity to join the BBC presented itself, he took it, mainly because the army wouldn't have him.'

'Where are your folks?' Stuart Powers enquired. 'I'm not being nosey, just making conversation.'

'Of course, you are,' Susan said, thinking, Yes, I know your type, Mr Powers. You're not making conversation, you're fishing for a bed-mate. 'My mother's been dead for years,' she said. 'My father and his lady friend decamped to the south of Ireland. I doubt very much if they'll come back to London until the war's over. My brother – well, Ronnie, poor soul, was killed while trying to remove an unexploded bomb from the vicinity of a school. More fool than hero, you might say. Now' – she paused – 'what else do you need to know about me? Do I have a flat of my own? Do I live alone?'

'Do you?'

'I thought that might interest you.'

'I will need some place to rest my weary head for a day or two,' Stuart Powers admitted, 'until I find permanent digs.'

'I'm sure we can find you a ticket for the concert hall floor.'

'I've already spent quite a bit of time sleeping on floors in Bristol. I'd prefer something a little less communal, if possible.'

'My flat took a direct hit and appears to be beyond repair,' Susan told him. 'I'm lodging with Vivian and her husband who, as you no doubt know, is also our admirable producer. I suppose Vivian might be prepared to let you sleep on the sofa – a davenport actually – if it isn't going to be for long. Assuming, that is, you get the job with us in the first place.'

'I already have the job,' Stuart Powers informed her. 'It's just that Willets doesn't know it yet.'

'How long have you been with BBC Bristol?'

'Six months.'

'Six months? Is that all? Why aren't you in uniform?'

'Apparently I'm of more use to the BBC than I am to the army. I didn't apply for the presenter's job, if that's what you're thinking. I was told to show up today and briefed—'

'Briefed? Who briefed you?'

'In due course all will be revealed.'

'A man of mystery,' Susan said. 'Now I am intrigued.'

'There's nothing mysterious about me,' Stuart Powers said. 'What you see is what you get.'

The door of the studio flew open and a warden blew a shrill whistle to signal the all-clear. There was instant chaos in the crowded room and a general rush for the door.

Stuart Powers hoisted up the Underwood. 'You know, I'm becoming quite attached to this machine,' he said. 'I take it we're going downstairs again.'

'We are,' said Susan. 'Let's hope Basil's back.'

'Let's hope he is,' said the mysterious Mr Powers.

The late-blooming romance between Basil Willets, a middle-aged widower, and the writer Vivian Proudfoot had taken everyone by surprise. Shades of youthful passion had mellowed over the years to a point that had led to friendship and a wartime wedding. Vivian needed someone not just to share her life but to organise it, a role that Basil Willets, new-pin neat and a model of self-sufficiency, was only too willing to undertake in exchange for companionship and, Susan supposed, the joy of finally sharing a bed with his childhood sweetheart.

Basil was a wiry little man, not physically prepossessing, but with such a surfeit of energy that he could impose his will on his superiors and cajole those below him in the pecking order into doing his bidding without seeming like a tyrant. A recent expansion of the North American Service, however, had brought with it so many new rules and regulations that Basil was afraid that Speaking Up might be considered too staid for the tenor of the times and would wind up being strangled by red tape.

He was seated behind his desk when Susan arrived with Mr Powers in tow. He had hidden his shirts in a desk drawer, stowed the brown paper parcel of female garments in the stationery cupboard and, feet propped on the desk, was going over the scripts for the night's broadcast with a stopwatch and blue pencil.

'There you are, Susan,' he said, looking up. 'Did you find someone last-minute to cover the Rumanian thing?'

'I'm afraid not. We're stuck with Professor Cobbold.'

Basil offered no criticism. He scribbled a few hieroglyphs on the typed sheet and swung his feet to the floor. 'You'd better let Larry know,' Larry being the programme's sound controller. 'He'll slot in the recording before Sir Hugh's piece. Is Everett here yet?'

'No, but it's a little early.'

'He'll be here,' Basil said. 'A few Jerry bombs won't stop him making his voice heard.' He leaned his elbows on the desk, rested his chin on his hand and gave Stuart Powers the once-over. 'And who, may I ask, are you?'

'Your new announcer, sir.'

'Are you, indeed? Do you have a name?'

Mr Powers stepped forward, introduced himself and, reaching over the desk, shook Basil's hand.

'You used to write for the Mail, didn't you?' Basil asked.

'I did – still do now and then.'

'Good stuff, very sharp,' Basil conceded. 'Who sent you?'

'He's from Bristol,' Susan put in.

'Well, we won't hold that against him,' Basil said. 'Am I to take it, Mr Powers, you're being foisted on me whether I like it or not?'

'Haven't you received a memo from Personnel?'

Basil laid a hand on the pile of papers on his desk. 'If I have, I haven't found it – which is, I confess, remiss of me. On the other hand, it may not have turned up yet.'

'Do you mind if I sit down?'

'Please do.'

Susan watched Mr Powers fold himself elegantly on to the wooden chair. The window that looked down on the street had been boarded over. There was no light in the room save the electrical fitting overhead and the lamp on Basil's desk. The urgent sounds of emergency vehicles, bells and klaxons were clearly audible, a noisy accompaniment to the clatter of heels in the corridor.

'Are we being cancelled?' Basil said, then promptly answered his own question. 'No, if we were you wouldn't be here.'

'I do wish you'd received the memo,' Stuart Powers said. 'It isn't my place to tell a senior producer what's going on.'

'All right,' said Basil. 'What is going on?'

Stuart Powers said, 'You'll be invited to a panel to tender your views in due course, I expect, but what it boils down to is that Walter Boscombe isn't happy with Speaking Up being re-broadcast to America in early afternoon. He's arranging studio space for a midnight broadcast from here. What's more we'll be going out three nights a week, on Monday, Wednesday and Friday, as from—'

Basil jumped in. 'I can't possibly produce three late night programmes with the staff I've got.'

'I'll provide linkage and scripted interviews,' Stuart Powers said. 'I also have contacts in Fleet Street we might call on for a bit of extra ooomph.'

'Ooomph?' Basil's lip curled. 'Oh, so it's "ooomph" we're after, is it? What did you do in Bristol, Mr Powers? Write for Max Miller?'

Stuart Powers did not appear to take offence. 'I've only been in Bristol for a little while.' He hesitated. 'Before that I was the coordinator for the Canadians in the New York office.'

'I see.' Basil nodded. 'You're a big gun, a young gun but a big gun, none the less. I'm not sure whether I should take it as a compliment or an insult that Boscombe has stuck you here.'

'Three hour-long programmes a week with a guaranteed suppertime audience in the States?' Stuart Powers said. 'I really do think you should take it as a compliment, Mr Willets.'

'Given that I've no choice, I think perhaps I'd better.' Baz emerged from behind his desk and shook Stuart Powers's hand again. 'I look forward to working with you, Mr Powers. Welcome to Speaking Up for Britain. I assume you'll stay to hear our broadcast tonight? We go on the air at eight.'

'I'd like that,' Stuart Powers said.

'Do you have accommodation? A place to stay?'

'I don't, as a matter of fact.'

'Susan will fix you up, I'm sure.'

'Will she?' said Mr Powers.

'Yes, with a mattress on the concert hall floor,' said Susan.

It had been a beautiful October day without a cloud in the sky. A full moon rose through curtains of smoke and, as night fell, bathed the city in brilliant moonlight. Unsurprisingly, the German planes came early and the first warnings sounded just after seven.

In Broadcasting House, news crews retreated to the basement and lifts were crowded with pages escorting the evening's guests to safety. Safety was the last thing on the minds of producers who had programmes slated for transmission. There was no mass exodus from the studios. It was, after all, just another air raid and nothing to get excited about.

The Speaking Up team was drinking tea and munching biscuits when Sir Hugh Everett arrived looking, Susan thought, just a mite more flustered than usual. He sipped tea, took three puffs on his pipe and, thus soothed, followed the producer to the listening room where Larry was checking sound levels.

The whistle and thump of falling bombs was audible in the corridor, though not the drone of aeroplane engines or, save as a pulse in the eardrum, retaliatory fire from the guns of the anti-aircraft battery in Hyde Park.

High on top of Broadcasting House fire-watchers were on the lookout for incendiaries, land-mines and parachute bombs. Below, at the Duchess Street entrance, an armoured car stood ready to transport newsreaders to a stand-by studio if 'the fortress' took a direct hit that put it totally out of commission, which, given the nature of its defences, was exceedingly unlikely.

At eight minutes to the hour Mr Weymouth came up from his lair in the basement, greeted Stuart Powers warmly, collected his programme material and went into the studio. He adjusted the mike, poured a glass of water from the jug that Susan had filled, placed his cigarettes, lighter and ashtray where he could reach them, squared his script and glanced up at the clock.

In the listening room, Susan experienced a flutter of anxiety, a common enough syndrome, until she heard Mr Weymouth offer greetings to the people of America and launch into his introduction, after which she relaxed and settled to enjoy the broadcast.

'Weymouth's only a nom de plume. He was a doctor before the war,' Basil whispered to Powers. 'Army Medical Corps in the last show. Did some broadcasting for us on and off. Dashed fine writer. How would your friends in CBC put it? Very "on the ball". We're lucky to have him.'

'Yes,' Stuart Powers said. 'I know you are.'

'Oh!' said Basil. 'Is he one of your crowd?'

'I do have friends in broadcasting,' Stuart Powers said, 'but I'd hardly call them a crowd. I've no more than a nodding acquaintance with Mr Weymouth, as it happens.'

'I'm not sure I believe you.'

'You mean you're not sure you can trust me.' Stuart Powers touched Susan's shoulder. 'What about you, Mrs Cahill? Do you think I'm trustworthy?'

'I'm sure you are,' said Susan guardedly.

She had started her affair with Robert Gaines not out of trust or fellowship but from boredom and a desperate need for excitement, as if being caught in the middle of a war weren't exciting enough. The war was everyone's excuse these days; she was no exception. Uncertainty, tedium, drama and suffering, the sudden loss of values that had shored her up since childhood; she might not wear a uniform but the war had liberated her just as surely as any VAD or WRAC or debutante land girl. She wondered if Stuart Powers might be 'her destiny', as her sister-in-law Breda would put it, or if he was just another opportunist out for a good time.

A muffled growl, like distant thunder, penetrated the walls of the listening room. The floor shook slightly and a trickle of dust hissed down from the slant of the ceiling.

'What the devil's that?' said Sir Hugh Everett.

'Sounds like a bomb to me,' said Larry.

Mr Weymouth's talk on 'Good Manners in Air-Raid Shelters' continued without pause. The trickle of dust from the ceiling ceased.

Basil said calmly, 'It's nothing.'

'I didn't sound like nothing,' Sir Hugh said.

'I wonder if they heard it in Washington?' Stuart Powers said.

'Somehow I doubt it,' said Basil. 'May we have music, please?'

Weymouth's talk concluded and the strains of a string quartet playing Mozart emerged from the loudspeaker.

'See if he's all right in there, Susan,' Basil said. 'In fact, you may as well take Sir Hugh in now, if that's all right with you, sir. We've a recorded talk up next. Eight minutes and you're on.'

The door to the studio lay adjacent to the listening room. Susan peeped through the little glass porthole, opened the door quietly and ushered Sir Hugh into the studio. Mr Weymouth lit a cigarette and sat back from the microphone.

'Hugh,' he said, 'have you come to keep me company?'

'Unless you've anything better to do.' Sir Hugh took his seat at the table. 'I take it you were the one who vetted my material?'

'I was,' said Mr Weymouth. 'Do you really think Adolf's played his trump card regarding invasion or are you being your usual cautious self?'

Susan left them to it and slipped out into the corridor. Through flapping swing doors she could make out two men in blue uniforms and a duty officer huddled in conversation; beyond them, running, one of the secretaries from the Talks Department.

She was about to step back into the listening room when the duty officer spotted her. He left the uniforms and pushed through the swing doors. There was dust on the shoulders of his suit, a fine pinkish dust, a sprinkling in his hair too.

'Who's in the studio?'

Susan told him.

'Control?'

She told him that too.

'Have you seen the Director General?'

'No,' said Susan, surprised. 'What's up?'

'Something about a bomb on the fourth floor. I really' – he was already turning away – 'must find the DG,' then over his shoulder, 'Steer clear of the outer offices in the meantime, please.'

'Why?' Susan called after him.

'It may not have gone off yet.'

'What may not have gone off yet?' said Basil when Susan relayed the news.

'I assume he means a bomb,' Susan said.

'If there is a bomb,' Basil said. 'You know what duty officers are like. Lose some glass on the North Tower and the next thing you know the building's falling down.'

'Sounded a bit close for comfort, though,' said Larry.

'If there's any danger then someone will tell us to clear out. Not,' Basil added, 'that I've any intention of clearing out in the middle of a broadcast. Powers, might I impose upon you to trot along to central control and see if you can find out just what's going on. Put all our minds at rest.'

'I'm not sure I can find central control.'

'Susan,' said Basil, rather testily, 'go with him.'

Men were striding purposefully along the corridor and in one of the outer offices a secretary was hammering on a typewriter, presumably preparing script for a late-evening programme.

Stuart Powers took Susan's arm. 'Upstairs or down?'

'Down,' Susan said. 'There's no sign of the floors being evacuated. I expect it is another false alarm.'

They were halfway down the staircase when a policeman and two firemen, coming up, stopped them.

'Where do you think you're going?' the senior fireman asked.

'To the central control room,' Susan answered.

'From the third floor, are you?' said the copper.

'Yes, Studio C.'

'North American Service,' Stuart Powers put in. 'Mr Willets's programme, Speaking Up for Britain. We finish at nine.'

'How many on the crew?'

'Five. Look, what—'

'Is the Director General up on three?'

'His office is on the other side,' said Susan. 'Why?'

'He's got the Colonial Secretary with him,' the policeman said. 'I have orders to escort them out of the building.'

Crowded together on the half landing, three bulky men in heavy serge uniforms, two burdened with fire-fighting equipment and the other, the copper, with a truncheon clenched in his fist; Susan was aware of the strange, sour odour of men under pressure. Stuart tightened his grip on her shoulder as if he thought the uniforms might carry her off as a hostage.

'Are the lifts defunct?' one of the firemen asked.

'I don't think so,' Susan said. 'No.'

Stuart and she were looking down, the men in uniform looking up, all of them uncertain. Stuart said, 'What station are you from?'

'Manchester Square,' the fire officer told him. 'We've sent a dispatch rider to fetch the Divisional Officer from Bryanston Square. Big blaze there. We've a trailer outside but your roof fire's already been put out.'

'And the bomb?' Susan said.

'We've a crew searchin' for it right now. Look, we can't dawdle here all day,' the fire officer said. 'I suggest you alert your staff that there's a bomb what hasn't gone off and get them down to the basement. Now, please, make way.'

Stuart drew Susan aside and the men swarmed on upstairs just as another duty officer came leaping up from the second floor.

'Mr Carse,' Susan said, 'can you tell us what's going on?'

'Susan! What, yes,' Mr Carse said. 'A five-hundred-pounder came through the window on seven. It's lodged in the music room on four. I'd get below ground if I were you.' Then, like the firemen before him, he pushed past them and hurried on.

'Do as you're told and go down to the basement,' Stuart said.

'Where are you going?'

'Back up to tell Willets the news.'

'Basil won't break off transmission on the strength of a rumour, you know.'

She ducked under his arm and headed upstairs. He tried half-heartedly to catch her, then, shaking his head, followed her up to the third-floor corridor.

'You're enjoying this, aren't you?'

'Of course I'm not enjoying it.'

'You really should go down to the basement, you know.'

'Why?' Susan said. 'I'm not afraid of what might happen if that thing goes off. If it's my time to wave goodbye, so be it.'

'Oh, God, not another fatalist.'

'Stoic,' Susan said. 'I'll settle for stoic.'

'Or just plain stubborn,' Stuart Powers said and steered her ahead of him back into the listening room.

'If the London Fire Brigade can't shift a bomb without it going off …' Basil began, then instantly apologised. 'I'm sorry, Susan. I didn't mean to insult your brother's memory. Are you all right?'

'I'm fine. I just wish everyone would stop fussing.'

She hadn't mourned for Ronnie, not properly. There had been no body to bury, nothing left of him. She'd loved her brother dearly, though she'd thought him mad for running off to join the International Brigade and fight in Spain and even madder for marrying Breda Romano when he could have done so much better.

Water under the bridge now, all gone, like the shabby terraced house in Shadwell where she'd been born and raised and in which, latterly, Ronnie had lived with his wife and son. It was nothi. . .
We hope you are enjoying the book so far. To continue reading...
The Constant Star
Jessica Stirling
Copyright © 2022 All Rights Reserved