Book info
Sample
Audiobook
Media
Author updates
Lists
Synopsis
What happens to childhood promises when you grow up?
Growing up, Devaney Diamond and Chase Mackenzie promised to go to college together. But it's been three years since the summer that changed everything between them, and their friendship hasn't recovered.
Now, Dani is faced with all the challenges of her freshman year of college—navigating rush week, making new friends, and living on her own—which is both exhilarating and intimidating. In high school, Dani was homecoming queen and head cheerleader. She should be able to handle the pressure, but college has been more overwhelming than she expected. 
Chase, on the other hand, is living the dream. It's his senior year of high school, his football team is hoping to go undefeated, and he's being heavily recruited.
When Dani returns home for a weekend, she realizes why college feels so overwhelming—she doesn't have Chase to share it with. In hopes of salvaging their friendship, she repeats an old tradition—sneaking over to his room with pizza after his game. But instead of fixing their friendship, they end up sleeping together. 
Chase is thrilled that Dani is back in his life, but being friends with benefits when feelings are involved is more complicated than Chase imagined.
Will Chase and Dani work through their feelings for one another, or will their childhood promise be shattered when Chase announces what college he will commit to? 
Release date: June 8, 2021
Publisher: Swoonworthy Books
* BingeBooks earns revenue from qualifying purchases as an Amazon Associate as well as from other retail partners.
Listen to a sample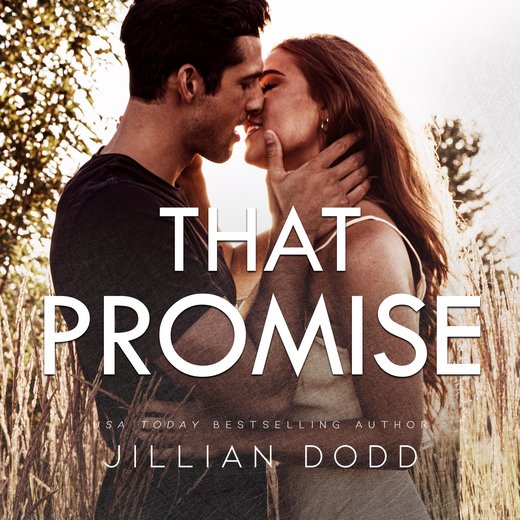 07:50:55
215.59 MB
9798822630468
October 15, 2021
Jillian Dodd Inc
That Promise
Jillian Dodd

EXCERPT 5800 words


Saturday, August 17th
The boy I used to love.
Devaney
Damon and I roll into the house, arms filled with bags. Our mom insisted on taking us back-to-school shopping. Now, we both have wardrobes full of hip designer clothing. My brother is totally into it. The flashier it is and more logos on it, the better as far as he is concerned. I like nice things, but I guess I fall somewhere in between him and my mom.
Damon sets most of the bags on the dining room table and then goes into the family room, where our stepmother, the actress Jennifer Edwards, is sitting on the floor, playing with our two half-sisters and our dog, Angel.
I follow him.
"Looks like you managed to find a few new things," Jennifer teases. She knows what our mom is like. How much she cares about appearances.
"We did," Damon says as two-and-a-half-year-old Weston jumps into his lap, calling out Day-Day, her nickname for him.
"We brought you a present," he says, causing her eyes to get big. He pulls a bag out from behind his back and hands it to her. The bag is pink and has pastel ribbons streaming from it.
"My birfday! My birfday!"
"It's not your birthday, sweetie," Jennifer says. "It's just a fun surprise."
"Surprise!" She pushes her hand under the glitter tissue and then pulls out the cutest stuffed unicorn. Its fur is a soft white plush, and it has bright green eyes, pink hooves, a silver lamé horn, and a sparkly rainbow mane and tail.
"It's bea-u-tee-ful!" she screams, hugging it against her chest tightly and running in circles, the dog hot on her tail.
"She looks like Damon after he scores a touchdown." A deep voice chuckles from behind me.
It's the voice of the boy I used to love—will probably always love—my neighbor and former lifelong best friend, Chase Mackenzie.
I turn around.
And holy hell.
Speaking of clothes, Chase is wearing very few of them. Just a pair of swim trunks with what appears to be a new shell necklace.
"Oh, hey, Chase," I manage to say, trying not to visibly drool over his naked chest.
Since we stopped being best friends, every time I talk to him, I feel like my voice is stuck in my throat, my heart ready to beat out of my chest. A few summers ago, on one amazing three-week family trip to the Ozarks, we went from being BFFs to something much more—before it got all screwed up.
Why did it get all screwed up? Because I'm an idiot. Mostly.
And I wish I knew how to fix it. Fix us. Fix, at a minimum, our friendship.
I still see him all the time. He still lives next door. He and my brother are still best friends. We are together often because our families are close and we went to the same school. We are cordial with each other, like he is being now. But since that day on the football field, when an older guy surprised me with a homecoming proposal and Chase thought I'd said yes, we haven't been best friends. We haven't been close. And it's really hard. It's one thing to miss someone you don't see. It's another to miss them incredibly and have to see them all the time. It's like a daily reminder of how badly you screwed things up.
Chase and my brother couldn't be more different. He wears nice clothing, but there's nothing flashy about him. While Damon chases the spotlight, Chase seems to prefer avoiding it.
But I get it. Damon is almost a full year younger than Chase despite their being in the same grade, and he's had to work extra hard to keep up. To excel. He's always been fast and always loved to run races—well, win races—and in football, he likes the glory of scoring. My dad—now-retired three-time-champion quarterback, Danny Diamond—always tells the same story about why his son didn't follow in his footsteps. Basically, it's that when they were little, Damon always wanted to run and would get Chase to throw him the ball. Usually, instead of throwing it back, he'd run it back, hand it to Chase, and tell him to throw it again. And it's sort of how it worked out. Chase became the quarterback and Damon his best receiver.
"What's with the necklace?" Damon asks Chase while Weston continues to run in circles, although now, she's prancing like a pony—or a unicorn, I suppose.
When she bops her baby sister, Easton—who was happily playing with an educational toy—in the head, Easton starts screaming bloody murder, causing Jennifer to pick her up and take her into the other room to calm down.
While Weston has been an adorable terror since the day she was born and is now a precocious toddler, Easton, who is a year younger, is much more easygoing. She entertains herself, gives the sweetest hugs, and does just about anything we ask.
To a point.
And once she reaches said point, you'd better watch out. A full-on meltdown is coming. I'm assuming since Jennifer removed her from the room, it means this isn't the first time Weston has been messing with her.
"Oh," Chase says, touching the necklace and rolling his eyes.
I squint mine, wondering what he means, but my brother goes, "Ah, Lacey's back from Hawaii. Gift?"
"Yeah," Chase replies and then quickly changes the subject. "How was shopping?"
Chase isn't one of those guys who will rub your face in his relationship and try to make you jealous. If anything, he downplays whatever it is he has with Lacey. They've been dating for almost a year now, although I know he won't commit to a relationship.
I overheard Lacey talking about it at cheer practice last spring. The girls on the squad told her she needed to lock that boy down. But she told them she didn't care what their status was as long as he was always on her arm and in her bed. Which made me want to throw up.
Adding to the nausea, I had to pass the torch to her as the next cheer captain.
"Sweet, dude," Damon says. "I'll be styling at school this year. For sure."
"What about you, Chase?" I ask him. "You ready for school to start?"
He holds my gaze and then shakes his head. At least, I think he does. It's more what his eyes say than his body. And I know, even though we aren't friends, he's not excited about my leaving for college.
And when he looks at me like this, neither am I.
Because somewhere deep in those eyes, it seems like he still might care about me.
I've done everything to move on. Dated other people. Avoided him. But I'm still hung up on him. Some almost-magnetic force always seems to pull me toward him.
Chase's phone buzzes, and he says to my brother, "Go get your suit on. Everyone is waiting for us at the dock."
Damon smirks. "Of course they are. The party doesn't start until we walk in."
"It's outside," I tease.
"Whatever," he says, running toward the stairs. "I'll be right back."
Which means, now, I'm awkwardly standing alone with Chase.
Thankfully, baby sis breaks the ice. "Pony!" she says.
Chase gives her a big grin, puts her on his back, and gallops around the room with her.
"I wish I could still ride you," I blurt out, referring to how we used to give each other piggyback rides when we were kids.
Chase sucks in his breath so hard that he starts coughing.
"Oh. I mean … I meant, like, when we were kids, you know? I don't … I didn't. Um, I wasn't referring to riding the pony. I mean, I would but—"
Chase stops galloping and looks at me again. "You would?"
"Yeah, I mean—"
"Oh no, you don't mean," Damon says, shaking a finger in my direction as he strides across the room, takes Weston off Chase's back, and sets her on the couch while speaking to me. "No more pony rides for you. At least, not with Chase. We still haven't recovered from the last one." He turns to Chase. "Come on, dude. Let's roll."
And they are out the door.
Weston brings me the unicorn and dances it across my lap, babbling about its pretty mane and soft fur, but I'm stuck back in the moment.
You would?
"Earth to Dani," my dad says.
When he came into the room, I literally have no idea.
"How was shopping with your mother?"
"Oh, great," I say. "I'm, uh, gonna go put everything away. Do some more packing."
"When you're done, stop by the Mackenzie house. Jadyn said you still had some questions about rush."
"Yeah. I'm freaking out a little, honestly."
My dad sits down next to me and pulls me into a hug. "You have nothing to freak out about. You're smart and a good conversationalist, and everyone will think you are amazing. You'd get my vote."
I can't help but smile. "Thanks, Dad."
"Did that help?"
"Maybe a little."
"Good."
Jennifer and Easton rejoin us, and my dad picks up Easton, giving her a kiss on the cheek and then tossing her up in the air and catching her, to her delight. She definitely loves her daddy.
I decide to go talk to Jadyn now instead of dealing with the new purchases. Mom is sending me a list of what I'm supposed to wear for each day of rush, and I'll tackle putting that together tonight. I'm told that I won't have much time to unpack or get settled before rush starts, so having everything all together and ready to go will supposedly help me be less frantic during the week.
Plus, I know Chase isn't home right now, which makes it less awkward. I can't believe I basically said I wanted to have sex with him again. I mean, I do. I would. But it's complicated. Way, way too complicated to even consider.
The Mackenzie house is surprisingly quiet when I get there.
"Where is everyone?" I ask Jadyn. I call her Auntie Jay, although technically, she's not my aunt; we just call her that because she and my dad are best friends.
"Phillip and all the kids are out in the boat. Well, except for Chase. He and Damon were meeting some friends at the public dock to swim. That means, we can actually talk and not be interrupted."
She leads me through the kitchen. "You hungry? I made some chocolate avocado mousse."
I grin. "I would love some."
Once she gets us each a bowl, we take a seat at the kitchen table.
"Are you nervous about rush?"
"Yes. I'm not sure if I will pledge or even enjoy it, but I'm going to give it a shot."
"If nothing else, you'll meet a lot of new people. Do you have specific questions about anything?"
"I think I've read every article online regarding the process," I say. And I have. "Do you think I made the right decision, going to Nebraska?"
"I don't know," she fires back. "Why did you choose it? Because you wanted to go or because you wanted to piss off your mom?"
"Out of all the colleges I got into, she seemed most excited about Georgetown. It just didn't feel right to me when we visited."
"At some point in your life, you have to stop pleasing your parents and worrying about what everyone else wants and decide what you want. What's your dream, Devaney?"
I look up at her. "You called me Devaney."
"This is a serious conversation," she says with a grin.
"Or I'm in trouble," I reply with a laugh.
"Definitely not," she says. "So, what is your big dream?"
The cupcake I made Chase that summer at the lake immediately pops into my mind. When our individual dreams became a combined dream.
"I suppose since I decided to major in broadcasting—you probably already figured out that's what I'd like to do—I specifically want to be a football sideline reporter. College or pro, either one."
"I think that's wonderful. You certainly know the game well."
"I do. Not sure my mom will approve of that career choice either. She's always wanted me to model or go the debutante route to try to marry me off."
"You might be surprised what your mom would say," Jadyn says, which shocks me.
She and my mom were close in college. Jadyn even set my parents up. They get along, but they aren't BFFs anymore.
"If she supported me fully, that would be a surprise. Although maybe there's hope. She seemed a little different today when we were shopping. Happier maybe. Van seems to make her happy."
"He does," she says. "And I hope that if you choose to pledge a sorority, you'll choose it because it feels right. You've always had a good head on your shoulders, Dani, and you're more intuitive than you give yourself credit for. Follow your heart, always."
I glance down at the table, my hand immediately sliding across where Chase and I wrote our names on it when we were old enough to do so.
She narrows her eyes slightly, sees where I'm looking, and says, "Are you two ever going to make up? I've never really understood why you haven't. You were best friends your whole life."
"I'm sure you saw the video of the fight, the one they showed their coach."
"Yes, I did."
"Remember when you told me about the time when my dad and Uncle Phillip got into a fight with your cheating boyfriend? You said you were mad at Phillip for dragging you away. Why were you mad?"
She frowns. "Lots of reasons, I suppose. In all honesty, it was mostly because I wanted to be able to handle it. I know that I should have gone up to Jake myself, told him we were through, and walked away. When Danny and Phillip got involved, it was almost like they were taking away my power. In the moment though, when your dad was pity flirting with me, it felt good to have them on my team. But Phillip making me leave the party—it sort of made me feel like a little kid who was in trouble and got sent home."
"And when I told Chase to go home that day on the football field, I wanted him to go home because I didn't want him to get in a fight or get hurt because of me. I didn't tell Hunter yes to Homecoming. Instead, I ran after Chase. Tried to explain what happened. But he wouldn't listen. Kept twisting my words."
"He didn't tell me that part," she says, looking thoughtful. "And you certainly don't have to."
"Maybe I need to," I tell her. "He accused me of lying to him about my feelings for him. Said he protected me from that jerk. Risked his place on the team and probably just effed up his entire career. And that the bitch of it all was that after what he did for me, I wouldn't even walk away with him. That I wouldn't stand up for him. For us. Which made me mad. I told him that I never asked him to punch Hunter. That I was going to handle it myself."
"Were you?" Jadyn asks.
"Yes, but I never got the chance. Doesn't matter now though. Chase doesn't believe me."
"Do you want to know what he told me?"
Do I want to know? Can I handle it? "Uh, maybe?"
"He said that, to you, what other people think of you is more important than what you think of yourself."
"There's truth in that statement. My mom has been telling me most of my life that I should care what others think. To worry about my appearance. Make good first impressions. How to speak. And I don't see what's wrong with that."
"There's nothing wrong with caring about what people think, Devaney, unless it overshadows what you think. And that will be really important to remember when you go through rush. Because during it all, you will feel judged. What's really happening is that you are being assessed to see if you are a good fit. It's like the draft. Every year, there's a top-ranked quarterback coming out of college, but if the team who has the first pick already has a good QB, they will pass on him and take a different player. Someone who fits what their team needs. Rush is a little different though in the fact that the players tend to go where they are told. In rush, while they are assessing, so are you, and you are matched instead of chosen."
"You just talked football to me," I say with a laugh. "Actually, now, it all makes perfect sense. So, I'll be judging them and narrowing the field while they do the same. Kind of like at the combine."
"Exactly like that, if the player got to analyze each team in the process."
She gets up suddenly, going into her study and coming back out with a marker. "You need to sign the table again."
"Really?"
"Yeah, I think your signature has changed a little since you turned five. And it's a momentous occasion, leaving for college." She rolls the marker across the table at me.
I'm sitting in Chase's usual spot. Our names are signed halfway between here and the next seat. The spot I used to sit at. I consider signing it right above my original signature but don't. I will be at college but don't want to be forgotten, so I press the marker down in the spot right above where his place mat sits.
The front door bursts open suddenly, and Chase, Lacey, Damon, and a bunch of their friends come barreling in.
"Hey, Mom," Chase calls out.
"In the kitchen," she yells back.
I instantly panic, pushing the place mat on top of my signature. Which is good because next thing I know, Chase is standing in front of us along with Lacey in a skimpy bikini, holding his hand.
He drops her hand, which must piss her off because she looks at me and then speaks in a tone so sweet that it might as well have been dipped in sugar, "Dani, it's so good to see you. What are you doing here?"
"I live next door." I try to keep the duh out of my voice but don't really succeed.
"What did you need, Chase?" his mom says to him.
"The dock at the park was too crowded, so we're going to swim here. Any idea when Dad will be back with the boat?"
She glances at her watch. "Probably won't be too long. Why don't you send your friends outside?"
Chase opens up the door to the deck and motions everyone through it. Then he shuts it and goes, "Am I in trouble or something? You are usually fine with everyone hanging out here."
His mom gets up, points at her chair, and says, "Sit here."
She walks out of the room.
Leaving Chase and me alone.
Can't manipulate the truth.
Chase
I can't help but wonder why Dani is here, talking to my mom. I also don't know why I instantly dropped Lacey's hand the second I saw her. Or why my mother told all my friends to go outside.
Or why I can't think of a single thing to say to Dani when there are a million things I wish I could.
I go with the super original, "What's up?"
Dani looks a little shell-shocked. "Um, not sure exactly. Your mom and I were discussing rush. And then we got on the subject of that day. At school."
"The day you ditched me for Hunter?" I reply, trying to pretend I don't care when, in reality, just thinking about it still makes my blood boil.
"Yes," she says, nodding.
"And what lies did you tell her?" I fire back.
"I've never lied to you, Chase. Ever," she says, standing up. "And the fact that you would suggest that really hurts. That's it. I'm done. I give up."
"Giving up is nothing new for you, Dani," I practically growl, my voice getting louder. "You gave up on us that day."
"You're wrong. So wrong, Chase," she says softly. "But it doesn't matter what I think. You saw it a certain way in your mind, and nothing I say will ever be able to change it."
"You can't manipulate the truth, Dani. I was there!" I'm full-on yelling now. "I know what happened. I had to watch the video of you humiliating me over and over with our coaches just so I wouldn't get kicked off the team. So, don't act like I'm making it up!"
Tears fill Dani's eyes. She sadly shakes her head and walks out on me.
Again.
The moment the front door slams behind her, my mom comes flying back into the room.
"Chase," she says, shaking her head at me the same way Dani just did.
"What?" I sass back loudly. If I don't, I'm afraid I'll start crying. Better to stay mad.
"I don't think I've ever uttered these words to you in your life, but I'm disappointed in you. Disappointed in the way you just treated Dani. It's not okay to go off like that on someone you care about. It's fine to disagree. It's fine to be mad, but you acting so completely disrespectful toward her is only going to make things worse. Because it's very obvious to all of us that you still care for her. Even to Lacey, who you won't commit to. You think she didn't notice when you stopped holding her hand the second you saw Dani? Anger won't kill your feelings, Chase. It will only make you look ugly trying to hide them."
I want to justify my actions, but I can't exactly tell Mom that, earlier today, Dani said she'd ride my pony again, and it got me all revved up.
Because what the hell was that even about?
I've had sex since we ended things. But it hasn't been the same. What we had was special. It was love. The kind of stupid true love everyone dreams about.
And the kind of love I'll probably never feel again.
I was going to yell at Dani earlier at her house, but Damon interrupted us. And it's been simmering inside me all afternoon. The rage. The sadness. I'm not sure if there's even a difference anymore.
I don't reply to my mom. Just stare blankly at her, hoping she can't read all that's going through my mind.
She must not be able to because she keeps the lecture going, finally saying, "And I'd like you to tell your friends to leave. I think you need to spend some time alone today, contemplating the kind of man you want to be. Because the son I raised wouldn't treat anyone, especially not a friend, the way you just treated Dani. She wanted to explain why she did what she did, and you just yelled at her." When I don't reply, she gives me the mom glare. "Better yet," she says. "I'll tell your friends to head out. You can just go straight up to your room."
Which only makes things worse.
Because now, I find myself lying on my bed, staring at Dani's window, knowing my mom was right.
Not about what happened.
But about how I yelled at her.
And how I wish I hadn't.
Sunday, August 18th
She lost it.
Chase
Damon comes barreling into my room, unannounced. He was kind of pissed at me yesterday after Mom told everyone to go home, and I maybe fibbed to him about why I was in trouble, mentioning some chores I hadn't done. As my best friend who happens to live next door, it's certainly not unusual for him to just come over, but today, he seems stressed. And Damon is the least stressed person I know.
"I had to get out of the house," he says, plopping down on a chair in the corner of the room. "My sister is freaking out."
And I can't help it. My eyes immediately glance out my window to his sister's bedroom window.
My mom was right. I'm not at all over her. I just feel stuck. I also know that, like many of my other friends, she'll be leaving for college next weekend. Which means I don't have much time left to fix things.
Or apologize for yelling at her yesterday.
"What's she freaking out about?" I ask.
"She's leaving for college today, and she's still not packed."
"Wait, what?! Why is she leaving so soon? School doesn't start for another week," I say in a panic.
Damon rolls his eyes at me as he picks a football up from the floor and starts tossing it in the air and catching it.
"Rush week starts tomorrow. Apparently, Mom made a list of what Dani should wear each day, and she couldn't find one of her pairs of shoes. She lost it. Started crying. I told her she needed to get her shit together. That she couldn't go to college, acting like a big baby. To which Jennifer gave me a dirty look, gave Dani a big hug, and took her into her closet to find a similar shoe. So, fine, I'm thinking, Okay, that's settled. We're all good. But Dani's still babbling about how she's worried she can't take enough regular clothes and blah, blah, and I was like, You're a few hours away. It's not like you can't just drive home. Or call for the plane. Both she and Jennifer looked at me—the voice of reason—like I'd just told them to go eff off, so I figured it'd be safer over here."
My eyes go back to the window. Even though Dani and I haven't been close, at least I still get to see her. She sits on her window seat and reads or talks on her phone, and she goes to my and Damon's games and to most of the family events. She's here. I see her every day. And it makes me sad to think that I won't anymore.
"I'm hungry," Damon says. "Let's go raid the fridge."
"You go on down."
"What's wrong with you?" he asks me.
"Nothing. Just sick of chores. I've gotta put these clothes away quick, so Mom doesn't get mad about it." Fortunately, there's a laundry basket full of clean clothes on my desk.
"Cool," he says, wandering out, yesterday apparently forgiven.
He goes down the hall, and I hear him stop and talk to my sister, Haley, who is probably in her room, doing the same. Our family's weekend chores.
I know what I'm about to do makes no sense. But nothing since the day we stopped being friends ever does.
I grab a piece of paper and start writing.
I look at it.
Laugh at myself.
Wad it up and throw it in the trash.
I grab another sheet and start over.
There are six rejects in the bin before I finally settle on a winner. Or at least, the best of the stupid things I wrote.
After I get my clothes put away, I deal with the note, then shut my curtains, and go down to the kitchen.
"Dude, you didn't tell me today was cinnamon roll day," Damon says, sitting at the counter, happily eating one of my mom's practically legendary rolls.
"I didn't know," I say, surprised the smell didn't wake me.
"I made some to send to college with Dani," my mom says. "And a bunch of cookies and a basketful of snacks."
Damon paws through the basket. "She'll gain her freshman twenty her first week." He laughs. Damon always finds himself hilarious.
"No, she won't," I say, standing up for her. "Dani eats super healthy and is mostly vegan."
"And they are all healthy snacks," my mom says to Damon before turning to me. "Chase, would you do me a favor and run them over?"
Uh, no, I think, I can't. But I know I need to. I want to tell her I'm sorry before she leaves.
But before I get a chance to even pick up the basket, Damon's phone buzzes with a text.
"You can give it to her outside," he says. "We're all supposed to go say goodbye now."
It was our dream.
Devaney
I have a bit of a packing crisis—okay, it was more than a crisis—over a pair of shoes. Actually, I couldn't care less about the shoes. It's more that I'm not sure I want to do this. Not sure I want to leave home. Not sure I even want to go to college. And really not sure I want to go through rush. Even though both my mom and Jadyn have fond memories of being in a sorority, the idea seems antiquated in so many ways. Not to mention that you have to pay to be in one. Like I have to buy some friends to fit in. Jadyn told me what you pay is no different than joining a social club, a country club, or a business club.
Which I get. It just seems overwhelming, I guess. That starting tomorrow, I will meet hundreds of girls and have to decide which group of them I want to be friends with. Pledge my college years to.
Jadyn says to be myself. My mom told me to be a Diamond. Said that my name holds clout since my father is practically a football legend there. Even though she's married twice since she and my dad divorced, she's kept the Diamond name. She says it's for me and Damon—so we share the same last name—but she likes the prestige it brings her.
Jennifer already has the car packed and ready to roll. I need to get down there, but I also just need a moment.
I sit on my window seat and take a deep breath. Try to calm myself. My eyes do what they always do when I'm in this spot—wander to the window across from me, to Chase's room. I tilt my head in curiosity when I notice his curtains are closed and there's a white sheet of paper taped to the window.
There is just one word written in a flowing script that isn't Chase's typical handwriting.
dream
I look down at my hand. At my empty ring finger. I took off the dream ring he had given me the second I got home on the day things ended. The day of our fight. A fight I've never fully recovered from.
I get up, go to my jewelry box, and stare at the ring. I look at it every day. I'm not sure if it's for the hope my dream will come true or to punish myself for it not coming true.
But the sign feels like an olive branch.
I put the ring on and then trace my fingers across each letter, just like Chase did the day he gave it to me.
It was during the summer two years ago. Chase had just gotten back from quarterback camp, and I'll never forget how he took my breath away when he stepped out of the car. He looked grown-up. Still his adorable, goofy self, but the truth was, my best friend had gotten really hot.
"Dani!" I hear being yelled out, bringing me out of my reverie.
I startle and decide to leave the ring on, but then I run into my closet, pull a photo out from underneath my jewelry box, and tape it to my window before I go.
When I get downstairs, I find my entire family, all the Mackenzies, and even the dogs—Angel and Winger—waiting for me. The kids are holding balloons, the dogs have on collegiate neckerchiefs, and there's even a banner that says, Good Luck at College.
I get hugs and kisses from everyone, but when it's Chase's turn, I just stand there, frozen, looking up into his eyes, my emotions ping-ponging between sadness from the way he yelled at me yesterday to happiness from the sweet sign today.
He shocks me when he takes both my hands in his and says, "Good luck." But he stops when his finger touches the ring. He doesn't pull my hand up to look at it. He already knows what it says. "You haven't worn that since—did you see my sign?"
I'm standing completely still, staring into his gaze. "Yes. And thank you," I say as tears prickle my eyes.
He pulls me into a hug. Which doesn't help. He hasn't hugged me like this in what feels like forever. And I've missed it. "You'll have so much fun at college; I know you will. Scope things out, get the lay of the land, and then your brother and I will be there with you soon."
"You're coming to Nebraska?" I ask. "Like, for sure?"
"Of course. It was our dream. Well, I mean, individually anyway," he says, putting his head down.
Individually, not as a couple, is what he means. His dream, my dream, which is not the same as our dream.
Still, the hug, like the sign in the window, makes me feel like maybe, someday, we could be friends again. And when he unwraps his arms from around me, I'm not ready for him to let go.
"Take care of yourself, Dani."
Those are the last words I remember hearing even though I got numerous well wishes and good-byes before I was loaded into the car. I turn to Jennifer, who is in the passenger seat next to me. She's taking me to the airport, but both my parents are going to help me move in. Dad drove my car up to Lincoln yesterday and had a get-together last night with some old teammates. He'll be meeting me and my mom there before flying back home with her.
"You feel like driving?" I ask Jennifer.
"Of course," she says. She loves to drive.
Everyone has dispersed from the driveway, but Chase is still standing there with my brother and Haley, watching us.
When we get out of the car to switch sides, I can't help myself. I rush toward Haley, throwing my arms around her, then Damon, and Chase, like I'm never going to see them again.
We hope you are enjoying the book so far. To continue reading...
That Promise
Jillian Dodd
Copyright © 2022 All Rights Reserved
Also in this series
Also by this author