Swarm of Fire
A foul-mouthed pixie has hit the streets in Vegas to stir up trouble. He's tiny, angry, and full of magic dust
Book info
Sample
Audiobook
Media
Author updates
Lists
Synopsis
This pixie's got nothing on Tinkerbell...
The Vegas PPD is loaded with dirty jokes, adult language, and pervy situations. No, it's NOT erotica (sorry). ;)
A foul-mouthed pixie has hit the streets in Vegas to stir up trouble. He's tiny, angry, and full of magic dust. His primary goal is to wreak as much havoc as possible on the tourists and casinos.
Ian Dex and the crew of the Las Vegas PPD have to track down the little bastard and stop him.
The problem is that the pixie can create the most terrifying monsters out of thin air. His creations include Bigfoot, the Abominable Snowman, the Swamp Ape, and worst of all...Barney the dinosaur.
They're scary, deadly, and kinda cute.
Cute or not, nobody wants the Vegas Strip to fall under the rule of a flippin' pixie...
Release date: February 4, 2018
Publisher: Crimson Myth Press
Print pages: 190
* BingeBooks earns revenue from qualifying purchases as an Amazon Associate as well as from other retail partners.
Listen to a sample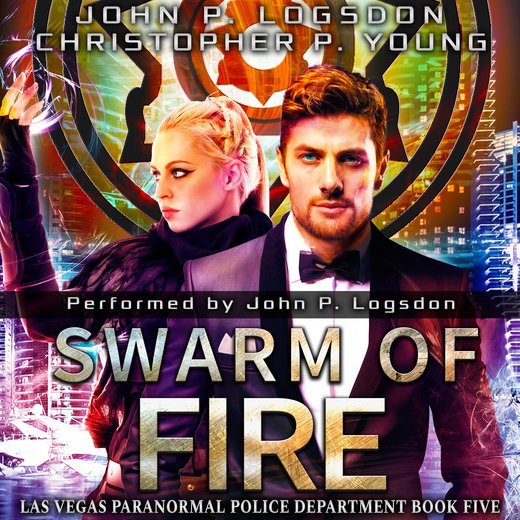 03:57:27
108.71 MB
9798368998299
September 1, 2018
Crimson Myth Press
Swarm of Fire
John P. Logsdon
Chapter 1
This was going to be uncomfortable.
While Dr. Vernon and I had only had one sexual encounter, it was clear that the psychiatrist for the Las Vegas Paranormal Police Department (PPD) was hungry for another. I knew this because she had her hair down, her glasses off, and the top few buttons of her blouse undone. It was enough to see that she wasn't wearing a bra.
I gulped.
"Tell me about your last mission, Officer Dex," she said seductively as her amethyst eyes flashed against her dark-skinned cheeks. She was pushing me toward the couch. "Don't spare any details."
Normally, I'd be jumping at the chance to provide her with some personal fun-time, but I was now in a committed relationship with my partner, Rachel Cress, and I really didn't want it to get destroyed. Rachel was the type who would give me a penicure, which was like a pedicure for your pecker, if she found me cheating on her. But I was the loyal type anyway. I never cheated on anyone, assuming we had an agreement in place. I would leave them first.
"What are you waiting for, pal?" The Admiral asked. "This chick is smokin' hot!"
The Admiral was the name Rachel had given to my dick because he tended to stand at attention a lot. I hadn't heard from him in a very long time, but that's because he'd had nothing to say. When I was consistently active in the sack, he remained pleasantly silent. Whenever I was in a relationship, though...not so much. Now that Rachel and I were together again, he was bound to be more talkative. Eventually—if it was anything like that last time Rachel and I dated—he'd shut up, but for now I was going to have to deal with him.
"Quiet, you," I replied. "We're in a relationship now, remember?"
I slid away from Dr. Vernon. "I can't do that again with you, I'm afraid."
"There's no reason to be afraid," she said with one eyebrow up. Then she squinted. "Actually, I thought you got turned on when you were afraid."
I jolted at that. "Only if it's play and there's a safe word involved."
"Fine with me." She licked her lips. "What would you like your safe word to be?"
The Admiral said, "I vote for 'Don't Stop!'"
"That's two words, idiot."
"Semantics."
"Look, Doc," I backed off further, "I'm saying that I can't have sex with you."
Her face turned from lust to concern. This didn't usually happen to me until after I'd had sex with someone.
"Were you injured or something?"
"Mentally."
"No, nothing like that," I replied, ignoring The Admiral. "It's just that Rachel is back on the force and we're a couple again."
"Oh, I see," she said, immediately buttoning up her shirt. "This is very interesting."
"Dude, what are you doing? The breasts are going away!"
I felt bad because I knew the doctor had to be embarrassed, but what choice did I have? I had to tell her before things got too far. Granted, it probably would have been nice of me to send her an email or something so we could have avoided a scene like this entirely.
Oops.
"Listen, Doc," I uttered, "I don't want you to think that—"
"Oh, don't worry about me," she said as she put on her glasses and snapped up her journal. "Getting into the weeds of someone's psychology is far more interesting to me than a quick roll in the hay."
"Quick?"
"I'm okay with quick."
"You know what I mean," she said, motioning for me to get on the couch. "I have a number of questions for you regarding this relationship between you and Rachel, but first I need to thumb back through your history in order to recall everything that's happened between you two. It's been a while, you know."
Oh boy.
"Sit, sit," she commanded while pointing at the couch. "This will just take a minute."
"You're not even a man," The Admiral grumbled.
"I'd argue I'm more of a man for not boning her."
"Whatever you say, Sally."
Finally, I sat on the couch.
Nothing good could come from this. I knew it and I was sure Dr. Vernon knew it.
"Ah yes," she said while nodding. "I remember this." The pages were flipping faster and faster. "Oh yeah, that's right. Okay, okay. All set now."
It was in moments like these that I wished I'd gone to The Three Angry Wives Pub before starting my day.
"If you'd have done that, we might be getting laid right now."
"We literally got laid three times this morning," I argued.
"What's your point?"
"Now," Dr. Vernon started, acting far more excited than I considered appropriate, "you two fought a lot when you were dating, right?"
"We fight a lot regardless of whether we're dating or not," I answered.
"Exactly. So what would make you want to get back into a situation like that?"
I frowned at the question.
This was honestly a level of introspection that I hadn't considered going into. Was this because I wanted to avoid what I thought to be the answer? Or maybe it was a case of me not really knowing why in the first place?
"Well…uh…"
"Is it love?" she asked pointedly.
"I…uh…"
It had to be, right? I'd spent a long time with Rachel by my side. We fought together, laughed together, yelled at each other, called each other names…. Hell, if anyone didn't know us better, they'd have thought we'd been married for years.
"Oh, brother. He's completely gone. We'll never see a fresh pair of breasts again. Just the same ones over and over and over…"
"Yes?" I said with trepidation, shutting down the droning of The Admiral.
Her pen was hovering over the page. "You're not sure?"
"I'm…" I coughed.
There was more than one type of love. You had friendship love, dependency love, familiarity love…and then you had the big LOVE type of love.
Which one did Rachel and I share? And did we both feel the same kind?
"I definitely love her," I said finally, "but…" Again, I trailed off.
"You don't know if you're in love with her," finished Dr. Vernon.
I looked away, not sure how to respond to that.
Nearly everything in my being said I was in love with Rachel.
Nearly.
There was a sliver of my psyche that wasn't positive.
"Yeah, that's me, dumbass."
"Will you please shut the fuck up?"
"Do you want to know what I think?" Dr. Vernon asked, closing her book and leaning forward.
"Honestly, yes."
She nodded.
"I think you're in a relationship with each other because nobody else in this world can understand you the way she can. The same goes for her. There is no one anywhere who knows Rachel Cress the way you do."
"Okay?"
"You're safe with each other," she finalized.
"Then why do we fight all the time?"
"Because, Ian," she reiterated while giving me a strong look, "you are safe with each other."
"You already said that."
Dr. Vernon leaned back and crossed her legs as she chewed on her lip. She began tapping her pen on the journal, clearly thinking things through.
"Come on, man. You have to admit she looks seriously boneable when she does that chewing-on-her-lip thing."
I ignored…well, me, I suppose.
"Okay," she said after a minute, "do you fight with any of the other officers the way you do with Rachel?"
"No."
"Why is that?"
"Because they're not my partners," I answered. "I gave grief to Harvey for a bit, but even that wasn't like Rachel. Of course, we were only partners for a short time."
"Could you ever see yourself arguing with Harvey like you do with Rachel?"
I couldn't. It just wasn't the same thing.
"No," I admitted.
"And what about Serena, Jasmine, Felicia, Griff, Chuck, Turbo, or even Lydia? Could you imagine arguing with them the same as you do with Rachel?"
I shook my head slowly.
She was clearly on to something here.
I glanced up and winced slightly. "So am I in love with Rachel?"
"I can't answer that question for you," Dr. Vernon replied, "but I will say that my guess is you're not." She opened up her book and jotted something down. "My bet is that you're in love with the security of having someone with you who understands all of your idiosyncrasies in the way that you understand hers."
"I fail to see the difference."
She peered over the rims of her glasses.
"Do you want to buy Rachel flowers, take her to a movie, take her out for a nice romantic dinner, travel with her to Venice, and spend time strolling with her on the French Riviera?"
"She'd kick my ass if I gave her flowers," I replied.
"You get my point." Dr. Vernon didn't like it when I got too particular about her advice. "You're not romantically in love with her, Ian. You're in love with the fact that you have someone who shares your misery. She's the closest thing you have to someone in this world who understands what it means to be an amalgamite."
"She's not an amal—"
"No, but she's been around you longer than anyone else. She understands." Dr. Vernon leaned forward again. "That is what you are in love with, in my opinion."
"Oh."
Chapter 2
I walked outside, feeling more confused than refreshed. Rachel was leaning back on my red Aston Martin, looking as smoking hot as ever.
She had her blond hair down today, which was a rarity. Usually she kept it up in a braid because she hated it getting in her face. I used to pester her to just cut it short but when I saw it framing her perfect face like this, it made me glad she rarely listened to me.
"How'd it go?" she asked as I approached the car. "You look like you're deep in thought."
"Hmmm? Oh, yeah. Just going over what the doc and I talked about."
"Did she try to jump your bones?" she asked.
"Yes, but he was too much of a pussy to—"
Enough from you!"
Rachel had known me long enough to tell when I'd been laid, so she was well aware that I hadn't done anything.
"Yeah," I answered thoughtfully. "I told her 'no,' of course."
"I can see that." Then she crossed her arms. "Is that why you're off in la-la land? Irritated that you couldn't knock boots with her?"
I just gave her a look that signified I wasn't planning on dignifying that question with a response. Fact was that boning Dr. Vernon had been fun, especially because I got to use that Time skill that Gabe the vampire had given me. Of course he hadn't told me at that point that there were only three uses of that particular skill available to me. But watching a woman in the throes of orgasmic pleasure in slow motion while she's riding you is something every fella should experience.
My face must have gone serene because Rachel slapped my shoulder.
"Perv."
I shook myself back to the moment.
"Sorry," I said. "Anyway, it was just an enlightening conversation, is all. She made me think about things I hadn't considered before."
Her eyes narrowed. "Such as?"
This was one of those fork-in-the-road moments you hear about. If I chose to go left and made up something, the night would go smoothly and all would be well. If I chose to go right, though, things would be tense and Rachel would be fuming at me.
Sadly, I was never one to take the easy road.
"Do you love me?" I asked while putting my hands on her shoulders.
Her face turned a nice shade of pale.
"I…what?"
"Do you love me?"
"Yeah…" She looked very confused. "I guess."
"You guess?"
"Well, you know…"
Her eyes were darting about, which indicated she was feeling now the same way I'd felt when Dr. Vernon was giving me the third degree. It was easy to just accept that all was great between you and your significant other, but it was something else entirely to be forced to really evaluate things.
We hope you are enjoying the book so far. To continue reading...
Swarm of Fire
John P. Logsdon
Copyright © 2023 All Rights Reserved
Also in this series
Also by this author