Summer at Sandcastle Cottage
Book info
Sample
Audiobook
Media
Author updates
Lists
Synopsis
Praise for Christina Jones

'Bucolic charm' Katie Fforde

'A wonderful writer' Jill Mansell

'Magical' Heat

After trials, tears and a torturous break-up, Kitty Appleby has finally found where she's meant to be. Tumbledown Sandcastle Cottage, in the delightful seaside village of Firefly Common, is home, and Kitty's eccentric band of friends and neighbours are enjoying a glorious summer.

There's just one tiny little problem. Sandcastle Cottage doesn't belong to them. And Mavis Mullholland, Kitty's landlord, is on her way home from her round-the-world cruise . . .

Kitty can't bear to lose the community that's welcomed her in. But secretly, she can't bear to leave Sandcastle Cottage without finding out more about the mysterious and enigmatic Vinny . . . Why can't she stop thinking about him, when she's faced with losing everything?

(P)2021 Headline Publishing Group Limited
Release date: March 18, 2021
Publisher: Headline
Print pages: 368
* BingeBooks earns revenue from qualifying purchases as an Amazon Associate as well as from other retail partners.
Listen to a sample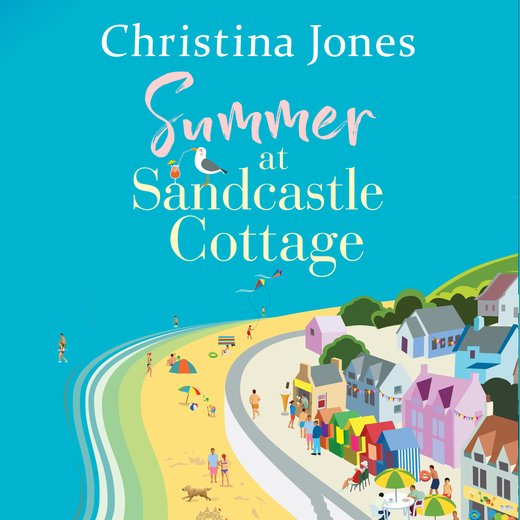 07:41:45
211.38 MB
9781472287717
March 18, 2021
Hachette UK
2021
Summer at Sandcastle Cottage
Christina Jones
The thump of mail through Sandcastle Cottage's letterbox made Kitty jump. Despite living on the rural south coast for six months, she'd never quite got used to the early morning arrival of the post. When she'd lived in the centre of Reading's urban sprawl, letters had sometimes not been delivered until well into the afternoon. She blinked at her watch. Lordy – it wasn't even seven o'clock. An insane time for posties – or fish-restaurant waitresses for that matter – to be awake, not to mention up, dressed, and already getting on with the day.

Kitty yawned and stretched. No doubt the post would just be flyers and junk mail as usual. Nothing important. She'd deal with it once she'd had a good shot of caffeine.

Still yawning, Kitty reached for the coffee jar, lazily watching the sun-dancing dappled patterns through the kitchen window as she spooned granules into her mug. It was another glorious morning in Firefly Common, heralding another scorching June day. And as she still had plenty of time to enjoy it before she had to leave for work, Kitty decided she would kill two birds with one stone and take her coffee out on to the porch, picking up the mail on the way.

Pushing her tangle of auburn-ish hair out of the way behind her ears, Kitty poured hot water into her mug. Then, closing her eyes, she inhaled the aromatic steam.

Bliss. Absolute bliss.

Her shift at the Silver Fish Bar didn't start until 11 a.m., but she loved the silence and solitude of these beautiful summer mornings and always made an effort to be first up. Much as she adored her housemates, Apollo and Jemini, they were both night owls by nature and both needed noise in the mornings to get going. So, before anyone else appeared and the radio bellowed rock 'n' pop and Apollo and Jemini sang along – or Peppa Pig squawked from the television to entertain Jemini's toddler daughter Teddy – Kitty made a point of savouring her first mug of coffee in blissful isolation.

Well, almost.

Hearing a familiar thud above her, then the thundering of eight massive paws on the stairs, followed by an excited scrabble of claws on the tiles, Kitty hastily put her mug down. She reached for the dogs' food bowls, and managed to fill them and get them on the floor just as brindle Zorro and black Honey rattled to a halt in the doorway. Then, with tails going like rotor-blades, they slithered at breakneck speed into the kitchen. Giving her their best big Staffie smiles they fell on their breakfast with joyous and noisy enthusiasm.

In the time it took Kitty to pick up her mug again, the food bowls were empty.

'Gannets,' Kitty said fondly, looking down at Zorro and Honey who were snuffling hopefully under their bowls, chasing them with slobbery joy across the quarry-tiled floor. 'No, you're not getting a refill. You're spoiled rotten as it is. We're going outside. However, because I love you,' – she reached for the dog biscuits – 'you can have a treat, and' – she grabbed a packet of chocolate digestives – 'so can I. Come on . . .'

The dogs needed no second bidding, and were immediately swaying happily towards the front door ahead of her, when Kitty remembered the post. Clutching her coffee and tucking the biscuits under her arm, she rushed to rescue the mail before the Staffies got their paws on it.

She made it. Just. Scooping up the flyers and junk mail with her free hand, Kitty frowned down at the solitary envelope remaining on the doormat. It had separated itself from the plethora of unsolicited mail as if it knew its importance.

Kitty shivered. It was scary how easily a plain blue airmail envelope, liberally decorated with foreign stamps and addressed to Ms K Appleby in very curly black writing, could instantly take the warmth out of the gorgeous June morning.

She knew instinctively exactly what it was. It simply couldn't be anything else. It was the letter she'd been told to expect but had hoped upon hope would never arrive. The letter from Mavis Mulholland, Sandcastle Cottage's owner, telling Kitty when she was intending to come home.

Kitty's heart sank. She knew only too well that the letter would tell her when she and Jemini and Apollo – not to mention Teddy and the dogs – had to leave. When they'd first rented Sandcastle Cottage on a temporary basis it had simply been their refuge, but had rapidly turned into their home – just when they'd all needed one most: a home they'd fallen in love with, in a village they adored. And now, before long, they'd be out on the streets again.

It was something they'd all known would happen – and they'd all known when the tenancy would expire – but foolishly they'd all pretended the problem might just go away, and had made no contingency plans whatsoever. They'd all simply tried not to think about it. But now burying their heads in the sand had come back to bite them with a vengeance, Kitty thought miserably, truculently mixing her metaphors and clichés.

Careful not to slop coffee over the airmail letter, she pushed it into the pocket of her Silver Fish Bar tabard, then deposited the rest of the post on the hallstand. She'd read Mavis's letter later. When she was properly awake. And had had her coffee. And maybe felt a bit braver.

Outside, after having settled the dogs with water and a handful of biscuits, and placing her coffee and the chocolate digestives carefully on a rickety bistro table, Kitty sank into one of the mismatched cushioned rattan chairs that lined Sandcastle's front porch. All the porch needed to make it absolutely perfect, she'd always thought, was a rocking chair and one of those hammock swings that you saw in American films . . . and maybe if Sandcastle Cottage was her permanent home, and she'd earned enough money waitressing at the Silver Fish Bar, then she'd buy one . . . but there was one huge 'but', as always, and the reason for it was practically burning a hole in the pocket of her work tabard.

She cupped her hands round her coffee mug and stretched out her long legs in their ankle-grazer jeans, as the dogs investigated new scents that had appeared overnight in every corner of Sandcastle Cottage's pretty front garden. Kitty smiled, watching them. That garden, which had been so bleak and overgrown and unloved when Kitty had first seen it, now had tidily mown grass, was edged with neatly pruned shrubs, and had borders of colourful tumbling perennial cottage-garden flowers lining the sandy path. A low, freshly painted wooden fence made the garden complete.

The mowing, pruning, planting and painting had been a shared springtime venture, overseen, helped with, and loudly advised on by Mr H next door. Which, they'd all admitted at the time, was just as well because between them they knew diddly-squat about gardening.

Mr H had been just as useful in the back garden too, which was surrounded by a tall honeysuckle-covered trellis, and had been restored from a rather tangled jungle to a neat lawn, curving shingle paths, and fruit trees. They'd discovered a large wooden patio table with folding chairs and an umbrella in the shed and, once renovated, they now took centre stage. Apollo had also built a bird table and a hedgehog house, as well as a sandpit and tree swing for Teddy, much to her delight.

Kitty savoured her coffee and the gentle early morning warmth, as on the other side of Sandcastle's newly painted fence, Firefly Common began to wake. Dog walkers from the other cottages dotted along the lanes amongst the tall pine trees smiled and waved at her; the milkman, escorted by Zorro and Honey, clattered up the path and deposited glass bottles with his usual 'gonna be a right scorcha, duck' greeting; several commuters said their good mornings as they hurried past Sandcastle Cottage en route for Firefly Common Halt and their rail journeys into Bournemouth or Christchurch, or maybe even further afield.

The dogs, deciding that they'd had enough snorting and exploring in the garden and had satisfactorily seen off the milkman, clambered inelegantly up the low flight of wooden steps that ran the length of the porch and looked hopefully at Kitty. She laughed at them, and threw down a handful of dog biscuits. With much huffing and puffing they hoovered up the biscuits at the speed of light.

If only, Kitty thought, I could join in. Oh, but not with dog biscuits, obviously . . . She eyed the packet of chocolate digestives. No, it was no good – Mavis Mulholland's unread letter had robbed her of her appetite . . . Damn it.

She took another mouthful of coffee and watched the early morning sun cast lattice-work patterns through the trees. Snaking off into the distance, the tiny shingle paths and narrow rutted lanes, dark with blackberry bushes and overhung with fern fronds, twisted away across the common towards the roads which led to the clifftop in one direction and Firefly Common's High Street in the other.

Bees and butterflies danced in and out of the gorse and heather, and the only sounds were that of birdsong and the distant hush-shush of the sea. The air was soft, and sweet with the scents of blossom and warm sandy soil. This really was the most glorious place to live.

Ah, well . . .

Taking a deep breath, she reached into her pocket for the airmail letter.

'Good morning, Kitty!'

The voice stopped Kitty in her tracks and the letter remained untouched. The dogs rattled down the porch steps and sashayed side by side towards the gate, their tails whirling in synchronised greeting.

'Hi, Angelica.' Kitty smiled at her neighbour, now bending down to fuss Honey and Zorro. 'You're out and about early,' she added as she looked in some surprise at the slender dark-haired figure in the pink tracksuit, pink baseball cap and even pinker trainers. 'Oh, and are you – um – running?'

'Jogging.' Angelica beamed from behind her huge sunglasses. 'I have a new get-fit-and-stay-fit regime. I've only just started, but I think it's going to be fun. You should join me.'

Kitty laughed. 'Thanks but no thanks. I'm on my feet all day at work and I walk the dogs for miles, and that's more than enough for me. Jemini might be interested, though. She's always been more into organised exercise than I have. I'll mention it to her when she eventually manages to get out of bed . . . and – um – does Mr H not want to join in on this – um – new venture?'

'Good heavens, no!' Angelica chuckled. 'He says he gets all the exercise he needs from gardening and golf. But he's glad I have a new interest to keep me out of mischief. Anyway,' – she glanced at the slimline electronic gadget strapped to her wrist – 'I still have several thousand steps to get in – not to mention calories to burn.'

'What? There's nothing of you. You don't need to burn calories!'

'My wellness guru says otherwise. I may have no outward fat, but apparently inner unseen fat is clogging all my organs.'

Kitty blinked. Unless Firefly Common's cottage hospital had recently installed state-of-the-art medical equipment, Angelica's wellness guru must have had a good pair of X-ray specs as well as a Master's in dietary nutrition, if they could diagnose visceral fat just by looking.

'And to combat that,' Angelica continued, 'I need to eat clean and exercise – and, apparently, alcohol isn't helping either my calorie count or my liver, and you know how I love – loved – a tipple.'

Kitty did. Angelica would happily accept any drink, anywhere, from anyone, whether the sun was over the yardarm or not. This was all a massive departure. 'Mmm, yes. Well, maybe it's a good thing for your liver, but what the heck is "eating clean"?'

Angelica grinned. 'I'm honestly not too sure. I thought it was just making sure you washed your lettuce properly, you know, that sort of thing. But apparently it isn't. We're covering that in a later session, I think. In the meantime, I'll need to look at my brochure to discover exactly what it is, then I can tell you what you should be doing.'

'OK,' Kitty chuckled. 'I clearly need to know where I've been going wrong all these years.'

Too late, Kitty realised Angelica was nodding and taking it all very seriously. She quickly changed the subject. 'Um . . . and have you – um – given up drinking altogether?'

'Good god, no! The Merry Mermaid would go bankrupt! Not to mention my lovely online wine man. But I've cut down. Everything in moderation, Destiny says.'

'Destiny?'

'My wellness guru. She's amazing.'

And I'll bet any money her real name's Doreen, Kitty thought, but didn't say. 'Oh, lovely. And does – er – Destiny have a practice or a surgery or whatever here in Firefly Common?'

'In the village hall, on a Wednesday.' Angelica was now running on the spot. 'Did you not get the flyer through the door?'

Kitty hadn't. No doubt it had arrived and instantly been chewed beyond recognition by the dogs. Sorry, Destiny.

'Anyway,' – Angelica looked at her wrist again – 'I'll have to be going before it gets too hot. I've paid Destiny an awful lot for this regime – mustn't let it go to waste. Bye!'

Kitty waved and watched as Angelica's slender figure disappeared through the trees. 'An awful lot' to Angelica was probably like a lottery jackpot win to normal mortals. Kitty wondered how much Destiny was making from the wealthy, retired and bored ladies – and some of the men, no doubt – of Firefly Common. On the other hand, if it steered Angelica away from drinking too much, maybe it was worth the money.

Finishing her coffee, Kitty wondered, not for the first time, exactly how old Angelica was. In fact, it was something she and Jemini had pondered over often, playing the 'guess-the-age game' ever since they'd moved into Sandcastle Cottage.

It was so hard to gauge anyone's age these days. Mr H, lean and weather-beaten from hours of gardening and golf, looked older than his wife. So, in his sixties? Early seventies, maybe? And Angelica could be anywhere between forty and sixty. Not that it mattered, of course, but speculating on Angelica's age had always led them to wonder how old Mavis Mulholland was.

Ancient, Jemini had decided, with a name like Mavis. But Kitty hadn't been so sure. Especially now that trendy parents were giving their daughters old-fashioned between-the-wars names like Elsie and Edna and Gladys.

And Sandcastle Cottage – the much-extended home of the Mulholland family, and once run as a successful B&B, then inherited by Mavis when her husband, the last of the original Mulhollands, died – gave no clues as to Mavis's age at all. It had been let fully furnished but every last vestige of its owner had been carefully removed. There wasn't even a left-behind photo or anything personal at all.

They'd asked Angelica, of course. Tactfully.

Angelica had shrugged and said 'maybe my age, but possibly younger – no idea, sweeties. We're good neighbours but we've never been that intimate. Mavis wasn't a local Firefly-Common girl, you know? She came from up the coast a bit, I think. I can tell you one thing, though: Mavis was much younger than Clive, her husband, who had been widowed years and years earlier and had lived alone here for yonks – oh, and he was Mr H's age. And Mavis and Clive, they met online – how daring was that for Firefly Common? Mavis was divorced, I believe. And they, Mavis and Clive, hadn't been married all that long when Clive had his coronary and died – and of course, there were no other Mulhollands roaming the earth – well, not related to Clive anyway, so Mavis was the sole beneficiary and inherited Sandcastle Cottage.'

'Oooh,' Jemini had said excitedly. 'Do you think she bumped him off?'

'No!' Angelica had looked shocked. 'She was very fond of him. It wasn't a love match for either of them, but he got companionship and she got a nice home. It suited them both.'

'Was she heartbroken when he died?' Jemini had asked.

'No. Upset, of course. And sad. But not heartbroken. And I think she's enjoyed her widowhood – and then, of course, there was the enormous lottery win . . .' Angelica had sighed. 'Some people have all the luck, don't they?'

And Kitty and Jemini had tentatively agreed.

Annoyingly, Connor Lowe – the youthful estate agent who had rented them the cottage, and who was now, um, walking out, as well as sleeping in, with Jemini – was even less help. 'Dunno,' he'd said, nonchalantly shaking back his gelled quiff, when Kitty had asked him. ''Bout the same age as my mum I guess. Like, ancient. Well, maybe even older than my mum . . . but not as ancient as my nan . . . but older than you and Jem, or maybe not. Seriously, Kit – I dunno.'

And, Kitty thought with a chuckle, she and Jemini had on more than one G&T-fuelled evening, googled Mavis, with no tangible results. They'd assumed that as Mavis had met Clive Mulholland online, then she must be Internet savvy. However, as she may well now have reverted to her maiden name, or could easily be one of the ninety-three thousand worldwide Mavis Mulhollands who had appeared as a result of their search, but probably wasn't, they'd eventually given it up as a lost cause.

Therefore, frustratingly, Mavis Mulholland remained something of an enigma, although, whatever her age, Kitty imagined her as short, plump, blond-permed and smiley. And possibly with a London accent. And a smoker's chuckle. All in all, a lovely person – but one who'd be wanting her home back asap.

Kitty knew she'd have to read Mavis's letter before there could be any further interruptions, whether from Mr H wanting to talk runner-bean trenches and mulching, or Jemini and Apollo yawning and grizzling about the earliness of the hour, or even an appearance by Noel and Netta, the elderly and rather eccentric twin brother and sister who were their nearest neighbours on the other side of Sandcastle Cottage, as they headed off with their Nordic walking poles and backpacks for their routine constitutional.

She took a deep breath, and her fingers closed round the flimsy, crinkly envelope.

'Kiiiittttteeeee!' Teddy, Jemini's mini-me daughter – all caramel skin, huge dark eyes and tumbling black curls – toddled barefoot along the veranda, clutching her favourite cuddly toy, a much-loved, chewed and sucked rabbit with no ears, and beamed at Kitty. 'Peppa . . . Please Kitttttteeeee . . .'

'Ah, you need me to turn the TV on?' said Kitty – realising fractionally too late that she'd left Teddy out of the interruption equation – pushing the letter back into her tabard pocket and laughing. 'OK, poppet. Is Mummy not awake yet?'

Teddy shrugged, then shrieked with laughter as Honey and Zorro clambered up the porch steps and began licking her bare feet.

'Tickle toes!' Teddy giggled delightedly, stretching her arms wide and hugging both dogs.

Kitty stood up and whisked Teddy out of the reach of the Staffies' tongues and headed towards the front door just as Jemini, wearing unicorn shorts-and-vest PJs and looking almost as adorable as her daughter, appeared.

'Cheers, Kit.' Jemini pushed her mass of just-got-out-of-bed hair from her eyes, blinked sleepily and reached for Teddy. 'We were in the kitchen. I was just getting her cereal ready and asked her if she wanted yoghurt as well, then I turned round and she'd disappeared. I guessed she'd be with you – and the dogs.'

'Mummmyyy . . . Peppa . . . please.' Teddy struggled, wanting to be put down.

'She's all yours, Jem!' Kitty grinned. 'And Peppa's, obviously. Is – um – Connor here? Will he need coffee? Breakfast? Industrial supplies of hair gel?'

Jemini shook her head, giggling. 'He didn't stay over last night. There's a board meeting at the Lymington branch this morning and his dad's called a three-line whip. Connor left me the keys to open up the Firefly Common office at nine, therefore I need to get Teddy to nursery early – which is why I'm up in the middle of the night. Again.'

Kitty laughed. Jemini was now employed part-time with Connor in the Lovell and Lowe Estate Agents office in the village. They'd all found work since arriving in Firefly Common: Jemini with Connor, she in the delightfully retro Silver Fish Bar, and Apollo as chef at the Merry Mermaid. None of them worked full time, so their various shifts meant there was always someone at home to look after the dogs and Teddy. It had all worked out so well. Until now, of course. Kitty's fingers once again closed around the thin airmail letter in her pocket and she sighed.

Jemini held out her hand to Teddy. 'Come on, madam, let's have breakfast in front of the telly and see what Peppa's up to shall we?'

With a shriek of glee, Teddy ignored her hand and headed at some speed towards the front door, rapidly followed by her mother and both the. . .
We hope you are enjoying the book so far. To continue reading...
Summer at Sandcastle Cottage
Christina Jones
Copyright © 2023 All Rights Reserved