Book info
Sample
Audiobook
Media
Author updates
Lists
Synopsis
Slash and Pecos match wits with the wiliest opponent they've ever had—a wickedly smart woman who can't be caught—in their wildest western adventure yet . . .



It sounds like an easy job: track down the lady friend of notorious outlaw Duke Winter and bring her in for questioning. There's just one problem: Slash and Pecos have never met a woman like Miss Fannie Diamond, a glamorous showgirl who's prettier than a French poodle, slicker than a Dodge City gambler, and more slippery than a Mojave rattlesnake. She knows that Slash and Pecos are coming for her and has no intention of being caught—not without one hell of a fight . . .



By the time the duo arrive at the Rocky Mountain mining camp where Miss Diamond is performing, the devilishly clever gal has already arranged a welcome wagon for them: some hired thugs who knock Slash and Pecos silly. Still, the show must go on—so the pair decide to snatch Miss Diamond off the stage in the middle of a performance. It doesn't take long for Slash and Pecos to learn that there's no business like show business—and no showgirl like Miss Fannie Diamond. Sometimes, the female of the species is deadlier than the male . . .
Release date: August 23, 2022
Publisher: Pinnacle Books
Print pages: 320
* BingeBooks earns revenue from qualifying purchases as an Amazon Associate as well as from other retail partners.
Listen to a sample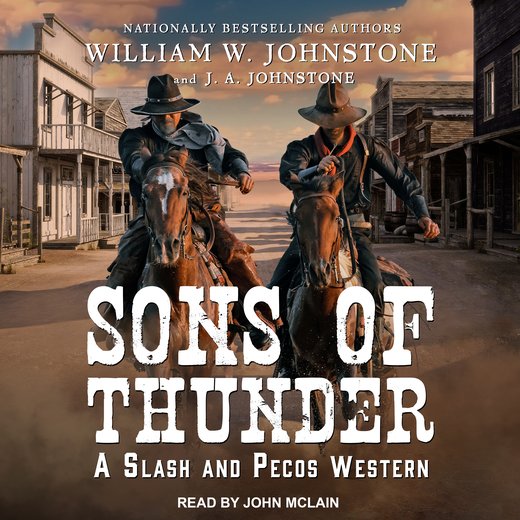 11:13:48
308.46 MB
August 23, 2022
Tantor Audio
2022
Sons of Thunder
William W. Johnstone
Thunder rumbled like angry gods bowling with boulders. Witches' fingers of lightning poked across the firmament, intermittently lighting up this rain-tortured Rocky Mountain canyon, which had been turned by the late-summer monsoon storm into howling bedlam.

Between lightning bolts, the Colorado night was as black as the bottom of a deep well save for the buffeting gray curtain of wind-lashed rain that seemed to have no letup in it whatever.

Hunkered low inside his oilskin rain slicker and seated in the driver's box of the stout Pittsburg freight wagon, holding the sodden harness ribbons tight in his gloved hands, James "Slash" Braddock turned to his long-boned partner seated beside him and shouted, "Good Lord, Pecos. I do believe we have a good chance of drowning out here, sittin' in our consarned wagon no less!"

He looked down at the ankle-deep rainwater churning on the floor of the driver's box. It had soaked his boots and socks and damn near frozen his feet.

"If the river keeps rising," returned Melvin "Pecos Kid" Baker, pausing as another peal of near-deafening thunder hammered down around them, "we might be swimmin' for it, Slash!" He turned his head to regard the Poudre River where it churned and pounded loudly in its rocky bed off the trail's right side. "It looks to me like it's starting to swell out of its banks!"

"We have to find shelter soon!"

"That old ghost town of Manhattan should be dead ahead. Last time we passed through there, a saloon was still in operation, remember?"

"I do! And I also remember, if my memory hasn't gotten even cloudier than I think it has here on the downhill side of my allotment, the fella that ran the place was a big Swede everybody called 'the Dutchman,' who served a thick dark ale and cooked a mean T-bone steak!"

"And he piled up a whole passel of greasy fried potatoes around it, too! Cooked to a crispy brown, just the way I like it!"

"Oh, Lordy, you're killin' me!"

"I'll be hanged if I ain't killin' myself!"

"I hope Manhattan is as close as you think it is!"

"Hey! Look there!" Pecos straightened in his seat and thrust out his right arm to aim his pointing index finger over the two stout, rain-silvered mules hitched to the wagon. "I think I see a light!"

Slash gazed straight ahead, around the steady stream of rain sluicing down from the crease in the crown of his black Stetson. Sure enough, a pinprick of soft amber light shone in the gauzy darkness.

"Well, well, looks like you had it right!" Slash said.

Pecos grinned and pressed a finger to his temple. "Yours might be gettin' murky, but my thinker box is workin' just fine, Slash!"

"I suppose you think that means you oughta be doin' the thinkin' for both of us." Slash chuckled and wagged his head as he shook the reins over the lumbering mules' backs. "Lordy, I shudder at the thought!"

"I'm too cold an' wet to kick your scrawny behind, so I'll let that one go!"

Slash laughed.

The mules quickened their pace despite the sodden trail, which had become a shallow stream churning with muddy water that shone amber when the lightning flashed. They climbed the gradual grade on top of which the ghost town of Manhattan sat in a wide horseshoe bend of the river.

A loud crashing boom sounded, cutting through the stormy din, making mules and men jerk with starts. Slash and Pecos turned to see a lightning bolt strike a thumb of rock on the far side of the river. A lone pine rose like a sentinel from the top of the rock. It glowed brightly, as did the entire thumb, against the darkness of the mountain wall, sizzling loudly.

The pine exploded, and the thumb broke loose from the stone wall from which it jutted and tumbled down against the wall with several more explosive roars. Burning tree and sizzling rock tumbled away in the stormy darkness.

The scorched-stone aroma of brimstone peppered the air.

"Yikes!" Pecos said.

"Yeah!" Slash agreed, again flicking the reins over the mules' backs. "Come on, you mangy broomtails. Pick it up less'n you wanna get roasted alive out here!"

Mules, wagon, and men flattened out at the top of the rise; and the two rows of mostly vacant and eerily dark business buildings of old Manhattan, a rollicking gold camp just a few short years ago, pushed up around the wagon. The only building with lights in its windows shone dead ahead, on the street's left side. That would be the Dutchman's place.

"Should be an old barn up here, on the right," Pecos said.

Slash swung the mules over to the large log barn standing tall and dark and doorless on the right side of the street, between a boarded-up bordello with a tumbledown front stoop and a boarded-up barbershop, its once colorful pole having faded to gray. Slash hazed the mules on into the barn, and as the wagon followed them in, the rain stopped lashing him and his partner, though the storm continued hammering the old building and echoing around inside the cave-like interior.

The smell of moldy hay and ancient ammonia touched the two men's nostrils.

The mules brayed uncertainly.

The two men, former outlaws turned freighters—when they weren't working as unofficial federal lawmen for the devilish scalawag Chief Marshal Luther T. "Bleed-'Em-So" Bledsoe, that was—clambered stiffly down from the wagon. In their late fifties, neither man was as young as he used to be, and they felt the weight of their years—especially during cold, rainy spells like the one they were enduring this night in the Front Range, west of their hometown of Camp Collins, in northern Colorado.

They'd delivered a load of supplies to a gold mine at the west end of Poudre Canyon, and they'd expected to be home by now. The storm had slowed them down considerably.

As the two men unhitched and tended the mules, first rubbing them down and then feeding and watering them, Slash couldn't help thinking of his lovely bride, the former Jaycee Breckenridge, who was waiting for him back in their second-floor suite of the saloon/gambling parlor/ brothel that Jay owned in Fort Collins.

"What're you grinnin' about?"

Slash turned to his partner, who was opening a stall door at the rear of the barn. "Huh?"

"What're you grinnin' about?"

Slash led the second mule toward where Pecos was leading the first mule into the stall, the clomping of the mules' hooves on the hard-packed earthen floor all but drowned by the rain, wind, and thunder battering the old barn, making the roof leak in places and the timbers creak.

"I didn't know I was grinnin'."

"Like a jackass with a snoot full of cockleburs. Never mind. I know what you were grinnin' about. Or, should I say, who you were grinnin' about," Pecos amended, then gave a wry snort as he stepped out of the stall. "Don't worry. You'll see her soon enough."

"Who?" Slash said, playing dumb, as he led the second mule into the large stall, then set down a bucket of parched corn for the second mule, just as Pecos had done for the first mule.

"Your newly betrothed, fer cryin' in the queen's ale! You don't have to be embarrassed about bein' eager to see your wife, you know, Slash. There ain't no shame in it." Pecos placed his hand on his longtime partner's shoulder and leaned toward him, as though to impart a closely held secret. "There ain't no shame in missin' your woman. Especially when that woman happens to be one Miss Jaycee Breckenridge!"

"Ah, hell," Slash said, sheepishly brushing a fist across his chin. "It was that obvious, huh?"

"It was that obvious. Let me repeat—there ain't no shame in it."

"I know there ain't no shame in it, you big lummox!" Slash said, removing his hat and batting the excess water from it against his leg. The truth was, however, that despite having been married to Jay for a good six months now and having learned to open up more about his feelings, he still found himself falling back into his age-old natural habit of being reluctant to show those feelings to his male pards.

Or his male pard, as the case was. About the only friend the middle-aged former outlaw still had on this side of the sod was the Pecos River Kid himself. In fact, Pecos might have been the only true friend Slash had ever had, Slash being more than a tad on the contrary and solitary side. It still surprised Pecos that his friend, who was shorter and darker than Pecos's gray-blond six feet four, was finally married, since the only women he'd ever kept company with before Jay had come along were percentage gals.

Whores.

Pecos grinned slyly. "What were you thinkin' about?"

"Huh?" Slash said, indignant.

"Come on. What were you thinkin' about that made you grin that big horse fritter–eatin' grin?"

"Hah!" Slash said as the two men walked back toward the barn's front opening and the gray curtain of rain and flashing light just beyond it. "Wouldn't you like to know!"

Pecos chuckled. "I suppose she's gonna be worried when we don't show up tonight."

He and Slash stopped to regard the storm, neither one overly eager to brave it again, even though they hoped they'd find a surrounding of good hot food inside the saloon, if the Dutchman hadn't closed up on account of the storm. The wavering lamplight in the windows told them he hadn't. The Dutchman, an ex-prospector, lived on the building's second story.

"I reckon she will, but it's probably raining in Camp Collins, too, so she'll likely know why we're delayed." Slash winced, adjusted the set of his hat. "She'll still be worried, though. I don't much like worryin' the gal," he found himself openly admitting. "It's the one thing about marriage . . . in fact, it's the only thing about marriage . . . I've so far found disagreeable."

"Must be nice, though," Pecos said with a wistful sigh. "Havin' somebody back home worryin' about you."

"You know what you need to do, don't you?" Slash said. "You need to get down on your hands and knees and ask ol' Bleed-'Em-So's queenly secretary to hitch her star to your wagon. Then you'll have a worrier of your own at home, pinin' for ya an' singin' sad songs when you're away."

Pecos had recently become right friendly with the jade-eyed, golden-haired Nordic beauty Abigail Langdon, though they'd both so far kept that fact from the owly chief marshal himself. Bledsoe had hired Slash and Pecos to do his dirty work—the assignments he didn't feel comfortable saddling his bona fide deputy marshals with, mostly because said assignments were off the books for being in part or in totality illegal. Rather, he'd coerced them into working for him, under threat of being hung or sent to prison for their past sundry indiscretions.

But their working for him didn't mean he approved of either former cutthroat.

As a deputy U.S. marshal once himself, Bledsoe had chased the pair and their former gang, the Snake River Marauders, from Canada to Mexico and back again several times without running any of them to ground. He had also taken a bullet from Slash several years back. It had been an inadvertent bullet, a ricochet, but the blue whistler had confined the nasty old gent to a push chair, just the same.

When and if Slash and Pecos went down in a hail of hot lead during the implementation of one of the chief marshal's dangerous assignments, the colicky old federal would shed no tears at their funerals.

"If Bledsoe ever found about me an' Abigail—and if we tied the knot, he would—he'd shoot us both," Pecos said. "Me? I deserve a bullet. Hell, a bullet's too good for me. But I wouldn't want that fate to befall dear Abigail." Pecos gave his big head a sad wag. "Nah, we'll just have to keep meetin' in secret until she finds someone younger and more upstandin'."

"Well, that shouldn't be too hard." Slash grinned.

"You're damn lucky I'm too cold and wet and hungry to whup your ass."

"You'd have to catch me first, ya big lummox. Speakin' of hunger, come on, partner," Slash said, pulling his hat down tight and lifting the collar of his rain slicker. "Let's go say hi to the Dutchman!"

The two former bank and train robbers ran into the rainy street.

Slash and Pecos entered the Dutchman's saloon in the nick of time, for even though it was only nine o'clock, the big, blond, long-limbed, and bony Scandinavian had written off any further business this stormy night and was about to blow the lamps out and head upstairs to his living quarters.

He was all smiles to see some company and badly needed business, however, for it had been a quiet several days. After giving the two freighters the key to a room they would share upstairs, where he had five to rent, he hustled back into the kitchen to stoke his stove and fry up a couple of big T-bones and a cast-iron skillet of his signature potatoes, which he cultivated himself in an irrigated garden behind the saloon.

Slash and Pecos chose a table close to the fully stoked and pleasantly ticking potbelly stove, draped their rain slickers over their chair backs, and sat down to nurse the two frothy dark ales the Dutchman had drawn for them.

"Ah, shelter from the storm!" Pecos intoned, lifting his mug to suck some of the froth from the rim of his mug.

"Nice quiet one, just how I like it," Slash said. "The older I get, partner, the more peace and quiet I like. Less'n, of course, I'm snuggled under the bedcovers with that good-lookin' gal of mine. Then forget the peace and the quiet!"

"Sure, sure, rub it in," Pecos groused before taking another sip from his dimpled schooner.

"Sorry about that," Slash said with mock chagrin.

"No, you're not."

"No, you're right. I'm not," Slash said and chuckled. He loved nothing more than to torment his partner out of sheer deviltry.

He sank back in his chair, enjoying the heat emanating from the stove and soaking deep into his cold bones, loosening the age-tender muscles. Now that he was inside and out of it, sitting by a warm fire, he even enjoyed listening to the drumming and whooshing of the storm, the dribbling of the rain down the sashed windows, and watching the intermittent flashes of the lightning.

Peace and quiet, at last. Good beer. Even better food on the way. And a couple of warm beds waiting for him and Pecos upstairs.

Yessir, Slash remarked silently to himself, you just can't beat it.

Presently, the drumming of horses rose from the street, as did the shouting of several men. Neither Slash nor Pecos could make out what the men were saying, but the newcomers' tones told them they were pleasantly surprised to have found a still open sanctuary in this otherwise boarded-up, cold, and uninviting ghost town.

"There goes our peace and quiet," Slash said before taking another sip of his beer.

"Oh, well," Pecos said, hauling out his makings to roll a quirley, "the Dutchman will be pleased as punch for the business."

"I reckon."

When the Dutchman brought two smoking and loudly sputtering platters out from the kitchen, and Pecos informed him of the added business he was likely to get when the newcomers had stabled their mounts, the big, blond, red-faced man rubbed his big, fleshy paws together greedily.

"Jah, it is a good night, after all!" He clapped his hands together as he ambled around behind the big mahogany bar with an ornate backbar complete with leaded glass mirror. "Jah! Jah! Now we're talking!"

He rubbed his big hands on his apron and adjusted a couple of the glasses arranged in a pyramid on the bar before him. Meanwhile, Slash and Pecos tucked cloth napkins into their shirt collars and hunkered over their platters, eating hungrily. They were both a little over halfway through their steaks and potatoes when shouting sounded from outside again—men exclaiming in jovial tones, as though in celebration.

A woman's cry was added to the din.

Then another.

Slash and Pecos looked up from their meals and exchanged curious frowns.

"Hmm," the Dutchman said, waiting behind the bar and now frowning toward the door, as well.

Boots thumped on the stoop.

"Last one inside's a rotten egg!" a man shouted just outside the door.

The door opened abruptly, fairly flying open, as a man entered with a young woman draped over his right shoulder. She wore a sodden dark blue dress, which clung to her legs like a second skin. She was kicking those legs desperately, struggling inside the grasp of the man who carried her on his shoulder as though she were a fifty-pound sack of oats. The dress's hem was pulled up to reveal soaked pantaloons, also clinging to the young woman's slender legs.

The man was grinning beneath the brim of his high-crowned black hat, from which rain dripped liberally. He was a short, broad-chested man in his middle twenties, with a red mustache and side-whiskers and twin Colts holstered on his hips, beneath a pale linen duster as wet as the dress of the girl on his shoulder.

Another, taller man followed him into the saloon, with yet another young woman draped over his own right shoulder. Both girls—yeah, that was what they were, girls of maybe sixteen or seventeen, Slash judged—complained loudly and kicked their legs and futilely slammed their clenched fists against the backs of the men carrying them. The men only whooped and laughed.

The smaller, red-mustached gent glanced at the Swede standing behind the bar and said, "Hope you got beds upstairs, partner, 'cause that's where we're headed!"

The taller man whooped loudly and followed the small man and his own unwilling cargo toward the narrow staircase rising at the room's rear.

"Stop!" bellowed the plump blonde in a lemon-yellow dress who was draped over the taller man's shoulder. "Put me down! Oh, please put me down this instant. You're hurting me!"

As the men and the two complaining girls passed Slash and Pecos's table, the two cutthroats-turned-freighters shared expressions of mute exasperation. Slash, seated facing the front of the room, started to rise from his chair and protest the girls' ill-treatment but froze halfway up from his chair when he saw several more men enter the saloon, all wearing either soaked canvas dusters or rain-beaded oilskin slickers.

They kept coming in, talking and laughing and swatting their hats against their legs, dislodging moisture, until a total of eight men had entered, including the two now mounting the stairs behind Slash. What had stayed Slash's rise from his chair was not only the number of men entering the Swede's watering hole, but also the fact that three of the newcomers were carrying Winchester carbines. The others were armed, as well. Slash could see a few holstered guns and even a couple of sheathed knives inside unbuttoned dusters, or he could see the telltale bulge of said armaments behind buttoned dusters and slickers.

These fellas were armed for bear!

Not possessing a suicide bent, Slash sank back into his chair as the other men favored him and Pecos with passing glances. The last newcomer to enter slammed the door on the continuing storm and followed the others to the bar.

"Gotta be fifty thousand dollars, fellas," announced one of the six heading for the bar, patting a swollen pouch of the saddlebags draped over his shoulder. "Fifty thousand dollars if there's a dime!"

"Sure enough," said another. "I couldn't believe my eyes when we blew the lock off that strongbox and opened the lid. Holy thunder! What a mother lode of greenbacks and coins!"

The speaker slapped the shoulder of the portly, shaggy-headed, bearded man bellying up to the bar beside him. They turned to the Swede, who was eyeing them with an uncertain smile on his broad mouth, and, slapping the bar, loudly ordered whiskey and beer.

Slash and Pecos shared another look. This time a knowing look. Pecos still held a thick bite of steak and a couple of crispy potatoes impaled with a fork halfway between his plate and his mouth, having frozen in that position when he'd first heard the girls yell.

It was obvious to both former train and bank robbers that the newcomers were outlaws who'd recently taken down a stage, plundered the strongbox, and kidnapped the two young women—a pair of unlucky passengers aboard the coach when the tough nuts had struck. Now those unlucky girls were upstairs with two of the outlaws, with the rest no doubt soon to follow, and the girls' luck was likely heading even farther south.

The obvious question was voiced by Pecos, albeit in a register that couldn't be heard above the celebratory outlaws' jovial din over their run of good luck: "What're we gonna do about this, Slash?"

Slash winced as he cut into his meat with a serrated knife, trying to at least make a casual show of continuing his meal. "I'm open to suggestions." He cut his eyes to the men at the bar, who, with the exception of two standing sideways to it, had their backs to him and Pecos. "The roughtails ain't payin' us any attention at all."

Pecos swung his head for a quick look. "That's 'cause they're young and we're old. They ain't afraid of us."

Slash glanced sidelong at the celebrating firebrands, one of whom had poured the loot out onto the bar and was loudly counting it with the help of one of his pards. "No damn respect," the former robber said through an angry snarl. "Probably think we been freightin' all our lives." He gave a caustic laugh. "If they only knew!"

Pecos jutted his jaw and hardened his eyes at his partner. "Slash, will you keep your damn voice down? If they knew who we were, they'd likely have opened up on us by now, filled us so full of lead we'd rattle when we walked."

"A little respect—that's all I ask!"

"What are we gonna do about those two poor girls up there?" Pecos raised his eyes to the ceiling, from which emanated, beneath the din coming from the six at the bar, the other two outlaws' raised voices and the girls' cries, as well as a good bit of stomping around.

Slash forked potatoes into his mouth and chewed, sliding his furtive gaze between Pecos and the six men at the bar. While he continued to eat, he was no longer hungry, and the food no longer tasted good. "Well, there's eight of them. Two of us."

Pecos stiffly forked more food into his mouth. "Tall odds."

"Maybe too tall."

"You thinkin' if we stick our noses in, you're liable to make Jay a widow after only a half a year's worth of marriage?"

"That might be soon enough for her, after spendin' six months with me . . ."

"You can say that again!"

"But six months ain't long enough for me with her . . ."

"Slash, I do believe you've grown a heart."

"That bein' said, we can't sit here and listen to what them two girls is goin' through upstairs without at least tryin' to do somethin'."

"Which brings us back to what?"

"True enough." Slash switched his gaze to the bar again and inwardly flinched when he saw that one of the six tough nuts was looking straight at him. Slash feigned a smile and nodded at the man, whose expression grew wistful. He opened his mouth and ran a thumb pensively along his jawline, then, scowling curiously, turned back to the bar.

Slash turned back to Pecos and cursed.

"What is it?"

"One of 'em looked right at me. Like maybe he recognized me."

Pecos shuttled his own gaze to the bar. "Which one?"

"The oldest one of the bunch. The one who carried in the saddlebags."

Pecos studied the man of topic in the backbar mirror, then turned back to Slash. "Ah, hell, you know who that is?"

"Who?"

"Scratch Lawson. We had a run-in with him about ten years ago, when he was still wet behind the ears but meaner'n a stick-teased rattlesnake."

Slash took another quick glance at the man in the mirror. He was of medium height, with curly pewter hair tufting out from beneath his battered, funnel-brimmed cream Stetson. He was long faced, cow eyed, and wore several days of pewter stubble on his narrow jaws. His sodden duster bulged where two pistols were holstered on his hips.

"Ah, hell!" Slash said.

"Yeah."

"Our gang got crossways with his gang down in Mexico, when we robbed that rurale supply depot. Turns out his bunch, led by Loot Wiley from Galveston, had targeted it, too. We got to it first, and they came after us."

"We killed two of theirs, and they wounded one of ours."

"Bo Gleeson . . . Yeah, I remember."

"I reckon if we're gonna do somethin', we'd best get down to it," Pecos said. "Before Lawson puts names to our faces."

Too late.

The outlaw of topic, Scratch Lawson, suddenly slapped the bar and whipped around to face Slash and Pecos, yelling, "Slash Braddock and the Pecos River Kid !"

He grinned and slid both flaps of his wet duster back behind the bone handles of his matched Smith & Wessons.

A cold, wet stone dropped in Slash's belly.

He turned to Scratch Lawson, who was standing with his back to the bar, grinning, and said, "Scratch? Scratch Lawson, is that you, you old polecat? Damn! How long's it been, anyways?"

"Too damn long, Slash." Lawson switched his cow-stupid, snake-mean eyes to Pecos. "Pecos," he said, the smile fading from his lips. "Too damn long! I been waitin' to run into you two old dogs for the past ten, twelve years."

The five other outlaws at the bar turned toward Slash and Pecos, frowning, also sliding the flaps of their dusters or oilskins back behind their guns, revealing an amazing amount and vast array of firepower.

"You happy now, Slash?" Pecos asked his partner out of the side of his mouth. "You're finally gettin' the attention you been longin' for!"

Lawson stretched his lips back from his teeth and bellowed, "Kill them!"

As he and the other outlaws started to slide their hoglegs from their holsters, Slash said, "Shut up and go to work, or we're wolf bait, partner!"

"Don't tell me to shut up!" Pecos returned as he and Slash threw themselves from their chairs.

This was neither man's first rodeo.

Over their long and storied careers as outlaws, both men had found themselves in similar situations. Of course, they were older now, so throwing themselves so suddenly out of their chairs while skinning their six-shooters, then striking the hard wooden floor with their fifty-plus-year-old bodies was a more challenging and regretful maneuver than it had been when they were, say, twenty-two or twenty-three years young.

Necessity, however, even at the ex-cutthroats' ripe old ages, was often the mother of painful maneuvers.

Both men struck the floor on opposite sides of their table as bullets fired by the outlaws plunked into the table itself as well as the backs of the chairs Slash and Pecos had vacated. Lead also tore splinters from the floor around where the two men landed, groaning and grunting and raising and cocking their hoglegs and taking hasty aim at the men lined up like tin cans on fence posts before them.

Quickly, they went to work before the outlaws, bleary eyed from drink and apparently shocked by the two old farts' acrobatic maneuvers, could recock their pistols and readjust their aims.

Boom-boom!

Boom-boom! Boom!

The outlaws screamed as lead ripped through their soaked duds to plunder chilly flesh.

They continued yelling, and a few even managed to return fire, albeit wildly, as Slash and Pecos continued cocking and triggering their revolvers, the wheels of Pecos's Russian .44 and both of Slash's handsome, matched, bone-gripped Colts spinning quickly in their iron frames, orange flames lapping from the three maws and the squint-eyed faces of the two . . .
We hope you are enjoying the book so far. To continue reading...
Sons of Thunder
William W. Johnstone
Copyright © 2022 All Rights Reserved
Also in this series
Also by this author