Sinister: Unhallowed
They thought they could destroy House Sinister for good, but they weren't expecting her.
Book info
Sample
Audiobook
Media
Author updates
Lists
Synopsis
They thought they could destroy House Sinister for good, but they weren't expecting Evangeline...
This series is loaded with dirty jokes and adult language.
Evangeline was living a great life in the Badlands as a Guard at House Sinister, but her world is shattered when three rival Houses attack. She's forced to watch as her mentor and father figure is slaughtered.
His dying command: The House must survive at all costs.
She escapes to the upperworld, landing her in the middle of Los Angeles, where she possesses the body of a wealthy philanthropist.
Nice.
Too bad she catches the eye of the Black Ops Paranormal Police Department. In exchange for keeping her identity a secret, she agrees to work for the undercover organization.
Lovely.
There are killers hunting for her, and the PPD is putting her life on the line daily, but rage is on her side. All she has to do is survive one year and then she can bring honor back to House Sinister. Besides, it'll give her the chance to kill a handful of the vicious bastards, and that's a perk she'll gladly embrace.
When that year is up, though, Evangeline will return to the Badlands with her two best friends: Pain and Death.
Release date: September 13, 2019
Publisher: Crimson Myth Press
Print pages: 320
* BingeBooks earns revenue from qualifying purchases as an Amazon Associate as well as from other retail partners.
Listen to a sample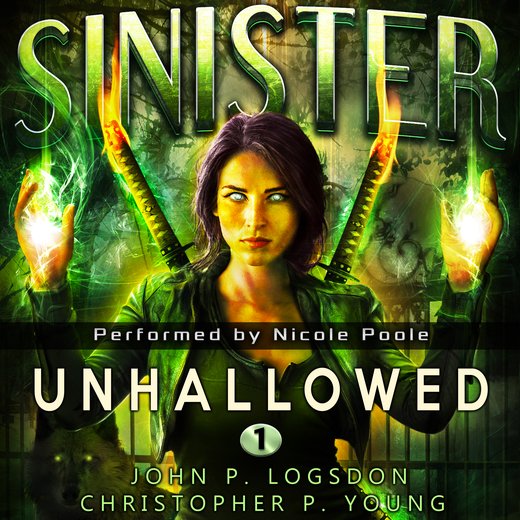 05:14:33
144.01 MB
9798368905181
January 1, 2020
Crimson Myth Press
Sinister: Unhallowed
John P. Logsdon
Chapter 1
It's better to delay mourning than to become another who is mourned.
Garrick - House of Sinister
Screams echoed through my head as I watched members of House Sinister being slaughtered via the Rite of Decimation.
There were three Houses working together to destroy mine. Varaz, Mathen, and Tross. Minor players who were obviously looking for their seat at the big table.
From my perch on the fourth floor, overlooking the alcove, the battles played out like a macabre scene from a horror film. Blades slashed and parried with such speed that only advanced eyes could track their flowing grace. Blood spilled on all sides as the murderous bastards poured in, pressing inevitably toward the Head Elder.
His death would signal that Sinister had fallen.
But that wouldn't end the House.
For that to happen, every last member would have to be dispatched.
That was hellion law.
As if connected by some cosmic force, Garrick, the head of the Guard, looked up, his eyes meeting mine. My teacher since I was a child, he'd always treated me with dignity and respect. Plus, he was a rowdy and foul-mouthed bastard who taught me to drink, swear, and fight dirty.
Garrick was the best warrior the House had ever seen.
I was nothing but a peon as far as the elders were concerned, but Garrick had seen ability in me, and it was his wish that I would one day rise up the ranks and replace him as the head of the Guard.
The one thing he'd instilled in me over everything else, though, was that the House came first.
Period.
That sentiment was repeated in his eyes as he stared up at me.
Unfortunately, one of the assassins nearest him had followed the gaze and spotted me as well. He pointed, causing a sea of heads to spin and take a mental snapshot of yet another victim to notch their blades.
Garrick redoubled his efforts, cutting and stabbing like a man possessed.
"The House must survive," he yelled at me as I felt the magic welling up in my hands. "Remember your oath! Remember your duty!"
If any member of the House remained alive, the House remained alive. No strings could be left uncut. If there were any stragglers, the Rite of Decimation would be considered a failure.
"Run! Now!"
Garrick fell seconds later as multiple blades entered his flesh, taking a part of me with him.
As his body sank to the ground, so did my stomach.
I'd been punched, kicked, thrown, cut, and even shot over my years training with the Guard, but never had I felt such devastation as I'd suffered in that moment.
My mentor was dead.
"Stop where you are," called out a hellion who stepped off the stairs at the top of the landing.
I turned to face him, feeling a mix of rage and fear. I wasn't afraid of dying, but I was afraid of failing to deliver on Garrick's dying command. He'd spent years putting his faith in me, giving me a chance to become more than just a concubine, like my mother before me.
He deserved my best and I was damn sure going to give it all I had.
But fighting the pain was proving tougher than I'd expected.
One day I knew I'd be the one to replace him as the head of the Guard. He'd told me that on more than one occasion.
Sadly, that day had arrived.
He'd counted on me through thick and thin, he'd commanded me in the moment of his death, and my oath to put the House before my own desire told me that now was not the time to mourn him.
So, I shoved down the pain and focused on survival.
The assassin stood with sword drawn. He had four goons with him as well. They were from the House of Varaz, which was clear from the red V on each jacket.
"Are you guys in a boy band or something?" I asked, noting how they even had their hair slicked back the same way.
"Don't move," warned the leader, clearly ignoring my jab as his comrades glanced back and forth at one another. "And don't try any tricks either."
"Or what?" I replied, lacing my voice with sarcasm while seeking a way to escape. "You'll kill me?"
"That's an inevitability," he answered, taking a cautious step in my direction as his goons began to spread out. "It'll be quick. I promise."
"I'm sure your wife hears that every night," I shot back, spotting my exit.
The lackeys giggled, but quickly hushed as their leader's enraged eyes peered at them.
I'd clearly touched a nerve.
Good.
Fortunately, I was young. By hellion standards, anyway. The assassins saw me as nothing but a gnat who needed squashing. If they had seen me as something threatening, they would have sent more assassins.
"Kill the little bitch," he commanded.
I'd already had both of my blades out, but taking down a group of assassin-level fighters wasn't exactly an easy thing to do, nor was it the smart thing. I could have unleashed a wave of fire at them that they would never have expected, but that would only attract more of their kind. Using magic and having the ability to dual-wield swords was great, but it wasn't enough to take down an army. My only hope of keeping my word to Garrick was to get the hell out of there.
Garrick's words came back to me, and they were right.
I needed an escape.
The Guard's quarters were the only option.
Thankfully, it was behind me.
I spun and ran for it, sliding my blades back into their sheaths before bolting through the door and slamming it shut, twisting the key an instant before the handle turned.
"Open the door and we'll kill you mercifully!"
"Go fuck yourself," I yelled back as I crossed the creaking floor.
It was the only room that had a window near the vines that draped the walls. Instead of falling from four stories up, I could climb down.
I was halfway to the ground when I heard the door crash in above.
That caused me to drop the remaining distance, rolling upon landing.
"Now what?" I hissed aloud, looking around as the Varaz boys started climbing down the vines.
If only Garrick was here.
Pain threatened to sink in again.
No!
There was no time for that now.
The problem was that there was no escaping them in the Badlands. At least not through the tunnels or caves. Getting to the Strip wasn't going to happen. It was way too far. Hell wasn't an option either for the same reason. Netherworld Proper was an option, but I'd probably get returned within a few months in order to avoid there being an international incident.
That left the Forbidden Loch.
It was the one place that hellions avoided like blessed water.
This had to do with the fact that it was considered holy ground.
Now, I know what you're thinking: How can there be 'holy ground' in the Badlands? You should also be wondering how hellions like me, who were essentially demons mixed with dragon blood, would give a shit about anything holy anyway.
My response?
You've read one too many books on the subject of religion, and you don't realize that it was all made up by us.
Regardless, the reason it was considered holy ground to us was that there was some mysterious shit that happened there. If anything, based on the stories I'd been told, it should be considered unholy ground.
Too bad it was my only option at this point.
I bolted right toward the Forbidden Loch and dove in without even dipping my toe in the water to check the temperature.
It was cold.
Ice cold.
It was also pitch black.
But I didn't need eyes to know where I was going. The books and drawings made it clear exactly where the portal entrance was housed.
All the way at the bottom of the loch.
The water shifted and I heard the sound of waves splashing above me, signaling that my pursuers were more afraid of failure than they were of defiling holy ground. That, or they knew something about this place that I didn't.
My lungs began to burn and my ears popped as the pressure built up around me, but I pushed forward. If I was going to die, it wouldn't be due to giving up on account of discomfort.
No, the bastards on my tail were going to have to kill me.
Straight out.
And I had no intentions of making their quest easy, either.
Chapter 2
Just as I was feeling my brain starting to fold under the strain of the dive, I saw a faint light and swam harder.
The water was beginning to warm and the pressure was noticeably lessening. A few more pushes and I broke through a barrier of some sort, crashing to the ground and drying instantly.
It took a few seconds of heaving to get my breathing back under control.
I stood and looked up, seeing a mass of water hovering above, pulsing and rippling as though someone had thrown a rock into an upside-down still lake.
There were five bodies slowly coming into view as well, though.
"Shit," I hissed as I frantically scanned the area.
The portal was against the wall on the other side of the room.
I double-timed my run and stopped in front of it just as the thuds of predatory bodies crashed through the ceiling of water behind me.
"There she is," the leader yelled, choking and sputtering. "Kill her!"
I glanced back, seeing them getting to their feet.
"Wait," I said, putting my hand up. Surprisingly, they did. "I have an offer for you."
The main guy motioned to calm his goons. There was no way he would actually agree to anything I may have offered, but I was just looking to buy time. I had no idea how the portal worked, after all.
"You know I can't accept any deals during a Rite of Decimation," he said with a tilt of his head. "Therefore," he continued, sniffing the air, "this must be some type of ruse."
"Damn," I replied, doing my best to look defeated. "Obviously, I can't match wits with someone of your intellect." I sighed. "You're right. I was trying to fool you." I gave him a grin that was befitting my House's name. "It's just that making a full-grown flame beast appear takes a lot of effort, and it also takes about a minute for it to appear, so I needed a little time."
"A what?" asked one of the lackeys.
With a dramatic lift of my finger, I pointed to a dark area of the room. There was nothing there, of course, but they didn't know that.
I cackled for added effect.
"What did you do?" asked the leader, swallowing hard. "Nobody told us you were adept with advanced magic."
I was actually well-beyond what the average hellion was capable of doing with magic. We could all summon the dark mark and do some basic flames and energy, but with my ability to dual-wield also came a higher capability with magic. I could cast fireballs and ice storms, and was pretty adept with shields and healing, but it wore me out something fierce. With people chasing me, one poorly placed spell would only serve to drain my strength. Regardless, summoning a flame beast, or any beast, wasn't going to happen. I wasn't that good.
But I also wasn't dumb enough to tell him that.
"Nobody told me that you were an asshole, either," I said, keeping him on his toes, "but here we are."
"You incorrigible little—"
"Ah-ah-ah," I interrupted him, wagging my finger in warning. "You do know what happens if you kill someone who has created a flame beast, right?"
His eyes darted back and forth.
"No," he said at length.
Neither did I, especially since there was no such thing as a flame beast.
"Well," I said, turning my back to him, "I suppose you'll find out soon enough."
I heard footsteps.
"Wait!" the leader commanded. "Tell us what will happen or we'll…uh…"
"Kill me, right?" I said while giving him a look over my shoulder. "You've already used that one. How sad that they sent you idiots. It honestly damages my ego a bit, if I'm being honest."
I'd found the switch and flicked it, carefully hiding the panel's lights from their eyes.
There was a loud growl.
"What the fuck was that?" I said, jolting upright and spinning around. They all had their swords out and were forming into a circle. "You guys heard that, too, right?"
We hope you are enjoying the book so far. To continue reading...
Sinister: Unhallowed
John P. Logsdon
Copyright © 2023 All Rights Reserved
Also in this series
Also by this author