Book info
Sample
Audiobook
Media
Author updates
Lists
Synopsis
The New York Times bestselling author of Fireborn and Starborn returns to a magical fantasy realm where warriors of the light fight for everlasting peace.
Liberated from exile, the brutal god Nezu is leveling his vengeful wrath against the blessed lands of Alba, and only three heroes stand a chance of stopping him. Fireborn Allegria, with her ability to harness the power of light; her Starborn lover, Hallow, who leads the society of mages; and Deo, a warrior born of both worlds . . .
But the circle of friendship is broken when Allegria is imprisoned in the spirit world of the Thane. Surrounded by long dead warriors bent on revenge, her grasp on the mortal realm is fading. Now she must fight to hold on to the memories she has left—and the hope that help is coming from a world away.
The ultimate battle between good and evil is breaking, and Hallow and Deo need Allegria to win it. But even then, how can they achieve the impossible? For it's not just one destructive god they must face, but also his creator. Only an arcane prophecy and the untried power of their joined magics can save the Fourth Age.
Release date: June 9, 2020
Publisher: Rebel Base Books
Print pages: 193
* BingeBooks earns revenue from qualifying purchases as an Amazon Associate as well as from other retail partners.
Listen to a sample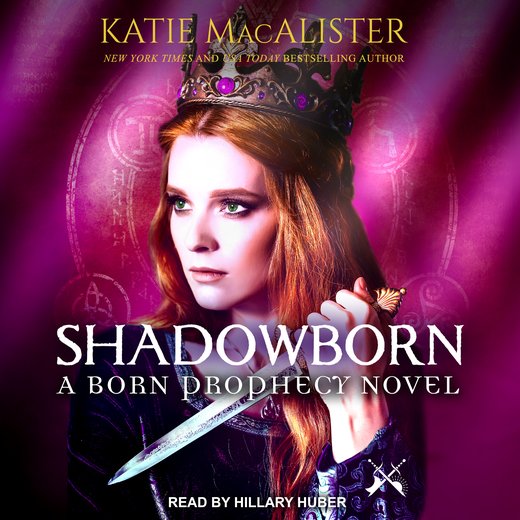 08:50:14
242.73 MB
June 9, 2020
Tantor Audio
2020
Shadowborn
Katie MacAlister
Chapter 1

"Now, that's what I like to see." Thorn smiled with mingled satisfaction and goodwill at the sight of the embracing couple before him. "I'm glad to know that you and the priest haven't been so grief-stricken over my loss that you parted ways. Did you miss me while I was in the spirit world? I have no doubt you've had endless trouble without me here to help, but there was little I could do about that. Oooh, is that land I see through the porthole?"

Despite the fact that he was unheard and incorporeal in his spirit form, he moved over to gaze out of the open window. "Hmm. Judging by the scrubby trees along the shoreline, I'd say that was Genora. Which means you've sailed all the way from Eris back home. Good work, lad. And I see by the carving next to the porthole that you've been hard at work making me a new physical form. That's not a swallow, though. Tail's all wrong, and the whole thing is bigger than my old form. I can't see the front of it, but you should consult a book of birds if you want to make a proper swallow for me. Er…lad? Should you be touching Allegria like that? In front of me, that is?"

It was at that point Thorn remembered that although Hallow was a talented arcanist, he hadn't yet perfected the art of talking to those who resided in the spirit world. Opting for discretion, Thorn took himself out of the small cabin…but not before getting rather too much an eyeful of the lad's hindquarters when he stooped to remove his boots.

The tang of salt air slapped Thorn full in the face as he emerged from the cabin—or it would have if there had been a physical face to slap. "Regardless," he said aloud, looking around him with pleasure—for he was a sociable being who counted conversation with his fellow kind as a treat—"it is a sensation nonetheless. Ah, this is Genora! Excellent! Now we shall see some action. My arcanists shall rise up and smite those who need smiting, and then Hallow and I will settle back to running Kelos the way it should be run. Greetings, Quinn. Who's that you're kissing? Ouch. That slap looked like it hurt."

Thorn watched with interest as a red-headed young woman, her dark eyes alight with indignation, stomped by him muttering things that he was prepared to wager were anatomically impossible. He remembered the girl from the village where he'd found Allegria after having lost both her and Hallow on the continent of Eris; he assumed she was a native Shadowborn. "One with a bit of fire in her blood, eh?" he said with a knowing wink to Quinn.

The captain, he was sorry to see, also did not possess the ability to notice those who, sadly, were confined to the spirit realm until their new physical forms were made. Instead Quinn rubbed his face with a rueful expression that turned into a grin when the large form of Deosin Langton marched past saying, "You'd better watch out. One of these days Ella's going to borrow Allegria's gelding knife."

"She loves me," Quinn called after Deo. "She just doesn't want to disappoint her master, so she pretends she doesn't like my attentions."

"What's this? Allegria is mentoring a Shadowborn?" Thorn drifted past a number of sailors working in fluid synchronicity to trim sails and paused before the figure of a small girl sitting cross-legged on a wooden crate. "Ah, it's you, the vanth. What's your name? Er…Dara. Demo. Disius?"

The girl looked up and gave him a good long appraisal before returning her attention to the small book in which she was writing with a pencil that left unpleasant rusty-red marks.

"Dexia, you didn't happen to see the blue tunic that Allegria gave me, did you?" The red-headed Shadowborn woman paused next to Thorn, glancing around the deck just as if she expected to see it hanging from the spar.

Thorn clicked his tongue at his bad memory. "Dexia, that's right. I remember now. You're with Quinn, or at least that's what Hallow told me. So much seems to have changed since that bastard Harborym destroyed my physical form. Here we are, almost to Genora, and a Shadowborn seems to have joined our company, not to mention the question of just where exactly are the queen and Lord Israel?"

"Not here," Dexia murmured.

"Frogsbane," Ella swore. "If Quinn stole it again just so he can pretend to find it and get me to kiss him in gratitude for returning it, I'll…I'll…well, I don't know what I'll do, but it will be something." She marched off with a determined set to her mouth.

"So the queen and her swain aren't with us." Thorn thought on this a few minutes, absently moving with the ship as it rocked in the swells common to the west coast of Genora. He'd always been a good sailor, and didn't let the fact that he had no physical body stop him from enjoying the movement of the deck under his feet. "Are they on Aryia? Together? I expected Queen Dasa would have high-tailed it home to Starfall City as soon as she could in order to deal with that weakling Darius."

Deo's shadow fell through Thorn's incorporeal form when the latter turned at the bow and marched past Dexia, heading aft.

"You pace just like your mother when she's bored," Dexia told Deo, who paused long enough to shoot her an unreadable look. She met it with one of her own, tipping her head to the side to add, "Maybe you should have traveled north with her instead of accompanying us to Kelos."

"I can do more to help the queen retake her throne here than in the north," Deo said, the abrupt way he had of snapping off each word reminding Thorn of an ancient turtle who had lived in a fountain that sat in the center of Kelos back when it was a sight to behold. That turtle, like Deo, was known to be extremely cranky.

He reflected for a moment, a bit startled to realize that fountain had disappeared into rubble at least four hundred years before. Had it really been so long since he had been Master, leading his arcanists to glory with the Starborn against their most bitter enemies?

His gaze fell on Deo as the latter continued his path to the rear of the ship. "And there is the child who was supposed to bring peace to both the Starborn and Fireborn." He sighed, but brushed aside the regrets. "Too much introspection never did anyone any good," he told Dexia. "The queen is in the north, eh? She must be rallying the Starborn faithful to her before she routs that puling Darius from Starfall. Well, well, well. If Deo is going to Kelos, Hallow must have some grand plan in place. What of Jalas? Did Idril finally overthrow her father?"

"You had best heed the Shadowborn woman," Dexia said suddenly, tilting her head up to look at Quinn when he stopped to order a change to the rigging.

"No, no, we have to get past the shoals. Don't drop the handling sail until we're well by the Miser's Fingers and almost to Bellwether. What's that, Dex?"

The vanth grinned, her sharp, pointed teeth looking strangely at odds with her otherwise childlike countenance. "Ella. She's not like the white-haired witch you lusted after. She'll chew you up and spit you out."

"Who, Idril?"

"No, Ella. The witch would have gutted you where you stood had you tried to approach her."

Quinn made a face, then smiled. "Idril isn't a witch, although she was positively magical when the moon glinted on her silver hair…" His words trailed to a stop, and with a nervous glance back toward Deo, he gave a little cough and continued. "It doesn't matter what you and I think about Lady Idril. She is evidently promised to Deo, although why he let her go with Lord Israel to confront Jalas in Abet is beyond me. I don't trust her father further than I can throw a bumblepig. Does it matter that I think we should have descended on Abet as a group to take care of the whole Tribe of Jalas? No. I am but a humble servant to those who hold my talisman, and since Hallow hasn't seen fit to release us from my bond to him, we must do as we are ordered."

Dexia grimaced and returned to her journal. "I'm happy to be well away from the white-haired one, although I would have liked to taste the Tribe."

"I think we'll have our hands full here. And speaking of full hands…" Quinn waggled his eyebrows, brushed off his jerkin, and squared his shoulders. "I believe I shall go see if Ella wants me to tell her about Genora and the Starborn."

He moved off toward the cabins.

Thorn eyed Dexia. "What was Hallow thinking, letting Israel and Idril face Jalas alone? It's not like him to turn away from a battle. Far from it. He was always too quick to run to the aid of anyone who needed it. He is Master of Kelos now, leader of the arcanists, and not some mercenary soldier for hire."

"How long until we land?" Dexia asked one of the sailors who bustled by with a pail and scrub brush.

"Another two hours, possibly three if the wind continues as it is," the sailor answered.

"Has there been any sign of the Eidolon?" she asked, standing and tucking away her journal before stretching.

"Eidolon?" Thorn asked, astounded. "What is this? The Eidolon are confined in the crypts beneath Kelos. They do not roam Genora."

"None, thank the goddess," the sailor answered, using the hand holding the brush to sketch a sign made up of the moon and three stars. "Mayhap the captain is wrong about them roaming the land looking for men to prey on."

"Perhaps," Dexia allowed, watching while the sailor dumped the water overboard before disappearing into the hold. She turned and looked past Thorn to the shore. "Then again, perhaps they are waiting."

"For what?" Thorn demanded to know, his mind awhirl with all that had happened since his physical form had been destroyed. It seemed to him that everything that could possibly go wrong had done just that.

"Allegria and Hallow," Dexia said. Thorn turned to see them emerge from their cabin, their cheeks rosy, identical sated expressions plastered all over their faces. Hallow lifted a hand in acknowledgement of Dexia, and followed Allegria to where she stood at the rail, staring at the shoreline.

Thorn watched them with a growing sense of disquiet. Just what in the name of the moon and stars was going on?



Chapter 2

"Why aren't any spirits attacking us? Shouldn't there be spirits attacking us? I was told there were going to be spirits everywhere, blighting the land and slaying the living, and yet all I have seen that was even remotely threatening was a one-legged harlot who seemed to feel you owed her money for services rendered several years ago."

Hallow, riding next to Deo, looked first askance at his companion, then over his shoulder to where Allegria, the light of his life and fire in his loins, rode chatting with the red-headed Shadowborn woman she had taken under her wing. Allegria hadn't been all too pleased when the harlot had accused him of partaking of her wares and slipping out without paying—which Hallow had not done, since he had always been very scrupulous about such things—and now he sensed a bit of frostiness lingering in his wife's gaze when it rested on him. "Yes, well, I think the less mentioned about the lady in Bellwether, the better. As for the Eidolon…"

His words trailed away as a growing sense of unease prickled along his spine. He rubbed the back of his neck, eyeing again the thick copse of trees lining either side of the road that led eastward, toward Kelos. There was no sign that anything was amiss, but he felt as if his nerves were twitching a warning that danger lay all around them, ready to spring upon the unwary.

"They certainly aren't the threat I was promised," Deo grumbled, looking dissatisfied.

"You are the only man I know who gets snappish when someone isn't trying to kill him," Hallow commented with a wry sense of humor that he knew Deo would ignore. Allegria would have appreciated it, though. He glanced back to smile at her, hoping that her partiality to him would thaw any remaining coldness regarding their landing at Bellwether, but even as he caught her eye, a flicker of movement to the side had him suddenly filled with rage.

Arcany pricked his palms as he pulled on the light of the stars that sat behind the sun, but the chaos magic within him rode high, filling him with a red-hot anger that threatened to spill out at the potential threat to his beloved.

A man emerged from the woods with a basket of fallen branches strapped to his back. He watched the company ride by for a few seconds before lifting his hand in greeting and turning to march off to what was no doubt his home.

"Hallow?" Allegria pressed her heels into her mule, pushing between his horse, Penn, and Deo's massive black charger. "What's wrong? Why have your runes lit up like a lantern? Do you sense something? Is it the Eidolon? Ella," she turned in her saddle and called back to the Shadowborn woman, "tighten your bowstring, and make sure your quiver is at hand."

"At last!" Deo said, his voice full of satisfaction. He pulled his sword from his back scabbard, glancing around quickly. "Where are they, Hallow? I see naught. Are they visible only to your eyes? That will make it a bit more difficult to smite them, but if you tell me where they are, I will take care of them."

"There's nothing," Hallow said quickly, subduing the various magics that twisted inside him in what seemed to be an endless dance. The arcane power that he pulled easily from the sky even when Bellias Starsong was hidden, as she was now, was as natural to him as breathing. The blood magic that he'd gained during his visit to Eris was a little less natural, its complexity shifting and changing even as the chaos magic roared to life, drenching him with a hot, burning need. The runes etched in silver and bound to his wrists and ankles kept the chaos from overwhelming him, but lately, as his body learned to cope with the three different types of magic dwelling within, the chaos magic's rush of red power had shifted from the urge to destroy to one much less lethal.

Although certainly more embarrassing.

"Allegria," he said, his voice husky with desire. The need to slake suddenly overwhelming urges on her body rode high when the chaos magic chose that outlet for its power. There was a plea in his voice for her to move away from him, to give him the space he needed whenever the chaos took over his emotions.

Not that he often had been successful in quelling its demands by such means. Usually, he just hustled her off to whatever bedchamber had been assigned to them and indulged his desires, leaving them both boneless and sated. And although Allegria had said she understood the situation, and never blamed him when he interrupted her with one of the chaos times (as he'd come to think of them), of late she had started to bandy about the phrase, "my lusty stallion"— not at all a nickname he relished.

He'd always been in control of the magic he wielded, dammit, and he wasn't about to be known as a man who couldn't so much as glance at his wife without being driven to bed her. Vigorously. Sometimes multiple times a day.

"I don't see anything," Allegria was telling Deo, scanning both the tree line and the road ahead. "And the Eidolon I met were quite visible. I don't think they could be in a corporeal state if they weren't visible, could they? Hallow, do you know if—" Her eyes widened, accurately reading the mingled desperation, apology, and sexual desire in his eyes. She blinked for a moment, then gave a little chirrup of laughter that she hid with a hand placed over her mouth. "Oh. I see. It's…uh…no, Deo, get back on your horse. There are no Eidolon here. Hallow was…mistaken."

It was too much for him. He pulled Penn aside, dismounting and dropping the reins with an order for the horse to stay put. "I believe I need to…er…" He gestured toward the woods, unable to drag his mind from the struggle to control the chaos magic's lustful demands.

"Ah?" Deo made a face, then nodded. "Yes, I need to make water as well. Too much ale from the one-legged harlot that you refused to pay."

Hallow would have liked to dispute that comment, but the sooner he removed his body from the temptation of his delectable wife, the sooner he would regain the upper hand with the chaos magic. He stumbled off to the copse, swearing under his breath at the loss of control, promising himself that just as soon as they took care of the Eidolon threat, he would focus his attention on mastering the magic that had been forced upon him. Perhaps new runes? He'd never heard of protection against lustful urges, but he would simply have to search the library of the former master of Kelos for what aids he could find.

Everyone had evidently decided that this was indeed the perfect moment for a nature break, because the sounds of their small company dismounting reached his ears as he pushed deeper into the woods, his hands fisted as he struggled to control the arousal that gripped his entire body. If he could just have a few minutes to himself, he knew he could best it. At least until the next time he felt threatened.

"Hallow?" Allegria's voice wrapped around him like silken threads. Rustling sounds accompanied his name, along with the snapping of twigs. "Are you all right?"

"Don't," he warned, doubled over. His fists pressed hard into thighs while he struggled to leash the chaos that threatened to overwhelm him. One abstracted side of his mind mused over the fact that in recent days, the chaos power was gaining strength. Where once it had lain simmering inside him, controlled by the runes on his wrists and ankles, now it fought him whenever a strong emotion was triggered. "I can't…don't come any closer, else…else…"

"Else you'll make incredibly hot, fast love to me?" Her voice was filled with amusement, even as it stroked over his skin like the softest of silks, making him shudder with want and need and desire, all tangled up with the soul-deep love he felt for her.

He moaned, and suddenly, she was there, her summery scent of flowers in the afternoon sun filling his senses, her hands on his back, stroking him, no doubt intending to convey comfort, but it was too much, all too much.

"Allegria," he snarled, whirling around, his gaze scorching over her body despite the faded and worn Bane of Eris tunic that obscured it. "If you don't want me to pin you up against the tree behind you, and impale you on a penis so hard it could probably be used to take down the tree itself, then you had best run. Now."

She eyed him for a moment, concern making the gold flecks in her ebony eyes glitter. Then suddenly she smiled, and without a word, peeled off both the tunic and leggings that covered her lush, long legs, legs that he knew wrapped around his hips perfectly, as if she had been created just for him.

A wordless moan of need escaped his lips. Unable to bear it any longer, he almost ripped off his own tunic and breeches, then lunged, the chaos driving him into action. But his love, his need to give her the pleasure she brought him just by existing, tempered his movements, gentling his actions so that when he suited deeds to words and pinned her against the tree, she was moaning into his mouth, her legs wrapped tightly around him as he plunged into her body.

They didn't last long, but that, too, was common in recent days. Before he'd been forced to consume chaos magic, he had preferred to pay lengthy homage to her body before allowing himself release; now it was simply a matter of trying to bring her pleasure before he lost all control.

"I have to say," Allegria noted a few minutes later, when he let her slide down his body until her feet were once again on the ground, "I really don't mind your chaos moments. I know you don't like them because you think it's the chaos controlling you, but really, Hallow, that was perfectly splendid. Fast, but splendid. Your hip flexibility is a wonder to behold. And that little twist you did—hoo! If such a thing were not unsavory, I'd say you should hold classes to teach other men how to do that thrusting twist. It was most effective."

He laughed even as he bent to retrieve the clothing that had been strewn on the branches and ground, one half of his mind filled with sated thoughts, the other worried that his need for her was growing stronger each day. "I appreciate your wishing to share the twist—which was inspired by the very same twist you used when you rode me last night—but I would have no idea what to charge for such a class, let alone where I would hold it. My heart, I didn't hurt you, did I?"

He asked the last when she grimaced while lifting a foot to pull on her leggings, making quick work of the cross ties. "Not at all, although if we have very many more of the false alarms that kick your chaos magic into a blaze, I will end up walking funny. I grimaced because I had a twinge in my posterior. All that time sailing has weakened my saddle muscles."

He gave her a quick leer as he finished dressing, calling out an answer when Deo bellowed impatiently for them before saying, "I will be happy to massage your abused parts later, but if I tried it now, we'll both be walking funny."

She took his hand as he led her through the woods back to the road, casting him a glance that turned from amusement to concern. "We'll figure out something, Hallow. I'll talk to Deo about adding more runes to the cuffs. Mayhap that is all that is needed."

"Mayhap," he said, but he had a feeling it was going to take more than a few extra containment runes to push the chaos back to its dormant state.

* * * *

It took them two days to ride to Kelos, but the rune that Deo recommend. . .
We hope you are enjoying the book so far. To continue reading...
Shadowborn
Katie MacAlister
Copyright © 2023 All Rights Reserved