Book info
Sample
Audiobook
Media
Author updates
Lists
Synopsis
A chuckwagon cook who's also deadly with a pair of six-shooters, Dewey "Mac" Mackenzie is a man who has no qualms filling men's bellies with food—or lead. Finally cleared of a crime he didn't commit, he's able to enjoy the fruits of his labor on the trail without looking over his shoulder. But even his best served grub can be spoiled by those with evil appetites . . .



After traversing California and finding nothing much to his liking, Mac Mackenzie is heeding his heart's call to return to Texas. Lucky for him, a group of cowboys heading for the Lone Star state need someone who knows their way around a chuckwagon. Their previous cook's temper boiled over during a saloon brawl and ended up in jail. With no love for the cook—or his food—the cowboys just want to head home peaceably, share some quality meals with good company, and give their boss the small fortune they're carrying from the herd they sold.



Otis Bradley knows he's no gourmet, but that's no excuse for his fellow cattlemen to leave him rotting behind bars. He still earned his share of the payroll for this time on the trail—and after befriending outlaw Stack Ketchum, Otis has a gang of gunfighters ready to dish out some revenge in exchange for the loot. But they haven't reckoned with the likes of Mac, a man who will settle their hash—raw and bloody . . .
Release date: November 29, 2022
Publisher: Pinnacle Books
Print pages: 304
* BingeBooks earns revenue from qualifying purchases as an Amazon Associate as well as from other retail partners.
Listen to a sample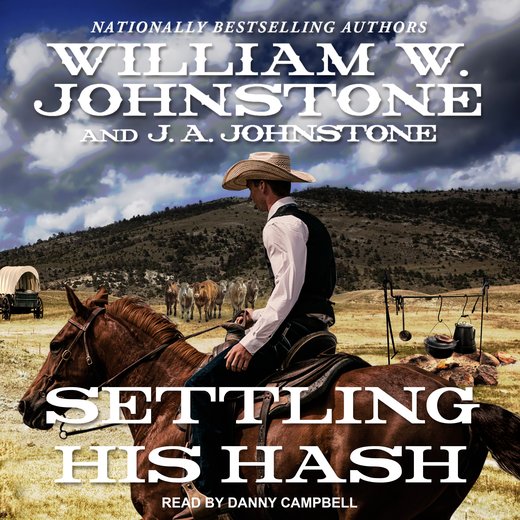 08:17:32
227.77 MB
August 30, 2022
Tantor Audio
2022
Settling His Hash
William W. Johnstone
Dewey "Mac" Mackenzie couldn't make up his mind whether to feel bitterly amused or just plain bitter. Either way, it came down to years of chasing a goal, practically an obsession, and then, when having finally attained it . . . having it turn out to be a big disappointment.

California.

That had been the goal. The dream. The place where Mac had figured he'd put all his past troubles behind him, lay them to rest, and start building a new life and a solid future. As it turned out, a big part of his past trouble, in the form of a polecat named Pierre Leclerc—the schemer responsible for stealing Mac's fiancée, framing him for a murder, and causing him to flee Louisiana—had been taken care of in a Montana mining settlement called Rattlesnake Creek. Leclerc had ended up dead, but not before his conniving ways and his own responsibility for the murder Mac had gotten framed for were exposed in front of witnesses.

Mac could have returned to Louisiana at that point, with those witnesses willing to testify on his behalf in order for him to try to reclaim all he'd been cheated out of. Instead, he'd decided there was nothing in Louisiana worth going back for, other than having his name cleared. The testimony of others could accomplish that with or without him. So he'd entrusted the necessary folks to handle that task while he proceeded with his dream of making it to California.

Once there, however, it wasn't long before the dream began to fray and then gradually unravel.

He entered at the state's northern end, after crossing through Idaho and a corner of Oregon. He found the people friendly enough, but the weather was dismally rainy and damp all the time. Along the coast, after the initial awe of seeing the mighty, endlessly rolling Pacific, he found himself feeling ill at ease and out of place. This was especially true during the time he spent on the docks of San Francisco.

When he worked his way south, conditions swung to the other extreme, and everything became miserably hot and dry. Again, the people were friendly—especially the dusky, beautiful señoritas—but none of it added up to a place that made him want to stick and put down roots.

The very thing that first caused him to think of California as a destination for escaping the troubles that had chased him out of Louisiana and put him on the drift to begin with turned out to be another dashed hope.

While Leclerc had been dealt with, and his poisonous lies were being revealed and crushed back where they had originated, the numerous circulars the damnably determined Frenchman was responsible for spreading far and wide, offering a generous dead or alive bounty on Mac, remained scattered across the western frontier, including California. Though a general recall had been issued, the word was slow reaching every distant corner. Which meant there were still those who, upon recognizing Mac, saw him as the chance for a big money return on the investment of a bullet. As he made his way down the length of the Golden State, Mac more than once was forced to dodge close calls on account of this.

And then one day in the sleepy little town of Rio Cisco, just off the north end of the Temescal Mountains, it all came to a head. Mac had arrived there riding guard on a string of freight wagons delivering goods from Los Angeles. He had understood from the start it was only a one-way job, meaning he'd be welcome to return with the off-loaded wagons if he wanted, but the freight boss, Kruger, could promise no further need of his services right away.

This was an arrangement that suited Mac okay since he had no desire to go back to Los Angeles, anyway. He reckoned Rio Cisco would do well enough as a point from which to take aim at some new pursuit. Which wasn't to say, however, he was in any particular hurry to head out. Especially not with a pocketful of wages and no clear notion what it was he intended to do next. So, to help ponder out an answer, Mac set his sights on a nameless yet inviting-looking little cantina he'd spotted on one corner of the town square.

At the hitch rail out front, he tied his horse, a deep-chested paint he'd come to call Pard in recognition of the animal having carried him and been his loyal companion all the way down the length of California, not to mention over several states and many miles prior, and went inside. The interior was smoky and dim and, thanks to its thick adobe walls, several degrees cooler than the baking air outside. The tangy aroma of fried meats and spices filled his nostrils.

Mac walked to a plank bar spread across the back of the room. He moved with the measured stride of someone always alert, always aware of his surroundings. A young man of average height with a solidly muscled frame, he retained a boyish handsomeness in spite of exposure to long hours of sun and wind, which had weathered and hardened his face some. His attire was the kind of standard range garb he had got used to wearing on the various cattle drives he'd worked as he made his way up through Texas, Colorado, and eventually to Montana.

At the bar, he laid his Winchester Yellowboy flat across the plank in front of him, lowered his elbows just behind it. The repeating rifle had been supplied to him when he signed on to guard the recently completed freight haul. He liked the feel and balance of it so well that he'd negotiated keeping it as part of his payoff from Kruger. He was aware that carrying it with him now might seem like a showy display, but the truth was that he simply hadn't yet had the chance to pick up a saddle scabbard for it. He planned to do so before leaving town.

Although he would balk at considering himself a "gun man" of any significance, there was no getting around the fact Mac had succeeded in surviving a number of confrontations over recent years only by relying on firearms.

His standard weapon was a Smith & Wesson Model 3 revolver that had even more miles on it than him and Pard. It was the only thing his father had ever left him, and he wore it tucked in the belt of his pants, never feeling comfortable with a gun belt and holster strapped around his waist. This was something of an unconventional choice, but it had served him well enough.

Mac wasn't quite sure what had brought about the yearning to hang on to the Yellowboy, too, other than knowing whatever lay ahead was bound to take him on the drift once again, likely into wild country. So maybe some gut instinct had kicked in to suggest it was time to give the Model 3 a little backup.

"What can I serve you, señor?" asked the plump middle-aged Mexican woman on the other side of the bar. She had a perfectly round face, a genuinely pleasant smile, and lovely almond eyes.

"A cold beer, for starters," Mac told her. Then, because he hadn't eaten lunch yet, he added, "And what kind of food do you have to go with that pleasant aroma I smell?"

The woman's smile widened. "Enchiladas and refried beans. And you will find it tastes as good as it smells."

"Then bring on a plate of it to go with the beer."

When the woman asked if he would rather sit at a table, Mac told her no, his spot at the bar would do fine.

After his beer came and he'd drained half the mug of cool, crisp brew in one thirsty gulp, he turned partway around and made a more leisurely survey of his surroundings. As he'd noted upon first entering, the place wasn't doing much business during this lull time of the afternoon. At a table over in one corner, two old men sat playing dominoes and sharing a bottle of wine. At the far end of the bar, a pasty-faced, weary-looking man in a frayed, dusty business suit—a none too successful drummer of some sort, Mac guessed—was silently, methodically working his way through his own plate of tortillas. That was it; otherwise, except for Mac and the woman behind the bar, the joint was empty.

Yes indeed, Mac mused, all the makings for a good spot to have a meal, have a couple more beers, and map out some kind of plan for what course he'd set from here. Come to think of it, maybe he should change his mind and take a seat at one of the cantina tables, where he could sit more comfortably while he rolled things around inside his head.

He was still considering this when the front door opened and three men walked in.

After glancing around, Mac quickly saw that he knew the trio entering amidst a wash of hot outside air. Lester Riley and the Buchwald brothers, Clyde and Clem, three of the teamsters he'd rolled into town with. Their eyes fell on him right away, and they moved toward him. Mac was ready with a grin and a greeting.

"Hey, fellas. Doggone, you made quick work of getting those wagons unloaded."

"Not quite. Not all the way," responded Riley, sauntering a half step ahead of the brothers. "Too blasted hot out there to be in a big hurry with anything."

"You can say that again," agreed Clyde, the older of the Buchwalds. "The beaners hereabouts got the right idea with that siesta thing they make a habit of."

His brother, Clem, bobbed his head. "That's right. Takin' it slow and easy when the afternoon heat lays on you the heaviest, that's the only way."

"In that case," said Mac, "let me help you take it easy by offering to buy the first round. I can testify they serve some real good beer here."

"Long as it's cold. That's the main thing," Clem said.

The men bellied up to the bar on either side of Mac, Riley to his right, the Buchwalds to his left. As they were settling into place, the Mexican woman reappeared with Mac's plate of food. When she set it in front of him, he said, "Gracias, señora. Now how about lining up some beers for my amigos and another for me, por favor?"

The woman smiled and went to fill some glasses.

Clyde Buchwald cast a sidelong scowl in Mac's direction. He was a tall, lanky number with a V-shaped face, perpetually squinted eyes, and a pencil mustache above a thin-lipped slash of a mouth. "You toss that Mex lingo around pretty handy, don't you?"

Mac shrugged. "You just heard the extent of it. Please, thank you, and I know the difference between señora and señorita. That's got me far enough to have some luck, on a few occasions, at saying please to a pretty señorita and then having cause to say thank you afterwards."

Clyde grunted. "I can't argue the beaners turn out some mighty pretty gals. But that don't mean I'm gonna change the way I talk to get next to any of 'em. This is America, by God, and I speak only American."

"Siesta," Mac said.

Clyde looked puzzled. "What?"

"A minute ago you said you liked the idea of a siesta in the afternoon heat," Mac pointed out. "That was you speaking Mexican. By the way, that makes one more word I know, too. Siesta."

On the other side of Clyde, his brother couldn't hold back a sort of honking chuckle. "You walked right into that one, brother. Dogged if you didn't!"

Younger than Clyde by a couple of years, Clem had the same lanky frame, squinty eyes, and narrow face, though his was a bit more rectangular and minus any attempt at a mustache. His most notable feature was a long nose with a bladelike bridge and a bulbous tip that flared out suddenly like a bubble. This apparently accounted for the faint honking tone discernible in many of the words and other sounds that came out of him.

Spurred by his brother's remark, Clyde aimed a fresh scowl at Mac. "Seems to me you go out of your way to be annoying sometimes, Mackenzie."

Before Mac could reply, Riley spoke up. "Hey, take it easy, Clyde. The kid was just needling you a little. And like Clem said, you walked right into it."

Riley was a beefy, florid-faced man some years older than Mac and the Buchwalds. His voice had a booming quality and he tended to sound like he was issuing commands, even in casual conversation. And when he spoke, he displayed a set of oversized teeth that made Mac think of rows of tightly spaced tombstones.

The bartender cut the tension by returning with glasses of foamy brew, which she lined up in front of the men. "Can I get you gentlemen anything else?"

Glad for the interruption, Mac said, "Maybe these gents will want some vittles, too." Then, glancing to either side, he asked, "How about it? You fellas can't have had lunch yet, right? Might as well slap on the feed bag while you're taking your break. Ain't had a chance to try my own order yet, but by the look and smell of it, I'm betting it's gonna be right tasty."

Riley paused with his glass raised partway to his mouth. Frowning, he said, "Tempting as that sounds, reckon we'd best hold off for now. The thing is, see, old man Kruger don't exactly know we took a notion to step out of the heat for a spell. He's still clearing invoices with the town merchants. He finishes that and finds out we ain't done unloading those wagons yet, he's liable to get his nose bent out of joint."

"Guess that makes me the lucky one for not being on the clock no more," said Mac. "Although that also means I got no job no more, so in the long run it sorta evens out."

"Yeah, about that," grunted Clyde, lowering his glass after downing a big gulp of its contents. "We just heard how you called it quits with Kruger. Was you gonna haul off and ride away without even sayin' good-bye to the rest of us after bein' part of our crew these past days?"

Mac shook his head. "No, that wasn't what I had in mind at all, Clyde. I knew you boys would be in town for the rest of today and tonight before rolling out tomorrow to return to Los Angeles. I figured I'd run into you again before then and have the chance to say good-bye. As for me, I ain't in no particular hurry to be riding off. Don't even know for sure which way I'll be heading when I do."

"Any direction but Louisiana, right?" said Clem from the other side of his brother.

His tone was totally casual, but Mac had no trouble immediately recognizing what was behind it. Nor did he have any trouble recognizing the warning tingle that suddenly trickled down his spine like a cold droplet falling from the tip of an icicle.

Straining to keep his own tone casual, Mac glanced over and said, "Louisiana, Clem? Why would you think that might even be an option?"

All at once Clem appeared very uncomfortable. Not just due to Mac's question and probing look, but also because of the glare Clyde had turned his head to aim at him. What was more, Mac had a hunch, Riley was likely joining in, as well.

Clem licked his lips and said stammeringly, "Well, I, uh . . . what I meant was . . . Well, you bein' from Louisiana and, uh, havin' stayed away all this time already . . . I guess I figured you must have some reason for not wantin' to go back."

"Who said I was from Louisiana to begin with, Clem?" Mac prodded.

Clem blinked. "Well . . . ain't you? I . . . I heard it somewhere. I guess it must've—"

"Knock it off!" Mac cut him short, his words ringing sharply. He'd been through this too many times in too many places. He was damned sick of it and in no mood to allow this faltering new attempt to play out any farther. Raking his eyes first over both of the Buchwald brothers and then snapping his face around to brand Riley with a blazing look, Mac snarled, "If this is about that damned reward poster, then spit it out and let's get to the bottom of it! I'll tell you right now you're in for a big disappointment, and if you try to crowd me over it, you'll be biting off more trouble than you can chew."

Riley's lips peeled back, and he flashed those big square teeth in a wide sneer. "That's awful big talk from somebody who's looking at three to one odds."

"I'm telling you straight, and to hell with the odds," Mac countered. "The first thing you need to know is that the skunk who issued that reward is dead, so there's no longer any money behind it. The rest is that the charges he based it on have been proven false."

"Says you," Clyde said.

"I can give you the names of several different legal authorities who'll be willing to confirm by telegram that what I'm saying is the truth."

Now it was Clem's turn to show a sneer. "That's real convenient, seein' how there ain't no telegraph office in this town nor any other for at least twenty miles."

"That's your tough luck," Mac responded.

Clyde shook his head. "No. I say it's the other way around. If you ain't got no way to back up your claim, then that's your hard luck. And if you think we're just going to take your word on how things are, it's you who's in for a big disappointment."

"There's a simple solution," Riley spoke up. "You stick with us when we head out tomorrow, like we been figuring all along, ever since Clyde here recognized you from that reward poster. We were going to wait and turn you in when we got back to Los Angeles. But now, based on what you're telling us, we'd be willing to stop at the first telegraph we come to and give you the chance to make good on your claim. If you're right, no hard feelings. . . If you're lying, then we haul you in like we counted on and make ourselves a tidy sum of money."

Mac cocked an eyebrow. "And until it gets sorted out, I'm supposed to cooperate and basically be your prisoner. Is that the idea?"

"That's one way of lookin' at it," said Clyde. "Another idea to keep in mind is that the reward poster says, Dead or alive. If you decide to try to buck against Riley's offer, I'm willin' to gamble on you bein' a liar and go for the payout by haulin' in your carcass, if that's the way we have to do it."

"In that case," Mac said, his voice tight, "I guess I don't have much choice."

Riley gave a curt nod. "That's playing it smart."

The problem was what Riley and the Buchwalds figured to be the smart play for Mac was a lot different than what he saw as the only real choice he had. Deciding there was no sense wasting any more time over it, Mac seized the Yellowboy laid out before him in both hands, lifted it just a few inches off the bar top, and then thrust it hard to his right, driving the butt end straight into Riley's rib cage. Over the crack of bones and the rush of breath pounded out of him, the florid-faced man expelled a roar of pain as he bent sharply to one side and went staggering away, until he crashed into a nearby table and its surrounding chairs.

Still gripping the Yellowboy in both hands, Mac twisted at the waist and whirled hard and fast to his left, bringing the rifle butt around with him in a flat arc and this time smashing it into the surprised expression on Clyde's face. The older Buchwald's head snapped back, blood and bits of broken teeth flying from his mouth. He staggered backward a step and a half before toppling flat onto the floor.

By the time Clyde landed, Mac had readjusted his grip on the Yellowboy and was now holding it aimed level and steady on Clem, the only still standing member of the threatening trio. Clem's face also showed surprise at the sudden turn of events, but he'd managed to work some anger into it, as well. His clawed right hand was reaching for the six-shooter holstered on his hip. But the reach halted as soon as Clem's eyes locked on the rifle muzzle staring back at him.

"I took it easy on the other two," Mac told him through gritted teeth. "But don't make the mistake of thinking I'll hesitate to use the business end of this Winchester if you try to push your luck."

Clem lifted his right hand away from the gun and, along with his left, raised it to shoulder level and held both of them palms out. "No need for that. I believe you," he said. "I'll give you no call to pull that trigger on me. I'm done with this whole business."

Old man Kruger had worked himself into such a frenzy that his face looked red and bloated, like a boiled tomato ready to burst out of its skin.

"You can't leave me in a lurch like this! You busted up two of my best men so bad they can't handle their teams. I got to get those wagons back to Los Angeles right away in order to satisfy the hauling jobs I already have lined up!"

Mac put as much sympathy as he could muster into his tone as he said, "Sorry for the hard place you find yourself in, Mr. Kruger, but I fulfilled any obligation I have to you. And thanks to your three idiot teamsters, I've worn out my welcome around here and need to be moving on before the local lawman returns from his fishing trip."

"Yes, by all means that's what I'm talking about, too," Kruger said eagerly. "Moving on, heading out once again with us—this time driving one of the wagons. I'll pay you double my regular teamster wages, and I'll vouch for you to clear up any issue with the town marshal. I know him from my previous trips here."

Mac shook his head. "Thanks, but no thanks. I got no intention of going back with you, especially if you figure on taking those three along."

"There's no kind of doctor in this town. I've got to get Lester and Clyde someplace where their injuries can be properly treated." Kruger's sweat-beaded brow puckered with anguish. "They're my employees. I owe them at least that much."

"That's real decent of you, Mr. Kruger. In your place, I guess it's the responsible thing," Mac allowed. "But me, I don't give much of a damn about proper treatment for those jackasses. They were ready and willing to put a bullet in me over a lousy piece of paper with a pack of lies printed on it. They're lucky I didn't do more than just bust 'em up."

This conversation was taking place on the edge of the street outside Rio Cisco's largest general store, where Mac had just finished stocking up on some trail supplies before heading out of town. Pard stood waiting patiently at the hitch rail. Kruger had caught up with them here, hurrying up as Mac was getting ready to plant one foot in a stirrup and swing into the saddle.

"But if that reward poster Clyde got hold of is false—and you say you can prove it is, as soon as we get somewhere with a telegraph office—then the whole matter will be put to rest. Right?"

Mac twisted his mouth ruefully. "The whole mess should have already been put to rest. But it keeps cropping up. One of these times there's the risk it might be in the hands of some out-of-touch, trigger-happy fool who takes the notion it'd be easier to shoot first and worry about confirming things later. This latest go-round with Riley and the Buchwalds has about got me convinced that my best bet is to plain steer clear of people."

"There are people everywhere, Mackenzie."

"Maybe so. But there are places where they're a lot sparser than others. And Los Angeles sure ain't one of 'em."

Mac toed a stirrup and pulled himself up onto Pard's hurricane deck.. . .
We hope you are enjoying the book so far. To continue reading...
Settling His Hash
William W. Johnstone
Copyright © 2022 All Rights Reserved
Also in this series
Also by this author