Pivot
As girls, they bonded over broken homes and growing up in foster care.
Book info
Sample
Audiobook
Media
Author updates
Lists
Synopsis
As girls, they bonded over broken homes and growing up in foster care.
As women, they're fighting for their lives, and loves, once more . . .

MERI
When Meriwether Jones takes her young daughter and runs from trouble in L.A., that trouble follows. By the time Meri reaches Spokane, she's out of gas, money, and ideas. Luckily, ex-cop Ian Brodie hires her to help him with his father's farmhouse, and they seem like the answer to each other's prayers. But Meri is keeping a dangerous secret—and Ian is in danger of losing his heart . . .

MELANIE
That secret explodes when Melanie Cassidy spots two men trying to kidnap a young boy she tutors and responds by ramming them with her car. The last thing she expects is for the man she once loved, Detective Gray Hawkins, to appear and rescue them both. Now she has no choice but to trust him as they investigate the truth about a conspiracy of dirty, drug trafficking cops—and the truth about their relationship . . .

MICHELLE
After a rough youth, Michelle Peach was finally content in Portland—until two men broke into her home, threatened her, and sent her mentally unstable mom on a blackmail spree that Michelle has to stop. The last person Michelle wants to see is her ex, Evan Boldon, a former marine turned sheriff. But Evan misses the woman who walked away instead of letting him help years ago. This time he's not asking permission; he's going to put a stop to the trouble stalking Michelle and her friends—and win her heart for good.
Release date: March 31, 2020
Publisher: Kensington
Print pages: 369
* BingeBooks earns revenue from qualifying purchases as an Amazon Associate as well as from other retail partners.
Listen to a sample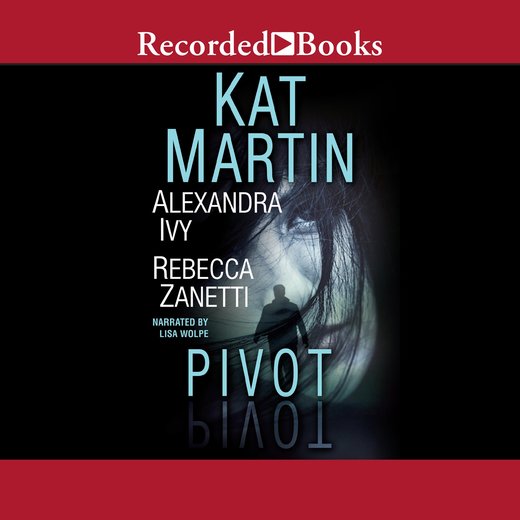 09:23:49
258.11 MB
March 31, 2020
Recorded Books
Pivot
Rebecca Zanetti
Chapter One
"This isn't enough, dammit! Come on, Meri, I know you've got that money squirreled away someplace and I want it. If you know what's good for you, you'll get it for me now!"

Meriwether Jones forced herself to stay focused on Joey Bandini's face and not the escape she was planning to make, not the car, packed and waiting for her and her daughter in the parking garage under her apartment.

"I don't have any more money, Joey. Mrs. Vandermeer wasn't a wealthy woman."

"Bullshit. Besides what she had in the bank, I bet that old biddy had money stuffed in her mattress."

"She had some savings when she died, and she made sure I got the money. But it wasn't all that much." And what she'd had was almost gone. Mrs. Vandermeer had been her foster mom. As the woman grew older, Meri had become her caregiver. As soon as Joey had seen the older woman's obituary in the paper, he had reappeared in her life. He'd been harassing her, demanding money, certain Mrs. Vandermeer had left her a lot more than the small inheritance she'd actually received.

Meri had paid him, hoping he would leave her alone. Instead, she was out of cash and Joey was still the bloodsucking leech he'd been before.

When she'd checked her savings that morning, she'd had five hundred dollars put away for the trip: four hundred in twenties in her wallet and an emergency hundred-dollar bill tucked into the hideaway spot behind her driver's license.

Then Joey had appeared at her door, grabbed her purse, and stolen all the cash, leaving nothing but her credit card with a three-hundred-dollar limit, and her hideaway hundred-dollar bill.

She looked at Joey, who kept counting the twenties over and over as if they might multiply in his hand. "Four hundred bucks? That's chicken feed. I know she left you plenty. Where's the rest, Meri?"

"I got eight thousand total, Joey, just like I said. I spent some of it taking care of Lily. Most of it I've given to you."

"I told you to cut the crap. You've still got plenty and I need it. If you don't get it for me, you know what's going to happen."

A chill slipped through her. He was going to find a way to get to Lily. He had threatened to take her daughter away from her—one way or another.

"Leave Lily alone."

"You want me to leave her alone? Get me that money."

Meri looked at Joey. Five years ago, the night she had met him, Joey Bandini, with his dark hair and long-lashed blue eyes, had been amazingly handsome. If she didn't know him the way she did now, maybe she would still think he was.

But Meri saw the destruction his alcohol and drug abuse had caused, the slackness in his features, his pale skin, and the hollows in his cheeks. She knew he was a lowlife who would do anything to get what he wanted.

She took a calming breath. "Okay, I'll get you the money. But the bank is closed on Sunday. I won't be able to get the money until tomorrow." It didn't matter what she told Joey. She wasn't going to be there when he came back to collect. "Meet me here at noon. I'll have the money for you then."

"I'll be here at eleven and you better have at least a couple of thousand. You don't, Lily comes with me."

Meri suppressed a shudder. It was hard to imagine that the man standing in front of her was Lily's father. Amazing how just one night—one stupid night—could change your life forever.

"I said I'd get you the money. Now get out of here and leave me alone."

Joey tucked the roll of twenties into the pocket of his black leather jacket. "Tell Lily her daddy sends his love."

Turning away from Joey's grinning face, Meri walked back into her apartment and firmly closed the door. Trembling as she stood at the window, she watched until Joey and two of his no-good friends got into Joey's beat-up Ford and disappeared.

Unfortunately, tomorrow they'd be back for the money she didn't have. Her girlfriends had tried to get her to call the police, but Meri didn't trust the cops, hadn't since she was a teenager, shunted from one foster home to another. Back then, a lot of her problems had been her own fault, but even now, trust didn't come easy.

And the hard truth was, Joey was Lily's father—DNA would prove it. Meri didn't know what the police might say about that and she wasn't sticking around to find out.

"Lily, honey, come on. It's time for us to leave." Her four-year-old daughter came running out of the bedroom. Lily had the same dark hair as Joey, the same blue eyes, but any other sign the two were related was in Joey's drug-hazed brain. "Go get your travel bag and let's go."

"Okay." Lily raced back to her bedroom and grabbed her red wheeled bag with a ladybug on the front. Meri grabbed the handle of her carry-on. The bags were the last two items she needed to load into the car.

In minutes she was on her way, driving her old, reliable Chevy Malibu out of Riverside, then hitting the I-15 freeway heading north. Though she had a possible destination in mind, with her money now mostly gone, she would have to be flexible. She wasn't completely sure where she was going to end up, just somewhere out of California where Joey couldn't find her. The I-15 was closest to her apartment. She could change the route as she went along. It didn't really matter. As long as she wound up somewhere Joey couldn't continue to harass her and Lily.

She was on her way as far as the money in her wallet and her credit card would take her, on her way to a life somewhere else.

Meri just prayed wherever it was, it would be far enough away to disappear.

Ian Brodie took the Argonne Road exit off the freeway, east of Spokane. The road took him north, into the open Washington countryside. It didn't take long to reach the rural, ten-acre property where he had been raised, the two-story farmhouse his father had been living in for the last thirty-five years.

He pulled his dark green Jeep Cherokee up in front of the white two-story, wood-frame structure and turned off the engine, just sat there for a while. He'd moved out right after high school, gone to college in Seattle where he'd majored in police science, then become a cop with the Seattle PD. He'd left that profession years ago, taking a job as a private investigator for one of the local security firms. Now he owned his own very successful business in Seattle, Brodie Security, Inc.

As busy as he was, Ian didn't get back to Spokane all that often, hadn't seen his dad in nearly two years.

Guilt slipped through him. He should have returned a lot sooner. But since his mother had died five years ago, his father had changed. Daniel Brodie was little more than a shell of the man he'd once been. These days he was bitter, sour, and most of the time, downright unpleasant.

Ian looked at the wood-frame house. The place had deteriorated since the last time he was there. The white paint on the door was peeling, the front yard needed mowing, the rain gutter above the porch was hanging loose. He had figured the house would be badly in need of repair and had taken two weeks off to get the work done.

He had called his father, a little reluctantly since he was afraid his dad would tell him to stay away.

Climbing out of the Jeep, he headed for the door, trying to ignore the dread churning in his stomach. The front door was unlocked, the way it always was. Daniel Brodie didn't believe in locked doors. Ian had tried to tell him that times had changed, but his dad refused to listen.

Daniel Brodie lived in the past and it looked like he always would.

Ian walked into the house, calling his father's name. "Dad! Dad, it's me, Ian!"

"I'm in the den!" his father yelled back, not bothering to come out and greet his only son. Ian steeled himself and walked in that direction.

Only one set of curtains had been opened in the living room, which was dark and smelled airless and musty. The furniture hadn't been moved or cleaned since before Ian's mother had died, the same burgundy overstuffed sofa, same maple coffee table, same crocheted doilies on the tables and the arms of the chairs, the cotton thread no longer white, but yellowed with age.

As he passed the kitchen the smell of rotten food hit him, making his stomach churn. A stack of half-eaten TV dinners sat on the kitchen counter, along with a three-foot stack of dirty dishes.

Ian silently cursed. The place was a screaming mess, far worse than he had imagined.

He continued into the den, found his dad sitting in his favorite dark brown Naugahyde recliner, his feet up, newspapers strewn all over the floor.

"Hi, Dad."

Daniel cast him little more than a glance. "'Bout time you showed up. How long has it been? Two years? Three?"

"Two years. And you're right, it's been way too long."

His dad grunted. At sixty, his hair was completely gray. He'd been a tall man, six-two, an inch taller than Ian. Now he was stoop-shouldered, his face too thin, and somehow he looked smaller. The white bristles on his cheeks said he hadn't shaved in days.

"You want a beer?" his dad asked. He was watching a football game, blue eyes the same shade as Ian's glued to the screen.

"No, thanks." Ian blew out a breath as he glanced around the dismal room. "Listen, Dad, like I said on the phone, I'm here to help you get the place in shape. I'm going to carry my duffel up to my old room, put on some work clothes, and get started."

His father just shrugged. "Suit yourself. You always have."

Ian let the remark slide. After all, he deserved it. But he was here now and he wasn't afraid of hard work.

Two hours later, when all he'd managed to do was repair the rain gutters around the perimeter of the house and pick up the trash in the yard, hadn't even begun the job of cleaning up inside, he decided he could use some help. There was plenty he could be doing outside while a cleaner put the inside of the place back in order.

There was a supermarket in a shopping center down Argonne Road, he recalled. He hadn't been there in years, but he remembered the bulletin board just inside the door that held cards and notes left by people who were looking for work. They were usually locals, trustworthy folks. He'd start his search there.

Ignoring the unpleasant odors inside the house, he went back into the den. "You need anything from the store, Dad? I've got an errand to run. I'll be right back."

"Get a couple of those TV dinners. We'll heat them up for supper."

Ian's stomach rolled. "I'll get something. I'll be right back." He left the house and stepped outside, trying not to sigh in relief. At least his room was the same as he'd left it the last time he was there. He'd opened the windows to air it out, but the bed was made, the floors clean. A little dust didn't bother him.

Ian slid behind the wheel of the Jeep and headed back down the road to the grocery store. Maybe he'd get lucky and find an experienced woman who could help him get the place in order.

Ian sure as hell hoped so.
Chapter Two

Meri was almost out of gas. Her credit card was maxed out and she was almost out of money. Worse than that, she was almost out of ideas.

"I'm hungry, Mama. Can I have a candy bar?" Lily sat in her booster seat in the back of the old brown Chevy. They'd been stopping at food marts and fast food restaurants along the freeway all the way from California. At the last stop, Meri had bought Lily a chocolate milk and a packaged bologna-and-cheese sandwich. But that had been hours ago.

The child had slept for a while, but she was only a little over four and she was getting tired of the endless driving. They'd traveled over thirteen hundred miles so far.

Meri had a friend in Portland, a girlfriend she'd met at her last foster home. She and Michelle had stayed in touch and Michelle had said there were plenty of jobs in the area. Meri had spoken to her as she had driven north and Michelle had convinced her to head in that direction.

Meri had hoped to make it all the way there, but only a few gallons were left in the gas tank, and she didn't have enough money to fill it. When the fuel light came on, she took the first off-ramp, Argonne Road.

"Mama, I'm hungry."

There was a Safeway up ahead. Food came first. Meri pulled into the parking lot of a small shopping center that included the grocery store, a Rite Aid, and a row of smaller businesses.

Taking Meri out of her booster seat, she took the little girl's hand and headed toward the store. There was only a ten-dollar bill in her wallet, but it was enough for a snack and a small carton of milk for Lily.

Meri started for the door, which opened automatically, and the two of them walked inside. The first thing she noticed was the bulletin board. Dozens of cards and notes had been pinned up there, addresses and phone numbers of people looking for various types of work.

She could do just about anything, from waitressing to secretarial, bookkeeping, cleaning, cooking. She'd even worked as a trainer at a Riverside gym. But even if she left her cell phone number, she couldn't wait around for someone to call. Either she had to keep driving or find a place to stay. Maybe she could find work in Spokane. It wasn't that far away.

She decided to leave her number on a slip of paper just in case, and began digging around in her purse for a pen. That's when she saw him, the handsome blond man with the brilliant blue eyes who was intently studying the board. He was over six feet tall and broad-shouldered. Worn, faded jeans hugged a set of very nice buns. He was carrying a notepad, she saw, jotting down phone numbers.

He didn't look like a serial killer, so Meri took a chance. "Are you looking to hire someone?"

He glanced down at her and she felt a jolt when those cool blue eyes fixed on her face. "Actually, I am. I'm looking for a housekeeper."

"Well, there's a coincidence. I was just getting ready to put my number up on the board. I'm very good at housekeeping."

"It's really more of a cleaning job," he said.

She thought of the ten dollars that was all she had left in the world. "I can do that. I don't mind hard work and I'm very efficient."

Lily tugged on the hem of her T-shirt. "Mama, I'm hungry."

"In a minute, sweetheart." She turned back to the man, desperation mixed with hope. "I'd do a good job for you. I'm a very hard worker."

Those cool blue eyes ran over her, taking her measure. She was five-foot-six, not too short, and after her job as a trainer, she was in excellent physical condition.

"I was really looking for someone older," he said.

"I'm twenty-eight. That's old enough to clean a house."

His mouth edged up. He had a very sexy mouth. Funny . . . she had never thought of a man's lips that way.

"I see you have a daughter," he said. "What would you do with her while you're working?"

Her insides knotted. She really needed this job. "She'd stay out of the way, I promise. She's very well behaved—aren't you, sweetheart?"

Lily started jumping up and down. "I'm hungry. I'm hungry!"

Meri lifted her up and propped her on a hip. "If you'll be good, I'll get you one of those orange-vanilla ice creams you like. But you have to be quiet until Mama finishes talking to this nice man."

Lily started nodding, visions of ice cream dancing in her four-year-old head. "Okay."

Meri set her back on her feet. When she looked at the man, she could read the amusement on his attractive face. "As I said, she's usually well behaved," she said. "You wouldn't even know she was there."

His amusement slowly faded. "I'll be honest, Ms. . . . ?"

"Jones. Meriwether Jones. People just call me Meri. This is my daughter, Lily."

"I'll be honest, Meri. The house is a real mess. It's going to need hours of hard work to get it in shape. I think you'd be better off—"

She caught his arm, stopping him mid-sentence. "I really need this job. I promise, if you hire me, you won't be disappointed."

His gaze traveled from the reddish-brown hair she had braided into two long plaits, paused at the pink T-shirt that read I AM WOMAN, moved down over her jeans to her pink canvas sneakers. He looked at Lily, who stood quietly now, big blue eyes a little lighter than his, staring back into his face.

"All right, fine. You're hired. But my father lives in the place and he isn't going to like having a kid in the house. You have to keep your daughter away from him."

Her heart was thumping. This could be the answer to her prayers. Or at least to her immediate prayer that she could earn enough to get to a city where she could find a real job. "That won't be a problem. He won't even know she's there."

"I guess we'll see."

"How far away is the house?" Meri thought of the Chevy and wondered if she needed to use some of her remaining ten dollars to put a gallon of gas in the tank.

"Not far. Just up the road. How soon can you start?"

Her stomach growled. She'd been feeding Lily, but she was afraid to spend her last few dollars on food for herself.

"If you have something there to make sandwiches, I can start today. In fact, I can start as soon as I get there."

The man pulled out his wallet and handed her a couple twenty-dollar bills. "Get some bread and meat and whatever else you need. You don't happen to cook, do you?"

She started nodding. "I'm a very good cook. I took cooking lessons. For a while I wanted to be a chef."

One of his dark gold eyebrows went up in what could have been relief. He handed her another twenty. "Get something to make for supper. You can eat with us if you want."

Did she want to eat supper with two strangers? Her stomach growled again. Oh God, did she. "It won't take me long. I'll get the groceries and follow you home."

"All right. Fifteen minutes. By the way, my name's Ian Brodie."

"Nice to meet you, Mr. Brodie."

"Ian works."

"Nice to meet you, Ian. We'll be right back." Grabbing her daughter's hand, she hurried into the grocery store. Sixteen minutes later, she was through the checkout line carrying three plastic grocery bags of food, out the door into the parking lot.

The bad news was, there was no sign of Ian Brodie.

Ian sat in his Jeep waiting for Meriwether Jones. He should have hired someone else. Some big strapping brute who could tackle a dirty job like the one in his father's house. But Ian was a sucker for a woman in trouble, and he'd been a cop long enough to know this one surely was.

He could read the desperation in her face, and the fact that she was so pretty only made it worse. Along with her mahogany hair, golden-brown eyes, and fine-boned features, she had sexy, feminine curves in all the right places. He'd felt a kick the moment he'd laid eyes on her.

Add to that, she had a kid. Ian had a weakness for kids, and Lily, with her big blue eyes and angelic face, was a real cutie.

He saw Meri emerge from the store, holding on to an armload of groceries, Lily hurrying along beside her. In a pair of jeans, a neon-green T-shirt, and pink sneakers the color of her mom's, the little girl licked an orange 50-50 bar. Meri halted just outside the door, surveying the parking lot in search of him. Even from a distance, he could read the fear in her face.

Opening the car door, he stepped out and waved. "Over here!"

She seemed to sag in relief as she hurried toward him and handed him the grocery bags, which he loaded into the back of the Jeep. She carefully counted back three one-dollar bills, gave him twenty cents in change, and a receipt for the food.

"That's my cell number." She pressed a slip of paper into his hand. "In case we get separated in traffic."

"I won't lose you," he said, looking down at the money she had so carefully returned, a good sign, he thought. "I promise."

Meri just nodded. He watched her as she hurried to her car, loaded Lily into the kid's seat in back, then went around and slid into the driver's seat.

Ian kept the old car in his rearview mirror as he drove back to the house. He wasn't looking forward to the confrontation with his father, but what was done was done.

He'd given Meriwether Jones a job. He didn't know her story, didn't know what kind of trouble she was in. In time, he'd figure it out. Investigating people was what he did. In the meantime she'd be working for him.

Ian hoped like hell he wouldn't regret it.

Meri wrinkled her nose at the smell as Ian held open the front door of a white two-story house surrounded by open fields. Walking past him, she towed Lily into the entry.

"Mama, it stinks in here."

Heat rushed into her cheeks. "That's why we're here, sweetheart. To help Ian get the house cleaned up."

Ian glanced around, rubbing the back of his neck, a little embarrassed, she figured, seeing the house through a visitor's eyes.

"When my mother was alive, it was spotless," he said. "She died five years ago. My dad never really got over it. He isn't much of a housekeeper."

That was the understatement of the year. "You want to show me around?"

"First, let me introduce you. Dad's in the den."

She followed him into a small, wood-paneled room off the hall. An old-fashioned TV was playing a game show, she saw. The room looked like something out of the seventies, with dark brown shag carpet, and a brown vinyl sofa, chair, and recliner.

"Dad, there's someone I'd like you to meet. This is Meriwether Jones and her daughter, Lily. Meri is going to do some cleaning and cooking for us."

He just grunted. "I thought that's why you were here. You said you were going to get the place cleaned up."

"I am. But there's plenty to do outside. Meri's going to take care of the inside."

Another grunt. "Suit yourself. Long as she doesn't come bothering me in here."

Ian turned in her direction. "Meri, this is Daniel."

"Hello, Mr. Brodie." The room was so dim it was hard to see exactly what he looked like. Tall, she figured, since his son was. Silver hair reflected in the light of the TV screen.

He made no reply.

"Say hello to Mr. Brodie, Lily."

She looked up at him, her eyes big and solemn. "Hello, Mr. Brodie."

He pushed the handle down on the recliner and sat up in the chair. "She's got a kid? How's she going to clean while she's tending a kid?"

"We'll let her worry about that," Ian said, heading for the door. "Come on, Meri. I'll give you a tour."

Thankfully, Ian left the den, leading them into the hall and up the stairs.

"The room I'm using is relatively clean and there's a TV in there. Lily could watch cartoons while I show you around."

"That'd be great."

Ian led her into one of the bedrooms. Football wallpaper covered the walls, and there was a full-size be. . .
We hope you are enjoying the book so far. To continue reading...
Pivot
Rebecca Zanetti
Copyright © 2022 All Rights Reserved
Also in this series
Also by this author