Book info
Sample
Audiobook
Media
Author updates
Lists
Synopsis
Perfect for fans of Katee Robert and pulsing with passion, adventure, and paranormal suspense and romance, the latest novel in the New York Timesbestselling Dark Protectors series delivers an immortal alpha male hero with a fated love and an epic destiny …
Love and danger …
For most of his life, Vampire-Demon Garrett Kayrs, nephew of the King of the Realm, has carried a heavy mantle of responsibility with ease and control. Fate declared him heir to the throne, Fortune marked him with the power of the mysterious circle of Seven, and
Chance promised more surprises to come.?Nothing deterred him from his path.?Until the nightmares began—agonizing dreams of having a female, the female, his mate, on the back of his motorcycle—only to have her torn away from his protection.?He feels the
menace around her, the danger she's in, and he can't rest until he finds her …
Duty and desire …
Destiny Applegate bears the weight of her name with a respectful balance of fear and purpose.?She has been given some direction, but not nearly enough to truly understand her duty, what she was born to do.?Even as a child, she had a sense of him. The him, her mate.
A dream moment or two with him that might have saved her—or possibly cursed her.?So now, when he finds her, she has no choice but to jump on the back of his bike and do her best to hold on until she discovers her path—even if that means ending his.
Release date: October 25, 2022
Publisher: Lyrical Press
Print pages: 304
Reader says this book is...: action-packed (1) entertaining story (1) great world-building (1)
* BingeBooks earns revenue from qualifying purchases as an Amazon Associate as well as from other retail partners.
Listen to a sample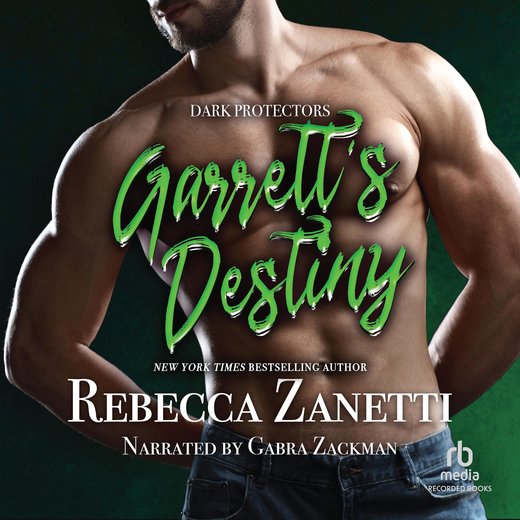 09:53:18
271.61 MB
March 21, 2023
Recorded Books
2022
Garrett's Destiny
Rebecca Zanetti
Chapter One

Garrett Kayrs settled his bulk in the booth, reaching for a glass of beer from the iced pitcher on the table. Raucous laughter poured throughout the diner as motorcycle clubs converged on the way to a festival. Not one he and his brothers were attending, but they were along for the first part of the ride to camp for a weekend.

"Would you stop frowning?" Sam Kyllwood snapped from across the booth, his green eyes showing irritation.

"I'm not," Garrett growled, frowning at his friend.

Honor Kyllwood, Sam's mate, slapped him on the arm. They'd been mated for over three years, and she was definitely one of the best-natured people Garrett had ever met. "You two behave. Garrett, I'm sure you'll find somebody to play with when we get to the campground and, Sam, give him a break. It's the first time we've gone on a ride in years that he hasn't had a female on the back of his bike. He's lonely."

Sam cut the pretty woman a look, his powerful body protecting her since he'd positioned her next to the window. "The last woman he dated tried to rob you—at knifepoint."

Honor chortled. "Yeah, but I kicked her ass. Those training sessions have gone well."

Garrett hid his grin. She was correct. He'd been searching for the right female to ride behind him for years, consumed by the quest, and he hadn't found her. Prophecy claimed she'd be dangerous, even deadly, and would probably try to kill him. It was time to get on with it.

The beast inside him, one that had slumbered beneath the surface for so long, was now stretching awake. Pissed off and ready to kill. At least now he had a job to do when they arrived at the campground.

The outside door opened, and a vision walked in. Well, more like the girl next door. She wore a frilly green blouse, white capri jeans, and sexy tan wedges that showed off her dainty pink toenails. It was autumn, and she should have been wearing a jacket. A slouchy bag looked heavy over her fragile shoulder. Her auburn hair curled down her back, and an air of pure irritation emanated from her.

Looking like an indignant kitten, she stomped right into the middle of the diner, next to Garrett's table, not seeming to realize she'd walked into a den of wolves.

The man behind her definitely noticed. Young, slick brown hair, pressed beige pants, and thousand-dollar loafers on his feet. He looked around at the various motorcycle club members sitting in different areas of the diner, all hungry, all possibly dangerous. "Let's get out of here," he muttered.

The kitten turned, her hands going to her waist. The scent of something fresh and sweet wafted from her. What was that? "You just don't get it." She leaned toward the man, anger turning her peaches-and-cream complexion into cherry-blossom pink. "The answer was no." She swept out her arms. "The answer is no." She clapped her hands. "The answer will always and forever, until the time of the rapture, be no." She threw her arms up. Then she shook her head. "I quit."

The man reared back. "You can't quit."

"I just did," she sighed. "I'm out. I'm not finding what I need in this job anyway." She nodded, her shoulders stiff in the flimsy blouse. "I'll send your father a nice email later today tendering my resignation. Please extend my gratitude to him for the employment opportunity." She turned away from him.

The man made the mistake of grabbing her arm.

Garrett was up in a second, towering over them both. "Let. Go."

The man jerked back as if he'd been punched in the gut.

A slight gasp came from the kitten.

Probably one of pure terror. Oh, Garrett knew what she saw. He was six and a half feet of raw muscle in a torn and dirty black motorcycle club jacket, with shaggy hair to his shoulders, a couple of bruises across his jaw, and cracked knuckles he hadn't bothered to heal after a fight the night before.

He cut her a look and then rocked back on his heels.

Her crystal-clear blue eyes were full of delight…and wonder. "You," she whispered, reaching out to touch his whiskered jaw. Her tongue darted out to lick her luscious bottom lip. "It's you." She tilted her head, adoration in her liquid gaze.

The touch shot straight to his balls, making him throb in a way he hadn't in years. He growled low.

Then she withdrew.

"No." He didn't know what he was denying, but he didn't want her to stop looking at him like that. Nobody in his entire life had looked at him like that. With adoration, need, and…hope? More than anything, he wanted that touch again.

The blush blossomed into full-on rose, and she clapped her hand against her bag. "I, ah, um, I'm sorry." She frowned. "That was, well, that was…" She looked around, no doubt noticing that every gaze was focused on her. She shrugged delicate shoulders and looked up at him as if forcing herself to meet his gaze. Black lashes, natural and thick, enhanced those incredible eyes. "I apologize."

"Let's go," the man said, backpedaling toward the door.

She frowned at him. "No. Go away, Aster. I'll find my own way home."

Aster looked around, paling. Then the asshole left the kitten in the den of wolves.

Her hands fluttered together. "Oh. Well." She caught sight of the empty row of barstools at the counter and started to move that way.

"No." Garrett angled his body just enough to stop her. He was at least a foot taller and a hundred or two pounds heavier than she was, basically making him a solid wall. "How do you know me?" There were many bounties on his head, but there was no way the kitten was a bounty hunter. He could read people well enough to know that.

She glanced down at his monstrous boots and took a deep breath before looking up and meeting his gaze. "I don't know you." Then she smiled, and sure as shit, it was like the sun had appeared over the mountains after the rainy season. "That was weird, and I apologize. There's no way I could know you, correct?"

"Right." He grasped her arm, careful not to bruise her. "You're sitting with us."

"No, I—"

He nudged her into the booth, putting his body between her and the rest of the bikers in the place.

It was time for some answers.

* * * *

Well, she'd just gone and done it now, hadn't she? Dessie settled into the booth, her entire right side warmed by the man sitting next to her. Make that the formidable block of muscle sitting next to her. Would it be weird if she asked him to remove the tinted glasses covering his eyes? "You're the highwayman a'comin," she whispered.

"I like poetry as well." Why did that sound like a threat from him? How could he be real? He couldn't be. It wasn't really him.

When he lifted one finger, a waitress came out of nowhere so fast her thighs hit the table. "Yes?" she asked breathlessly, her ample breasts straining against her black tank top.

He didn't seem to notice but instead turned his head slightly to Dessie. "Order."

She gulped. Order? She didn't have enough money for lunch as well as a ride home. "I'm, um, I'm not hungry." Her stomach rumbled, but quietly enough she was sure nobody heard it.

Now he turned his head all the way toward her, and even through those glasses, she could feel his intent. His hair was dark, with some natural highlights that showed he spent time in the sun, and his facial features were rock-solid angles that tempted a girl to run her fingers across the masculine bone structure. "Don't lie to me again." Her body wanted to back away from him, but she was already pressed against the windowsill and wall. "Order, or I'll do it for you."

Maybe she could hitchhike back to the motel or just leave her meager possessions there. She had everything she needed in her overlarge bag. "I'll have a cheeseburger, no onions or pickles. Thank you." It was a diner, and she'd learned that they usually had burgers, so it was a safe bet. Besides, she loved cheeseburgers. They were a warm new comfort that probably would go straight to her thighs, but who cared?

"Drink?" His words were clipped. Her unfortunate choice of words earlier had apparently angered him. Or, at the very least, irritated him. She had a feeling that he was only allowing her to see his emotions because he didn't care if she knew he was not happy.

"What's your name?" The question popped out of her before she could stop it.

He didn't so much as twitch, instead keeping her captive with his gaze. If anything, more tension rolled off him. "Order. A. Drink."

Her knees trembled, and her breath quickened. Once again her body reacted without conscious thought. These feelings were new and all for him. She didn't appreciate the sensations at the moment. She shifted her weight, trying to find a comfortable position. "You're very bossy." While she'd tried soda and didn't much like it, water wasn't appealing to her in this moment.

Apparently, his patience had ended. "Bring another mug. She'll have beer."

The waitress sprinted away. Probably so she could return quickly.

At least if they poured from their pitcher, she wouldn't be charged for the drink. "That would be lovely," Dessie said primly to nobody in particular.

His grin was slow and more devastating than a train crash.

The smile warmed her more, and she was grateful he didn't look so scary any longer. If being polite charmed him, she'd draw on every etiquette lesson she'd ever learned.

She finally broke eye contact and looked across the booth. Another overlarge man sat across the worn wooden table, and he also wore a leather jacket. His hair was black, his eyes green, and his expression tense. Next to him sat a truly beautiful woman with tawny skin, rope-twisted black hair, and sparkling dark eyes. She had curves Dessie would love to possess. "Hi," Dessie said, focusing on the woman, sensing she was the safest person in the booth, if not the entire diner.

"Hi." The woman tilted her head, curiosity in her gaze. "What's your name?"

"Dessie. Yours?"

The woman glanced at the man next to her, and he barely nodded. "I'm Honor, and this is Sam." Had she just asked permission to give their names?

Dessie frowned. These people were obviously on guard, and her touching the guy next to her as if they were old friends was a mystery they apparently didn't like. Why would they?

A shuffling sound alerted her, and she looked around to see several of the patrons rearranging themselves in this half of the diner. She liked patterns, and she quickly discerned this one. The biggest and meanest-looking of the leather-clad men were now all seated closer to them. Surrounding them in booths and the closest tables—forming a wall of protection around them. How intriguing.

She noted on the back of their jackets the outline of a large grizzly bear, sharp teeth flashing beneath the word grizzlies. "Why do you all have matching jackets?"

Even Honor wore a black leather jacket. She played with a stunning diamond engagement ring on her finger. "We belong to the Grizzlies, which is a motorcycle club." Then her gaze narrowed. "You've never heard of a motorcycle club?"

"No." Dessie shrugged. "I haven't been in California very long."

The woman's gaze cleared, and she barely nodded.

What was going on with the almost nods? Perhaps that was just how Honor and Sam communicated. Or maybe Sam couldn't speak. Dessie looked directly at him, wanting to shrink beneath his sharp gaze. "Are you mute?" Somebody coughed in the booth behind her, but she didn't turn. Her eyes widened. "Oh my. Is that a rude question? If so, I do apologize. I didn't mean anything hurtful."

Sam blinked. Twice. "No. I'm not mute." He drew a phone from his pocket and texted with one hand, not looking away from her. "Told Bear to skip the diner, and he's covered on all sides."

"Good," Garrett said. "His new enforcers are doing well. I don't feel so bad leaving him now."

Dessie reminded herself that she was strong and free, but these men would probably only answer a limited number of questions. So she wouldn't ask about the mysterious Bear. Instead, she steeled her shoulders before partially turning in the cramped booth to face the man taking up all the oxygen. For some reason, she could barely breathe. "What's your name?"

"You don't know?" He hadn't stopped watching her. Not for a second.

She shook her head.

"Garrett." Then he waited.

Why was he waiting? "That's a nice name," she hastened to say. Was there some sort of social convention she was missing here? It was entirely possible.

"Thank you." The amusement had returned. She definitely enjoyed it better than his earlier irritation. "Now how about you tell me who you are and how you know me."

Two waitresses arrived with a mug and all of their food. Somehow, Dessie's meal was already prepared as well. She waited until the women stopped fawning over the two men before reaching for a fry. Fries were the best invention she'd discovered lately. "My name is Dessie. I am now a freelance reporter, and I do not know you. At all. I didn't even know your name until you gave it to me." Unable to help herself, she reached for the cheeseburger.

Garrett did the same, and his cheeseburger was a lot bigger than hers. "Very well, Dessie. Eat your lunch. Then you and I are going outside for a little chat."

Chapter Two

As possibly Dessie's last meal, it had been delicious. For the first time in a week, she forgot the fact that somebody was following her. Well, probably. She'd seen the same man several times, but he'd never approached her. Perhaps her mind was going.

She began to protest when Garrett tossed bills on the table to pay for her burger but stopped when he turned that gaze on her.

"Let's go." He grasped her hand and tugged her rather gently from the booth.

She dragged her bag with her and then stumbled, quickly finding her balance when he planted one strong hand on her shoulder. Her lungs seized, and her stomach roiled. The luncheon had been so bizarre that this was the first time she'd felt fear. They'd eaten mostly in silence and very quickly. A desperate glance around at the remaining diners confirmed that nobody was going to help her. So much for continuing to pack as much life into her remaining hours as possible. Time was not her friend. She clutched the bag to her ribs.

"Do you have a weapon in there?" Garrett asked mildly.

"Yes. A knife." There was no reason to lie to him, considering he could easily take away the bag.

He kept his grip on her hand and began striding toward the exit. "Okay."

Should she be miffed he didn't try to confiscate the knife? Probably. She had to hasten her steps to keep up with him. His hand around hers felt warm and solid, so big she wished she had time to just compare their hands palm to palm. He was a very large man who, nonetheless, managed to move surprisingly fast. Within seconds they were outside the diner, where people milled around different bikes, packing things in compartments and igniting the loud engines. Based on the various names on the jackets, there were several different clubs present.

Fall colors lit the world on fire around them, the trees shedding their bright red and gold leaves. The sky was a mellow blue, and the sun bright but not warm.

Garrett continued around to the rear of the building, which was a surprisingly quiet area. A crumbling rock wall crusted with moss held back a grassy hill. In one smooth motion, he released her hand, grasped her hips, and lifted her onto the wall.

She yelped and then settled, surprise filling her. She was still several inches shorter than he, even on the large wall. "Why is any of this necessary?" She planted the bag next to her, calculating how quickly he'd just moved. There wasn't a chance to get to her knife. And could she really stab somebody?

"Who sent you?"

The fact that he hadn't answered her question shot a chill through her body. "Sent me?"

He instantly tangled one strong hand in her hair and planted the other next to her hip on the stone. "Yes. Play dumb, and you won't like the results. Is somebody after Bear?"

"No." Bear was an odd name, but he was obviously important to Garrett. "Well, let me clarify that statement. I don't know Bear and thus have no knowledge of whether or not somebody is after him. I assume Bear is a him, though I could be wrong. But—"

"Stop." His grip on her hair tightened with a firm tug that shot sparks right to her breasts. Well, that was interesting. "Baby, I don't want to hurt you, but I will. I'm not gonna ask again. Who sent you to find me?"

She blinked. "Take off your glasses."

He paused. "You want to play? We'll play." He slowly whipped off the glasses, revealing gray metallic eyes that shouldn't exist in the real world. It had to be some type of genetic mutation. "Talk."

Her mouth opened, but no sound emerged. "Your eyes. They really are metallic." How was it possible? She'd seen him just like this.

"You've seen a picture of me?" His eyes went cold. Flat. Frozen metal.

She swallowed and tried to move away, but he held her firmly in place. Heat blew through her.

His pupils narrowed, and he leaned in even closer, his lips almost touching hers. He forced her legs apart and moved in. Watching her. Studying her. Awareness lightened his unreal eyes. "Maybe I won't have to get violent." He nuzzled her mouth and nipped her jaw, twisting her head to place a gentle kiss behind her ear.

Fire lashed from that small touch, zinging to her breasts and then farther down between her legs. She shuddered, and she could feel his firm lips form a smile against her skin.

"There we go." The rumble of his voice rolled throughout her entire body.

She'd opened her mouth to speak, to say something, maybe even the truth, when his mouth took hers. Shock thrilled through her as she realized what was happening, and her eyelids closed on their own. If she could have moved, she would've swayed toward him. Instead, with him holding her in place, she just let herself feel. His lips pressed against hers, demanding a response, and she gave it to him. Tentatively at first, she let instinct rule and followed his lead.

Pleasure oscillated through her, scorching each nerve on its path to her core. She grabbed his shoulders and fell into passion, stilling when his tongue swept inside her mouth. Her eyelids opened to find metallic gray watching her. Not wanting to lose the heat, she closed her eyes again and met his tongue with her own. It was decadent. Like triple-chocolate melted lava cake mixed with fine wine. She moaned, wanting more. So much more.

He partially drew back. "Who sent you?"

"Nobody." She leaned forward and kissed him, wanting to keep going wherever that feeling went.

He returned her kiss, pushing her head into his hand. "Who wants me dead?"

"Nobody who's ever kissed you." Just speaking against his mouth, her lips moving over his firm ones, shot tingles beneath her skin.

His grip tightened, and even that slight pain was erotic. Then his hand was on her breast.

She gasped, leaning back, her face heated. The sensations were so much stronger than she'd read about in those novels.

Through her blouse and bra, he pinched her nipple. Pain and pleasure flashed together, and she cried out, arching even closer to him. She ached. Between her legs, she needed more. Him.

Deep color stained his cheekbones, making him look more dangerous. Like a predator that had just trapped prey. "How do you know me?" He flattened his hand and caressed her breast, taking away the pain.

"I dreamed about you," she said honestly. "I did not believe you to truly exist." At least in her more realistic moments of thinking. A girl could always wish, however.

His chin lifted. "Dreamed about me?" His fingers trailed between her breasts and down her torso, lighting fires along the way.

"Yes," she gasped. "Just once, but you saved my life. Or the image of you did. I didn't think you were real." He reached the button of her pants and flicked it open. Was she going to let him do this? Her body angled closer to him. These feelings were good, and they were temporary. She truly didn't have much time left, and she wasn't going to pass up any opportunity. It was her mantra. "I would say it's a coincidence, but he was you. You were him."

"Right." He leaned in and nuzzled her neck, his hand sliding easily inside her panties.

She gulped. Even though she could understand his not believing her, she didn't care right now. She held her breath, and her abdomen tightened.

"You want this?" His fingers found her, easily sliding through her wet folds. She was so wet. How did that happen?

"Yes." She didn't know what he meant, but whatever it was, she wanted it. Was pushing into his hand for it.

His grin was feral. "So this is how? You're supposed to seduce me?"

"No." But if she knew how, she definitely would. His finger slid inside her, and the other one pressed on her clitoris. Electricity sparked through her. Oh, she'd studied anatomy carefully just like all of her subjects, and she understood what a clitoris was, but she'd had no idea what it could do. Or maybe it was just Garrett. He flicked her, and she jerked, her thighs quaking. "I don't want you dead." Never.

"Right." He leaned in, licking her neck. Then he inhaled, his powerful chest moving. He frowned. Keeping his fingers right where they were, he leaned back slightly to stare at her. "You're human."

Even in desperate need of something she didn't understand, amusement filled her. Life was bizarre. "Yes. I'm only human, Garrett. Not immune to your charm or abilities or bad-boy vibes. You're human, too." And by the size of the bulge in his jeans, her lessons on anatomy hadn't prepared her for much at all.

Something sizzled in those eyes. Something dark and unidentifiable. "You're fucking human. I don't sense any enhancements."

Enhancements? "No. I'm in my early twenties. You're kind of a jerk thinking I'd have plastic surgery or something." She wasn't all that well endowed, and it hadn't bothered her until now. Had that waitress with the D-cup sized breasts interested him? Her desire, if that's what this was, began to wane.

He kissed her hard this time. Hard and angry, his fingers started to move again. She opened her mouth and let him take, opening her legs to let him give. She was climbing. High. Something was there, out of reach. Her body began to gyrate against him, following his pattern, surrendering to him. Those fingers were magical. Then he halted.

She groaned and opened her eyes, smacking him on the cheek. "You have got to stop stopping." This led to an orgasm, she was fairly certain, and she wanted one. A big one. Her body craved it. "My pain is your fault, and you need to fix it."

One of his dark eyebrows rose.

Realization trembled through her, and she paused. Most people probably didn't hit Garrett in the face.

"You want me to fix your pain?" His voice was a seductive low roll with a hint of danger.

She gulped, fully aware that his hand was in her pants. "Yes." This was definitely something she wanted to experience before she died.

He sniffed her again, his face against hers. "You're not psychic? Empathic? Telekinetic?"

She fought the urge to hit him harder. "Stop being ridiculous."

He leaned back and cocked his head. "You really aren't."

Was he crazy? She'd read that crazy sex was the best, so perhaps he was touched in the head? At the moment, she didn't care. At all. So she clamped both hands on his cheeks and yanked his mouth back to hers. She sank her teeth into his bottom lip, wanting that bite. His shoulders jerked, and she slid her tongue inside his mouth, trying to mimic what he'd done to her. Attempting to give him the pleasure he'd swamped her with, wanting him to feel as good as he made her feel.

He groaned against her mouth, and triumph roared through her. Then he took over the kiss, forcing her head back, overwhelming her as he poured heat into her that filled her entire body, head to toe. His fingers slid in and out of her and then he angled her farther back, controlling her with the hand fisted in her hair.

Sensations bombarded her as wild as the waves crashing against the rock wall of her home so far away. Powerful and deep, they took her under while forcing her to climb, inch by deadly inch, toward a ledge she didn't understand. She was helpless against the pull. She climbed higher, her body shaking, his fingers magic against her.

With a sharp cry, she fell over the cliff. Wildfire crackled through her with whip strokes of impossible color and electricity. The waves bombarded from within this time, rippling out into the universe, taking her voice with them. She rode the waves, undulating with ecstasy until she finally came down.

He removed his hand, and she whimpered. Embarrassment flowed through her, and she straightened, still feeling intoxicated. As if she'd sipped too much of the aged wine she wasn't supposed to have unless it was during her study of society dinners.

"Are you okay?" He released her hair, once again looking too big and too dangerous.

"I think so." It took her a second to realize that tears filled her eyes. One spilled over to slide down her cheek.

He caught it and rubbed the droplet between his thumb and forefinger, looking thoughtful. "Who are you?"

"Nobody that matters," she told him, attempting honesty again. The wind tossed fallen leaves across the stone wall, and cheerful daisies waved. It was late for them to be blooming. She hurriedly zipped up her pants, reality returning with the sound of motorcycle engines gunning in front of the restaurant. "Um, Garrett? I feel messy."

He lifted her off the wall, yanked her bag over his shoulder, took her hand, and towed her back around the building. "Go inside and clean yourself up, then get your ass back out here. We're not done." His face was set in a hard mask, and his tone was unrelenting. "By the time you return, be prepared to give me the full truth."

"I did," she mumbled, so confused she wasn't sure which way to go.

Opening the door, he nudged her inside. "Seduction didn't work. That leaves pain. Neither of us wants that."

She stumbled inside, so off-balance she wasn't sure the planet was still spinning. "My belongings?" She reached for the bag.

"No. You have two minutes, kitten." He shut the door before she could protest.

She'd try to run away, but she needed that bag. Needed everything in it to live her short life before she died.

Time was definitely mocking her.

Chapter Three

Garrett moved toward his bike, which was guarded by club prospects. Though he shouldn't have let her go before getting his answers, he needed a minute. The sound she'd made when she'd climaxed, so pure and real, was one he'd hear in his dreams for a very long time.

His hands shook, and he covered the reaction. What the hell was wrong with him? He dumped the bag's contents out and caught the few items that didn't land on the seat. No cell phone. What kind of a woman didn't have a cell phone?

He opened the wallet just as Sam approached, his gaze serious.

They'd bonded as Grizzly brothers, as well as enforcers, more than prep. . .
We hope you are enjoying the book so far. To continue reading...
Garrett's Destiny
Rebecca Zanetti
Copyright © 2023 All Rights Reserved
Also in this series
Also by this author