Driven
Once Angus and Nari are thrown together on the case, their attraction is explosive and irresistible.
Shout-outs
"Explodes with action, spice and humor."

Publishers Weekly
"Fans of J. D. Robb and Karen Robards will love Zanetti's series start."

Booklist
Book info
Sample
Audiobook
Media
Author updates
Lists
Synopsis
Unswerving: Angus Force is determined to hunt down the serial killer he'd once shot dead—or so he thought. But an anonymous source reports that Lassiter is alive. Force hasn't slept since, knowing it's only a matter of time before "the Surgeon" strikes again. And soon, a body is found, bearing Lassiter's same maniacal MO. It's just the beginning of a murderous trail blazing through DC and Virginia, right to Force's backyard . . .

Unstoppable: Nari Zhang is the shrink for the ragtag Deep Ops Unit, though she isn't Force's
shrink—which is a very good thing. Because once they're thrown together on the case, their attraction is explosive and irresistible. They'll just have to fight that much harder to keep the heat between them from flaming out of control. But things are about to become far more challenging, and deadly, than they could have imagined . . .

Unhinged: Once the killer catches a glimpse of Nari, she becomes his new obsession. She is now the focus point—for both Force and Lassiter—in a dangerous dance for survival . . .
Release date: January 26, 2021
Publisher: Kensington
Print pages: 400
Reader says this book is...: action-packed (2) entertaining story (2) escapist/easy read (1) happily ever after (1) heartwarming (2) high heat (1) high stakes (1) likable hero (2) realistic characters (1) satisfying ending (2) sex scenes (1) strong chemistry (2) strong heroine (2) suspenseful (1) terrific writing (2) unputdownable (2) witty (2) emotionally riveting (1) swoon-worthy (1) unexpected twists (1) year's top 10 (1)
* BingeBooks earns revenue from qualifying purchases as an Amazon Associate as well as from other retail partners.
Listen to a sample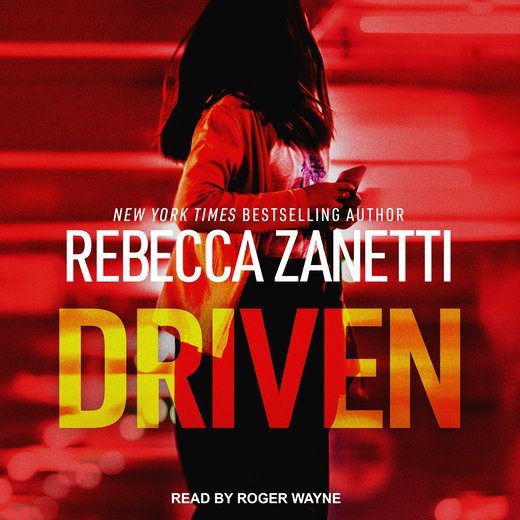 10:12:46
280.51 MB
January 26, 2021
Tantor Audio
2021
Driven
Rebecca Zanetti
by Rebecca Zanetti
One year ago
Thunder bellowed a distant warning while the wind rustled dried leaves along the lake path. Angus Force stumbled over an exposed tree root and somehow righted himself before falling on his ass. Again. The mud on his jeans proved he'd slipped at least once.
Roscoe snorted and kept scouting ahead, his furry nose close to the rocky trail. His snort held derision.
"Shut up," Angus said, surprised his voice didn't slur. He'd started the morning with his fishing pole and two bottles of Jack. Several hours later, it was getting dark, he had no fish, and the bottles were empty. The forest swirled around him, the trees dark and silent. He glared at his German Shepherd. "Be nice or I won't feed you."
The dog didn't pause in his explorations. His ears didn't even twitch.
Angus sighed. "I should've left you with the FBI." Of course, the dog had a slight problem with authority and would've probably been put down at some point. Angus brightened. They had that in common. "All right. I guess I'll feed you."
Roscoe stopped suddenly.
Angus nearly ran into him, pausing at the last second and slipping on the leaves. "What the hell?"
The fur on Roscoe's back ruffled, and he stared straight ahead down the trail. He went deadly silent, his focus absolute.
Angus dropped his pole and the sack containing the bottles. Damn it. He hadn't brought a gun this morning. He'd been more concerned with having enough alcohol to get through the day.
He gave a hand signal to the dog and veered off the trail, winding through a part of the forest he could navigate blindfolded. The scents of fresh pine and dead leaves commingled around him, centering his focus. He approached his solitary cabin from the side, where he could see front and back.
Nothing.
Roscoe kept at his side, his ears perked, fur still raised.
The woods around them had gone silent, and a hint of anticipation threaded the breeze. Roscoe sat and stared at the cabin.
Yeah. Angus remained still. There was definitely somebody inside. He angled his head to study a black Range Rover parked on the other side of the cabin. So they weren't trying to stay hidden.
His shoulders relaxed and he waited.
Waiting was what he excelled at. Well, waiting and drinking. He'd become a master at downing a bottle of whisky. Or several.
Ten minutes passed. Something rustled inside the cabin. Now he was just getting bored. So he gave Roscoe a hand signal.
Roscoe immediately barked three times.
The front door of the cabin opened, and two men strode out. Government men. Black suits, pressed shirts, polished shoes. The older one had a liberal beard sprinkled with gray and the worn eyes of a guy who'd already seen too much.
The younger guy was a climber. One who even stood like he was on his way to the top and had no problem stepping on bodies to get there. The shoes were expensive and the blue silk tie even more so.
Angus crossed his arms. "You're trespassing, assholes." Was it a bad sign he could sound and feel sober after the amount he'd imbibed all day? Yeah. Probably.
The older man watched the dog. The younger man kept his gaze on Angus.
The older guy was obviously the smarter of the two.
The younger guy smoothly reached into his jacket pocket, withdrew his wallet and flipped it open. "Special Agent Thomas Rutherford of the HDD." His voice was low and cultured. Confident. He was probably about Angus's age—in his early thirties.
"You're lost," Angus returned evenly.
"No. We're looking for you, FBI Special Agent Angus Force," Rutherford said, his blue eyes cutting through the space between them.
"I'm retired." A true statement, which had made nosing around lately a little difficult. However, obviously he'd shaken something loose, considering these guys were now standing on his front porch.
The older guy cocked his head. "That's a tactical Czech German shepherd," he said thoughtfully.
Angus lifted an eyebrow. "Nope. He's a mutt. Found him last week in a gulley." Was he drunk, or did Roscoe send him an irritated canine look? Angus jerked his head at the older man. "You are?"
The guy also took out a wallet to flash an HDD badge. "HDD Special Agent Kurt Fielding." Rough, with an edge of the street—no culture there.
Angus crossed his arms. "There is nothing the Homeland Defense Department could possibly want with me." The agency was an offshoot of Homeland Security; one of the offshoots the public didn't really know about. The name alone made it easy to divert funds. "Go away."
Agent Rutherford set his hands in his expensive pockets in an obvious effort to appear harmless. "We'd like a few minutes of your time."
"Too bad." Angus would like another drink. They stood between him and his bottles. That was a bad place to be.
Agent Fielding had deep dark eyes with a hangdog expression. He finally looked away from Roscoe and focused on Angus. "We know you've been contacting witnesses from the Henry Wayne Lassiter cases."
Heat flushed down Angus's spine. "The last person who said that name to me got a fist in the face and a broken nose."
"We're aware of that fact," Rutherford said. "FBI Special Agent in Charge Denby still has a bump on that nose."
Yeah, well his former boss had known better. Angus shrugged.
Agent Fielding tried again, his gruff voice matching his weary eyes. "We just want to talk."
"No," Angus said softly. "You're here to warn me off a case I was just playing around with." If they hadn't shown up, he would've probably chalked the scenario of Lassiter still being alive up to a ghost theory, but now that they were here, he was inspired. Finally. "I know something is up, and I'm not going to stop until I know what." He'd been a damn good tracker for the Behavioral Science Unit until that case, and then he'd fucking lost everything. Maybe even his mind. "A source reached out and told me Lassiter isn't really dead." Yeah, he'd shot the lunatic, and blood had sprayed. But he'd been shot as well, and he'd passed out before being able to check the body for a pulse. Apparently his recent nosing around had ruffled some feathers.
Rutherford smiled, showing perfectly straight white teeth. The guy probably had them bleached. "We understand that an old file clerk contacted you, but you have to understand that the FBI had just forced Miles Brown into retirement, and he was trying to make trouble by reaching out to you and drumming all of this up. He apparently succeeded. Lassiter is dead and you killed him."
Apparently, the HDD still wanted to keep secret the fact that one of the most prolific serial killers in history had been a low-level computer tech for the agency. Why? Who the hell cared?
Miles Brown had been a great record keeper, and the only thing his message had said was that there was a problem with the Lassiter file and for Force to call him immediately. "Fine. Then let me talk to Miles." His phone number had been disconnected, and so far, Angus had been unable to find the old guy.
Agent Fielding winced, his salt and pepper eyebrows drawing down. "Miles Brown suffered a stroke and is in St. Juliet's on the east side of DC. He has no family, so we put him up."
That would explain why Force couldn't get to him. "I'd like to see his office and all of his records."
"His office was cleared out," Fielding said, clasping his gnarled hands together. "Per procedure. Nothing out of the ordinary there."
Right. Except that Miles had called, and there had been a sense of urgency in his voice. "Yet, you're here," Angus murmured.
Agent Rutherford sighed, looking as if a bartender had served him too many olives in his martini. "We know you've been through an ordeal, but—"
"Ordeal?" Angus growled. "Are you kidding me?" He'd give anything for his gun.
Fielding held up an age-spotted hand. "We're very sorry for your loss, but this is important."
Loss? Had he really just said the word 'loss' to him? Angus took two steps toward the agents, and Roscoe kept pace with him, low growls emerging from his gut. "Leave. Now." He still hadn't dealt with the fact that a serial killer had murdered Angus's sister…and it was Angus's fault. Loss didn't cover it. Not by a long shot.
Rutherford eyed the dog warily. "We want you to stop pursuing the issue. Lassiter is dead. Let him lie."
Angus snorted. Roscoe remained at attention but stopped growling. "Why are you here, then? If the case was really closed, you wouldn't bother." Homeland Security had barely been able to shut down news of Lassiter's former employment before it became public. Of course the agency wanted this dropped.
Fielding shuffled his feet, his gaze descending to his scuffed shoes.
Angus straightened. His gut churned, and his instincts flared to life. "Say what you need to say."
Rutherford swallowed and looked toward the older Fielding.
Fielding sighed and glanced up again, experience stamped hard on his square-shaped face. "Let it go. We're not going to give you a choice."
Ah, shit. Lassiter really was alive. No way would two HDD agents have sought him out if he wasn't getting close to something. Or maybe they were really afraid he'd let the public know about Lassiter's former employment. Governmental agencies had definitely taken a beating lately in the press, and Homeland Security wanted to keep HDD under wraps.
Angus stood perfectly still, his mind focusing despite the booze. "Well, then. We all know you don't want me talking to the press. I guess, for now, that gives me leverage." Just how much? How worried were they?
Their silence gave him even more confidence. It also urged him to pursue that nagging feeling at the back of his neck that had never really left. The Lassiter case had never felt…finished. Sometimes, his instincts were all he had. Well, his instincts and his dog. What else did a burned-out, obsessive, drunk of an ex-FBI agent really need?
He rubbed his jaw and let whiskers scrape his palm. "Let's see. Either I work on this myself along with a couple of really good investigative journalists I befriended during my years with the FBI, or you give me the resources to do a little investigating and I keep everything to myself. That seems fair."
The wind tousled Rutherford's blond hair, and he scoffed. "Not a chance."
"Bull," Angus returned instantly, reading the men. Oh, they were seasoned and pretty good, but he hadn't lost all of his abilities. "Try again."
Fields shot a hand through his thick hair, making the gray stand up through the brown. "You know we can't have you at HDD looking into a closed FBI case."
Fair enough. "You could have me at HDD working on other cases while simultaneously pursuing this one." Before either agent could deny him, Angus sweetened the pot. "I'll compile a team, stay under the radar, and do what I need to do. Come on. You two look like tough negotiators. I'm sure we can come to an agreement without my having to call the media."
"Lassiter is dead," Rutherford gritted out between perfect teeth.
Angus shrugged. "Then you have nothing to lose. You do, however, have everything to gain, and I'll do my best to toe the line." There was no doubt the HDD would try to get rid of him the second he set foot in an HDD office. Even so, he couldn't give this up. He looked down at the dog. "Wanna go back to work, boy?"
The swirl of red and blue lights exposed the taut crime scene tape in a back alley outside of DC. Rain blasted down, pinging off battered metal garbage bins at the rear of businesses long since closed for the night. The bastard had dumped the victim near a pile of litter the rain had mangled into a sopping mess of paper and take-out cartons.
Angus kept his face stoic as he ducked under the tape and flashed his badge to the uniformed officer blocking access. It felt good to show the badge, even though he worked better without it, apparently.
It would be the only good feeling of the night, without question.
HDD Special Agent Kurt Fields was the first one to reach him, skirting several numbered yellow evidence markers placed on the wet asphalt. The guy was pale and had grown even grizzlier in the year they'd worked together. Kind of worked together. "I heard the call go out, got the details, and figured you'd be here on this fine Monday night." His T-shirt was wrinkled and his brown shoes scuffed. He grimaced. As an HDD handler, he wasn't bad. "The locals don't want us at the scene, just so you know."
"The FBI will take over soon enough." Unless there was a way HDD could force itself in, which didn't seem possible. Federal agencies rarely played well together, regardless of the party line. Force straightened, acutely aware of his men at his back. West and Wolfe had both seen some rough shit in their time, but this was something new. He needed West's mind clear to run the office for now, but when he turned his head to issue an order, West was already shaking his head at him, his gaze direct. No way would he be left behind.
The guy would make a good profiler. Angus had never known an undercover operative who could inhabit another identity as completely as West.
Angus turned back around and started to focus, speaking as much to himself as to his team. "Everything is relevant. Anything out of place on a piece of garbage, any scratch on a building, any glint of something shiny."
Agent Fields shook his head, sliding to the side and putting his barrel of a body between Angus and the scene. "You're not understanding me. This is not your case. Hell, it isn't even our case. Never will be."
Fire ripped through Angus so quickly, his ears burned like he'd been touched with a poker. "Lassiter killed this woman, which makes this my case. Period." He had to get to the body to make sure, but his gut never lied.
Special Agent Tom Rutherford, his blond hair mussed for the first time ever, reached them next. For once, Force's partner was not impeccably put together, although his too blue eyes were as pissy as ever. "You're not supposed to be here. Neither are we."
"I still have some sources in law enforcement and was contacted immediately about the crime," Angus muttered, his hands itching for his gun. "Now get out of my way."
Rutherford had light stubble at his chin—for the first time ever, probably. "Don't make me track down your source and fire them."
Angus turned his focus to the HDD agent. He'd look good with two black eyes again. "I'm working this scene—this is Lassiter. He's finally making a move."
"You're wrong. This scene isn't the same as all the others," Rutherford said, his eyes bloodshot.
Wolfe rocked back on massive boots. "What do you mean?"
Rutherford slid a manicured hand into the pocket of his perfectly creased dress pants. Who dressed up for a crime scene at midnight? "I've studied your old case files on Henry Wayne Lassiter. His MO was unique. This crime scene is different."
Angus swallowed. "Where's the note?" The psychopath had always left him a note.
"No note," Fields said as the local techs moved efficiently around.
"Look again," Angus said evenly, his gut aching so bad he wanted to bend over and puke.
Rutherford planted a broad hand on his shoulder. His law school class ring dug into Angus's skin through his T-shirt. "Please leave before I have you escorted away."
Wolfe shoved Rutherford's hand off before Angus could grab it and break a finger or two.
Angus probably owed Wolfe for that. "There are two options here. Either you get the hell out of our way so we can examine the scene, or we get in a fight, beat the shit out of the two of you, and then we go and examine the scene." His voice had lowered to a hoarse threat. Once the FBI showed up, he was definitely going to be thrown out of the alley. His exit from the agency hadn't been cordial.
Wolfe tensed next to him, while West drew up abreast, his shoulders back.
They were ready to fight with him if necessary. Angus would reflect on how much that warmed him later. His team was good. Better than good.
Rutherford smiled, no doubt wanting payback for when Raider, another team member, had broken his nose a few months ago. "I'm ready. You hit one of us, just breathe wrong on us, and I'll plant your ass in a jail cell. You're done, Force."
West cleared his throat, his blue eyes piercing through the dark. "If you're so sure Lassiter didn't do this, give us a minute with the scene. Force will know the truth."
Rutherford began to shake his head.
"Okay," Fields said, stepping aside. He shrugged at his younger partner. "Why not? Lassiter is dead, right?"
"Right," Rutherford gritted, his gaze promising retribution.
The stench of puke, garbage, and worse filled Angus's nostrils as he stepped past the agents to venture deeper into the alley. "Lassiter kidnapped women and tortured them for days. We'll need an autopsy on this one, but we probably won't know much about her heart."
"Why not?" West stopped short as the body came into view.
"That's why," Angus said, consciously switching from feeling human to something else. Something that would allow him to analyze the crime and not lose his soul any more than he already had.
West's breath caught. "Oh."
Yeah. Oh. A tarp had been erected above the body to protect it from the elements. The woman lay naked on the pavement, her eyes open and staring straight up. She had long dark hair, milky brown eyes, a petite form. Her arms were spread wide, hands open and facing up. Her legs were crossed and tied at the ankles with a common clothesline rope. Worst yet, her chest gaped open, the ribs and breastbone spread, leaving a hole. The crime signature was similar to Lassiter's but not exactly the same. What did that mean?
West coughed. "Her heart is gone."
Angus went even colder. Rain dripped off his hair and down his face. The scene was…off. "He eats it. Says it keeps the victim with him forever." Nausea tried to roll up his belly, and he shoved it down.
Wolfe came up on his other side, his movements silent. He didn't gasp, stall, or go tense. He just stared at the body, his jaw hard. He pointed to the victim's arms. "Burn marks?"
"Affirmative," Angus said crisply. "There will be both cigarette and electrical burns." Outside and inside the woman. "As well as whip marks, ligature marks around the neck, and knife wounds. Shallow and painful. Not enough to let her bleed out." Angus noticed that the cuts for the heart were rough—not smooth like Lassiter liked to do—which was why the press had dubbed him 'the surgeon.'
Yet the heart was gone.
West coughed. "Raped?"
"Probably," Angus said.
Agent Rutherford approached from the far end, carefully stepping over water filled potholes with his shiny loafers. "There's no note, and she's not blond. In addition, the cigarette marks are too large—almost like a cigar was used." He looked around as if worried they'd be caught working outside of their jurisdiction. The Homeland Defense Department didn't deal with serial killers. Well, usually.
Angus breathed in and out before responding. He much preferred Fields to this guy. "Lassiter is very choosy about his cigarettes and would never use a cigar. Too common." Angus dropped into a crouch, closer to the woman. Lassiter had also loved blondes. This close, the victim's skin looked dusky, not pale. Was she Asian? Lassiter had liked them pale, the whiter the better. "Are you sure there isn't a note?"
"No note," Rutherford snapped. "Told you it wasn't him."
Everything inside Angus insisted it was Lassiter. But was it a certainty born of necessity? Because he needed to be on the case and hunting the evil psycho down—finally? He looked around, noting the alley had been cordoned off, blocking the view of any nosy neighbors or the press. In a different situation, he'd be fighting with Rutherford right now about the news media. It probably killed the guy that he couldn't chase the cameras. "Once you get an ID, track down her medical records."
"No ID," Rutherford said, glancing down at his shiny phone. "Her prints came up negative, and this isn't our case. Time to go, gentlemen."
Wolfe scouted the alley, his gaze sharp. "You think Lassiter did this?"
Yes. "I don't know. The MO is close but not perfect, and he was a perfectionist." Frustration tasted like metal in Angus's mouth. "If it isn't Lassiter, it's a copycat. That I'm sure of, and I was the best profiler the FBI had."
"Until you drank the entire wagon," Fields said, his bushy eyebrows rising. "You no longer work for the FBI, remember?"
Something on the victim's hand caught Angus's attention. "Glove?" He gestured toward a couple of techs.
One tossed him a blue glove, and he slid it on, gently turning the woman's right hand over.
"Shit," West said, leaning down. "Is that what I think it is?"
Angus swallowed. "Yeah." A perfect tattoo of a German Shepherd had been placed right beneath the knuckles on the back of her hand.
Wolfe swallowed. "Looks like Roscoe."
"Could be a coincidence," West said, his lips turning down.
"Probably is." Angus stood. Oh, that was his dog; the markings were distinctive. "Fields? I want this case. Lassiter or not. FBI or not."
West gripped his arm and pulled him to the side. He leaned in to speak quietly. "Even if the FBI and HDD both allow it, are you sure you want this? Serial killers don't just change their MO's, right? Especially ones like Lassiter."
Angus nodded. "You're right."
"You're obsessive and you're just getting your drinking under control. If this isn't Lassiter, and that tattoo is a coincidence, then why take on HDD, the FBI, and the local DC police force right now?" West released him, his gaze again straying to the poor woman on the ground.
Right now, they were the best chance for justice the woman had.
Fields slid his phone back into his pocket. "The HDD higher ups say no way to you're taking on this case. Sorry. It's a no go."
Angus turned on his heel and shoved his hands in his jeans pockets, striding down the alley. The rain increased in force, a cold, angry prelude to the dark oncoming winter.
His team members flanked him.
Wolfe stepped over a puddle. "We're not letting this go, are we?"
"Not a chance in hell," Angus said. "Call everyone in. We have a new case." He ducked under the crime scene tape, walking away from death.
This time.
We hope you are enjoying the book so far. To continue reading...
Driven
Rebecca Zanetti
Copyright © 2022 All Rights Reserved
Also in this series
Also by this author