Book info
Sample
Audiobook
Media
Author updates
Lists
Synopsis
What do you do when a sociopath loves you? Rising star FBI profiler Laurel Snow is about to find out in New York Times bestselling author Rebecca Zanetti's edgy new romantic thriller . . .



Calling Laurel Snow's relationship with her newly discovered half-sister challenging is an understatement. Not only does Laurel suspect Abigail is behind the mysterious disappearance of their father, but her erratic behavior also makes life in Laurel's small hometown interesting, to say the least. Still, when Abigail claims someone is now out to kill her, Laurel's instinct to protect her sister goes into overdrive. Then things get even more dicey as dead bodies start turning up in the icy waters of the Sauk River and there's only one connection among them: Abigail . . .



Having Fish and Wildlife Captain Huck Rivers bringing in those bodies with his dive team only complicates matters. Huck is as impulsive and fiery as Laurel is coolly analytical, which makes their alliance risky at best. But standing up to such a demonically brilliant killer is going to take all the help Laurel can get. Because Laurel's attempt to save her troubled sister's life might cost her own . . .
Release date: November 29, 2022
Publisher: Zebra Books
Print pages: 400
Reader says this book is...: action-packed (1) entertaining story (1) suspenseful (1)
* BingeBooks earns revenue from qualifying purchases as an Amazon Associate as well as from other retail partners.
Listen to a sample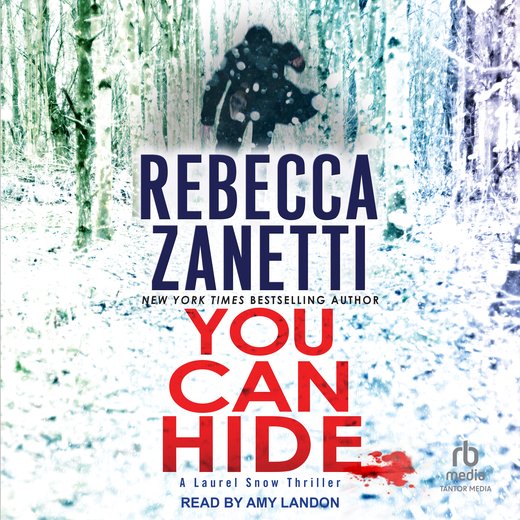 09:50:27
270.3 MB
November 29, 2022
Tantor Audio
2022
You Can Hide
Rebecca Zanetti
The victim's hands had been removed—most likely with the ax left leaning against an ice-covered pine tree. Her wrists were bloody stumps resting on cut logs, which the killer must've used to position the flesh for his strike. Perfectly preserved, burgundy-colored flowers littered the ground in every direction around the body, several petals frozen solid to rocks at the edge of the ice-encrusted river. Their stark color leeched into the white snow, creating icy pools of frozen blood.

The victim was female and naked, her flesh frozen to a grayish-blue hue, her facial structure shattered beyond recognition. Blood marred the snow all around her. The techs had worked all morning to gently uncover her and the surrounding area without causing damage.

Laurel Snow crouched on the craggy bank of Witch Creek, a hidden tributary of the Sauk River in northern Washington State. Icy snow clung to her knit hat and pinged off her snow boots. "There's not enough blood here. The mutilations happened post-mortem," she murmured, looking up at FBI Agent Walter Smudgeon, who had bent to study the ax.

He straightened. "Not much blood on the ax." He turned, his wide cheeks ruddy, his belly hanging over his belt. "Broken face and stolen hands. Somebody definitely wanted to keep her from being identified."

Laurel scrutinized the ligature marks around the woman's neck. "She was strangled. We'll know more after the autopsy." She studied the woman's hair, which was black with a clear demarcation of gray—maybe three or even four weeks' worth. "She was due for a hair appointment."

"What does that mean?" Walter wheezed.

Laurel stood. "I'm not sure." Her phone buzzed from her pocket, and she ignored the caller. Again.

"What's with the flowers?" Walter asked.

"It's interesting," Laurel said, the wind burning the exposed skin on her face and ears. "I think these are black dahlias."

"Black? Those are red," Walter said, pulling his winter coat lower to cover his wide belly, his jowls moving as he spoke.

"They're burgundy colored, and I believe they're black dahlias," Laurel repeated, a sense of isolation cutting through her, even as state crime scene personnel worked efficiently around her. She tilted her head toward Captain Monty Buckley, who was photographing the petals closer to the creek. "Did you find the personal locator beacon?"

The victim had activated the PLB, which sent a distress call through satellite to emergency services around midnight the night before, but searchers had to wait until light because of the devastating snowstorm that had only just abated. The second search team had found the body, which had already been mostly covered with snow and ice, except for her feet, which lay in the moving creek, shoved carelessly beneath a jagged layer of ice.

Monty looked up, his eyes blue and his hair a silvery gray that was turning more white from his recent cancer treatments. "Not yet." He surveyed the snow still gently falling to cover the earth in every direction. "It's a long shot that we'll find it at all." He grimaced at the flowers. "What's up with the red petals? Some symbolic thing?"

"I believe they symbolize betrayal," Laurel said, clicking through her memory of a book she'd read years ago. "We can conduct more research later."

A tall figure walked between two trees, kicking snow out of the way and creating a trail with his size fourteen boots.

"Huck," Laurel said, taken aback. "Where did you come from?"

"Monty called me. There's an old forest service trail to the north, and I drove my snowmobile along that route. I've cut a trail from there. You're going to want to see this," Huck Rivers said, his eyes a whiskey brown, his whiskers a day past needing a shave, and his hat partially covering his thick black hair. His Karelian bear dog, Aeneas, bounded behind him, tail wagging and tongue out.

Laurel blinked. She and Walter had ridden in Fish and Wildlife UTVs from the Sauk River to the creek to reach the scene, and she hadn't realized Huck would be out there. It had been more than a month since they'd worked together, since they'd seen each other, and she'd wondered about him. Had he spent Christmas and then most of January alone in his cabin? She'd been in DC for much of January working on another case and had only been back in town for a couple of days. "All right," she said coolly, stepping carefully over icy rocks and slippery snow to reach him. "Lead on, Captain."

His gaze inscrutable, he turned, his broad shoulders blocking the trail he'd created. "Follow me."

She'd forgotten how tall he stood and walked close to him so he could break the brutal wind. Her hands were chilled through the rubber gloves, but she kept them outside her pockets to avoid picking up trace evidence, although the snow continued to land and then melt on her.

They walked for about ten minutes, around bushes, under boughs, and over icy brush, with snow piled on either side of the makeshift trail. Her legs ached, and the biting wind sliced to her bones, weakening her muscles.

Huck paused and partially turned to the right. In profile, his features were more rugged than the brutal mountains around them. "If you look there, the victim's footprints are still visible in the snow because of the tree covering above them. I've taken pictures, because they're going to disappear within the hour."

Laurel squinted to see through the thick trees at the smaller prints, followed by much larger ones. "Are those yours?"

"No. Mine are a yard beyond those prints. I paralleled the trail as I took pictures." He made a hand gesture, and the black-and-white dog sat obediently. "From the spacing of the steps, they were running, and both broke several branches on the way." He pointed farther down the snowy trail. "She fell twice but got back up and kept running."

Laurel could imagine the woman's terror. "Where did she come from?"

"This way." He turned again.

Aeneas sat in place, one ear up as if he wanted to ask her a question.

She couldn't pet him and get fur on her gloves, so she smiled. "Hi, Aeneas. Miss me?"

Did Huck's shoulders square at that question? They'd shared one intimate night together, and then nothing. She'd thought they might be becoming friends, but then he'd disappeared. The dog yipped and flipped around to follow his master.

Laurel trudged behind the two males, stepping gingerly over the exposed root of a tree that rose high out of the deep snow. The pine would probably fall over in the howling wind. She turned at a bend and stopped upon spotting a dark structure that nearly disappeared into the rock wall behind it. "Incredible."

Huck nodded. "Yeah. It's an old forestry cabin that was abandoned about ten years ago, according to my office. Nobody knew anyone was staying out here."

Weathered wooden logs created a square-shaped cabin built against a solid rock wall. A crumbled stack of planks showed what had once been a porch, leaving the door two feet above the ground, now iced over with snow. A tarp partially covered a battered old side-by-side utility terrain vehicle beneath two mature blue spruce trees to the right of the cabin.

"I removed part of the tarp to see what was secured under there," Huck explained.

Laurel looked around. Her phone buzzed again and she ignored it. "I take it UTVs are the only way to access this area?"

"Or snowmobile, during the winter." Huck pointed to his black snowmobile with a Fish and Wildlife designation on the side. "I guess somebody could hike in during summer months. I took that old forest division trail, while you all drove along the river and then cut east along the creek."

A branch broke over by the tarp, the ice and wind having triumphed over the slim wood.

Laurel jumped as ice and pinecones rained down. "Is that how the killer or killers reached this place? We didn't see any tracks on our way in."

Huck wiped snow off his cheekbone. "The snowstorm eliminated any possible tracks out here, so we don't even know which way the killer came."

Laurel looked around and shivered. "What a lonely place to hide."

"Hide?"

"Yes." Laurel moved beyond him, following his trail to the front door, which she nudged open. The cabin was one room with a blow-up mattress covered by several blankets, a fireplace with kindling and neatly stacked logs next to it, and a kitchen shelf holding a battery-operated hot plate, a plate, and a cup. Cans and more cans sat on the shelf. Noodles, soup, beans, veggies, and fruit. Even something that said turkey on it. Along with several gallon bottles of vodka and gin. Enough for months of self-numbing.

She walked to the unmade bed and lifted a tablet from it, scrolling through pages of books. "How—"

"Small portable generator," Huck said, pointing to the one window above the kitchen shelf. "It's right outside with gas not too far from it. She was able to charge her tablet, heating pad, hot plate, and it looks like a burner phone." He gestured to a basket near the bed. "She has enough gas out there for probably another month."

It wasn't even February yet. "So she'd need to traverse the forest again in that UTV, and the conditions will probably be even worse next month," Laurel noted. "From what I can tell, she was more prepared than that."

"Maybe she didn't know how much gas she'd need," Huck mused. "Beyond the gas containers is a very old and rough outhouse. Yards away is an area of rock where she left the empty food cans, after washing them thoroughly with either water from the river or melted snow, from what I can tell."

So no animals would come sniffing around.

Laurel spotted a cabinet barely visible next to the low bed. She removed her flashlight from her pocket and inched closer, shining it inside. "There's something . . ." Tugging open the cabinet, she took inventory.

Huck whistled behind her.

This close, his body heat flushed along her back, even through her jacket.

"SIG Sauer," Huck mused, leaning over her shoulder for a better look. "And what looks like plenty of ammo."

Laurel turned and looked at the door. "She didn't get a chance to use her gun. So he surprised her outside with his attack?"

"The footprints in the snow come from the outhouse area," Huck said.

Laurel tried to imagine the night and how terrified the woman would've been. "So she took her PLB with her to the outhouse but not a weapon? I don't think so. She must've had another weapon." She leaned in to study the bullets.

Huck pursed his lips. "You're right. We'll search the area, and I'll scout the way she ran again. Chances are he surprised her and got the gun but didn't see the PLB before she pressed the button."

"If she was in hiding, she would've used that device to call for help as a last resort," Laurel agreed. "We have to identify her." She held the tablet in her hand. "This should help."

Her phone buzzed again.

Huck's left eyebrow rose. "Somebody is being persistent."

Laurel drew an evidence bag out of her other pocket and slid the tablet into it, before handing the bag to him. "Yes." Giving in, she tugged her phone free, seeing Dr. Abigail Caine's name on the screen. "What is it, Dr. Caine?" she asked by way of answer.

"Now, Laurel, is that any way to talk to your sister?" Abigail bit out, her slight British accent emerging to make her sound more than a little peeved. "You returned to town a full two days ago, and you haven't answered my calls."

Laurel shut her eyes and centered herself. She would not ask about Abigail's familiarity with her schedule. "I'm in the middle of a case right now. We'll have to chat another time."

"No," Abigail snapped. "We will speak now. I am in danger, and as my sister, you are going to help me."

"Half sister," Laurel returned, unwilling to deal with this right now. "I will call you later, Abigail."

"No. Somebody is harassing me, and it has to stop. I returned late last night from a retreat to find flowers scattered all across my front lawn this morning, some already frozen and some still breezing along. It's weird."

Laurel stilled. She cut Huck a look; he was watching her carefully. "Flowers? What variety of flowers?"

Abigail sighed. "They're black dahlias. A substantial number of them."

The high-end subdivision where Abigail Caine resided was quiet in the overcast afternoon. Angled rooftops and tall windows predominated in the wood, brick, and stone homes as Laurel drove past several mansions to the far cul-de-sac where Abigail lived, with forest on one side and another vacant-looking house on the other, a good distance away. Trees and landscaped yards made each home private, so it was quite possible the inhabitants hadn't seen anything unusual happening at Abigail's.

Laurel drove down Abigail's icy drive, noting the many blackish-red petals covering the portion of the yard closest to the house. Snow and ice had crusted over them, showing they'd been there for at least a couple of nights.

She cut off the engine of her new, rented Nissan Rogue, which she'd picked up just yesterday. Since she wasn't certain she'd be staying in town, purchasing a vehicle didn't make sense. Then she sat as silence descended, heavier than an anxiety blanket. Unlike many of the other homes, Abigail's had light shining through the flimsy curtains on the massive floor-to-ceiling windows.

Snow fell lazily from a darkened sky, covering Laurel's windshield. Cold almost instantly seeped into her SUV, and she shivered.

The front door opened.

She exited the car and shut the door, studying the iced-over petals. There was no discernible pattern, and the snow had obliterated any possible footprints. These flowers had been scattered before the ones around the body found near the river. Odd.

"Laurel? Come in. There's no pattern to the flowers or petals," Abigail called, her breath puffing in the cold air.

Laurel turned and made her way along the freshly plowed driveway to the walk, meeting her half sister at the porch.

Abigail partly blocked the way inside, her head cocked, her eyes—one green, one blue—scrutinizing Laurel. "I swear, it's like looking in a mirror. Don't you think?"

Laurel shook her head. "No. We both have reddish hair and different-colored eyes, but our bone structure is different, as is our skin tone." Well, at least to somebody who'd seen the same face in the mirror for almost three decades. To anybody else, they might look like twins. But she wouldn't admit that to Abigail. She couldn't.

Abigail scoffed and pulled Laurel inside the home, where starkness reined in opposition to the warmth blowing through the space. The surfaces were hard concrete or stone, and all white or a light gray. Even the pillows on the new black leather sofa were a glaring white. Her original sofa had been barraged by bullets during the Snowblood Peak case. "We have more than red hair in common and you know it. Genuine red hair is found in only ten percent of the population, and ours is auburn. A true auburn with brown and red. What percentage has that color?"

"Minuscule," Laurel agreed, brushing snow off her unfortunately rare hair color. She shrugged out of her coat and let Abigail hang it in the nearby closet before kicking off her boots on a mat near the door. "I'm not saying we lack rare genes." Considering they had the exact same heterochromatic eyes, one blue, one green, and a burst of green in the blue one, they were definitely unusual, which was a much nicer description than what she'd been called many a time by a cruel classmate or two.

Of course, that had been back when she was growing up and didn't know Abigail or even that she had a half sister. The truth had emerged during Laurel's first case in Genesis Valley, when she'd been shocked to discover she had a half sister from a father she'd never known. Her mother had always refused to give Laurel the name of her father. Her mom had been underage and her father a pastor at the church, and there was no consent. Her mother still had nightmares about it. "Tell me about the flowers on your front lawn."

Abigail gestured to the high-end leather sofa fronting a gas fireplace. "I'll ignite this. You must be chilly." She hustled over and flicked on a button, roaring the fire to life.

Laurel sat, even though she would've preferred to talk at the dining table or even the bar separating the kitchen from the great room. This was too casual. She glanced at the rear wide floor-to-ceiling windows, seeing the jagged, snow-covered mountains in the distance. Those windows lacked any covering, perfectly framing the freezing world outside. "The dahlias?" she prodded.

Abigail paused. "Could I get you anything to drink? How about coffee with a splash of Baileys? You look positively frigid."

"I'm fine." Laurel gestured to the matching leather chair. "This is official business, Abigail. I need to know everything about those flowers and now."

Abigail rolled her eyes and took the chair, sitting gracefully in it with the mountains behind her. The weak light poured inside the windows, caressing her reddish-brown hair, which she'd bluntly cut to fall at her shoulders, just like Laurel's. Her features were delicate and her skin more cream than peaches, making her unique eyes stand out even more. Today she wore black slacks and a green sweater that probably cost as much as Laurel's entire wardrobe. "I returned late last night from a retreat, didn't see the flowers, and only noticed them when I woke up. They've obviously been there for days."

Laurel sat back and watched for any nuances in Abigail's expression. She had an eidetic memory and didn't need to take notes, but she would write down the entire conversation later. "Your neighbor's house looks vacant. Any chance they saw anything?"

"No." Abigail studied Laurel as intensely as she was being studied. "The Northertons are snowbirds. They move to Arizona in October and don't return until May or June. Like most people around here."

"Are they retired?" Laurel asked.

"Yes. He worked in Silicon Valley and she owns a chain of eye clinics across the country. They retired here three years ago because their children, two of them, live in Genesis Valley. They see the kids here in the summer and then have them all visit Arizona in the winter." Abigail picked a piece of lint off her dark pants. "How predictable, right?"

"That life might sound ideal to many people," Laurel murmured. "Why would anybody leave flowers scattered over your lawn?"

Abigail threw up her hands. She wore silver rings on both, one with a stunning ruby in the center. "I don't know. Black dahlias, as I'm sure you're aware, symbolize betrayal."

"Who have you betrayed?"

Abigail stilled. "I'd watch my tone, were I you, sister." Her warning held a muted British accent left over from attending school for years in Great Britain.

"Why is that?" Laurel asked, keeping her tone mild.

"You really do not want to hurt my feelings." Abigail leaned forward. "Speaking of feelings, how is our Captain Huck Rivers?"

Huck had worked on the case that revealed Abigail's half brother, not related to Laurel, had been a serial killer in the area, one Abigail had killed to protect Laurel. Her brother had murdered young blondes and thrown them off Snowblood Peak to the valley below, and concurrent jurisdiction had worked for both agencies. "I have no idea," Laurel said.

Abigail smiled, flashing white teeth. "Oh, sister. We both know you and that mouth-breathing hottie with the hard ass rolled around in the sheets last year, as they say. Surely you've kept in touch."

"Who thinks you betrayed them, Abigail? This isn't a joke—you might be in danger."

Abigail stared at her, brilliance shining in her eyes. "You have ignored all of my calls and texts since my brother's funeral, which you were kind enough to attend before the holidays. I'm rather astounded you're taking this seriously. That you don't think I threw flowers and petals all over my lawn to gain attention from you. Why is that, Laurel?"

"I can't discuss that with you. Now, either you cooperate with me, or I will send somebody else to take your statement." Laurel pushed her damp hair off her shoulder.

Abigail's chin lowered a fraction. "Fine. I haven't betrayed anybody. In addition, I checked the cameras and have downloaded the applicable video for you. He walked down my driveway, which explains how he gained entrance beyond the gate to the subdivision. He couldn't have driven. It was a dark night with plenty of snowfall, and it's impossible to see his features, probably because he's wearing a damn mask. The figure looks like a man, though." She reached into her pants pocket and drew out a USB. "Here you go."

"Thank you." Laurel accepted the drive. "Have there been any other signs that somebody wants to frighten you? Any letters, calls, strange occurrences?"

"No. Nothing, and you know I'd remember if there were," Abigail said. "Why are you taking this so seriously?"

Laurel twisted the thumb drive in her hand. She didn't even have a description of the dead woman in the woods because her face had been destroyed. There was also no way Abigail could've known about the victim, because the body had just been discovered this morning. Plus, the flowers on her lawn had been left before the victim had been killed. "You may be in danger. I can't tell you anything more than that right now, but you need to be careful, and you need to start compiling a list of anybody who'd want to hurt you. Anybody who might feel betrayed by you, or anybody who has been too present in your life, too interested in you."

Abigail blinked. "I work at a university in a field mostly inhabited by men. I'm intelligent and beautiful while seemingly aloof, when actually I'm just bored by most people. They don't know that. The list would be too long to be useful."

There was a lot of truth in that statement. "I can put you in an FBI safe house if you want," Laurel said, needing to distance herself from this woman. "If not, I can ask the local police force to keep an eye on your house, but I doubt they have the manpower to put protection on you full time."

"What has happened?" Abigail asked.

"I can't discuss it yet," Laurel said. "What's it to be?"

Abigail shook her head. "How about you stay here?"

"No."

Abigail sighed, her eyes widening and her jaw slackening. "But I need help. You're trained. I'm scared."

"No, you're not," Laurel murmured.

Abigail lost the fake vulnerable look. "No, I'm not. But most people would be, and you have a duty to protect me. Not only because of your job but because I protected you once. Against my own brother, no less."

Yes, Abigail had killed her brother to protect Laurel. While Laurel appreciated being alive, her sister seemed to have a secondary motive for every action. "I've offered you protection. Say the word, and I'll secure you at a safe house in Seattle." It would only be a couple hours away, so Laurel could still reach her if necessary.

"So I'm in certain danger," Abigail mused. "Interesting. You've seen this before. Women stalked or women killed?"

Laurel stood. "Safe house?"

"No."

Laurel wasn't surprised. "Very well. I'll ask the locals to keep an eye on the subdivision. Please contact me when you have that list, and make sure you engage your alarm system at all times, even when you're at home." She paused. "Why were you on a week's retreat? Didn't you have classes to teach at the university?" Abigail taught several science classes at the premiere institution.

"Yes, but I took this week off." Abigail also stood. "My vacation was scheduled, and I had my students working on either labs or papers all week."

"Where did you go?"

Abigail lifted one eyebrow. "You know where I went. I invited you."

"Oh." Laurel would have to look back through the texts from her sister. She hadn't opened many of them. She padded in her thick socks to the door and slipped her feet into her snow boots.

"I find your lack of interest in our sisterhood rather insulting." Abigail fetched Laurel's coat from the closet and held it open. Her tone held a hint of warning.

Laurel had no choice but to slip her arms into the sleeves and allow Abigail to assist her. "I have no desire to insult you." She turned toward her sister and zipped up her thick parka.

"You just don't want me involved in your down-home Hallmark movie of a life?" Real emotion flashed in her eyes this time.

Laurel sighed. "My life isn't perfect, and I don't know you. What we share isn't good."

Abigail grimaced. "Our asshole of a father who's been missing for years? You've never even met him. You only know he's a reprobate because of what you've been told by me and probably by your mother. We don't share him. Only I knew him, and I'll take that burden for us both. We're our own people, Laurel, but I am your sister."

Laurel reached in her pocket for her phone, a lump in her stomach that made her want to gag. "I can't prove it, but I know you tried to cover your brother's crimes before you realized we were half sisters. I'm an FBI agent, Abigail." She opened the outside door and stepped into the protection provided by the eaves before turning to face her sister.

Abigail was several inches taller, even in her bare feet. "I did not help him. If I did anything . . .
We hope you are enjoying the book so far. To continue reading...
You Can Hide
Rebecca Zanetti
Copyright © 2023 All Rights Reserved