Book info
Sample
Audiobook
Media
Author updates
Lists
Synopsis
Run: Gemma Falls never expected to use her game theory expertise to outrun a killer. But for years, that skill is all that kept her one step ahead of a deadly stalker. When Gemma gets the chance to teach at DC University, she hopes she and her young daughter have found a safe harbor. The only flaw is the arrogant philosophy professor who's always underfoot giving unwanted advice—in his sexy British accent . . .



Hide: Jethro Hanson has blood on his hands. He's working within ivy-covered university halls now, but he knows that his work with the Deep Ops team and the deadly acts he once committed for the sake of Queen and country place him beyond forgiveness—until he meets Gemma . . .



Seek: Soon, the passion between them stuns them both. But when Jethro discovers a threat is fast overtaking her, he must choose between the redemption he seeks—and releasing the ever-present killer inside . . .
Release date: June 7, 2022
Publisher: Lyrical Press
Print pages: 304
Reader says this book is...: action-packed (1) entertaining story (1) high stakes (1)
* BingeBooks earns revenue from qualifying purchases as an Amazon Associate as well as from other retail partners.
Listen to a sample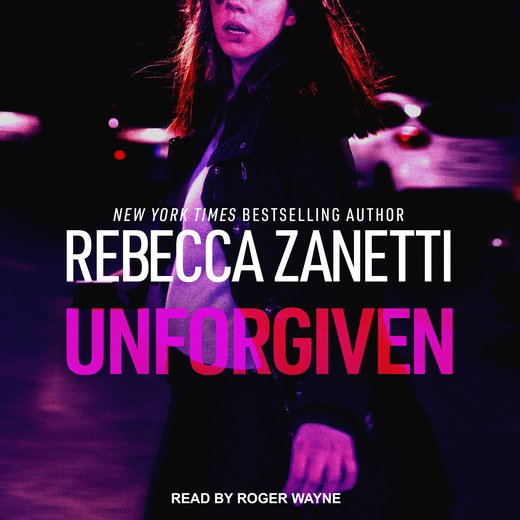 09:15:50
254.45 MB
June 7, 2022
Tantor Audio
2022
Unforgiven
Rebecca Zanetti
Chapter One

The desk light barely kept the darkness from pushing inside the windows, its shadows slinking to the edges of the office. Gemma Falls finished neatly filling in her calendar while chills skittered down her back. The chills were a part of her. She'd learned to accept them instead of fighting each cold finger. They always won.

Sitting at her maple desk, her gaze lifted from the computer screen to the closed office door, which was locked. Just one lock, though. Would it seem odd to her new colleagues if she added three more locks as well as a security chain? Probably.

She hunched closer to the screen and prevented herself from turning on the main light in the office. Her screen was good enough for now.

The winter storm grew stronger outside, scattering ice against the windows. She looked out, noting the icicles barely visible around her second-story window. Tree branches scraped the brick building, their tendrils making an eerie noise against the window. Rising, she stepped around the box of discarded holiday decorations her friend hadn't had time to put away and walked to the window, looking outside.

Her office faced an interior courtyard surrounded by brick buildings. Snow and ice covered the picnic tables and benches, and no footsteps were visible, because the university had been closed for the holiday season. The new semester started the next day, and the cold of January wasn't letting up any.

The darkness of night failed to offer any comfort, so she studied the small office. Serena had left her books and supplies on the shelves, although she'd taken her personal belongings. Gemma's things would take less than ten minutes to unpack. All stuff she'd picked up the last few years that looked personal but didn't give a clue as to her life. Souvenirs from places she'd only passed through, as well as a couple of photographs of her with people she didn't know. Pictures she'd snapped at public places that looked as if she was in a group having a great time.

She didn't even know the names of the people in those pictures.

It was all right. She was smart and she was careful. A mantra she'd learned to repeat to herself nearly every day, hoping the words dug deep and took root. There was too much to lose, and it was her job, her duty, to make sure she stayed smart and careful. Her stomach growled from missing dinner and probably lunch. For now, she had to get ready for this life. Her new one. She returned to the desk to finish the syllabi she'd need to hand out during her two Monday classes the next day.

She'd never taught before.

What if she failed at teaching a subject she barely remembered? She sat back and forced her shoulders to relax. This was just another persona, and she could do it. It helped to pretend she was somebody else, so she imagined she'd been teaching college for years and this was merely another semester. By the time she became accustomed to the schedule, she'd be gone. At least she'd have some money in her pocket when she left. Times had been tough the last six months, and the odd jobs she'd managed to pick up hadn't given her much comfort.

A sharp rap on the door had her biting back a scream. Her heart thundered into motion and her breath seized.

The tree branches scraped an ominous warning against the window as the wind increased in strength.

Slowly, she drew a snub-nosed .35 from the top drawer to set at the back of her waist beneath her blue cardigan. She'd obtained the gun illegally, so there was no record of her owning it. Swallowing, glancing uneasily beneath the desk, she rose and walked around it, past two student chairs and boxes she had yet to unpack. She reached the door. Asking who was there would seem weird because she wasn't at home.

So she unlocked the door and opened it, her body on full alert and ready to go for the gun.

"Hi. Saw your light." A man stood in the darkened hallway, only the night lights illuminating the long spans of faculty offices. He stood slightly back as if giving her room, his voice soft in the evening and his British accent unmistakable. "I'm Jethro." He held out a large hand.

She swallowed and accepted it, shaking quickly and releasing him. Good. He was a person who was supposed to be in the building, and that fact lowered her blood pressure immediately. He wore casual jeans and a T-shirt beneath a battered, brown leather jacket. "Gemma. Gemma Falls." The name rolled easily from her tongue after a month of practice. "Jethro Hanson?" He was even better-looking than her friend had said.

"Yes." His smile would appear charming to most. He stood well over six feet tall, with dark blond hair, deep blue eyes, and a bone structure sharp enough to have been cut with a chisel. His accent was full-on British, his backpack professoresque, and his body muscled, no doubt from too much time in a gym. His shoulders were too wide for a professor's, and his torso tapered down to muscular legs in jeans. As he took her in, from head to toe, a lock of his thick hair fell over his brow to add a hint of boyish charm that almost softened the utterly male sexuality he wore so naturally.

"I see," she whispered, caught up in his scent for the briefest of moments.

If he noticed her confusion or reaction to him, he didn't let it show. The guy was probably accustomed to it. Instead, his smile deepened, showing a dimple in his left cheek. As if the rest of him wasn't enough, he had a freaking dimple. "Serena asked me to show you around DC University, but I didn't expect to see you until tomorrow morning. Not many people work Sunday nights around here."

She locked her knees in place and looked up, way up, to meet his gaze. So this was the guy who'd stolen Serena's office last year. They'd buried the hatchet and had become friends, according to her. Only friends, though. Perhaps he didn't steal the breath of every woman in his vicinity. Just Gemma's. Maybe her blood sugar was too low. "I wanted to get organized before class tomorrow."

One of his eyebrows rose. "This substitution is very last minute. Do you know where Serena is? Her email said she took a temporary research job and had already found somebody to take her classes. It's not like her to be rushed about things."

Gemma straightened her shoulders. Rushed? Not likely. She and Serena had arranged this a month ago, but to make their plan work, Serena had waited until the last second to tell DC University, so there was no choice but to hire Gemma. "It seemed like a good opportunity for her, and I'll only be here a semester, so everything will work out. Serena will be back in June, I believe." Gemma needed the money, but she could only afford to stay in one place for a few months. She barely kept from tugging on her blondish-white wig to make sure it remained in place.

"Serena isn't the impulsive type, so I'm concerned about her." Jethro took another step back, his gaze piercing. "Her email came from her university account, and I don't know how to reach her at the new place of employment. Do you have her contact information?"

"No," Gemma lied. "I'm sorry. She said she accepted a government contract with some sort of top-level clearance, and that's all the information she could divulge." It was close to the truth, and the explanation made sense, considering Serena was a genius in about every quantum field there was. "I'm sure she'll be in touch when she can be."

He just studied her. This close, he smelled like expensive cologne. The good kind that was outdoorsy and masculine. "Then I suppose it's fortunate you were available to substitute for her this semester, and on such late notice."

"Sometimes things work out. I was between jobs and more than happy to help out," Gemma said, trying not to squirm beneath his regard. She had the oddest feeling he didn't like what he saw. That was good. She didn't have time to make friends, and the more people who left her alone, the better. Safety was all that mattered.

"I see. How do you know Serena?" he asked, his body language casual and relaxed. Even so, a tension came from him, one that sped up her breath.

"How does anybody know anybody?" she asked. "Serena and I go way back." It was the truth. They'd met as undergraduates in college, and they'd gone their separate ways to earn their graduate degrees. Gemma had followed the wrong path, without question.

If he caught her avoidance of the question, he didn't let on. With a smooth motion, he shifted the heavy-looking pack from one muscled shoulder to the other. "That's good. We'll miss Serena this semester, but it's nice to have new blood around. How about I meet you early tomorrow, say around seven, and show you the campus?" he asked, his tone polite.

She forced a smile. "That's kind of you, but I've already explored and know my way around. Thank you, though." She kept her tone pleasant but dismissive.

His chin lifted slightly. Barely enough to be observed, but she'd learned the hard way to notice signs of irritation in a man. His intelligent gaze pinned her, and for a second, she felt trapped and breathless. Not scared. Then his gaze relented. "I see. Very well. If you require any assistance, please call on me, Ms. Falls."

Had he emphasized the title? Heat started to filter through her face, but she shoved down emotion. She barely kept from defending herself, pointing out she had earned a master's degree in statistics with an emphasis in game theory. She didn't have a doctorate. Most professors at the elite university held doctorates, and apparently this one was a snob about it. Fine. That was good. She didn't want to join their titled ranks. The real world would crush a guy like this—one who'd no doubt lived his life inside the cocoon of academia.

She glanced at her watch. Pointedly.

"It's fairly dark outside and the storm is getting worse. Would you like me to walk you to your car?" he asked, all warmth gone.

"No. I have another hour or so of work to do here," she said, taking a step back. She'd parked beneath a light pole as close to the building as possible, making sure she'd have a clear line of sight from the front door to her clunky car. "Good night." Without waiting for his response, she shut the door. Her head ringing, she placed her right hand on the heavy wood and then leaned in, ear to door, listening for his retreating footsteps. Once the sound dissipated, she quietly engaged the lock.

Deep breath. Take a deep breath. She did so several times before turning back to her work, quietly edging around the sharp corners to sit in the ergonomically correct chair, then pushing back to look beneath the desk.

Trudy remained curled up on the large pillow beneath her worn green blankie with the elephants on it, her three-year-old body lax in sleep, her face peaceful. Her curly brown hair had escaped its twin ponytails, and her pink lips were pursed as she dreamed, hopefully of ponies and kittens.

A burst of love pulsed around Gemma's heart a second before the edge of fear crept in. "We're safe, baby," she whispered.

For now.

Chapter Two

"You're lucky you're so cute," Jethro said to the mutt as they walked along the wide hallway through throngs of students, many of whom stopped to pet the dog.

Roscoe panted happily, butting up against a tall, leggy blonde.

The teenager dropped to her haunches and dug both hands through the dog's fur, scratching his ears. "He's so sweet. What's his name?"

"Roscoe," Jethro said. "I have to bring him to work with me on Mondays because it's my longest day, and I don't trust the bloke at my flat alone for that long." Somehow, no matter what Jethro did, the dog found any alcohol on the premises and created a disaster. He needed to store his wine collection somewhere else.

The young woman stood, shoving her backpack over her shoulder. "You must be Dr. Hanson."

"I must be," Jethro agreed, giving Roscoe a look. They only had an hour for lunch, and the dog had already wasted too much time trying to get attention from pretty ladies. They'd both spent the night over with a lady friend they'd met at the dog park, and Roscoe had gotten plenty of love that morning from the stunning brunette—one Jethro would probably never see again.

"I've heard about you and your accent." The student rocked back on thick snow boots. "I'm Laura Jenkins, and I'll see you tomorrow in your Intro to Philosophy class."

Ah. A freshman or sophomore. Jethro smiled and unobtrusively shoved his fingers beneath Roscoe's collar to tug him along. "I'll see you in class, Laura. It's nice to have met you." He kept his grip strong enough that Roscoe finally moved into action next to him, winding through students trying to find their classes on the first day.

Roscoe barked and yanked free, skidding through a classroom door and right into Gemma Falls as she tried to exit.

The woman yelped and backed away, dropping several file folders. Papers slid out, cascading to the ground and landing on Jethro's boots.

He sighed and leaned down to clean up the mess. "I'm sorry, Ms. Falls. He's an idiot."

Roscoe sat, wagging his tail and displacing more papers.

She eyed the dog and gingerly reached out, patting him awkwardly on the head. "You bring your dog to work?"

"I'm just dog sitting for a friend and couldn't leave the mutt home alone all day." Jethro straightened and handed over the papers and file folders.

"Oh. Well." She accepted them and regained her composure quickly. In full daylight she was even more beautiful than she'd been the night before, but just as glacier-cold. White-blond hair bluntly cut at her shoulders, pale skin, and brown eyes that were almost flat. No emotion anywhere near her.

He backed up a step and wanted to tell Roscoe to forget it. There was no warmth in that woman. Unfortunately he was more than acquainted with her type. All she was missing was diamonds at her ears and strands of pearls at her throat, and she'd be a dead ringer for his late mum. May the devil have her.

The dog was too dumb to notice and edged toward Ms. Falls, lifting her hand with his nose.

"Sorry." Jethro pulled him back by the collar before she could freak out. Or freeze the animal with a death glare or something. He should be polite, considering Serena had asked him to look out for the ice queen. "How was your first class?"

"I believe it went well," Ms. Falls said, brushing past Roscoe. "I was headed for my second class, which lasts two hours. I guess my lunch will be at one."

"This is my lunch hour," Jethro said, glaring at the dog. He liked to eat early and always set his lunchtime for eleven in the morning.

As she turned, he noticed she was wearing a drab gray suit with green heels. It was a little too big for her frame, which was a trick his mother had often used as well. Neither woman needed to look smaller than she was—both were petite. Too petite and too thin. The shirt underneath Ms. Fall's jacket appeared to be a plain white shell.

No jewelry, though.

Maybe she hadn't unpacked it yet.

She glanced at the dog. "Serena didn't tell me what you teach. Just that you were here and I could call you if I needed help."

This was a woman who never needed help. Or if she did, she certainly wouldn't ask for it from him. That much he already knew. "I teach philosophy, with an emphasis on ethics, mortal theory, rational choice, game, and decision theories."

She blinked. Just one lift of those too-long eyelashes that were too dark for her coloring. They were probably fake. "Trying to figure out the meaning of life?"

"No," he said, tightening his hold on Roscoe as a group of happily chattering sophomores wandered by. "I'm trying to figure out why there is evil and what we can do about it, if anything."

Her surprisingly full lips twitched and she seemed to stare through him. Beyond him. "You believe in evil? That it's a force of its own?"

"Yes," he said, wondering what she'd look like with that hair all mussed and her skin flushed. "I believe evil is inside all of us, and I think it grows. Or can grow." He hadn't figured out how to end it, or even how to live with it. Not yet. "I take it you don't believe?"

Her gaze landed squarely on his. "I believe. Evil exists and it never stops coming, does it? No matter what we do." She seemed to shake herself and then tucked her file folders more securely beneath her arm. "Have a nice day, Dr. Hanson." She turned on a green heel, wobbled just slightly, and then continued down the hallway.

He watched her go, trying rather hard not to notice that her butt was cupped perfectly by the gray skirt. So only the top was too big.

Roscoe whined.

Jethro looked down at him. "Not for you, pal. She'd freeze your ears off." Hell. The woman was so cold and vain, she could barely walk in those shoes. They were probably three sizes too small for her.

He remembered his mother using a thick wedge to get her feet into shoes that pinched. He also remembered how fast she was with a backhand to the face. "Let's go, Roscoe. I need time with innocence now for sure."

* * * *

"There you are," Sofia Gomez said, throwing a stuffed cotton block at his head.

"Sorry I'm late. It's the dog's fault." Jethro caught the block and tossed it over his shoulder toward the reading corner, which was beyond the secured gate that kept the little people from wandering out. He leaned down and opened the gate, letting Roscoe inside the cheerful area with colorful mats on the floor and instructional signs on the walls, including a new one with bright A, B, and Cs. A wide window at the far end showed a swing set covered in snow outside.

Sofia sighed, the many lines in her cheerful face softening when she looked at Roscoe. For the first day of the semester, the head of the day care had worn a hand-knitted green sweater and dark jeans, along with what looked like new snow boots. "He is a cutie."

"So are you," Jethro said, inhaling the scent of cookies. "Why don't you just give in and marry me?"

"Oh, you," she said, waving her hand in the air, her arthritic fingers looking swollen. "Forgetting the fact that you're thirty years too young for me, I'd hate to ruin all other women for you. Before I forget, swing by after work for the popcorn you ordered before the holidays. We made enough in that fundraiser to keep the women's shelter running for half a year." She turned and bustled her ample form past the hooks by the doorway to her office, her gray hair up in a tight bun. "I'll just need ten minutes to eat my salad. Try not to get into trouble."

A rustle of sound had Jethro turning just in time for a miniature attacking midfielder to smash into his legs, coming from the hallway to the east.

"Jet!" the boy said, wrapping both hands around Jethro's legs. "You're back! I'm back, too. We're back!"

Jethro lifted the kid by the hips, spinning him over. His dad taught in the English department. "It's good to see you, Pete. How was your Christmas?" He set the boy down on his feet so he could pet Roscoe.

"Awesome," the four year old said, rubbing Roscoe's ear. "I gots a train from Santa. A real one that lights up." He looked up, showing a gap in his front teeth that hadn't been there before. "And I gots five dollars from the tooth fairy." He held out his small hand for a knuckle bump.

Jethro bumped knuckles and let the moment expand inside him, hopefully banishing some of the darkness that would never let go. "Where is everyone?" The day care, which was just for university staff and faculty, usually had twenty kids a day.

"Snack time," Pete said simply. "I ate fast."

"Pete. I told you not to leave the main group." A fortysomething woman with glitter in her hair and paint on her jeans bustled down the hall, stopping when she caught sight of Jethro. "Oh, good. Hi, Jet. Glad you're back for another semester." Barb grinned at Roscoe. "You're on dog duty again."

"Yeah," he said, eyeing a new urchin tripping along behind her with a green blanket clutched in her small hands. "Angus and Nari are visiting her family and they flew, so I'm dog sitting." Part of him figured Nari had left Roscoe on purpose because she thought he was lonely, but he couldn't prove it. "Who's your little friend?"

Barb turned and drew the cutie forward. "This is Trudy. She's new."

Trudy tripped over the edge of the blanket, her blue eyes wide as she stared at the dog. "Doggy."

Roscoe immediately recognized a new ally, one who might have a cookie stuck in her other hand, and moved toward her in quiet dog mode, not making any sudden movements. Reaching the toddler, he sat and, swear to the saints, he smiled.

The girl dropped the blanket and reached for his face.

"Whoa." Jethro moved to crouch next to her, setting a hand on Roscoe's head. "I'm Jethro and this is Roscoe."

The girl grinned.

Man, she was adorable, with curly, very messy brown hair, clear blue eyes, and delicate bone structure. "Cute doggy."

"He is cute and he is nice, but you want to always be careful not to put your face right in a dog's face. Okay? Big teeth," Jethro said.

As if on cue, Roscoe yawned, showing his sharp canines.

Trudy's eyes widened. "Big teeth." Then she smiled again and patted Roscoe's nose.

Movement sounded behind Barb and she stepped out of the way. "Incoming."

Jethro partially turned to take the hit of several toddlers ramming him head-on with happy cries of his name. He fell over and then rolled around, gently wrestling and letting the kids use him as a jungle gym. Little Trudy, the only new addition for the semester, seemed content to pet Roscoe while the rest of the kids ganged up on him.

Barb let them play for about five minutes before declaring it was story time and everyone should head for the corner. The kids reluctantly wandered away, and Jet stood, brushing glue from his jeans. His phone rang, and he tugged it from his pocket, his body going still when he saw the private number. He waved to Barb and the kids, motioning for Roscoe to follow him as he headed for the door. He answered once outside in the falling snow. "This is a surprise." Usually his former commander called on Sunday if he wanted to chat.

"We have a problem," Cecil said without preamble.

Jethro looked up at the swollen clouds that had become relentless in their release of fat snowflakes. The brutally cold air burned his face and he tucked his free hand in his pocket to ward off the cold. "Define problem." He turned down the shoveled sidewalk to make his way back to his office, letting the snow melt on his head and face while the devastating wind tried to kill him.

"Belmarsh prisoner number 2342352 escaped from a transport taking him for questioning three days ago," Cecil said.

Jethro stopped moving and Roscoe bumped into the back of his leg. "You're jesting."

"No."

"Why the bloody hell didn't you call me the second he escaped?" Jethro snapped, turning to look at the wide parking lot next to him where the cars were already covered in white powder. The wind blew more snow around, shooting a chill through his entire body.

Cecil cleared his throat. "You're not with MI6 any longer, friend."

"Bullshit," Jethro said. "Where is he now? Have you tracked him?" It had taken Jethro six months to hunt down the bastard and put him away, and now he'd gotten loose four years later. Jethro was going to hell for that mission alone.

"We've partially tracked him, and he's across the pond, Jet. He's in your neck of the woods. Which means…"

Jethro sought threats in the surrounding trees, seeing only clumps of ice. He'd known. From day one of putting Fletcher away, Jet had known they'd meet up again. "He's coming for me."

Chapter Three

Gemma finished tucking her file folders into her borrowed black leather satchel and then reached for her thick, borrowed coat as a knock sounded on her open door. She looked up and smiled. "Mrs. Franks. Hello." The administrative assistant had been more than helpful in getting Gemma squared away for the semester under short notice.

"Hi, and I told you to call me Louise." In her mid-fifties, Louise wore cherry-red cat's-eye glasses. "How was your first day?"

"Enjoyable," Gemma said, pulling on the heavy coat she'd found in the back of Serena's closet. "The students are a smart bunch."

Louise nodded. "That's good. I wanted to catch you before you left because the selfie picture you sent for the faculty website was too blurry." She drew a phone from the pocket of her thick green skirt. "Let me take another one."

Panic spasmed down Gemma's esophagus, but she remained in place and forced a smile. "Oh, not now. I look terrible after a long day."

"You're lovely," Louise argued, lifting the phone and squinting at the face. "I'm good at this. Trust me."

"Wait." Gemma set down her bag and pulled out a set of wire-rimmed glasses. "Let me at least look like a professor." She zipped the coat to add bulk and then pulled on the glasses, which were clear glass because her eyesight was 20/20. Then she moved to the window, which would light her from behind and partially shroud her features.

Louise shook her head. "The light is wrong there. At least move in front of the bookshelf."

Was there anything on the bookshelf that would identify her? "Sure," Gemma said easily, moving toward the shelf and staying at the edge, where the light coming in from the snowy day would still cast a shadow.

Louise clicked several shots. "Those glasses are way too big for your face."

"I like them," Gemma said. Of course they were too big for her face—that was the best way to disguise her features short of wearing a mask. "I'd prefer not to have my picture on the Internet."

"Sorry." Louise put the phone in her pocket. "It's university policy—we like for the students to see their professors." She winked. "Besides, you're so pretty, I figured you'd want your picture out there. We like to link to social media pages, but I can't find any for you. Am I looking in the wrong places?"

Gemma forced a laugh. "No. I think s. . .
We hope you are enjoying the book so far. To continue reading...
Unforgiven
Rebecca Zanetti
Copyright © 2023 All Rights Reserved
Also in this series
Also by this author