Jack Be Quick
To save her, he'll have to be deadly, accurate, and most of all, quick.
Book info
Sample
Audiobook
Media
Author updates
Lists
Synopsis
It's been months since ex-Navy SEAL Jack McCullen last saw his fiancée, Suz Molloy. He was on the other side of the world involved in a grueling black ops security mission for Iniquus Corporation at the behest of the US government. Mission fail meant a special flight home, and an ambulance ride to the hospital where Suz should have been waiting for him.
Something is very wrong, and Lynx might be his only hope.
When Jack rouses from his surgery to find Suz missing, he knows something is very wrong. Led by the psychic "knowings" of his Iniquus colleague, Lynx, Jack risks everything as he desperately tries to reach Suz and the children she's protecting in time to thwart the kidnapper's plot and save their lives.
This time, his mission is for more than love of country; it's for the love of his life—his heart and soul.
Release date: July 17, 2017
Print pages: 371
* BingeBooks earns revenue from qualifying purchases as an Amazon Associate as well as from other retail partners.
Listen to a sample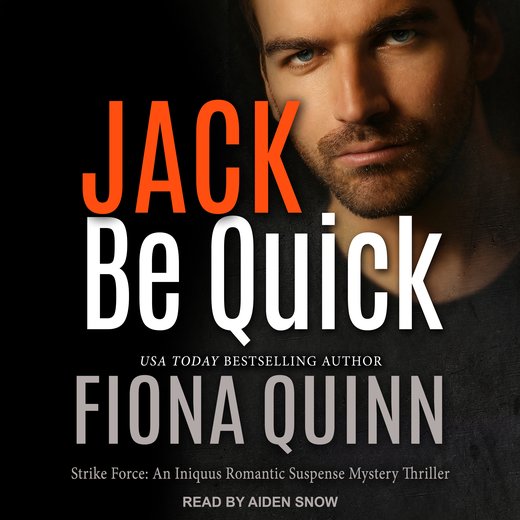 08:06:52
222.88 MB
June 2, 2020
Tantor Audio
2017
Jack Be Quick
Fiona Quinn
Chapter One
Suz
11:15 p.m. Sunday, February 13th
Suburban Hospital, Bethesda Maryland
Suz perched on the edge of her vinyl-cushioned hospital chair to study Jack's face. He was pale beneath his tan. His bruised and unshaven skin lay slack over the chiseled angles of his jaw and cheek bones. His mouth hung slightly to the left, following the tilt of his head as his lips slid open and hung loose.
Balanced on one hip, a good two feet from his face, Suz could smell smoke clinging to the black ebony of his hair. She brushed her hand down Jack's bare arm, stopping to dance her thumb lightly over the IV and tape.
"Here you are again," she whispered. "Here we are again." She lifted her gaze and let her focus take in his little corner of the post-op. They were the only ones there. It must have been a slow night for the emergency surgeons. They were probably in a back room somewhere, sipping coffee and playing Angry Birds, waiting for the next car accident, or gang beatings, or special forces operative who felt compelled to jump off a building. . .
Her eyes scanned over the room with its beeping machines and bright lights. It hadn't been bad, this time. Well, not life threatening. Something to do with the meniscus in Jack's knee. When the surgeon tried to explain about the cartilage tearing from a massive impact and twist, he pointed to the images on his tablet. Suz's stomach jumped at the sight. With a sour face, she shook her head, pushing the photos away. She didn't need to know the details. She didn't want to know them. Deep down, in a place that she hadn't yet acknowledged, Suz understood that these kinds of details weren't going to be her burden to carry anymore.
The two points that got through her resistance were that Jack was going to be okay, and there was a three to four-month recovery time.
She laced her fingers into Jack's and, while she squeezed to hold him tightly, his fingers hung unaware. Three to four months. Jack would turn that into a week, maybe two. He couldn't sit still. He certainly couldn't lie still in a hospital.
Suz's mind drifted back to just a short time ago when he was fighting for his life after being shot in the thigh and through his chest, collapsing a lung. A covert mission that had gone very badly, jeopardizing his whole team. No one had come out of that one unscathed except for Blaze, their communications officer. She remembered how she had waited for the surgeon's report, waited for the "I'm sorry. We did everything we could. . ." She had pulled herself into the fetal position on the hard, plastic, waiting room chair. Her head rested in Jack's teammate's lap as she sobbed, and Blaze offered up what comfort an alpha male could offer up — which meant he pet her like she was a puppy and dropped a brotherly kiss onto her hair every once in a while. Jack and his friends were much more comfortable fast roping into the fray than dealing with emotions.
"How in the world did we end up together, Jack?" It was the ubiquitous question that she had been asking herself since they started dating almost four years ago.
Jack mumbled something as if in response. Suz had been in this position too many times, watching him come out of his medicated stupor, to pay much attention. His work as an Iniquus security operative assigned to Strike Force put him in constant danger. And he loved it. Loved the adrenaline rush.
Suz preferred yoga and meditative quietude. Adrenaline was something she tried to avoid. She looked down at her hand so small against his bear paw. She was five-foot-two, and he was six-foot-five from his bare feet to top of his tight military haircut. She weighed in at a hundred and ten pounds, and he doubled her without an ounce of fat, just pure heart and muscle. A mountain of muscles. Unconquerable. Unless of course it's your job to jump off three-story buildings as they exploded somewhere in the far reaches of the world. He'd have to be more robot than human to be able to do that and not end up here in the surgical wing.
Suz knew little other than what he had texted her from the ambulance. Apparently, as he flew off the top of some building — somewhere that required a plane to evacuate him and eighteen hours of airtime — he landed on the roof of a car which collapsed, absorbing the impact of the fall, and he walked away – hobbled away.
His last text said: I'm home for a once over at Suburban Hospital.
That text struck her as the nail in their coffin. She couldn't. She couldn't keep doing this. For someone who sought to be peaceful and centered, Jack brought life-or-death energy to their relationship on a daily basis.
He loved it.
She hated it.
"Jack be nimble," Jack mumbled. ". . .quick."
Suz leaned in, her ear hovering just above his mouth, trying to catch his words. "What? What are you saying, Jack?"
"Jack jump over. . . candlestick." Suz made that up. She thought it might be what he said – but nursery rhymes? Could be. People said awfully weird things while sedated.
"Thank you, Lynx. . ."
That last one was clear, and it hurt. Lynx's name was on his lips, not hers.
Lynx was Strike Force's newest teammate, Lexi Sobado. She was fun, kind, unduly attractive, as smart as they come, and Trouble with a capital T. Lynx had a way of magnetizing the bad guys to her, and then the Strike Force team of good guys would have to save her life, time and again.
Lynx was supposed to work in the office doing their intelligence and wasn't supposed to be a field operative like the others.
Yes, for sure, where Lynx went, trouble followed.
Suz scowled. That was really unfair of her to think. And not any more true for Lynx than the other team members. Jack had been in danger since before Suz and he started dating back when he was still a SEAL in California. His life had been on the line long before Lynx had shown up. This is a stupid thought process. Suz twisted her copper colored curls into a make-do braid. She was just looking for a bad guy – someone to blame for Jack's wounds and her misery.
"Jack jump. Jack. . . candlestick." Jack breathed out.
"What candlestick?"
"Jump."
"Jack, did you jump over a candlestick?" Was that code for something? Maybe the dynamite that blew up the building as he stood on the roof? Not that she actually knew why the building had blown up.
He lifted his free hand inches off the mattress and made a gesture that she read as jumping over.
"Why did you jump?"
"Lynx," he said.
Frustration painted over Suz. Jack never gave her a straight answer about his missions. It was as if he lived a parallel life. It was one of the things Suz hadn't been able to work through. She stared at the engagement ring glittering on her right ring finger – the "thinking spot" until she made up her mind to say yes.
Or to hand it back.
Could she marry someone and not know what happened during most of his life? Their only reality as a couple turned out to be the short, sporadic bursts of time they were together. That just didn't sit well with her.
She had heard the soldiers laughing back in California "Are you married?" "Not overseas I'm not." Jack wasn't like that. She trusted Jack because he deserved her trust – but that many secrets wore at a relationship. Made it threadbare and fragile. And then it ripped, leaving ragged edges, that were all but impossible to mend.
In that moment, Suz needed an answer. Just one clear answer. "Lynx told you to jump. And you did. You jumped off a building. And then it exploded. Lynx was on this assignment with you? I thought she was here in DC."
Nothing.
Suz tried again. "You jumped, and you're alive because Lynx told you to."
Nothing.
"Come on Jack. I need to know this. How would Lynx know the building was going to explode? She was in Washington, and you were. . ." Suz had no idea where Jack had been. She frequently didn't even know he was leaving. They needed him – he ran toward the enemy. There were plenty of bad guys out there. Plenty of hostages that needed rescuing. Plenty of CIA or FBI or DHS or any other government agency who signed private contracts, preferring to use mercenaries over their own folks, especially in politically delicate areas of the world. Yes, there was plenty of extremely lucrative work for the operatives at Iniquus. Suz hated that money. She'd rather Jack were poor and home.
And safe.
"Jack?" Suz shook his shoulder. "How did Lynx know you needed to jump off the building before it exploded?"
Jack pulled his hand towards his head and tapped a finger to his temple.
"She figured it out?"
"Psychic," Jack said. Maybe. Suz wasn't sure; he had barely mumbled. He had merely twitched his lips.
Suz plopped her bottom back in the chair. She felt as if she had just opened the door on a stranger using the bathroom, and she wanted to shut it as quickly as she could. If it were true, it wasn't something she was supposed to have seen. Suz shook her head and convinced herself that Jack was out of his mind on drugs, and she didn't really know what he was muttering.
"Jack be quick! Jack jump!" His body jerked and his hand landed on the brace that locked his leg out straight.
The hum of the ice water pump that cooled Jack's angry surgical site filled the sudden silence.
A wash of cold doused Suz's body, leaving her trembling and sweat-covered – because this time, Suz had heard the voice of someone leaping to their probable death. If Jack had missed the car roof, if it weren't engineered to absorb impact energy, he'd be dead.
She couldn't do this.
She lived in terror. All the time. Terrified.
Every single time her phone buzzed, she was sure it was the call. Jack was dead. Or worse, Jack was injured to the point that he wished he were dead and now would live in a broken body with no adrenaline surges to electrify and power his system.
Jack scraped his teeth over his lips and Suz reached for the moistened washcloth that she had been using to dab his mouth. "My world is so vivid, Suz." He had tried to explain. "You can't imagine how bright the colors are, how meaningful every nanosecond is when you're in survival mode." He tried to help her see why he did what he did. Even when she felt willfully blind to the pictures he tried to paint, Jack was always patient with her. She couldn't imagine him ever raising his voice or his hand to anyone. There was nothing about Jack that was violent. She knew intellectually that he had killed people. But it didn't make sense to her. Jack was a gentle giant. A reader. A thinker. A devoted would-be fiancé, waiting patiently for her to decide to say yes.
Suz bit her bottom lip to stop its trembling. She was tired of crying. Bone tired. Wrung completely dry. She didn't understand why Jack chased those adrenaline highs. Her system didn't brighten with fear; her system crashed under heavy cotton-filled emotions, buffering her from the moment, keeping her hidden inside of her body. Her limbs became dull and heavy. Her thoughts slowed. She vibrated with anxiety and inability like she was doing now. And this was no way to live.
Suz disentangled her fingers from his – when she tucked her fingers up into the web of Jack's hand, her joints stretched too far apart as the distance splayed her palm. The difference between them was physically painful. They didn't fit comfortably together.
She lay her forehead on the cool sheet by his elbow. "I love you. Oh my god, I so desperately love you." Her words tumbled out in sobs. "I can't do this anymore. I can't, Jack. I'm so sorry."
Chapter Two
Lynx
05:35 Hours, Monday, February 14th
Panther Force War Room, Iniquus Headquarter, Washington D.C.
St. Cyril and Methodius.
St. Mogila
St. Basil's
St. Clair
Lynx posted the list in red marker on the white board at the front of the room. She turned and saw that the Panther Force team was taking in the information, silently mouthing the words, trying to make sense of what they saw. Titus Kane, the Panther Force commander, stood beside her with his arms crossed over his expansive chest. Special Agent Steve Finley, FBI Counterterrorism Division, stood to his side.
Titus angled toward him. "Mean anything to you?"
Steve shook his head slowly, scrunching his lips together. "No," he finally said. "But when Lynx put up that last saint's name, my electrical grid lit up so bright I could swear it singed my hair. Last time that happened was when my task force took down a white supremacist threat on a judge. They didn't think a black man should be putting good white men in prison. They were about to blow up the Supreme Court of Virginia."
Lynx snapped the cap onto the marker. "This is bad juju then."
"If you believe in that kind of precognizant stuff," Steve said with a self-conscious chuckle.
The note had been found in the top desk drawer in Pavle Zoric's home office. Pavle was in custody. He was being held on child trafficking, murder, and terror charges.
Lynx let her gaze dance between the names of the saints. "It feels significant, though."
Titus nodded. Whether that was in agreement or just acknowledgement of her sentence, Lynx couldn't tell. Titus had one facial expression and one expression only – "stay out of my way." So, Lynx had a hard time reading his body language. She had no idea what boiled beneath his surface. Lynx glanced over to see who had poked his head around the door.
"Special Agent Finley?" the man asked.
Only Finley and Lynx were dressed in civilian clothes. Everyone else at Iniquus wore the uniform of gray camo BDUs–battle dress uniform–with long sleeved compression shirts, which showed off their company's dedication to being fit and ready for action.
Finley walked over and signed off on a thick file that was passed to him.
Lynx moved toward the coffee machine. They had been working around the clock for the past couple of days. And Lynx hoped they were wrapping things up.
"What's the sitrep on Jack?" Titus asked, pouring a mug of coffee from the carafe at a side table.
Lynx smiled, Titus was the only guy she knew who would ask for a situation report on the well-being of a friend instead of just an easy, "Hey, how's Jack doing?" "His fiancée texted me last night." Lynx peeked at the clock; it was zero six hundred. She needed to find a bed and get a few hours of shut eye.
Lynx had been loaned out to Panther Force while the Strike Force team was on its extended mission in the Middle East. It was interesting trying to fit in with this new group of operatives. Lynx thought Strike Force was a far better fit for her. Titus was a little tightly wound. "Jack's out of post op and in his private room at Suburban, resting comfortably. And by that, I mean, passed out on his IV cocktail. Suz is home getting some sleep. She has to teach this morning." Lynx's eye caught on the white board where St. Basil's was written second from the end. "Surgery went fine. Jack should be back on the team soon enough."
"I heard Strike Force's down range time got extended."
Lynx reached for a ceramic mug. Coffee was a high priority. "Yeah, complications with the mission when that building blew."
"Jack took one hell of a leap. That guy's got more lives than a cat." Titus leaned his hips back into the table and crossed his ankles. His clean-shaven head glowed dark brown. "But good that they're gone a little longer."
Lynx raised a questioning brow.
Titus lifted his mug toward the white board. "That means we get to keep you on our team for a while and maybe you can figure this puzzle out."
She raised her mug in salute. "Aw, thanks Titus that almost sounded like a compliment." Taking a sip of the coffee, Lynx moved toward where Steve stood by the door, fanning through the new file. "Did they bring you anything that's actionable?"
Finley lifted his gaze. "It's the forensics information from Pavle's cell phone." He slid into a seat at one of the long conference tables and started sifting through the pages from the phone logs and texts. "Looks like they were able to access his email through his phone–they have it translated already." He seemed impressed. But this was par for the course here at Iniquus. Time always seemed compressed once a contract was signed, it usually meant lives were on the line and every second counted.
Lynx settled behind her laptop. "Hey, Gage, can you put up some notes on the white board for me?"
Gage moved into place and picked up a blue marker.
"So, I'm going to do a quick Google search on St. Cyril and Methodius because – well who's ever heard of them before?" She turned toward Steve and tilted her head.
He shrugged in response.
"Well here, right away I can tell you these guys are the patron saints of Slovakia. Steve, are the Zorics' Catholic? Would their terror activity be motivated by religion?"
Steve rubbed his chin. "The Zorics' don't go to any kind of house of worship. They present as atheists, both those that are here in America and those in Slovakia. Their drive is political power. Their politics are firmly attached to Russia and Russian Middle Eastern policy, especially Hezbollah, but they're also pro-Iranian."
"Hmmm. Let's see if we start getting matching pings – I'm attacking this puzzle like it's a message to take action. I'm looking for repeated threads."
"Sounds good – I'm going to scan through this and see what leaps out at me." Steve tapped the folder.
Lynx toed her tennis shoes off, being barefooted helped her think. She caught Gage's gaze. "These saints apparently devised the first alphabet to be used for Slavonic manuscripts. So, these guys were intellectuals." Lynx ran her finger down the page. "They arrived in Rome in 868, where they were warmly received. This was partly due to their bringing with them the relics of Saint Clement." She tilted her head back and forth. She said the details aloud just to pick out any commonalities when she moved down the Saints list on the board.
Gage dutifully noted the information.
"It says here that Cyril felt his end approaching so he became a monk. He died fifty days later."
"Geezis." Steve's gaze fixed on the paper in his hand. He jumped up to slide the page into the projector so everyone could see the image illuminated on one of the three screens hanging in the room.
"This is a series of four separate text messages that came in yesterday. The first phrase was written in English."
Let us prey. May the saints bless our endeavors. Amen.
"The next three texts were written in Slovakian and translated in the forensics department." Steve dragged his finger down the sheet.
The time has come, my brothers and sisters.
Great changes come at the price of great sacrifices.
I believe though that our plan is sound, and all is being readied. Nothing should prevent our success.
"That's a green light," Titus said.
Everyone agreed.
"February 14th 869 CE," Lynx said.
"What's that?" Titus moved over to stand behind her where he could see her screen.
Lynx pointed to the sections she was reading. "February 14th is the feast day of both Saints Cyril and Methodius."
Gage quirked a brow. "Today's February 14th."
"Let's not jump ahead of ourselves," Lynx said. But as soon as she saw the date, her heebie-geebies—her personal warning system—began to buzz. Either she or someone she cared about was in mortal danger. Too bad it was such an imprecise warning system. She had no idea whose life was on the line or how she could help.
Lynx ran through the possibilities. Certainly, she was safe here at Iniquus Headquarters. Jack had come through his surgery with flying colors. The rest of the Strike Force team. . . well they were off grid right now, playing in a Middle Eastern sandbox. Her mind flitted to her fiancé, Striker Rheas, Commander of Strike Force. It was terrifying to love someone who went down range into the heart of the battlefield. Every day was a struggle with a low-level hum of life-or-death survival fear. Even though she had contact with the team and what "need-to-know" information about their missions she came into contact with – that didn't help. Loving someone who lived with their foot poised over a mine and an AK pointed at their heads, was a physical and mental battle all its own. Loving someone who was in constant danger . . . well there was a reason why so few Iniquus operatives were married.
Lynx pulled her thoughts back to the present moment. She could do nothing to help anyone right now other than try to figure out why her warning system had gone off when she saw the date, February 14th.
Steve yanked his chair up to her left, crowding in beside her. Lynx liked space to think. Her thoughts needed light and air, and she was getting neither with these two men looming over her. She called out, "Nutsbe, can you run this list and all of the permutations through the analysis software and see if it can find something interesting – I'm particularly interested in St. Basil's since it's the only one that is possessive – I'm thinking that might be a place rather than a thing – like St Basil's Church or St. Basil's grave." Lynx hated using Nutsbe's call sign – his fellow pilots had picked that moniker for him back in his pre-Panther Force days when he flew F-16s. Nutsbe's birth name was Thaddeus Crushed.
She looked at the board. "While you do that, I'll Google St. Mogila, that's a pretty obscure name." She hammered her fingers into the keys. "Only one Saint Mogila. Saint Peter Mogila"
"What's his claim to fame?" Titus moved to a chair, and Lynx felt instantly better.
"Hmm. He's from a later period. In the 1620s, Mogila traveled to Ukraine. It says here that that's when Poland annexed Ukrainian lands. . . he founded a church. . . settled in Kiev. This doesn't seem pertinent. Pavle worked out of America. Right, Steve? He wasn't involved in planning things in Europe?"
Steve stuck his finger on the paper where he left off reading. "That's right. There are family leaders in Slovakia, and they directed Pavle. And Pavle, in turn, instructed the family members here on the East Coast of the US. There are other family groups that have positioned in other parts of the country."
"So logically, since Pavle was in possession of this list." She gestured toward the white board. "We're concerned that it has implications to terrorist activity here in the Washington DC area where he was operating."
"And that could mean a direct terrorist attack," Steve said. "But we have no information on his family actually engaging in anything even remotely like a terrorist attack. Their main objective was to fund organizations in the Middle East."
"But Pavle never got the message." Lynx pointed out. "It came in after he was arrested, and you had confiscated his phone, right?"
"The messages were received Sunday, February 13th at 12 hundred exactly. These are the only texts that came in after the raid."
"They originated from a burner phone?" Titus asked.
"That's what your forensics department notated," Steve said. "The call, though, originated in Bratislava, the capital of Slovakia. It took a circuitous route from country to country until it was spoofed as a Pennsylvania Pizzeria."
"We need the CIA in on this, Steve. You were working with John Black and John Green. . ."
Steve's gaze travelled to the wall clock above the white board. "Green's my contact in Slovakia. Black is here in Washington. I'd like to have a little more to hand them if I can."
Titus's phone buzzed, and he moved to a more private corner of the room to answer it. Steve went back to his file. Lynx turned back to Gage who stood patiently by the white board.
"Gage, it remarks here that Kiev was not only the political and cultural center for the area but also an educational center. Mogila was part of a group of intellectuals there. It seems they wanted to use Latin in the universities and there was retaliation against the teachers and educational facilities. Again, with education." She turned to look at her colleague who was working the computer searches. "Nutsbe, I'm just checking in on your parameters. Can run a search with education or school or university and each of the saints' names?"
Nutsbe scratched his nose. "Here's an interesting ping – the 'Slovakia and St. Clair' search turned up that Brandon St. Clair is the chair of the Senate Arms Committee."
"What's the correlate?" Lynx asked.
"The document I'm looking at is a small article that mentioned that St. Clair was not available for comment because he was in a meeting with the Slovakian ambassador." Nutsbe squinted his eyes and tapped at the keyboard. "I have another hit. This one is on the combination of St. Clair and St Basil's. St. Basil's Preparatory School. The senator gave a speech three years ago."
"Where's the school?" Lynx asked.
"Bethesda, Maryland. But here's the part you need to hear. His granddaughter was a kindergarten student there."
Lynx moved over to stand behind him. "Follow that lead – what's her name?"
"In this photo, Senator St. Clair is standing with a family of three children. The article says, 'Second-grader Rebeca Levinski and her brothers enjoyed a lovely day, listening to their grandfather speak about the importance of respecting each other for their differences.' There are three children in the photo with Brandon St. Clair." A couple of swift clicks on the keyboard and the image was projected onto a screen for everyone to see.
"Another ping," Nutsbe said, tapping more keys. "It's coming off the directive for 'schools and St. Mogila' – good catch on that one, Lynx. Looks like in March 1939, Hungary wanted to take over more territory from the newly established Carpatho Ukraine. But the autonomous section of Czechoslovakia wouldn't allow that to happen. Aryan terrorists attacked St. Mogila's School in Czechoslovakia. They went in and shot some of the children, then held the students and faculty in the cafeteria for days with their parents outside, trying to at least get food and water to them. Some days later, the school was exploded children and all. The threat was that this kind of terror would continue if the region tried to remain autonomous. They joined Hungary throughout World War II."
Steve was standing, wiping his hands over his face, then leaned back and stared at the ceiling. "Shit. Shit. Shit."
Titus moved up in front of Steve and planted his knuckles on the table, leaning his weight onto them until they were eye to eye. "You have more on this." It wasn't a question – it was a command to fill in the blanks.
Steve took a step back and spoke to the room. "The assault on St. Moglia's didn't work by blowing up the children." Steve's skin lost its color. He had been pushing himself without breaks for over a week, trying to cross all the Ts on the Zoric takedown. He hadn't looked well even before this last bit of news. Whatever was going through his mind now seemed to lick at the last of his vital energy. "One of the Carpatho-Ukrainian leaders was a power-hungry sociopath. He didn't care for anyone or anything except his sons."
"Were his children or grandchildren in the school?" Lynx asked.
"Worse. His children were taken from the school. The school was merely a smoke screen, hiding what the terrorists were doing. They kidnapped the leader's children and held them, using their pain as leverage throughout the war. Allowing for untold atrocities to take place."
"I know it probably doesn't make a difference to this narrative – but what happened to the children? Is there any way there is a familial correlate?" Lynx asked.
"They were killed when Hitler suicided."
"So never rescued?" Lynx asked.
"No one knew they were gone – everyone assumed they were victims in the school."
"But their father. . ."
"Was under duress and didn't let anyone know. The children were being held in Berlin–if there was an attempt to rescue them, it was off the records."
"And you know this how?" Titus asked, rocking his weight back onto his heels.
"It was one of the case studies we looked at in one of my counterterrorism classes," Steve replied.
"Okay, no waiting. Get Black and Green on the phone now," Titus said.
Lynx leaned over the computer desk. "Nutsbe, can you get a roster of the students at St. Basil's? Maybe also check the birthdates for the two boys and see what grade they might be in. Titus, we should get eyes on the Levinski home." She checked the clock, zero seven fifteen hours. "The children should be just about ready for their ride to school. Could a few Panthers head over? If they go now, we could get the children in sight before they leave."
Titus turned and pointed at three men: Thorn, Brainiack, and Dagger. They jogged out of the room. He pointed at Nutsbe. "Text them the address."
"Roger that." He tapped his phone. Then moved back to his work at his keyboard.
We hope you are enjoying the book so far. To continue reading...
Jack Be Quick
Fiona Quinn
Copyright © 2022 All Rights Reserved