Home at Last
Lulu realizes life is short and learns that home is where your heart is
Shout-outs
"In this wonderful conclusion, to a heartfelt and emotional trilogy set in Oregon's stunning wine country, Judith Keim has tied up the Chandler Hill series with the perfect bow."
Reviewer
Book info
Sample
Audiobook
Media
Author updates
Lists
Synopsis
Home is where your heart leads you…
Louise "Lulu" Kingsley is thrilled to discover after years of wishing for a sibling, Cami Chandler is her half-sister. When Cami invites her to live at Chandler Hill, Lulu jumps at the chance to leave behind all the heartache in her recent life. Not the spoiled little rich girl the media would like everyone to think, Lulu digs into marketing for the inn and winery, feeling more comfortable there than she ever did in California with her political father. Better yet, her mother is becoming a stronger, happier person and shares the idea of becoming part of a new family. Even though Lulu is aware that Miguel Lopez is the kind of guy who represents everything she's trying to forget, she's attracted to him. Following a heartbreaking situation, she steps away from their relationship. Lulu settles in at Chandler Hill, coping the best way she knows—by working hard. But when Cami's beloved grandfather, Rafe, has a stroke, Lulu realizes life is short and knows she must make things right with Miguel, and learns that home is where your heart leads you.
A love story of a family with heart… Be sure to listen to or read the other books in the series: Going Home and Coming Home.
Release date: April 13, 2020
Publisher: Wild Quail Publishing
Print pages: 270
* BingeBooks earns revenue from qualifying purchases as an Amazon Associate as well as from other retail partners.
Listen to a sample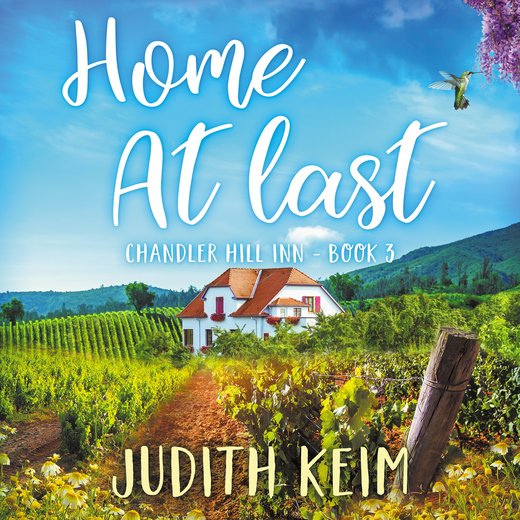 06:57:05
190.94 MB
9781667083452
November 25, 2021
Wild Quail Publishing
Home at Last
Judith Keim
Home at Last
CHAPTER ONE
Louise "Lulu" Kingsley sat on the deck of Camilla Chandler's home and wondered how she could be so lucky to live in a place like the Willamette Valley, Oregon. The journey to reach this point had been more than painful—it had almost destroyed her. But, here at Chandler Hill, she felt she might have found her true home at last.
Staring out at the rolling hills and the rows of grapevines devoid of their fruit after the harvest, she saw the goodness of the land, its beauty, and, most of all, the comforting prospect of more harvests to come. She thought of this continuity of life as a renewal of her own.
If Cami hadn't offered her a place to stay and a job in a new location, Lulu wasn't sure she could have survived the last year of family scandal and misfortune. For anyone who didn't know much about her, they'd think her life was a privileged, easy one as the daughter of a rich, powerful man who'd one day wanted to run for president of the United States. But the man who tied her to her newly discovered half-sister was a man of too many appetites, and his actions had hurt others, including her fragile mother and her.
The understanding shown by the half-sister she'd never known growing up meant the world to her. Cami came from a long line of kind, generous Chandler and Lopez families. Living and working at the Chandler Hill Inn and Winery was more than an ordinary existence. For Lulu, it meant finding a loving place in the world, one she'd desperately needed.
"I thought I'd find you here," said Cami, stepping onto the deck and standing behind her. "I love to sit here and gaze out at the land. It's very peaceful toward the end of the day and, as always, I think of Nonnee. My grandmother's love of the land was the foundation for everything that's been done here with both the inn and the winery."
Lulu turned around in her rocking chair and smiled up at Cami. Not much older than she, Cami's big heart matched her usual smile. Though Cami wasn't as tall as Lulu and had totally opposite coloring, their facial features were astonishingly alike. Among other things, they shared a tiny quirk—misshapen earlobes, a genetic inheritance from their father. Lulu wished she had strawberry-blond curls like Cami and her grandmother, Lettie Chandler, but Lulu's hair was straight and dark.
Cami took a seat in a chair next to her. "Gwen is very pleased to have you assist her at The Barn. I explained it was only temporary, that you'd agreed to handle our marketing program. But with the holiday season not that far away, I understand both she and I will need your help until after the New Year."
"I love being part of the staff," said Lulu, meaning it.
Cami gave her a tender smile. "Sweetie, you're much more than one of the staff; you're family. We intend to use your marketing and sales skills here at the inn and the other two wineries now associated with Chandler Hill."
A warmth filled Lulu. Being part of a real, healthy family was such a gift. An only child after the death of her younger brother, Teddy, at the age of ten, she'd always longed for siblings. Cami's grandfather, Rafe, was a wonderful man who'd been very kind to her. They'd formed a bond over the fact that her father and Autumn Chandler, Lettie and Rafe's daughter, had met and fallen in love, producing Cami. The rest of Cami's family consisted of people who weren't related by blood, but were still a close-knit group.
Cami nudged Lulu's arm playfully. "By the way, I think Miguel was disappointed you weren't at the strategy meeting today."
Heat flooded Lulu's cheeks. Miguel Lopez was one of the most handsome men she'd ever seen. Like his great-uncle, Rafe, he had hair so dark and shiny it resembled the wings of a blackbird or the smooth coat of a panther. She couldn't decide which. His straight nose, dark, intelligent eyes, and full, kissable lips had every young woman in the valley swooning in the wake of his sexy butt. Those were the very reasons Lulu had no intention of ever getting involved with him. His easy ability to attract others reminded her too much of her father.
"How did the meeting go?" Lulu asked. "Are the three different vineyards able to establish a joint purchasing program for supplies, advertising, and other services?" Chandler Hill, Taunton Estates, and Lone Creek Winery were all part of a group set up under one umbrella for financial purposes. Cami's fiancé, Drew Farley, along with Dan Thurston, Adam Kurey, and Miguel, had formed a partnership to buy the Lone Creek Winery after a fire had destroyed sections of vines in its acreage.
"We're ironing out details to combine some of the operations, but yes, it's moving forward. With you about to begin handling the marketing for all three, it simplifies those matters." Cami grinned at her. "So glad you're here."
The sound of someone approaching sent Sophie, Cami's black-and-tan miniature dachshund into motion. She barked and ran to greet Rafe.
"Hi, come join us," said Cami. She rose and pulled a chair over for Rafe. "The sun will be setting soon, but it's still pleasant outside for this time of year. In fact, I was thinking of staying here for a while and tasting a new pinot noir release from Taunton Estates." Her eyes sparkled as she teased him. "You, as owner, might want to judge it for yourself."
Rafe laughed. "I think I should, especially if it means I get to spend time with my two favorite women." His gaze swept over them, bringing a smile to all three.
It was this kind of banter that Lulu loved most. Rafe was such a decent person. In his seventies, he was a quiet man who lived and loved and worked hard. He still mourned Lettie Chandler, who'd passed away over a year and a half ago. She had been and still was the love of Rafe's life. Lulu was grateful to have this wonderful man part of her life, especially after the scandal involving her father.
Cami went to get the wine and glasses, leaving Lulu and Rafe alone.
Rafe said, "It used to be that things got quiet after the harvest and all the hoopla that went with it. But the Chandler Hill Inn with its spa and special vacation and bridal packages have kept business going throughout these months. Christmas, the New Year, and Valentine's Day are big deals here now."
"I can't wait for the Christmas celebration," Lulu said, giving him a smile. "I hope to convince my mother to make the trip here. I think it would be good for her."
Cami overheard them as she stepped onto the deck, set the tray down, and poured the wine into the three glasses. "How's your mother doing?"
Lulu couldn't hide the sadness in her voice. "With her, I never know for certain. Her depression comes and goes, becoming more of a merry-go-round when she sneaks drugs or alcohol. I've talked to the doctors about it. They try to discuss newer options, medicines, and therapies. Heaven knows, she's tried a lot of programs, but nothing seems to work. My counselor has advised me that aside from encouragement, there's not much I can do."
"That's sad," said Cami, setting the wine bottle down on the table and handing the glasses of wine to Lulu and Rafe.
"I'm learning that it's not my job to keep her spirits up and help her stay sober," Lulu continued. "My father used to tell me, 'Take care of your mother.' when he went away. Our lives changed dramatically when my brother drowned, and she became suicidal. Nothing's been the same since." She hated the tremor in her voice.
Cami rose and wrapped her arms around Lulu. "I'm sorry. That's too much for a young girl to handle."
Lulu paused a moment to pull herself together. It felt unfamiliar to accept this sign of acknowledgement. If I'd only been there when Teddy decided to go swimming alone at the beach.
Rafe broke into her musing about the guilt she carried and always would. "Okay, ladies! Let's taste this wine. I hope it's as good as my new marketing director says." His words brought a smile to Lulu. She'd put a good spin on the product.
They'd just proclaimed the wine excellent when Drew arrived. Drew Farley was as nice a guy as he looked. His tawny-colored eyes matched his hair, which was what she would call the color of butterscotch. He kissed Cami hello and sank into one of the chairs on the deck with a soft groan. "Ah, it's good to be home. I've been working with Dan on the last bit of cleanup and updating of the house at Lone Creek. He and Becca expect to move in next week."
"I'm happy for them," said Lulu. "I know how excited Becca is to have a house of her own. After having her for my assistant, I'm glad she'll be settled here and can continue to work for me."
"Yes, it's a fair deal all around," Drew said. "We're lucky the fire at the vineyard didn't do any significant damage to the house, and they have a place to live on the property for free in exchange for taking care of it." He accepted the glass Cami handed him, swirled it in the glass, sniffed it, and then took a sip. "What do you think? Is this as good as I thought it might be as one of Taunton Estates' best?"
"It's a lovely wine with a nice, fruity bouquet and a smooth finish." Cami grinned at him. "I can't wait to get more involved in Chandler Hill wines. Then I'll really test your work."
Rafe laughed. "I knew it was a good idea to put these two up against one another. Both Taunton Estates and Chandler Hill wines are already great, but I suspect they'll be even better with Cami and Drew competing."
Lulu laughed with the others.
Drew turned to her. "We're going to have a big party to celebrate Becca and Dan's move into Rod Mitchell's old house. Miguel told me to tell you to be sure to come."
Lulu rolled her eyes. "I'll be there. Becca already invited me. She has a teacher friend she wants me to meet."
"You mean Ross Coughlin?" said Cami. "He seems very nice. He's easy on the eyes too." She laughed when Drew arched his eyebrows at her. "Don't worry. You're very easy on my eyes."
"Is this Ross Coughlin the young man who started the after-school program at the elementary school?" asked Rafe.
"Yes, that's what I've been told," said Cami.
"In the spring, I'd like to be able to volunteer there on my time off," said Lulu. "I enjoy being with the kids."
"You're great with the kids who come to the inn," said Cami. "I admire that."
"Thanks." Lulu hadn't told anyone this, but working with the kids at her old job at a school had made her feel as if she was making amends for the time she hadn't been there to prevent her brother's drowning. She'd talked to a psychologist about it and knew it wasn't her fault, but she always felt better after being with other kids who needed her attention.
As for herself, she wasn't sure she wanted children of her own, not when it required making sure they were safe from all the dangers of the world.
###
Lulu was sitting in her office at the inn going over additions to the website when Becca knocked on her door.
Short and round, bubbly, and with no pretensions, Becca had green eyes that sparkled with a sense of fun that was contagious. She was someone with whom Lulu had easily made friends. They both understood how lucky they were to be a part of Chandler Hill Inn's executive staff.
The inn, started in the late seventies by Lettie, had grown into an exclusive, upscale, full-service inn with thirty guest rooms, a well-known dining room, a spa, a swimming pool, an all-purpose functions building called Chandler Hall, and a gift shop, The Barn. Not as simple as the name sounded, The Barn contained a busy retail area full of unique gifts and a wine-tasting room on the second floor, where people could sit and taste a variety of Chandler Hill wines and sample appetizers served throughout the day. Members of the Chandler Hill Wine Club often arrived toward the end of the day to sip wine and catch up with one another.
"How's it going?" Becca asked Lulu. "Has the wedding information online been updated to showcase our holiday themes?"
Lulu nodded and grinned. "It almost makes me want to get married."
"I can hardly wait for my wedding. We've been thinking of a winter wedding, but now we're not sure, with Dan buying into the Lone Creek Winery and working hard to make it profitable. I've picked out a few wedding dresses that will be suitable any time of year. I've narrowed it down to two, but when the time gets closer, you and Cami will have to help me decide."
"I'd be honored to help," said Lulu sincerely. There'd been a time when she had been too busy dealing with her father's upcoming run for president to think about meeting with friends to discuss such things as wedding dresses. Now that her world had fallen apart with his sudden death, she realized how self-centered she'd been. She hoped her welcome into the Chandler-Lopez family would change all that.
"Dan just called. He and Drew are taking Cami and me to Nick's. Want to come along?"
"No, thanks. That would make it an odd number for dinner."
Becca shook her head and sighed. "We knew you'd say that, so we already invited Miguel too. What do you say?"
Lulu groaned at their attempt to pair her up with Miguel. "You know I don't have any interest in him."
"Exactly," said Becca. "It'll be good for him to be with someone like you. I swear all he does is smile at a woman, and she falls in love with him. Now that he's a part owner of Lone Creek Winery, women think he's rich, and the situation has gotten worse. It's ridiculous, of course, because what money any of us has is being put back into the winery, and we don't expect any significant profit from it for a couple of years."
Lulu laughed at the mental picture Becca had drawn for her. She'd skipped lunch, and going out to dinner sounded easy. "Okay, I'm in, but it's nothing more than a dinner date. At this stage of my life, I have to concentrate on healing myself and helping my mother. I don't have the time or energy to fuss over a guy who's too popular for his own good."
"Sounds like a plan to me," said Becca beaming at her. "When I met you last spring at Justine Devon's wedding, I had no idea we'd become this close. You seemed so sure of yourself and very sophisticated. I'm beginning to see the real person you are underneath all that notoriety."
"And?" Lulu held her breath. Becca's answer was so important to her. Back then, she'd been scared that the rumors circulating about her father were true.
"And I like what I see," said Becca. "Cami does too. That means a lot to me."
"Who could ask for a better sister? Everyone says Cami's like her grandmother. Knowing how much Rafe still loves her, I have to believe Lettie must have been a fabulous woman."
"Oh, yes, and Rafe is a wonderful man." Becca got to her feet. "See you around seven o'clock. We're all meeting at Nick's."
###
Lulu decided to drive herself to Nick's. Italian food was her favorite, and in this area, Nick's was the place to go for it. She liked being independent. If things didn't go well at the restaurant, she'd have no problem leaving.
Nick's small storefront belied the space behind it. Even on a weekday in the fall, delicious aromas, customers, and pleasant conversation filled the restaurant as she stepped through the entrance.
From the back of the restaurant, Becca waved to her. Lulu hurried over to the table, relieved Miguel hadn't arrived yet. Cami had told her he'd be a little late. Drew got to his feet as she approached and helped her into a chair next to him. It appeared Miguel would be seated on the other side of her.
Dan greeted her and asked, "What would you like to drink?"
"Whatever you all are having. In this crowd, I know it's going to be something good."
Drew signaled the waitress. "Cami tells me you're developing quite a palate for wine. Maybe I'll put it to good use on the grapes I want to use for Lettie's Creek Wine. By the way, have you seen the label Cami designed for it?"
When she shook her head, he picked up his phone, scrolled through photos, and turned the phone over to her.
Lulu studied the photograph of a mockup for a label and grinned. "Hummingbirds. I love it."
Cami beamed at her. "I thought it was appropriate. Nonnee loved hummingbirds. And they seemed to love her too. In fact, I thought the design would be good to use on T-shirts to sell at The Barn. What do you think?"
"Great idea, huh?" said Becca.
"Yes. I like it a lot," Lulu replied. "Maybe we could use it for our website too."
"Okay, okay. Enough 'shop talk.' This is a date night, remember?" said Dan growling playfully. A teddy bear of a man with brown, curly hair, blue eyes, and an easy disposition, he was someone Lulu thought was perfect for Becca.
Smiling, Miguel approached them. "Hi, everyone," he said and slid into the empty chair next to Lulu. "Sorry I'm late. I had to fix another leak at the farmhouse."
Drew frowned at Miguel. "Now that Rod's old house at Lone Creek is ready, maybe the group can help Rafe fix up the farmhouse at Taunton Estates. You'll want to live there with a family someday."
Miguel held up his hands. "I don't know about that, but it would be a good investment to fix it up because the bones of that house are nice. It just needs to be updated."
Rafe's youngest sister, Rose, came over to the table. "Are you ready to order?"
"Hi, Aunt Rose," said Cami. 'I'm going to go with the special. I love cod and the way you fix it here."
Rose looked at Lulu. "And you?"
"The same. I'm hungry for seafood."
Becca chose the game hen, and all three men chose the steak.
As they waited for their meal, they dipped fresh, hard-crusted bread into seasoned olive oil and continued their conversation about the happenings at all three wineries. Listening to them, Lulu envied the opportunity each of them had to do something meaningful with their lives. After being forced abruptly to abandon her plans, she was still wondering about her future, even as she'd agreed to help them with the marketing of their properties.
Lulu was startled out of her thoughts by seeing a male figure stomping across the room toward them, his face red, his eyes narrowed. It took a moment before she realized he was heading right to her.
"Hey, aren't you that daughter of Congressman Kingsley? He's what's wrong with America today, that lying piece of scum."
Lulu felt the blood leave her face and gripped the table, searching for words. "I don't know what you're talking about." She gave Cami a helpless look.
"This woman is not who you're looking for," said Cami firmly.
The man narrowed his eyes and studied Cami. "Yeah? What's her name?"
"Weezie Lopez," Cami answered smoothly, bringing looks of surprise to the others sitting with her.
Miguel got to his feet. Drew and Dan followed suit.
"You'd better leave now," said Miguel, signaling Rose. As she approached, Miguel said, "This man is leaving. I'm walking him out now. I'll take care of his bill."
Rose gave the man a wary look and turned back to Miguel. "No need. He's already paid."
As Miguel walked away with the stranger, Lulu got out of her seat and rushed into the ladies' room.
In the privacy of the room, she burst into tears. She heard the door open and knew who it was before she turned to face Cami.
"Are you all right?" Cami asked, looking worried.
Lulu shook her head. "I'm so tired of being blamed for things my father may or may not have done. Why can't everyone leave me alone?"
Cami's arms came around her. "Some people love to hang onto angry, no matter how false something might be. They're frustrated with their lives, unhappy about many things, and love to lash out at people they don't even know."
"Well, I'm sick and tired of it," said Lulu, wanting to throw herself down on the floor kicking and screaming like a two-year-old. She took a wet paper towel and dabbed at her eyes. "I'll be fine. Go ahead and get back to the others. I don't want to disturb our dinner. The entrées must be ready."
Lulu made sure her mascara hadn't run, planted a smile on her face, and headed out to the others. She'd had a lot of practice acting as if she was all right when she wasn't at all.
As Lulu found her seat at the table, Becca winked at her. "Hi, Weezie Lopez! I love your name!"
Lulu couldn't help laughing.
"It just popped out of my mouth," said Cami amid their laughter.
Miguel turned to her. "Are you all right?"
His look of concern was touching. Trying to be upbeat, she said, "I will be."
"Fair enough," said Dan. "Let's enjoy our meal. Here it comes!"
As Lulu sat with the others she thought of her father. At the time of his death, he had been accused by several women of sexual assault, and he was attempting to defend himself against these allegations. Theirs had never been a happy family, especially after the death of her brother. Now, she and Cami knew that her father had always loved Cami's mother, not Lulu's mother—the woman he'd married for political gain.
"Let's go down to the Green Grape for dancing and a little fun," said Becca as they finished their meal. "It's been a while since we've all been there."
Cami glanced at Lulu. "Okay?"
"Yes," she answered, eager to put the bad incident behind her.
We hope you are enjoying the book so far. To continue reading...
Home at Last
Judith Keim
Copyright © 2023 All Rights Reserved