Finding My Way
Darcy discovers what true love really means
Shout-outs
"Loved the family dynamics as well as uncertain emotions of dating and falling in love. Appreciated the morals and strength of parenting throughout. Just couldn't put this book down."
Reviewer
Book info
Sample
Audiobook
Media
Author updates
Lists
Synopsis
Finding real love can take a journey…
Darcy Sullivan and her two sisters continue to work hard at the Salty Key Inn, the small, Florida hotel they unexpectedly inherited. In order to inherit the rest of Uncle Gavin's sizeable estate, they must meet his challenge to open the neglected hotel by the end of the year. Darcy figures once they meet the challenge, she'll take off, travel the world, and maybe, just maybe, begin writing the world's best novel. When she meets Nick Howard, an older man who is a reporter for the local newspaper and takes over his weekly column, her life changes. Under his tutelage, she writes about local residents, learning to see people in a different way—especially after meeting a cousin no one knew about. Her joy at having the part-time job that's always been her dream is shattered when she learns Nick is dying. For support, she turns to Austin Blakely, whose grandmother is terminally ill, and through their growing relationship, comes to understand what true love is.
A beach read with heart… Be sure to read the other books in the series: Finding Love and Finding Family. Or read the first book in the series, Finding Me.
Release date: June 7, 2017
Publisher: Wild Quail Publishing
Print pages: 321
* BingeBooks earns revenue from qualifying purchases as an Amazon Associate as well as from other retail partners.
Listen to a sample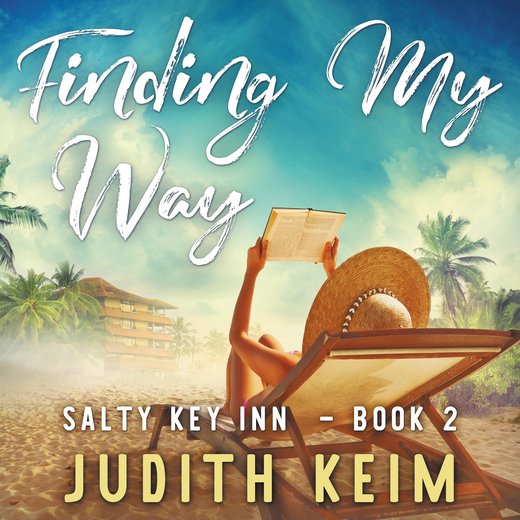 07:57:51
218.76 MB
9781667092874
November 25, 2021
Wild Quail Publishing
Finding My Way
Judith Keim
Finding My Way
CHAPTER ONE
DARCY
Darcy Sullivan crossed the lawn of the Salty Key Inn in Sunset Beach on the west coast of Florida, her thoughts still on the challenge her Uncle Gavin had given her and her two sisters in his will. They'd each been left a one-third share of the hotel—a share that might or might not mean a large amount of money in the future. Right now, it meant nothing but a ton of work and a lot of uncertainty.
She couldn't take her mind off the special message Uncle Gavin had written at the end of his letter to her: "Darcy, you are not who we think you are."
"What in the hell does that mean?" Darcy mumbled to herself. Uncle Gavin Sullivan, or the "Big G," as he was sometimes called, had been a mystery to her and her sisters. Even though they were related, he hadn't been much of a presence in her life. She had a vague memory of a big man with a big voice, but because her father never got along with his brother, she'd rarely seen Gavin. That's why his crazy scheme for them to renovate the hotel in a year's time in exchange for a lot of money was so weird.
"You are not who we think you are." Whoa! She, more than her sisters had her shit together, didn't she? Her older sister, Sheena, was still making her way through motherhood with a family who'd all but taken away her self-esteem. And her younger sister, Regan, the family beauty, was still learning she was a lot smarter than she'd always thought. As for herself, Darcy intended to see this project through, get the money, and take off for exciting destinations. Perhaps her uncle's genes were playing a part, but like him, she wanted to have adventures and see the world.
On this bright, sunny morning in May, Sheena strode across the hotel property toward Darcy with confident steps that swung her auburn hair back and forth above her shoulders. The young mother of two teenagers, she was an attractive woman … and still the so-called "perfect one" in the family.
"Darcy! You're just the person I want to see!" said Sheena. "I've made an appointment for you to meet with a reporter from the local newspaper. They're going to run a story on the Salty Key Inn and what we're trying to do here. Nick Howard is the reporter's name. I told him you'd call to confirm a meeting as soon as possible."
Darcy rolled her eyes. What was it about big sisters that made them so damn bossy? "Okaaay, I'll do it." As she said the words, Darcy felt a tingling sensation like the imprints of a long-legged spider cross her shoulders. Ever since she was a kid, her secret desire was to become either a newspaper reporter or the famous author of the world's favorite novel. She'd ended up doing computer programming because that's where the money was, and she needed to be able to pay back student loans. But now, the idea of traveling while writing the perfect novel was her dream.
Darcy eagerly accepted Sheena's note with Nick's name and phone number. Somehow, she'd have to put a positive spin on the situation she and her sisters found themselves in. When they'd been told of their inheritance, Darcy had thought she'd be rich and sitting on the beach sipping margaritas. What a bad joke!
###
Inside her office, Darcy punched in the number for the newspaper reporter.
"Hello?" The man at the other end spoke in a deep, rich voice that reminded Darcy of the heavy-set actor whose well-known bass voice made even mundane television commercials seem sexy.
"Hi, Nick? This is Darcy Sullivan. My sister, Sheena Morelli, spoke to you about doing a newspaper article about our hotel, the Salty Key Inn."
"Ah, yes. Sounds interesting."
"I'd like to set up a meeting with you. If you're able, we'd like you to be our guest for lunch at Gracie's, the restaurant at the hotel."
"Sounds good. Why don't we do that today?"
"Perfect. Let's say one o'clock. I'll meet you outside."
"See you then," said Nick.
As she hung up the phone, Darcy wondered about the man behind the voice. The dating scene in Florida hadn't worked well for her. First, she'd made a fool of herself over Brian Harwood, the guy next door, and her one other date had been a huge flop. Her date had actually reunited with his ex, leaving Darcy high and dry. If Nick Howard looked anything like his voice sounded, this might be a good time to try dating again. She had to prove to herself she wasn't that much of a loser.
For the rest of the morning, the issues of installing a wi-fi system in the two guest-rooms buildings took over Darcy's attention. As tight as their budget was, all three sisters had agreed in today's world, having wi-fi was essential. With the help of Chip Carson, a young guy eager to do the work for a reasonable price, they were making good progress.
Just before one, Darcy left her office in the main building, which fronted Gulf Boulevard, and hurried across the hotel grounds to the suite she was sharing temporarily with Regan. She wanted to freshen up before her luncheon appointment with Nick.
Before she reached the building, she stopped and stared at what once had been a small, pink-clapboard house. It was where Uncle Gavin had intended for her to live with her two sisters for an entire year. After a terrible fire, the house was now being torn down because the insurance adjuster had called it a hazard and a liability. She and her sisters were grateful the cost of rebuilding it would not come from their skimpy renovation budget but from the fire insurance settlement. Any extra funds needed would come from Uncle Gavin's estate. But with their living in their suites, it did mean a possible loss of revenue. They wouldn't be able to rent out those rooms until the new building was done.
Sighing at the problems they faced, Darcy hurried along and into her room.
As she was washing up, Darcy heard Regan enter the suite and then cross the hall into Darcy's bathroom.
Wearing cut-off jeans and an old T-shirt spotted with blue paint, Regan looked as beautiful as ever with her long, dark hair and violet-blue eyes. Some people said she was a Liz Taylor look-alike, a real stunner.
"Hey! What are you doing? You're all dressed up," said Regan giving her a good, hard look.
"I'm meeting a reporter for lunch. Sheena made arrangements for me to do an interview for a newspaper article on the Salty Key Inn and us."
Regan smiled. "Nice. A good way for us to get started on our advertising program."
Darcy nodded, but inside she was thinking it might be a good way for her to start being a creative writer, not only for the hotel project but for the novel she hoped to write.
After checking herself in the mirror, Darcy ran a hand through her red curls and brushed off an imaginary spot on her simple, dark-green, sleeveless dress. "Guess I'm as ready as I ever will be." It seemed so easy for her sisters to look put together while she had to really work at it.
Once more, Darcy hurried across the hotel grounds.
A blur of blue feathers headed toward her.
"No, Petey! Go away!" Darcy cried. She began to charge the pesky peacock that ruled the area.
When the big bird realized that Darcy was serious, he emitted a raucous squawk and strutted away, dragging his tail feathers behind him.
Damn bird!
Darcy's steps slowed as she approached the restaurant. Standing outside the entrance was a tall, broad-shouldered, heavy-set man with white hair and a white beard that contrasted with his tanned skin. Was this Nick Howard?
Darcy looked around to see if anyone else was nearby, and when none appeared, she approached the man.
"Nick?"
He bobbed his head and grinned at her. "Darcy?"
Darcy held out her hand. "For a minute, I didn't know whether to call you St. Nick or Ernest Hemingway."
His laughter was hearty, almost a ho-ho-ho as if he practiced it at Christmastime.
Delighted, Darcy chuckled.
Nick ended his handshake and, with twinkling eyes, said, "I like a woman with a good sense of humor. How old are you, Darcy?"
"Twenty-six," she replied, wondering why he wanted to know. Was he one of those older guys who like to have a "niece" on his arm for social occasions? "Shall we go inside?"
He patted his stomach. "Definitely. I have to confess I've heard of Gracie's. It has a very good reputation in these parts. I sometimes do restaurant reviews for the paper, but let's not tell anyone who I am or why I'm here. Okay?"
"Sure," she said.
They entered the restaurant run by Gracie Rogers and the rest of the group everyone called Gavin's people. Gavin had helped these eight people he'd known in his life—giving them a free place to live in exchange for what they could do working at the hotel. When they'd inherited them, along with the hotel, Darcy and her sisters had continued this arrangement.
Lynn Michaels waved to her as they walked into the restaurant and came right over to them.
"Good afternoon. Nice to see you." She led them outdoors to a table under an umbrella on the patio.
Maggie O'Neill hurried over to greet them, holding menus in her hand.
"Good afternoon." She smiled at Darcy and then turned her attention to Nick.
"Can I get you anything to drink besides water?"
Nick glanced at Darcy. "How's the iced lemonade?"
"Delicious. But I'm having sparkling water. Would you like some of that?"
"Sure," said Nick. He accepted a menu from Maggie and began studying it.
After Maggie left, Darcy said, "Right now, Gracie's serves only breakfast and lunch. She may apply for a wine and beer license and serve dinner in the future."
Nick nodded. "I see. The menu looks pretty impressive. There are several things I'd love to try." He frowned when his cell phone buzzed, but he lifted it out of the pocket of his blue-plaid shirt.
Darcy watched him as he studied a message and then thumbed a rapid reply.
"Sorry about that." Nick gave her an embarrassed look as he slipped the phone back into the shirt pocket. "It was my wife, checking on me to make sure I'm sticking to the diet she put me on."
At the guilty expression that crossed his face, Darcy hid a laugh.
He leaned across the table and whispered, "You won't tell on me if I order something not on her list, will you?"
Darcy couldn't help laughing now. "No, I promise. You give the restaurant a good rating, and I'll keep your secret."
"Deal," he said, straightening with a smile. "It's hell being married to someone who wants to take care of you all the time. But I love her."
After a few more moments of studying the menu, Nick set it down.
Maggie noticed and hurried over to the table. "Are we ready to order?"
Nick glanced at Darcy and then smiled up at Maggie. "Thought I'd sample a couple of things. Chicken wings, grouper sandwich, and tomato salad."
Maggie's eyes widened, but she maintained a smile. "How about you, Darcy?"
"I'll have my usual. Chicken salad."
After Maggie left, Darcy shook a finger at Nick playfully. "Can't wait to read your review."
They laughed together and then Nick grew serious. "Tell me about the hotel. I see you've done work on it already. Some years ago, it was one of the best family places around with its great location and beach access. I understand from Sheena that your uncle left it to you and your sisters."
Darcy nodded. "We were so surprised when we were told about the hotel, and totally shocked when we saw it. But my sisters and I are determined to meet my uncle's challenge to get it up and running for guests within one year. We've all had a lot to learn about the hotel business."
While she was talking, their food came. Between bites, Darcy continued speaking. "And we've learned a lot about each other."
Nick listened intently, even when smacking his lips with pleasure over his meal.
"Working with your sisters isn't always easy. When a fire destroyed our house and put Sheena's children in danger, Sheena, my oldest sister and the strong one, wanted to quit, believing she was making her family unhappy and putting them in jeopardy. And …" Darcy suddenly realized how long she'd been talking and stopped, feeling her cheeks grow hot. "I didn't mean to prattle on and on."
Nick studied her. "Have you ever thought of writing? You have such a natural way of telling a story."
Darcy blinked in surprise. "Actually, I have. As a kid, I wanted to be a newspaper reporter, and then later, I thought I'd like to try my hand at writing a novel. But, so far, I haven't had the time to do either."
Nick leaned forward. "How would you like to be the restaurant reviewer for the West Coast News? I'd help you, of course, and it would get my wife off my back."
Darcy laughed and sat back in her chair to study him. "You're serious?"
"Yes. And who knows? Maybe later, you could work your way into a weekly column of some kind. I like you, Darcy. We could use someone like you at the paper—someone with a fresh, new look at things."
A rush of excitement filled Darcy. This could be the beginning of her dream. She could already see herself on a tropical island, sprawled in a beach chair, reading a book or plotting out her prizewinning novel.
"Okay, I'll do it." As she spoke, she recalled the tingly feeling she'd had saying those very words earlier. Maybe this was all part of a bigger plan, she thought, suddenly nervous.
"All right," said Nick, resting his gaze on her. "What would you say about your meal?"
Darcy took a deep breath, conjuring up the best words she could use. "My chicken salad was tasty, with exotic additions of melon and ginger, topped with crisply browned almond slices, and flavored with a lemony dressing that blended the ingredients perfectly."
Nick grinned. "I knew it." He reached across the table and offered his hand. "You're hired."
She accepted his hand and gave it a firm shake. "I'll take the job. How much do I get paid?"
He laughed. "In addition to free food?"
"Oh, I get it," said Darcy, realizing how small this local newspaper was for her to be even considered for the job. "Even so, I'll do it. But, Nick, I want that newspaper column."
"Good. We'll talk about that in a couple of months." He smiled. "Now, let's order dessert. The food here is dynamite, and I want to see if their pies and cakes are just as good."
As she waited for Nick to finish tasting the Key Lime Pie and the Orange Chocolate Cake, Darcy studied him. He seemed to be such a happy, pleasant guy. Maybe, she thought, that's what I've been missing in the dating scene. Her dates had always seemed uptight and eager to prove something. Sheena had told her to relax, that she'd find someone someday. And perhaps now, with her new part-time position at the paper, she'd stop worrying about having a man in her life and take each day as it came—with or without a boyfriend.
After Nick had taken the last bite of his meal, he winked at her. "Ready to give me a tour of the property?"
"Yes, but only if you understand we're still very much in the renovation process. If things go well with it, then after the first of the year, we'll be adding a lot more upgrades to the rooms as well as additional hotel facilities."
"Gotcha. Let's do it." Nick stood and helped her out of her chair.
###
As Darcy showed Nick the property, including the bayfront dock area and the pool, she described plans for how they intended to improve them. And when she took him inside the Egret guest-rooms building and showed him a bedroom being fixed up, a real sense of pride filled her. The painted furniture, sitting atop a sand-colored, commercial carpet, looked wonderful. Shabby-chic is how Regan described the stressed finish of the wooden pieces. In time, they'd find soft goods and other furniture to complete the room.
"Very nice job," said Nick to Regan, after Darcy made the introductions. "You have a real good eye for this."
Darcy was pleased to see the expression of delight that crossed Regan's face. Of them all, Regan was the one who was happiest about their effort to meet Uncle Gavin's challenge. She was already a much different person with a lot more self-confidence.
They left the building and headed toward the parking lot by Gracie's.
Sheena emerged from the restaurant, waved, and crossed the lawn toward them. She'd fought her family to participate in this challenge of Gavin's, and Darcy was glad she had. Smart and willing to work the numbers, Sheena was a great asset, even if she was a bit bossy.
"Nice to meet you, Nick," Sheena was saying. "I hope you give us a lot of good publicity."
Nick grinned. "Believe me; I will. Gracie's deserves a five-star rating as the best place around for lunch." He clapped a hand on Darcy's back. "And Dee Summers, here, is going to help me do restaurant reviews."
Sheena and Darcy exchanged questioning looks.
"Dee Summers?" said Darcy.
Nick let out a belly laugh. "That's going to be your name at the paper. You can't do reviews under your real name. And I have a special column idea in mind."
"What are you talking about?" asked Sheena, giving them a puzzled frown.
"Like Nick says, I'm going to help him with some restaurant reviews. And then, I might get my own weekly newspaper column." Darcy couldn't hide the wonder in her voice. It was a dream come true. Well, maybe not the ultimate one she wanted of writing a novel, but it was a beginning.
Sheena gave her a thoughtful nod. "Good for you, Darcy."
After she walked away, Darcy looked over at Nick. "I think I will call you St. Nick. I feel as if I've just opened a Christmas package."
He grinned. "Okay, Dee. See you around. I'll be in touch."
We hope you are enjoying the book so far. To continue reading...
Finding My Way
Judith Keim
Copyright © 2023 All Rights Reserved