Finding Love
Sometimes the love you seek has been there all along.
Shout-outs
"I waited for this book because the first two was such good reads. This one didn't disappoint…. Judith Keim always puts substance into her books. This book was no different."
Reviewer
Book info
Sample
Audiobook
Media
Author updates
Lists
Synopsis
Love sometimes starts at home…
As Regan Sullivan continues to work with her sisters, Sheena and Darcy, to meet their Uncle Gavin's challenge to make the Salty Key Inn a success, she wonders why she can never find the man of her dreams. Her sisters are happily settled with men they love. Why can't she do the same? When she's involved in a motorcycle accident with Brian Harwood, Regan learns to think differently about both her appearance and herself. And as she deals with her injuries and helps Brian recover from the accident she feels guilty about causing, Regan discovers that the love she's always sought has been there all along.
A beach read with heart… Be sure to read the other books in the series: Finding My Way and Finding Family. Or read the first book in the series, Finding Me.
Release date: February 7, 2018
Publisher: Wild Quail Publishing
Print pages: 268
* BingeBooks earns revenue from qualifying purchases as an Amazon Associate as well as from other retail partners.
Listen to a sample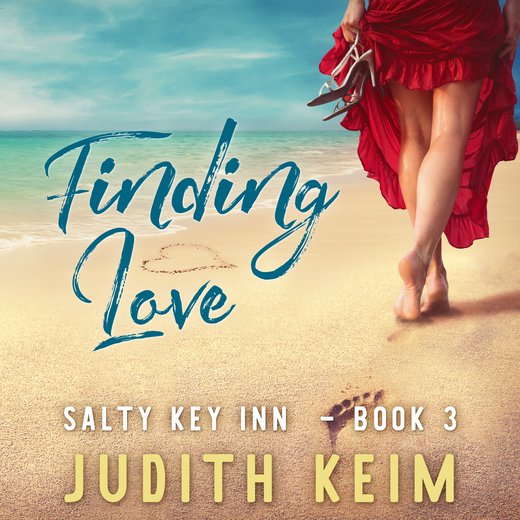 07:55:40
217.76 MB
9781667079752
November 25, 2021
Wild Quail Publishing
Finding Love
Judith Keim
Finding Love
CHAPTER ONE
REGAN
Opening Day! Regan Sullivan hurried across the grounds of the Salty Key Inn, stopping a moment to gaze at the bougainvillea recently planted around the pool's perimeter. Lifting a blossom-laden branch, she studied the vibrant pink color of the petals and drew a deep breath, embracing its beauty. No matter how often people tried to capture color like this in fabric or paint, they could never quite succeed. Mother Nature always won.
Sometimes Regan felt as if she was in a tropical painting. Nothing quite as exotic as a Paul Gauguin, but alive in scenery she liked a lot better than what she'd been used to seeing in New York City or her hometown of Boston.
In the sky, streaks of pink broke through the early-morning gray, promising another hot, early September day along the Gulf Coast of Florida. She focused on a nearby hibiscus whose pink blossoms were opening to the sun and thought about all the changes in her life. Growing up, she would never have dreamed she would be part owner of a hotel. She'd already begun to think of her life in two sections—before Uncle Gavin's will, and after.
The far-fetched challenge their Uncle Gavin had given her and her two sisters, Sheena and Darcy, was like something out of a novel. They were to live and work together for one whole year to restore the hotel and get it up and running. If they met that requirement, they'd each inherit a third of his sizeable estate. It sounded wonderful, but in reality, it was no easy matter. The three of them living together, working together, and coming up with creative ideas to accomplish this were real challenges.
She moved on, still thinking of her situation. Their uncle had wanted this experience to be a life lesson for each of them. At the bottom of the letter he'd left for her, he'd written an ambiguous message: "Beauty is in the eye of the beholder." When Regan had read it, she'd been upset, thinking he'd been referring to her appearance, which she felt was the only thing people noticed when they met her. Now, she was beginning to suspect Uncle Gavin had had something entirely different in mind.
A flash of blue caught her eye. She stopped and glared at the peacock hurrying toward her. "Petey! No!"
The pesky peacock who ruled the hotel grounds stopped mid-rush and looked at her. Regan had learned if you remained strong, Petey was all squawk and no fight. Tail drooping, he turned away.
"Hi, Regan!"
She caught sight of Brian Harwood and returned the wave he gave her before he entered Gracie's, the restaurant at the hotel. Drawing a deep breath to stop her racing heart, she vowed to keep her promise to herself to avoid getting involved with him. No matter how attractive she found him, she was sure he was someone who would hurt her. He looked like a poster boy for Florida with his sun-streaked hair, tanned, buff body, and dark, friendly eyes that drew people in. Women all but drooled over him, and he almost always responded with interest, proving to her he was Trouble with a capital T.
Regan unlocked the door to the hotel's reception office and hurried inside . The official opening of the Salty Key Inn was about to take place, and she wanted to be on top of things because Sheena was dealing with issues in her family, and Darcy was writing her weekly column for the West Coast News, a local newspaper.
Regan went right to the computer to check the reservations system. They were able to open only the twenty ground-floor rooms in the Egret Building. The twenty rooms on the top floor of the building would remain unfinished until they had enough revenue to complete them. The eight suites in the separate Sandpiper Suites Building, where she and her sisters were now temporarily living, would be the last rooms to be renovated.
Her eyes scanned the list of people due to arrive for the Labor Day Weekend. Fifteen couples were taking advantage of the special renovation rates for the whole weekend. For a stay of two nights or more, they'd receive a discount off their room rate for two nights anytime within the next four months, when Uncle Gavin's challenge would end, and she and her sisters would find out what the rest of their lives might be like.
Regan's cell rang. She checked caller ID and smiled. Moses Greene. In a very short time, Mo had become one of her best friends. They'd met when he'd helped her select furniture for the hotel. Colorful and sweet, he was a very talented interior decorator. She hoped to be his business partner one day.
"Hi, sweetie," he said. "I called to wish you and your sisters a successful weekend at the hotel. It should be a good beginning. By the way, Bernice is excited about having her business up and running for you."
"She's doing a great job," Regan said. She and Mo had talked his cousin, Bernice Richmond, into opening a cleaning business to handle the housekeeping department at the hotel.
"You're going to the Keys for the weekend as planned?" Regan asked him.
"Yes, I figure it's time to get out and meet some new people. After the holiday, I've got a busy schedule coming up. Sheena's mother-in-law has been promoting my business, and I have a number of houses to work on."
"Let me know when I can help. Hopefully, after the holiday, things will settle into a calmer routine with fewer guests."
His soft chuckle came through the phone. "I think you're supposed to hope for more and more business at the hotel, not less of it."
Regan clapped a hand to her chest, and then laughter burst out of her. "Gawd! Sheena and Darcy would kill me if they'd heard what I just said."
"Kill you for what?" said a voice, and Regan turned around to face Darcy.
"Gotta go, Mo," Regan said. "Have fun, and call me when you get back. I'll want to hear all the news."
"Deal," said Mo, and he hung up.
"What's going on?" Darcy's blue eyes penetrated Regan's violet-blue ones challenging her for an answer.
"I told Mo I hoped things would settle down here at the hotel, and he reminded me as a hotel owner, I shouldn't want that."
Darcy shook her head, tossing her red curls playfully. "I know how you feel. Between the newspaper work and trying to organize a small wedding, I sometimes wish …"
"Sometimes wish what?" Sheena entered the office.
Regan and Darcy exchanged amused glances. Sisters!
"Well?" Sheena prompted, smiling at them.
"I sometimes wish this whole challenge was over. I'm busy with other things, and so is Regan," said Darcy.
Sheena studied each of them and sighed. "Okay, pep talk time. We have to focus. We're down to four months to meet the challenge of getting the hotel up and running and pulling in some revenue. You know, and I know this could mean a lot of money to us if we succeed. More than that, we can make this hotel the kind of place Uncle Gavin envisioned. I, for one, want to stay on and help run the hotel if, and right now it's a big IF, we can pull this off. Don't let anything keep us from making this happen. Agreed?"
Chastised by the determined tone in Sheena's voice, Regan nodded. Her big sister was sometimes bossy, but she had a good heart, and they all had good reasons to want to beat the challenge. For Sheena, it would be to help her husband Tony set up his own plumbing business in Florida and to help educate their two teenage children, Michael and Meaghan. For Darcy, it would be the chance to write a novel and to have a nice life with her fiancé, Austin Blakely. And for herself? Regan would go into the interior-decorating business with Mo, combining her childhood wishes for recognition of her skills and acceptance for who she was as a person.
"Okay, then," said Sheena. "Let's see who we're talking about as guests." She looped a lock of auburn hair behind her ear and looked over the list. "Sorry, Darcy, but your old roommates from Boston are still coming. I thought you told them not to."
Darcy's lips formed a tight line of disapproval. "I tried to tell them to wait until we've had time to do more renovations, but nobody can tell Alex Townsend anything. I'm sure she wants to come here just to make nasty remarks. You know what a snob she is."
"It's important our guests understand we're in transition, working to make the hotel better," said Sheena. "You've made that clear in our advertising campaign, Darcy."
"But you don't know Alex like I do," griped Darcy.
"Nicole Coleman is nice though," Regan said, offering Darcy a tidbit of encouragement.
"She's the whole reason I roomed with them in Boston." Darcy's long sigh spoke volumes. "I guess we'll have to do our best with Alex."
"Now that Sheena is here, let's grab a cup of coffee," Regan said to Darcy. "It's going to be a busy day."
"Bring me back a cup," said Sheena. "I think I'm going to need an extra jolt of energy. With Randy Jessup ending his summer stay with us, Michael and Meaghan are at each other, fighting over every little thing. It all has to do with their being nervous about entering new schools, not that they're about to admit it."
"No worries. I'll bring coffee back for you," said Regan, thinking Sheena was a saint to have allowed Michael's friend to spend the entire summer with her family.
The phone rang, and as Sheena answered it, Regan and Darcy dashed out the door.
As they were about to enter Gracie's, Brian was leaving. He smiled at Darcy. "Congratulations on your engagement. Austin is a great guy. I'm happy for both of you."
Regan watched a flush creep up Darcy's cheeks. At one time, Darcy had thrown herself at Brian, even going so far as to proposition him. Now, it seemed so foolish.
"Thank you," said Darcy. "I'm a very lucky woman."
Brian grinned at her. "And talented too. I read your newspaper columns, you know."
The look of surprise on Darcy's face was telling. Regan squeezed her sister's hand, proud of all she'd accomplished.
Brian's gaze swept over Regan, causing goose pimples to do a tap dance across her shoulders. "Heard you and Chip were at The Pink Dolphin last night. Sorry I missed you. I wanted you to meet Jill."
"Jill?" Regan tried to hide the frown she felt forming.
"She's an old girlfriend of mine who's moved back here. We're together again."
The pit in Regan's stomach filled with acid. She told herself it was nerves from their opening weekend, but as Brian continued on his way, she felt the sting of tears.
Darcy elbowed her. "What's the matter?"
"I think it might be allergies. I love all these new flowering bushes, but it's a little much," Regan replied, surprised by how easily she'd just lied.
###
After Regan and Darcy returned to the registration office, Regan forced herself to push away thoughts of Brian with a girlfriend. This weekend was what she and her sisters had worked so hard for. They were, as of this morning, another big step ahead on their way to meet the challenge.
"Remember," Sheena was now saying, "each guest is to be treated as if he or she is the most special one we have, exactly like the hospitality consultant told us."
"I can do it for everyone but Alex," said Darcy glumly.
"This is a good lesson for all of us," Sheena said. "Some guests will be easy. Others, not so much. You, Regan, are used to dealing with all kinds of different people from your job as a receptionist in New York. Right?"
"Yes, but it means so much more now. If we don't succeed, we'll have given up an entire year trying to earn the rest of Uncle Gavin's estate and keep the hotel."
"But, Regan, the year so far has definitely not been wasted. Think of all that's happened to each of us," said Sheena.
Regan's gaze shifted to the sparkling diamond ring on Darcy's finger. She glanced at Sheena, happily making notes on a sheet of paper. She thought of her interior design work with Moses Greene. "You're right. It's been time well spent, after all."
"The earlier phone call was from Blackie Gatto, wishing us luck," said Sheena. "He's going to try to stop by sometime this weekend to see how things are going."
Darcy cocked an eyebrow at Sheena. "Bet he just wants to see you. Is Tony going to be around?"
Sheena glared at Darcy. "Not that again. You two know our relationship is strictly business."
"I think he's attracted to you," Regan said. "But I know you're not interested in him or anyone because Tony and you together? Hot. Really hot."
Sheena's cheeks turned a pretty pink. With her trim build, auburn hair, and hazel eyes, she didn't look like the mother of two teenagers. But then, she'd had her children young.
Darcy smiled at Sheena, "You two really are good together. I hope Austin and I will be as happy after so many years of marriage."
"I have a very definite feeling you will be," said Sheena, her eyes gleaming with affection. "He's perfect for you."
Standing by, Regan felt excluded. She hadn't found the perfect one for her and wondered if she ever would. She'd already decided to stop seeing Chip Carson. He'd been belittling her after she'd tried to explain to him even if it seemed very old-fashioned of her, she was not about to go to bed with anyone until she was ready to commit to a life with him.
At the sound of someone approaching, all three sisters turned to greet their first guests.
Regan hurried to open the door for the woman standing beside a man with a metal prosthetic leg. Regan beamed at them with all the excitement she felt. "Hello! Welcome to the Salty Key Inn. You must be Sgt. Thomas Jansen and Cynthia."
"Please. Just Tom and Cyndi," Cynthia said, smiling. Of average height and build, she had a pretty face and short, blond hair. Even handicapped by his leg, Tom stood tall and straight and looked at Regan with a steady, blue-eyed gaze. His short dark hair cut close to his head added to the image of a military man.
Regan held the door while Tom walked into the office, followed by Cyndi. Observing Tom's seemingly easy use of his leg, Regan felt a lump form in her throat. Tom and Cyndi were one of two military couples taking advantage of their special discount program for military members. The other couple, from Atlanta, would arrive late in the afternoon.
As they'd practiced earlier, Sheena checked in the guests, Darcy took care of the luggage, and Regan walked them to their room, where she made sure they had plenty of ice and offered to help in any other way.
Soon, a stream of people arrived to take advantage of a full day at the hotel. Since there had been no previous guests, rooms were available for early check-in. Busy with other arrivals, Regan didn't notice Alex and Nicole right away, but as she stepped into the registration office, she recognized them immediately. Nicole was a pretty girl with long, blond hair, which offset the dark, straight locks on Alex's taller head. Both wore high-end, fashionable clothes and nice jewelry more suited to an upscale resort.
Sheena, who'd never met them, asked cheerfully, "And who do we have here?"
"Alex Townsend and Nicole Coleman," Regan said, giving them a smile. "Welcome to the Salty Key Inn."
"When Darcy told us the hotel was in transition, she wasn't kidding," scoffed Alex. "This place needs a whole lot of fixing up."
"Ah, yes, you must be Alex. Let's get you checked in," said Sheena, unable to hide her scorn.
As she was entering their information on the computer, Darcy came into the office.
Darcy's look of dismay transitioned into a smile Regan knew was forced. "Hi, Nicole! Hi, Alex!"
As Darcy reached out to give Nicole a quick hug, Alex let out a shriek. "Oh my God! You're engaged? Let me see that ring."
A look of envy crossed Alex's face as she studied the three large diamonds winking at her from Darcy's ring finger. "Nice, very nice."
Nicole threw her arms around Darcy. "I'm so happy for you! Who's the lucky guy?"
"Someone I met here at the hotel," said Darcy, smiling happily.
At that moment, Brian stuck his head into the office. "How's everything going?" He smiled at Alex and Nicole and turned to Sheena. "Need me to do anything?"
Sheena shook her head. "Thanks, anyway. We're set for the moment."
Brian gave her a little salute and left the office.
"Wow! He could help me with anything he wanted," said Alex, staring at him through the window. "Talk about a hottie! What is he? Some kind of handyman?"
Regan surprised herself by rising to his defense. "He's a successful businessman who owns his own construction company."
Sheena cleared her throat. "I think we're all set here. Ready to go to your room?"
Nicole and Alex looked at each other and nodded.
Regan and Darcy led them to the specially reserved, ground-floor, corner room facing the pool. At the thought of hearing them criticize her creative decorating, Regan couldn't stop the nervous flutter in her stomach. She could tell from the stiffness of Darcy's shoulders she, too, was worried about their reactions.
Regan slid the key card into the lock on the door, opened it, and stood back.
"Oh, how nice!" said Nicole, as she walked into the room. "I love furniture done this way."
"Thanks. Using chalk paint on furniture to give it an antique look is something I love to do," said Regan, feeling relief wash over her.
"Very quaint," Alex said. "And we're close to the pool. Cool. I want to try out my new bikini. Especially if there are handsome guys around like the one we saw."
Regan fought off unpleasant images of Alex and Brian together. "Our access to the beach is right across Gulf Boulevard, and beach chairs and towels are available at the pool." She picked up the ice bucket and said, "Two complimentary bottles of water are in the small refrigerator. I'll get you some ice."
"The Key Hole, the bar next door, offers discounts to our guests," said Darcy. "Just show them your guest card."
Regan left them, filled the ice bucket, and hurried back to the room.
"Is he cute?" Alex was asking Darcy, again studying her ring.
Darcy glanced at Regan.
"Austin cute? He's a doll, and one of the nicest guys I've ever met," Regan said. "Show her a picture, Darcy."
Darcy reluctantly pulled her phone out of her pocket and began scrolling through photos.
Nicole and Alex leaned closer. In the photo, Austin smiled back at them, his bright-blue eyes shining beneath a shock of dark-brown hair.
"Wow," said Alex. "He's so handsome." She nudged Nicole. "Maybe we'd better stay here longer than a weekend."
Nicole gave Darcy a warm smile. "I really am happy for you. Best wishes to you both."
"Yeah," said Alex. "I'm surprised by how fast it happened, but I'm pleased for you. Good job!"
Regan drew herself up. "Darcy and Austin's relationship is very sweet, very real. They'll be doing a lot of traveling in the future."
"Really?" Alex crossed her arms over her chest and studied Darcy.
Looking uncomfortable, Darcy nodded. "We're going to honeymoon in Europe."
"Wow! A lot of big changes for you," said Alex in a condescending tone Regan found irritating.
Regan took hold of Darcy's arm. "We'd better get back to the office." Using her professional, smooth voice, she turned to their guests. "Enjoy your stay, and let us know if we can do anything else for you."
"Thanks," said Nicole. "Glad to be here."
Alex didn't respond, but went to the sliding door, opened it, and stepped onto the small patio outside.
In the hallway outside the guestroom door, Darcy let out a puff of breath. "Alex is going to drive me crazy. I already can't wait until she leaves."
"Me too," said Regan. "She's enough to make anyone go mad."
They hurried back to the office to help Sheena. Now that they were truly open for business, Regan wondered what other kinds of problems they'd face. They'd already learned the hotel business was full of surprises. Some good. Some not so good.
We hope you are enjoying the book so far. To continue reading...
Finding Love
Judith Keim
Copyright © 2022 All Rights Reserved