Coming Home
Cami searches for a family connection and comes to realize how complicated love and family can be.
Shout-outs
"Coming Home is a winner. The characters are well-developed, nuanced and likable. Enjoyed the vineyard setting, learning about wine growing and seeing the challenges Cami faces in running and growing a business. I look forward to the next book in this series!"
Reviewer
Book info
Sample
Audiobook
Media
Author updates
Lists
Synopsis
Families can be complicated…
Camilla "Cami" Chandler comes home from France to take over the Chandler Hill Inn and Winery for her recently deceased grandmother, Lettie, as she'd always promised. Determined to succeed in this new venture, she finds herself in trouble from the beginning when she discovers most of her grandmother's estate intended for maintaining the inn and its business expenses was lost in a Ponzi scheme. She forges ahead to provide her guests with wonderful experiences and to produce the best wines in Willamette Valley. After being ditched by her French boyfriend, she decides that being friends with Drew Farley is the safest way to proceed. He loves grape growing and winemaking as much as she does and isn't looking for anything beyond friendship.
When a bride planning a wedding at the inn tells Cami that she looks exactly like her best friend, life becomes even more complicated. Never having known even the name of her father, Cami searches for a connection and comes to realize how complicated love and family can be.
A love story of a family with heart… Be sure to listen to or read the other books in the series: Going Home and Home at Last.
Release date: October 8, 2019
Publisher: Wild Quail Publishing
Print pages: 314
* BingeBooks earns revenue from qualifying purchases as an Amazon Associate as well as from other retail partners.
Listen to a sample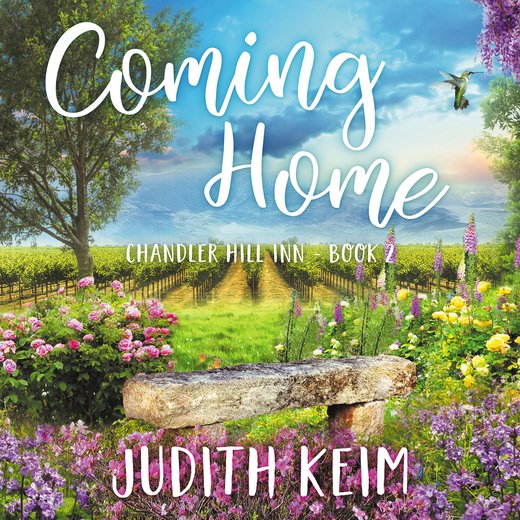 08:15:50
226.99 MB
9781667096360
September 12, 2019
Wild Quail Publishing
Coming Home
Judith Keim
Coming Home
Camilla Chandler walked through the vineyards toward the grove of trees that meant so much to her at Chandler Hill in the Willamette Valley of Oregon. The ashes of her grandmother, Violet "Lettie" Chandler, now resided there along with the ashes of her mother, Autumn, Lettie's husband, Kenton, and Rex Chandler, Lettie's father-in-law and the original owner of the inn and winery Cami had just inherited.
The gray skies of this cool fall morning held a promise of rain, which suited her mood. The raindrops slated to fall would match the tears she'd somehow managed to hold onto after weeping for days at the loss of her grandmother, whom she called "Nonnee," a woman beloved not only by Cami, but by all who knew her. For eighteen months of Cami's first two years, Nonnee had raised her, forming an early, loving bond between them. And then, when Cami was only six, Lettie had stepped in to take the place of Cami's mother after Autumn had been struck and killed by a car while jogging one day near her home in South Africa.
Cami lifted her face to the sky and watched as a red-tailed hawk circled in the air above her and then glided down to perch on the limbs of a tall white oak, part of the collection of trees that was her destination. As her grandmother had done, Cami sought refuge and answers among the pine and hardwood trees that rose from the earth in a sturdy cluster—sentinels keeping watch over the grape vines that lined the hillsides with promises of good things to come.
Cami entered the inner circle of the trees and sat on the stone bench that had been placed there long before her birth.
"What a mess," Cami blurted before she could stop herself. Wrapping her arms around herself, she wished she had worn her sweater. The crisp fall cold seeped into her bones as she began to cry. If Nonnee were here, she would hug her and tell her everything would be all right. But at the moment, nothing seemed all right. Especially after receiving the email from Bernard.
Cami rocked in her seat, wishing there was an easy way to get rid of the pain. "Bernard Arnaud is a … a … b … jerk!" Her angry cry filled the air and bounced off the branches and boughs of the trees, making it seem as if their echoes confirmed her opinion of him.
She could hear her grandmother's words in her head. "Take a deep breath, darling, and begin at the beginning."
Following those silent instructions, Cami drew in air, straightened, and spoke aloud. "Nonnee, I thought he loved me. I thought he understood I had to come home to Chandler Hill, that I owed it to my family to be here. After our many months of being together, he called those days … and nights … a fun romance. And now, he doesn't want to see me anymore! After I helped to bury you, he told me this in an email … an email for God's sake!"
Cami fisted her hands as fresh tears rolled down her cheeks. "I feel so … so … stupid!"
A sparrow landed on the ground not far from her and peered up at her with dark eyes, like a messenger sent by her grandmother. How she missed Nonnee!
Cami bowed her head. As strange as others might think of it, sitting in the grove, giving up her secrets brought answers. Though all of her Chandler relatives were deceased, they still spoke to her in memories and in stories others shared about them. They were fine people—her mother, grandmother, and the two Chandler men who'd given Nonnee the challenge of making the Chandler Hill Inn and Winery what they were today. Now, it was up to Cami to keep the enterprise healthy and strong. She knew it was an inheritance some people would love to have, but with the breakup with Bernard, it had already cost her dearly. And at twenty-three, Cami wondered how she could ever meet the challenge Nonnee had passed on to her.
The cool breeze blowing through the pines filled the air with whispers. Cami cocked her head to listen. No answers seemed clear but one. Somehow, she'd have to find the courage and strength within her to keep things going. If Nonnee, all five-feet-three inches of her, could do that, then so would she.
Cami stood to leave. Hearing a noise behind her, she turned to see Rafe Lopez walking toward her. Her lips curved, and she lifted a hand in greeting. Her grandfather was a striking man in his early seventies who was also struggling with Lettie's recent death. Cami and her grandfather, Rafe, had always had a close bond, and now that it was just the two of them living in Nonnee's house, they'd grown even closer.
She'd always called him Rafe, even as a child. When it was suggested she call him Grandpa, she'd stamped her toddler foot and said, "No! My Rafe!" He'd loved it then, and he loved it now.
"Thought I'd find you here," said Rafe. "Get a few things settled in your mind?"
She smiled sadly. "There are no simple answers, are there?"
He shook his head. "Life is anything but simple. May I sit with you?"
"Sure." She sat and indicated a place for him next to her. "What's up?"
"I just talked to Paloma. She's decided to leave Chandler Hill to live in Arizona with her daughter and her family."
Cami's eyes widened. "But Paloma has been almost as big a part of Chandler Hill as Nonnee."
"Yes, but now that her best friend is gone, and with her new inheritance, Paloma is free to leave." The sadness in his eyes reflected her own. "A lot of things will never be the same."
"I heard Abby wants to retire by the end of the year." Cami let out a worried sigh. "Sometimes I feel so alone."
Rafe put an arm around her. "You've always got me. But I think it's time for me to move. I'd like to take over the cabin after Paloma is gone. What do you say?"
"You don't want to stay in the house with me?" Cami asked, genuinely surprised.
"Too many memories there. And the cabin is a special place for me. It's where I first spent time with Lettie. Of course, after all the renovations we've done, it's not a simple cabin anymore, but a very nice place for an old man like me."
Cami hugged him. "A very special old man. I'll miss you, but I agree. It's right for you to be on your own without worrying about me." She studied him with tenderness. "But I'll always be there for you, Rafe. A woman couldn't have a better grandfather than you."
He cupped her face in his broad, strong hands. "You'll never know what a gift you are to me, my granddaughter. I never suspected your mother was my child. When I found out, I cried with joy. And now I have you."
Cami had heard this story many times. It was a sweet one. She couldn't help wondering who her own father was. It was something her mother had refused to divulge. But someday, maybe when things were in better shape at the inn, Cami intended to find out. She needed to know.
Some families were complicated, she thought as she got to her feet once more. She held out a hand to her grandfather.
He took it and rose. "Ready to come home?"
"I guess so." Home was as complex as her family.
###
Cami sat in the office within the inn and stared out the window. The room and its history weighed heavily on her shoulders. She'd already met with Nonnee's lawyers regarding her inheritance of the inn and vineyards , but when she'd asked to see information from her grandmother's financial advisor, he'd sent her a summary accounting of Nonnee's investments and requested that the meeting she wanted with him be postponed for two weeks while he dealt with some other issues. Overwhelmed by all the new information thrown at her, Cami had readily agreed.
Now, it was time to decide which of her available funds she'd use for the upgrades to the guest rooms the inn manager, Jonathan Knight, was insisting be done. Jonathan, the young manager Nonnee had hired just before she was diagnosed with cancer, was not one of Cami's friends. He'd all but sniffed his disapproval when Cami told him he would now report to her.
"But you have no experience in the hotel business," he'd protested. "I understand you studied Fine Arts in college. That certainly doesn't qualify you to run an operation like this."
"Nevertheless, I own the entire business," said Cami sweetly, though inwardly she was seething at the insulting tone of his voice.
"Cami? Mr. Evans is here to see you," announced Becca Withers, her assistant, startling her out of her memory of that encounter.
Cami smiled. "Thanks, Becca. Please ask him to come on back." Cami had had a couple of telephone conversations with him. Dirk Evans had sounded very smart, very polished, very cocky.
Becca showed Dirk into the office and, standing behind him, waved a discreet hand in front of her face to indicate she thought he was a hottie.
Tall, with sun-streaked brown hair and fine features, he swept into the room and beamed at Cami. Through lenses in black eyeglass frames, his blues eyes surveyed her.
From behind the desk, she rose to shake his hand. "Hello, Dirk. We meet at last."
"My pleasure. Photographs Lettie had of you on her desk don't do you justice."
"Yes, well, have a seat and let's get down to business, shall we?" Cami said briskly. "I want to talk to you about my grandmother's portfolio. We're about to start a renovation project at the inn, and I'm going to need to sell some more stocks."
All confidence seemed to evaporate from him. He sank into a chair and faced her with a look of despair. "We've had some disappointments. One in particular."
A niggling feeling crept through Cami like a python squeezing her insides. "You're not talking about the Montague Fund, are you? I directed you to sell that two weeks ago."
"Yes, I know. I tried to do that for you and all my clients, but there's a problem. It turns out that the Montague Fund was basically a Ponzi scheme. Most of the money is gone. I'm working on getting back what I can. I've already begun filling out claim papers with the SEC, but it's going to take time for the Feds to sort through it." He pushed his glasses further up on his nose. "I was given what I was assured was reliable information on the fund, so I'm not sure what went wrong."
Cami's mouth went dry. She gripped the arms of her desk chair so tightly her fingers turned white. "What went wrong? My grandmother was a very conservative woman. I don't believe she would have wanted you to invest her money in something like that. Was she aware of what you'd done? Did she approve?"
"She told me to go ahead and do whatever I could to ensure you'd have enough money to carry on with the inn. The fund promised exceptional returns …." His voice trailed off.
She narrowed her eyes and studied him. "So Nonnee didn't know?"
He looked at her and then away. "Not exactly."
"I could have you reported and perhaps have your license taken away," said Cami, "but then I guess I'm not the only client of yours who feels that way."
"I did nothing wrong," Dirk countered. "I got the information for the fund from a very reliable source. Believe me, you're not the only person who has been hurt by this."
Cami's lips thinned. "So that makes it all right?"
He shifted in his chair and looked away from her.
"Did everyone in your office suggest their clients invest in this fund?"
He shook his head. "Mr. Berman didn't like it, warned his clients against it."
Cami leaned forward and gave him a steady stare. "I want this entire portfolio transferred to him immediately. Understand?"
"But ..."
"Stay right here. I'm calling him now."
Dirk let out a snort of disgust. "You don't have to do that."
"But I do," she said, with a calmness she had to force.
Cami scrolled through her contact list and tapped in the number on her cellphone. She was immediately put through to Russell Berman. He listened to her and then said, "I'd be honored to work with Lettie Chandler's funds, and now yours. I suggest going over everything, making sure that the remainder of the money is placed in safe, conservative funds."
"But Mr. Berman, what am I going to do? I need money to pay for the renovation of rooms." Cami felt like crying, but she refused to break down in front of Dirk.
"The market is volatile right now. Hold off on spending any money until I get things sorted out. Then, you and I can talk about funding the renovation of rooms."
"Okay, but the hotel manager isn't going to be happy about it," sighed Cami. As she hung up, she wondered why she felt as betrayed by Dirk as she had been by Bernard.
"Okay, Dirk," said Cami, getting to her feet. "I think we're done here."
He rose and turned to go, then turned back to her. "Maybe we could have dinner sometime."
Hysterical laughter bubbled inside her. He'd ruined her future and was asking for a date?
"Really? I don't think so. Goodbye, Dirk."
Later, repeating that conversation to Becca, she said, "Can you believe it?"
"Yes. Have you taken a look at yourself? Thin, but with curves any guy would go for, you're a stunning woman with that strawberry-blond hair and dark eyes. I'd kill for your looks."
Cami wrapped an arm around Becca. "You're adorable. Being short isn't bad, you know."
"And being a little round?" Becca said with an arched eyebrow.
"Cuddly and warm. I've seen the looks Jonathan Knight gives you."
Becca made a face. "Jonathan is in love with himself. Haven't you noticed?"
The two of them looked at each other and laughed. Tall and broad-shouldered, Jonathan carried himself with confidence. His dark hair, green eyes, and strong features were undeniably attractive. His attitude, not so much.
"For the time being, I've given up on men," said Cami with feeling.
"Not me." Becca grinned. "And you have to admit that Dirk Evans is one hot guy."
"Yeah, but looks aren't everything, Becca." Cami recalled how handsome she'd thought Bernard was. Now, the memory of his face as he leaned down to kiss her made her stomach fill with acid.
###
Cami's meeting with Jonathan went no better than her talk with Dirk.
"You can't tell me the renovation program I've planned is kaput," he groused, sitting in the office he'd assigned her. "The timing of it is perfect. Cold winter months are slow at the inn. And if we're going to raise rates, we need to refresh the rooms."
"I don't have any answers yet," Cami said. "But give me time to come up with a revised plan. Our renovations fund has been depleted and we may need to use our cash flow to get anything done."
Jonathan's lip curled with derision that matched his tone. "How can we do all the work I want that way? It'll take a miracle."
Cami held up a hand to stop him. "I'll get back to you as soon as I can, Jonathan. That's all I can promise right now."
His silence screamed his anger as he stormed out of the office.
Cami watched him leave, determined to show him just who she was. A Chandler and a Lopez.
We hope you are enjoying the book so far. To continue reading...
Coming Home
Judith Keim
Copyright © 2023 All Rights Reserved