Zoning, Zealots, & Ziplines
Book info
Sample
Audiobook
Media
Author updates
Lists
Synopsis
SOUTHERN HOSPITALITY WITH A SMIDGEN OF HOMICIDE



When the owner of the local zip line is found dead on the ride, the small town of Normal, Kentucky, is in a state of shock. With the local ranger and sheriff at a loss for leads, it falls to the Laundry Club Ladies—a group of nosy sleuths led by Mae West—to crack the case.



Mae is more than happy to put her nose to the grindstone and get to work, especially since it gives her a chance to escape her pesky new sister-in-law, Ellis.



As Mae and the Laundry Club Ladies dig deeper into the mystery, they uncover a slew of suspects in the cozy town. But with the killer still on the loose, the investigation takes a dangerous turn. Can Mae and the Laundry Club Ladies catch the killer before it's too late?



Join Mae and her team as they navigate the twists and turns of this intriguing murder case in this must-listen cozy mystery that will keep you guessing until the very end.
Release date: February 23, 2023
Publisher: Tonya Kappes Books
Print pages: 308
Reader says this book is...: action-packed (2) entertaining story (5) escapist/easy read (4) realistic characters (2) terrific writing (1) satisfying ending (1)
* BingeBooks earns revenue from qualifying purchases as an Amazon Associate as well as from other retail partners.
Listen to a sample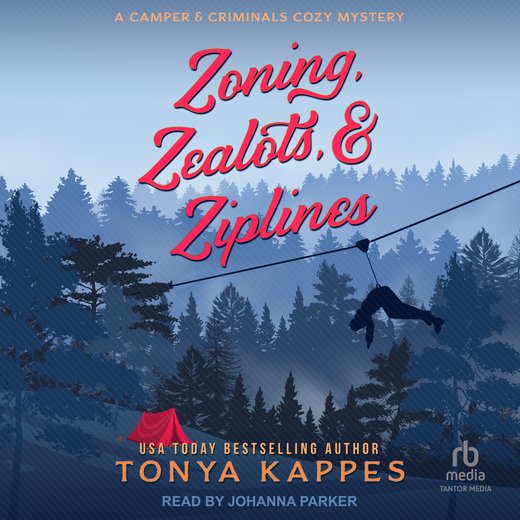 04:51:05
133.26 MB
August 29, 2023
Tantor Audio
2023
Zoning, Zealots, & Ziplines
Tonya Kappes
PREVIEW
Unfortunately, not enough light surrounded the area for me to get a clear view of the camper or campers through the telescope. The place was pretty much a blur against the dark background of the ridge, though there was enough light to clearly see the terrain and the steepness the hikers had to climb down to get there.
"No. No." Dana had moved back to me from helping the other guest at the other telescope. "You don't need to move the telescope. They've been strategically placed for the best views of Orion tonight."
With my eye still looking through the scope, Dana rolled the dial and returned the telescope to the position it had been in before I started fiddling with it. She had to have known the exact number on the dial, which I was sure Claire had already thought of.
My eye took in something hard to identify. I wasn't sure what it was, but I had an inkling, and I gasped.
"No." I jerked my head back and eye away from the scope as I squinted toward the ridge and looked at the zip line cord.
"Oh yes." Dana nodded and pointed. "That's exactly how I feel when I see Orion's Belt. Next!" She called for the next person behind me.
"I, um, no." I held up a finger and bent back down to check if I'd seen what I thought I'd seen.
Someone was dangling from the zip line.
Chapter One
I knew today would be bad when it started off at the National Park Committee meeting.
I was seated across the long conference table alongside fourteen other committee members. We were staring at Judge Gab Hemmer, who was eating a donut.
Or should I have said the donut appeared to be eating him?
It was a maple long john too. My favorite. At least, it was.
I gulped, wondering what on earth Stella did at home after she'd cooked a big meal for him and he wore it on his face.
The emerald engagement ring on my finger suddenly felt tighter, almost strangling my circulation.
I fiddled with it and was happy to report the ring could twist and turn like my mental images of a much older Hank years down the road with a half-eaten s'more in one hand, chocolate dripping out of one side of his mouth and marshmallow out the other.
"Do you agree, Mae?" Gab asked, bringing me out of my thoughts—or, rather, my waking nightmare.
"You have something…" I trailed off as I gestured to my own chin.
"Oh. Yeah," he said in a gruff voice. Then he grabbed the plastic wrap Christine Watson, owner of the Cookie Crumble, where I'd picked up the donuts for the early-morning meeting, had used to fold up each individual donut only because she knew I didn't like them to touch in the bag.
The parchment paper crinkled and rustled when he swiped it across his chin as though it were a napkin.
"Thank you." He nodded and got back down to business, just like he did in his judge's chambers. "Do you agree?"
"Yes," I gave a solid answer, though I'd no idea what I'd just agreed to.
"That settles it. Lloyd, you get the Zip Line Adventures assignment, and Mae will report back on the Star Gazer." The sharp, loud, and crisp sound of Gab Hemmer's judge's gavel echoed through the conference room.
"Wait. Zip Line. That was the one I wanted." I shuffled through the paperwork in front of me and found the printed copy of the online form I'd filled out and printed. "See."
Gab Hemmer looked over the top of his reading glasses at Veronica Chestnut, the committee secretary.
"Ahem." She cleared her throat and flipped over the top sheet of paper in the notebook to reread the minutes she'd just taken. "Judge Hemmer said, 'We have two members who want to attend the new zip line inspection. Mae West and Lloyd Hornbuckle.'"
She glanced up to make sure we were all listening.
"We don't have anyone who wants to do the Star Gazer inspection. Mae, would you consider switching to the Star Gazer inspection tonight?"
I leaned in on the conference table and slightly turned my ear to hear exactly what he thought I'd said because I didn't recall this conversation even happening.
"'Do you agree, Mae?' Judge Hemmer asked Mae." Veronica looked up with a slight grin on her face, as if preparing herself for what was coming next. "Mae replied to the Judge, 'You have something,' and then she pointed at her chin."
"Veronica." Judge Hemmer jerked around and looked behind him, where Veronica was sitting. "We don't need to hear all of that. Just get on with Mae agreeing."
"Yes, sir." Veronica nodded and scanned down the piece of paper, which she flipped back. "Judge Hemmer asked Mae, 'Do you agree?' Mae said yes."
"But I didn't know what I was agreeing to. I was so preoccupied with the donut dancing on your chin as you talked that I didn't hear the motion on assignments." I wanted to blurt out that no one who lived here wanted to stargaze, so it made no sense that we had to even be there for the inspection.
"The gavel has hit." Lloyd jumped to his feet. "I'm heading on down to Deters's Feed-N-Seed before all the ziplining equipment gets bought up. It's gonna be a great activity."
"Wait!" My response was crisp and to the point, almost on edge. "What? No?" I said, my voice cracking.
"That settles it. Lloyd, you get the Zip Line Adventures assignment, and Mae will report back on the Star Gazer's." He slammed the gavel one more time. "This brings the monthly National Park Meeting to a close."
The big comfy conference-room chairs' wheels squealed as everyone but me pushed away from the table and got up. Each person took another donut from the bags and refilled their coffees as though everything was fine and dandy.
"Where are you going?" Judge Hemmer stopped me when he noticed I'd gathered my things and was heading out the door. "You brought the donuts and the coffee. Usually when it's your turn, you hang around a bit."
"Not today. I've got to finish getting all the items for the S'mores and Snores Happy Trails Campground monthly party that I put on for the community and my campground guests."
"Now, now, May-bell-ine, I could ride that pouty lip of yours all the way to town." He pointed at my face with the donut in his hand. "You should've been listening and not daydreaming."
If he only knew I was in the midst of a total nightmare when he asked me the question.
"I'm not pouting. I'm just doing my job, and stargazing is not part of it. I like adventure." I threw my chin toward Lloyd as I juggled all the files in my hands. "He's got a foot in the grave. And the zip line is meant for someone in a little better shape."
Judge Hemmer glared at me.
"Why, May-bell-ine, I don't like hearing you talk like that. Are you sure you're not all stressed out over this wedding of yours?" His brow wrinkled.
I sucked in a deep breath to give my head and my mouth some space. I didn't want to say anything I'd regret. I'd taken pride in being on the board and loved my life. One little stargazing night in the grand scheme of things wasn't going to hurt me.
Or was it?
Chapter Two
The National Park building was in the next town over from Normal, where I lived. It gave me some time to think in the car or calm down before I got back to Happy Trails Campground, the campground I owned and operated.
On my walk back to the front of the National Park building, I let my mood shift by looking at all the big windows that wrapped around the building. The views of the forest and mountains were breathtaking. The dense, green trees stretched as far as the eye could see, their leaves rustling in the gentle breeze. The mountains rose in the distance, their peaks piercing the blue sky and casting shadows on the landscape below.
The sunlight filtered through the trees, casting a warm glow. I stopped and closed my eyes, letting the sun shine on my face.
It was a welcome respite from the internal dialogue I was having about what Hank might look like eating a donut when he was Gab's age.
"The view is truly a sight to behold, and it is no surprise that many people flock to this office just to enjoy the stunning views." Veronica had sidled up to me without me even hearing you. "Lost again in your thoughts?"
"You couldn't see it, but when Gab was talking about the zip line and the stargazing, he had this piece of donut dangling." I raised my finger to my chin and wiggled it to mock what I'd seen. "It was disturbing. I couldn't peel my eyes away."
Veronica was hysterically laughing.
"You are so fun. I'm so glad you're on the board. They are so stuffy in there." She put a hand on my arm. "But from the report Claire Patton from the Star Gazers filed, it sounds remarkable. She's got the best spot for it too. A lot of people have been trying to get that property for years. Including the university."
"I think you're trying to talk me into just going with it and not grumbling about it." I watched her smile like I'd caught her.
"All I'm saying is that I think you'll come away from the experience a little shocked." She shrugged. "Tourists come a long way to see the night sky here in the Daniel Boone National Forest. There's no big city lights to skew any of the darkness, and the Star Gazers have really got some great things planned." She placed her hand on the stack of files in her arms. "Good for the economy too."
"You know I can't argue about that." I gave a quiet snort in the back of my throat, since I'd been able to help the economy in Normal after bringing the campground back from less-than-stellar accommodations to the hottest place to stay in the forest.
"I can't wait to hear what you think." Veronica was about to say something else before a couple of the inspectors with the National Park barreled their way between us.
"Neil Lipman is awful, and I'm the one who has to approve the zip line." They didn't appear to even notice they'd completely come between Veronica and me. "I'm telling you, Ace Price pulled the permit for him."
"Or her." The other snorted.
Veronica headed down the hall to her office, which was near the Daniel Boone National Park Museum. She was the director of activities there.
A lot of people who worked in the forest held a couple of different jobs. Not that we had to, but we loved the forest so much, we would do anything to keep it. If that meant I had to stargaze for a night, then so be it.
Several tourists were milling about in the front area of the building, where they seemed to be picking through the hundreds of brochures on the wire racks.
I loved seeing the Happy Trails Campground brochure at the very tiptop. I'd had a professional photographer take the photos, and they were gorgeous. They stood out from the rest, but the dark blue one with the bright twinkling stars next to it caught my eyes.
I walked over to the wire sleeves and plucked out a brochure, which I read as I started to walk out of the building and to the parking lot.
"Star Gazers." I smiled. That they'd gone to the expense of creating a gorgeous brochure told me they did want to make theirs a true business that could stand the test of time. Plus they had the brochure made before the inspector came to make sure it deserved any sort of funding they might've secured for the National Park.
Instead of leaving, I sat down on the reclaimed cedar bench and flipped through the trifold brochure.
Experience the stars in the Daniel Boone National Forest like no others. This tour is a true treasure for those seeking astronomy and star-filled skies. The National Park offers a rare opportunity to experience nearly perfect star-gazing conditions. The International Sky Seekers Association considers the National Park's sky "Gold Tier," a title only earned by some of the darkest and most remote locations across the globe. With rarely a cloud in the night sky, our three nights spent in the heart of the Daniel Boone National Forest are quite possibly the best stargazing you'll ever experience.
That was quite an experience they were offering, I thought and folded the brochure up. It would be one of the things I'd ask Claire Patton on my tour tonight.
Speaking of tonight, there wasn't much time between now and the time I had to be at the Star Gazer tour. I had to start preparing Happy Trails Campground for S'mores and Snores. After all, if I was going to do my part to help my best friend, Betts Hager, make a few good deed items from the list her deceased husband left behind, I had to get a move on. Part of the proceeds from S'mores and Snores would go to one of those charitable foundations on the good deed list.
Every month, I hosted a countywide get-together, which I thought of as a meet and greet of sorts. I encouraged all the campground guests to participate by cooking one dish over their campfire to share with the community.
The term "community" referred to all the other guests staying in Happy Trails as well as the entire town of Normal. I also allowed the vendors and shop owners of Normal to set up booths in the recreational building, mostly outside underneath the covered area, since the inside was full of entertainment for the guests. We had a large population of children, so I liked to keep that area available for the kiddos at all times.
It was a fun night of community. Blue Ethel and the Adolescent Farm Boys, a local band, was scheduled to play some great toe-tapping bluegrass music while everyone walked around with a plate and sampled what the campground guests cooked over their firepits as well as delicious food from the Normal Diner.
I lived on the campground property in a small travel trailer I had completely gutted and made a perfect place to share with Fifi, my sidekick poodle. My engagement to Hank Sharp, the local private investigator, had really got me thinking about where we were going to live once the fall arrived and we were hitched.
Fifi, Hank, his dog, Chester, and I would be in tight quarters in my little camper. Hank lived a few camper lots down in a huge fifth wheel that would be plenty of space for us.
I was a little hardheaded and had worked so hard to get where I was that I was still a little cautious when it came to letting people in. After all, all my trust in men went down the toilet after I was married to the most notorious Ponzi-scheme criminal in the United States. Then someone got to him before I did… They murdered him.
That was why I lived in a camper in a campground in the middle of Kentucky. Yes, it was an actual National Forest, but when you broke it all down, it was literally in the middle of nowhere in Kentucky.
The forest made it hard to differentiate between leaving one small town and entering another. It was easy for me to get wrapped up in my thoughts on my way back to Normal as I drove along the curvy, wooded roads.
The Daniel Boone National Forest was a truly breathtaking place. The winding roads twisted and turned through dense forests of tall trees, their branches forming a canopy overhead.
The last day's sunlight filtered through the leaves, casting dappled shadows on the ground. A sense of peace and serenity washed over me as I took in the narrow and winding road, taking a couple of sharp turns before I had to really focus on the steep inclines so I wouldn't drive off the curve of the road.
That was the thing about the forest. There were so many steep cliffs where making one wrong move could send you straight to your death. And stargazing at night would be one of those moves if you didn't have a really good guided tour.
My mind came up with even more things to look for and ask Claire about, since I'd accepted my job as a committee member. If I had to do it, I might as well make it as good as possible.
Civilization faded away as I got closer and closer to Normal.
The early spring day had actually warmed into the sixties. There was something about the changes in seasons, especially spring.
In the distance, I noticed something in the road. I brought my little Ford Focus to a crawl as I watched a couple of does cross the road, bringing a smile to my face.
I rolled down the window and took in the sounds all around me while I watched the deer sprint over into the woods. The gentle rustling of leaves underneath their hooves crunched as they made their way.
The Kentucky bluegrass was starting to pop up in patches, and soon whatever was left over from the winter would be buried in the lush landscape.
My phone buzzed with a call, and I hit the button on the steering wheel to bring it up on the Bluetooth speakers.
"Mae, where are you?" Ellis Sharp, now Ellis Randal, Ty's new wife.
"Ahem." I had to clear my throat. Just the thought of her being Ty's wife stuck like a hard rock in my throat. "Ellis, what's up?"
Hank's sister alone was a hard pill to swallow in doses, but now that she lived full-time in the campground with us, she was a thorn in my side.
Dottie Swaggert, the manager on the Happy Trails property, said of Ellis, 'Every rose has a thorn." That described Ellis perfectly.
"Where are you?" she whined.
"I'm on my way back from the National Park Committee meeting." I heard the birds chirping and singing, filling the air with their melodies, but I couldn't really enjoy it, so I rolled up the windows and hit the speed limit to get back to the campground.
"I have a problem," she said in a hushed tone as if she were trying not to be heard. "Ty is getting ready for work. Yes. I gave him the order for the Snores and S'mores."
"S'mores and Snores." I had no idea what on earth had gotten into her because I never asked about Ty, but the one thing I would correct was the event's title. "We eat the s'mores first, then we do the snores. Get it?"
"Mmm-hmmm, cute." She was talking in code or something.
"I guess I'm not understanding why you're calling me, so I'm going to hang up now." I wasn't going to be at my soon-to-be sister-in-law's beck and call every time she needed something.
She never gave me the time of day before she was married to Ty. Hank's parents had sort of cut her off when she up and got married to Ty Randal after a few weeks of dating.
It wasn't that they'd dated for only a few weeks that put her mama in a tizzy, a downright hissy fit. It was that their mama had spent all of her life providing everything for Ellis to become some big model. I mean every decision the family made, every penny went to Ellis, leaving Hank to be raised by his granny Agnes. I was so thankful he was raised by her.
But Ellis had always been spoiled and rotten to the core. If I put her in the middle of tonight's Star Gazer event, she'd honestly think the stars and the moon were out for her and would start revolving around her head.
And to see her living in a camper with Ty and his siblings beside his ill father was pretty entertaining.
"Tell Mae hello," I heard Ty call out from Ellis's end of the phone.
"Okay, dear. I love you." I heard kissing too.
"Yuck," I groaned and took the right path of the fork in the road, which led me straight back to the campground. "You could've waited until I got back."
"You don't understand. I think I've messed up the plumbing." Her voice cracked and trembled as she tried to speak through what sounded like tears.
Sounded like.
Ellis was great at acting. The modeling gig and beauty pageants didn't work out so well for her, but the acting was spot on. She probably should have pursued being an actor.
Too late now.
"I don't know what to do. I've tried so hard to live in a camper. I don't know how you do it. I feel so alone." This was the part during which she wanted sympathy from me.
Oh, Ellis, you're not alone. We love having you in the campground. Don't worry about it. Whatever it is can be fixed, was what she wanted to hear from me.
Over the past few months, I gave her that safety and comfort, but she hit my limit when she called me in the middle of the night asking if we could put out Havahart traps for raccoons so they didn't come into her garbage at night.
In the middle of the night, and we lived in the middle of a forest. Things she should really know, since she did, in fact, grow up here. Again, she was shielded from the everyday life by her parents.
I did give her credit. Somehow, she kept Ty from realizing she didn't know a thing about camping and stole his heart right out from underneath him.
"What do you mean, you think you broke the plumbing?" Curiosity tickled my brain.
"Ty had told me how I had to use septic-safe camper toilet paper, but it's all scratchy and stuff." I could already see where this was going. "So I kept a little bit of soft cloud toilet paper for me hidden, and when I tried to flush just now, it all puffed up, and other things bubbled up in the toilet."
"Stop trying to flush it." Immediately I could picture what might happen if she continued to try to make it go down. I started to giggle at the images of her standing over the RV's already tiny toilets.
"Are you laughing at me?" Her ability to shift her tone was remarkable. "You said you'd help me get used to full-time RVing."
"I never said I would help you, Ellis," I reminded her. "You expect me to. You two only rent one of the full-time spots I allow to be rented on a yearly basis, so it's up to your husband to show you how to live in his hundred-thousand-dollar RV."
"Hundred thousand?" she gasped.
"I don't know if you realize the RV you are living in is well into the middle one-hundred-thousand-dollar range." Most people didn't realize how expensive RVs were until they decided to purchase one. "From what you told me at the beginning of this conversation, he told you to use RV toilet paper. You choose not to use it on your precious hienie."
"It's like using a fingernail file." She made me snort another laugh. "I see you think this is funny. I'll just call my brother."
The phone went silent.
"Ellis?" I waited a couple of seconds. "Ellis?"
The radio popped back over the speakers of my car, letting me know she'd hung up on me.
I should've known right then and there that my day would only get a lot worse.
Chapter Three
After Ellis hung up on me, I might've sped up a little. Not because she'd threatened to call Hank—that was fine and dandy—but I had to see Ellis trying to clean out the hose from Ty Randal's big RV that housed the family. That hose went to the underground septic point of entry we provided for all the camper sites.
Happy Trails Campground really wasn't a year-round living campground. We served the purpose of campers who were tourists to the Daniel Boone National Park. When I became the owner of the campground and moved to Normal, citizens were already living there.
Those people included Dottie Swaggert, the campground manager, as well as Ty Randal's father and siblings. The campground also became my home when I parked my little camper on site and Hank moved his fifth wheel there after he'd moved off his parents' property.
Currently, there were four full-time residents, and the rest were tourists. Some tourists would stay up to a couple of weeks at a time, since there was so much to explore in and around the park, but mainly the guests stayed for one week only.
That we offered full water hookup, sewage, internet, and electricity was rare for one campground. We received so much interest in the campground that we had to make it reservation only, which kept our wait list very long.
I'd gotten so lost into my thoughts and tickled about Ellis's damage to Ty's RV that the drive back home seemed shorter than it was. Before long, I was driving under the original wooden arch sign that read Happy Trails Campground and taking the long gravel drive up to the actual campground.
The five-mile-an-hour speed limit made it easy for me to glance to the right, look at the office—the first outbuilding—and see the lights were on inside. The chair next to the office door wasn't occupied by Dottie, so I knew she was inside working.
Dottie Swaggert was a great employee. She would work day and night if I asked her to, but as an on-site owner, I made sure I was available anytime. That made it easy for Dottie and me to not only rotate out as we needed to but also take morning and afternoon shifts in the office so the days weren't too long.
Of course, those long days consisted mainly of walking around the campground and making sure all the guests had what they needed.
I rolled down the window and let the fresh air that came with the warmer weather whip in. A couple of deep breaths were so good not only for my lungs but for clearing my head of any prenotions of what Ellis had done.
It filled my heart to see campers sitting outside their campers with big smiles on their faces, talking with their neighbors. Henry had gotten out the pedal boats, and a few guests were enjoying the activity on the lake.
I took the road to the left around the campground so I could check on everyone before I took on the task of trying to get Ellis's sewage line cleaned out, or attend to whatever was happening with it.
The recreation center was filled with children not only playing video games but standing by the vending machines to see what tickled their fancy for a snack. Earlier, we'd taken down the Tiki Hut decorations for the brutal and cold, snowy winter season that just left us. Henry had already put them all back.
The sounds of birds singing and chirping and leaves rustling in the breeze created a lively and vibrant atmosphere that one expected to hear when they came to Happy Trails.
Even the stationary campers, which I'd kept on-site purely for rental, had been rented, as had the fun bungalow-style cabins. These were perfect for the people who wanted to either try out camping or just loved nature but had not taken the leap or had the desire to own their own campers.
Happy Trails Campground offered everything, even the flat piece of land off a little from the bungalows, where many people did good old-fashioned tent camping.
A long sigh of relief escaped me as a feeling of satisfaction curled inside of me. All was right with the world.
In Happy Trails Campground, anyway.
"Mae!" Ellis waved her arms above her head to flag me down and ran into the middle of the gravel road. "Stop!" she wailed as if I was going to hit her.
"I see you." I waved a finger toward the concrete parking slab to let her know I was going there.
She ran alongside my car, and I couldn't help but feel sorry for her. The beauty queen had appeared to take a fall from grace—or at least a few stumbles. Her long hair was stuck to her face in strands, almost like it was glued or something.
When she tried to shove her hair behind her shoulders, her manicured nails, which she'd paid Sally Ann Dean to work on at Cute-icles, were chipped and broken.
"Ty can't know I used the regular toilet paper." The sparkle had left her eyes, leaving them dull. "Can you please help me?"
"Yes I can." I really wanted to make some sort of smart-aleck comment, but with the shape she appeared to be in, I wasn't sure she could take it like she normally did. "Let's see what's going on. I'm sure it's fine."
I wasn't really that confident, but as the owner of the campground, I had to put the tumultuous history between Ellis and me behind me and treat her like I would any other guest.
She'd already gone into the camper before I could get out of the car. Once inside the RV, where I'd been several times before she moved in, I marveled at the changes.
"Ellis," I gasped. "This place looks great."
Long gone was the couch where Ty lived and helped raise his brothers, the one with the stains and rips. The toys were picked up, and knickknacks were sitting around.
"Don't you love those?" Ellis pointed out the framed prints. "Those were done by a local artist. Amazing." She stood there for a moment as if the time had faded away and stared at the photos.
"That is some talent. I love the seasons." I'd realized the four prints represented the four seasons we had here in the area. "That's one thing I really do love about living here."
"Living here." She twisted around and frowned. "I need help. I've got the kitchen covered and have been cooking some basic things, but the toilet is killing me. I can't use that scratchy paper."
"There is a soft tissue made for campers. I have a few rolls at my place I can drop off. You and Ty can order them or go on down to see Alvin Deters because he keeps it stocked for the tourists," I told her.
"I'm not sure why Ty would have this, then." Her lips pursed, and her eyes darted as if she were trying to figure it out at the moment.
There was only one explanation. I said, "Men. Boys. Money."
"Huh?" Her brows furrowed.
"I'm sure before Ty's mama passed, she used softer tissue. But guys pick the cheapest stuff." It came as no surprise to me, since I'd been out in the world and on my own for a while, but Ellis hadn't.
She'd been sheltered all her life, and her parents gave her the finest things.
"Is that what Hank does?" She tried to lump her brother into that category.
"Agnes taught him well," I assured her. "We better get a look at the toilet before the kids get home from school."
"Right this way." She led me down the hall, where they had a much larger bathroom than most.
When Ty had moved back from Los Angeles where he was a big-time fancy chef after his father had a heart attack, he knew he would have to stay, help raise his brothers, and run the Normal Diner, their family-owned business in downtown Normal.
He made a lot of changes then, and getting a huge RV with the big family bathroom option was a must for him.
"What's on your face?" I asked, almost fearing it had something to do with her trying to fix the bathroom issue.
"Maple syrup." She glanced into the bathroom mirror and started to peel the strands of hair stuck to her cheeks off her face. "That's how long I've been working on this toilet."
We both stood over the demon piece of plastic and looked down into the dry bowl.
"I got the kids off to school after I made them pancakes and came into the bathroom so I could get my shower before I started my day. And here we are. Hours later." The frustration rolled off her.
"Okay, push the pedal." I knew she didn't have long until the boys would be home and the race to get them a snack, take them to any sports practices, and bring them back for supper would ensue.
When she pushed on the pedal attached to the commode, the small hole on the bottom opened. Inside the tube, I could see globes of white fluffy cotton-like toilet paper all swelled up.
Luckily, it appeared the bodily fluids had already been flushed, and the toilet paper at the top was what clogged it up.
"This is the reason you have to use special RV toilet paper. The RV's mechanics are much smaller and can't break it down like a house toilet." Not that I wanted to give her a lecture, but she'd asked me to help her learn how to live in a camper, and this should've been lesson number one.
Especially when she shared a bathroom with a lot of family members.
"Do you have a snake tool?" I asked her.
"I think Ty does." She gnawed on the side of her jaw and stared at me.
"Can you go find it?" I asked.
"Oh yes." She hurried out of the bathroom as I continued to push up and down on the pedal to see if I could get some water flow. I knew if we could get it out of the RV's system and out of the tub to the septic hook-up, that would be a whole lot easier than taking apart the components of the RV. In that situation, we wouldn't be unharmed from the bodily fluids I didn't want to even think about.
It also meant I would have to call Henry here, and Ellis's secret would be exposed. As a sister-in-law-to-be, I was willing to do what I could to help her out. Even if I wasn't so sure she'd do the same for me.
Nothing was happening with the toilet. The only difference was that the water had started to back up, and that wasn't a good sign.
"Is this it?" I heard her voice coming down the hall before she'd rejoined me with the snake tool I'd seen Henry use on other campers.
"It is." I took it from her and eyeballed it from all angles.
"You don't know how to do it, do you?" The sheer look of horror on her face gave away that she knew my secret. "Oh my gosh. Why didn't you tell me?"
"I've never done it, but I also have seen Henry do it and I'm your only shot." I unwound the steel rod and put it in the hole of the toilet, continuing to unwind it as it went farther and farther down.
We held our breath, hoping the tool was going to work as Ellis pumped the pedal.
Slowly the water seeped down, but the toilet was still not fully functioning.
"I need you to go boil me some water and bring me back a plastic garbage bag." She gave me a strange look before opening and then quickly shutting her mouth as if she were going to say something but decided against it.
Again, she rushed out of the bathroom. The sounds of pots and pans clanging together, cabinet doors slamming, and the faucet running were quickly followed up by her heavy footsteps.
Another personality trait I'd never seen of Ellis—the heavy walking. It might not seem like a personality trait to some, but she made it a mission to walk, talk, and be as elegant as she could be, and that included the way she walked.
"Hello?" a very familiar voice called out from the front of the RV.
"Hank," Ellis gasped with wide-open eyes like we were doing something secretive.
"Back here!" I called out and stretched enough to peep around the bathroom door and see him.
"We are decorating, Hanky Panky." Ellis left me standing there holding the snake tool, which I wanted to put into the garbage bag because the contents dripping from it really weren't wholesome.
"No we aren't," I said.
"We are," Ellis insisted and shook the bag. "We are getting rid of things we don't need in the bathroom. Things that have expired, like my moisturizer."
"Okay, let me see what's going on." Hank moved past Ellis. I could hear the back of his shirt sweep along the wall of the small hallway as he positioned himself sideways to come to the bathroom. He had to move that way because of how small the space was. "Hey, honey."
"Hi. Do you mind getting the garbage bag so I can put the snake in it?" I asked, quickly nodding a couple of times toward Ellis.
"Did you use regular toilet paper again?" he asked Ellis, though he already knew the answer. His question was closer to a scolding, which told me she'd been doing this for a while and somehow Hank had known. "What did I tell you? What did Ty tell you?"
"Er, I, um," Ellis started in a whiny voice, the one she used when she wanted to get out of a sticky situation.
"You mean to tell me they've told you a million times not to do this and here you've done it again?" I shoved the dirty snake into the garbage bag Hank was holding open for me.
"If you can't do the RV life thing, Ellis, you need to take Mom and Dad up on their offer." Hank tied up the bag and handed it to her. "You are going to clean it this time. What's the deal with the boiling water?"
"The one and only time I did this," I said, my voice rising to emphasize "one and only time," since I'd learned my lesson that time. It only took me one time to clean out the hoses after I'd gotten it clogged to realize I didn't want to do that again. "I was able to use boiling water to break up the toilet paper enough to get it to flow out, and then I bought RV toilet paper."
I shoved my gaze past Hank and gave Ellis the stink eye.
"Okay." Hank assessed what was going on in the toilet before he told us his plan. "I'm going to help you this last time and that's it. After today, Ellis, if anything else happens, you're on your own. You're going to ruin the RV, and Ty spent a pretty penny on it."
Hank's attitude immediately changed the tone of the situation at hand. Even I felt like I was getting a spanking from a parent, and by the look on Ellis's face, she did too.
"You go clean that and let me and Mae fix this," he said. That was an instruction for her to pretty much leave us to do the work.
Fine by me because I wasn't about to clean the tool. Yuck job.
"Do you need the water?" she asked, referring to the boiling pot.
"No." Hank gave a stern one-word answer. More than likely to emphasize his seriousness.
Ellis disappeared, and I heard her murmur, "I'm not wasting the opportunity of boiled water."
The sound of her smacking cabinet doors and the ripping of a cardboard box preceded a slight splashing sound like macaroni hitting the boiling water and a few hissing noises.
"I'll feed the boys macaroni and cheese for a snack." Ellis was smarter than I'd thought if she was even thinking about using the boiling water to make her life a little bit easier instead of dumping it out.
Hank let go of a long sigh and shook his head before he leaned into me and gave me a soft, gentle kiss.
"Thank you for trying to help. I knew something was wrong when I saw your car parked here." Gratefully, he smiled. "I know it's been hard putting up with her antics over the last couple of years, but it's your heart that always overlooks her."
He pointed at my heart.
It had been a rough few years with her. Once I got past her spending the better part of the first six months of my relationship with Hank trying to split us up and have him date her best friend and her way of always making it a point to outdo me on anything and everything, I was more than happy to give her the limelight when she not only announced she was dating Ty Randal but that they'd gotten hitched.
And over Christmas.
It was like she'd given their mama a dagger as a present by sticking it right in her heart. Their mama and I had a hard enough time getting along as it was. She didn't like that I'd been married before. When you added his criminal past to that, it sent her over the edge.
Mary Elizabeth, my adoptive mother, had been working very hard over the past few weeks using her Southern manners to butter up Mrs. Sharp. I wasn't sure how it was going and would be able to tell if any change occurred because Mary Elizabeth had decided to give Ellis a proper wedding reception at the Milkery.
The reception was this upcoming weekend, and I was sure Mary Elizabeth spared no expense.
"You're welcome," I whispered and gave him another kiss. "What do you want me to do?"
"I want you to keep your foot on the pedal and let the water continue to flush while I go work on the outside hose. Listen for me to yell when to stop." He gave me a quick peck on the lips before he headed out of the RV.
I listened for him to tell me he was out there. While doing so, I heard him and Ellis talking. It was nice to hear them getting along and know that Hank never harbored any ill feelings toward her because of the favoritism in the family. His conduct toward her really did show what kind of upstanding guy he was.
"Okay!" His voice penetrated the thin wall between us.
I pushed down on the toilet flush pedal and watched the water continue to roll around and seep through the wadded-up toilet paper. I could hear Hank and feel the floor beneath my feet moving. He had to be up under the RV near the black tank.
Within a couple of minutes, the movement in the toilet changed and flowed freely.
"Thank you!" Ellis squealed from outside.
"Stop!" Hank yelled to me. I let off the pedal.
Hank and Ellis met me in the kitchen of the RV. Ellis stood at the stove and stirred the boiling pot of macaroni, profusely thanking us.
Hank gave her one more stern warning that she was on her own if she didn't start living her life according to the RV rules, which meant the logistics of keeping the RV in good running condition.
"Let me know if you need anything for the Snores and S'mores," she told me on the way out.
I was going to correct her about the s'mores coming before the snores, but it wasn't worth the hassle. One little victory at a time, and the unclogging of the toilet was today's.
"Guess what I got a ticket to?" Hank walked me back to my car. "The zip line. What time should I pick you up?"
"You are going to the zip line?" I snarled and gave him a no-fair look.
"Yes. You said you were going to go as the committee representative, so I called up Bent Tinley, and he gave me a pass." Bent Tinley was the inspector the National Park Committee used for most projects. This time, he was hired for the Zip Line Adventures project.
"I didn't get it." I frowned. "I got Star Gazers."
While Hank stood there and laughed, I got into my car, grabbed the brochure from the passenger seat, and shoved it out the open window for him.
"How on earth did that happen?" He opened the brochure and scanned through it.
"I was daydreaming during the meeting," I said. "You know they ramble on about things that are of no real interest." Most of the time, the men on the committee took the time to talk about their recent hunting trip, card game, and other things that didn't involve me. It was easy to sit there and daydream or imagine new additions to the campground. "Gab hit the gavel and it was settled. I got the stars and Lloyd got the zip line."
"I'm sorry. I knew you were looking forward to zipping down over the forest. But I'll let you know how it goes." He winked with a tease.
"Whatever." I shoved the gearshift into reverse. From my rearview mirror, I watched him smiling, walking behind my car, since he walked faster than the five-miles-an-hour speed limit, and entering his RV.
My little camper was so cute. It was a small, old, drivable type that I'd gutted and made over to fit my needs. Like I mentioned, it was the perfect size for Fifi and me.
I could hear her toenails clicking on the vinyl floor behind the door before I got it open.
"Hey, girl," I greeted her, sending her small tail, which had a white puffball the groomer had left on the tip, into a twirly whirl of excitement. "Let's go potty."
She bolted out the door and darted around the grass to see if there were any new smells since the last time she'd gone out. By the way she was hemming and hawing around, I knew Dottie must've let her out recently.
That was how things were around these parts. Everyone took care of everyone else. When I was gone, Hank and either Dottie or Henry would let Fifi out or take her with them. We did the same for Chester.
Ellis had yet to get the hang of doing things for others just because it was nice, but I had hope for her. Though no one expected anyone else to do these things, it was part of the kind community found in a campground.
Fifi was able to run around on her own during daylight hours. When it was dark out, she went out on a leash. There were coyotes and other nighttime creatures who'd love to have her as a snack and any other little fur guests who visited Happy Trails with their families.
When guests told us on their reservation form they were bringing a pet, it was always a priority to remind them of the carnivorous wildlife. We'd never want any of them to get hurt.
I took what little time I had to head up to the office and check in with Dottie before I had to get Fifi back in the camper, feed her, and get on my way. If I had to do the Star Gazer, then I wanted to get there in plenty of time before dark to talk to Claire about the project. The brochure made me more curious about why she thought she'd get the go-ahead after tonight's inspection.
They were pretty fancy and were already on display for a tour that was yet to be approved.
"You've got to be kidding me?" Dottie had her cell phone snugged between her ear and shoulder while she filed her nails. Her legs were propped up on her desk, and she leaned back, stretching the office chair to its maximum potential.
"May-bell-ine just walked in. I can't wait to tell her." She shoved off the desk and planted her feet on the floor, giving her nails one last look before she put the file on top of the piled high stack of files on her desk. "Mm-hmmm, I can do that."
"It looks like you've been busy." I stared at the files she should've already gotten through. They comprised the stack of current guests' contracts that needed to be finalized and paid.
"All this business about the new tours in town is exciting. But that's not all." She was good at ignoring my question and giving herself an excuse, even making me believe it. "Neil Lipman and Claire Patton are in a downright fight."
"Neil who?" I asked, taking a very vested interest in this new gossip. It'd been kind of quiet around here lately, and any sort of hearsay right about now was welcome.
"Neil Lipman. That zip line company." She wiggled her freshly dyed red eyebrows that made her eyes look they were having their own little firepit.
In fact, Dottie's new short red hair reminded me of Heat Miser from the children's Christmas cartoon, but I dared not tell her that. She spent a lot of time in pink sponge curlers to get the look she had, and I didn't need her on my bad side.
"Why on earth would he and Claire be in a fight?" It didn't make sense to me because there was plenty of room for more tourist-type activities in the park. There were more than just their adventures being inspected every day.
"Apparently, this Star Gazer has been built around Tipping Ridge, and we all know those are where the biggest cliffs are located." Dottie reached across her desk over the files as if they weren't there and grabbed her pleather cigarette case. "The best views for not only stargazing but also"—she held the case in one hand and put her arms out like Superman while tilting at the waist to look down—"zip-lining."
"Tipping Ridge is huge. I'm not following." I walked over and rested my hip on the edge of her desk.
"Neil put the second platform of the night zip line right at the edge of Claire's property. Zip." Dottie made a funny noise and used her hand to make a line out in front of her. "There are little lights on the lines, making it a little too bright for stargazing from Claire's property but a great view of the constellations if you're on the zip line."
"Are you telling me this wasn't approved beforehand and Neil just did it?" I wasn't sure how property lines and zoning worked when it came to something like a zip line. This was certainly something Lloyd needed to ask this Neil Lipman fellow.
"I don't know all of that, May-bell-ine," she snorted. Then she unsnapped the cigarette case and tapped out a smoke before she nestled it in her mouth and waited for the opportunity to light it. "All I know is that it's going to go down."
"As in a huge fight?" I asked.
"Yep." The cigarette bounced as each word came out of her mouth. "Oh. I need to call Waldo. He'll love to get this story."
She grabbed her cell phone off her desk and jumped to her feet. I heard the small click of Dottie activating her lighter before she even closed the door as the cigarette hissed just before my mind turned on.
Those two going head-to-head might just be something to see, I thought as my memory returned to the brochure I was sure Star Gazers spent a pretty penny on.
I thought of how just one little cloud popping up at night could ruin a full night of star gazing. But a zip line running right through it nightly after people paid good money to see all the constellations could be the very thing I would ask Claire about.
Suddenly, I was looking forward to my little event and what I would have to report back to the Laundry Club Ladies. We'd have material for a little gossip.
After all, we'd been bored over the last few months, and this would give us something to talk about at tomorrow night's book club.
We hope you are enjoying the book so far. To continue reading...
Zoning, Zealots, & Ziplines
Tonya Kappes
Copyright © 2023 All Rights Reserved
Also in this series
Also by this author