Book info
Sample
Audiobook
Media
Author updates
Lists
Synopsis
Every small town has a secret...
The rolling fields outside Curry, Oklahoma, are a beautiful spot to ramble on an early spring day...and a lonely place to die. Among the prairie grass and wildflowers, a killer kneels beside a curled-up figure, plunging a syringe beneath skin to deliver the fatal dose. And as the victim's last breath mingles with the air, it sends a warning out to the world: This is just the beginning.
...and this one...
Rejecting her judge father's prestigious connections, Ellie Guthrie opened her own law firm in Curry. But something strange is going on. Ellie's tires are slashed. Dead rats are dumped on her patio. Her neighbor, former FBI agent Nate Marcel, insists on watching out for her. And then bodies begin turning up — supposed overdoses that Nate suspects are something much more sinister.
...is worth killing for....
There's a killer in town, toying with her, drawing both Ellie and Nate into a web of murder and vengeance. To find answers, she'll have to unearth this small community's dark and twisted past...before it's her turn to die.
Release date: January 29, 2019
Publisher: Zebra Books
Print pages: 352
* BingeBooks earns revenue from qualifying purchases as an Amazon Associate as well as from other retail partners.
Listen to a sample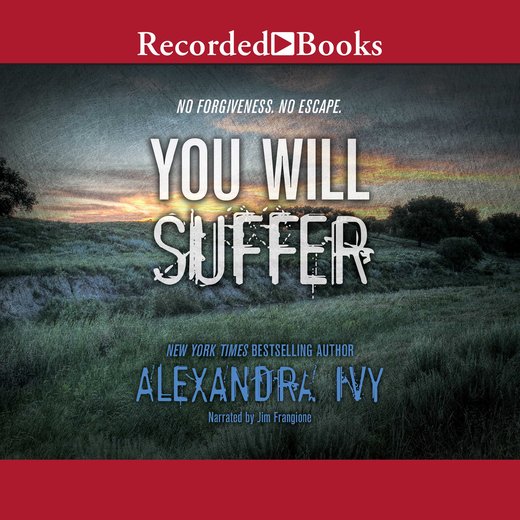 09:53:30
271.7 MB
January 29, 2019
Recorded Books
2019
You Will Suffer
Alexandra Ivy
Ellie Guthrie was savoring her second cup of coffee when her cell phone rang.

Grabbing it off the linoleum countertop, she glanced at the screen out of habit rather than necessity. She already knew who was calling. Less than a handful of people had her private number, and of those, only her secretary, Doris Harvey, would be phoning before breakfast.

"What's the disaster?" she demanded, not bothering with pleasantries.

After a year of working together, Doris had learned that Ellie was single-minded when it came to work.

"No disaster," the older woman assured her. Doris was a tiny wisp of a woman with steel-gray hair she kept cut short and dark eyes that sparkled with good humor. Beneath her sweet-old-lady façade, however, was the tenacity of a bulldog. Over the past year she'd proven to be more than just an employee. She was a loyal friend who protected Ellie with a ferocious diligence. "I was sorting through your emails and there was one from the district attorney's office that your meeting has been delayed."

Ellie frowned. She'd recently taken over the defense of a man who'd been accused of a series of thefts in the area. Today she was supposed to pick up the discovery packet so she could prepare for the pretrial hearing.

"Delayed? Did they give a reason why?" she demanded.

"A scheduling conflict is the official reason, but I would guess that the prosecutor discovered you had taken over the defense and realized that he'd better have his ducks in a row," Doris said.

Ellie's lips twitched. She couldn't see her secretary's face, but she could hear the hint of smug satisfaction in her voice.

"Ducks in a row?"

"Greg Stone is used to being the smartest man in the room," Doris said, referring to the local prosecutor. "The fact that there is a woman who can challenge him in the courtroom has him scrambling to bring his A game."

Ellie felt a stab of pride. It was one thing to graduate from a fancy law school with a 4.0; it was another to put everything she'd learned to the test by opening her own law firm.

The knowledge that she'd succeeded despite her father's stern disapproval at her walking away from a prestigious position he'd arranged for her in Oklahoma City added an extra dash of satisfaction.

She'd accomplished her success on her own.

That was important.

"Then I'd better make sure I bring my A game as well," Ellie said.

"Your game is A-plus, baby."

Ellie chuckled. "You're very colorful this morning," she told her secretary. "Did you spend the weekend binge watching The Sopranos again?"

"Nope. It was Dragnet this time."

"Ah." Ellie's smile widened. She'd watched reruns of the show when she was just a child. "Just the facts, ma'am."

"Exactly."

She wrinkled her nose. She hated having her tightly controlled schedule disrupted. Still, she understood the game. Greg Stone had a legal obligation to hand over the files he had on her client, but if she became a pain, then he'd drag his feet as long as possible.

It was better just to allow him to enjoy his power play. It was one skirmish in a war she was fully confident she would win.

"I'll head straight to the office."

"No hurry," Doris told her. "It's pretty quiet here this morning."

"Then I'll catch up on my paperwork."

Doris heaved a deep sigh. "It's supposed to be a beautiful spring morning. Don't you have something better to do than sit in your office?"

Ellie glanced around her kitchen and grimaced. She had lots and lots of better things to do.

Thousands of things.

Since buying the old ranch house five miles south of Curry, she'd done nothing more than unpack the necessities. At the beginning, she'd had grand plans of remodeling. She intended to gut the place and create an open floor plan as well as enclosing the wraparound porch for a place to sit and enjoy the peace on warm nights.

Instead, she'd piled her boxes in a spare bedroom and concentrated on the office she'd purchased in downtown Curry. It was far more important that she make the perfect first impression to her potential clientele. The only real updating she'd done at her house was buying a state-of-the-art coffee machine that looked like some sort of alien technology on the chipped countertop.

With a shrug, she shoved aside thoughts of the enormous number of repairs that were waiting for her. She'd muddled along for the past year. She could muddle along a couple more months. Once summer arrived she might have more enthusiasm to tackle at least a few projects.

"I have work to do," she told her secretary.

"You always have work to do," the older woman chastised. "And don't try to pretend you didn't spend last night at the office."

Ellie was caught off guard by the accusation. "How do you know?"

"It was bingo night at my church. Whose car do you suppose I spotted in front of the office when I drove home at ten o'clock?"

Ellie rolled her eyes. "I sometimes forget I live in a fishbowl now."

"It's not a fishbowl. Our interest in each other's lives comes from a place of love, Ellie."

"Hmm." Ellie had spent the majority of her life in Oklahoma City. She hadn't realized the cultural shock of moving to a small town. Some days she loved feeling a part of a community. Other days she hated the sensation she was constantly being watched and judged by her neighbors. "I'm going to change into something more comfortable and I'll be in."

"Suit yourself," Doris said.

"I always do."

"Amen."

Ellie ended the conversation and headed toward her bedroom. She quickly stripped off the black skirt and crisp white shirt that matched the other black skirts and white shirts hanging in her closet. She reserved them for her appearances in court or meeting with the DA, preferring slacks and soft sweaters for her day-to-day office uniform.

Stepping into the bathroom that had an old claw-foot tub and a sink that was chipped and yellowed from age, she grabbed a brush and stood in front of the mirror.

With a quick efficiency, she pulled her honey-brown hair into a ponytail. She usually kept it shoulder length, but she was well overdue for a trim. Now it fell almost to the middle of her back and it always seemed to be in the way.

She grimaced as she caught sight of her reflection. She looked like she was twelve, not a woman approaching her twenty-ninth birthday. And it wasn't just the ponytail. Her features were delicate, with large brown eyes that were heavily lashed. Even worse, she barely topped five-foot-four, with a slender body that still looked like she was in her tomboy years.

Her elegant mother had rued Ellie's lack of sophistication, incapable of understanding why Ellie wanted to play softball and run in marathons rather than prance around in a pretty dress.

Ellie scowled, tossing aside the brush.

She'd moved to Curry to get away from the heavy sense of duty she always felt when she was in the presence of her parents. She wasn't going to let bad memories haunt her.

Pausing long enough to grab her purse and a light jacket, she stepped out of her house and locked the door. She headed to the driveway, where she'd left her car. She had an attached garage, but the door was jammed. Just another project on her to-do list.

At least it promised to be a lovely spring day. The sun was peeking over the horizon, spreading a golden warmth that battled against the crisp air. Ellie paused, glancing around the rolling fields that spread as far as the eye could see.

Not many women her age would choose to live alone in such an isolated area. She had friends from law school who had all leaped at the opportunity to join firms in large cities where they could quickly climb the corporate ladder. When she told them she was happy in her shabby ranch house in the middle of nowhere, they shook their heads and heaved resigned sighs. With Ellie's powerful family connections, she could have her choice of plum jobs.

Sucking in a deep breath, she caught the scent of rich earth and winter wheat. Much better than the smell that wafted from the dumpster when she stepped out of the door at her old apartment in Oklahoma City.

A smile touched her lips as she neared the silver BMW her parents had given her when she'd graduated from law school. Okay, she hadn't totally turned her back on the finer things in life. The sports car wasn't the most sensible vehicle, but she loved it too much to give it up.

Eventually she'd have to buy an old truck for those days when the roads were too muddy or too icy to get her car into town. But she hadn't had time to look around.

Reaching the vehicle, her smile abruptly vanished.

She squatted down, staring at her tire. It was flat. Completely and totally flat.

Annoyance soured her mood. This was a trade-off to avoiding the problems that plagued big cities: gravel roads were hell on tires.

On the point of rising to her feet so she could pop the trunk and pull out her spare, she caught sight of the back tire. Crap. It was as flat as the front one.

What had she run over?

Impossible to know for sure, she acknowledged with a rueful sigh. And it didn't really matter now. She was going to have to call the local auto shop to come out with two new tires.

She was pulling her cell from her purse when she heard the sound of a loud engine. Her stomach tensed. She didn't need to turn her head to see who was headed up the gravel road. She'd recognize the racket of Nate Marcel's old pickup a mile away.

Keeping her gaze focused on her phone, she scrolled through her contacts. She was sure that she'd put in the name of the garage. What was it called? Something that started with a G?

Fiercely trying to concentrate, Ellie found herself distracted as she heard the truck begin to slow.

Drive on, drive on, drive on, she softly whispered.

Of course, he didn't.

Her nearest neighbor would never, ever be the sort of guy who would drive past a woman who looked like she might need his help.

She didn't know if it was his training as a former FBI agent. Or if he'd been born with a hero complex. Either way, he'd been the first to arrive on her doorstep after she'd moved to Curry, offering to help her with the numerous repairs on her property.

The sight of him had frankly taken her breath away.

He was gorgeous in a rugged sort of way. He had a strong, square jaw that constantly looked like it was a few hours past a five o'clock shadow. His nose was bold and his mouth bracketed by a pair of unexpected dimples. He kept his dark hair cut short, but it lay like glossy satin and her fingers had itched to touch it. And his pale eyes seemed to hover somewhere between blue and gray.

He had been wearing the traditional uniform of all men in the area: flannel shirt, faded jeans, and cowboy boots. But no one could mistake him as just one of the guys. His body was rock hard with muscles, while he managed to move with a smooth grace that came from years of some sort of martial arts training.

Her first impulse had been to look for a wedding band. When she didn't see one, she'd made the firm decision to get him into her bed as quickly as possible. He was just so damned sexy.

Then, he'd started offering to help with her unpacking and showing up with tools to fix her clogged sink, and she'd panicked. She was eager to enjoy a brief sexual relationship with the man. Just being close to him was enough to make her body sizzle with awareness. But it hadn't taken long to realize that Nate wasn't a man who indulged in meaningless hookups. At least not with his neighbors.

He was looking for a relationship with a woman who could give him more than her body.

Instinctively she retreated from his bold flirtations, going so far as to try and avoid him whenever they happened to be in town at the same time. It was a habit she'd developed when she was younger and her mother would invite over boys in the hope she could influence Ellie to settle down with a socially suitable husband.

Her only defense was to crawl into a shell like a turtle, taking cover until the danger passed.

Within a few weeks Nate had accepted her rebuffs, his smile mocking as he watched her scurry away when he walked into a room. The knowledge that she was acting like an awkward teenager instead of an intelligent, successful lawyer only intensified her discomfort.

Now she felt heat crawling beneath her cheeks as the noisy truck pulled into her driveway and the sound of a door opening and closing forced her to glance toward the approaching man. It was that or scampering back into her house and closing the door.

Not even she was that childish.

"Trouble?" he asked, his voice low and slightly gravelly.

A strange sensation fluttered in the pit of her stomach and her mouth went dry. He was wearing a Henley shirt that hugged the width of his chest and a pair of faded jeans that hung low on his hips. The wind ruffled his dark hair, and he had a shadow of whiskers on his jaw.

A tall, dark invitation to sin.

Inside she melted. Outside she forced her lips into her "courtroom" smile. Professional, meaningless.

"Nothing I can't handle."

"So you've told me before," he said in dry tones.

"Because it's true."

The pale eyes that were more blue than gray in the morning sunlight narrowed, his jaw tightening at her cool dismissal.

"Yeah, yeah. I got it. You're Wonder Woman and I'm an annoying male who is too stupid to take the hint." He flicked a glance toward her flat tires. "Have a great day."

Ellie grimaced. Christ, what was wrong with her? She was acting like a bitch.

"Wait," she called out. "I'm sorry."

He slowly turned back to face her, his expression unreadable. "Are you?"

She blinked in confusion. "What?"

"Are you sorry?"

Ellie's lips twitched at the blunt question. Nate came across as a down-to-earth guy who said exactly what was on his mind, but Ellie had never been fooled. He'd been an FBI agent for years. Which meant he was a master of deception. He could be the naïve boy next door. The sophisticated charmer. Or the reckless playboy. Whatever was needed to get what he wanted.

This morning, however, she sensed his reaction was genuine. Here was a man who'd reached his limit with an aggravating female.

"I'm trying to be sorry, does that count?"

His tension eased, his own smile rueful. "Do you have a spare tire?"

"Yes, but I'll need to call the garage to get one for the back."

His brows arched as he realized the back tire was as flat as the front.

"Did you run over something?" he demanded.

"I didn't notice anything, but I must have. I had these tires put on less than three months ago."

He frowned, a strange expression settling on his face as he circled the hood of the car to study the tires on the other side. Then, without warning, he was disappearing from view as he bent down.

Curious, Ellie followed to see what had captured his interest. Instantly her heart dropped to her toes. She didn't have two flat tires. She had four.

"Crap," she muttered.

Nate reached out to touch the tire. "Slashed," he said.

Ellie swallowed a resigned sigh. She could see they were slashed. And trashed. And beyond any hope of repair.

"There must have been something metal in the road," she said. "Probably a strand of barbed wire."

With a shake of his head, Nate straightened. His expression was grim as he met her gaze.

"These weren't caused by a stray piece of metal," he told her. "They were deliberately slashed with a knife."

Ellie stiffened. "How can you know?"

"I was an FBI agent."

She resisted the urge to roll her eyes. "And your training included identifying weird holes in tires?"

"Only knife holes."

She flinched, her gaze zeroing back on the car. Was he right? Had someone crept onto her property and used a knife to slash her tires?

The mere thought made her stomach clench with an icy sense of revulsion.

"That's ridiculous," she finally said, more in an effort to ease her fear than to convince Nate he was wrong. "No one would do that to my tires."

"Are you claiming you don't have any enemies?"

Her gaze snapped back to his face. "Why would you assume I do?"

"You're a lawyer."

He said the words without apology. As if he hadn't just insulted her.

"Not everyone has your prejudiced opinion of my profession."

He shrugged. "Maybe not everyone, but your work involves keeping bad guys from being punished for their crimes. That pisses people off."

She felt a burst of irritation. Of course an FBI agent would assume that everyone who needed a lawyer was guilty.

"I represent clients who are presumed innocent until they're proven guilty."

He ignored her chastisement.

"And a few bad guys that hire you actually go to jail," he continued, seeming to enjoy pointing out the number of people who held grudges against lawyers. "Which pisses off even more people."

"Fine. I piss people off." She glared at him, trying to pretend her heart didn't skip a beat at the sight of his fiercely male features. "Including FBI agents. How do I know you didn't slash my tires?"

"I wouldn't have bothered with a knife. I would have shot them."

His smile remained, but there was an edge to his voice that assured her that he really would have shot her tires if he decided it was necessary.

Ellie gave a sharp shake of her head. "I'm not going to leap to some wild conclusion."

"It's not a wild conclusion. You should report this to the sheriff."

Her lips parted to tell him that she could decide whether she wanted to make a police report or not. But, with an effort, she bit back the words. He wasn't being bossy. He was simply concerned for her safety.

Just as she should be concerned, she reluctantly acknowledged.

It was possible that she'd run over a piece of barbed wire. And it was equally possible that someone had deliberately slashed the tires. Until she knew for sure, it was only sensible to take a few precautions.

"Okay," she finally agreed. "I'll call when I get to the office."

"Do you need a ride?"

This time she didn't hesitate to agree. She didn't want to drag Doris away from the office, and it could take an hour if she had to wait for the one taxi in town to come pick her up.

"Yes, thanks."

A hint of surprise flashed through his eyes and she hid a smile. He hadn't expected her to accept his offer. At least not without a fight.

Quickly recovering, he turned to lead her toward his vehicle. She doubted that he was ever completely caught off guard.

He opened the door and she climbed into the passenger seat, glad that she'd changed into her slacks. She was short enough that it was always an awkward scramble to get in and out of a truck.

At least it was clean, she realized as she took a quick inventory of the interior. The outside might be battered, but the leather seats had been recently refurbished and the dashboard was polished until it glowed.

She'd just finished buckling herself in when Nate slid into his seat and turned the key. The engine grumbled to life, and he backed out of the driveway and headed down the gravel road.

Ellie searched her mind for some sort of meaningless chatter to fill the silence, but she kept getting distracted by the warm scent of male skin that filled the cab. It'd been over a year since she'd last spent time with a man.

Clearly, she was overdue for a bit of romance.

Unfortunately, Curry wasn't overflowing with eligible men. And those who might be interested in the sort of relationship she wanted couldn't possibly compare to the man at her side.

"Do you want me to stop by Green's and have him run out to your place to change your tires?" Nate thankfully interrupted her dangerous musings, slowing the truck as they reached the paved county road that led into town.

She cleared her throat, trying to suppress the blush that she could feel staining her cheeks.

"I can call him when I get to the office," she assured him, making a mental note of the garage name. Green's. She'd been right. It did start with a G.

His lips tightened. "Do you have to do everything yourself?" he demanded, pressing his foot hard on the gas.

The truck shuddered, as if it was on the point of simply collapsing, then with a loud backfire it was zooming forward at an impressive pace.

"Actually, I was going to offer to call the garage to have a look at this pile of scrap metal," she said in dry tones.

There was a startled silence, as if Nate was shocked that she actually had a sense of humor. Then he released a sudden laugh.

"Are you insulting June?"

"June?"

He reached a hand to lightly pat the dashboard. "My truck."

She snorted. "You call your truck June?"

"It's my mother's name," he said. "When I turned sixteen and wanted to buy this beauty, my mother loaned me the down payment." He gave the dashboard another loving pat. "It only seemed fair to honor her in some way."

Ellie studied his profile, noting the fond expression that softened his chiseled features. That expression wasn't for his truck, or at least not entirely. It was for his mother.

She swallowed a sigh. There were few things more charming than a man who openly adored his mother.

"I apologize. I didn't realize your truck was an antique," she murmured.

He gave another chuckle. "It's not an antique, it's a classic."

"Hmm." She paused, the rattle of the engine filling the air. "Didn't the FBI pay well enough to buy a new truck?"

"I drove a Bureau car when I was working," he said with a lift of one shoulder. "But it wouldn't have mattered. Nothing could ever replace June."

Ellie resisted the urge to continue bantering with her companion. She was already sexually obsessed with Nate Marcel. She didn't need his potent charm swaying her into making a decision they would both regret in the end.

Turning her head to glance out the side window, she remained silent as they entered the outskirts of Curry. Nate accepted her tactical withdrawal without comment. Instead, he concentrated on navigating the narrow streets that were lined with trees.

They passed by the strip mall that had a dollar store, a laundromat, and a pizza joint that served amazingly delicious calzones. Then they turned the corner that led to the center of town.

In the middle of the square was a large stone building that housed the courthouse and city hall, as well as the sheriff's office. The jail had recently been moved from the basement to a new building north of town.

Ellie's own office was across the street. Not only because it was a convenient location, but it'd belonged to the previous lawyer, which meant the locals would know where to find her.

The downside had been that she'd had to completely gut the place. For two weeks, the construction crew had pulled out the dark paneling and shag carpeting that had been installed during the sixties. Then she'd had the walls painted a pale gray and installed tile floors and sleek furniture that offered a sense of sophistication.

She'd never compete with the old lawyer's reputation for solid dependability. Not until she'd been there for twenty years or so. Oh, and changed her sex to male. Instead, she gave them the appearance of a glossy professional while she proved her ability to be a shark in the courtroom.

"You can let me off at the corner." She abruptly broke the silence.

The traffic was one-way in front of her building. She didn't want him to drive all the way around the square to park. His jaw tightened, but he swerved to pull to a halt in front of the post office.

She hastily unbuckled her seat belt and opened the door. "Thanks for the lift," she said, ignoring the small pang of regret that she'd once again managed to make things awkward between them.

Without warning, he reached out to lightly grab her arm. "Ellie."

She glanced over her shoulder, meeting his somber gaze. "Yes?"

"Be careful."

She gave a slow nod. This time she didn't try to dismiss his concern. Not when a tingle of unease fluttered through the pit of her stomach.

"I will."

It's a perfect day. Crisp air, golden sunlight, and the sound of birds singing in the nearby trees.

I hum beneath my breath as I work. It's hard. Daniel Perry might look like a scarecrow after his years of abusing drugs and alcohol, but he is heavy enough to make me breathe hard as I drag him across the hard ground.

Once he's in the middle of the field, I carefully create the scene I desire. He's still unconscious from the drugs I injected when he'd so foolishly agreed to meet me last night. It makes it easy to curl him into a fetal ball. I step back, surveying my handiwork. He's surrounded by prairie grass and a sprinkling of early spring wildflowers.

Beautiful.

I move back to ensure everything is perfect.

Daniel's curled up like a small child and I smooth the dark hair from his face. He looks peaceful when he's sleeping. Not at all like the tense, angry man who stalked around town with a chip on his shoulder.

He is going to look even more peaceful.

I tug at the sleeve of his leather jacket until his forearm is exposed. Then, reaching into the pocket of my coat, I pull out the syringe that I prepared in advance.

Stabbing the needle into his arm, I press the plunger and fill his veins with enough pure heroin to kill an elephant. I watch in fascination, waiting for some sign that the drug is flowing through his body, destroying what few cells he hasn't already fried. I don't know what I expect. Pain. Ecstasy. Fear.

There's nothing.

I wait. And wait.

Overhead the sun continues to shine and the birds are singing. I hum my soft tune. Then Daniel makes a sound. Like a low grunt. I lean forward, watching his lips part as he releases his last breath.

Death creeps into the meadow, brushing past me as it collects Daniel's miserable soul, leaving as silently as it arrived.

The complete opposite of life, I realize with a small jolt of surprise. Birth was a noisy, messy business. Blood and screams and pain. The death I offer is a quiet, peaceful event.

Fascinating.

I slowly straighten, pulling the needle from his arm. I look down.

I've done good work, but I feel no pleasure.

Daniel isn't my victim.

No. He's a message.

You. Will. Pay.

Nate watched as Ellie traveled down the sidewalk, her chin tilted and her pace brisk.

She looked like a woman headed into war.

He snor. . .
We hope you are enjoying the book so far. To continue reading...
You Will Suffer
Alexandra Ivy
Copyright © 2022 All Rights Reserved