White Queen
Available in:
eBook
Paperback
Audiobook
Hardcover
Book info
Sample
Audiobook
Media
Author updates
Lists
Synopsis
In the year 2038, the earth has been ravaged by earthquakes and volcanic eruptions. Retroviruses run rampant through humanity. Economic disaster has destabilised the world, the US has undergone a socialist revolution, and the balance of power has changed.

Then the aliens arrive.

With no clear understanding of the visitors' intent, factions form, including the anti-alien group White Queen, working to turn humans against these extra-terrestrial tourists. Caught in the middle is Johnny Guglio, an American exile whose only fault was living near the landing site, and Braemar Wilson, a cutthroat reporter who will do whatever she needs to get ahead of the story. And for better or for worse, it seems being caught in the middle is the best place for them to uncover the truth.

Winner of the 1991 James Tiptree Jr. Award, WHITE QUEEN is the first in Gwyneth Jones' critically acclaimed Aleutian Trilogy.
Release date: September 2, 2021
Publisher: Orion Publishing Group
Print pages: 400
* BingeBooks earns revenue from qualifying purchases as an Amazon Associate as well as from other retail partners.
Listen to a sample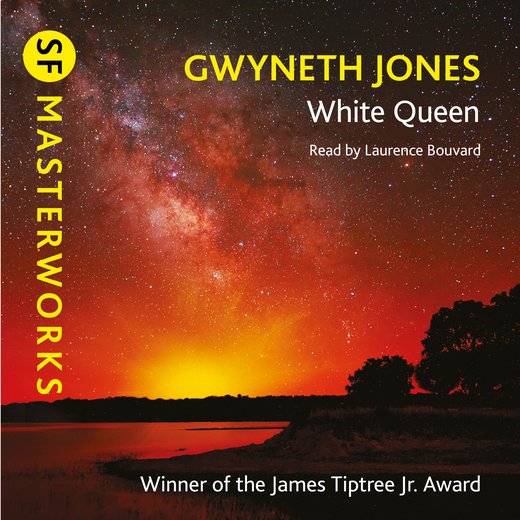 14:27:49
397.26 MB
9781473235113
September 2, 2021
Hachette UK
White Queen
Gwyneth Jones
i

Johnny could never sleep in Africa. Sometimes he would force himself to be sensible about it: get up and wander the streets. Then he would find plenty of other people around, dancing to muted Natural in half-empty canvas shebeens, walking dreamily in the bluey gloom, sitting chatting on the fissured pavements. He would step over bodies of the fallen, sometimes catching the sigh of their peaceful breath. Their casual poses reminded him of Bella, who at eighteen months old couldn't understand that you had to go to the place assigned for rest before you could lie down. There were no improper places in her world. She was never away from home. At last this particular stupid night ended. The pattern of his mosquito net printed itself on the clammy dawn. He put Robert in his pocket, left his room to the native roaches and went out into the old city, to his customary breakfast bar.

It was the rainy season—not that there was much difference here, even nowadays, between rainy and slightly less rainy. The lumpy clay fragments of the pagan palace glistened behind their crumbling UNESCO barricades. Across the road the Islamic Palace, which still housed some of the country's administration, presented a high blank wall to the world. The New City, over the river, was a misty vision of white towers and greenery. Johnny crossed the railway line (defunct) and bought a faxed American paper from his usual copyshop. As always a foolish soreness prevented him from buying his own paper in this crude form. In the ex-goods yard a market came and went according to the local calendar (except when a lucky trading day fell on a Friday). Alongside its site stood a row of eating booths.

He liked Mama's because the clientele was sufficiently mixed that he didn't stand out more than he must. It was a ramshackle construction of canvas and scaffolding with a dirt floor, but the presence of Mama, a big woman with an air of sleepy authority and a taste for rich and complex headties, gave the place a touch of class.

Out in the open a party of revellers in tired evening clothes were finishing their night with coffee and brandies. He sat down inside with his paper, nodding shyly at his fellow breakfasters. Right under the counter three children in painful school uniform sat gobbling breakfast, eyes glued to an ancient cartoon show. The presence of the tv depressed Johnny, but he eyed the kids hungrily: children and home!

Dominic, who was eight, and liked soccer but preferred cricket, brought cornmeal porridge and chopped banana: and a tumbler of "sour coffee" in a battered metal holder.

"Oye! Mr American. Eat well."

Heads turned as the foreigner's identity was announced. The city was small, gossip endemic. Johnny tried to control his piteous cringing. One of the all-night revellers looked up and turned out to be David Mungea, Johnny's best friend in the city. He came strolling over, lanky and graceful.

"Your good news continues!"

He was pointing to the paper, which was full of garbled accounts of the revolution that was going on in the USA. Asabaland had had a Marxist regime for a few years, and for some weird reason they were sentimental about it. Notwithstanding a cheerfully brutal open economy, and one of the worst energy audits on the continent, they were all socialists here.

Johnny shrugged.

David, Minister of Transport and indefatigable party-animal, was actually past seventy, and old enough to remember what exile meant. "Only a fool would not be cynical. But you'll be cleared, Johnny. You'll see your family again."

"Shit, I don't know. Fucking revolutions: they never do any good."

His hope was painful today, he didn't want it touched.

David tactfully changed the subject, nodding at the other foreigner across the table. "This is what makes me love my city, Johnny. Here we are, Americans, Africans, lecturers, truckdrivers, sitting down to breakfast together. This is the way life should be—diversity and harmony!"

It was the girl.

She had been following Johnny about for a long time, almost since the day he arrived. He still knew nothing about her. Johnny had two reasons for being in Africa. In the first place, he might as well be here as anywhere. The other reason was too absurd to mention: but just for fun, it could be that he was onto something, a story; and that something might involve this girl.

She seemed to agree with David. She then seemed to return to a warm conversation with the woman beside her—one of the lecturers, by the formal clothes. Johnny wondered how he hadn't noticed her when he sat down. He stared: trying to see, for once, what actually happened. She did not speak. No words came out of her mouth. He was damned sure of it.

"I think she likes you," said David. "Lucky man. We were just saying, over there, that's a very attractive young lady." He considered. "Not my type. I prefer to wrestle only with someone who could break my arm if she felt so inclined. But the personality, mmm. You know her?"

"Nobody does," said Johnny.

"Aha! I knew you were interested. That's a good sign." He lifted Johnny's hand and gripped it. "Be happy, my friend. Believe that good things do happen. Remember, I'm praying for you."

Johnny left soon after the girl, tipping the Tribune into a recycle bin as he walked out. Dominic took the American's bowl and tumbler in his gloved hands and carried them to a skinny young man who was hunkered down in the back doing the special washing up. He returned with a bucket of hot water and bleach, and sluiced Johnny's place.

Johnny wondered if the Minister's prayers would do him any good. David claimed that he tried to be a decent Christian. But that gorgeous heavy weight jazz singer with him at Mama's was not his wife, and the country was littered with young roads blighted at birth by some Mungea connection's greater need for a couple of new Jaguar XL tilt-rotors. He followed the girl to a small supermarket and watched her buy a pack of salted roast broad beans, and a big carton of sanitary towels. He asked about her at the check-out. The local lingua franca was English, heavily contaminated with French, besides Arabic and many untraceable African influences: Johnny managed to get by.

The young woman beamed. "Ah, l'Americane! La jolie-laide! So much a nice girl." But she knew nothing.

The mystery girl was tall and slight, with a touch of coltish awkwardness as if she hadn't finished growing. She had dark hair, and a dusky olive complexion that didn't absolutely rule out many nationalities. He was personally gut-sure that she was not from America, North or South. In crude terms, the mystery had only two elements. There was the way this other foreigner followed Johnny around but was not staying anywhere and could not be cornered. And there was the bad harelip which left her almost no nose and a split upper lip. The deformity explained her reluctance to speak: but was apparently invisible to everyone but Johnny. The pretty American!

She wasn't in sight outside.

He walked on to the yard gate of a plastics smeltery, all quiet now until the Industrial Power-Hours began. No more hotels or shops this way. She was gone. It didn't matter. His interest was only a half-conscious, half-deluded fantasy, latest move in the lonely game he was using to while away his exile. Good things do happen, thought Johnny. He felt a rush of gratitude to whoever had brought up this young woman: giving her such sunny confidence, such an affirmed self-image that her deformity meant nothing to her or to anyone who met her.

Because of the great river that formed its northern boundary, landlocked Asabaland had never been isolated. Without either gold or oil, this area had been a significant continental trading mart since before the pyramids were raised. The modern country was a palimpsest of sub-Saharan history. Since the end of "pagan times", or early Thirteenth Century by Christian reckoning, it had been Islamic, then Portuguese, then "pagan" again: then, for a formative period, French, then briefly German; then finally British. After the British it had suffered a bloody right wing dictatorship, followed by mad Marxists and economic collapse. In the mid to late Twentieth century it had lost fifty per cent of its forest cover, and had a population explosion. Between 1985 and 2010 it lost another thirty per cent forest, and population was hacked back by unprecedented disease and famine; but losses never approached a return to the pre-industrial numbers. At present Asaba had a small war, and a desertification problem, in the north. But basically it was busy creating wealth, by supposedly benign means.

The capital, Gerardville, was called 'Fo', a Fulani term of disputed etymology, by everyone and in every location except on the road signs to the airport. It lay in the foothills of the highland, removed from invasion routes. No one here seemed to worry much about the desert, or the tribal dispute that dated back to where the Treaty of Versailles had meddled with an ancient frontier. Asaba's ambition—David said—was to be a leafy suburb of the global village. Fo saw itself as already there. It was a strange image for Johnny, far removed from the Africa that people wanted to buy at home. He kept wondering—nerves twitching for the amputated limb of that skill he would never use again—exactly how he'd angle this version to get it through the tube.

Johnny crossed into New City over the small local river, by the Gromyko bridge that carried Granderoute Macmillan, the road south. He continued on foot through Fo's morning clangour of trams, oxcarts, pushbikes, gashog taxis and humming leclecs. He was reticent about using public transport. He was morally certain he could do his neighbours no harm, but that would not make the experience of being spotted and thrown off any more pleasant.

You had to walk to the American Embassy anyway, if you didn't arrive by chopper. The folks hadn't encouraged casual visitors, even before things at home reached crisis point. You couldn't get a pushbike up the drive now. Grass grown and choked with rampant African weeds, the approach to the eagle-crowned gateway was a green tunnel leading to some enchanted land, the kingdom of sleeping beauty.

The complex was a shock after Fo: the big white dishes mooning out from the roofs, the meagre human accommodation dominated by that crown. Even now that most world business was done by undersea cable, the US government stuck faithfully by the old icons. Johnny felt the reversed balance and swallowed the bad message it had for him personally. This was still a homecoming.

"I'm sorry I had to have the gate let you in. We've paid off the local staff, you know: austerity measures."

The Ambassador was a courteous Mid-Westerner called Joseph (Josh) Mint. Johnny didn't know what crosswired instructions Mint was getting from the Presidential Retreat, or from the new occupiers of the White House, but the man managed to stay remarkably calm.

Johnny remained standing. He must touch nothing in this room. The soles of his shoes were a problem the ambassador stretched a point to ignore. The apology about the gate was part of their routine: though it was true that Josh was now alone here.

"Josh, I want to talk to you."

"About what, Johnny? Fire away, I've plenty of time."

About what! Disingenuous bastard. Johnny controlled his fury. "I read in the paper, about Barr and Matthias and Ledern. Josh, is there any hope?"

Mint looked reproachful. "Johnny, the leaders of this interregnum situation have to break up the racial appearance of their coup. Of course they're going to rehabilitate White Liberal "political criminals" as far as they can. But your case can't be affected. You know that."

"I was framed," said Johnny.

He wondered how Mint managed not to laugh in his face. It's amazing how naive an acute, sophisticated journalist can become, when the situation is personal. The toppled regime could be accused of anything but this: it could not be admitted that any agency had ever had the power to subvert the National Institute of Health. The Big Machinery, Our God-Given Systems, must be forever above suspicion. He felt the truth of it, written in his own stupidest convictions. He looked at the desk, where his file lay open on the integral screen. John Francis Guglioli, aged twenty-six, twelve years younger than the century. He had always hated the name Francis—Frank, an old guy with a paunch and grey bristles, fond of baseball, sitting in front of a tv wall in his undershirt … It was good of Mint to leave the page open like that, but it was a painful reminder that Johnny Guglioli had once been an insider, someone allowed behind the screens and into the critical files.

He had the dizzying feeling that he wasn't in this room. He was looking at Mint through a screen. If he reached out, if they gripped hands (which Kent would not, for all his courtesy), it would still be unreal. There was no contact, none possible.

Joseph Mint studied his visitor, a slightly gangling young man with straight hair brushed back into a neat braid. Shabby but decent clothing: an open, childishly rounded face that showed no sign yet of ill health. He was sincerely sorry for the boy.

"You were a foreign correspondent, Johnny. Travelling, lonely, sometimes starved of information: maybe experimenting in foolish ways. Be honest. You cannot know for certain that you're clean. But suppose you are." He paused. "I'm not a Socialist. I reckon it's a compliment to these people that I'm not afraid to say that. If they win fair elections, soon, I'll accept them the way I would any elected administration, that's my best offer—"

Good for Josh. This room was livespace, of course, like any public office. Not much chance that anyone was grabbing, but it's always worth turning your good profile.

"But you are one of them, Johnny. It looks like your side gets to win this time. If it helps, think of yourself as a human sacrifice. In a great cause."

Johnny nodded dully. His allegiance was complicated, but who cared.

Mint pushed a couple of envelopes across the screen. One contained Johnny's regular pocket-money, in Asa pound notes. The other was from home. Since Johnny didn't have a phone number now, the only communications he received came by freight.

"Mail for you. There's a picture of your little girl. She's very sweet."

"Thanks."

The Ambassador pondered. Johnny, feeling undismissed, could not control a throb of hope.

"One thing puzzles me Johnny. What exactly are you doing in Africa: in Gerardville? You've been here, what, three months?"

"No reason. It's as good as anywhere."

"Nothing political, I hope?"

Johnny laughed. "Not in the least."

"Good. Goodbye, Johnny. Thanks for dropping in."

When Johnny and Izabel decided to get married, Johnny took her out into the open (real wilderness, no theme park), and told her that he was a trade union activist. They were both nineteen. He'd been the pampered property of a media corporation then, talent-scouted out of high school. He was an eejay, an engineer-journalist: Johnny Guglioli with his little backpack of fantastic equipment, one of the few actual human beings who brought the World Outside home to the USA. He loved his work, but he wanted artistic control. He believed, naively, that in fighting for the right to report honestly he was doing all anyone in the bleeding crowd could ask.

Izzy had always been scared. But she surely hadn't turned him in. Probably he would never know who had done that. The puzzle wasn't high on his agenda. He didn't blame her for the divorce. He didn't even miss her, not in any way that made sense. He missed their child, Bella, horribly. And without hope, because the baby who had been the light of his life didn't exist anymore. It was two years now. Two years. It would have been better for Johnny if the revolution hadn't happened. At least then he'd still be a political exile, able to dream of the day when all injustice would be undone.

He tossed his letters unread. He nearly chucked the picture too, but some stubborn instinct of self-preservation prevented him. He walked about under the Gromyko bridge, social centre for the dregs of Fo society. It was raining hard now, the New City and the old had both vanished.

He studied the down and outs, and took grim warning.

Rationally he knew that he would never see his baby again. But he also knew that he had done nothing wrong. Something deeper than all his pain told him to hang on. The innocent are not punished forever. Everything would be restored to him, somehow. Until that day he must use whatever means necessary to survive intact: to remain Johnny Guglioli.

ii

Outside some workshops a fight had broken out. The two principals and their supporters screamed at each other and scuffled under the streaming rain. Meanwhile a caterpillar truck loaded with goods was stuck in a pothole. It struggled, signalling doggedly for human assistance. The trader finally pointed this out, his round, gaudily wrapped body shaking with indignation. The gawky driver broke off the quarrel to swing himself into the cab and cut out the alarm. Both of them callously returned to the fray.

No one was taking any notice of the explorers. They weren't behaving any differently from the local bystanders—who were standing around, nervous and excited. But they were convinced that STRANGER was written all over them. The explorers' captain was just about holding them together, when the truckers suddenly decided to use the struggling machine as an excuse to back down. They converged on it, shoving and cursing. The driver gunned the engine, eliciting dreadful cries. Everyone felt awful: but the captain, that person whose aspect is always tenderness for the helpless, couldn't bear it any longer.

"Stop it! Stop it! Stop it!"

His sudden articulate yell panicked the others. As their leader ran back they scurried, confessing their fear and giving up all attempt at passing for normal. They hid behind some sheds on a dirt access road that led down to the big highway. In a short while the captain joined them, spattered with mud from head to foot. Luckily, no one seemed to have noticed the odd behaviour of a small group of non-combatants. The others were shamed by the reminder of how quickly the small decencies of life had been muddied out of sight by adversity. That person whose obligation to principled action is unaffected by circumstance hadn't meant to embarrass anyone. He was embarrassed himself, now; but unrepentant.

sighed his guardian.

Those who used fixed names had adopted, near as they could make out, equivalents in the local dialect. It would have been a friendly diplomatic compliment, except that the locals didn't know. The captain was determined to remain in hiding



It wasn't really the captain's fault. The long term effects of the crash were coming to the surface, not only in proliferating practical problems but also in low morale. People were afraid to be left alone. Whenever the person they depended on went foraging a search party would soon follow him, and become a liability. It was a silly situation. But someone had to go and do the shopping, and who else could it be?

He put his arm around his guardian as they piled into the car, and brandished one of his parcels.



Benoit hugged him.

What a charming presence it was, though nothing in Agnès's pleasantly irregular features deserved to be called beauty. The people here had a poetic term for the effect. You're so sexy when you're angry. It was a neat observation, the one arousal being physically near the other. Agnès was so often angry. Was it the way the world's pain drew sparks that made people want to be near this forever youthful soul? Or was it the sexy symptoms—the bright eyes, flushed skin, pouting nasal?



The joke fell rather flat. and not only with those who didn't understand the Spoken Words. The crew struggled to make out that Benoit was conflating personality with physical appearance, to be funny. Finally they laughed, one after another, an absurd descant. The infection took hold, they all laughed together, for no reason; and felt better. Their captain felt worse.

Agnès had been eager to starve and wade through swamps. He hadn't anticipated the grim test of a shipwreck in the company of artisans and merchants. Momentarily exasperated beyond kindness he grumbled something to this effect—and spent the ride back to camp feeling the sting of his own sharp comment far more sharply than said artisans and merchants themselves.

The expedition hadn't exactly become a disaster. There had been casualties, and the three parties found themselves widely separated, but the whole venture had been such a leap into the unknown that it was nonsense to complain things weren't going to plan. At the landing, knowing that the other two parties had their own problems, Agnès had put a brave face on things. He had ordered the lander salvaged and led them all off to explore, carrying the injured with them and caring for them as best they could.

Most of their tradegoods were lost, but it's amazing what people will give for an object whose only attraction is that they've never seen anything like it before. The cars had been hired, with unlimited mileage, in exchange for some baby toys. There had been consternation, when, after carrying them for two days, the creatures collapsed in evident need of food. The captain's guardian had persuaded everyone to see the funny side. But the cost of the liquid feed had curtailed their exploration. For a while now they had been camped in a wooded park, just outside the city of Fo.

The more assertive members of the crew had represented to Agnès that there were surely plenty of hotels in the city. They were almost penniless, true; but there was nothing wrong with the credit of the other two parties. He had only to approach any Significant local character; an arrangement must be possible. Agnès refused to consider the idea. He had not come all this way to sit in an hotel. … They might have known. Their leader went mountaineering for fun at home.

Agnès was interested in loot and fame, in his own way. But he would never have joined this venture merely for material profit, for show; or even just for the fun of risking his neck. He was a poet. He was determined to go on as he had planned: to explore, quietly and privately. To make as little impact as possible, to see without being seen, to learn without being taught. He was not going to be co-opted into a State Visit, nor a Trade Delegation. He had no particular desire to meet the local people. People are the same anywhere. He had come to stare, simply to stare … To store his mind with new sensibilities, new perceptions.

The camp's position was a compromise. It was buried deep in the park, so Agnès could get on with his famous staring, but at least the very presence of trees, grass, shrubs, assured them that civilised habitation couldn't be far away.

They spent the rest of that day calmly. Fairly large weapons occasionally stirred in the undergrowth. None of them seemed armed for serious damage, but a weapon without provenance was an eerie thing. They didn't attempt any form of retaliation. They had decided it was better to ignore all signs of hostility, unless absolutely forced into self-defence.

The Master At Arms, a person with a strong sense of justice, still brooded on the liquid feed hustle, and the perfidy of car hire firms.

"Unlimited mileage!" he snarled, at intervals. "The shameless devils!"

Agnès visited the sick and then went off by himself, taking care to remain in sight. He sat between the roots of a huge tree. The wooden fans made a house around him. He laid his own hand next to the hand of a fallen leaf. Even to the stubby fifth lobe the shape was an echo, an echo of home; an echo of Self. To give and to receive the Self makes open palms. He shook hands with the fallen leaf, wondering what tiny far away contact the local people felt. Perhaps none. Perhaps they were not obliged to perceive him at all. He tasted the populated air, but none of its tiny messengers carried news for Agnès.

The isolation was dizzying. He took out his sketchpad and began to compose. There, the shape and texture of loneliness, and in loneliness unity: the unity inescapable of the WorldSelf.

I came here to find the new, but there is nothing new. There is only the WorldSelf, perceiving itself. Any shelter out of which I look is that of my own body. Any leaf is my hand. I cannot escape; I can never leave home.

But he was nagged by that angry exclamation. The person whose obligation was to security and vigilance (who was also the beloved partner of Agnès's guardian), did not take to Spoken Words easily. That repeated outburst about the car-feed signalled growing concern about the future. Their lander was still providing shelter, but there was no one left who could repair it, or even halt its decay. There were other daily needs, like food and clean underwear, equally beyond the skill of anyone left alive. Those who could bear to use local supplies did so: but soon there'd be no choice.

From the skin of Agnes's bare hands and wrists, from his face and throat, tiny particles sifted away; floating on the almost nonexistent breeze, bringing the chemical touch of Agnès, to the others in the clearing. The captain had a fleeting notion of how frighteningly few his little wanderers were, in the vast alien crowd. He quashed it hurriedly: and luckily no one had noticed his half-remark. The idea had no hold on him, it winked out of existence. In common sense, as in poetry, this world seemed so like home.

Gradually he fell into another round of his dispute with distant "Guillaume", leader of one of the other two parties. No one could quarrel with "Eustache": the third captain never worried about anything but practicalities. Between the other two there was friction. One reason why Agnès was obstinately camped in the park was that he couldn't bear to be beholden to that shameless materialist for his mess bills. He was going to have to give in soon… The thought didn't sweeten his temper; and of course Guillaume was crowing. Fortunately (as his guardian would often observe) they considered each other's worst insults to be compliments: which often made for a kind of peace.

There were other thoughts, so much more pleasant. Agnes slipped away into stillness, luxury and delight.



Now that person currently known as Guillaume, whose aspect is bold action, was shocked. In such a dangerous, even a desperate fix, how could the Poet sink into one of his hedonistic fugues! The Pure One, supposed to be such a goodie-goodie, so concerned for his people's wellbeing! You're a disgrace!

Agnès only chuckled. He drifted further.

At nightfall they changed their clothes and danced, all but the sick, and the Expedition's baby. Agnès and Benoit, his guardian, handed each other through the figures: everyone stooped as they passed him to include the baby, who sat clapping hands on the sidelines. The sounds of feet scuffing on a dance-floor of mud and leaves, the feel of branches snagging hair, had everyone giggling as usual. The rite was taken seriously, nevertheless. What can't be conveyed by normal means of communication must be put into words. What is too deep for words is expressed in Dance. The other crews, far away, were dancing too. Briefly, the three parties were peacefully united.

The baby, whose guardian was also Benoit, fell asleep: after tearfully exhorted promises that nobody would sell anything else he loved while he was unconscious. The adults sat and chatted. They would have watched tape, but that was another loss: the sacred equipment had been injured beyond recovery. Agnès's chaplain was grieved and anxious: the captain teasingly begged him not to wallow in superstition. No one would collapse and die if separated from their narrative for a while. Although the locals seemed to believe otherwise …

"They live surrounded by ghosts," he reported. "The other world, the land of the dead, is on show everywhere. I don't know if they have any more rational knowledge of God."

Most of his audience, unused to abstract description, didn't quite understand. They laughed, to be on the safe side, and were comforted. It was worth something to be in the company of a great poet, even if it was all a little above one's head.

Agnès sat with knees reversed in a relaxed posture, one hand cupped over his nasal against the chilly evening air. He argued with Guillaume, about that episode in the workshop yard.



With Agnes, Guillaume replied, pity was like a disease. Which attitude would Agnès himself prefer, from visiting strangers? Would he enjoy being pelted with Improving Tracts?

Agnès admitted, with a grin, that he would far prefer to be cheated.

Agnès
We hope you are enjoying the book so far. To continue reading...
White Queen
Gwyneth Jones
Copyright © 2023 All Rights Reserved
Also in this series
Also by this author