Castles Made Of Sand
Now they have to find some resolution to the impossible dynamics of their own relationship.
Available in:
eBook
Paperback
Audiobook
Hardcover
Book info
Sample
Audiobook
Media
Author updates
Lists
Synopsis
The BOLD AS LOVE series is a world of daring, dread and enchantment, a world that could almost be ours: a brilliant combination of myth, magic and pop culture.

Ax Preston, Sage Pender and Fiorinda, charismatic leaders of the Rock-n-Roll Reich, have beaten the cascade of disasters that followed the collapse of the former United Kingdom. Now they have to find some resolution to the impossible dynamics of their own relationship, while the world keeps falling apart. There are fearsome things going on in England's rural hinterland, and in Continental Europe the green nazis are planning a final solution to desperate environmental damage. But there's nothing the Triumvirate can't handle - until Fiorinda's father, a monster of the kind the world has never before known, reaches out to reclaim his magical child, the flower-bride.

And that's when darkness falls over Ax's England . . .

Harrowing . . . enchanting - a dark fairy tale with an epic sweep, set in a world very like our own.
Release date: January 21, 2021
Publisher: Gateway
Print pages: 363
* BingeBooks earns revenue from qualifying purchases as an Amazon Associate as well as from other retail partners.
Listen to a sample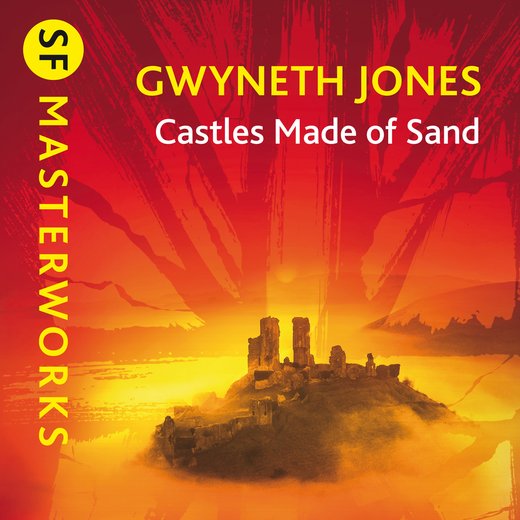 15:30:27
425.94 MB
9781473233423
January 21, 2021
Hachette UK
Castles Made Of Sand
Gwyneth Jones
INTRODUCTION

by Adam Roberts

Modernity has witnessed two movements that we might call 'Romanticism', separated by a century and a half. First, the late 1700s and early 1800s saw a cultural explosion. New ways of writing were married to new modes of philosophy and politics: Shelley and Goethe urged people to challenge old orthodoxies and think for themselves governed by imagination and love; Blake wrote and illustrated astonishing visions; Rousseau and Wordsworth preached new attentiveness to the natural world and its rhythms; Mary Wollstonecraft wrote powerfully on the rights of women. As revolutions swept Europe all the old, sclerotic certainties and meagre conventionalities were upended. 'Bliss was it in that dawn to be alive,' Wordsworth reminisced, looking back, 'but to be young was very heaven!' There had been cultural revolutions before in Britain, most recently the middle of the seventeenth century, when Levellers, Diggers and others had ridden the political upheaval of the Civil War to try and remake England into something more utopian; but these earlier movements lacked the army of artists, poets and musicians mobilised by Romanticism, and so their revolution has proved less enduring. Not that the Romantics achieved all they hoped. Their revolution was, largely, absorbed and metabolised by a Victorian counter-reaction leaving only a heritage of glorious art.

In the 1960s, a new wave of Romanticism swept the globe. Like the first, it had strong pastoral-ecological and social justice components, and like the first it preached love, freedom and imagination (imagination fed in part, as it often had been in the 1800s, by drugs) to counter increasingly mechanised conformism and authoritarianism of society as a whole. Most importantly, like the first Romanticism this new movement mobilised artists: poets and writers (Ginsberg, Kerouac, Delany, Didion) but especially composers. Indeed the main artistic throughput of this new revolution in art and culture was musical, not verbal – or more precisely, was a potent combination of the two. The Beatles and the Rolling Stones. The Grateful Dead and Bob Dylan. Rock music came from nowhere to become, suddenly, the new cultural currency of the world.

Arguably the youthful utopian energy of this second Romanticism was even more swiftly assimilated than the first had been: by 1971 Roger Daltrey was howling the last line of 'Won't Get Fooled Again', Peter Townshend's paeon to revolutionary disillusionment: 'meet the new boss, same as the old boss'. And yet, to an even greater degree than the first Romanticism, this second movement left behind a huge, still-living and fertile body of art. Indeed, it may be that this body of work has had a bigger cultural influence, and remains more important to more people, than anything else coming out of the twentieth century, including cinema and TV.

I say all this by way of trying to situate Gwyneth Jones's rich, extraordinary Bold as Love quintet of novels. Because these novels strike me as intensely Romantic, not in the casual sense of being a love story (although they are a love story) but in the deeper sense, the revolutionary sense, the sense that invokes a profound engagement with imagination, liberation and change. This is the sense that sought to link the natural world and people in a new sense of community informed by political radicalism. That sought to find imaginative and emotional transcendence in drugs.

Not that Castles Made of Sand is ever starry-eyed or naïve about its characters or their world. On the contrary. Although Jones is capable of powerful and evocative tenderness when the story calls for it, her story omits none of the brutalities and cruelties of actual politics and history, of actual people living through difficult times. But throughout, this novel brims with a revolutionary energy that connects it closely to these two earlier phenomena.

Castles Made of Sand picks up its story at exactly the point the previous novel in the sequence, Bold as Love, ends. In that first novel guitarist Ax Preston, his friend Sage Pender, and their mutual love-interest singer Fiorinda – avatars, in a sense, of King Arthur, Lancelot and Guinevere – emerge out of the welter of near-future societal collapse and violence as figures with real political power, with Ax as Dictator of a fracturing Britain. Ax, half-Sudanese, postmodern, bisexual, a mix of idealist and pragmatist, is intensely English in the way Englishness now figures. Sage, a tech-wizard as well as a musician, a big man with maimed hands and complicated loyalties, is trying to find a new Holy Grail, not in the exterior world but in a new drug to open the portals of the mind to radical intimacies of love-connection. But it is Fiorinda who is, really, at the heart of the story: a survivor of particularly upsetting childhood abuse who refuses to allow it to define her. Neither of the other two can function without her; together the three can rule the kingdom.

This idea, that rock stars might be able to parlay their enormous celebrity into actual political power, struck some reviewers as unlikely when the novel was first published. This, though, is to mistake what Jones is doing. Because she is so expert at evoking the verisimilitudes of life, the little details of relationships, plus the bigger-picture tapestry of Islamic Separatists in Yorkshire, neo-fascist Green Party extremists, hippies and conformists – because all this is so evocatively written, we might assume that the idiom of these novels is verisimilitude. I don't think it is, though. Quite a lot of science fiction uses the textual strategies of realism. Since SF is by definition 'about' stuff that isn't part of actual reality, stuff like starships and time-machines, that might look odd. But it isn't. Some SF writers prize plainness of style and directness, so as not to get in the way of the ideas they are trying to convey – the model of science writing. For others, to write a story about a bizarre premise in a bizarre or experimental style would be a bizarreness too far. Others again simply copy the kinds of styles, characters and forms from 'regular' novels. None of these things describe Jones, whose writing style is more sinuous and less obvious than it might seem, more interested in the intensities and numinousness of experience than the mundanities, or perhaps it would be closer to the truth to say: interested in the way numinousness is grounded in the mundane business of living. Judging her story as if it is pseudo-documentary or extrapolated pol-fic realism is to miss the point. There is a lot more to politics than elections and committees and legislation. Indeed, these novels are saying that stuff has less to do with real politics than you might think. Shelley said that poets are the unacknowledged legislators of the world. Jones wonders whether rock stars aren't the modern-day equivalent.

Castles captures the beauty and fragility both of the natural world and of our social contract as humans; but it's also a novel that understands how easily environmental concerns can slide into a valorisation of the reactionary and hierarchical. Green fascists are one of the forces Ax, Sage and Fiorinda must combat: 'Pan-European Celtics' who are 'anti-science, anti-recovery, covertly racist and dangerously attractive' – an attraction grounded in what Jones, in telling phrase, called a 'sinister romanticism'. That this counter-cultural movement forms an alliance with the Establishment is not so paradoxical as it might seem: 'neo-feudalism sounded very good to some of the bastards in mainstream government,' Jones mordantly notes.

But although the novel does touch on the actual mechanisms of political power, the idiom here is cultural mythography. This novel is saying that music is a more unifying force than party-political affiliation. That there is a dark genealogy linking the Night Rally and the rock concert. Anyone old enough to remember Live Aid in 1986 – that moment when hundreds of thousands of people were double-clapping in unison, and heiling in unison, to Queen's 'Radio Gaga' – will know what I'm talking about. That day was simultaneously an inspiring vision of collective action in the face of global poverty and a frankly terrifying hark back to the Nuremberg rallies. Party political conferences may be the occasion for smatterings of polite applause among their audiences, but to generate the fevered intensity of a Trump rally you need to orchestrate the theatrics and melodrama of a rock concert. This is because it is only the rock concert that can fully fuse the sexual and the aesthetic and the collective. The great Australian poet Les Murray didn't pull his punches when he opened his 1996 poem 'Rock Music' with the line: 'Sex is a Nazi. The students all knew/this at your school.'

Jones knows it to, but what makes the whole Bold as Love sequence so powerful is her ability to delve into that human truth without either being seduced by it or falling into poses of facile condemnation. Castles Made of Sand is a tour de force that unpacks the cliché phrase 'sex and drugs and rock and roll' with extraordinary resonance and insight. The sex elaborates the emotional complexities of the central threesome; the drugs hold out the prospect of a utopian new population, but it's the rock and the roll that are the bedrock of the whole. Jimi Hendrix provides the title for not only this novel but the whole series, and if you know his music you'll see how it suffuses the whole of Jones's quintet. And if you don't know his music then what are you doing? Go out and buy all his albums immediately and start listening.

If there's a flaw in the larger conception of these novels, it's in this, and it's hard to see how it could be avoided. Writing about music, somebody once said, is like dancing about architecture (the phrase is often credited to Elvis Costello, although he denies saying it). There's only so much the silent and verbal mode of the novel can do to evoke the – in this book, absolutely necessary – parallel world of music that makes the heart beat faster and makes the hairs on the back of your neck stand up. It helps if you know the kinds of music that inspired Jones: not just Hendrix, but all the singers and bands the book mentions.

Science fiction, we can say, is a radically Romantic mode of art. This is true for genealogical reasons – Mary Shelley's Frankenstein, the ur-text of the genre, was published in 1818 – but also for aesthetic ones. The great instrument of Romantic art is the imagination, pushing mundane reality to its limits and beyond; and the great power of rock music is the way it fires the imagination with emotion and sex and inspiration, into a collective experience it does not misrepresent to call utopian. The science fiction of Castles blurs into magic, and history and myth are braided around one another – or sing melody and harmony together, a gorgeous and unforgettable chant.

PROLOGUE

About four a.m. Fiorinda and Sage decided they'd better leave the Disabled Toilet, fond as they had become of the place. They woke Ax up and persuaded him that this was a good idea. Cleaners, Ax. Folks with brooms and buckets; you don't want to meet them. The Rivermead Centre seemed deserted, blank corridors echoing with departed revelry. In the car park (ominous clanging noises from somewhere, no other signs of life) Sage hugged them goodbye and set off into the dark. But almost immediately he came loping back, hands in his pockets, shoulders forward, a dearly familiar tall silhouette, to where they were standing bereft, not knowing what to do with themselves. No, no no, he said. This is wrong. We stick together. C'mon, come back to the van.

They crossed the ghostly arena with its shadow-buried rainbow of towered stages and marquees and headed into the campground, still smashed enough that even Sage found his own back yard a puzzling wonderland. They could have gone on forever; they probably did go round in circles once or twice, sometimes on access lanes, sometimes threading their way by paths only staybehinds used, between rows of tents that lay like sleeping animals: hand in hand, leaning together or in Indian file, brushing past spider-pearled thickets of traveller's joy and Michaelmas daisies; discussing their route in rapt whispers. It would have been paradise to go on forever, walking like this through the chill, river-misted night … no need for a house or a home, sleep under a hedge somewhere with the stars rustling overhead.

Instead they reached the van, which turned out to be full of people, most of them unknown to the proprietor (as far as he could tell). They tiptoed past a couple of staybehind women having a hushed, early-hours conversation, stepped over the bodies on the floor in Sage's room (the boss's actual bed had remained sacred), and slept again, in the midst of the crowd. Many hours later Ax and Fiorinda woke alone, fully dressed, surrounded by digital hardware, and followed the scent of frying bacon to the kitchen – where they found Sage and his brother Heads, George and Bill and Peter, all four of them skullmasked as usual, with George Merrick's wife Laurel, Bill Trevor's posh girlfriend Minty LaTour, plus a grab-bag of Heads crewpersons, all engaged in cooking and eating a huge fried breakfast. Sage was cheerful and sweet, but a certain distance had been re-established, perhaps inevitably.

From there it was straight back to business as usual. The newly inaugurated Dictator and his girlfriend had to get to London, and start establishing a modus vivendi with the suits. The Heads zoomed off to Truro, where they'd promised a free gig for the Cornish (most of whom had no TV reception at present, so they'd missed the big concert). The show must go on, while none of the ongoing emergencies let up. The three leaders of the Rock and Roll Reich didn't have another chance to examine their private life, all through the winter. But at last there came a pause, an equilibrium. At last a chance to take stock, count the bruises, relax a little. A dangerous time.

1

Sweetness and Light

'What's that?'

'Haydn. Okay?'

'Yeah, fine. Cruise, Sage.'

'Tisn't working.'

'I wonder …' muttered Ax. The Heads reckoned their boss was only safe to drive unaided when he was so wrecked he knew he was in trouble, which was not the case this morning. But there was a lot more room per vehicle on the roads these days, despite bomb-crater-sized potholes and long stretches where the surface had been hacked off by the righteous and never replaced. The van's erratic glide wasn't going to meet much opposition. Let him do without the autopilot, if it makes him happy. This is a holiday.

'I think I fell in love with you,' he said, 'the night we did the concert at the end of the Islamic Campaign. You remember?'

'Nah.'

'Sage, you are having me on. Cast your mind back. Bradford Civic Centre, end of January last year. Arabian Nights décor, inadequate stage crew. We'd been running around the Yorkshire Dales with a bunch of hippy guerrillas for three months, playing live-ammunition wargames with the Islamic Separatists. I sell my soul to make peace, we agree to do an armistice gig for both the armies. No bands, just you and me: Aoxomoxoa on noise, stunt-dives and horrible special effects, Ax Preston on guitar. Worked out pretty well, considering.'

'Yeah, yeah, yeah. I didn't mean, I don't remember. I meant, what, only then, Ax? Now you have hurt my feelings.' The living skull turned to him, grinning in blithe affection.

If truth be known, he'd rather have had the guy's natural face today but—

'Shit! Watch the road—!'

Unfortunate that they should have hit a patch of traffic at that moment. Horns blared. A woman with a horse and cart was left yelling furiously … Well, strictly speaking, horse and cart rigs should keep to the left hand lane but—

'Sage, I think I'll drive.'

'No, no, no. My van. I drive.'

'Fuck. How old are you? Three and a half? Listen, if we were in a sports car I think I might let you kill me, but you could take out twenty innocent bystanders with this thing. I'm going to drive. Stop the van! NO! (he corrected himself, urgently), PULL OVER! Get off the roadway, then stop the van. DO IT, Sage—'

But when the great grey space capsule was parked on the hard shoulder (Sage having accomplished this feat without incident), Ax stayed where he was. They smiled at each other, while the cab filled and brimmed with stately, joyful music.

'Nah,' said Sage at last, 'can't be true.You can't have fallen for me only that night. I have never felt more understood in my life than I did that time, first time on stage with you. You must've been practising.'

'Maybe it was love at first sight.'

'Hahaha. I don't think so!'

In the lost past they had not been friends. They'd had one of those personality-clash feuds beloved of the music biz media: Aoxomoxoa, of Aoxomoxoa and the Heads, shameless commercial techno-wizard (otherwise known as Sage Pender), always picking a fight with Ax Preston, the modest, critically acclaimed guitar-man.

'Okay, not love,' Ax conceded (though from this vantage point, all of it looked like loving). 'Intrigued at first sight. Or from an early date. Remember when I took you out drinking after you'd been slagging off my band on the TV? Complacent nostalgia wank-aid for dreary little left wing acne-suckers—'

'It all comes back to you.'

'Oh, I remember every word. That was when I first really looked at this—' He reached over and traced the eyesockets and cheekbones of the skull. 'There's a lot of digital masks around. This is something else. It's a serious piece of coding, and an amazing work of art.'

Sage kept very still, very happy to be touched. The avatar mask, that phenomenally expressive veil of coherent light, grinning between sheepish and self-mocking—

'I didn't believe you bought it off someone you met in a bar, either. Not one of your more convincing yarns. So then I started noticing how much got done, behind the drunken oaf cover. The bit-by-bit slog that goes into those immersions of yours. You and the Heads touring like maniacs, and a stage act you couldn't survive if you weren't in constant training. It nagged at me. If he made that mask, and if he's secretly so focused and organised, he's not stuck for inner resources. Why does the stupid bugger feel impelled to spend half his life so fucking hammered just walking across the room is a great big adventure?'

'Bored, bored, bored.'

'Not so bored now? Not so smashed so often, anyway.'

'Can't fit it into my ministerial diary, Sah. I never have the time to get decently trolleyed these days, I'm too busy being a workaholic bureaucrat. It's a disgrace.'

They collapsed into giggles. The situation they were in was so ridiculous.

'You ever going to tell me why you used to pick on me like that?' said Ax. 'Mr rich-as-fuck multi-eurobillionaire megastar? It was a mystery to me why you bothered.'

'Oh … Yeah, okay. I'll tell you. We were a pair, in the Indie music biz: equal and opposite. Ax Preston gets the critical acclaim and the cred, Sage gets the filthy money, and everyone's convinced that's just the way it ought to be. I was jealous.'

Ax looked amazed (he'd clearly been imagining some slightly more grown-up grievance all this time). 'Is that what it was? Really?'

'Really.'

'Well,' said Ax, after a moment, 'now I know your stuff better, I can't say I blame you. But it wasn't my fault.You should've behaved more like Leonardo da Vinci.'

'Ax, I'll never beat you at this game.'

'What game?'

'Forgiving, understanding. Maybe the game is being good.'

'Oh, I'm not good,' said Ax. 'I think you are good.'

They listened to the music for a while.

'We don't need the van,' said Sage at last.

'Nah.'

'Don't know why I brought it out.' He tapped the phone implant on his wrist. 'George … Hi, George, when you get to this, I've left the van by the road—' George Merrick was the second-in-command of Sage's band. Pause, while Sage looks out of the cab, peers around and finds nothing in the shattered concrete vistas of Reading's urban freeway that he can fix in his mind. 'Well, it's somewhere. Not far. Take it back to the Meadow, will you? Thanks.'

The van belonged in Travellers' Meadow, on Rivermead Festival Site, where thousands of staybehinds had been living like Bangladeshi slum-dwellers since Dissolution Summer, three and a half years ago. It wasn't as bad as it sounded. In ways the campers, in their lo-impact, alt.tech hippy squalor, were better off than the people of Reading town, now that the economic crash had really begun to bite. They got down and stood checking each other over: tall Sage with a living skull for a head, and skeleton-masked hands to match. Ax Preston, the Dictator of England, in his old leather coat, milky-brown skin and smooth dark hair of non-specific non-white origins; looking a little lost without a guitar attached.

Maybe the absence of guitar's the cause of the uncertainty crisis he's suffering, a worried frown in his pretty brown eyes—

'Are you still up for this, Sage? No second thoughts?'

The skull grinned at him 'Not much option now, is there? Eh, Teflon-head?'

'Oh. Oh yeah, right.'

'Hahaha.'

They began to walk.

'You know, Ax, I can always tell when you are completely out of your tree.'

'Oh really, how is that?'

'You become convinced you're sober, an' you start ordering me around.'

'Do I? I'm sorry—'

'Nah, it's okay. I like it.'

Ax had driven down from London very early. He'd left his car parked near the Caversham Bridge to avoid getting hassled by Staybehind Gate Police, over private transport hypocrisy. As they walked into town, passing empty plate-glass windows (where plate glass had survived) and the burned-out gaps that had been fast-food chains or car salesrooms, they discussed going to look for it. But they reached the station first so they settled for the train, and the quiet intensity of sitting side by side among strangers: touching hands, brushing shoulders, traversing the crowds at Clapham Junction with that magic thrill in the blood – barely speaking, occasionally sharing a smile of delight.

'For once we can just enjoy this,' Ax said.

'Yeah. But it was there all the time.'

'I know.'

By mid-afternoon they were in Brighton. Neither of them knew the town, but the gazetteer on Ax's warehouse implant (though out of date) helped them to fool around. It was so bizarre, such a treat, to be idle together, the strains of their own music not infrequently washing over them, as they prowled the fashion shoplets: two stunningly recognisable faces (one face, one mask) so studiously unrecognised it was like a cloak of invisibility. The Dictator and his friends never had to worry about invasion of privacy. That had been established very early on: Stone Age Fame, Fiorinda called it.

So this was Ax's England; this is the way we live now. In Reading the violence of change was more obvious. Here, in a town which had always been Countercultural heartland, it looked more permanent. The music and video that acted as urban décor were cutting-edge, but the Shopping Mall Generics had vanished, taken over by farmers' markets. Personal cars had gone, or turned up ingeniously recycled. Asphalt and brick and concrete had been torn up to let weeds and wilderness flourish in the streets. There were marks of privation. The 'see a queue, join a queue' mentality of old Eastern Europe prevailed. But the wandering crowds were peaceful; there were buskers but no beggars, and no weapons in sight. Considering the events of the last few years, that last was definitely a triumph.

At sunset the only street lighting was by ATP patches: cell metabolism energy, bio-activated by the fingertips of passers-by who had taken the treatment, Sage among them. They ate (Ax ate. Sage, typically, ignored some food), and went down to the beach, between the two piers. Evening crowds flowed on the promenade behind them, but they were alone on the shingle.

It was cold, the air was still, the sea murmured in the tawny dusk.

Sage folded himself, cross-legged, in one of his giant pixie poses. Ax sat wrapped in his leather coat, trusty old friend, examining an antique ring on his right hand. It was a birthday present from Fiorinda; he wasn't used to wearing it. The carnelian bevel had an inscription in Arabic: this too will pass. She gives me Solomon's ring … and is that a threat or a promise, my Fiorinda? I think it's a promise. Everything will pass, but not your love for me, my love for you. It was the twenty-first of February. He was just twenty-nine years old. He'd been Ceremonial Head of State for six months, the official leader of the English Countercultural Movement for a little longer.

In Dissolution Summer, when Mainland Britain was preparing to become, officially, three nations again, Paul Javert, the then Home Secretary, had set up what he called his Countercultural Think Tank: a sanitised alternative to the real eco-warriors, who were such a scary force in Europe in those days. The Westminster government had been planning to appoint a funky Green President to replace the departed Royals. Unknown to the suits, or to most of his pop-icon recruits, Paul had decided to get rid of the competition, and install his own hippy rockstar puppet. But Paul's chosen figurehead had turned out to be a monster in his own right. The night of the long knives, when fake terrorists burst into a government reception, and mowed down the real leadership of the CCM, had been the start of a violent rollercoaster ride in which Paul Javert had perished, and England had been plunged into Green revolution. Through force of nightmare circumstance, none of Ax's choosing, Ax Preston had ended up in charge of the CCM, a battle-hardened army of militarised hippies at his back. When the suits had offered him the Presidency, after the monster hippy régime had been ousted, he'd accepted. But he'd refused to be called President.

It was some kind of bitter satisfaction to have a title that reflected the real situation. Ax had wanted to be a leader. He'd seen the crash coming, and he'd vowed to be one of the people trying to hold things together. He'd never expected anything like this.

'Times and times,' he said, turning the ring. 'I prayed to God we'd make it this far, and I didn't see how we could. Now I know that everything that's happened since Dissolution was the easy part. Now we have to keep it all going. Fuck.'

'No need to think about it tonight. Take the evening off.'

'What did we do with the shopping?'

'Can't remember. Something. Does it matter?'

'Not at all.'

He didn't eat, thought Ax. He never eats enough. Not a gram more than he has to, to keep that fabulous body in shape. But I am not going to nag. He took one of the skeleton hands and measured it against his own, the virtual fingers and the real ones. This was Sage's left hand, missing the fourth and fifth fingers. The right was worse off, having lost index and second finger and half a thumb. He thought of the ten month old baby, can't even talk, with meningitis and septicaemia, poor little scrap. They put him to sleep, he wakes up and what's happened to his hands? The little boy who refuses to eat, because he can't stand the clumsiness of those maimed paws. Ah, God. Unbearable pity.

'How d' you decide how long to make the missing fingers?'

'These are my real hands.'

'What?'

'The masks are based on my bones the way they would have been. It's not hard to work out. Now ask me why I never wear fake normal hands, like a normal person would.'

'You can't fake anything. Remind me not to try and turn you into a diplomat.'

'Ha. I can lie. I do it all the time.'

'You can talk bullshit. There's a subtle difference. I wish I'd known you before.'

'You did. You didn't like me much.'

'I mean long ago. My life has had its ups and downs, but tonight it strikes me forcibly that you must have been horribly unhappy, for years at a time. I never put it together before. I wish I'd been there, to stop things from hurting you.'

'I deserved most of it,' said Sage. 'Not the meningitis, obviously, but the rest. If you'd known me when I was a teenage junkie you would not have liked me, Ax. But I know what you mean. Me, I have a desperate need to time travel somehow and punch out the playground racists – that you've never told me about, but I know the fucking south-west of this fucking country. You couldn't have missed them.'

Ax was from Taunton, Sage was from Cornwall. 'I'd have liked you,' said Ax firmly, 'if I'd known you.We should have been together; total waste of time that we weren't.'

'Never leave me, Ax.'

'I won't.'

They laughed, dropped the handclasp and looked away from each other, smiling. 'The racism didn't bother me,' said Ax. 'I was okay with it by the time I was ten. I always resign myself to work around stuff like that.You write horrors like the Arbeit Macht Frei immersion, as you told me once, because you want to see the world as hideous and miserable and terrible as it really is, and still find it loveable—'

'Did I say t
We hope you are enjoying the book so far. To continue reading...
Castles Made Of Sand
Gwyneth Jones
Copyright © 2023 All Rights Reserved
Also in this series
Also by this author