Twain & Stanley Enter Paradise
Book info
Sample
Audiobook
Media
Author updates
Lists
Synopsis
The magisterial final novel from Oscar Hijuelos, acclaimed author of The Mambo Kings Play Songs of Love.
Twain & Stanley Enter Paradise follows famed nineteenth-century journalist-explorer Henry Stanley, his wife, the painter Dorothy Tennant, and Stanley's long friendship with Mark Twain, as they venture to Cuba in search of Stanley's father. Told through a fictitious manuscript and imagined correspondence between Stanley, Tennant, and Twain, Hijuelos captures not only the general style of educated nineteenth century, but manages to pull off the seemingly impossible task of channeling Mark Twain himself. The manuscript—in the works for decades—was found by Hijuelos' widow after his death.
Release date: November 3, 2015
Publisher: Grand Central Publishing
Print pages: 496
* BingeBooks earns revenue from qualifying purchases as an Amazon Associate as well as from other retail partners.
Listen to a sample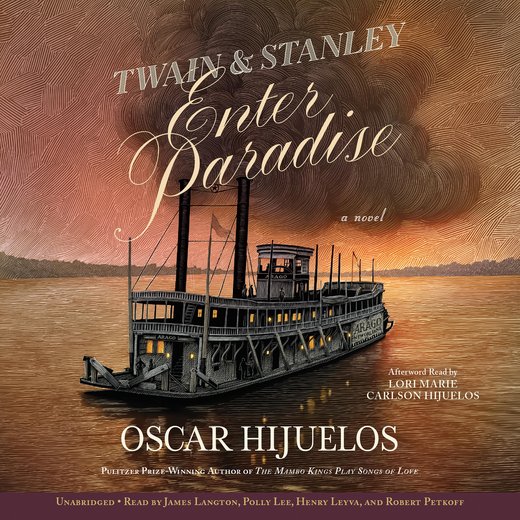 18:13:07
500.4 MB
9781478960348
November 3, 2015
Blackstone HBG
2015
Twain & Stanley Enter Paradise
Oscar Hijuelos
IN AN 1889 ENGRAVING for the frontispiece of London Street Arabs, Dorothy Tennant is posed in profile, her jewelry-laden left hand just grazing her plumpish chin. It captured her well. She had a high, gracefully rising forehead and a great head of curling, perhaps graying hair, pensive brows, a nose that was prominent but not oppressive, thin and pursing lips, delicate and fleshy ears, and eyes that were dark and alert, her features bringing to mind a classical portrait of a Roman or Greek lady.

Tennant was a woman of wealth and high social bearing who lived in a Regency mansion on Richmond Terrace, off Whitehall, in London. This rendering of her was made but a year before her marriage to Henry Morton Stanley, explorer and "Napoleon" of journalists, whose roots had been so humble that his childhood experiences and poor upbringing in Wales would have been an abstraction to her, for her own experience had never included want or deprivation. That she, the artistic and lively pearl of London society, had become involved and happily betrothed to Stanley after a well-known period of difficulties between them was one of the great mysteries of Victorian courtships.

Like just about everyone else in England, she had been caught up in the national frenzy over Africa, having followed with rapt interest the careers of Livingstone, Baker, Cameron, Speke, and Burton, among others, whose exploits were reported in all the newspapers and commemorated in books. She had been in her adolescence when the first of these explorations began, but by 1871 the greatest of all such explorers, Henry Morton Stanley, had emerged. He first became known for his search to find the Scottish missionary David Livingstone. His later activities in the region, principally in the Congo, where he had spent many years leading other expeditions, often under impossible conditions, had only increased his stature as a heroic figure in the public mind. Stanley had been so successful in opening the equatorial center of the continent that he had become one of the most famous men in England. ("Before Stanley there was no Africa," Tennant would later write.)

Despite Stanley's mercurial personality and the burden of his many maladies, such as chronic gastritis and numerous bouts of malaria—"the Africa in me," he called it—their marriage had flourished, and they became one of the most famous couples in England. Tennant's haughty circle of friends intersected with Stanley's colleagues and acquaintances—professional relationships, for the most part. But now and then there surfaced the occasional true friendship, such as the one he had with the American writer Samuel L. Clemens, or Mark Twain, as he was most famously called.

Tennant first met Clemens at a dinner in New York City while accompanying Stanley on a lecture tour of the United States. It was an introduction that culminated, in the month of January, 1891, with an invitation to visit Clemens at his Hartford home on Farmington Avenue, where Dorothy and her mother, Gertrude, spent a most diverting few days with him and his family (at the time, Stanley was away, lecturing in Trenton and other cities in New Jersey). Thereafter, over the next decade and a half, she and Stanley saw them on various occasions, principally in London, where the Clemenses lived in the mid-1890s, then later, at the turn of the century, when they had taken up residence in England once again.

In those years, paying socials calls to the Tennant mansion on Richmond Terrace, Clemens passed many hours in their company, giving impromptu recitations for their friends at dinners, shooting billiards, and occasionally withdrawing into her studio, a canvas- and prop-cluttered room known as the birdcage, to sit as a portrait subject for Dorothy, who, in her day, was greatly admired as an artist.

It had been her wish to present a portrait of Clemens to the National Portrait Gallery, as she had done in 1893 with a commendable rendering of her explorer husband, whom she had captured in all his splendor. Dolly had made dozens of studies of Stanley during their early courtship and dozens more in the years after their marriage—each session an immersion, she felt, into the spirit of her subject, for once he had become trusting of her, fruitful conversations ensued, and his tortured soul poured naturally forth.

The same kind of exchanges took place with Clemens, from whom Dolly had learned details about his private life—his joyfulness and pride in his family; the pain of certain devastating events that made his later years difficult. She had spent perhaps twenty hours sketching him. He had been an occasionally distracted subject, fidgeting with a cigar, getting up at any moment to stretch his stiff limbs, often staring out the window to look at the Irish perennials in her garden and sometimes losing patience with the whole idea of sitting still. Yet when she got him to talking about the things that made him happy, mainly his youth in Hannibal—the perpetually springlike wonderland from which his most memorable characters flowed—time stopped, his discomforts left him, and a serenity came over his famously leonine countenance.



"AS YOU SURELY KNOW, DOLLY, I have always been fond of Stanley. Not that he's the easiest person to understand, but he kind of grows on a body. His convictions, his work ethic, his knowledge of many things—these qualities appeal to me, even if I do not always agree with him. He's not the easiest person to get along with, by any stretch, which, by the way, I do not mind. And he is one of the moodiest people I have ever known, besides myself, and has been so ever since I first knew him. Our saving grace is that we have similar temperaments and can disagree or feel gloomy or cantankerous around each other without standing on ceremony; we are just that way."

He had paused then to relight a cigar, drawing from his vest pocket a match, which he struck against the heel of his shoe.

"Somehow, ours has been a friendship that's lasted. I cannot say that he is as close to me as my best friends in the States, but I hold him in considerable esteem just the same. The fact is we go back together to simpler times, an enviable thing. As much as he has changed over the years, he is not so different from the young man I met years ago, on a riverboat—you know of this, do you not?"

"He told me once that you met long ago."

"Indeed we did. It was a friendship that commenced by chance—on the boiler deck of a steamboat heading upriver, between New Orleans and St. Louis… in the autumn of 1860, just before the Civil War, during my days as a Mississippi River pilot."

A plume of bluish smoke.

"Stanley was traveling in the company of his adoptive American father, a merchant trader who plied the Mississippi port towns. He was Stanley's mentor in New Orleans and a great influence on his manner of dress and grooming, and he did much, as I remember, to advance his son's education, which by my lights was already considerable. Stanley was one of the better-read young men on that river. Of course I already knew some bookish types; Horace Bixby, a fellow pilot, got me to reading William Shakespeare, and occasionally I'd meet some traveling professor or any number of journalists with whom I could sometimes talk about literature. But Stanley, in those days, with his good common-school English education—one that he was modest about—was quite a cut above the average Mississippi traveler. And he seemed the most guileless and unassuming fellow one could ever encounter, to boot."

He puffed on his cigar again, and even as he was speaking, conjured, in his mind, the sight of drowsy still waters at dusk, campfires along the Mississippi River dotting the shore with light, the stars beginning to rise.

"He always had a book in hand and seemed anxious to learn about the world: I found myself beguiled by him, and I was touched that he seemed to be in need of a friend. We were both young men—I was twenty-five or so, and I believe Stanley was then about nineteen, the same age as my dear recently deceased younger brother, also named Henry. I suppose I was ready and willing to befriend Stanley for that reason alone, though who knows how or why chance happens to place a person in one's path. Whatever the mysterious cause, our friendship blossomed and eventually led to a quite interesting run of years. I am surprised that he has not told you more about our beginnings."



SHE SITS DOWN TO WRITE a letter in the parlor of her mansion, the interior unchanged from the day Stanley had died, three years before, at six in the morning, just as Big Ben was ringing in that hour from a distance. In its rooms many of Stanley's possessions and keepsakes remain where she had put them; in the hallways, framed photographs of Stanley on safari, Stanley in Zanzibar with his native porters, Stanley poised on a cliff in the rainbow mists of Victoria Falls. A bookcase bears a multitude of first editions and translations of his African memoirs. Atop the numerous tables and travertine pedestals are a variety of ornate freedom caskets from cities like Dundee, Edinburgh, Glasgow, Swansea, and Manchester, each honoring Stanley for one or the other of his African exploits. Here and there, hanging on a wall, are plaques that Stanley had particularly liked. One of them, harking back to 1872, when he had become famous for finding Livingstone in the wilds of Africa, reads:

A COMMON COUNCIL

Holden in the chamber of Guildhall, of the City of London

On Thursday, the 21st day of November, 1872,

RESOLVED UNANIMOUSLY

That this court desires to express its great appreciation of the eminent services rendered by

MR. HENRY MORTON STANLEY

To the cause of science and humanity by his persistent and successful endeavors to discover and relieve that zealous and persevering

Missionary and African Traveller,

DR. DAVID LIVINGSTONE,

The uncertainty of whose fate had caused such deep anxiety, not only to Her Majesty's subjects, but to the whole civilised world.

There are framed maps of Africa and bronze busts of Stanley lining the hallways and several Minton biscuit figurines of Stanley—the kind that were sold for years in the tourist shops of Piccadilly—set out on a parlor table. On a desk in Lady Stanley's own study, just down the hall from her painting studio, sit her commonplace books and a manuscript of her own writings—the fragments of a memoir (never to be completed) called My Life with Henry Morton Stanley—alongside a plaster cast of Stanley's left hand, which she keeps for good luck. But there is also much more about Stanley—diplomas, royal decrees, gold medals (the Order of Léopold and the Knight Grand Cross of the Order of the Bath from the late queen; the Grand Cordon of the Imperial Order of Medijdieh from the khedive of Egypt)—to come upon in that house. There are also many other keepsakes—old compasses, sextants, and other instruments as well as various native African artifacts, such as Zulu fly whisks, spearheads, and phallic oddities brought back by Stanley after his journeys—on display in a curio cabinet.

As she writes, his presence is inescapable. Even as she is about to remarry, in a few weeks, Lady Stanley has never gotten around to removing a thing from Stanley's private bedroom—they had sometimes slept apart. His wardrobe closet still contains the Savile Row suits he favored, along with his shirts, his lace bow ties, his vests, suspenders, stockings, his walking sticks, and many pairs of his distinctively smallish-size shoes. Even his bedside table has remained as it was the morning he left her—a pair of wire-rimmed spectacles sitting atop the pages of a Bible, opened to the chapters of Genesis. Nor has she touched the mantel clock with Ottoman numerals, except to rewind it nightly; nor has she removed from that chamber the other books he had taken much comfort in: Gladstone's Gleanings of Past Years, a volume of autobiographical essays that Stanley admired despite his personal dislike of the man ("I detect the churchgoing, God-fearing, conscientious Christian in almost every paragraph," he had written); the histories of Thucydides; and two novels, David Copperfield by Charles Dickens ("That boy was me, in my youth," he once said) and another by his old friend Mark Twain, The Adventures of Huckleberry Finn—the very copy Stanley had carried with him on his final expedition to Africa.

And along with the framed photographs he had asked to be placed near him as he had lain in his bed, beside those of Denzil, Queen Victoria, and Livingstone, there are several oil studies made by Lady Stanley in earlier days: Stanley sitting on the lawn of their country estate in Surrey; a portrait of Samuel Clemens that Dolly had commenced some years before in her studio.

May 11, 1907

2 Richmond Terrace, Whitehall, London

Dearest Samuel,

I have been going through Henry's many papers and notebooks in my attempt to fill out his history. In his study, he kept several large cabinets of facsimiles of letters, old manuscripts, and notebooks. He was a hoarder of all things pertaining to himself, perhaps for the sake of the historical record, and so, as you may well imagine, there has been quite a bit to consider. Lately, I have made it my habit to spend a part of my days searching for materials pertinent to the story of his life—no easy task, given their volume. It is a labor I have conducted in slow but steady measures.

In any event, I have come across a manuscript that I had never seen before. It is a manuscript I believe Henry had commenced shortly after we had visited New Orleans in the autumn of 1890, while on tour for dear Major Pond, when Henry's memories of his life there, after an absence of thirty years, had been freshly reawakened. Since much of it was written out on stationery from hotel and steamship lines, with which I am familiar, having accompanied Stanley on his tours of the States and Australia in 1891 and 1892, I date its composition to that time. At first, I had thought the manuscript a preliminary version of the chapters regarding his first years in his adopted country, which Henry would later refine. But as I read on I was surprised to see how much it diverged from what he later left as the "official" version, for these pages contain an untold story. And that story has presented me, as the amateur compiler of his life, with a very great dilemma.

And here it is: In the completed sections of the autobiography, which he approved for publication, he plainly states that Henry Hope Stanley, the merchant trader from New Orleans whom he considered his second father, had vanished during a journey to Cuba, where he had a business: "He died in 1861. I did not learn this until long afterward," is how he summarized it. Yet the "cabinet" manuscript, if I may call it so, seems to be an elaborate explanation of Henry's search for his father in Cuba, a journey he claims, in these pages, to have made in the days of late March and early April of 1861, with you.

Samuel, as delighted as I had been over this unexpected revelation, you must imagine the state of perplexity it put me in. For this manuscript contradicts what Henry once told me about his experiences in Cuba, which he claimed to have visited only once, in 1865; he said that he made that journey to see his adoptive father's grave for himself, the elder Mr. Stanley having been buried "in some churchyard near Havana." And the only time he had mentioned you in relation to his early days in America—in fact, while we were strolling down the Vieux Carré of New Orleans during our 1891 journey there—he referred to your chance meeting "along some stretch of the Mississippi," aboard a riverboat, years ago. But he never elaborated about your early friendship, nor did he begin to hint at the extent to which he had, in fact, privately written about you. Since it was obviously Henry's wish to exclude this narrative from his official story, I am assuming that he had his reasons, upon which I hope you will shed some light. I have taken the liberty of sending you a typescript version (Henry's original, often written in a postmalarial state, suffers from stains and an addled penmanship). Once you have read it, I hope you can answer this question: Was it so, Samuel?



WHEN I ARRIVED IN NEW ORLEANS from England, aboard an American packet ship, the Windermere, it was as a despised and loathed cabin boy without a friend in the city. Prior to my voyage I had worked for a butcher in Liverpool, such as was my own father in Denbigh, may God rest his soul, and like all children who are raised without the touchstones of paternity and in poverty, I had become overly trusting of complete strangers. Some seven weeks back, on a solemnly gray day, while the Windermere lay in port, I had made the delivery of some meat goods to the ship's cook, the blood bleeding into my coat sleeves, and because I had been so respectful in my dealings with him, the captain thought me a fine candidate for a life at sea. In truth I was not happy with my current profession, so when the captain offered me a position—that of a cabin boy, with its promise of adventure—I believed him and signed on eagerly.

The reality turned out differently. Aboard the Windermere the same kinds of abuses I had endured at St. Asaph Union Workhouse were repeated. Landlubbers such as I were held in the lowest regard by the seasoned mates. It had not helped my situation to have often fallen ill with seasickness; that was one thing, humiliation and grief another. For even in my illness I was often rousted from my cot by a mate who said he would skin me alive unless I scrubbed down the deck for no good reason. After some fifty-two days at sea, with stops in the Canary Islands, Jamaica, Haiti, and Cuba, we had come into New Orleans, and my romance with the wild seafaring life had subsided.

We had anchored off one of the four mouths of the Mississippi River at a point called La Balize, after which we were tied to a tug that steamed us upriver for about one hundred miles, as I remember. When we finally came to the port of New Orleans itself, about midday, the harbor was glutted with merchant vessels of every kind. Along the levee, which stretched some three or four miles, forming a crescent-shaped wall against the water around the city, freight lay in mountainous heaps everywhere, and an army of workers—of every color—moved in great packs around them, mules and carts and wagons loaded up with barrels, cotton bales, and hogsheads. Sailors, pilots, captains, and laborers, sacks slung over their shoulders, were making their way down the wharves toward the city (for some reason I fancy it a possibility that my friend Samuel Clemens had been among them).

As the Windermere was the fourth in a row of ships berthed parallel to one of the piers, no sooner had we laid down a walkway of planking to the next ship than did a contingent of New Orleans harlots flock on board to make arrangements with the men who paired off with their ladies and headed off into the saloons and boardinghouses fronting the riverside.

I remained on the Windermere with my cabinmate on that voyage, a handsome English lad by the name of Harry who was my own age but far more seasoned than I. Having been to New Orleans several times before, he had been anxious to go ashore, but he and I had been kept on day watch, to guard against thieves slipping aboard. I was not entirely displeased with the prospect of remaining behind, but Harry wanted to show me around. He knew of a boardinghouse near the commercial district where we could have a very fine New Orleans–style meal at little cost. When night fell we descended onto shore. I had no watch to keep time, but I had heard only moments before some distant church bells ringing the hour of seven. It was a few minutes after that, on February 17, 1859, that I first set foot onto American soil.

The joy of my young heart cannot be adequately described here, but suffice it to say I was overwhelmed. As we bounded across the levee, taking in the balmy air, I was struck by the many scents emanating from the shore. Occasionally there came the aroma of magnolia blossoms and flowers from some distant garden or patch of trees, a whiff of crisp sea air cutting through the doldrums.



GRADUALLY WE MADE OUR WAY into the city. Its physical aspect was reminiscent of the "Spanish" style described to me by the sailors who had been to such places as Málaga, Cartagena, and the city of Havana, which I had only seen from afar—our ship having remained anchored in its harbor because of a cholera quarantine. The torch-lit streets teemed with people, who, walking along in the languidness of the air, were soothed and serenaded by all kinds of music.

Moving with a certain gait, which seemed quite "un-English" to me, these citizens, slave and freeman alike, were casual about the mixing of classes. Even the black men, Harry explained to me, were at liberty to roam about and to partake of such things as they wanted, for in that place the mightiest banker walked alongside the lowliest slave and common worker. This I had never seen in England!

Through these crowds we made our way to Tchoupitoulas Street and, at long last, came to the boardinghouse that Harry had mentioned to me. The owners, recognizing him from before, treated us with the greatest hospitality. Shortly I sat down to my first American meal—a feast of grits, corn muffins, okra soup, sweet potatoes, and other fixings, followed by helpings of rice pudding (which I had never eaten before, and hence, even these many years later, I especially remember it). Then I joined Harry in a cigar.

Afterward, with our hunger sated, I would have been perfectly content to return to our ship, but Harry, hungry for another kind of experience, led me to a boardinghouse on another street. In my trust of Harry I had evidently allowed myself to enter a bordello, for no sooner had we sat down than did four young ladies, in silk bloomers and stockings, assail our persons: I was left speechless. And while Harry seemed to be enjoying himself, it brought to my mind the terrible and lowly stock of the transient women I had seen interred within the walls of St. Asaph's, among them my own mother, who had abandoned me at birth.

I fled from that house and, with Harry's voice calling after me, made my way contritely back to the ship.

Now, the captain who had tricked me aboard in the first place perhaps hoped that I had indeed jumped ship, for it was a strategy of such men to gain an additional profit from their voyages by making conditions so intolerable for temporary seamen such as myself that the workers simply bolted without their wages. And so the next day, when the captain found that I had not "vamoosed," he put me to work at some very harsh labors. He worked me so hard that I could not so much pause for a moment to wipe the sweat from my brow. Alone in my cabin at night, while pondering my plight, I decided to leave that ship for good, come what will.

Late on the fifth evening, when Harry returned from one of his rambles through the city and collapsed, dead drunk, on the bunk above me, I lit the cabin's pewter lamp, packed my few possessions into a sack, and, slipping off the Windermere, made my way onto the levee. About a half mile from the ship I lay down by a pile of cotton bales to sleep and had wistful, odd dreams.



AWAKENED AT AN EARLY HOUR by the clanging of bells and first mates' whistles coming from the harbor, I left the levee and made my way toward the commercial district, moving among the din of passersby. My general distress was only alleviated by my trust in Providence: For whatever reasons I had been brought to that juncture, I believed it part of some kind of design. I had no money, not even enough for a simple breakfast. My situation was perilous: Had I been struck down by a bolt of lightning, what would have been found on my person were a few letters that I had intended to send to Thomas and Maria Morris, my aunt and uncle in Liverpool, each of them signed, "Yours, John Rowlands." And I had a certificate of graduation from St. Asaph's, folded into quarters; a passport saying who I was; and my Bible, which also bore my name.

And yet despite my many faults, luck smiled upon me that day. As I came up from the harbor and made my way to Tchoupitoulas Street, Negroes were everywhere, sweeping the sidewalks and attending to the arrangement of goods and barrels in front of the many stores, which seemed to become progressively larger as I walked farther along. Among them was a warehouse from whose facade hung a great sign that read:

SPEAKE AND MCCREARY, WHOLESALE AND COMMISSION MERCHANTS

There I saw an immense and bearded man of middle age in a dark alpaca suit and stovepipe hat sitting in a chair in front of its doorway, newspaper in hand, a slave standing by his side fanning him. Sucking on a thin black cigar, his dark blue eyes focused intensely upon his reading matter through a pair of spectacles, he had been, at first, indifferent to my approach; but then when I, taking him as the proprietor, finally piped up, asking if he needed a "boy," he could not have been less interested.

"What would I need with a boy when I have my slaves?" he said. But then he noticed my Bible.

"And what is that?"

"My Bible, sir."

"Then let me see it."

Opening it, he was pleased by what he saw: Inside its cover was an inscription that read: PRESENTED TO JOHN ROWLANDS BY THE RIGHT REVD. THOMAS VOWLER SHORT, D.D., LORD BISHOP OF ST. ASAPH, FOR DILIGENCE TO HIS STUDIES, AND GENERAL GOOD CONDUCT. JANUARY 5TH, 1855.

"Most commendable," he said. "So you are from Wales?"

"Yes, sir."

"And this 'St. Asaph'?"

"It was a parish workhouse: I was sent there as a boy."

"What are you doing here in New Orleans?"

I then told him the tale of my misfortunes on the Windermere.

"And why do you carry a Bible?"

"I carry it because, whatsoever are my difficulties, I have the faith."

"And your favorite sections of the Bible?"

"The book of Genesis. The beginnings of this world impress me very much. And, of course, the New Testament, which contains the good teachings."

"A fine response. It happens that I am a former preacher and would have answered the same." Then: "And you are looking for work?"

"I am, sir. Or for any advice about how I can find it."

"Can you read?"

"Well enough."

"Then read this."

And the gentleman handed me his morning paper, the New Orleans Daily Picayune, an article from which I began to recite aloud.

"Enough. That is a correct reading, but are you aware, young man, that you have a very strong accent?"

"I do. But I would strive to correct it."

"I see." Then: "Can you write?"

"My script was said to be the finest in my school."

"Then take a brush and a can of black paint to those coffee bags piled against the wall there and affix my trademark and their destinations to them. Here, I will show you how."

I shortly set to work, and after his example, I inscribed his trademark, a letter S inside a quadrangle, onto each fibrous covering, along with its eventual destination upriver, Memphis, Tennessee. I did so in a firm hand and with the most beautiful letters. When I had finished addressing about twenty such sacks, this gentleman, greatly satisfied, told me that I indeed possessed an elegant and legible script.

"I could not have done better myself," he said. "Well, let me see what I can do for you. Mr. Speake, the owner of this warehouse, always comes in after nine. Until then, we will have ample time to discuss the nature of his business. Perhaps he will have a use for you."

We stopped in a restaurant, where, famished, I ate to my heart's content; and because I was in such a disreputable state we then visited a barbershop, where, at my benefactor's suggestion—and expense—I was cleaned up, my hair shampooed and trimmed, and my face shaved: Then a Negro boy dusted off my coat, pressed it under an iron, and polished my boots. By the time we returned to the warehouse Mr. Speake was in his office. I do not believe I have ever seen so thin a man outside of a circus or one who used so much hair dye and tonic, for, parted in the middle, his hair glistened like wet coal, and he possessed a nervous twitch, which made his sharp nose seem skittish.

He conducted a short interview with me on the spot, asking if I could add. When I told him I could, he smiled and, winking at his gentleman friend—my benefactor—posed the following question:

"What say you of the following addition: If there are twenty-seven cases of soap at four cents a bar, with ninety-six bars per case, and a markup of one and one-half cents per each—what profit would that yield per case?"

"One dollar and forty-four cents," I said after a few moments of calculation.

Mr. Speake hired me that day, on a temporary trial basis, for what seemed at the time like the princely sum of five dollars per week. I would be a general assistant in that place, to perform at first many menial tasks until I learned the ropes. But he told me that he would be away for a month or so, traveling upriver with his consignments, and that he hoped to hear good accounts of my work upon his return.

That same evening, after acquainting myself with some of the inventory in the store, since I had no place to go, I was given a cot and a blanket and shown to a storage room in the back. Resting in my cot that night, I had the strange thought that just a few days
We hope you are enjoying the book so far. To continue reading...
Twain & Stanley Enter Paradise
Oscar Hijuelos
Copyright © 2023 All Rights Reserved