Book info
Sample
Audiobook
Media
Author updates
Lists
Synopsis
Fern Michaels is a national treasure, and her latest in the Sisterhood series finds the stalwart friends bringing justice—and hope—to families devastated by a greedy con artist.

The Sisterhood: a group of women from all walks of life bound by friendship and a quest for justice. Armed with vast resources, top-notch expertise, and a loyal network of allies around the globe, the Sisterhood will not rest until every wrong is made right.

When Alexis Thorn and Joe Esposito encounter a young woman sobbing alone in a restaurant, they step into action and offer their comfort and sympathy. They soon learn that the woman's husband was recently killed in action in Afghanistan. Before he reported for duty, they took steps to preserve their chances of having children. But when Bella visits the fertility clinic, she discovers her eggs are no longer there—and the circumstances are beyond suspicious.
Heartbroken at this tale of shattered hopes, Alexis recruits the Sisterhood to investigate. Soon they uncover a con artist on an obsessive mission. Tracking the culprit behind such a cruel scheme won't be easy. But with their combined grit, courage, and determination to overcome any obstacle, the Sisterhood will make sure that this story ends on a note of triumph . . .

Release date: August 25, 2020
Publisher: Zebra Books
Print pages: 368
* BingeBooks earns revenue from qualifying purchases as an Amazon Associate as well as from other retail partners.
Listen to a sample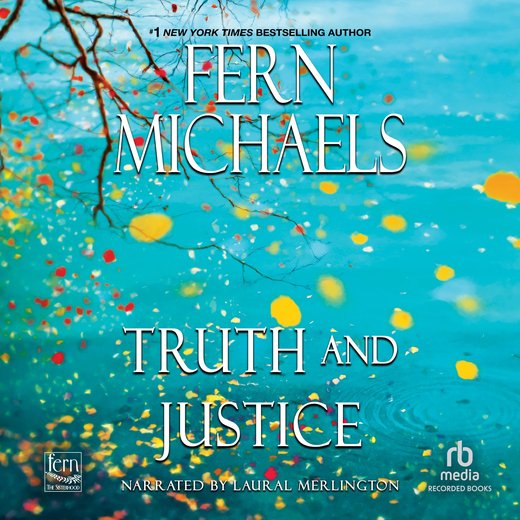 07:34:50
208.21 MB
August 25, 2020
Recorded Books
2020
Truth and Justice
Fern Michaels
It was three weeks since the horrendous rain. Andy's truck was still sitting in the now-dry parking lot because she didn't have the money to have it towed anywhere. He didn't have towing or truck replacement on his insurance. In fact, he had skimped wherever he could to save money. As far as she was concerned, the finance company could come and take the damn thing. She wasn't paying another red cent on that monster Andy loved and adored. She'd written him the day the rain stopped, but of course there was no response, something she found not only strange but even weird considering how Andy loved the Ram 2500.

He hadn't even acknowledged the e-mail that said she was filing for divorce.

Bella parked her Honda Civic, which was several spaces away from her two-year-old Nissan Sentra, in the same parking space she'd been issued when she had rented the apartment. The Nissan had been brand-spanking-new when she bought it. By the time the claims adjuster had finished his work, she had enough to buy the Civic with only a $66-a-month car payment. The Civic was also better on gas. The seventy-eight–year-old woman who had sold it to her swore that the 20,000-mile reading on the odometer was true and accurate, and the reason she was selling it was because she was going to move into an assisted living village and didn't need a car. Bella had bought it on the spot and never regretted it for a second.

Bella stepped out of the elevator and made her way down the hall to her apartment. She didn't run these days the way she had before. Before as in, before hiring Mitchell Jones. She played with the three apartment keys in her hand before she inserted the dead-bolt key into the lock.

Bella tossed the mail on the little bistro table in the kitchen without looking at it. What was the point? Bills, bills, bills. She could look at them anytime. Her theory was that if she opened them, she had to pay them. If she ignored them, then they didn't exist until she was ready to open and pay them.

Just the other day, she'd separated the mail into two piles. Her pile was on the left and Andy's was on the right. When she moved next week, her plan was to leave Andy's mail right where it was. Let the new tenant forward it or take it back to the post office. She grimaced when she saw the bill from Mitchell Jones in the stack of mail she'd carried in. It bothered her that she owed him money, but he'd said he would work with her and take whatever she could pay over time as she got paid. To date, she had paid him the munificent sum of $60.

Next week.

Everything was next week, when she was moving into a smaller one-bedroom apartment in the next complex down the road. She'd start her new part-time job next week. She was going to be a cashier four hours a night, six nights a week at a health-food store, earning $15 an hour plus a forty percent discount on anything she wanted to buy. It was time to start eating healthy and living a healthier lifestyle. Maybe she would meet some nice people and start to get a life for herself. She wished she could get the four years she'd devoted to Andy back, but that was impossible. The best years of her young life. How foolish she'd been to be so devoted to Andy that she took nothing in return but a ring on her finger and a pile of bills. Then again, she'd fallen in love.

Right now, right this minute, she was convinced the marriage hadn't stood a chance from the get-go. Maybe if Andy was a nine-to-five, work-at-Home-Depot kind of guy, it might have stood a chance.

Bella warned herself to turn off that kind of thinking by telling herself that you can't unring the bell. When she'd told her boss and some of the people that she worked with at the small graphic design company that she was filing for divorce, they had started to distance themselves from her, asking her how could she do that when Andy was fighting for his country, and calling her a spoiled brat for thinking only of herself and not what Andy was going through. It was cruel and inhuman what she was doing, they said. When she ran crying to Mitchell Jones to tell him, he'd just looked at her and lowered his eyes. It was clear he was of the same opinion as her employer and her coworkers, but lawyer that he was, he wasn't going to say anything. And besides, she was his client, and it was not his place to judge. She'd come to him seeking help, and he was providing said help. End of his story. That very night, she had a dozen résumés updated and ready to mail. So far, she had only one scheduled interview on the horizon.

Bella poured herself a glass of wine. No more running to the computer the moment she was inside. Those days were long gone. She kicked off her shoes, made her way to the sofa, and flopped down. She turned on the six o'clock news and settled down to find out what had gone on in the world while she labored all day at work.

An update on the road repairs from the hellacious rain of three weeks ago. Two United States soldiers wounded in Syria. Two senators and one congressman suddenly on the hot seat for fooling around with young pages and hotly denying the allegations while their colleagues were urging them to step down. In the next ninety days, a chain of Midwestern supermarkets would be shutting down after ninety-nine years of serving their communities.

Bella turned off the television and curled her legs up and under her as she stared off into space, her thoughts scattered. She realized she was crying when her vision started to blur. How had it come to this? How? Last week, she had gone way out of her way to contact one of the military wives of one of Andy's best friends. In the course of the conversation, she'd asked how she dealt with not hearing from her husband on a regular basis.

Evelyn Morris looked at her like she'd sprouted a second head and asked what she was talking about because James e-mailed at least three times a week. She even said they had FaceTimed at least once every two weeks. Bella explained, and the woman had looked at her with such pity that Bella thought she was going to get sick. Then she blurted out that she'd just filed for divorce the previous week. Evelyn gave her another pitiful look and simply walked away, but she did call over her shoulder, "You're not someone I want to admit I know."

Bella hadn't cried then. She was too numb to cry. But now the tears came.

Bella stood rooted to the concrete walkway as she stared at the building in front of her. It was a beautiful day in the District, crisp and unseasonably cool for this time of year. Birds perched overhead on an electrical wire chirped to one another, probably commenting on the beautiful weather. She was aware of people jostling her, muttering obscenities and other unflattering terms as they surged around her. They wanted her to move, that much was clear. She wanted to move, too, but she felt glued to the walkway. She knew she should apologize to the steady stream of people behind her, but she couldn't get her tongue to work any better than she could get her feet to move. She was on her lunch hour, as were the people around her, so it stood to reason they were all in a hurry, and still she couldn't make her feet move. What is wrong with me?

The reality was, Bella knew what was wrong with her, so there was no use in pretending. She was standing in front of the building that housed Mitchell Jones's office to finalize the divorce she had started almost a month ago. Mitchell had called her yesterday and told her to stop stalling or he was going to drop her as a client, and she would have to find another attorney to work with her in obtaining a divorce.

Mitchell had been more than nice to her. He said it was okay to change her mind about wanting a divorce. People did it all the time, he'd said. He'd gone on to say he had too many cases that needed his attention and he couldn't keep babysitting her, and he said that if she canceled one more appointment, he would be forced to cease to represent her.

With those threats hanging over her, not to mention the money she'd already paid out to him, she was here, now, at this red brick building with ivy crawling up the walls and fresh paint on the window frames. She could even smell the paint and see dabs of it on the shiny ivy leaves. The door she had to walk through was a beautiful, dark, rich mahogany surrounded by a lot of shiny brass on the ornate door handle, the brass plate, and, of course, the lanterns on each side of the magnificent door. She squinted harder and realized it wasn't brass at all but copper, polished to a high sheen, so glossy she could see her eyelashes.

"Move it, lady, or I'll lift you up and move you myself. I have business inside, and time is money. What's it gonna be?" a deep rough voice behind her demanded.

"Yeah, move already, will you?" a young woman who was barefoot and wearing ragged cutoff jeans called out. "I'm already ten minutes late. C'mon already!"

Bella finally moved, or maybe she was pushed, she didn't really know, and at that moment didn't care as she went with the flow. She was finally inside, with people walking all around her. All she needed to do was turn right and walk down the long hallway to suite 111. Suite 111 belonged to Mitchell Jones, and she was here to sign her divorce papers. Period. End of story. She wondered how many pages it took to say she was filing for a divorce from Major Andrew Nolan because he refused to e-mail or Skype her. And then she wondered if she would cry when she signed her name to the legal document. Even if she did cry, the world wouldn't end if she cried one more time, she told herself. Once she signed her name, she could move on and forget Major Andy Nolan and his Ram 2500 truck. She would be Bella Ames again, the name she had been born with.

Finally standing at Mitchell Jones's door, all Bella had to do was turn the knob and walk into the small waiting room. It was tastefully decorated with comfortable furniture, and healthy, glossy ficus trees stood in the corners to fill up the dim corners where there were no lamps. Luscious green plants on the little tables that were scattered among the chairs, along with a varied assortment of magazines for men and women, and, of course, the daily paper pretty much took care of the furnishings. Despite all the stuff, the room did not appear to be crowded. Someone, probably Cheryl, the receptionist, had a green thumb, she thought. All in all, a pleasant enough place to relieve any anxiety one might feel while waiting for the help the lawyer would hopefully provide. Today, though, there was no delay for Bella. No more stalling. The waiting room was empty, and Cheryl told her she should go right on back to Mr. Jones's office since he was waiting for her. Seeing the bright unshed tears in Bella's eyes, Cheryl offered up a weak smile. Divorces, as she knew from experience, were painful.

Fifteen minutes later, Bella was walking to her car, the checked tears finally rolling down her cheeks. She looked at her watch. She had enough time to grab a sandwich and a drink of some kind before reporting back to work. Her boss was a great boss and wouldn't say boo if she was an hour late, but she tried never to abuse his generosity. With that thought in mind, Bella steered her car into the parking lot of the Burger Palace, also known as Will's Shack, which made burgers to order for its customers. Will, the owner, was working the drive-through today. Short of help again, she surmised. She tucked away the thought in case she had to get a part-time job to pay off Mitchell Jones. Unlike Andy, who didn't care how many bills he racked up, she hated owing money. When Will spotted her, he grinned and waved.

"The same, or are you feeling dangerous today?" he joked. The same meant a burger with crisp bacon, lots and lots of crisp bacon she paid extra for, a slice of tomato, and a slice of purple onion with a sour pickle on top and Virginia Gray's potatoes on the side. Virginia was Will's father's sister. Dangerous meant a cup of coffee, heavy on the sugar and cream, along with a raisin-filled cookie for dessert.

"The same, Will."

"You okay, Bella? You look sad." The two were on a first-name basis because Bella had been Will's very first customer when he had opened his little food haven a couple of years ago.

"Headache," she muttered. The moment the words were out of her mouth, Bella realized it was true, she did have a headache. She realized something else, too—she wasn't hungry. Why she had pulled into Will's Shack was something she'd have to figure out later. She paid for her food, placed the bag on the passenger seat, and drove home to her new mini apartment. The minute she parked the car in her allotted space, she called her boss. She fibbed and said she had a migraine and was going home. Nice man that he was, her boss told her to take two Advil and a nap, and, if she didn't feel any better tomorrow, to stay home, and not to worry, he'd pay her for her time off.

Inside the small apartment, Bella kicked off her shoes and tossed her purse and messenger bag on the recliner. She padded out to the minuscule kitchenette and opened the food bag. The smell of the onion and the hamburger made her gag. She quickly tossed it all into the sink and let the garbage disposal do its magic.

Coffee. That's all she needed. Maybe a cookie to dunk in the coffee. Then again, maybe not. She turned on the little twelve-inch TV that sat on the counter next to the toaster. She turned it to the channel she used to watch years ago, when she was hooked on soap operas. She watched it for ten minutes and felt as if, even though she hadn't watched the soap for over two years, she was caught up. And it had taken only ten minutes.

The sound of a knock on the door almost caused Bella to jump out of her skin. She did not know anyone who lived in the neighborhood. Why would someone be knocking on her door in the middle of the afternoon? Some scammer maybe. Someone who robbed apartments in broad daylight. A bill collector. Someone who wanted payment for Andy's Ram 2500? She'd called the finance company and told them where the car was and that the key was under the back wheel cap. She'd told the woman she spoke to that her name was Delilah Brucemeister just so they wouldn't know where she was currently located. Answer the door? Don't answer the door?

Why, she asked herself, am I hiding or pretending to hide? I didn't do anything wrong. All I did was file for divorce, something thousands of people do every day. So who was knocking on her door? She hadn't even put her name on the mail slot yet, so who would even know that she lived here?

The knock sounded again. Louder this time. More serious-sounding. Well, of course they would continue to knock because they could hear her TV. She knew in her gut that whoever it was knocking on her door was going to keep knocking until she opened it, which just went to prove it had to be a bill collector. The previous tenant must have owed someone money for something.

Bella started toward the tiny foyer, not believing that hypothesis for a minute. Well, the only way to discover if she was right or wrong was to open the damn door.

Which she did.

"Oh my God! No! No! Go away! Don't ever come back here! Nonononono!" Bella shrieked at the top of her lungs as she reached for the doorframe to hold her upright. Her hands slipped. She felt herself falling, then strong arms, two sets of strong arms, were carrying her into her tiny as-yet-unpacked new apartment and setting her down in a chair.

Bella stared at the two military officers kneeling at her feet. Both had their hands on her arms to steady her. How young they were, she thought. Captains in rank, both of them. Spit and polish all the way. She could smell ivory soap and something vaguely menthol. She wished someone would say something. Maybe they were waiting for her to say something. Like what, she wondered crazily. Maybe something like, hey, I know why you're here, my husband was killed in the line of duty. And then I say, well, guess what. I just signed divorce papers today, so why should I care what you have to say.

She was dreaming and hoped to wake up any minute. This is not happening. It's just too surreal, Bella told herself, like something out of a really bad grade B movie.

Things like this happened to other people or in movies. Not to people like her. She wondered if they had arrived in a brown car. In the movies, the chaplains always arrived in a brown car. Two chaplains. Always two. She wondered why that was.

The taller of the two officers, the one on the left, said, "Ma'am, I'm Captain Jeffrey Josell, and this is Captain Scott Kimball. Is there anyone you want us to call? We can take you to a family member or a friend if you like. You shouldn't be alone right now."

"I've been alone since the day I got married," Bella screeched at the top of her lungs. Tears streamed down her cheeks. Good Lord, did she just say that? Maybe she should tell them about the divorce papers she had just signed. Would they care? Who would they tell? No, no, she had it all wrong, this wasn't a bad dream, this was a frigging nightmare. "You can leave now, Officers. I'll be fine." Bella knew she had said the words out loud, but she didn't recognize her own voice.

"Ma'am, we have orders. We have to obey them. We have people who will come and stay with you. You can't be alone right now. Do you understand?"

"I do understand. I want you to leave. Please, it's important for me to be alone right now. I'm not going to do anything silly or stupid, but I am going to show you something to prove my point." Bella wobbled her way over to the recliner, opened her purse, and pulled out the blue folder Mitchell Jones had given her. She wondered why divorce sleeves containing the actual divorce papers were always blue. The final divorce paper was always blue, too.

"See this?" Bella said, waving the blue folder in the air. "I filed for divorce today. That's why I'm home . . .
We hope you are enjoying the book so far. To continue reading...
Truth and Justice
Fern Michaels
Copyright © 2023 All Rights Reserved
Also in this series
Also by this author