Book info
Sample
Audiobook
Media
Author updates
Lists
Synopsis
Skye O'Malley's magnificent daughter Velvet embarks on her own adventures in this sensuous bestseller.



Now, in this journey into pure sensual delight by Bertrice Small, Velvet proves she's every inch her mother's daughter.



When Alexander Gordon arrives from the Scottish Highlands to claim Velvet as his bride, he must woo her body and soul before he can win her heart.



When the Grande Mughal of India receives the beautiful Velvet as a gift, he must win her heart with his patience before he can teach her every trick at his command.



And when Velvet finds herself the pawn in a political science, she must use all her wiles to reunite herself with the man she loves.



Contains mature themes.
Release date: May 25, 2011
Publisher: Ballantine Books
Print pages: 576
* BingeBooks earns revenue from qualifying purchases as an Amazon Associate as well as from other retail partners.
Listen to a sample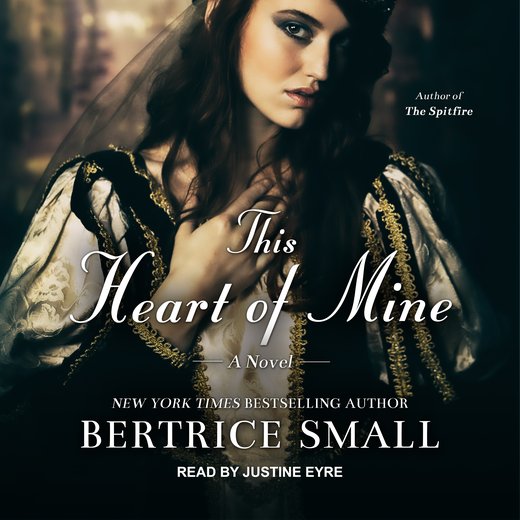 23:38:21
649.28 MB
August 10, 2021
Tantor Audio
2021
This Heart of Mine
Bertrice Small
January, 1586
 
"Christ's bloody bones!" The oath exploded like a thunderclap from Elizabeth Tudor's mouth. She stopped in midstride and, whirling about, fixed an angry stare upon the only other woman in the room. "You dare to say No to me, madame? I am your queen!"
 
"I have no queen," came the calm reply. "In fact, thanks to you, I have no country."
 
"Bitch!" the queen hissed. "You have ever been a thorn in my side! Did I not give you and your husband a home? Are your children not welcome at my court? Is this the gratitude you show me for all my many kindnesses?" She glowered at the men who attended her as if enlisting their support.
 
"Kindnesses?" The other woman emitted a sharp bark of laughter. "Let me think back, Majesty, over our long association. There was the time when you condoned Lord Dudley's rape of my person because you weren't woman enough to love him totally. Then there was the time you forced me into a foreign marriage promising to protect my infant son's lands, which you then quickly gave away. And I seem to remember another time when, needing my help, you kidnapped my daughter to ensure my cooperation."
 
"And I remember that you pirated my ships, costing England much-needed revenues!" shouted the queen, stung by the reference to Lord Dudley,
 
"A deed you were never able to prove," was the quick reply.
 
"A deed we both damn well know you committed!"
 
The two men in the room watched this exchange with admiration. One was the queen's most loyal servant, and the other, husband of her antagonist.
 
The women are well matched, thought Lord Burghley, Queen Elizabeth's secretary of state, but the bickering must stop, for time was of the essence in this matter. The queen had not been well of late. The constant plottings that surrounded her imprisoned cousin, Mary Stewart, Scotland's exiled monarch, were taking their toll on her health. The Spanish would not give up their holy vendetta against Elizabeth Tudor, and she was forced to work long and hard to keep ahead of their wickedness.
 
William Cecil, Lord Burghley, sighed softly. It was very late at night, and the queen had been ready for bed when her guests had come. She had insisted on seeing them immediately upon their arrival at Greenwich, and despite her deshabille they had been brought to her. She had greeted them clad in a quilted white velvet robe embroidered with gold threads and small garnets. The elegant red wig she wore to cover her graying and thinning hair had been affixed to her head, but even it could not compensate for her lack of makeup, and, at that moment, the queen looked every bit her fifty-two years. Lord Burghley's prim mouth crinkled in a momentary smile, for he suspected that part of Elizabeth Tudor's anger stemmed from the fact that she realized it too, while the woman standing before her looked ten years younger than her forty-five years.
 
"Madame, if I may speak," he requested of his mistress. She nodded. "This anger between you is not solving our problem." He turned to the queen's guest. "Lady de Marisco, as you know, we have already sent one expedition to the East Indies."
 
Skye O'Malley de Marisco's mouth curled up in amusement. "Aye, my lord, I know. William Hawkins, a London merchant, in the company of a sometime jeweler and a painter of pictures. A most interesting choice of ambassadors." Her voice held the faintest hint of scorn.
 
"We felt it best to be discreet in light of the fact that the Portuguese are fast solidifying their hold on the Indies," was William Cecil's reply.
 
"The Portuguese be damned!" shouted the queen. " 'Tis the Spanish, for they call the tune in Portugal now! They mean to have the riches of the East Indies as they have all the wealth now pouring forth from the silver and gold mines in the New World. Well, I won't have it! The East Indies must be England's!"
 
"I wonder if the prince who rules those lands will agree with your sentiments, madame," observed Skye wryly.
 
Elizabeth Tudor looked at her longtime adversary and then said something that no one had ever thought to hear her say to this great rival of hers. "I need your help, dearest Skye! No one else can do what I need done but you."
 
The two men in the room glanced at one another, one more surprised than the other. Skye looked to her husband, Adam de Marisco, and saw in his gaze what she knew she would see. The queen had come as close to begging for her aid as she was ever going to. Adam's smoky blue eyes looked steadily into Skye's, and she could hear his silent voice as clearly as if he were actually speaking to her. You cannot refuse her now, his eyes told her quietly. Give over, little girl. Be gracious in your victory.
 
"Madame, may I have your permission to sit?" she asked. "Our journey was a long road traveled in a short time. I find that I can no longer spend so many hours in the saddle without suffering from it."
 
The queen nodded, graciously motioning Skye to a comfortable chair by the fireside. Elizabeth Tudor sat opposite her old foe, leaning forward almost girlishly upon her elbows, and said with a grin, "After so many years, one would think our bottoms would grow hardened, but alas they do not. I find that I cannot hunt as often as I once did without suffering also."
 
There was a momentary silence, and then Skye asked, "Why did John Newbery, William Hawkins, and their party travel overland, madame?"
 
"Hawkins thought to appear less conspicuous."
 
"More than likely he thought to save himself the cost of mounting a proper expedition and thereby gain a greater profit," said Skye. "Upon the sea he was not likely to encounter many ships if the voyage was planned carefully, but upon the land Englishmen traveling in foreign climes, however simply, cannot help but appear objects of curiosity to the local population, a fact that would be quickly brought to the attention of the local authorities. Still, he has not been gone for so long that he will not be successful, madame.
 
"Why this haste to launch another expedition?"
 
"Our agents in Spain send word that our dear late sister's husband, Philip, seeks to send a great armada against England. The cost of this war is to be borne by the bounty Philip wrests from the Indies. India is ruled by a mighty prince who willingly trades with Portugal and hence with Spain. The Portuguese are a heavy-handed people, however, and I will wager that if we could but get our foot in the door of India, their emperor, Akbar, seeing the difference between our two countries, would more willingly trade with us, and Spain's revenues would be badly cut.
 
"William Hawkins and his little party may eventually attain the Indies, but your ships can reach it far more quickly, dearest Skye. You have ever been adept at accomplishing the impossible.
 
'Tis Irish luck, I suppose, but you and Sir Robert Small together seem to be an invincible pair where trade is concerned."
 
"Robbie is getting too old for this sort of thing, madame," Skye protested.
 
"I should like to be present when you tell him so," Elizabeth said, chuckling, "but if that concerns you then go yourself. In fact I should far prefer that you go, for no one else has your knack for diplomacy, when it so pleases you."
 
"I have a family, madame. I cannot simply pick up and leave them."
 
"Your children are grown."
 
"Not Velvet. She is still a little maid, not yet thirteen."
 
"Send her to me here at court," the queen suggested. "She is my godchild, and I shall be happy to have her."
 
"Never!" said Skye vehemently. "Forgive me, madame, but my child is yet an innocent, and I would she remained so for the time being. Your court is a wondrous place for those who are wise in the ways of the world, and you, madame, are the most virtuous of women, but my child would be fair game for those whose high-mindedness is not as great as Your Majesty's. If I do this for you, Velvet must remain in her own home in the care of Robbie's sister, Dame Cecily Small."
 
"If, madame?" The queen's gray-black eyes narrowed.
 
Skye sighed. "We must leave almost immediately if we are to catch the proper winds across the Indian Ocean. It does not give us much time to mount and provision the ships."
 
"You will have our utmost cooperation, dearest Skye," the queen promised.
 
"What else will I have?" Skye demanded. "Favors between us have never come cheaply, madame."
 
Elizabeth Tudor laughed, then nodded. "Do you fancy being a countess again? Do this for me and I will create for you the earldom of Lundy."
 
"The inheritance of which will pass down through the female line of our family," said Skye. "The title must belong to Velvet in her own right one day as we have no son, nor the hope of one. I will expect a share of any profits accrued by my efforts also."
 
"Agreed!" said the queen, and her smile was one of admiration.
 
"How much of a share?" demanded William Cecil, ever mindful of his mistress's interests.
 
"Robbie and I will work it out, my lord," said Adam de Marisco. "The queen will, as always, receive the lion's portion.
 
I do not believe you have ever found fault with our accounting."
 
"Nay, my lord," Burghley agreed. "Never have we missed so much as a groat in our dealings with you."
 
"Then it is settled," the queen said, pleased. "Pour us some wine, Cecil, and let us celebrate. One last thing, however—this voyage must remain a secret, for if Philip's spies get wind of it too soon your chances of success will be destroyed."
 
We hope you are enjoying the book so far. To continue reading...
This Heart of Mine
Bertrice Small
Copyright © 2023 All Rights Reserved
Also in this series
Also by this author