The House of Wolves
Available in:
eBook
Paperback
Audiobook
Hardcover
Book info
Sample
Audiobook
Media
Author updates
Lists
Synopsis
Instant New York Times Bestseller! 

James Patterson and Mike Lupica are the thriller dream team! Jenny Wolf's murdered father leaves her in charge of a billion-dollar empire—and a family more ruthless than Succession's Roys and Yellowstone's Duttons.  
The Wolfs, the most powerful family in California, have a new head–thirty-six-year-old former high school teacher Jenny Wolf. 
That means Jenny now runs the prestigious 
San Francisco Tribune
.
She also controls the legendary pro football team, the Wolves.
And she has a murdered father to avenge—if she can survive the killers all around her.
​An unforgettable family drama by two writers at the top of their craft.
Release date: March 20, 2023
Publisher: Little, Brown and Company
Print pages: 400
* BingeBooks earns revenue from qualifying purchases as an Amazon Associate as well as from other retail partners.
Listen to a sample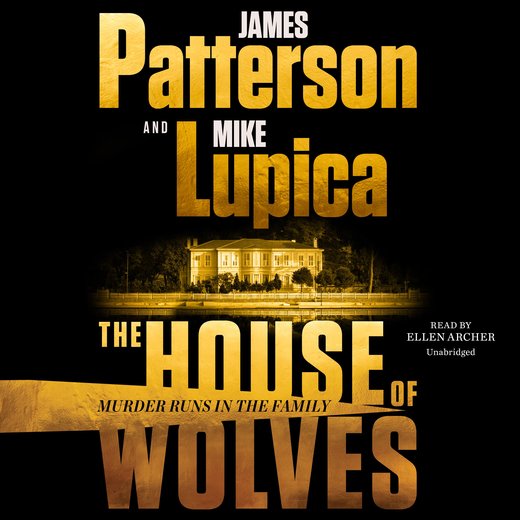 08:46:53
241.22 MB
9781668616499
January 9, 2023
Hachette Audio
The House of Wolves
James Patterson
One

ALONE ON HIS BOAT and half drunk, the Golden Gate Bridge off to his left and Alcatraz dead ahead, Joe Wolf started to sing about having left his heart in San Francisco.

Then he suddenly threw back his head and laughed, remembering the last time he'd belted out the song, with his second wife out here on The Sea Wolf, both of them knowing the marriage was over.

"What heart?" she'd said.

Oh, he had heart, all right, and brains and balls to go with it. How did she think he ended up with his own football team and his own newspaper—by winning the goddamn lottery? He apologized to nobody, not even for the deals he'd had to cut to get what he wanted, especially when he felt, as he did tonight, as if he owned the whole city.

Did he have secrets? Who the hell didn't have secrets? And regrets. He never talked about his biggest secret, but his biggest regret was his family. It was the way his three sons had turned out, the way they'd disappointed him. His fault? Or theirs?

Then there was his only daughter.

She was the best of them, the rising star of the family. Only she'd turned her back on him. And in that way became the biggest disappointment of all.

"I'm not like the rest of you!" she'd said the last time they fought.

Was that fight earlier this year or last year? There were so many he'd lost track. But that was when she told him she was walking away for good, and she meant it this time.

No, he thought. You were supposed to be better.

He drank Grey Goose out of the bottle. The good stuff. But worth it because he was.

Hardly any wind tonight, though. No other boats anywhere in sight, just the smell of the water and the occasional screech of California gulls, the night shining with starlight—bright enough, Joe Wolf thought, to light Wolves Stadium.

His stadium, even if it was too old now, the way they said he was.

He raised the bottle to his lips, realized it was empty, was about to go below and open another one when he heard a noise behind him.

Turned and saw who was standing there.

Shit.

Had to have been hiding below when Joe boarded.

"You?" Joe Wolf said.

"Me."

"What the hell do you want?"

"To ask you a question."

"So ask."

"Simple question, really."

"From you or him?"

"It doesn't really matter."

"Then get to it already," Joe Wolf said. "I'm not getting any younger."

"Did you think we'd wait forever for you to give up?"

"That's it? You came all the way out here to ask me a question you should already know the answer to?"

"Pretty much."

The boat had been at rest, rocking gently, the night suddenly still except for the lap of the water against the hull, the gulls having gone silent.

Joe Wolf turned toward the wheel now, ready to start the diesel back up and head back, his evening shot just like that.

"I'll give up when I'm dead."

Suddenly the voice was right behind him.

"Fine with me."

Two

MY STAR QUARTERBACK ROLLED to his right and faked a pass, faked the closest linebacker out of his shoes and nearly his pants, then ran twenty yards untouched to the end zone. If he'd decided to keep going, he could have run untouched all the way to Sausalito.

I blew my whistle and walked toward Carlos Quintera, the linebacker who'd just blown the play. By now the varsity team at Hunters Point High, in the section of town between Hunters Point and Bayview, knew that they weren't playing on one of those teams that ended the season with participation trophies.

I felt a smile forming on my lips. Undergrad at Cal. Stanford Law. And about to read an eighteen-year-old kid the riot act because he'd messed up at a high school football practice.

If I didn't love football as much as I did, I would have asked myself what in the world I was doing here.

"Carlos, we're going to need to get back to basics after that effort. Would that be all right with you?"

"Sure, Coach Jenny."

Still smiling, I held up the ball.

"This," I said to him, "is a football."

"You need to stop right there, Coach," Chris Tinelli, quarterback and captain of the team, said. "Pretty sure you're going too fast for him."

They all laughed. Even Carlos joined in, at least until I told him that we were going to hit the Pause button on today's practice while he ran five laps around the field.

By now all my players had long since put their teenage male egos, and their jockness, in check enough to allow them to be coached by a woman. And they had been made completely aware, really from our first practice together, that I didn't let shit go.

Inherited trait.

"Five laps, for real?" Carlos said.

"Or ten if we're still having this conversation ten seconds from now."

When practice had started in August for the Hunters Point Bears, they'd treated me like some sort of substitute teacher, thinking they really could get away with things, maybe because I was a woman. But it hadn't taken long for me, the political science teacher at Hunters Point, to show them differently.

After today's practice, Carlos walked over to me, helmet in hand, and said, "You know you sound like Bill Belichick when you keep telling us to do our job, right?"

I grinned at him.

"That candy-ass?"

I was the last one on the field, as always, starting to make the long walk toward the back entrance of the school, when I saw what looked like my whole team running at me, the guys still in their pads.

Chris Tinelli was the one who got to me first, out of breath, face red. Eyes red. He had his phone in his right hand.

I never brought my phone with me to practice. Once I got to the field it was all football for me, same as for my players.

"Coach Jenny," he said. "I'm so sorry."

"Chris, what's wrong?"

"Your dad died. It's all over social media."

He looked like he might cry. Maybe I would later. Just not now. Not in front of the players. I was the coach. A tough guy.

Another inherited trait.

"How?" I said.

"They say he drowned."

Three

DANNY WOLF STARED DOWN at the field from the floor-to-ceiling window behind his desk, watching the Wolves practice.

His general manager, Mike Sawchuck, was standing next to him. This was going to be Mike's last year with the Wolves, even if the poor bastard didn't know it yet. Another guy Danny's father had hired who thought he had more tenure than a Supreme Court justice.

"Your dad loved the view from up here when this was still his office," Sawchuck said.

Here we go, Danny thought.

Now he contemplated throwing himself out the window.

"It's not his office anymore," Danny said, "as often as you seem to forget that fact."

"C'mon, Danny Boy. I know who's calling the shots around here now."

Danny Wolf turned to glare at him.

"How many times do I have to tell you not to call me that?"

"Hey, your dad does."

"I rest my case."

"I didn't come up here looking for a fight," Sawchuck said. "We're a team, you and me."

I should fire his ass now.

"Not fighting, Mike," Danny said. "Just explaining. And not to put too fine a point on things, you and I aren't a team. We were never a team. You're an employee."

They both watched now as the team's aging quarterback, Ted Skyler, wildly overthrew the team's number one draft choice, DeLavarious Harmon.

Harmon had been wide open behind the defense twenty yards down the field. Skyler threw it thirty, at least. Ted Skyler had stayed around too long; the general manager had stayed around far too long. So had Joe Wolf. Sometimes this place felt like the NFL version of an assisted-living facility.

Sometimes when Mike Sawchuck started to get weepy about the good old days, Danny wanted to throw him out the window in front of them.

"Lot of new guys this season," Sawchuck said, desperate to change the subject back to football. "But even if we get off to a slow start, in our division we're still gonna have a shot. I don't see anybody running away with the thing."

"Really. Even with Gramps still under center?"

"Danny," Sawchuck said, "you're the one who wanted to give Ted one more year."

"No," Danny Wolf snapped at Sawchuck. "No, you and my father wanted to give him one more year and convinced me to go along." He put a hand to his heart. "All so we could win one for Joe."

"I thought that's what we all wanted."

"Get over it."

Sawchuck said he was going downstairs to watch the end of practice from the field. As soon as he was out the door, Danny's cell phone rang. He picked it up, saw who was calling.

"Talk to me."

"It's about Joe," the voice said.

Four

JACK WOLF WAS ABOUT to join the afternoon editorial meeting at the San Francisco Tribune. He'd decided to hold it in the middle of the city room, a choice he made just often enough to make them think he loved being a newspaperman—and the paper—the way his father had.

All bullshit.

The room had gotten smaller since Joe Wolf had named his second son to succeed him as publisher. But what newspaper outside the New York Times or the Washington Post hadn't gotten smaller? The Tribune's print edition on some days looked less substantial than the wine list at Acquerello.

Jack didn't mind that the paper remained a conservative voice in the otherwise liberal city that Joe Wolf liked to call Pelosi-ville. Problem was, Jack Wolf just didn't think it was conservative enough. Or loud enough. Or angry enough. Or nearly down and dirty enough. When he and his father fought—and they fought a lot—it was mostly about that. His father kept saying that as long as he was alive, the paper was still going to have standards.

"Whose?" Jack would ask. "Ronald Reagan's?"

Now Jack Wolf turned his chair and put his feet up on the desk closest to him in what they called the bullpen. His managing editor, Megan Callahan, was standing next to him. The other top editors were in a circle in front of them.

"So what do we got?" Jack said.

The Metro editor raised a hand. Rob something. One more kid Jack had hired on the cheap.

"I might have something pretty fresh; check it out." He handed his phone over to Megan Callahan, who looked down at it and said, "You have got to be shitting me."

She turned back to Rob.

"Is that who I think it is?"

The kid nodded. "In the flesh." He grinned. "So to speak."

Megan said, "I didn't know guys still wore tracksuits like those."

"They're like Lululemon for geezers."

Megan handed Jack the phone. And smiled. On the screen, big as life, was the mayor of San Francisco, Charlie Spooner. Getting ready to step down next year because of term limits and well into his seventies now.

And here he was, big as life, coming out the front door of Precious Orchard massage parlor, on Geary Street.

Jack Wolf's smile grew.

"God is good."

"Isn't the mayor your friend?" Megan said.

"Things change. And by the way, what's that got to do with anything?"

"Seriously, what do we do with this?"

"What we do," Jack said, "is put that picture on the front page, underneath type that will make people think the Russians just blew up the Bay Bridge."

"Don't you think you should at least run this by your father?"

"You're right. I should."

Jack pulled out his phone, punched out a number, waited, put the phone back in his pocket. Smile getting bigger by the moment.

"Oops. Straight to voice mail."

He stood up now and said to the group, "And if I see this on Twitter before the story goes up on our site later, every one of you is fired. Understood?"

In six months, half the people in the room were going to be gone anyway during the next round of buyouts. Joe Wolf used to dread having to tell people they were being let go. Not his middle son.

"It's still his paper," Megan said.

"Not today," Jack Wolf said.

Ten minutes later, Megan Callahan was bursting into his office. Behind her he could see everybody in the city room staring at the big television set near the bullpen.

"Your father died."

She told him how and said, "I guess Charlie just got saved from death by front page."

"Like hell he did," Jack said.

Five

BECAUSE OF THE LOCATION where they'd found his boat and the time when his body ended up at Crissy Field East Beach, the assumption was that the tide had carried him in.

After a thorough search of The Sea Wolf, the police could find no signs of foul play and reported drowning as the official cause of death—even though the autopsy showed that Joe Wolf had died with a blood alcohol level almost twice the legal limit and suffered a massive heart attack sometime after he'd gone into the water.

We'd been informed by the lead detective, a guy named Ben Cantor, that the case was still very much open.

And that we'd all be hearing from him as he continued his investigation.

The manager of the St. Francis Yacht Club said that night when he'd yelled over and asked if he had any passengers with him, Joe Wolf clearly didn't hear the question. As we all knew, it had been a long time since Dad could hear worth a damn.

"Go, Wolves!" was his answer.

It was the last anybody had heard from Joseph Thomas Wolf.

Now I was in his suite overlooking the fifty yard line at Wolves Stadium. Though calling it a suite didn't do it justice and really never had. I'd always thought of it as one of the city's great luxury apartments, with a football view instead of water and bridges and the little cable cars that my father liked to sing about when he had enough vodka in him, the ones going halfway to the stars.

It wasn't a wake today. The memorial service would be held at the end of the week, the day before the Wolves' next game. It was what had been billed as a "gathering" to celebrate Joe Wolf's life, organized, mostly for show, by his second wife, Rachel, who'd been living apart from my father for months. The first Mrs. Joe Wolf, Elise, mother to my brothers and me, was also in attendance, keeping her usual healthy distance from the second Mrs. Wolf.

Joe Wolf had met Rachel, thirty years his junior, when she sold him the house he bought after he left my mother.

I thought both the house and Rachel had been impulse buys on his part.

"She ended up waiving her commission," he told me after they had separated. "I should have paid it—might have saved me a boatload of money on the back end."

My three brothers were involved in three different and intense conversations throughout the room. Danny, I saw, seemed surgically attached to the NFL commissioner. Jack Wolf was in a heavy exchange with the governor, who, I noted, was almost as pretty as Jack was.

My younger brother, Thomas, vice president of the Wolves and just back from his most recent trip to Cabo, was chatting up a female bartender, nonalcoholic beer in hand.

Thomas was my favorite, the funniest of all of us and the one who did his best to hide how much he knew about football and cared about the Wolves. After spending too much of his adult life drugging and partying, he was six months out of rehab, even more fun clear-eyed and sober than he'd ever been under the influence.

The mayor was noticeably absent. But both of California's US senators were in attendance. The owners of the Warriors and the Giants. Station managers and anchor monsters from their stations. Jim Nantz was here, and Tony Romo, and so was the owner of the Horseshoe Tavern, my father's favorite bar. The archbishop had just arrived. So had my ex-husband, bless his heart. He waved when he saw me. I acted as if I hadn't seen him.

"It's like a scene out of Succession," I heard from behind me. "Just without any good actors."

I turned to see that the voice belonged to Seth Dowd, the one-man investigative unit in the Tribune's sports department and someone I trusted about as far as I could throw the buffet table.

"I forgot how much I didn't miss this," I said. "It's like the Tournament of Ass Kissers Parade, without floats."

"May I quote you on that?"

"Hell, no."

He smiled.

"Everybody always says you're the one most like him."

"You didn't know him, and you don't know me. But thanks for sharing."

"Why are you here?" he said.

"I finally decided I'd make more trouble for myself with guys like you if I was marked absent."

"I'm not guys like me."

"Sure. Go with that."

There was a reason why I'd stopped watching Wolves games up here long ago. Not hanging out with a lot of the people standing around this suite was worth not watching the games with my father anymore.

"I kept waiting to hear that the governor washed up, too," Dowd said, "as a show of solidarity."

Then Dowd said he was going off to work the room. I told him to knock himself out—I'd had about as much fun as I could handle for one day and needed a drink.

Just not here.

I was starting to ease my way toward the door when I felt someone tap me on the shoulder and turned around to see John Gallo.

He was tall and silver-haired and far more tanned than San Franciscans were supposed to be at this time of year. Or any time of year. He was also rich as shit—if not Silicon Valley rich, then close enough. Gallo had been the sworn enemy of Joe Wolf for as long as I had been alive, from the time my father—and not Gallo—had been awarded the right to put the NFL franchise that became the Wolves in downtown San Francisco.

My father had always told me that the biggest reason was the unproved rumor that John Gallo might have been more mobbed up when he was starting out building East Coast shopping malls than a boxed set of The Sopranos.

And probably still was.

"What are you doing here?" I said.

"Paying my respects, of course."

"No, you're not."

"You're right," he said, and smiled. "I'm not. But I'm too well-bred to have ignored Rachel's invitation."

"Bullshit."

"She did invite me. You can ask her."

"I was actually calling bullshit on the well-bred part, John."

He let that go. Maybe he was worried about the two of us making a scene.

As bad as things had gotten between my father and me, blood was still blood. Sometimes I couldn't keep myself from looking for a good fight, and I felt myself spoiling for one with this slick bastard who had never stopped trying to screw my father over every chance he got.

During the past two years he had been doing everything humanly possible with the politicians we knew he had in his pocket to prevent the Wolves from getting the new stadium the team badly needed. Gallo had even wildly overpaid for a local sports radio station, one built around Wolves programming, to keep Joe Wolf from getting it.

"Funny how things work out, if you really think about it," Gallo said. "Your father once told me that the only way I'd ever end up with his team was over his dead body."

"Now you'll end up with it over my dead body."

"What, the little high school teacher is now speaking for the whole family?"

We stood staring at each other, as if waiting to see which one of us would end up with the last word.

"Listen," I said. "We really need to stop talking now."

"And why is that, Ms. Wolf?"

"Because if I don't walk away, people might start to think that I'm the asshole."

He smiled.

"Ah, your father's daughter."

"You're happy about this, aren't you?"

"You want me to lie?"

I said, "My dad always told me that you lied to stay in practice."

"Your dad always said the last goal he had was to outlive me. Catch me up: How did that work out for him?"

"You really do still think you're going to end up with the Wolves, don't you?"

"What makes you think I'm going to stop with the Wolves?" he said.

Then he put his hand on my shoulder, quickly leaned over, already whispering in my ear before I could back away from him.

"Did he fall?" Gallo said. "Or was he pushed?"

Before I could answer, he was the one to walk away first, smiling at me one last time over his shoulder.

Shit, I thought.

The asshole had gotten the last word after all.

Six

JOHN GALLO SAT IN the back seat of his limousine as it pulled away from the VIP entrance to Wolves Stadium.

Usually he liked the kind of scrap he'd just had with Jenny Wolf. Lord knew he'd had enough of them with her father, going all the way back to the time when they'd had an agreement to go in on the Wolves together, until somehow Joe and his brother, the drunk, had found enough money to go it alone.

It really is true, Gallo thought. In the end you really do forget everything except the grudges.

But something bothered him about the girl. Teaching and coaching, even though she had a law degree from Stanford. How adorable. Even the other paper in town, the Chronicle, had done a big story on her a couple of weeks ago. Joe Wolf's daughter, coaching Hunters Point High. They acted like it was going to end up being a TV movie.

People might start to think that I'm the asshole, she'd had the nerve to say to him.

The only person who'd ever talked to him that way and gotten away with it had just washed up on Crissy Field East Beach.

Gallo picked up the phone on the console next to him, punched in a number that by now he knew by heart. Made sure to push a button and raise the window between him and his driver. John Gallo hadn't made it this far by being a careless man.

He could hear the noise of the party—he thought of it as a party, anyway—in the background behind him.

"Is your sister going to be a problem?" Gallo said.

He didn't wait for an answer, just ended the call right there. They both knew it wasn't a question, it was an order. Make sure she wasn't a problem.

Gallo hadn't gotten this close to the prize—for all of them—by not sensing trouble. Somehow he knew this girl was trouble. And might eventually have to be taught some manners.

There was something about her that bothered John Gallo. He didn't just hear her father in her voice. It was also in her attitude. Something in her eyes, the way she looked at him with contempt.

The father's daughter.

He picked up the phone again and called a man he knew didn't like surprises of any kind.

"We need to put somebody on the daughter," Gallo said.

Seven

DAD'S FUNERAL, WITH ALL the trimmings, had been the day before, at the Cathedral of Saint Mary of the Assumption. Now it was game day, the Wolves' opener, against the Browns. I was using only one of the two season tickets on the forty yard line that I'd secretly bought after my last argument with my father, during which he told me for the last time what a disappointment I'd been to him.

I was happy sitting by myself, not having to listen to somebody who wanted to impress me with how much football he knew. I could focus on the game, take notes when I saw a play I thought might help my high school team, test myself to see how many plays I knew were coming just by the formation the Wolves were in.

Joe Wolf had always said that I was the best football man in the family.

Including himself.

By now we'd gone through all the phony pageantry of a death in sports, the moment of silence before the kickoff and the flags at half-staff and the video tribute at halftime. I was hoping that wherever my father was today he was laughing his Irish ass off at the spectacle of the whole stadium bein. . .
We hope you are enjoying the book so far. To continue reading...
The House of Wolves
James Patterson
Copyright © 2023 All Rights Reserved