Book info
Sample
Audiobook
Media
Author updates
Lists
Synopsis
The last hope falls.



The super dreadnaught Atlas has returned from the dead, but something has gone very, very wrong.



As it arrives over the skies of the AIC homeworld, terrorists unleash panic in the streets below.



Soon, the Atlas commences an attack on the civilian population with devastating effect.



As the scope of the attack—and the truth of what is behind it—becomes clear, panic spreads among the colonies and Earth alike.



Can anything stop the destruction before it's too late?
Release date: December 22, 2019
Print pages: 266
* BingeBooks earns revenue from qualifying purchases as an Amazon Associate as well as from other retail partners.
Listen to a sample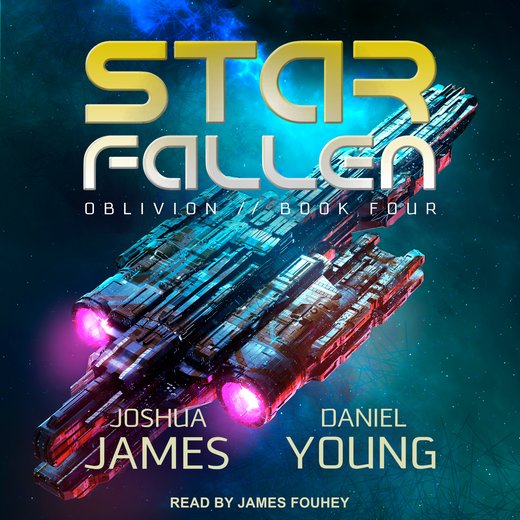 04:41:58
129.08 MB
January 5, 2021
Tantor Audio
2021
Star Fallen
Joshua James
Prologue
Six years earlier …
Officer Ducar Rossi stared at his reflection in one of the metallic sinks of City Sentinel Precinct 5 and wondered why he looked so old.
You are thirty, he told his freshly-shaven reflection. There was a time, and it didn't seem that long ago, when Ducar had thought that was old as shit. It was starting to look like his smartass, know-it-all teenage self had been right. He was old as shit.
Ducar splashed water over his face, knowing it wouldn't wash away the shame of what he'd done. Nothing could.
His radio squawked. "Rossi, where are you at, asshole? Sarge is down here starting the meeting, and it's not like there are so many of us in this unit that he can't tell you aren't here."
Ducar pulled off his radio. His hand was shaking. He tightened his grip and willed it to stop. "I hear you, Nooms," he said. "Tell him I'm in the little boy's room."
"You're taking a piss?" asked Specialist Amon Noomly, his best friend in the division. "Now? Man, I hope you can come up with a better excuse than that when you get down here."
"I'll leave that to you," Ducar said.
"I'm not covering for your ass—"
Ducar killed the link and clipped the radio back to his utility belt. He was halfway down the stairs to the precinct basement—home to the briefing room, armory, and every rat on the planet—when he got a video call on his HUD from Sergeant Vrabel.
Ducar ignored it and instead imagined himself in his apartment, two sheets to the wind and sucking down Bliss Sticks. He rounded into the briefing room with a scowl.
"Great! Now that Officer Rossi here has graced us with his presence, we can get started," Vrabel said. Most of the other officers in attendance didn't bother to turn around, and the few that did got a sour look for their trouble.
The briefing was short. Ducar barely paid attention. Part of that was due to his own apathy, but mostly it was because he already knew what the deal was. Unlike most of the others here, he'd been part of the trial group. They were just learning what they were getting into. Ducar knew. They weren't just run-of-the-mill sentinels anymore. This was something new and untested. They were the freshly created anti-subversion division, or "subs," for short.
Noomly pulled Ducar aside after the meeting. The hallway was busy with men heading to the armory. "Is your head right?" he asked.
Define right, Ducar thought. He nodded.
"You didn't do anything wrong," Nooms insisted, keeping his voice low. "Nobody knew that raid would go down like that."
Nooms didn't need to elaborate. There was only one raid he was talking about.
Ducar had watched it go down a thousand times in his head. The order to fire the stun canisters. Feeling the thump of his own canister launcher, then the self-satisfaction of watching it crash through the window of the rundown farm where the cult was meeting.
He could picture himself following his team through the back doorway, rifle up, and being surprised by the thick smoke and hysterical screams inside. Gunfire. Men shrieking. Children crying. A woman with a child in her arms, on fire, her hair melting to her scalp as she pleaded for someone to save her baby.
One of the stunners had malfunctioned. Nobody knew that there were a dozen small speeders clustered in one of the small hangars on the backside of the farm. Their fuel cells were piled up together. The stunner had sparked, and the pile blew up. Those that weren't killed instantly had been melted alive by the radiation from the burst cells. Nobody had radiation patches, so they'd had to call for them. Ducar had sat and held the hand of the mother with her burnt scalp and shoulders, watching her die and promising that he'd look after her baby. The baby had died a few minutes later. By the time the patches had arrived, there was nobody to administer them to.
"It was just one of those things," Noomly said.
"Just one of those things, Nooms," agreed Ducar. He patted his friend on the shoulder reassuringly. Noomly seemed relieved as he walked away.
Two minutes later, Ducar was in the armory getting suited up. He wanted to throw up as he clipped on his body armor. There was a time, not too long ago, when he remembered feeling pride while getting suited up. Once upon a time he'd been all about serving and protecting, not…whatever he'd become. Whatever they'd made him become.
With the rest of the team, he made his way up the stairs and into the waiting transport, just one of a dozen others in black tactical gear.
"I'm nervous. Is that…why am I so nervous?"
Ducar glanced at the rookie sitting next to him. The small, muscular woman had introduced herself before, but damned if he could remember her name.
"It's good to be nervous. Make you more alert, more prepared," he answered. The transport pulled away from the station on its way to the Bowery Slums in East Vassar-1.
"That's good, I guess." The woman held out her black-gloved hand for Ducar to shake. He reluctantly did so.
"Vesta," she said.
"Ducar," he said. "First deployment?"
"Yes...well, no. I spent a year as a patrol officer in the Cape, but never did anything like this before. Most I had to deal with were some street hoods. Broke up a couple fights. Had to roust some Bliss dealers. That's about it."
Ducar nodded. Not that different than his own background. He glanced around at the grim faces around them in the transport. Not that different from most of them, he wagered.
"This is a lot different than the street beat, Vesta. Do you know what you're getting yourself into?"
"Of course," she said. "Sergeant Vrabel recruited me."
If that was supposed to impress Ducar, it fell flat. "And what did he tell you?"
"We're going into the Bowery to break up a ring of cultists. They've been taking in and brainwashing kids, miscreants and others—"
"Good." Ducar cut Vesta off and forced a smile. "Just…do as you're told, and everything will be okay."
The transport came to a stop. Ducar and the other subs pulled their masks up over the bottom half of their faces. Then they checked their weapons, making sure they were loaded with hot rounds. Ducar remembered being told that a good raid was one that didn't require a weapon to be discharged.
So far, he'd been on some pretty shitty raids.
When the doors of the vehicle opened, the sights, sounds, and smells of the Bowery Slums greeted him like an open sewer. This was the festering infection beneath the glamour of the shining AIC capital city of Vassar-1.
If the best that the outer colonies had to offer lived in the vividly-colored, artistically-unique buildings that dotted the landscape from space, then you needed somewhere else to put those who built them, cleaned them, and cooked in them. Those workers lived in the Downluck Slums, a collection of shantytowns that dotted the outskirts of the city. The Bowery was the worst of them.
It was tempting to say that this was just how the universe works, but that didn't change the equation. Inside the shoddy homes and ramshackle structures of the Bowery, the worst of humanity thrived. Deprived of their chance at something better, they settled for figuring out ways to make the rest of the world as rotten as theirs.
But there was something new growing here: a cult, promising a better way. Their message was utterly absurd to Ducar, but he was starting to wonder if the hope they were peddling, however improbable, wasn't more real than the justice he was tasked with meting out.
"All right. You know the drill: identify these bald-headed bastards, round 'em up, and cuff 'em. The wagons are on their way," said Vrabel with a bit too much enthusiasm, given the task at hand.
Ducar noticed that Vesta was breathing heavily. The rifle in her hands shook a bit. "Stay with me, Vesta."
"Right. Thank you."
"Don't thank me yet. Wait until we get back to the precinct in one piece."
Sub raids were always chaotic, in Ducar's limited experience. Their job was to barge into homes, restaurants, bars, wherever and round up all whom the government deemed subversive. That actually meant they were after Oblivion cultists. In theory, they were after rebels as well, but really, it was just cultists.
The first five or ten minutes of that afternoon's raids were a typical blur. Ducar led Vesta through the winding maze-like passages that ran along the side streets of the Bowery. Ducar kept stopping every couple of minutes whenever he found a landmark, trying to reorient himself. It was easy to get lost here, and usually fatal, too. The residents weren't looking to make friends with the likes of Ducar and Vesta. He could feel their stares, filled with hatred, distrust, and in some cases, restrained violence.
"Where are we?" Vesta asked as she tried to catch her breath through the mask over her nose and mouth. "Maybe we should head back."
Ducar felt like he'd been running for hours, chasing targets through the crowds of the heavily-populated slums, and could only imagine that Vesta felt it even more acutely.
"Not yet. Not until we get the signal in our HUDs from the sergeant." Ducar wanted to leave as well. He'd been convinced to apply by Noomly, who seemed to thrive on the same adrenaline rush that held nothing for Ducar. But duty was duty.
"Did you hear that?" Vesta sharply turned her head in the direction of a woman's screams.
"Hear what?" Ducar heard the screams, too, but pretended he didn't. He knew they were the product of something terrible he didn't want to stumble into down here. Back in his home precinct, he'd respond in a heartbeat. But a few months in the Bowery had changed him.
"Over there." Vesta hurried in the direction of the screams..
"Shit," Ducar said as he followed. "Wait! Vesta! Slow down!"
Vesta stopped at the entrance of what looked like some form of pop-up bar. It looked like someone's home had been converted, probably to earn some extra credits. Who in the slums couldn't use some extra credits?
"What is it?" Ducar didn't really want to know the answer as he caught up with and walked up behind Vesta.
Vesta was staring, gobsmacked, at a horrendous scene unfolding in the makeshift bar. Another sub was on top of a bald woman, a cultist. He was forcefully kissing her neck as she fought him off. Her dirty, hand-cut skirt was hiked up to her waist; the sub had torn her shirt off and had it wrapped around his arm, and was shoving it down the woman's throat to cut off the screams. A young kid, perhaps hers, looked on as another sub restrained him with his boot, like the boy was a dog.
Ducar hadn't wanted to be here, because he'd assumed it was more violence between the residents. He'd assumed it was some homeless junky killing another one. A fight over table scraps, or who had the rights to the fire.
He'd never expected this. His mouth was dry. He felt his fingers twitching. Whatever sickness he'd felt in the pit of his stomach before, it galvanized into a ball of rage.
Vesta seemed to be frozen with fear or shock, or both. Ducar shoved her aside.
Calm as could be, feeling clearheaded for the first time in weeks, Ducar silently walked up behind the officer on top of the cultist woman.
Some tiny voice in the back of his mind told him to flip on his stunner. Even though he wanted put a bullet in the back of his fellow sentinel's head, he listened.
He shot an electric stunner into the neck of the creep, which still slammed his head forward and knocked him out cold. It elicited a scream from the would-be rape victim.
Ducar turned to the man's partner, who was fumbling to unholster his firearm, and shot a stunner into his face. His nose was broken by the impact, spraying Ducar with blood. He fell over backwards, landing next to the small boy, who ran to his mother without a second look behind him.
"What're you….?" Vesta watched, horrified, her eyes as big as thruster ports.
"What am I doing?" Ducar asked. He shook his head.
Vesta looked at him, a mixture of shock and disgust on her face. He could read her thoughts. What the sub was doing was wrong, yes. But shooting fellow cops? That was worse.
"When a dog goes feral and starts biting people," Ducar said, "you put it down." It was something his father had told him. He didn't feel bad at all. He couldn't remember the last time he'd felt so good. It was scary.
"Stewart!" the cultist said to the boy in her arms. Both of them cried.
"What are we going to do?" asked Vesta, still shocked. "What do we say?" She was on the verge of hysterics.
"Say nothing," the woman said. She stood, pulling a long shawl around her body and hugging it tight to herself. "Neither will we." She stroked her son's hair. Her eyes suddenly filled with tears. "Thank you," she said. "But you have to go."
"But what about them?" Vesta asked, nodding at the two officers. Blood was pooling under under the one with the broken nose. Both were out cold.
"They'll end up outside the walls," the woman said. Her composure was returning, as was the boy's. It was as if each of them, holding each other, gave strength to the other.
"Not dead?" Ducar asked, wondering at the disappointment in his voice. Something had broken inside him. How he'd managed to stun them and not kill them was beyond him.
"Not dead," she said. "Too much attention. But memory wiped."
Vesta looked at Ducar.
"She's right," he said simply. He took one last look around the makeshift bar. He'd not even realized that there were several others here, but they'd already all turned their backs. No one made eye contact. No one glanced around. It seemed like they were making a tacit agreement that they'd seen nothing.
Ducar began to turn around when the boy's voice stopped him.
"They should stay," he said. "They should meet him."
"Stewart," the mother said kindly. "These are police. While we're thankful for their help, they don't belong with us."
Ducar noticed the temperature in the room cooling the longer he stayed. The mother wasn't wrong. He'd done right by the people here, but they weren't looking to make him a statue.
"Everyone belongs in the Abyss, mommy. Everyone, even the lost. Like him." The son made eye contact with Ducar. There was something in the kid's gaze that made Ducar's head buzz.
"We should go," urged Vesta.
Ducar raised his hand in a signal for Vesta to wait. He was intrigued. "Meet who?"
The little boy smiled. "The Pale Man."
Chapter 1
Now …
As the AIC military transport that had picked her up from the Senate Circle hovered over the business district, Director Engano worked to control her rage.
Engano had never lived among the people of Vassar-1. She lived above them in luxury apartment towers, or in sections of the city such as the Diamond Quarter and Oak Hill. She had been born wealthy, and had stayed that way. She'd spent the first half of her career trying to convince people that she cared about those less fortunate than her, and the rest of it knowing nobody believed her.
All Engano could feel now, as she looked down on Vassar-1 burning, was anger and sorrow. She genuinely felt bad for all those innocent lives that had surely perished in the Oblivion terrorist attacks. They didn't deserve it. What they deserved was their police and military's protection. What they deserved was better than Engano and her ilk had given them.
What really bothered Engano, above all else, was the fact that this was never supposed to happen. The UEF and AIC were at war, sure, but neither dared attack the other's capital planet. Mutually assured destruction was the best of deterrents.
The UEF was constantly developing planet-destroying weapons. Chief among them was the unnamed secret project on Earth's moon. All reports that AIC spies brought back said it was a massive stationary rail cannon capable of hitting a target hundreds of trillions of light years away, propelled by gravity itself.
Naturally, the AIC had to create a counter-weapon. Only a select few, including the soldiers manning their planet-killing weapon, knew where it was. Everyone stationed there was specifically chosen because they had no family and few friends. They were loners who'd have no reason to ever tell or even communicate with any outside parties. Mutually assured destruction kept either side from using their mega weapons, and also kept them from taking the fight to each other's homes.
The feeling that Engano had failed the citizens of Vassar-1 would creep up later, she knew: when she was alone, trying and failing to bury her past with the help of booze, men, or both. Probably both. Definitely both.
But right that moment, alone in her thoughts in the back of the transport, she allowed her fury and rage to come to the forefront. She wanted someone to pay. She wanted blood, a pound of flesh.
"Take me to the Bowery," she ordered the pilot through her HUD.
"The slums, ma'am? Are you sure?"
"That's what I said. Let's hit these assholes where it hurts, in their home. Radio base, have them send some backup. We're raiding their damn temple." Engano wasn't thinking straight, but she didn't have any other plan.
"Ma'am, respectfully, we need to get you—"
"Do it," she snapped. "If someone was going to blast me out of the sky, it would have happened by now. And the best way to make sure you bastards actually move is to put myself in harm's way first."
We hope you are enjoying the book so far. To continue reading...
Copyright © 2023 All Rights Reserved
Also in this series
Also by this author