First Contact
A sinister new alien foe has emerged.
Book info
Sample
Audiobook
Media
Author updates
Lists
Synopsis
A sinister new alien foe has emerged.



When Ben Saito goes searching for his father and the fate of the powerful starship sent on a mission to secure peace with Earth's colonies, he finds more questions than answers.



It's clear that at least some of the starship and her crew survived, but where have they gone?



Colony forces soon arrive, asking their own questions, and they don't care for Earthers snooping around. At first, they suspects an Earth trap. But they soon find evidence to implicate something new and disturbing that could alter the future of all the colony worlds.



Meanwhile, the survivors are desperately clinging to life as a powerful alien force begins to assimilate them with the help of their human enablers. They must survive, or the truth of what happened will die with them.
Release date: October 27, 2019
Print pages: 236
Reader says this book is...: action-packed (1) alien worlds (1) cool gadgets & tech (1) emotionally riveting (1) entertaining story (1) escapist/easy read (1) future societies (1) great world-building (1) military clashes (1) profanity-laced (1) realistic characters (1) rich setting(s) (1) satisfying ending (1) suspenseful (1) terrific writing (1) thought-provoking (1) unexpected twists (1) unputdownable (1)
* BingeBooks earns revenue from qualifying purchases as an Amazon Associate as well as from other retail partners.
Listen to a sample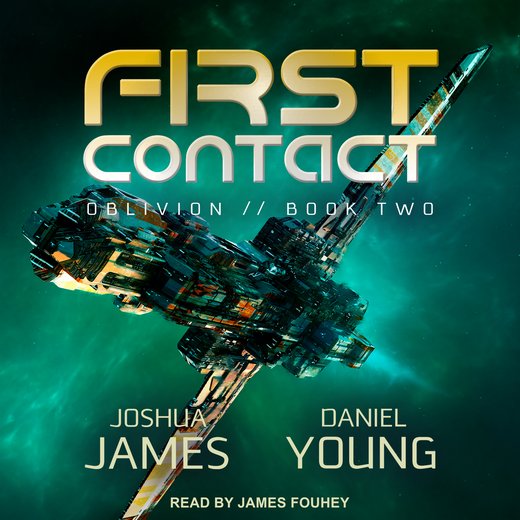 04:30:00
123.61 MB
September 1, 2020
Tantor Audio
2020
First Contact
Joshua James
Prologue
Ahmed Davis woke up as the twin suns poured light through the port window of his cramped quarters. If he had a choice, he'd get a few more hours in bed, but he was on watch today. Besides, he never had a choice. Not anymore.
One might think that after three years of living on Magellan 5, he'd be used to the rotating shifts, but he wasn't. He'd been an artist once, and he'd liked that life. Waking when he wanted. Sleeping when he wanted. Doing anything when he wanted. It was glorious.
That ended the day he downed six Bliss Sticks and decided to fly his old junk hauler home. He smashed into a family headed home from their oldest daughter's wedding. One boy was killed, one girl crippled. Ahmed had almost died, too. When he woke from his coma, he was sentenced to a convict crew on the farming world Magellan 5.
For the past thousand and ninety-five cycles, he'd wished he was dead. He had another thousand left to feel the same way.
Ahmed groaned as he stood up and stretched out. His uncomfortable cot did wonders for his already suspect back. Doctors had urged him to take painkillers and anti-inflammatories. He took the latter, but he swore he'd stay sober after the crash that had gotten him sentenced to this terrible planet. So he suffered in more ways than one as he stumbled across the long communal worker house to the bathrooms at the far end.
Though it was pretty early in the morning and the window shutters were still closed, Ahmed wasn't the only colonist stirring at that hour. Those chosen for the day's first shift were already on break. He could see them eating under their bed lamp lights, covered in the dirt and dust of the planet outside. Kitchen workers sat on the edges of their beds, putting on their white uniforms and black work boots.
Ahmed returned to his bunk and touched the wall sensor to reveal two small drawers. In one were his clothes and guard uniform. In the other was his safety gear: boots, gloves, goggles, and a scarf, all to protect his exposed skin from Magellan 5's sandpaper-like high winds.
"HUD, play Jupiter by Gustav Holst," ordered Ahmed. A second later, the orchestral music started to play in his head. "HUD, volume four."
Ahmed made his way to the hall that led out of the communal workhouse. Enclosed, protected from the elements by little more than half-inch-thick super-glass, he looked outside to see what weather awaited him today.
The same as every day, dipshit. It was dry, dusty, and windy out. But storm clouds, layered on top of each other, loomed overhead. Maybe he'd get lucky and some acid rain would break the monotony.
The cafeteria was a little livelier than the workhouse. Ahmed joined the long line of Magellan 5 colonists, trays in hand, waiting for their turn to be served mediocre food.
Ahmed was impatient. Part of it came from his overall frustration with his current life, but the other part came from the fact he could see the time through his HUD. He was running late.
Rua's going to be pissed.
"Eggs, bacon, and buttered toast. White bread." Ahmed pointed at the food he wanted. A tired-looking cafeteria worker half-heartedly scooped up some cold, flavorless artificial eggs, plopped down some disturbingly flexible mystery-meat bacon, and tossed on a couple of slices of old, stale toast.
Breakfast was served.
As he ate, Ahmed watched the UEF News One feed through his HUD. Nothing new. There were no developments on the biggest story as of late, the disappearance of the Atlas and her crew. Pundits came on and theorized about the ship's possible fate. Mechanical or electrical fault, followed closely by an AIC attack, seemed to be the leading contenders. But with something like this, the utterly absurd was never far away. One pundit was sure it was a preplanned alien attack, and another claimed to have evidence of a massive space whale that swallowed it. That the news feed gave equal time to all the crazy theories was proof enough of the story's popularity.
The cheap artificial food in Ahmed's stomach felt unsettled as he hurried out the cafeteria towards the main complex airlock. It was the first step towards going outside and walking to his post. He entered the first lock, the so-called suit up room, with little hesitation. He was very late now.
As a guard, Ahmed had Level 2 clearance. That meant he could access weapons in the suit-up room, squared away in lockers against one wall. All it took was a wave of his hand and he could arm up with a light metal dragon-weave vest and a standard-issue UEF Mark 4 pulse rifle.
Ahmed slung the rifle over his shoulder as he threw a couple of mags of superheated rounds into the cargo pockets on his pants. Right by the exit of the suit-up room was a row of breathers, meant to filter out the dust and dirt of the Magellan 5 surface. They also provided extra oxygen, making it easier to breathe. Having been here three years already, Ahmed was well past the point where he needed one. Still, he grabbed one and stowed it away in one of his many pockets.
Workers came in from an auxiliary room and dropped off their gear. Some of them, newbies on the planet, coughed up blood, dirt, and grime. Ahmed remembered those days about as fondly as he remembered all the days since.
The auxiliary room didn't really apply to people leaving the building complex. It was for those who wanted to remove their equipment and gear and take a disinfectant shower. Most got cleaned coming in through the initial lock, but those who worked sewage or in the pits, they needed a bit of a deeper clean. A tall metal wall divided the exit and entrance sides, and Ahmed paid no attention to the steam spilling out over it.
Lastly, the decontamination room would've been the first that those coming in from the planet's surface would enter through. On their side, they were immediately disinfected via high-intensity radiation. The white coats claimed that it was just hot and bright enough to kill alien bacteria and viruses, but most workers didn't believe it. Ahmed certainly didn't.
He pressed the exit button at the far end of the final room. Lights around the airlock door went from red to yellow, then to green. With the green light came a loud buzzing sound as the door slowly opened. He put on his goggles, and pulled up his scarf over his nose and the bottom half of his face.
Immediately Ahmed got blasted in the face with high winds and burnt-orange dust. Undaunted, he casually walked out onto the Magellan 5 surface.
Despite the suns above and the brightness filtered through clouds of dust, it was cold on the planet's surface. It was always cold.
The outer perimeter, a dome made of specialized energy, kept the atmosphere in the colony breathable, albeit not at Earth standards. But it did little to keep the elements or even alien life out, the latter of which concerned Ahmed.
Ahmed's job was to enter his assigned watchtower and stand sentinel over a vast section of the outer perimeter. What was he looking for? His primary concern was alien life.
Magellan 5 wasn't as barren as it first appeared. In the mountains beyond the colony were fierce, armored predatory creatures they known as sun wolves, who regularly tried to infiltrate the colony and steal food and workers. Then there was the ever-present threat of an AIC invasion. After all, they were still at war, and close to the enemies' swath of space.
This was, of course, a job that a drone could do. But because of the difficult conditions on the planet's surface, it would require high-end drones and frequent, expensive maintenance. Forced labor of the variety that Ahmed and his fellow convicts could provide was so much more abundant.
On his way to his watchtower, Ahmed passed farms housed in physical domes. There were thousands of them. Magellan 5 was chosen to colonize because of how fertile the land beneath the dust was. Just a little water and it became extremely productive, at least agriculturally. The farms of Magellan 5 fed, either directly or indirectly, the colonies on over a thousand worlds.
Ahmed pressed a button on his uniform sleeve. A digitally-projected stopwatch appeared across his forearm. The countdown to the end of his shift had begun.
Ahmed climbed a rickety ladder to the top of the watchtower. Each ascended rung made a hollow creaking noise that almost echoed above the sounds of the wind. He didn't pay attention. He just kept listening to his orchestral music.
"Dammit, Ahmed. It's about time!" yelled Rua Chozaki, her arms rising in exasperation. She left the small semi-enclosed pod at the end and walked across the grated metal walkway towards him.
"Sorry, Rua. Cafeteria was crazy," Ahmed said.
"Because of you, I got less time before I gotta come back up here and stare at this shithole again," she thundered as she squeezed her way past him to the ladder. "I hope your shift sucks."
Ahmed watched her struggle to keep the rifle slung around her shoulders as she descended the ladder. He wondered absently how someone so small could generate so much anger.
How long has it been? Three hours? Four?
Ahmed looked down at the counter on his forearm. Not even two hours.
Ahmed slumped in the lone chair in the semi-enclosed pod at the top of the watchtower. From here he could look out over a gigantic canyon that was beyond grand. Around it was barren wastes, for as far as his eyes could see. In the distance he saw the glowing, transparent sky-blue outer perimeter, and the stations that maintained it in that section. His back ached.
"All you gotta do is climb out," said Ahmed aloud to himself. He stared down from the small perimeter wall that encircled the watchtower. It would be trivial to climb over. He knew that because he'd done it. He'd never jumped, but he'd climbed over it, just to see how hard it would be.
It was twenty stories down to the planet's surface. 'There was no way he'd survive the fall, not if he dove headfirst. He knew he wouldn't do it. He was chickenshit. But it was still fun to dream.
"And then all this will be over," he said to himself. "And then I'll be one with the Abyss."
Ahmed had recently gotten interested in a new religion. Life was so boring on Magellan 5 that he was always looking for something, anything to stimulate his mind. Then along came a handful of missionaries. They'd tried their luck with the colonists, but ever since a mob had attacked them, they'd been living in the convict quarters with Ahmed and the rest of the guards. Most people called them a cult, but Ahmed was more open-minded than that. The Oblivion religion had plenty of aspects that intrigued him.
The Oblivion were adamant in their beliefs, that was true, but he found that conviction compelling. Basically, they welcomed one of two forms of unity. Either they believed in unity through death, which they described as the Abyss, a quasi-spiritual vacuum of space that was unknowable by definition; or they believed in the coming of gods from another dimension, which would unite humanity. Either way, there would be no hate, no violence, no war, no hunger, no thirst, and a purpose for every person. It was too simplistic to take seriously, Ahmed told himself. He was toying with the idea more than anything, but he still found himself strangely drawn to it.
"HUD, display The Tomb of the Abyss, where I left off"." Ahmed ordered his HUD to bring up a digital version of the Oblivion's quasi-spiritual text. Everything about the group was quasi-something, mostly because they seemed to refuse to ascribe concrete definitions to anything, no matter how blatant they appeared to Ahmed.
And yet he wanted to learn more.
He sat down on the little bench in the watchtower and got to reading.
As a part of his job as a guard, Ahmed's HUD was directly plugged into Magellan 5's security system. An alarm popped up. He opened it, if for no other reason than to just get it out of the way. In his three years on the planet, he'd never seen a real incursion into the colony. Most were just small Sun Wolves that were easily picked off from his or other towers.
"Mother, this is tower zero-three-six"." Ahmed tried to hail the communications room back at the main administration building on Magellan 5. He had to inform them of any trespassers past the outer perimeter, even if it was just something minor.
"Zero-three-six, this is mother," answered a woman's voice on the other line of Ahmed's HUD.
"Yeah, so it looks like we have a perimeter breach at section fifteen, at the canyon."
"Can you see what it is?" asked the woman from home base.
"Nobody else has called it in?" Ahmed asked.
"Negative."
Damn. Ahmed would have to actually do something. "Hold on," he sighed, getting to his feet. "Let me take another look. There's a dust storm moving in, so it might be a little hard."
Ahmed looked out towards the outer perimeter, which was engulfed by the approaching dust storm. The storm made it nearly impossible to see anything, but he still needed to try. At the very least, it was something to break the monotony.
Ahmed used a pair of dust-covered digital binoculars that were already in the watchtower pod. He wiped off the lenses and took a peek. At first he saw nothing. The undulating clouds of the dust storm covered everything. Then something caught his eyes.
"Not sure what it is yet," he said, aware that he wasn't supposed to be having a casual conversation over the hot connection, but not really caring, either. "I don't see any Sun Wolves or…"
What in the hell is that?
Ahmed saw a ball of bright light moving rapidly through the dust storm. It looked to originate in mid-air, and screamed down towards the ground. He barely had enough time to finish his thought when the bright ball of light hit something and caused a massive explosion. And that was followed by another, and another.
Explosions erupted one after the other, all along a line. At first, Ahmed had no idea what they were.
Then it hit him.
"Mother, the generators!" Ahmed said, too shocked to form thoughts. "Something is blowing up the generators and the power stations for the outer perimeter wall!"
There was nothing but static in his HUD. "Mother!" Ahmed shouted. "Do you read me?"
Everything happened so fast, it was hard for Ahmed to even form a thought. The outer perimeter went down in the blink of an eye. Instantly, the atmospheric seal around the Magellan 5 colony disappeared. Everyone outside in the colony proper found themselves subject to a sudden change of gravity and shift in air pressure.
Guards and other colonists flew up several feet into the air. Ahmed himself was only stopped by the top of the watchtower pod. Seconds later the emergency protocols were initiated, and power was rerouted through the inner perimeter system. Air pressure was regained, and the integrity of the colony's atmosphere was restored, albeit more diffusely than was comfortable. Breathing was instantly harder. Everyone who'd floated up in the air was dropped just as suddenly and violently as they'd been lifted.
Ahmed landed face-first on the pod floor, barely missing the bench that could have easily snapped his neck. He might have been knocked out for a brief second. He couldn't be sure.
Dazed and confused, Ahmed lifted himself up off the pod floor. He picked up his rifle and took a look out from his post to see what the hell had just hit them. The colony's emergency sirens blared so loud they made his ears ring.
Out of the clouds of the dust storm emerged a dozen or so AIC fighters. They zipped by over Ahmed's post and into the colony, opening fire with their guns and missiles. He swung around and looked on helplessly as several domed farms and their workers disappeared in explosions. Some colonists tried to run for what they must have thought was cover inside the main buildings, but were only gunned down by the agile fighters.
It was a massacre.
Ahmed tried shooting at the ships as they got close, but he had no effect. There was no way he'd be able to hit them, and even if he did, a pulse rifle wouldn't do much damage. But it was all he could do not to feel helpless. Then he heard a deep rumbling sound coming from the canyon. He could feel a vibration in his pod.
Ahmed had seen dreadnoughts in space before. They were often on display in military formations on the news feeds. But he'd never seen one this close before.
At first, it was just a massive black shape lingering in the dust storm. Then it emerged, like something out of a nightmare. As it flew over Ahmed, it was so close he could feel the heat from the hull. He could see the gears moving the on-board cannons, aiming them towards the colony. His ear drums burst from the concussive sound of them firing.
Ahmed dropped his rifle and just watched the colony go up in flames. He knew that he'd never see home again. He'd never see his family or friends. All he hoped was that it would end quickly.
One of the cannons shifted and aimed directly at him. He closed his eyes as heat poured over him.
Chapter 1
Immediately upon completing their fold jump, the Lost's proximity alarms blared.
"That's not good," Ben said.
"You think?" Morgan snapped. She saw what looked like a fighter ship barreling straight towards them.
"Uh—" Ace said, leaning forward helpfully.
"I see it," Morgan said through gritted teeth. She realized the fighter was dead in space. It started to tumble end over end, badly blasted and scorched, but nonetheless coming straight toward them.
Morgan banked hard to the left. The debris barely scraped the hull, but the responsive gunship just about avoided disaster—for the moment.
"What the hell happened here?" Ace asked the question they were all thinking.
The Lost had come out of the fold jump into the remains of a space battle. The shattered, broken carcasses of spaceships were all around them, forming a thick, impenetrable minefield.
"We ain't going through this soup," Ben said.
Morgan glanced over at him. There was something about the way he said it that bothered her.
"We're fine," Morgan said stubbornly.
"Fine?" Ace said incredulously. "You're a good pilot, Morgan, but you ain't that good. We need to put on our shields and gently float our way outta—"
Before Ace could finish, he was thrown out of his chair by a swift barrel roll.
Morgan couldn't help it. She needed this. She could feel her skills rusting planetside. Besides, she needed to test the Lost.
We hope you are enjoying the book so far. To continue reading...
First Contact
Joshua James
Copyright © 2023 All Rights Reserved
Also in this series
Also by this author