Lost Mission
A mission of peace hides a terrible secret.
Book info
Sample
Audiobook
Media
Author updates
Lists
Synopsis
A mission of peace hides a terrible secret.



Two decades of bitter war between Earth and her furthest colonies is finally at an end. Captain Lee Saito's massive new starship is sent to seal the uneasy truce.



But a series of terrorist attacks on Earth and the mysterious acts of a strange cult threaten to derail the fragile peace.



When the mission goes awry, Saito must try to salvage what he can in deep space while his estranged son must navigate a conspiracy back on Earth that could implicate the highest levels of government.



But conspiracies go both ways and no one is as innocent as they might seem.



As it all spirals out of control, the future of humanity hangs in the balance.
Release date: September 25, 2019
Print pages: 280
Reader says this book is...: action-packed (1) alien worlds (1) cool gadgets & tech (1) emotionally riveting (1) entertaining story (1) escapist/easy read (1) future societies (1) great world-building (1) heartwarming (1) military clashes (1) profanity-laced (1) realistic characters (1) rich setting(s) (1) satisfying ending (1) suspenseful (1) terrific writing (1) thought-provoking (1) unexpected twists (1) unputdownable (1)
* BingeBooks earns revenue from qualifying purchases as an Amazon Associate as well as from other retail partners.
Listen to a sample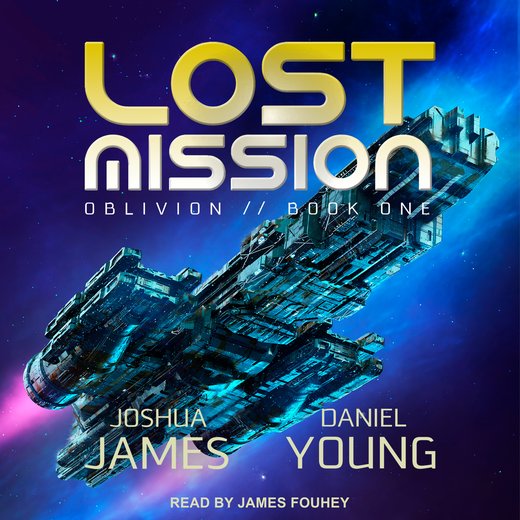 05:06:37
140.37 MB
July 14, 2020
Tantor Audio
2020
Lost Mission
Joshua James
Chapter 1
Ben
Ben woke in a cold sweat. He sat up, immediately feeling the effects of the previous night's drinking. The room was dark, but he knew he was in his quarters.
"Mack, give me the time," Ben said as he wiped the sleep from his eyes.
"Eighteen hundred, Lieutenant Saito," answered Mack, the UEF Navy's AI operating system.
Shit! Ben threw off his covers and swung his feet around to the side of his bunk.
"You are late for your father's party," informed Mack.
"No kidding!" Ben made himself stand up. "Why didn't you wake me?" His legs were unsteady from the alcohol still in his system. He staggered a bit before finding his footing.
"You implied you would find and destroy my computing core if I woke you."
"And you believed me?"
"Best to be prudent," Mack said.
"Wait." A woman's arm flopped over to Ben's side of the bunk, only to find empty sheets. "Where are you going?"
Am I still dreaming? Ben looked back to see Corporal Brooks in his bed, half asleep. How and when he'd shared his bunk with her was beyond him. It had been a long night, and apparently a long morning as well.
"I gotta go. Feel free to, I dunno, make yourself some coffee, keep sleeping, whatever." Ben pulled up his pants one leg at a time, hopping as he did so.
"Why? Come, stay here with me," said Brooks. Her short blonde hair was splayed out over Ben's pillow.
"No can do." Ben kissed Brooks on the top of her head. "I'm late to my dad's thing."
Brooks tried to push herself up off the bunk. "Wait, I'll come with you."
"That's all right. Get some more sleep. I'll be back in a couple of hours."
"But you said…I thought you wanted me to come with you. You asked me last night."
Did I? I really must've had a lot to drink. The old man would love that. "That's okay. Sleep. I'll be back before you know it."
Ben went to the bathroom to throw water on his face. By the time he returned, Brooks was passed out again.
He grabbed his jacket and left his quarters. Like all officers, he stayed in the Officers' Tower. His was OFC Tower 4, to be more exact. Unlike the others, it wasn't in a cluster in the middle of the Naval Academy; instead, it was further out in the city. He liked the distance. Distance provided more freedom from the UEF military's stern, watchful eyes.
It also put dozens of blocks between him and his father.
"Good morning, sir," greeted PFC Boreman, a private assigned to elevator duty on OFC Tower 4. Ben groaned inside. The kid was made for awkward elevator conversations.
"Morning, Private," reciprocated Ben. From his jacket pocket he took out a pair of vintage sunglasses: "aviators," they used to call them. He put them on, hoping it would send a message to Boreman that he wasn't up for chit-chat.
"Going all the way down, sir?" asked Boreman as his finger hovered around the elevator panel.
"That's the idea," mumbled Ben.
"What's that?"
"Take me down to thirty. I'm gonna take the skyway."
"Very good, sir." Boreman pressed the button marked with the number thirty. The elevator spun around to the other side of the circular building and started its descent.
Ben tried his best to hold back the rising tide of nausea. Whatever had happened last night, it had involved way too much drinking. As he went over in his head what excuse he'd give his father as to why he was late, he threw up a little in his mouth.
"Long day, sir?" Boreman asked.
"Something like that." With his pointer finger, Ben lowered his aviator sunglasses and looked at the elevator panel. They were only on floor forty-three.
"Are you excited, sir? About today, I mean."
Please, kid, please just shut up. "What are you talking about?"
"The Atlas, sir. Are you excited for the launch? I saw it the other day. Boy, lemme tell ya, that's some ship, sir. What I wouldn't give to serve on that crew."
I'll give ya my spot for free. "Oh, yeah. It is pretty cool, huh?"
"That ain't the half of it. They say it's the biggest Dreadnought-class vessel ever built! The guns alone are bigger than most apartment blocks. You know, I watched it being built. I live near the docks. I must've been like nine or ten when they started on that beaut…"
Boreman went on and on. Ben politely nodded his head while ignoring him.
Finally, the elevator reached the thirtieth floor. Ben stepped out onto the multilevel streets of Annapolis.
Like most cities, it was extremely overpopulated. Not everyone could afford to live off-planet; others didn't want to take the risk of becoming a settler. There was always the military option that guaranteed decent housing, on or off the planet, but that came hand-in-hand with a five-year commitment in a time of war.
In order to compensate for the excessive population, cities had decided to build vertically. First came the apartment blocks taller than skyscrapers, made of concrete, rebar, and glass. They were no-frills objective-based housing for the lower middle class.
The richest UEF citizens lived amongst the clouds, literally. High above the rest of the population, they took up the top floors of apartment blocks or luxury towers. These folks rarely went below level fifty, because they had no reason to. That was, unless they wanted to vacation on one of the few swimmable beaches, or enjoy the rare patch of untouched natural earth.
All over any city were stacked homes and shops. These were mostly homemade unsanctioned housing, built off of or on top of other buildings. Though illegal, no one ever enforced the city ordinances against such dwellings.
Those who couldn't afford to live in apartment blocks, stacked homes, or luxury towers lived on the very bottom streets of cities. Little sunlight managed to filter through the elevated walkways of the upper levels and reach the city floor. Life down there was one of hardship, Bowery fever, and crime.
Connecting all towers, blocks, and homes was a system of elevated walkways and rails that allowed citizens to get from place to place. A century ago, humanity had tried the utopian idea of flying cars; that had ended terribly. Even though they could be confusing and were far more complicated, the crisscrossing streets, high-speed rail, and over a hundred levels were still safer.
Ben got out on the thirtieth floor, which also happened to be the thirtieth level of Annapolis. It was the level that provided access to the skyway, a high-speed magnetic rail line that circled the entire city. One of the stops was the naval base, where his parents lived.
The heat was punishing. Millions of cooling unit across Annapolis did their best to relieve the long summers, but still, it was rough. Ben's hangover didn't help. He struggled to make his way through the crowds towards the station, about five blocks away.
On his short walk, Ben passed people from all cultures and walks of life. His nose was assaulted by the smells of street food and garbage. He stuck to the center of the street, away from the many shadows, pickpockets, and hustlers.
A long line of rail cars passed by overhead as Ben ignored various street vendors trying to sell him trinkets and knock-off jewelry. With the pointer finger on his left hand, he touched his ear.
Might as well bite the bullet, he thought. "Call 'mom'," Ben instructed.
Chapter 2
Ben
Ben's surgically-implanted HUD holographically projected a green symbol of a phone with the word "Dialing" underneath.
"Pick up, pick up, pick up," Ben said to himself. It was okay; no one thought he was crazy. With all the noise outside, probably no one heard him. Even if they did, they wouldn't care.
"Hello? Ben?" Ben saw his mother, Beverly Saito, appear in the holographic window in front of him. She was the very picture of beauty in his eyes. They shared the same green eyes, but she had light brown hair instead of his and his father's jet-black variety. They shared the same copper skin, too, but the rest of his features clearly took after his father.
"Hey, mom!" Ben had to shout over the commotion of the streets.
"Where are you? We've been waiting for what, two hours? The party started at four."
"I know, I know, I'm sorry. I'm on my way right now."
"Everything okay?" She had that trademark motherly look of concern. Behind her, Ben could see the party, if one wanted to call it that. Consisting of mostly military, it wasn't exactly festive.
"Everything's good, I just…I lost track of time, but I should be there soon. I'm actually about to hop on the skyway right now. Want me to bring anything?"
"Just you and your darling face, honey. Seriously, it would mean a lot to me. And to your father."
"Oh, yeah, I'm sure he'll be thrilled to see me. Especially now that I'm late."
"Don't be silly, Benny. Hurry up."
"I—"
"Hello, friend. Have you ever looked into the abyss?" A dirty-looking man stepped in front of Ben, interrupting his call with his mother. He had a long, flea-ridden beard and raggedy clothing. From the looks of him, it was safe to assume he lived on the streets.
"No. Can you move? I'm trying to—"
"Have you looked into the abyss? What did you see?"
"Sorry, mom. See you soon. End call." Ben managed to walk around the raggedy homeless man.
"Have you ever heard of the Oblivion?" The man's persistence ignored Ben's polite refusal to engage.
"Yeah. A bunch of terrorists and crazies, right? Now, please, leave me alone. I got places to be."
The man followed. He took a small hyper-memory drive out of his raggedy clothing and tried to hand it to Ben. "There's no place to be other than the right side of history, sir. Here, see for yourself."
Ben had heard of the scams before. Cunning con artists claimed to be part of the cult of the Oblivion. They offered unsuspecting rubes hyperdrives, claiming that it contained their bible, The Tomb of the Abyss. In reality, the drives copied all their information so that the con artists could steal whatever they needed to from their victims.
"No, thank you."
"Please. I insist, sir. I insist, Lt. Saito."
Ben stopped. He turned to the homeless man. "How do you know my name?"
"Take it. Please." The homeless man extended his arm, with the hyperdrive in his outstretched hand.
Two officers appeared out of nowhere, clad in full gear. They grabbed the man by his shoulders. "Sorry, sir. We've had a problem with these cultists here on this level lately," explained one of the officers, as his partner tried to drag the homeless man away.
In the struggle, the man dropped his hyperdrive. Ben waited for him to be dragged away and disappear in the crowd before walking over and picking it up. Curiosity told him he'd take a look on a secure console, see what was on there. But that was later. Right now, he had a train to catch.
Ben called for the time. It was 18:22. The next train was at 18:30. He needed to hustle.
Politeness went out the window. Ben had to make that train. He pushed his way through the crowds and made it just before the doors closed. As per usual, there were no seats, so he had to stand.
Magnetic rail cars were smooth; there were no sudden stops that required holding on to anything, so Ben just stood there, packed in like sardines with the rest of the riders. Everyone who had HUDs installed at birth, which was the vast majority of UEF citizens, video-recorded their day-to-day lives. Backed up to the state clouds, they were easily accessible not only by the user, but by the police. With safety and convenience came the loss of privacy, but that was deemed a necessity by the UEF.
Ben scrolled through the video to the night before. Let's see what the hell happened last night.
Then the unthinkable happened. A black screen, along with a message:
ERROR 475 VIDEO CAN NOT BE RECOVERED. PLEASE CONTACT YOUR LOCAL UEF CITIZENS' OFFICE IF YOU HAVE ANY QUESTIONS.
ERROR 475 EL VIDEO NO PUEDE SER RECUPERADO. PÓNGASE EN CONTACTO CON SU OFICINA DE CIUDADANOS UEF LOCAL SI TIENE ALGUNA PREGUNTA.
エラー475ビデオは回復できません。あなたが質問をするならば、市民オフィスに連絡するためにあなたの地元に連絡してください。
That's weird. In his thirty-three years of life, Ben had never had any issues recovering his life feed. He'd never even heard of it happening to someone before, but he didn't think much of it. Technology is convenient until it's not. Unfortunately, glitches were a reality.
The magnetic rail train stopped two stations away from the UEF naval base. Ben played music through his HUD, trying to work up the energy to attend his father's party while shaking off the headache and stomachache that came from a belly full of booze. His playlist filled his head as he watched a couple of people get on the train.
Instinct is a funny thing. Ben didn't know what it was about the three newly-boarded passengers on his train, or why, but they seemed off. Everything inside him told him to be on guard.
All three appeared keen to hide their faces. Two of them—men—wore baseball caps, and scarves up over their noses. The third, a woman, put on a plastic mask of a skull.
Ben reached for a pistol at his hip, but came up with nothing. Shit! I left it on the nightstand. Normally a UEF officer wouldn't go anywhere without their firearm. But, he figured, he was going to a party; why did he need to be armed?
"Behold!" yelled the woman in the mask. It got some of the passengers' attention, but not all. "Behold this great day!"
I can stop this. I need to stop this. Ben tried to make his way forward towards the three masked strangers. Squeezing his way through the street was different, and easier, than doing the same through a packed train car. He made little to no progress.
"You are all privileged to sacrifice your lives today. You will sacrifice your lives to the abyss! Rejoice!" The woman in the skull mask took out a baseball-sized metal sphere.
No! No! No! Ben recognized the sphere in the skull-faced woman's hand. It was a scatter grenade.
Chapter 3
Ben
Packed with smaller ball-bearing-sized explosives, the scatter grenade was specifically designed to maximize the kill zone and take out as many targets as possible in a small area. It was perfect to murder everyone on a packed train car.
The two men took out pulse pistols and started firing. High-velocity hot rounds were sprayed around the train car, causing a panic. Ben could see the super-heated slugs rip and tear through the unsuspecting passengers. Blood quickly started to pool on the floor, along with corpses and the wounded.
Ben didn't panic. He wasn't afraid.
It was worse than that. He felt helpless.
"Welcome the abyss!" yelled the skull-faced woman, completely unmoved by the carnage unfolding in front of her. She pressed a button on the scatter grenade. "Welcome, Oblivion!"
Ben saw a scared child, a little girl, standing over what he assumed was her dead mother. He picked her up, embracing her in his arms, and turned his back to the terrorists and knelt down. If he could only save her, it was worth paying a fatal price.
Two seconds after being armed, the scatter grenade exploded, sending dozens of mini-explosives all over the train car. Explosions erupted throughout the car, shattering every window and sending pieces of passengers everywhere. The train car shuddered violently as it tore free of the rail.
Ben held on tight as he and the girl in his arms tumbled throughout the car as it fell, hitting several levels on the way down. He was hit with dead bodies, seats, railings, broken glass, and debris as he was tossed around like a single sock in the dryer.
At some point on the way down, Ben and the girl were thrown from the train car, and landed on a walkway on the fifteenth level.
We hope you are enjoying the book so far. To continue reading...
Lost Mission
Joshua James
Copyright © 2023 All Rights Reserved
Also in this series
Also by this author