Spirit of the Season
Available in:
eBook
Paperback
Audiobook
Hardcover
Book info
Sample
Audiobook
Media
Author updates
Lists
Synopsis
Christmas is a time for remembering loved ones past and present. In this new novel by New York Times best-selling author Fern Michaels, the holidays are also the time to discover a future that, like the perfect gift, is as satisfying as it is surprising....
Joy Preston misses her beloved late grandmother dearly. But when she learns the terms of Nana's will, she's shocked — and more than a little irked. Joy moved to Colorado years ago and is now CEO of a successful nail polish company. Her life and career are in Denver. How can Nana have expected her to give that up, even temporarily, to take over a bed and breakfast in North Carolina for six months?
Yet there's no denying Heart and Soul's charm, especially at holiday time. The B&B is always elaborately decorated for the season, with themed guest rooms and dazzling lawn displays created for the annual Parade of Homes competition. The entire town takes part in the festivities, and soon Joy, too, is joining in the gingerbread house contest and letting her reservations melt away.
There's another special reason for Heart and Soul's popularity. Rumor has it that, during holiday season, guests can be reunited with the spirit of a loved one who's passed on. Joy's skeptical, yet she feels her beloved Nana's influence all around her...perhaps even indulging in a little matchmaking between Joy and handsome estate attorney Will Drake. A special homecoming and the glow of new beginnings will combine to make the holiday magical....
Release date: October 27, 2020
Publisher: Kensington Books
Print pages: 368
* BingeBooks earns revenue from qualifying purchases as an Amazon Associate as well as from other retail partners.
Listen to a sample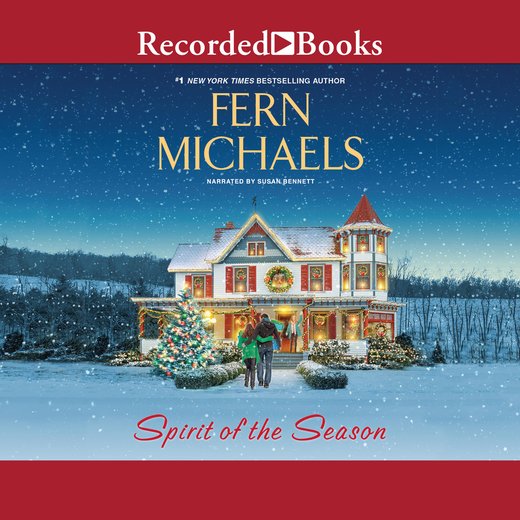 08:03:16
221.23 MB
September 24, 2019
Recorded Books
2019
Spirit of the Season
Fern Michaels
Denver, Colorado

"I don't care how long it takes, just get it done, Hayley, please. We don't have a boatload of time!" Joy shouted into the phone, frustrated that she'd had to play boss. She did not like to play boss. At Simply Joy, she, Hayley, and Jessica were a team. They worked together and were great friends, but Hayley had worked on the new label for six weeks and still hadn't come up with an appropriate design for the Valentine's Day launch. Yes, it was closer to Thanksgiving and Christmas, and thank goodness, those polishes had been shipped to retailers across the world already.

Simply Joy was a successful nail polish company, her baby. Joy knew it sounded like a frivolous occupation to some, but nail salons, spas, and women across the globe used her products, and she was not going to settle for anything less than perfection.

"You said you didn't want hearts, Joy. That's what Valentine's Day is about. Falling in love, Cupid, pinks and reds, you know this," Hayley replied, then added sheepishly, "and chocolate."

Joy heard the desperation in Hayley's voice. They were down to the wire. "We need a totally different conception than our competitors have. OPT, Lacquer Lovers, Tammy's Talons . . . you know they're just dying to beat our sales this year. Do what you have to do, but do it fast, Hayley. We have exactly one week before we have to send our designs to the labeling department, and they'll rake us over the coals if we're late." Joy paused and softened her voice. "I'm really counting on you, Hayley."

"Sure thing, boss," Hayley said, then hung up.

Joy stared at the phone for a couple of seconds, then replaced it in its cradle. She hated being the boss sometimes, and now was one of those times. Hayley hadn't given this campaign her best, and now they were wading in deep water. She did not want her labels to look like those of all the other polishes out there in the land of lacquers. She wanted Simply Joy to stand out, to catch the consumer's eye with a color, a Valentine's Day label so original they wouldn't so much as glance at her competitors' products. That's what made her company unique. She'd almost cornered the market. But to her way of thinking, "almost" wasn't quite good enough.

A knock on the door interrupted her train of thought. "Come in," she said, not bothering to see who was at her door. She had a small staff of six, counting Hayley and Jessica, her best friends, webmaster, and graphic designer. All were welcome inside her office; her open-door policy applied to everyone.

Standing in the doorway, Hayley said, "I'll stay all night if I have to. I know how important this is to the Valentine's Day launch. My brain just doesn't want to cooperate for some strange reason," she finished.

"I know you're trying your best," Joy said calmly, hoping to take the sting out of her earlier words.

"I am, and I'm on it. Really," Hayley replied. "I won't let you down. I promise," she said, then left.

Joy tried to focus her attention on the Christmas display that had been shipped across the globe in October. She'd worked tirelessly on this year's campaign and needed it to succeed to put her firmly at the top, once and for all. Again, almost wasn't quite good enough.

When she'd first come up with the idea to start her own nail polish company, she'd been in college studying business and marketing. Her marketing strategy and management professor, Dr. Baines, told them that the simplest ideas were almost always the most successful. He'd then asked them to write down five simple ideas that made them respond in a positive and triumphant way. She remembered at the time thinking her professor was crazy, but when she'd started the assignment, it hadn't been quite as easy as she'd thought.

While she'd had a few ideas for different types of businesses, the one that wouldn't stop nagging her was now, as she looked back, pure genius. There was one little luxury that she completely enjoyed, and she knew that most women did as well—having beautifully painted fingernails. Of all the indulgent, pampering services she'd had in her life, the one that brought her the most joy was simple. She absolutely adored having her nails polished.

And that idea became Simply Joy.

Her product was presented in a classic square bottle with a square lid, the initials SJ etched on the front of the bottle and on the top of the lid. She'd chosen pigments that were different enough to make her colors stand out among dozens of others, and her company became known for being slightly different and edgy enough to stand out from the competition. And it had. Joy liked to think Simply Joy would continue to thrive as long as she and her staff were willing to work hard and never give up.

In the seven years since Dr. Baines had given his students that assignment, Joy had completed it and built the resulting company into one of the fastest-growing nail polish brands in the industry. Their overseas sales were at a record high this year, too, and she wanted next year to be even better.

She spent the next hour looking through dozens of new shades for her spring line and decided on a palette of pastel shades that gradually deepened in color for those who preferred a darker shade. Joy would personally try out all the colors before sending them to the lab for the final pigmenting process. She would check for color match, wear time, and ease of application. Simply Joy brand brushes were known for their long stems and rounded, flat brushes. This style made application easy for anyone, and professionals loved it because of its thin, accurate strokes. Fewer mistakes meant fast client turnover.

It was getting late, and there was no word yet from Hayley, so Joy decided she'd do an all-nighter herself. If Hayley couldn't come up with something on her own, maybe they could if they put their heads together. First, she needed to get the polish on her nails and start gauging the wear time for the spring collection. She usually did this several times before giving her final approval. Using the samples from the lab, she painted the nails on her left hand one color and those on her right hand another. She kicked off her Uggs and heavy wool socks, then polished her toes different colors, too. She found her sandals and slipped them on before heading to Hayley's tiny office down the hall from her own, which wasn't really all that much larger. She knew, when it came down to the wire, that ultimately it was she who had to come up with all the ideas, no matter how many employees she had. Yes, Hayley was a graphic designer, but in the end, none of those details were relevant. In the end, she needed results, and she could make them happen. She would make them happen. She tapped on Hayley's door.

"It's open," Hayley called out.

Joy entered the tiny workspace. "Any new ideas?"

"Actually, I think I've come up with a few designs that might salvage my pride." Hayley handed her a sheet of paper with three drawings sketched on the page.

Joy held the paper under the small desk lamp for a better view. "These are fantastic!"

"You sure?" Hayley asked.

"Yes, I am. You did us proud," Joy said, smiling. "Why don't you head home? It's after three in the morning, in case you haven't looked at the clock. You need some sleep."

"Dang, I didn't realize how late it was. Do I look that bad?" Hayley joked. "Though I'll go if you're sure?"

Joy laughed. "You're as gorgeous as ever. Now get some rest, and I'll see you later."

"Thanks for not giving up on me," Hayley said as she straightened her desk. "I don't know what's gotten into me lately."

"Give up on you? Never! Remember, we are a team, and I don't give up easily. I really like these, too." She fanned the paper out in front of her. Hayley had gone with simplicity. "We'll use the black letters, with a small heart dotting the 'I' in Simply."

"That's my favorite," Hayley said as she walked toward the door.

"Okay, now go home and get some sleep while you can."

Joy switched off the lights and returned to her own office. She should go home, too, but she had a few more items to check off her "get them done" list. She never referred to her lists as "to do lists." It was just a thing with her. She'd always been a doer and hated wasting time.

She spent the next half hour answering business e-mails and responding to messages from all of her social media groups. That in itself was becoming a full-time job. After the holidays, she'd look into hiring a company or maybe a freelancer to take care of that end of the business. Doing social media was great advertising, but it was tremendously time-consuming. They'd reached half a million followers on their Instagram page, and almost one million on Facebook. Many required a reply of some kind, even if it was nothing more than a like or a heart or a thumbs-up. She jotted this on her "get them done" list. Also, she would check into starting a YouTube channel. All of her competitors had one. She jotted this down on the list, too.

Joy shut her computer down and went to the office kitchen to make herself a cup of tea. She liked this quiet time to herself. Reflecting on her life, she decided that, right at this moment, she was totally content. Even though her father had died three years ago of an unexpected heart attack, she had accepted this as a part of life. As sad as it was, it had happened. She still had her mother, and her grandmother. She didn't see either as often as she would have liked to, but again, it was all part of being an adult. Or didn't they call it adulting these days?

The microwave dinged, and she took her cup of hot water and placed it on the counter. She rummaged through the canister of tea bags, found her favorite, orange spice, and dropped the tea bag into her mug. She added a splash of honey before heading back to her office. She'd rest on the futon for a while, then go home as soon as it was daylight. It had been snowing most of the day. While she knew the roads would be clear, the thought of driving now made her a bit edgy. Usually, she didn't mind the drive—heavy traffic didn't bother her—but for some reason, she felt as though she needed to stay in her office.

She sipped her tea, allowing her thoughts to wander. Most of her college friends were married now; some were expecting their first child. She had been so busy building her business, any thought of having a serious relationship was just that—a thought. Joy had always wanted a family of her own and knew age would be a factor a few years down the road. She was twenty-nine. Not too old yet, she thought. There would be time, just not in her immediate future. Her cell phone buzzed, jolting her from her reverie.

"Who in the world?" she thought, as she reached for her phone. This had better be good. It was after four in the morning. Late-night and early-morning phone calls didn't usually bring good news.

"Hello."

"Joy, it's Izzie."

"Izzie, I hope there's a good reason for your calling at this ungodly hour." The words were out of her mouth before she had a chance to filter them. It was after six on the East Coast. Still, too early to make phone calls unless there was bad news.

"Hey, kiddo, I know what time it is. It's your grandmother," Izzie said.

"What do you mean, it's my grandmother? Is she okay?" Joy stood up and began pacing across the small space. Definitely not a good-morning call. Immediately, she felt an intense sense of loss, knowing the news she was about to receive was not going to be good.

"They did everything they could, but they couldn't save her," Izzie explained.

Joy stopped pacing.

"Does this mean what I think it means?"

"I'm afraid so, sweetheart."

Denver International Airport was filled with holiday travelers from all over the world. The colors, accents, and smells almost suffocated Joy. It was the last place she wanted to be. To be sure, she wasn't traveling to a location to take advantage of sand, surf, and sea. Nonetheless, where she was going had all of those, sort of. Spruce City did have sand and the sea, and there were surfers. It was just that this was the wrong time of year to take advantage of those amenities.

In a daze, she pushed her way through the throngs of people and headed toward her gate. She hadn't planned on returning to North Carolina for the upcoming Thanksgiving holiday, and if she were honest with herself, she had had no plans to return for Christmas either. Could this be her grandmother's way of getting her home for the holidays? No, Nana wasn't that cruel. And she really wasn't that old either. To the best of Joy's knowledge, she hadn't even been sick. If she had, she'd kept it to herself. Tears filled her eyes. Nana Anna is, was, the best. She'd certainly picked a heck of a time to . . . die. Feeling guilty for even having such thoughts, Joy looked up and realized she had arrived at her gate. She saw that she still had an hour before they were due to board, so she located a seat next to a woman with a baby and a toddler.

The woman, probably close to her own age, held her baby in one of those sling things, while she watched the toddler, a little boy, run in small circles in the aisle in front of them. Joy gave her a quick smile. "Cute," she said, nodding toward the little boy. "How old?" she asked the woman.

"He's almost three, and this little bug is only five weeks old."

Joy sneaked a peek at the infant. Girl. Pink clothes. Tiny pink bow taped to her downy blond hair. A pink pacifier clipped to her pink clothes. Pink overload, Joy thought. Maybe a new nail polish color? Before she forgot, she took her phone out of her pocket and typed the name in under "Miscellaneous" in her notes app. Business was business.

"So is this their first airplane trip?" Joy asked, not really caring one way or the other. She was making conversation, avoiding thinking about what she had to face back home in Spruce City. It was home, but not home. She'd moved to Denver as soon as she'd graduated from high school. Colorado had been her home her entire adult life. "Back home" and "Spruce City" didn't belong in the same sentence, she thought.

"It's Betsy's first trip. Ben has been on a few. We're from Spruce City. It's my home," the young woman said, a smile lighting up her hazel-colored eyes.

Joy nodded. "Mine, too. A long time ago."

The woman adjusted the infant in her sling. "Going home for the holidays . . . it's the best trip ever, don't you think?" she stated in a dreamy voice.

What in the world had she gotten herself into? A talkative young woman and two little ones. Praying she wasn't seated close to them, Joy said, "Uh, yes." She hated to tell a half-truth, but she didn't feel like answering any probing questions.

The past three days were a blur. She didn't remember much after Izzie's early-morning call. Her mother was somewhere out in the Pacific and hadn't a clue she'd lost her only remaining parent. Joy dreaded breaking the news to her, but there was no one else to do it. According to Izzie, her mother was due to arrive soon in Tampa, Florida, where she'd catch a return flight to Spruce City tomorrow evening. Tears filled her eyes. Her mom was great, and she had suffered so much when her father died. She didn't deserve this. Taking a tissue from her tote bag, she blotted her eyes.

"Are you okay, sweetheart?" the young mom asked. Joy nodded and felt a fresh wash of tears fill her eyes.

"You sure don't seem okay to me, hon," she said, her Southern accent more noticeable now. "You want to talk about it?"

She shook her head. "I'm . . . fine. Really." She was anything but fine and felt silly for her public display of tears, but she was grieving in so many ways. She wiped the tears from her cheeks, then blew her nose. "Thanks," Joy added, not wanting to appear rude.

A male voice came over the loudspeaker, announcing that her flight was ready to board and asking that all passengers with a disability board, followed by anyone with small children. Joy gave a silent prayer of thanks as the woman secured the sling and baby on her shoulder, picked up a rather large bag, draping it over her other shoulder, then reached for Ben's hand. "Maybe we'll be seated close together?" she said, smiling.

Joy nodded. "Maybe."

"Well, have a nice flight if we're not," the woman added.

"Sure," Joy said. "You, too."

Taking a deep breath, Joy checked her cell phone for any messages from Hayley or Izzie. Nothing. She put the phone on airplane mode when her seating assignment was called. Taking her boarding pass from her bag, she went to stand in line with the other passengers.

Joy was seated at the very back of the plane, several aisles away from the woman and her small children. "Grateful" didn't begin to describe how she felt, though she did feel a slight tinge of guilt for having such a thought.

She had almost five hours to work on several business-related issues. She had been hoping that would keep her mind occupied with relatively trivial things, but it wasn't working. She couldn't focus; there were just too many other more important issues now.

Giving her mother the news of Nana's death was probably going to be the most difficult thing she would ever have to do. Her mother was a very tough woman. She'd survived the loss of her husband at a relatively young age and continued to move forward in life, going on a variety of cruises around the world and making new friends, and Joy hoped that someday her mother would meet someone. She was only fifty years old, way too young to spend the rest of her life alone. These thoughts ran through her mind as she tried to stay focused on her work-related matters, which, truth be told, were nothing more than minor details about nail polish colors. In the scheme of things, certainly none of them were as important as family. She'd been away for so long, she'd forgotten what life was like back in Spruce City. Her hometown was a place where the entire town seemed to know every detail possible about the lives of its citizens. In Denver, Joy was relatively anonymous, running into people all the time who had no clue about her life.

One thing that she was sure of: she could never live in a small town again, certainly not Spruce City. It was too personal, too invasive. The local pharmacy knew what medications you took; the postmaster knew how much mail you received and, when it arrived, most likely knew what was being delivered. You couldn't call to get out of work for a sick day because the entire town would know about it; then they'd come to your house to offer advice, food, or stories that were so long that you'd recover from the illness that kept you home in the first place. No, she was too citified to go back to that lifestyle. And why would she? She had her own life in Colorado. She planned to stay for a week—two at the most—just until things were settled. Nana had run the bed-and-breakfast, a very thriving one, but she was sure her mother would step in and take over. She knew the business almost as well as Nana. And there was Izzie, who'd been with them so long, she'd become family. Maybe her mom and Izzie could run the place together. Maybe they could turn it into a B&B for singles only. Maybe they'd each find someone to love, and she could return to her life in Denver guilt-free.

Why, she asked herself, am I having such thoughts? There's no reason for me to feel guilty. Mother is my biggest, staunchest supporter. She would never ask me to give up my life and my business.

Her Nana had wanted her to stay in North Carolina and attend one of the many colleges in the state, but Joy had been adamant about Colorado. The winter before her high school graduation, they'd taken a family vacation to Vail . . .
We hope you are enjoying the book so far. To continue reading...
Spirit of the Season
Fern Michaels
Copyright © 2023 All Rights Reserved