The Sign Of The Four
Available in:
eBook
Paperback
Audiobook
Hardcover
Book info
Sample
Audiobook
Media
Author updates
Lists
Synopsis
The Sign of the Four by Sir Arthur Conan Doyle
Release date: February 11, 2018
Publisher: CreateSpace Independent Publishing Platform
Print pages: 122
* BingeBooks earns revenue from qualifying purchases as an Amazon Associate as well as from other retail partners.
Listen to a sample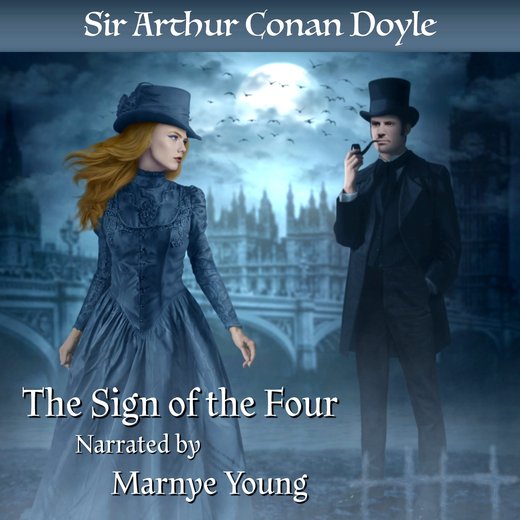 04:33:54
125.39 MB
9781665033763
February 16, 2021
Blackstone Audio
The Sign Of The Four
Arthur Conan Doyle
Sir Arthur Conan Doyle was born in Picardy Place in Edinburgh on May 22, 1859, son of Charles Altamount Doyle and Mary (Foley)
Doyle, and one of seven children who survived to adulthood. The Doyles were an artistic family, the most successful being
Arthur's uncle 'Dickie' Doyle, the noted illustrator for Punch, but his father suffered from alcoholism and later epilepsy, and was eventually committed to a mental hospital. Conan Doyle
maintained a distant relationship with him, but it was his mother, whom he affectionately referred to as 'the Ma'am', who
encouraged his love of literature, and he remained close to her throughout his life. The young Arthur was educated at the
northern Jesuit school Stonyhurst, going on to study medicine at Edinburgh and was an enthusiastic reader and storyteller
from a young age, as well as being an active sportsman.


Conan Doyle incurred the wrath of his rich relations when he announced he was an agnostic. Rejecting their strict Catholicism
and cut off from their patronage, he decided to set up his own practice in Southsea in 1882. There he met his first wife,
Louise Hawkins or 'Touie', and the couple were married in 1885, later having two children, a son and a daughter. But in 1897
Conan Doyle met and instantly fell in love with Jean Leckie. They maintained a platonic relationship for ten years and Conan
Doyle struggled with his feelings of guilt and deep affection for his wife and his passion for Jean. When in 1906 Touie died
of consumption, Conan Doyle genuinely mourned her. He finally married Jean in 1907 and they had two sons and a daughter, living
very happily together on their estate in Sussex, Windlesham, until Conan Doyle's death in 1930.


It was in the year after his first marriage that Conan Doyle began toying with a character called Sherrinford Holmes. This
was to become the first Sherlock Holmes story, his 'shilling shocker', A Study in Scarlet, published in 1887. And so the celebrated detective was born, with the faithful Dr Watson at his side. Conan Doyle consistently
gave credit for the character to Dr Joseph Bell, an old tutor of his from Edinburgh University whose precision and powers
of deduction Conan Doyle greatly admired. On the origins of the name, he commented that 'I made thirty runs [at cricket] against
a bowler by the name of Sherlock, and I always had a kindly feeling for the name'.


But it was in the new, popular literary magazine the Strand that the phenomenon of Sherlock Holmes really took off, with 'A Scandal in Bohemia' appearing in 1891. It was an instant
hit. Sidney Paget created the distinctive illustrations of Holmes, based on his younger brother Walter, depicted in a deerstalker
(the pipe would come later). This iconic image became etched in the public's mind and was more glamorous than Conan Doyle
had envisaged; 'the handsome Walter took the place of the more powerful, but uglier, Sherlock, and perhaps from the point
of view of my lady readers it was as well.'


By this time Conan Doyle had given up practising medicine entirely to write. He yearned to concentrate on his historical novels
and, despite his success, saw Holmes as 'taking his mind from better things'. So, after only two years, in 1893 he decided
to kill him off in 'The Final Problem,' where Holmes famously met his end alongside his nemesis Professor Moriarty. The public
outcry was instant: women wept, men donned black armbands and subscriptions to the Strand plummeted by over 20,000, yet Conan Doyle was unmoved: 'I feel towards him as I do towards pâté de foie gras, of which I once ate too much, so that the name of it gives me a sickly feeling to this day.' It wasn't until 1901 that Holmes
reappeared in The Hound of the Baskervilles (a story that predated his death) and, with the public clamouring for more, Doyle finally brought him back to life in 'The Adventure of the Empty House' (1903). By the beginning of the twentieth
century the fan base for Sherlock Holmes was massive and far-reaching, from a Boston cabby in America to Abdul Hamid II, the
then Sultan of Turkey, and has continued growing to this day. There have been countless stage productions and films, with
Holmes defined by such actors as Basil Rathbone, Jeremy Brett and Michael Caine. And the stories weren't merely entertainment;
the investigative methods Conan Doyle used are said to have had a huge influence on police processes at the time.


Although Sir Arthur Conan Doyle's name will always be synonymous with Sherlock Holmes, his volume of works was huge and wide-ranging,
including historical fiction such as Micah Clarke and The White Company, histories of the Boer War and World War One, as well as the Professor Challenger stories, The Lost World (seen as the inspiration for Michael Crichton's hugely popular Jurassic Park) and The Poison Belt. Conan Doyle's fascination with spiritualism very much governed his outlook later on in life and he wrote The Coming of the Fairies in response to the case of the Cottingley fairies. Many fans found it hard to associate the creator of a detective so wedded
to cool logic and fact with this ardent champion of the supernatural, but he never swayed in his beliefs.


Conan Doyle died in 1930 at the age of seventy-one, with his beloved Jean by his side and was buried in the grounds of Windlesham,
with the headstone inscribed, at his request, 'Steel True, Blade Straight'. Sir Winston Churchill said, 'I had a great admiration
for him. Of course I read every Sherlock Holmes story … [they] have certainly found a permanent place in English literature.'


Sherlock Holmes took his bottle from the corner of the mantelpiece, and his hypodermic syringe from its neat morocco case.
With his long, white, nervous fingers he adjusted the delicate needle and rolled back his left shirtcuff. For some little
time his eyes rested thoughtfully upon the sinewy forearm and wrist, all dotted and scarred with innumerable puncture-marks.
Finally, he thrust the sharp point home, pressed down the tiny piston, and sank back into the velvet-lined armchair with a
long sigh of satisfaction.


Three times a day for many months I had witnessed this performance, but custom had not reconciled my mind to it. On the contrary,
from day to day I had become more irritable at the sight, and my conscience swelled nightly within me at the thought that
I had lacked the courage to protest. Again and again I had registered a vow that I should deliver my soul upon the subject;
but there was that in the cool, nonchalant air of my companion which made him the last man with whom one would care to take
anything approaching to a liberty. His great powers, his masterly manner, and the experience which I had had of his many extraordinary
qualities, all made me diffident and backward in crossing him.


Yet upon that afternoon, whether it was the Beaune which I had taken with my lunch or the additional exasperation produced by the extreme deliberation of his manner, I suddenly
felt that I could hold out no longer.


'Which is it today,' I asked, 'morphine or cocaine?'

He raised his eyes languidly from the old black-letter volume which he had opened.

'It is cocaine,' he said, 'a seven-per-cent solution. Would you care to try it?'

'No, indeed,' I answered brusquely. 'My constitution has not got over the Afghan campaign yet. I cannot afford to throw any
extra strain upon it.'


He smiled at my vehemence. 'Perhaps you are right, Watson,' he said. 'I suppose that its influence is physically a bad one.
I find it, however, so transcendently stimulating and clarifying to the mind that its secondary action is a matter of small
moment.'


'But consider!' I said earnestly. 'Count the cost! Your brain may, as you say, be roused and excited, but it is a pathological
and morbid process which involves increased tissue-change and may at least leave a permanent weakness. You know, too, what
a black reaction comes upon you. Surely the game is hardly worth the candle. Why should you, for a mere passing pleasure,
risk the loss of those great powers with which you have been endowed? Remember that I speak not only as one comrade to another
but as a medical man to one for whose constitution he is to some extent answerable.'


He did not seem offended. On the contrary, he put his finger-tips together, and leaned his elbows on the arms of his chair,
like one who has a relish for conversation.


'My mind,' he said, 'rebels at stagnation. Give me problems, give me work, give me the most abstruse cryptogram, or the most
intricate analysis, and I am in my own proper atmosphere. I can dispense then with artificial stimulants. But I abhor the dull routine of existence. I crave for mental
exaltation. That is why I have chosen my own particular profession, or rather created it, for I am the only one in the world.'


'The only unofficial detective?' I said, raising my eyebrows.

'The only unofficial consulting detective,' he answered. 'I am the last and highest court of appeal in detection. When Gregson,
or Lestrade, or Athelney Jones are out of their depths – which, by the way, is their normal state – the matter is laid before
me. I examine the data, as an expert, and pronounce a specialist's opinion. I claim no credit in such cases. My name figures
in no newspaper. The work itself, the pleasure of finding a field for my peculiar powers, is my highest reward. But you have
yourself had some experience of my methods of work in the Jefferson Hope case.'


'Yes, indeed,' said I, cordially. 'I was never so struck by anything in my life. I even embodied it in a small brochure, with
the somewhat fantastic title of "A Study in Scarlet".'


He shook his head sadly.

'I glanced over it,' said he. 'Honestly, I cannot congratulate you upon it. Detection is, or ought to be, an exact science
and should be treated in the same cold and unemotional manner. You have attempted to tinge it with romanticism, which produces
much the same effect as if you worked a love-story or an elopement into the fifth proposition of Euclid.'


'But the romance was there,' I remonstrated. 'I could not tamper with the facts.'

'Some facts should be suppressed, or, at least, a just sense of proportion should be observed in treating them. The only point
in the case which deserved mention was the curious analytical reasoning from effects to causes, by which I succeeded in unravelling it.'


I was annoyed at this criticism of a work which had been specially designed to please him. I confess, too, that I was irritated
by the egotism which seemed to demand that every line of my pamphlet should be devoted to his own special doings. More than
once during the years that I had lived with him in Baker Street I had observed that a small vanity underlay my companion's
quiet and didactic manner. I made no remark, however, but sat nursing my wounded leg. I had had a Jezail bullet through it
some time before, and though it did not prevent me from walking, it ached wearily at every change of the weather.


'My practice has extended recently to the Continent,' said Holmes after a while, filling up his old brier-root pipe. 'I was
consulted last week by François le Villard, who, as you probably know, has come rather to the front lately in the French detective
service. He has all the Celtic power of quick intuition, but he is deficient in the wide range of exact knowledge which is
essential to the higher developments of his art. The case was concerned with a will and possessed some features of interest.
I was able to refer him to two parallel cases, the one at Riga in 1857, and the other at St Louis in 1871, which have suggested
to him the true solution. Here is the letter which I had this morning acknowledging my assistance.'


He tossed over, as he spoke, a crumpled sheet of foreign notepaper. I glanced my eyes down it, catching a profusion of notes
. . .
We hope you are enjoying the book so far. To continue reading...
The Sign Of The Four
Arthur Conan Doyle
Copyright © 2021 All Rights Reserved