Runaway
Available in:
eBook
Paperback
Audiobook
Hardcover
Book info
Sample
Audiobook
Media
Author updates
Lists
Synopsis
FIVE DREAMS OF FAME
Glasgow, 1965. Jack Mackay dares not imagine a life of predictability and routine. The headstrong seventeen-year-old has one thing on his mind - London - and successfully convinces his four friends, and fellow band mates, to join him in abandoning their homes to pursue a goal of musical stardom.

FIVE DECADES OF FEAR
Glasgow, 2015. Jack Mackay dares not look back on a life of failure and mediocrity. The heavy-hearted sixty-seven-year old is still haunted by the cruel fate that befell him and his friends some fifty years before, and how he did and did not act when it mattered most - a memory he has run from all his adult life.
London, 2015. A man lies dead in a bedsit. His killer looks on, remorseless. What started with five teenagers five decades before will now be finished.
Release date: January 15, 2015
Publisher: Quercus Publishing
Print pages: 432
* BingeBooks earns revenue from qualifying purchases as an Amazon Associate as well as from other retail partners.
Listen to a sample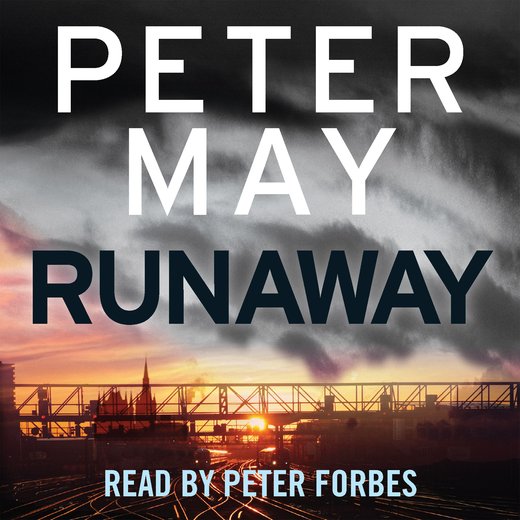 20:11:10
554.44 MB
9781681442624
April 5, 2016
Hachette Audio
Runaway
Peter May
 

CHAPTER EIGHT

I

It was Jack's idea to retrace their footsteps of all those years before, as if in doing so they might find something they had lost on the way.

The night before, Ricky had left the M6 shortly after Carlisle, then navigated them cross-country using the GPS on his iPhone. They had found a lay-by with toilets somewhere in the Northumberland National Park, and pulled in to spend the night.

Maurie had slept most of the way, and only got out of the car once they stopped for the night. He threw up and emptied his bladder, took his painkillers and was asleep again in minutes.

Dave was still barely on speaking terms with Jack for lobbing his cans of beer out of the car on the motorway. He had hunched himself up in his coat and turned his face to the window, a small patch of condensation forming where his slow, laboured breath burst against it.

Ricky, too, was in a huff with his grandfather, reclining his seat as far as possible, then closing his eyes.

Which had left Jack as the sole occupant of the car for whom sleep would simply not come. He listened to the snorts and grunts of his sleeping companions in the back, and the gentle snoring of his grandson in the seat beside him. The night folded itself around them, the foggy constellation of the Milky Way as visible as he had ever seen it above the tops of the trees. Like smoke. And as it always did, any contemplation of the vastness of the universe made him feel infinitely small.

Just like fifty years before, he had found his mind full of doubts about the wisdom of what they were doing. And full of trepidation about what lay ahead. But these were such tiny concerns in the grand scheme of things, that come daybreak they burned off with the rising of the sun, like morning mist.

He had wakened the others at first light to plunge sleepy faces in icy water, and the GPS had taken them down the A66, then the A1, before turning them off on to the A64 towards Leeds.

It was only as they passed a sign on their right to Thorner that Jack suddenly sat up. 'Hey, remember that place!'

'What?' Dave lifted his eyes from some sightless reverie.

Jack turned in his seat, looking back as they passed it. 'Thorner Lane. That's where we very nearly had the head-on with the police car.'

Maurie seemed to wake up fully for the first time. 'Where we crashed the van?'

'Where Jeff crashed the van,' Dave corrected him.

'Yeah, in Thorner itself,' Jack said. 'Stop, Rick. Let's go back.'

Ricky slowed up and the car behind peeped its horn. He glanced in the mirror. 'What for?'

'Just turn round and I'll tell you.'

Ricky sighed and turned into a lay-by at the opening to a field. When the road was clear he made a U-turn, and they headed back towards the turn-off to Thorner while Jack provided his grandson with a potted version of what had happened that night. Ricky listened with a growing sense of astonishment, his mouth gaping as his eyes widened on the road ahead.

Thorner Lane ran long and straight with fallow fields stretching away into the hazy morning on either side. It was all that Jack could recall about the road. It had been so dark, and wet, that the only remaining memory he had of it was the black, shiny ribbon of tarmac stretching off to infinity, and Rachel sitting on the engine cowling beside him, her feet up on the dash.

Thorner itself was just coming to life, people setting off on their commute to Leeds. A coach was parked opposite the Mexborough Arms, a knot of elderly men standing on the pavement, shuffling and stamping their feet in the early chill. At the foot of the hill, the sun caught the honeyed stone of the church tower, and Jack half expected to see their old van, crumpled and broken, where it had ploughed into the gate.

'Go left, Rick,' he said, and they turned down by the side of the pub, past the bowling green and the farm buildings, to where Station Lane cut right, and Thorner Victory Hall stood up on the left. They had only ever been here in the dark, and yet somehow it seemed as if nothing had changed. The railway bridge and cutting were still there. Manor Farm. The sweet smell of manure. Ricky pulled into the side of the road, and Jack and Dave got stiffly out of the car to help Maurie from the back and on to his feet, supporting him on each side as they stood looking up the embankment to where the station had once stood. It was long gone. A modern house built in its place. Although the bridge still existed, the line of the track beyond it had been developed into a small cul-de-sac of private homes.

Jack glanced at Maurie and saw the intensity of sad recollection in his face, a face so grey and pale that it was almost as if he didn't exist. And it occurred to Jack that none of them did. At least, not in this place. Here they were just ghosts haunting their own past, a past long gone and as insubstantial as themselves.

But somewhere up there, where someone had since built a home – lived, raised a family, perhaps died – Rachel had first kissed him. No matter how lost it was now in time and space, nothing could take away the memory of that moment.

And suddenly, Jack realized why he was here. Why he had ever agreed to go with Maurie and Dave back to London. Deep in his sub-conscious, where the thought had refused to coagulate, he had been harbouring the hopeless fantasy that somehow, somewhere he might find her again.

He gripped Maurie's arm a little more tightly and the two old men met each other's eyes. Maurie searched Jack's gaze, almost as if he had divined his friend's thoughts.

Jack said, 'I want to know what happened to her, Maurie. Before you die. You owe me that.'

But Maurie just turned his eyes back towards the embankment where they had huddled, cold and frightened, in the dark all those years before, and said, 'I owe you nothing, Jack.'

II

They drove into Leeds city centre shortly after nine o'clock on that brilliantly sunny spring morning. The GPS took them by circuitous suburban roads, past parks and gardens filled with cherry and apple blossom, into the centre of town. Fifty years ago, the mills had poured their bile into the rivers, and belched their filth into the skies. People had lived and worked and died in serried rows of dilapidated brick terraces, or in the new council housing estates that had promised so much and delivered so little. Or in the failed social housing experiment that was Quarry Hill. It had been a city then on its knees, cowering beneath a leaden sky that rained tears of acid.

Like a bad dream, that Leeds of fifty years before had vanished in the morning light of this spring day in 2015. New roads swept through the heart of it. Shiny, twenty-first-century glass and steel structures rose brightly into a blue sky. Dismal industrial canals, where barges of coal or cotton once plied their trade, were transformed now into arterial waterways for pleasure-seekers. Expensive boats cruising past wine bars and restaurants fashioned from former warehouses. A transformation. A veneer of affluence and success, tarnished only by occasional glimpses of some rotting brick factory in a half-concealed backstreet, cracks opening on to a hidden past that lurked still, despite appearances, somewhere not far beneath the surface. Fleeting memories of the bad dream.

'Edward Street,' Jack told Ricky. 'That's where we parked.'

And Ricky punched it into the GPS.

It seemed to Jack as if buildings had been demolished to make way for a car park along the north side of Edward Street. But it had been so dark in 1965, the gap might have been there then, too. A bomb site perhaps, damage inflicted during a wartime air raid. The official car park was full, but they found a space on the street, and Ricky helped them get Maurie out on to the pavement. Jack leaned heavily on his stick, supporting Maurie's right arm, and they made slow progress into Lady Lane and down to the roundabout that was now called the City Centre Loop.

They hadn't gone more than ten yards when Maurie stopped. 'Where's it gone?'

And they all looked down the street towards the loop. Fifty years before, the skyline had been dominated by the huge sweep of Oastler House. It was no longer there.

'Where's what gone?' Ricky said.

And as they made their slow progress to the foot of the road, Jack told him about Quarry Hill Flats. But when they got to the roundabout it was clear that the entire complex had gone. Off to the right was a block of flats and the square brown building that housed the West Yorkshire Playhouse. And somewhere beyond it were the BBC and Leeds College of Music. A concourse of concrete and glass rose up on the far side of the loop, where Oastler had once stood, and wide steps led up to a walkway that ran east beyond a line of tall, spring-green trees, leading to a vast edifice that dominated the skyline perhaps even more than the flats had done before it. On its roof, a strange structure of silver columns and spheres rose to a spike that pierced the bluest of morning skies.

Jack had the disorientating sense of having just landed on another planet.

They stood under the monkey-puzzle trees at the foot of the hill, and Ricky tapped the screen of his iPhone.

'Here we are,' he said. 'Quarry Hill Flats. Demolished in 1978 due to social problems and poor maintenance.' He looked up. 'That huge building there is called Quarry House. Home to the headquarters of NHS England, and the Department for Work and Pensions.' He chuckled. 'Apparently, it's nicknamed the Kremlin.'

'Aye,' said Dave, 'so they just replaced one Stalinesque monstrosity wi' another.'

'Let's get some breakfast,' Jack said.

 

They found a French-style café on Eastgate and ordered coffees and croissants, sitting at a tubular steel and glass table in the window.

But Maurie refused to eat anything. 'I'll just throw it up,' he said.

Faces streamed past in the sunshine on the other side of the glass, and Jack had a very powerful sense that he and the others were not even visible to them. Phantoms from another century haunting a future world. Maurie looked so ill that Jack began to wonder if his old friend would actually make it to London. All he had ordered was a glass of water to wash down his heart pills and painkillers.

Ricky's phone rang, as it had done several times already that morning. Jack watched his grandson's face as he looked at the display.

'It's Dad again.'

On an impulse Jack reached out and took the phone from him. 'Here. I'll talk to him.'

He touched the green answer icon and put the phone to his ear before Ricky could stop him. And he spoke before his son-in-law could get a word in.

'Look, Malcolm. Just stop bloody bothering us, will you? We'll be back in a few days. And none of this is Rick's fault. You can blame me. I twisted his arm to give us a lift to London. I've only borrowed him for a few days, and I'll bring him back safe and sound. So, in the meantime, will you please just FUCK OFF!' He hung up and thrust the phone back at Ricky. 'Sorry for my French.'

Heads in the café turned towards them, and Ricky blushed with embarrassment.

'I need to go to the loo,' Maurie said suddenly.

Jack looked at him and saw that he was the colour of ash. 'You take him, Rick.'

'Me?'

'Aye, you. We're going to have to share this around.'

'I need to go now!' There was urgency in Maurie's voice.

Ricky sighed heavily before heaving himself out of his seat to help Maurie to the door of the toilet at the back of the café. Jack turned and watched as his grandson squeezed into the little toilet with the old man. Although he shut the door behind them, there wasn't anyone in the café that didn't hear Maurie retching. And when they came out again Ricky was, if anything, more ashen than the old man. He glared at his grandfather.

Ricky and his elderly companions made their way back up Eastgate, past the Red Sea Restaurant and Cash Converters, to an alleyway that led back through into Edward Street. They were halfway along the street before they realized that the Micra was gone.

There was a moment of disorientation when Ricky said, 'The car's not there!' Panic rising in his voice.

And Jack said, 'No, we must have parked it further along.' Even though he didn't think they had.

'No, it was here,' Ricky said.

The space between the white lines seemed painfully empty, and none of them could quite believe it.

'We've made a mistake. We must have,' Dave said. 'We're in the wrong street.'

But it was Maurie who shook his head. 'We're not.' He looked grim, and infinitely weary. 'All my stuff was in it. Wallet, the lot.'

'Mine, too,' Dave said, realization dawning suddenly that if the car wasn't there, then someone had stolen it – and all their things with it.

'I've only got a tenner in my wallet, and some loose change.' Jack fished it from his back pocket and opened it up.

'At least you've got a credit card.' Dave jabbed a finger at it.

Jack pulled a face. 'Way past its limit.'

A long, mournful wail cut into their exchange, and they turned to look at Ricky. He was very nearly in tears.

'My car's been stolen,' he shouted. 'And all you can talk about is the tenner you've got in your wallet and a stupid bloody credit card that doesn't work. My car has gone! It's gone! My car, my bag, my Nintendo, everything. My dad is so going to kill me.'

'What do we dae?' Dave said.

And Jack saw him looking lost and old somehow for the first time. He shrugged. 'Report it to the police.' He turned to Ricky. 'Have you got the log book on you, son?'

Ricky bit his lower lip and shook his head. 'No.'

'But you know the registration number, right?'

'Er . . .' He blinked rapidly, trying to think. Then he grimaced and shook his head. 'I don't, Grampa. I never had any reason to memorize it.'

Jack slumped down on to one of a row of yellow posts that separated the street from the car park. He thought about it. 'Well, your dad's going to have the paperwork from when he bought it. So he'll have the number.'

'I'm not calling my dad!' Ricky was emphatic.

'You don't have to call him, son. Just send him an email. Use your phone to take a photo of the place where the car was parked, and email your dad with the details. He can contact the cops.'

Ricky was almost hopping on one foot with agitation. 'I can't.'

Dave said, 'Yer grampa's right, sonny. Yer pa's the only one who can sort this oot.'

'As long as you report the theft, the insurance'll cover it,' Maurie said suddenly. 'And your old man can do that for you, okay? No need for us to hang about here any longer than we have to.'

Dave cocked an eyebrow at him in surprise. 'Where are we going?'

'London, of course.'

'How?' Jack shook his head. 'We've no wheels, Maurie. No money.'

Maurie said, 'I'll make a phone call. Have some money wired to us.'

'Wired?' Jack said. 'Do they still do that?'

Maurie waved a dismissive hand. 'I don't know. However it's done, it shouldn't be too difficult.'

The peep of a horn startled them, and they turned to see a minibus pulled up outside the Wing Lee Hong Kong Chinese supermarket opposite. The driver jumped out and slid open the side door. He was a middle-aged man, wearing turned-up jeans and a knitted jumper. He had a florid face that warned of high blood pressure, and a bird's nest of wiry hair arranged around a bald crown.

'Sorry I'm so late, gents,' he said. 'The traffic's right bad this morning, and I've still got a few calls to make, but we should get you there on time.'

For a moment none of them knew what to say.

Then Jack improvised. 'Where are we going?'

'Well, you'll be meeting the coach at Bramley. But you'll get a bite to eat first with the old folk at the lunch club in the community centre. That's where you'll get picked up.' He looked at Ricky. 'You looking after them, young fella?'

'Aye, he is,' Jack said, and he nodded the others towards the van.

Ricky glared at him and hissed under his breath, 'What now?'

'You heard the man. Going to get something to eat, son,' Jack said, and grinned. 'Better take that photo before we go.'

He and Dave helped Maurie across the road and into the van while Ricky rattled off several quick pictures of the empty parking space where his Micra had been, then hurried over to join them.

The driver smiled. 'Doing a bit of sightseeing are you, son?'

Ricky didn't trust himself to speak and just nodded.

'Funny sort of thing to show the folks back home. A parking space in Leeds.' And he chuckled. 'Alright, gents. Everyone safely aboard?' He slid the door shut, then rounded the van to climb back into the driver's seat. 'Hope you don't mind, but I've a whole load of stuff in the back there to drop off at the Farsley Food Bank. Shouldn't take too long.'

III

Farsley was an old mill town halfway between Leeds and Bradford, subsumed now into the Leeds metropolitan area. It seemed to comprise a main street that ran steeply up a hill to a church at the top of it, with roads like spokes going off left and right to factories and former mills and micro housing estates.

'It's a bloody shame,' the driver said as they drove up the hill. 'There's folk in Farsley worked hard all their lives, till them bankers went and ruined the economy. Bloody gamblers, that's all they are. And it's honest working folk like what live here that are paying the price of it. Nearly ten per cent unemployed, if you even believe the figures.' He snorted his disgust. 'Those that have jobs don't even earn enough to pay their bills. And these bastards are still picking up their bonuses!'

'So who employs you, then?' Jack asked.

'Oh, I work the night shift at a factory in Bradford. This is just volunteer work.' He half turned. 'You've got to do your bit, don't you? Because the bloody government won't. One of the richest bloody countries in the world, we are, and we've got more than three and a half million children living in poverty. One in four! And nearly half of those in severe poverty. Never been a gap this big between rich and poor since the First World War. Bloody disgrace!'

Jack said, 'When I left school in the sixties, unemployment was one per cent.' He shook his head. 'Hard to believe it now. Jobs were so thick on the ground, if you didn't like the one you were in you could quit, walk round the corner and get another.'

Dave chuckled. 'I remember old what's-his-name, Harold Macmillan, saying we'd never had it sae good. And we thought, bloody Tory!' He made a sound that was halfway between a snort and a laugh. 'If only we'd known. But the auld bugger was right.'

They turned left off the main street into Old Road, climbed to a turn before a row of old brick terraced houses, and then drove into the car park of the Farsley Community Church.

'Used to be the Methodist church,' said the driver. 'And there's still a working chapel inside. The hall's given over now to the food bank.' He pulled up by a tall wooden entrance porch built on to the blackened stone church, and turned to Ricky. 'You can give me a hand in with these boxes, young fella, if you don't mind.'

Ricky looked like he minded very much.

But Jack said, 'He'll be only too delighted to help, won't you, Rick?'

He saw Ricky's jaw clench, but the young man said nothing. He climbed out of the van and went round the back to help the driver unload.

Jack turned to the other two. 'Wonder who we're supposed to be.'

Dave smiled. 'Does it matter? As long as we dinnae let on that we're no' who he thinks we are, the least we'll get is a free lunch.'

'I guess so.' Jack looked up at the big old church. 'Never seen a food bank myself. Fancy taking a look?'

Maurie said, 'On you go. Life's depressing enough.'

Jack and Dave followed Ricky and the driver up the stairs and into the main hall. Beneath a polished wooden ceiling sunlight streamed in through tall, arched windows to fall across tables laid out around the perimeter. Tinned and packaged foods were organized into blue plastic crates, and groups of people, some with children, shuffled from table to table filling their bags with the necessities of life.

Jack and Dave stood by the door watching. There was some discreet banter going on among the volunteers, but the recipients themselves moved around the tables in sombre silence, with just the occasional whispered exchange over a pack of rice or a bag of sugar. It dawned, then, on Jack that what he was witnessing was humiliation. People stripped of all dignity and forced to come here to feed themselves or their children. And he immediately felt a sense of prurience.

He turned at the sound of their driver's voice, low and breathless, as if imparting a secret. 'Crying shame, in't it? You know, more than a million people had to use food banks in this country last year. And a lot of these folk have got jobs. They just don't earn enough to feed their families.'

Jack glanced beyond him towards Ricky, and saw the young man's discomfort.

'Most people don't realize it, but the biggest cause of folk needing to use food banks is delays in benefit payments. They just don't have any bloody money at all. Second biggest cause is low income.' He shook his head. 'Low income! Can you imagine? How is it even legal to pay people less money than they need to live?' He lowered his voice even further. 'And this?' He nodded towards the lines of tables. 'This is just the last step in a kind of ritual humiliation.'

Jack noticed that the driver used the very word that had come to his mind.

'If you were to believe the papers, you'd think anyone could just trot along here and help themselves. They can't. They have to be assessed by care professionals. Social workers, doctors, police officers. And if it's decided they're in crisis, they get vouchers to exchange for food.' He looked at Jack and Dave, and cocked his eyebrow in disgust. 'Hard to believe this is 2015.'

As they shuffled out, Jack caught his grandson's arm on the stairs, and leaned in to whisper. 'Bloody scroungers, eh? Just topping up their weekly shopping at our expense.'

 

IV

Ricky sat in the back of the minibus working his iPhone with his thumbs, emailing his father and sending him the photograph of the empty parking space. The road from Farsley took them through suburban housing schemes and new industrial estates, round ring roads and loops. When they reached Bramley they passed countless For Sale and To Let signs on houses and shops. The roads were patched and potholed, and their minibus bumped and lurched, making it almost impossible for Ricky to hit the correct keys.

At the Halifax Building Society they turned right by a row of ugly, square, brick-built shops roughly assembled into a poor man's shopping centre. A long street of red-brick semi-detached villas fell steeply away towards a Leeds skyline that shimmered against a blue sky in a hazy distance of spring heat and pollution. An area of waste ground grew unkempt, yellow-sprinkled with dandelions. On the other side of the road stood the Bramley Community Centre, with its freshly blue-painted facade and a narrow strip of parking behind a broken stone wall.

Their driver pulled the minibus into the parking area and slapped his steering wheel with satisfaction. 'There we are. Bang on time, gentlemen. The coach should arrive any minute now. Then after lunch you can join them for the rest of the journey.'

'Where's the coach coming from?' Jack asked innocently. Although what he really wanted to know was where it was going.

The driver obliged on both counts. 'Didn't they tell you? The north-east. Newcastle. You're the last lot to get picked up before they hit the M1 for London.'

Jack and Dave exchanged looks, and Maurie nodded gravely. Ricky shut his eyes and kept his sigh to an almost inaudible puff of air.

The driver helped them down on to the tarmac. 'You don't have much luggage with you for a three-day trip.' He paused and frowned. 'In fact, you don't seem to have any at all.'

Jack said, 'My son was heading down to London this week. So he took our stuff on ahead. Saved us carrying it.'

'Very wise. In here, gents.' And the driver led them into the hall of the community centre.

It was arranged with rows of tables covered with paper cloths and set with plates, cutlery and china teacups. A row of windows along the front of the building laid sunlight across them in broken, zigzag slabs.

Ricky leaned in to whisper in his grandfather's ear. 'I've never heard anyone lie so easily.'

Jack searched his face as if looking for a sign, any sign, that his grandson was learning anything from his experience. He said, 'It's called survival, son. You'll find out about that if you ever join the rest of us in the real world.'

'This is the OAP lunch club,' said the driver, 'run by Bramley Elderly Action. The only square meal some of these folk get, and often the only company they have from one week to the next. There are a few regulars here today, but mostly it'll be folk from your tour. Why don't you sit beside Mr Maltby? He's an interesting old fella. Ninety plus, I think.'

Mr Maltby sat at a table near the back. There were others, sitting together in groups of two or three, but Mr Maltby was on his own, and had chosen a place in the full glare of sunlight from the window. He seemed burned out by it, like an over-exposed photograph, so that he appeared almost spectral.

His dark suit was shabby and shiny. It must once have fitted, but he had clearly shrunk, and it was now several sizes too big for him. His shirt was buttoned to the neck, but hung loose around it. He wore no tie, and his hands were folded together on the table in front of him. Gnarled, arthritic hands with huge knuckles and deformed fingers. His fingernails were too long and the skin on the backs of his hands was bruised and stained with the brown spots of age.

He had a strong face, airbrushed by the light from the window so that his skin seemed quite smooth and almost shiny. His ears and nose were enormous, as if the rest of his face had contracted around them, and only a few wisps of silvered hair clung stubbornly to his scalp. A drop of clear mucus hanging from the end of his nose glistened in the sunlight.

'Here, young man,' the driver pulled out a chair next to Mr Maltby. 'You can have the honour of sitting next to him.'

Ricky looked as if the last thing in the world he wanted to do was sit beside Mr Maltby, and he drew his chair into the table with a bad grace, immediately pulling a face and putting a hand to his nose. Mr Maltby, it seemed, was disseminating the perfume of old age. Jack glared at his grandson and very deliberately took the seat on the other side. Dave and Maurie sat opposite.

Jack reached over to shake the old man's hand. 'Pleased to meet you, Mr Maltby. I'm Jack, and these are my friends Dave and Maurie.' He nodded towards Ricky. 'And my grandson, Rick.'

'Ricky,' Ricky corrected him.

Jack was surprised by the strength of Mr Maltby's handshake. 'Knew a Ricky once,' the old man said. 'Private Richard Tyson, he were. But everyone knew him as Ricky. Worked in the hat department at Harrods in London before the war. Absolutely bloody useless, 'n all.' His green eyes shone with mischief, his voice strong and lucid in spite of his years.

'You were in the war, then?' Jack said.

'Aye, I were that. Last two years of it, anyroad. They wouldn't let me go and fight the bloody Hun till I were eighteen.'

'What did ye dae? Were you front line?' Dave e. . .
We hope you are enjoying the book so far. To continue reading...
Runaway
Peter May
Copyright © 2023 All Rights Reserved