I'll Keep You Safe
Available in:
eBook
Paperback
Audiobook
Hardcover
Book info
Sample
Audiobook
Media
Author updates
Lists
Synopsis
Friends since childhood, and lovers and business partners as adults, Niamh and Ruairidh are owners of a small Hebridean company, Ranish Tweed, that weaves its own very special version of Harris Tweed. Although it's a small company, their fabrics have become internationally sought-after as a niche brand in the world of fashion and haute couture.
But the threads of their relationship are beginning to fray. As they prepare for an important showing at the Première Vision fabric fair, held in Paris every year, Niamh accuses Ruairidh of having an affair with Irina, a Russian fashion designer they work with—a fight that ends with Ruairidh storming off and getting into Irina's car. Moments later, Niamh watches in horror as the car containing her life partner explodes in a ball of flame.
With Niamh a prime suspect in the murder, the Parisian police hound her even after she returns to Harris to bury the pitiful remains of her lover and business partner. Amid the grief and struggles that follow, she begins to suspect that things are not what they seem; and when there is an attempt on her life, she becomes convinced that what looked like a terrorist attack on her lover might be something more personal by far . . .
Release date: January 11, 2018
Publisher: Quercus Publishing
Print pages: 432
* BingeBooks earns revenue from qualifying purchases as an Amazon Associate as well as from other retail partners.
Listen to a sample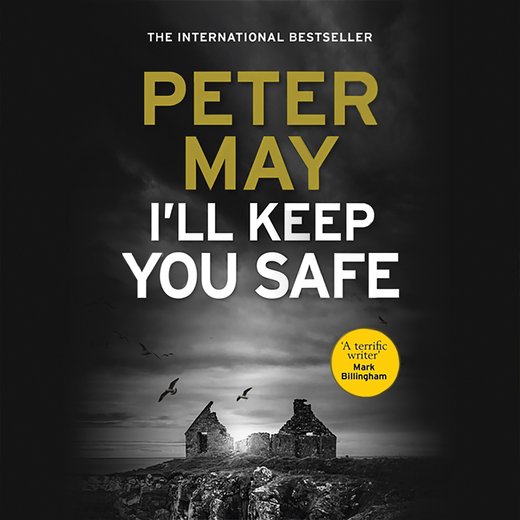 11:33:46
317.59 MB
9781549173769
March 27, 2018
Hachette Audio
I'll Keep You Safe
Peter May
CHAPTER ONE
The last hours of their life together replayed themselves through a thick fog of painful recollection. Did people really change, or was it just your perception of them? And if that was true, had you ever really known them in the first place?
The change in a relationship happens slowly, without you really noticing at first. Like the transition between spring and summer, or summer and autumn. And suddenly it's winter, and you wonder how that dead time managed to creep up on you so quickly.
It wasn't winter yet. Relations between them hadn't got quite that cold. But there was a chill in the air which seemed to presage the plunge of Arctic air to come, and as they moved with the flow of the crowds leaving the Parc des Expositions, Niamh shivered, even though the air of this September evening was still soft and warm. Only the fading light betrayed the changing season.
It was standing room only on the RER, and the train rattled and clattered its way through the north-eastern banlieues of Paris. Villepinte, Sevran Beaudottes, Aulnay-sous-Bois, where no one got on or off. She was uncomfortable, bodies pressing in all around her, male and female. The smell of garlic on sour breath, of sweat on man-made fabric, faded perfume, hair gel. Her knuckles glowed white, fingers clutching the chrome upright to keep her from falling as the train decelerated and accelerated, in and out of stations, and she tried to hold her breath.
Ruairidh was sandwiched between a tall man with an orange face who painted his eyebrows and wore lipstick, and a girl with tattoos engraved on every visible area of skin. Her dyed black hair and facial piercings seemed dated. Goth. Retro. Niamh saw Ruairidh force a hand into his pocket to retrieve his iPhone. The glow of its screen reflected briefly in his face and drew a frown that gathered between his eyes. He stared at it for a very long time before glancing, suddenly self-conscious, towards Niamh and thrusting the phone back in his pocket.
There was an exodus of passengers at the Gare du Nord, but a fresh influx of bodies from a crowded platform, and it was not until they got off at Châtelet les Halles that she was able to ask him about it. 'Bad news?'
He glanced at her as they climbed the steps to the street, and the same frown regrouped around the bridge of his nose. 'Bad news?'
'Your email. Or was it a text?'
'Oh. That. No. Nothing.' He shrugged an uncomfortable indifference. 'Shall we get a taxi?'
*
The Whisky Shop Paris threw light out across the Place de la Madeleine, casting shadows among the trees in the gathering gloom. Inside it seemed unnaturally bright, hanging globes reflecting light from white walls, whisky bottles glowing amber on lines of glass shelves. The sweet smell of it permeated the air like perfume. A girl took their coats at the foot of the stairs, and they climbed to the reception room on the first floor.
Harris Tweed Hebrides had imported two young island lads to provide the Celtic entertainment, and they stood in a corner, accordion and violin infusing the atmosphere, like the whisky, with a sense of home. Incongruous here in the heart of the French capital.
Ruairidh accepted his whisky cocktail, but Niamh was not in the mood for alcohol and they stood self-consciously amidst the buyers and designers and agents, feeling oddly alien. Their hosts, after all, were really the competition, though they clearly didn't see themselves as such, and were happy to share a stand with Ranish Tweed at Première Vision. They were all Scots, weren't they? Islanders. Selling the Hebrides as much as their cloth.
Different markets anyway.
Ruairidh was examining his phone again. 'I'm going to have to go to the offices of YSL after we get back to the hotel.'
'Why?' Niamh felt a cold mist close around her heart.
'Forgot to initial the contracts,' he said. 'Head office won't process them until we do. And there's no time tomorrow. We've got an early flight.' As if she didn't know. In any case, she didn't believe a word of it. Ruairidh had lunched with the buyer from Yves Saint Laurent earlier that day, or so he said, while she manned the stand. It was an important order. One of several they had secured at this year's Paris textile fair. Forgot to initial the contracts? She decided to test him.
'Want me to come with you?'
'No.' His response came just a little too fast. He tried to take the curse off it. 'Won't take long. I'll be back in no time.'
They were on the stairs to go, having stayed for what they deemed a respectable period of time, when the PR man called them back. 'You can't go yet, folks,' he said. 'We're just about to draw the raffle.' They had been given tickets when they arrived. The winning number, drawn from a hat, would secure Ian Lawson's extraordinary photo book, From the Land Comes the Cloth, a visual evocation of how the colours and patterns of Harris Tweed have drawn their inspiration from the landscape since the time islanders first began weaving it. A huge and weighty tome, it sold in special editions for around two hundred euros. Harris Tweed Hebrides were clearly keen that it should end up in the hands of a favoured customer, but politeness had demanded that all their guests be included.
And so smiles were fixed when it was Ruairidh's number that was drawn from the hat. Niamh masked her embarrassment by suggesting they forgo their good fortune and offer the book back for another draw. But no one would hear of it, and now they sat either side of it in the taxi, where it had morphed into a physical manifestation of the barrier that seemed to have materialized between them. Ruairidh said, 'I'm glad they wouldn't take it back. I've always wanted that book.' He could have bought it a hundred times over, but somehow had never got around to it. In the end it was luck that had delivered it into his hands. The same luck that would desert him in less than an hour.
*
When their taxi dropped them outside the Crowne Plaza in the Place de la République, darkness had fallen, and the nightly gathering of police trucks and vans was already lining itself up along the pavement. Armed officers in flak jackets stood around in groups cradling automatic weapons and drawing on cigarettes. You could smell the smoke in the cool of the night, and sense the conflicting emotions of boredom and fear that stalked them, like the ghosts of both the terrorists and their victims whose blood had stained the streets all around this quartier. You just never knew when something might happen. The reality, these days, of life in the City of Light.
They took the lift to the second floor in silence. Niamh stole a glance at her man, but he was somewhere else. Somewhere, it seemed, that she was no longer welcome. He appeared older, suddenly, than his forty-two years. Short dark curls greying around the temples, shadows beneath blue eyes that had spent much of their time avoiding hers these last weeks. And she ached with a sense of loss. What had happened to them? A lifetime of love, ten years of marriage, evaporating before her eyes like rain on hot tarmac. It didn't seem possible. Any of it. And it made her all the more determined to guard the secret she had been keeping from him.
As he held the door of their club room open for her she saw the slim package in its brown paper wrapping lying on the dressing table where she had left it. She hurried across the room and slipped it into her bag before he could see it and ask what it was. 'I'm going to take a shower,' he said, and he threw his jacket on the bed and went straight into the bathroom.
She heard the water running, and it only emphasized the silence in the room and her sense of loneliness. So she turned on the TV, just to create the illusion of life. Of normality. And walked to the window to gaze down into the courtyard below. Guests sat around tables beneath large, square parasols, eating and drinking, their chatter animated, laughter reaching her on the gentle night air, as if in rebuke for her unhappiness.
She didn't turn when Ruairidh came out, wrapped in a towelling robe, and she heard him rummaging in his case for a clean top and underwear. Then he was in the bathroom again, and she heard the spray of his deodorant and the slap of palms on cheeks applying aftershave. This time, when he emerged, she smelled him. When finally she turned, he was pulling on a black polo shirt and running his fingers back through still damp hair. 'Making yourself beautiful for your girlfriend?' She couldn't help herself.
He stopped, with his hands still raised. The frown again. 'What are you talking about?'
'Irina.'
'What?' His incredulity was almost convincing.
'Oh, come on, Ruairidh. Irina Vetrov. You've been having an affair with her ever since you came to Paris last spring to seal that deal to provide Ranish for her next collection.'
He almost laughed. But there was something not wholly convincing about it. 'Irina Vetrov? You think I'm having an affair with her?'
Niamh knew that people often repeated an accusation to play for time, to compose a response. But she didn't want to hear it. Instead, she walked briskly across the room to the wardrobe, throwing open the door and crouching to unlock the safe. She really hadn't meant to confront him, but somehow there was no avoiding it any longer. She took out her iPad and flicked open the cover. A four-digit code brought up the welcome screen, and a couple of swipes opened her mailer. She stabbed a finger at the screen and held it out towards him.
He took a step towards her, consternation now in his eyes, and took the iPad, glancing down at the screen. She knew what he was reading. Words engraved in her memory. Read, and reread, and read again. Your husband is having an affair with Irina Vetrov. Ask him about it. She watched closely for his reaction. He looked up. His frown had become a scowl.
'Jesus Christ, what the hell's this?'
'Self-explanatory, I think.' Her certainty already wavering.
He lowered his eyes to the screen again, and read, '
[email protected]
?' Then raised them to meet hers. 'Who the fuck is that?'
'You tell me.' Which immediately struck her as a stupid thing to say, since he clearly didn't know. He threw her iPad dismissively on to the bed.
'It's crap, Niamh. Just not true. I can't believe you think it is.'
'Well, what am I supposed to think? You've been so secretive recently. Meetings and rendezvous without me. The little wife left to keep shop.'
'Oh, for God's sake!'
'Do you deny it?' She could hear herself getting shrill.
'That I'm having an affair with Irina?'
'Yes!'
'I think I just did.'
'So why would someone write and tell me you were?'
'I think you'd have to ask them that, but I haven't got the first idea.' He seemed genuinely hurt. A glance at his watch and he said, 'I have to go.'
'Where?' She turned, catching his arm as he walked past her. He pulled it free.
'I told you.'
'YSL?'
'Yes.'
'I don't believe you.'
He stared at her long and hard. 'They say that when trust is gone, love is dead. Don't wait up.'
He slammed the door behind him and she stood, a cauldron of mixed emotions bubbling inside her. Now she felt guilty. As if it were her fault. As if the lack of trust she had just so clearly demonstrated was without cause. But it was justified, wasn't it? The way things had changed between them recently. His strange, guilty behaviour.
The email.
She perched on the edge of the bed resisting the urge to weep. She wouldn't give him that satisfaction. Then realized he would never know if she did. But she would. And she was determined not to.
To her left the screen of her iPad, still lying on the bed, had dimmed a little, but the words of the email remained clear and legible. Your husband is having an affair with Irina Vetrov. Ask him about it. Well, she just had, and all it had brought was pain and confusion. Don't wait up, he had said. But how could he even imagine she could go to bed with everything that had just happened between them left unresolved?
She sat for what felt like hours, but was probably only minutes, before she got up and wandered to the window. People were still eating and drinking and laughing down there. How she wished she were one of them. That things could just be back to how they were before. They had been through so much together, she and Ruairidh, and always come out the other side of it stronger. Or so she had thought.
She stiffened and felt the skin stinging across her scalp. Ruairidh had just emerged from the bar into the courtyard below, a glass of beer in his hand. He sat at an empty table and placed his beer on it, untouched. She watched as he leaned forward, elbows on his knees, before dropping his head briefly into his hands. When he raised it again, he sat back folding his arms and stretched his legs out, gazing at the fizzing amber liquid in his glass. But he made no attempt to drink it.
Niamh watched for a long time, aching inside. So many moments of magic, and madness, between them. So many memories. She was tempted to go down and join him. To say sorry for doubting him. To ask him what it was that had gone wrong and how they could put it right.
And then Irina stepped from the bar. Niamh saw her look around before spotting Ruairidh and walking towards him. She was shorter than Niamh, willow-thin, with long chestnut hair cut in a straight fringe that hung in a curtain over her eyes. Almond eyes, almost slanted. So dark they seemed to soak up all the light. Everything about her was feminine. The way she walked, the way she held her hands, so elegant with their long, slim fingers. The seductive, slightly hoarse quality of her voice. Niamh had only met her once, but she had made Niamh feel big and clumsy, which by any normal standards she was not. Tall, yes. Nearly five-eight, but certainly not overweight. Her long, slender legs had been the envy of all her friends at the Nicolson. And her thick-cut, shoulder-length wavy blonde hair gave her the air of a thirty-year-old, rather than the forty she had just turned this year. Still, she had felt oversized next to the petite Irina, and watched her now with a growing jealousy.
Ruairidh stood up when he saw her coming and kissed her on both cheeks. They exchanged a few earnest words and Niamh wished she could lip-read. Then they turned and walked out together into the bar, leaving his beer undrunk.
Niamh felt a sense of hopelessness wash over her. And then desperation. If she let him go now, let him walk out of the hotel with Irina Vetrov, she feared she would be letting him walk out of her life. For ever.
An impulse led her to snatch her Ranish Tweed jacket from the back of a chair, and her bag, and almost run across the room to the door. She was still pulling on the jacket as she hurried down the hall, turning right past tall arched windows that looked down on to the courtyard. She pressed the call button for the lift several times and was considering running down the stairs when suddenly it arrived. By the time she got to the lobby, Ruairidh and Irina had left the hotel. Through glass doors that gave on to the square, Niamh saw them getting into Irina's car, a white A-Class Mercedes, its hazard lights flashing.
Niamh sprinted through the lobby, pausing breathlessly to let two sets of sliding doors open, before running out on to the pavement, assailed by a thousand city smells and sounds carried on cooling night breezes. The Mercedes was already accelerating away, past the lines of police vehicles, towards the traffic lights at the far end of the Place.
A classical-looking building on the block beyond the Crowne Plaza was clad in scaffolding, and simmered darkly behind mesh screening. Workmen's trucks and a couple of skips lined up along the pavement in front of it, abandoned for the night.
Niamh ran out into the middle of the street, past a classic revolving Morris column, with its domed top, advertising a rerun of Le Fusible at the Théâtre des Bouffes Parisiens. Several armed police officers turned to look at her, suddenly alert. But she didn't even see them. The brake lights of the Mercedes glowed red as it stopped at the lights beyond the workmen's trucks, and the left indicator began to flash. Niamh glanced across the square, beyond the thirty-foot statue of Marianne picked out by symbolic red, white and blue spots, and thought that if she ran a diagonal across the slabs, she could reach the far end of the square in time to cut the car off before it was gone for good. If only the lights would stay red long enough.
She ran past the graffiti-covered red containers that lined the nearside of the pavement, sprinting beyond Marianne and the steps that led down to the Métro République. Off to her left she was only vaguely aware of the diners who sat out at green metal tables at the Café Fluctuat Nec Mergitur. Destroyed by fire early in 2015, it had been reopened, and renamed with the motto of Paris following the terrorist attacks later that same year. Tossed by the waves but never sunk. It was about to be tossed once more.
Niamh saw the lights change to green and the Mercedes start to turn left across the flow of traffic. And then she was blinded. A searing, burning light that obliterated all else, just a fraction of a second before the shockwave from the blast knocked her off her feet. As she hit the ground, sight returned. She saw glass flying from the broken windows of the Fluctuat Nec Mergitur, tables and chairs spinning away across the square. As she rolled over, the Mercedes was still in the air. Later she would remember it as being ten feet or more off the ground. But in fact it was probably no more than eighteen or twenty inches. Flaming debris showered down across the Place de la République as the car slammed back on to the road, a ball of flame.
While her sight had returned, her hearing had not. The tinnitus was deafening. Then somewhere beyond it she heard a voice screaming. It was some moments before she realized it was her own. She pulled herself to her knees but did not have the strength to stand up, supporting herself on her arms and transfixed by the blazing vehicle on the road. Somewhere in her peripheral vision, beyond awareness, she saw dark figures running in the night. Long, flickering shadows cast by the light of the burning car.
Screams still tore themselves from her throat. Repeated, hysterical bursts of them. Before she understood that it was his name she was shrieking at the night. She felt hands grasp her arms on either side, men in uniform and dark body armour lifting her to her feet. One of them was shouting at her. His lips were moving, but she couldn't hear him. And then a woman moved into her field of vision. A woman with long dark hair cascading over shoulders draped in silk, a shawl wrapped around her above a pencil skirt and high heels. She flashed a wallet from her bag at the men who held Niamh. With the blaze behind her, Niamh couldn't see the woman's face. And yet somehow her voice cut through everything else. A commanding voice edged with concern.
Niamh felt tears burning tracks down her cheeks and stopped screaming to draw breath. Although she could now hear the words, she couldn't understand them. She shook her head hopelessly. Then suddenly there was clarity. The woman was speaking English.
'You are English?'
She almost certainly only wanted to know that Niamh understood her. But Niamh had never been able to think of herself that way. 'Scottish,' she said, her voice was hoarse already. Then she thought what an absurd distinction it was in a moment like this.
'You were running towards the car.'
'Yes.'
'Why?'
'Ruairidh . . .' Just saying his name caused her throat to close and fresh tears to scald her face. She took a moment to find her breath again. 'My husband.'
'Your husband was in the car?'
Niamh nodded vigorously. 'And Irina.'
'Irina?'
'Vetrov. The fashion designer.' She found light now in the woman's eyes. 'They're dead, aren't they?'
The woman nodded.
Niamh broke down again. Sobs contracting in her chest, almost completely blocking the flow of air to her lungs. The woman put a reassuring hand on her shoulder. 'Why were you running towards the car?' It was a refrain that would repeat itself often in the hours to come.
'They were . . .' In her shock and confusion she searched hopelessly for the right word. 'Lovers.' She sucked in air between sobs. 'All this time and I never knew it.' She searched the light in the eyes that gazed at her, looking for . . . what? Sympathy? Reason? 'Now I'll never be able to ask him why.'
CHAPTER TWO
It seemed she had been sitting here for hours. And yet time itself had become somehow timeless. It might have been only minutes. But her memory of the time which had passed stretched back further than that.
The room was entirely naked. The floor was tiled, a dirty beige. The walls had been painted a pale yellow at some indeterminate point in the past, but had lost almost all colour now, scored and scratched and scrawled on by the endless procession of cops and criminals who had conducted their business here. A wooden-topped table was supported on tubular legs, scarred and stained by the years. Her folding wooden chair was hard and unforgiving. Two empty chairs stood opposite.
High up on the wall facing the door, a barred slit of a window opened on to the night lights of the city, almost lost in the fluorescent glare of the strip light on the ceiling. On the wall beyond the empty chairs, a wooden-framed window was blacked out, offering her only a mocking reflection of herself in its darkness. Someone, she was sure, was watching her from the other side of it.
Strangely she felt nothing, as if some narcotic drug had numbed her body and robbed her of her senses. She had expected to cry. But the tears wouldn't come.
She gazed at her hands folded on the table in front of her. Hands that had touched him, stroked him, loved him. Hands he had held in his. And now they seemed lost, useless, dissociated.
She was almost startled when the door opened. A man of around fifty, with dyed black hair and a grey weary face, walked briskly into the room carrying a brown briefcase. He wore jeans that were a little too tight for him. His white shirt, tucked in at the waist, stretched across an oddly protuberant belly on an otherwise skinny body. The woman from the square followed him in. She had dispensed with the shawl, and her open-necked blouse revealed a hint of modest cleavage. Her pearl necklace, pencil skirt and high heels seemed distinctly inappropriate, as if she were on a romantic night out with a lover, instead of entering a police interview room. Niamh saw now that she was probably only a year or two younger than herself, soft shiny hair tumbling around a face that was unlikely to turn heads, but was not unattractive.
They sat in the two seats opposite Niamh, and the man dropped a modest folder on to the table in front of him. But he didn't open it. He reached down and from his briefcase took out a small digital recorder which he placed beside it. A red light began winking when he pressed a button on one side.
Niamh smelled cigarettes off his clothes, and on the stale air that he drew from his lungs and breathed across the table at her. She jumped focus to the faded Défense de Fumer sticker on the wall behind him, then back to the orange nicotine stains on his fingers. As some kind of deflection from dwelling even for one moment on the events of earlier that night, she wondered if they made him stand and smoke outside in the cold and the rain these days. Long gone, the smoke-filled interview rooms of old.
Then awareness that he was speaking invaded her consciousness. 'This is Lieutenant Sylvie Braque,' he said. 'Of the Police Judiciaire. Brigade Criminelle.' His English was heavily accented. Niamh's eyes strayed momentarily towards Braque then back again to the smoker. 'I am Commandant Frédéric Martinez, of the SDAT.' He paused. 'You know what that is?'
She shook her head.
'Sous-direction anti-terroriste. The Anti-Terrorism Sub-Directorate. Also of the Police Judiciaire.'
For the first time, Niamh was shaken out of her torpor. 'Terrorism? You think this was a terrorist attack?'
'France is still on high alert, Madame, after recent events. Any such incident is regarded as a possible attentat.' He paused to draw breath, and Niamh wondered if he wished it were smoke he was sucking into his lungs. 'However, there are several reasons why we are looking at other causes. Not least because the bomb blast was directed upwards, deliberately aimed at inflicting maximum damage to the occupants of the car.'
Niamh clenched her teeth to stop her jaw from trembling. Did he not understand that he was talking about her Ruairidh?
He appeared oblivious. 'A terrorist bomb would have been designed for maximum carnage, sending shrapnel in every direction. In which case you would not have been sitting here tonight. Miraculously collateral damage has been minimal. No one else was killed.' He opened his folder now, and scanned the few pages it contained. 'We have established that the vehicle did indeed belong to Irina Vetrov, and we have several witnesses who saw both her and your husband getting into it and driving off. What we don't know is why someone put a bomb under it.' He raised his eyes towards Niamh, and the question was there in their opaque milky brown.
Niamh found her voice with difficulty. 'I have no idea.'
He nodded and took out a pen. 'Let's get one or two details for the record, shall we? Your husband's name was . . .' He hesitated. 'Roo . . . Roooai . . .'
'It would be easier for you just to say Rory,' Niamh said. 'It's a Scots Gaelic name. That's the English pronunciation.' How often had they been forced to trot out the same explanation over the years. For them both. 'And in case you're wondering, my name is pronounced Neave.' She spelled out both names.
Martinez gave up trying to follow her and scribbled down their phonetic representations. Then, 'Macfarlane,' he said carefully. She nodded. 'And what were you and . . . Rory . . . doing here in Paris?'
'We were attending Première Vision at the Parc des Expositions.'
He frowned. 'Which is what?'
'It's the world's biggest international fabric fair, Commandant,' she said wearily. This all seemed so prosaic. Irrelevant. Ruairidh was dead. 'Top fashion designers and clothing manufacturers from around the world come to Paris twice a year to buy the fabrics that will appear on the catwalks and in the stores the following season.'
'And why were you there?'
Niamh closed her eyes and tried to summon the will to find answers to the smoker's questions. It was hard to think beyond the grief. 'Ruairidh and I were not just life partners. We were business partners. A small weaving enterprise in the Outer Hebrides of Scotland called Ranish Tweed.'
'Like Harris Tweed?'
Niamh never ceased to be amazed by how many people had heard of Harris Tweed around the world. A fabric created by a handful of weavers in their own homes on a tiny archipelago off the extreme north-west of Europe. From somewhere she found the palest of smiles. 'Like Harris Tweed. But different.'
CHAPTER THREE
The first time that Ruairidh spoke to me about Ranish it came completely out of the blue.
By then I had already succumbed to what seemed like the inevitable, although I had been resisting it for long enough. And I still don't really know why I gave up my career in favour of home-making and motherhood. Except that somehow it was what had been expected of me all my life.
After university, I worked in Glasgow and London, then at Johnstons of Elgin. The Johnstons mill was based in Moray in the north-east of Scotland. It produced the most wonderful fabric, rich in cashmere, and it was there I found the job in sales and marketing that my entire education had been preparing me for. A job that allowed me to spread my wings for the first time – a lassie born and raised in the tiny village of Balanish on the west side of the Isle of Lewis chasing orders in places like Paris and Frankfurt and Milan.
I loved it.
But, then, I loved Ruairidh, too. And when he asked me to marry him I had no hesitation in giving up my precious job at Johnstons to return to the island of our birth and build the nest in which we would raise our children. It just seemed like the natural thing to do.
It would have been a different story had I known then that he would be unable to find work back on the island, and that I would spend weeks and months on my own restoring the old whitehouse on his parents' croft. Like most Lewis boys, he never wanted to move far from his mamaidh. His parents still lived in the new house at the top of the croft, a spit away from the whitehouse his paternal grandparents had built when finally they had abandoned their old blackhouse just before the war. It didn't help that the Macfarlanes and I saw eye to eye over almost nothing. On the islands, history stays long in the memory. So I was spending much of my time at my parents' house at the other end of the village.
They were pleased to have me back on the island, but Ruairidh was a taboo subject at home, as it had been for years. And so we never talked about him. When I first told them that
We hope you are enjoying the book so far. To continue reading...
I'll Keep You Safe
Peter May
Copyright © 2023 All Rights Reserved