Blacklight Blue
Available in:
eBook
Paperback
Audiobook
Hardcover
Book info
Sample
Audiobook
Media
Author updates
Lists
Synopsis
"A CEREBRAL, CHILLING TALE BOUND TO BURNISH MAY'S REPUTATION." --Kirkus Reviews
"AN UNUSUALLY COMPELLING, ONGOING SAGA" --Publishers Weekly
"HIS COMPLICATED TALE WEAVES THREADS OF THE PAST INTO THE PRESENT... AN ENGROSSING MYSTERY" --Library Journal
Former forensics expert and current Toulouse professor Enzo Macleod is forced to take a break from his personal and professional pursuits when he is diagnosed with a terminal illness.
Worse, though, it seems he has become the victim of someone who is trying to destroy his life--by ruining his credit, threatening him and his family, and finally framing him for murder.

With no choice but to fight back, Macleod stashes his family in a safe house and sets to work. Increasingly convinced that the cold case he's investigating is connected to his persecution, Macleod tries to connect the dots before it's too late to save his life and the lives of those he loves. . .
Release date: June 13, 2013
Publisher: Quercus Publishing
Print pages: 416
* BingeBooks earns revenue from qualifying purchases as an Amazon Associate as well as from other retail partners.
Listen to a sample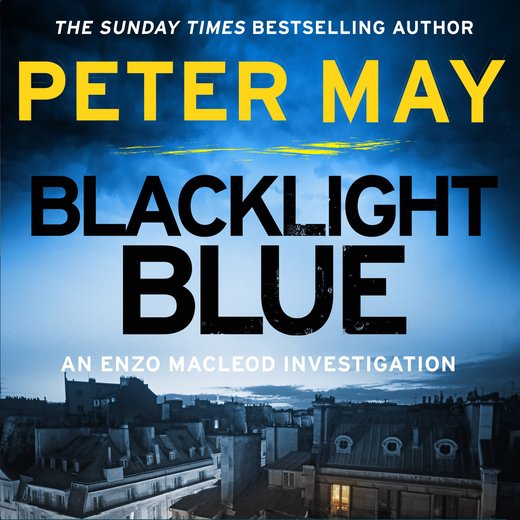 10:03:04
276.08 MB
9781529403015
January 22, 2019
Hachette Audio
Blacklight Blue
Peter May
CHAPTER EIGHT

Kirsty pushed through the crowds in the Place de la Gare towards the huge glass bubble they had built, unaccountably, to mask the station's historical façade. An architectural aberration to be endured by generations of Strasbourgers to come. Work to renovate the station and link it into the city's growing tram network had only recently been completed, along with this glass monstrosity.

Earlier sleet had turned to rain, blowing in on an east wind all the way from Siberia, and travellers hurried, heads bowed beneath battered umbrellas, on pathways that converged like the spokes of a wheel on the hub that was the Gare de Strasbourg.

The huge clock in the departure hall showed nearly four-thirty. Her father's train was due in very shortly. Kirsty glanced nervously at the faces of passengers who seemed to press around her on all sides. If someone was trying to kill her, she thought not unreasonably, it could be any one of them. How could she know?

Kirsty had been unable to sleep since Sylvie's death. She had lain, tossing and turning in a friend's apartment the previous night, torn between guilt and confusion. She had no idea why someone might want her dead. It was inexplicable to her. And yet there was, it seemed, no doubt that she had been the target. No doubt, too, that since her would-be killer had failed the first time, he might very well try again. She felt vulnerable, exposed, and powerless to do anything about it.

The call to her father had been a reflex response. A return to childhood. A little girl reaching out towards safe and comforting arms. Someone who would never let her down, no matter what. And, yet, hadn't he done just that for all those years?

A Jewish cleric with a long white beard and black hat was staring at her, and she turned away self-consciously, hurrying through a series of stone arches towards the arrivals hall.

Which was when she saw him.

Just a glimpse. An oddly familiar face beyond the dozens of people queuing at the Alsace grocery store. She stopped, catching her breath. Where was he? And then she saw him again. He was looking at her, a strange serenity in piercing blue eyes. And then he was gone, and no matter how hard she looked, she couldn't catch sight of him. Who was he? She knew she knew him. Then it came to her. Like a moment replayed. A strong hand helping her to her feet. You're a lucky girl, he'd said. And a shiver of fear shook her rigid.

*

She saw her father almost as soon as he stepped off the TGV. He was nearly a head higher than the other passengers, and although his hair was greying, the trademark white stripe that ran back through it from his left temple still stood out. Her resolve to remain strong immediately dissolved, and she pushed through the oncoming tide to throw herself into his arms. He dropped his overnight bag and held her as if there might be no tomorrow – which, for him, was only too close to being true.

He felt her sobs pulsing against his chest, and he held her until they began to subside. When, finally, she drew away, brushing the tears from her eyes, platform four was almost deserted. She ran a hand back through her long hair, clearing it away from a strong, handsome face. She had dark eyes, and full lips like her mother. But she was tall, with square set shoulders and long legs, like her father. When she spoke, her usually strong, confident, Scottish voice was hoarse, barely a whisper.

'I'm so scared.'

He held her by the shoulders. 'I won't let anything happen to you, Kirsty. Ever.' And it was with a jolt that he was reminded that, for him, 'ever' was just a few months. After that, she would be on her own.

He took her hand and they went down the steps to the long marbled corridor that led to the front of the station. Her grip on his hand tightened every time she saw a man approach, and he glanced at her to see the pale tension etched in her face. He put an arm around her shoulder and guided her through the shopping arcade towards the station buffet. It was packed here, and he thought she might feel safer in a crowd. A girl behind glass in the ticket office glanced at them as they passed, as if their insecurity were visible. They sank into tubular metal chairs at a table in the corner, from where they had a view of anyone approaching, and an impossibly thin oriental girl served them coffee. A huge wallposter of a croque-monsieur reminded him that he was hungry. He had not eaten since overnighting in Paris and killing time till the first available seat in a TGV. But there were more pressing things to deal with.

He had to raise his own voice above the echo of the others that rang among the pillars and vaults, and the constant announcements that blared from the speaker system. 'What happened?'

And she told him. About her one-week contract interpreting for the Italian. Her disappointment when she discovered why he was in town. How the weather had brought traffic to a standstill on the morning of the press conference, and how she had called Sylvie from her cab to ask her to stand in.

'It's hard to believe that you were the target and not the Italian. He must have plenty of enemies.'

'The police were certain. The bomb had been placed beneath the interpreter's seat. The one I should have been in. Not Sylvie.'

She choked on the words, and he put a reassuring hand over hers. 'It's not your fault, Kirsty.'

'That bomb was meant for me. It should have been me at that press conference.'

It was almost as if she wished herself dead. Death would have been easier than the guilt. Enzo thought about how he would be feeling right now if Kirsty had got there on time. And he knew that no matter what horrors he might face himself, his job right now was to protect his child. With his life if necessary.

He glanced at her. She was still distracted, eyes flickering nervously towards the passing crowds in the arcade. 'Are you still seeing Roger?'

The eyes darted quickly in his direction and fixed him with a look of hurt and disappointment. 'Does it matter? I know you don't like him, but he's got nothing to do with this.'

He wanted to say that it didn't matter a damn whether he liked Raffin or not. The point was he didn't like him being with Kirsty. But he kept his own counsel. 'Does he know what's happened?'

She shook her head, and he felt some tiny crumb of comfort in the knowledge that the first person she had turned to was him.

He dropped some coins on the table and stood up. 'Come on. We'll go to your apartment and pack a bag, and you'll come back with me to Cahors. You'll be safe there, and we'll figure out what to do.'

But she made no move to get up. 'I haven't been to the apartment since . . . since it happened. I stayed with a friend last night.' She hesitated. 'I'm frightened to go back.'

He nodded and took her hand. 'We'll get the cab to wait for us. I've booked us a hotel, and we'll get the first train to Paris in the morning.'

But still she wouldn't stand. 'There's something else . . .'

He frowned. 'What?' He sat down again.

'When I got there, you know, just as the bomb exploded, the blast knocked me from my feet.' He could see the consternation in her eyes. 'This man picked me up. Just kind of lifted me to my feet. It almost seemed like he was smiling. You know, completely unaffected by what had just happened. There was panic, people were screaming. Smoke everywhere. And he just looked at me and said, "You're a lucky girl."'

Enzo had no idea where this was going. He searched her face for some understanding. 'You were.'

'But it was like he knew I should have been up there. How would he know that?'

'You ever heard of dog acting?'

Her face creased in puzzlement. 'What do you mean?'

'In TV and movies, when they cut away to a shot of the dog, the dog has no expression on its face. We, the viewer, read into it whatever expression is appropriate. Good actors know that. They can make a blank face say a thousand different things.'

'Dad, I don't understand.'

'You were right. How would he know that you should have been up there? You were the only one who knew that. So you were the one who transferred that interpretation to him.'

But she took no comfort in his words and simply shook her head. 'No.' She drew a deep breath. 'You see, the thing is, I just saw him again.'

'Where?'

'Here. In the station. Just before your train got in.'

And he felt the same shiver of fear that she had experienced just fifteen minutes before.

CHAPTER EIGHTEEN

Cahors, November 2008

Enzo felt foolish. Almost embarrassed. He wasn't going to die after all. At least, not in the next three months. Not if he could help it. And all that depression and self-pity in which he had been wallowing since his appointment with the phoney oncologist, seemed horribly indulgent. But he had learned something very valuable. Life was for living. To the full. Every last, precious second of it.

He held both his daughters in an embrace that he wanted to go on forever. Sophie's tears were staining his shirt. She'd only had a single day to live with the knowledge of her father's impending death. A day that had seemed like an eternity, eyes burned red raw by endless tears, spilled now in happiness rather than grief.

And Kirsty. He drew back to look at her. The proximity of death had taught them something about themselves, forced both a confrontation and a reconciliation. There was no past, no history. Today was the first day of the rest of their lives. Lives to be lived in the moment.

Unfortunately, at this particular moment, Enzo still stood accused of murder. And whoever it was that was trying to ruin his life was still out there, capable of God only knew what else.

His tiny cell seemed full of people. He hardly knew who they all were. Nicole insinuated herself between the half-sisters, to thrust large breasts at her mentor and crush him with a bear-hugging ferocity.

'Shouldn't you be at university?' he said.

She cocked her head at him. 'Classes have been cancelled, Monsieur Macleod. Apparently our professor's been arrested on some trumped up murder charge. And he'll probably need my help to solve it, like he usually does.'

He smiled at her fondly. She was his brightest student and had already proved an invaluable assistant in helping him solve two of the murders in Raffin's book. A big girl of farming stock, what she lacked in social graces she made up for in intelligence. Long, straight hair that reached down almost as far as her ample hips, was pulled back severely from a round, pretty face, and tied in a ponytail. She frowned at him.

'I can't let you out of my sight for a minute, can I?'

He looked beyond her and saw Bertrand at the open door, uniformed officers at his back, and he felt the desolation in the young man's eyes. There was something different about him, odd. Then Enzo realised that the nose stud and eyebrow piercings had gone. His face seemed strangely naked without them. Gone, too, were the spikes gelled into hair which was now swept simply back from a pale forehead. He looked older, as if suddenly, in the face of tragedy, he had been forced finally to discard his youth.

Enzo held out his hand, and the boy shook it firmly. 'What's the situation with the gym?'

Bertrand made a face. 'It's history. The fire chief says it was arson. There was an accelerant used.' Years of study and work lost in a single night of flames.

'I'm so sorry, Bertrand.'

'Why? It's not your fault.'

'I feel responsible.'

But Bertrand wouldn't have it. 'Don't. Whatever I've lost I can rebuild.' He glanced at Kirsty. 'You nearly lost a daughter.' Kirsty reached out to touch his arm. The bond between them was evident. When someone saves your life, you owe him forever. When you are the one who saved the life you become, in some way, responsible for it. Bertrand and Sophie were lovers, and while that might some day come to an end, his relationship with Kirsty was for life.

Sophie said, 'The Maison de la Jeunesse has offered him temporary space, and the bank have said they'll give him a bridging loan to re-equip until the insurance money comes through.'

Bertrand shrugged bravely. 'All I've got to do is figure out how to make the payments.'

Out in the hallway, they heard a metal door slam shut, and voices, and a man appeared behind Bertrand. He was wearing a suit, thinning dark hair dragged back from a bearded face. It was so rare that Enzo saw Simon in a suit that he almost didn't recognise him.

'Uncle Sy!' Sophie threw herself at him with the unrestrained pleasure of a child greeting a favourite uncle. Except that he wasn't really her uncle. Kirsty took his hand and kissed him on both cheeks, strangely formal, before Simon turned towards his oldest friend. He wasn't smiling.

'How come they let everyone in here?'

'I've got influence with the boss.'

'Not enough to get you out, though.'

'No. Not quite that much.'

Simon glanced at Kirsty. 'Well, we'd better see what we can do to get your dad out, then.' He stepped forward, and the two men stood looking at each other. They had started school together on the same day, aged five. They had played in a band together throughout their teen years. And now here they were in their fifties, facing one another across a police cell, one of them suspected of murder, the other his lawyer. The only call allowed to Enzo had been made to Simon in London. He couldn't practice law in France, but he had some influential connections in the French legal world.

Enzo's first instinct was to hug him. But Simon pre-empted the embrace by holding out his hand for a formal handshake. 'We'll get you the best avocat in the south-west. I've already spoken to some people in Toulouse.' He seemed unusually detached, coldly professional. 'They're allowing me a half-hour interview. You brief me, I'll brief the avocat. We'll need to clear the cell first.'

'Not before we figure out what we can do in the meantime.' They all turned towards Nicole who became suddenly self-conscious. And then defiant. 'Well, I'm not hanging about twiddling my thumbs while Monsieur Macleod rots in here. There must be something we can do.'

'She's right, Dad,' Kirsty said. 'You must have some thoughts. You're an expert on crime scenes, after all.'

'Oh, I've given it a lot of thought, believe me,' Enzo said with some feeling. 'And if I was investigating this thing myself, I'd start with the phoney surgery in the Rue des Trois Baudus. Someone had access to that place. Someone with a key.' He paused for just a moment. 'And the hair they found on the victim's body? I've got a pretty damned good idea where that came from.'

*

The cathedral of St. Etienne stands at the cultural and religious heart of the old Roman city of Cahors, a stunning example of the transition from late Romanesque architecture to Gothic. Resembling a fort, more than a church, it was built in the eleventh century by bishops who were also powerful feudal lords defending their roles as counts and barons of the town. Now it stood in the repose of more tranquil times, a perch for pigeons, a repository for their guano, and the magnificent stained glass of the arched window in the apse looked out on to the barren winter gardens opposite the salon of coiffure Xavier.

Xavier was performing a red henna rinse on the head of a bird-like middle-aged lady whose hair had gone prematurely grey and begun thinning alarmingly. She wanted her scalp to be the same colour as her hair to disguise the fact that she was balding. Xavier was trying to persuade her that the disguise was unlikely to work. The door opened, and the bell above it vibrated shrilly in the hot, ammoniacal air of the salon.

Xavier immediately sensed hostility. One of the two young women seemed faintly familiar. And he had certainly seen the young man before. A body like his, sculpted during hours of patient exercise, was one you wouldn't forget in a hurry. Attractive though he was, however, there was something distinctly aggressive in his manner. Xavier took a step back from the hennaed head. 'Bonjour messieurs dames.' He regarded them cautiously. 'Can I help?'

Kirsty looked around the cramped little salon with undisguised contempt. Why on earth would her father come here to get his hair trimmed? And almost as if she had read her sister's mind, Sophie said, 'He comes once a month on Thursdays. Thursday's training day.'

Kirsty raised her eyes to the heavens and sighed. It was typical of her father to live out the world's stereotypical view of the mean Scot. She said, 'You cut our father's hair.'

Xavier looked at her blankly. 'Who's your father?'

'Enzo Macleod,' Sophie said. 'And he's in prison on a murder charge because of you.'

Xavier blanched. 'Me? I've never murdered anyone in my life.'

'It's running down my neck.' The bird-like lady squirmed in her seat, and Xavier glanced at the trails of red on white skin that disappeared beneath her plastic shoulder cover. But he was distracted.

Kirsty said, 'Hair found on the body of a woman murdered in Cahors three days ago matches my father's.'

Sophie pressed the point home. 'But that's not possible, since he wasn't there.'

Kirsty finished the tirade. 'And he didn't kill that woman.'

Xavier's pallor quickly turned pink as blood rushed to the surface of his skin. 'I don't see what that has to do with me.'

'Xavier, I can feel it running down my back.'

Bertrand took a threatening step towards the hairdresser who instinctively flinched, oblivious to the distress emanating from the red head at his fingertips. 'There's an easy way of doing this, Xavier, and there's a hard way. Your choice.'

'Okay, okay.' Xavier raised his hands in self-defence. Red for stop. 'I admit it. I did give him some of Monsieur Macleod's hair.'

'Who?' Sophie looked as if she were about to physically attack him.

'He said it was for a joke.'

'Who!'

'I don't know who he was. He came in here about a month ago, just after Monsieur Macleod had left, and said he wanted to buy some of his hair.'

'You mean you took money for it?' Sophie was incredulous, and her vehemence caused Xavier to take a further step back.

'I refused at first. But he was very persuasive. And in the end, I didn't really see the harm.'

'Well, you see it now.' Bertrand glared at him. 'How much did he pay you?'

'Honestly, I'd stick needles in my eyes before I'd do anything to hurt Monsieur Macleod.'

Bertrand said, 'That might still be an option. How much?'

'A hundred euros.'

They stared at him, their disbelief reflected in Kirsty's astonishment. 'A hundred euros! For some strands of hair?'

'Xavier . . . !' the woman in the chair wailed.

Xavier ignored her. 'He didn't want clippings. He wanted the hair that had come away in the comb. I hadn't even had a chance to clean it out. Monsieur Macleod's chair was still warm.'

'So this guy paid you a hundred euros for a few lengths of my father's hair, and you didn't think that was odd?' Kirsty's belligerence seemed almost as threatening now to Xavier as Bertrand's.

'Like I told you, he said it was for a joke.'

'Some joke!'

Xavier looked at Sophie and noticed for the first time, quite incongruously, the faint strip of white running back through her dark hair. 'You've got the same badger stripe as your father,' he said, as if he thought they might be distracted by this and forget about his transgressions.

'Magpie,' she said.

'What?'

'It's Magpie they call him, not Badger.'

Bertrand said, 'I think you need to shut up your salon, Xavier, and come up to the caserne with us. The police are going to have to take a statement.'

'I don't want to get into any trouble.'

'Maybe you should have thought of that before you went selling your customer's hair.'

Xavier sighed theatrically, then took in the stripes of red on the neck of the client wriggling below him in her chair. 'Oh. My. God! What a mess!' He immediately began dabbing it with a wet sponge, but it had already begun to dry. 'It'll take me a few minutes to sort this out.'

'We'll wait,' Bertrand told him.

And Kirsty said, 'What did he look like? This guy that bought Enzo's hair?'

Xavier waved a distracted hand in the air. 'Oh, I don't know. I hardly remember him.'

'Try.'

Another theatrical sigh. 'I suppose he must have been about fortyish. Quite good looking, really. His hair was short. I do remember that. Sort of fair. And, oh . . .' His eyes lit up. 'Ears. Hairdressers always look at ears. You have to in this business. Too easy to cut one off.'

'What about his ears?' Kirsty was staring at him intently.

'Well, it looked like he'd had a nasty accident in a barber's shop. His right earlobe was completely gone.'

CHAPTER ELEVEN

Yellow light reflected darkly off polished wooden floors. Rusted cogs and wheels and screws dipped down into dark waters behind glass walls, the machinery that once powered this old mill. There was only one other person at the bar, a woman nursing a champagne flute of pale, sparkling Dom Perignon.

Enzo hoisted himself on to a stool at the far end next to a large glass bowl filled with champagne bottles cooling in ice. The room was illuminated by the upward glow of backlit sheets of wafer-thin marble that dressed the bar. He ran his eye along glass shelves lined with bottles. Although the hotel promoted this as a champagne bar, it had a decent selection of whiskies. He ordered a Glenlivet from a bored-looking young barman who poured him a large measure and then retreated to polish glasses at a discreet distance.

Enzo slumped over his drink for some time, simply looking at it, trying to find solace in its pale amber. But it wasn't the colour that would bring comfort, it was the alcohol. And if not comfort, then perhaps oblivion. A painful journey, on which he seemed reluctant to take the first step. And so he continued to stare at it, fighting to keep conflicting and unpleasant thoughts from his mind.

'It'll evaporate before you drink it.'

He looked up to see the only other customer regarding him with a quizzical smile. Until now he had paid her no attention. But looking for the first time, he saw that she was attractive. Not in a pretty way, but with a strong jawline and well-defined cheekbones. Her eyes were dark, almost black, and she had an unusually small mouth with full lips. Until she smiled. It was a smile that split her face.

Long, silky brown hair was pulled back from her face and piled up loosely, untidily, behind her head. She was a woman well past the first flush of youth. Enzo thought she could be around forty, tall and lean. But she dressed younger. A short, black leather jacket, jeans and trainers, and not a trace of make-up. Which was unusual for a woman of her age. She was either supremely self-confident or simply didn't care.

Her skin was tanned, as if she had just spent time somewhere in the sun, and examining her hands he saw that they were strong and elegant, with unpolished nails cut short.

'Maybe that's what I'm waiting for.'

'Why would you do that?'

'If I drink it, I'll only order another.'

He held her gaze for a moment, then returned it to his drink. He reached for the water jug, poured in a little water to release the flavour locked into it by the distiller, then filled his mouth to let it slip slowly over his throat. The aromatic flavour of it filled his nostrils, and its warmth burned all the way down into his chest. It felt good, but there was a long way to go before he would find the solace he sought.

'You know, it's funny . . .'

He looked up, surprised to find her still watching him. He had almost forgotten her already. 'What is?'

'It's not often that I find myself alone in a bar, and not being pestered by some man.'

'You should make the most of it, then. Some man might come in at any moment and try to pick you up.'

She gave a small shrug of resignation. It seemed that Enzo was not going to be the one to try. 'I guess maybe I'm getting to an age where men just stop noticing me.'

Enzo found a smile from somewhere. 'They'd have to be pretty blind.' He took another mouthful of whisky. 'Don't be offended. It's not you. It's me.'

She cocked an eyebrow. 'Gay?'

Which made him laugh unexpectedly. 'No. It's just . . . I have other things on my mind.'

'A problem shared is a problem halved.'

'Two swallows don't make a summer.'

For a moment, her forehead creased in a frown. And then she saw what the game was and a smile snuck across her lips. 'Two minds are better than one.'

'An empty barrel makes the most noise.'

'Wise men agree, and fools seldom differ.'

But now his smile was strained. The game was already losing its power to distract, it was  puerile and pointless. He had come here to get drunk. He drained his glass and ordered another.

She watched in silence as the barman refilled his glass, then she ordered another glass of champagne for herself. When the barman had poured it, bubbling to the rim of her glass, she lifted it and moved along the bar, slipping on to the stool next to Enzo. On another day, in other circumstances, he might have felt a tiny frisson of sexual excitement. Instead he felt that she was encroaching on his space, and he might have resented that. Except that she didn't give him the time.

'Why don't I buy you that one? I'll do the talking, and maybe that'll take your mind off whatever's worrying you.'

He was surprised for the second time by the smile that found his lips. 'Never fails.'

'What?'

'Every time I go into a bar on my own, I get pestered by some woman.'

It was her turn to laugh. 'Then I should introduce myself. That way I won't just be "some woman".' She held out her hand. 'Anna.'

He hesitated for just a moment before taking it. 'Enzo.' Her handshake was firm and warm. 'Women adore me.'

She grinned. 'Oh, do they?' She tilted her head and her look became appraising. 'Maybe I can see why.' She paused. 'Different coloured eyes. Very unusual.'

'Waardenburg Syndrome. Goes with the white stripe in the hair.'

'Is it fatal?'

He flicked her a. . .
We hope you are enjoying the book so far. To continue reading...
Blacklight Blue
Peter May
Copyright © 2023 All Rights Reserved
Also in this series
Also by this author