Blowback
Available in:
eBook
Paperback
Audiobook
Hardcover
Book info
Sample
Audiobook
Media
Author updates
Lists
Synopsis
When France's top chef, Marc Fraysse, summoned the world's press to make a shattering announcement, rumors abounded that he was about to lose one of his three coveted Michelin stars.
Instead, upon arriving at his remote restaurant on a volcanic plateau in central France, they were greeted with the news that the troubled genius had been murdered, and the message he intended to deliver was never made. Seven years later, his killing and the identity of his killer still remain an enigma.
Enzo Macleod takes on his fifth cold case and delves into the big business and high stakes of French haute cuisine. As winter sets in and snow gathers along a volcanic horizon, he retraces long-cold footsteps across a remote hilltop.
But unraveling the complex web of relationships that surrounded the brilliant and mercurial chef — a spurned lover, a jealous wife, an estranged brother, an embittered food critic — also leads to strange parallels with his own life. In opening up this celebrated cold case, he finds himself reopening old wounds from his past.
A Blackstone Audio production.
Release date: August 8, 2013
Publisher: Quercus Publishing
Print pages: 368
* BingeBooks earns revenue from qualifying purchases as an Amazon Associate as well as from other retail partners.
Listen to a sample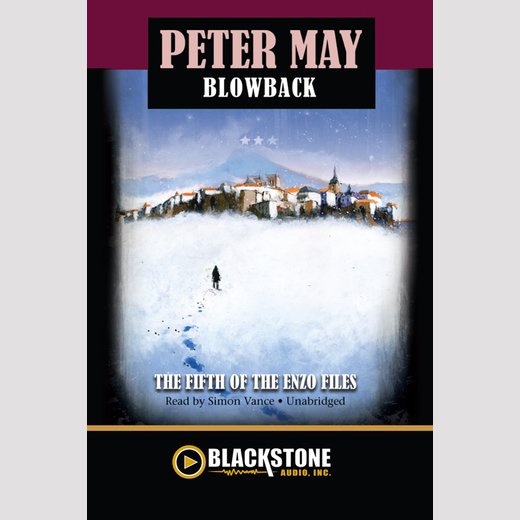 08:38:32
237.38 MB
9781529403022
March 1, 2011
Blackstone Audio
2011
Blowback
Peter May
Praise

Praise for Peter May

'Peter May is a writer I'd follow to the ends of the earth' New York Times

'A wonderfully complex book' Peter James, on Entry Island

'One of the best regarded crime series of recent years' Boyd Tonkin, Independent, on the Lewis Trilogy

'He is a terrific writer doing something different' Mark Billingham

'From the first page I knew I was in safe hands. I knew I could trust this writer' Sophie Hannah

'Tightly plotted, with no skimping on either the nuances of character or the wonderfully evocative descriptions . . . a true pleasure to read' Guardian

'May's novels are strong on place and the wounds left by old relationships' Sunday Times

'Will have the reader relishing every tendency of description and characterization' Barry Forshaw, Independent

'The characters were wonderfully compelling' Kate Mosse

Lyrical, empathetic and moving' Alex Gray

'Dark, exciting and atmospheric' Scotland on Sunday

'Powerful and authentic' Glasgow Sunday Herald

Also By

BY PETER MAY

The Enzo Files

Extraordinary People

The Critic

Blacklight Blue

Freeze Frame

Blowback

The China Thrillers

The Firemaker

The Fourth Sacrifice

The Killing Room

Snakehead

The Runner

Chinese Whispers

The Lewis Trilogy

The Blackhouse

The Lewis Man

The Chessmen

Standalone Novels

Entry Island

Runaway

Non-fiction

Hebrides with David Wilson

About the Author

Peter May was born and raised in Scotland. He was an award-winning journalist at the age of twenty-one and a published novelist at twenty-six. When his first book was adapted as a major drama series for the BBC, he quit journalism and during the high-octane fifteen years that followed, became one of Scotland's most successful television dramatists. He created three prime-time drama series, presided over two of the ­highest-rated serials in his homeland as script editor and producer, and worked on more than 1,000 episodes of ratings-topping drama before deciding to leave television to return to his first love, writing novels.

His passion for detailed research for his books has taken him behind the closed doors of the Chinese Police force, to the kitchen of a three-star Michelin chef, and down the Paris catacombs; he has worked as an online private detective, was inducted as a Chevalier of the Grand Order of Gaillac wines and earned honorary membership of the Chinese Crime Writers' Association.

He has won several literature awards in France and received the USA's Barry Award for The Blackhouse, the first in his internationally bestselling Lewis Trilogy, and the ITV Crime Thriller Awards Book Club Best Read for Entry Island.

He now lives in south-west France with his wife, writer Janice Hally.

Title





Copyright

First published in the USA in 2011 by Poisoned Pen Press

This edition published in Great Britain in 2015 by

Quercus Publishing Ltd

Carmelite House

50 Victoria Embankment

London EC4Y 0DZ

An Hachette UK company

Copyright © 2011 Peter May

The moral right of Peter May to be

identified as the author of this work has been

asserted in accordance with the Copyright,

Designs and Patents Act, 1988.

All rights reserved. No part of this publication

may be reproduced or transmitted in any form

or by any means, electronic or mechanical,

including photocopy, recording, or any

information storage and retrieval system,

without permission in writing from the publisher.

A CIP catalogue record for this book is available

from the British Library

PB ISBN 978 1 78206 212 7

EBOOK ISBN 978 1 78206 889 1

This book is a work of fiction. Names, characters,

businesses, organizations, places and events are

either the product of the author's imagination

or used fictitiously. Any resemblance to

actual persons, living or dead, events or

locales is entirely coincidental.

Typeset by CC Book Production

Dedication

This book is dedicated to the memory of my friend and mentor, Tom Wright

Epigraph

La nature parle et l'expérience traduit.

Jean-Paul Sartre

Prologue

Massif Central, France, February 2003

Dominique slipped the two wooden stakes under her arm and zipped her standard-issue waterproof jacket up to the neck. It was still winter cold. Wet now, although the snow remained thick on distant volcanic peaks. She pushed off up the track through the trees. Pine needles lay thick in the mud, the smell of them filling damp air, a powerful, bitter scent of decay, like the smell of death that awaited her at the end of her climb. She felt the chill anticipation of it in her bones.

Beyond the treeline the hill rose steeply. The little track, bounded by a crumbling drystone wall, followed its ragged contour before turning sharply to circumvent a stand of dark trees. There it rose again towards the summit where the hill flattened out and stretched away into the misted distance of the high plateau.

Dominique stopped at the turn and, looking back, was surprised at how far she had climbed. She stood, breathless, for a moment, and saw the blue flashing light of her van at the foot of the track, and the string of parked vehicles that snaked up the narrow road beyond it towards the auberge. She saw a group of tiny figures clustered on the road, an upturned parabole beaming its signal to the gods of some edit suite in Paris where its images, accompanied by some well-chosen sound bites, would be dissected for ease of digestion. A great story! A tragedy! A shock apéritif for prurient consumers of the evening news all over France.

Wearily the young gendarme turned to face the last few hundred metres of her climb. As she neared the summit she saw, at last, the old ruined stone buron breaking the horizon. It was hard to believe now that such a place had once been inhabited. But only in summer, with the beasts feeding on the great banks of wild flowers and sweet grasses that blanketed the plateau. And maybe then, with its soft estival winds and its unbroken views across the roof of France, it was a good place to be. An escape from the world below. A sense of elevation. Of godliness.

But today clouds sat low on the peak, drizzling their misery on the world, losing distance in grey mist. And Dominique saw two figures in dark, shiny waterproofs huddled in the shelter of the wet stone, one sitting on broken rocks, bent over, head in hands. The other stood by the opening that led to the shadowed interior of the buron. Its stone roof appeared almost intact, crumbling lauzes that kept out the light but let in the rain, supporting a chimney that had not felt the heat of a fire in years. A second, more dilapidated, roof rose at an angle above it, shelter for the animals when the weather closed in.

The standing figure stepped forward to shake Dominique's hand. A familiar face. He was a big man, broad as well as tall, but diminished somehow by grief. His dark blue béret was pulled down low on a furrowed brow, from beneath which grim eyes met hers.

Dominique glanced at the seated figure, and saw the torment in the woman's briefly upturned face, before it fell back again into black despair. It was the merest of acknowledgements, but no shake of the hand. The gendarme turned back to the man.

'Show me.'

He nodded and bowed his head to duck beneath the lintel as she followed him into the darkness beyond. Their shadows fell across a mud floor where water lay in pools, reflecting broken light from the doorway. A mess of footprints pitted the mud. Dominique unclipped the torch from her belt and let its beam wander back through the dark until it found the twisted figure of a man in a tracksuit half-lying in a pool of rainwater turned red by his blood. She felt a short, sharp, involuntary intake of breath briefly inflate her chest. Ten years in the gendarmerie and this was her first murder. While she had, in that time, pulled horribly mutilated corpses from car wrecks, nothing had quite prepared her for looking into the dead, staring eyes of a man whose face was known in every household in France. A face marred by a single bullet wound in the dead centre of his forehead. The bullet had passed straight through. She saw the white, grey mess of brain streaked amidst his bloodied hair and felt her stomach heave. She let her eyes follow the beam of her torch around the body, just barely in control. She heard the quiver in her own voice. 'No gun?'

'None that I could see.'

'Anything missing?'

'He always wore a belt with a pouch to carry his mobile and his Thiers. It's gone.'

Dominique glanced at him, and felt a tiny frown settle across her eyes. 'You think someone killed him for his mobile and his knife?'

The man shrugged, a helplessness in the slight movement of his shoulders.

Dominique felt the first flush of nausea subside. She tipped her head towards the door. This was a crime scene. She knew well enough that nothing should be disturbed until the experts arrived. She followed the man outside, and took the stakes from under her arm to hammer them into soft ground with the mallet she had brought from the van. One on either side of the entrance. Then she stretched a length of blue and white tape between them and watched as it flapped and fibrillated in the breeze.

'Who found him?'

'I did.' The man turned painfully blue eyes towards the soft brown of hers. 'He left to go for his run as usual, immediately after the lunch service.'

'He went running every day?'

The man nodded. 'Always the same route. Down the road from the auberge, then up through the trees to the buron, and along the ridge and back down towards the main road.' He sighed. 'When he wasn't back by four we started to get worried. Elisabeth was scared in case he'd had a fall.'

'Wouldn't he have phoned?'

'If conscious yes, I suppose he would.'

'Why didn't you phone him?'

'I did. There was no reply. That's why I went out looking for him.'

'What made you look in the buron?'

'I didn't at first. When I couldn't find him I backtracked and checked inside.' He drew in his lips to contain his emotion. 'It's not an easy thing to find your little brother like that.'

Dominique nodded. She couldn't really imagine how that must have felt. 'What about all these footprints?'

'There seemed to be a lot of them. Certainly more than he could have made himself. And I guess mine are among them now, too.'

'Did you touch the body?'

'No. I approached close enough to see that he was dead. I mean, that was obvious. Then I went back down to the hotel and called you people.'

Dominique let her gaze fall on the forlorn figure of the woman on the rocks.

The man answered the unasked question. 'She insisted on coming back up with me. Said she wouldn't believe it if she didn't see it for herself. She was very nearly hysterical.' His mouth settled in a grim line. 'Catatonic now.'

Dominique walked towards the edge of the track where it began its descent through the falling gloom towards the smudged line of trees below. The arrival of darkness would make access difficult for the police scientifique. It would be morning before a proper search of the area could begin. The vehicles on the road had their lights on now. She turned back towards the figure of the man to find him watching her. 'How did the press get here so quickly?'

A look of sad resignation flitted across his face. 'They were already here. Marc had invited them all down from Paris. He loved to entertain, to be the centre of attention. And, of course, no journalist in his right mind would refuse an invitation to dine at the table of Marc Fraysse.'

'What was the occasion?'

He hesitated. 'He was in deep despair. Maybe you were aware of the speculation in the media. That Marc was about to lose a star.'

'Would that have been so bad?'

The man's smile was wry and sad and filled with disbelief. It conveyed with its simple turn of the lips all the history and sophistication which he possessed, that a country gendarme could never acquire. It verged on the patronising. 'It would have been everything. Everything he had dedicated his life to achieving. It would have been shocking, humiliating, devastating.'

Dominique knew that she must appear gauche and guileless to this man, but pressed on. 'So why did he invite the media?'

'He said he wanted to make an announcement.'

'Which was?'

The dead man's brother laid his open palms before him. 'He never made it. We'll never know.'

Chapter One

Cahors, south-west France, October 2010

He had bearded and washed the scallops, wonderful fat, succulent noix St. Jacques that the fishmonger in the covered market across the street had reserved for him. They purveyed the delicious aroma of the sea without a hint of fish. He had sliced them in half, along the round, with a razor-sharp knife to make medallions, then left them to drain on kitchen paper, their milky sweet juices absorbed by the softness.

Now he plated up the salad. A few fresh green leaves. Lettuce, baby spinach, rocket and a drizzle of thick, sweet dressing made with a syrupy balsamic, carefully gathered in a corner of the plate. He turned back to the stove. His Calphalon nonstick sauté pan was smoking hot. Tiny pools of bubbling melted butter and shimmering olive oil ran across its surface as he tipped it one way, then the other, before dropping in the St. Jacques. The sizzling sound of searing scallops filled the room along with their sweet smell. Sixty seconds, and then he flipped them over, pleased with the caramelised crust on the cooked side. Another sixty seconds, and he slipped a thin metal skewer through the side of the fattest of them, deep into its centre, before extracting it quickly and raising it to his lips. The merest touch told him that the scallops were warmed to the middle, and therefore cooked. But only just.

Quickly he arranged five medallions in an elegant heap next to the salad on each plate and swivelled towards the table, one in each hand, to deliver them to the two facing place settings. He had already poured tall glasses of chilled, crisp Gaillac blanc sec from Domaine Sarrabelle. Hélène looked wide-eyed at the plate in front of her and breathed in deeply. 'My God, Enzo, they smell fabulous. You'd have any woman eating out of your hand if you served up food like this every evening.'

Enzo grinned. 'Maybe that's the idea.'

Hélène raised a sceptical eyebrow. 'Hmmm. If only.'

'But in any case, I'd rather you ate them off the plate than out of my hand, commissaire. And quickly. They won't keep their heat for long in these temperatures.' No matter how high he had turned up the central heating, the pervasive cold of this early-onset winter weather seemed to fill the apartment. Only the heat of the oven and the gas rings seemed to hold it at bay. As he sat down to slice through a scallop and spear a forkful of salad, he glanced from the French windows across the square towards the floodlit twin domes of Cahors' gothic Saint-Etienne cathedral. The rain slashed diagonally across his line of sight, and he almost imagined he saw an edge of sleet in it. Which would be unprecedented for late October in this ancient Roman city.

'Delicious.'

He turned his head to find Hélène beaming at him as his St. Jacques melted in her mouth. She washed it over with a sip of blanc sec, then dabbed fine, full lips with her napkin.

She was still a handsome woman for all her forty-odd years. Hair normally piled up beneath the hat of her uniform tumbled in luxuriant elegance across square shoulders. Only the sixth woman in the history of the République to be appointed Director of Public Security to one of the country's one hundred départements, she had never quite seen the joke in Enzo's refusal to call her by her name. He referred to her always as commissaire, as if it were somehow amusing. She had reflected, more than once, that it might also be a subtle way of his telling her that their on-off relationship was doomed never to progress to intimacy. She popped another St. Jacques in her mouth. 'I'm afraid there are still no developments in our attempt to identify who's been trying to kill you.'

Enzo studied her thoughtfully, distracted by the delicate caramel flavour of the scallops mixing with the sweet, vin­egary flavour of the balsamic, and the crisp, slightly bitter tang of the greens. He prepared his palate for the next mouthful with a generous sip of wine and shrugged dismissively. 'Well, it's over a year since the last attempt. So maybe whoever it was is already dead, or behind bars.' But he knew that was unlikely. With four of Roger Raffin's celebrated cold cases already solved, and only three remaining, someone out there would be increasingly anxious to stop him.

Hélène, too, looked less than convinced. But she decided on a change of subject and slipped the last morsel into her mouth before taking a piece of bread to mop up the juices that lingered tantalisingly on her plate. 'Where's Sophie these days?' She glanced around the apartment almost as if expecting to see her suddenly appear.

'Ah,' Enzo said. 'I'm glad to say I finally persuaded my daughter to resume her education. I was very disappointed when she dropped out of university to go and work at Bertrand's gym.'

'Oh?' Hélène feigned interest. 'What's she studying?' And she was surprised to detect a hint of evasion in Enzo's response.

He leaned across the table to take her empty plate and carried the two of them back to the breakfast bar. 'Oh, she's away on a stage. Just a few weeks' work placement.' He paused. 'I'll be with you in a moment.'

And he turned his attention to the main course. A filet mignon de porc which he had marinated in a hoisin, five-spice and honey sauce, and then roasted in a hot oven. He removed it now from the tinfoil he had wrapped it in before cooking the St. Jacques, and cut it into moist, tender discs which he arranged on a warmed plate. Over the meat he drizzled a reduction of the marinade, then served the cubed, honeyed roast potatoes which had been crisping in the oven on a bed of rosemary.

'Voilà!' He delivered his plates to the table like a magician presenting the denouement of a complex trick. He grabbed a bottle of red and expertly removed the cork. 'Some oak-aged Syrah to go with it. Enough strength and fruit in it, I think, to stand up to the sweetness of the pork.' He poured them each a glass.

'Mon dieu, Enzo!' Hélène surveyed the plate in front of her, breathing in its aromas. 'Are you trying to seduce me?'

He grinned. 'It's not exactly three-star Michelin quality, commissaire. But anything that can persuade you to slip out of your uniform for the night has to be not bad.'

She smiled demurely, knowing that his flirtation was empty of intent, but enjoying it all the same. Her knife cut through the meat as if it were butter. A little sauce, a cube of honeyed roast potato. She closed her eyes to savour the taste. 'You missed your vocation in life.'

Enzo laughed heartily. 'It's just a hobby, commissaire. I'm not at all sure I would have wanted to spend my life slaving seven days a week in a hot kitchen like Marc Fraysse.'

She regarded his smiling face, his dark hair drawn back in its habitual ponytail, greying now, but not enough to hide the silver streak in it. His eyes sparkled with life and amusement, one brown, one blue, and she thought how handsome he was for a man in his fifties. 'Is Fraysse the next on your list?'

His smile clouded a little, and he nodded. 'Actually, I'm leaving for Puy-de-Dôme in the morning.' He paused. 'An early start.'

Which she took as a hint that he did not anticipate her staying the night. She raised the wine glass to her lips to mask her disappointment.

Chapter Two

A cold rain as fine as mist swept down from the extinct volcanos that ringed this vast plateau at the very heart of the country. The autoroute looped around the grey conurbation that was Clermont-Ferrand, apartment blocks and factories climbing the hills around its northern fringes and vanishing in the fog like so many mirages in an industrial desert. Here, incongruously, was the home of Michelin, the tyre manufacturer that had spawned the world's most prestigious guide to good eating. The Guide Michelin had been ranking French restaurants since 1933 with one, two and three stars.

Enzo turned off the A72 which was headed east in the direction of Saint-Etienne, and swung south towards Thiers, one of the five principal administrative towns of the département of Puy-de-Dôme. Dating back to the fifteenth century, this ancient cité was the cutlery capital of France, and home of the Thiers knife. Windshield wipers smeared his vision as the town emerged slowly from the mist and rain, rising up a steeply-pitched volcanic slope towards a ragged summit. Clusters of soiled white and pink houses were built into the gradient, four storeys high at one side, two at the other. From the foot of the hill, the road snaked its way up between them, walls and windows and balconies rising up on either side of it like cracks and ledges in the walls of a canyon.

Narrow streets turned off left and right, up and down, leading away into the shadowed heart of the medieval city, where centuries-old cantilevered houses overhung cobbled squares.

As he neared the top of the hill, the town opened out into a balustraded square with a spectacular view over a jumble of red-tiled roofs towards the valley below. Homes clung precariously to rocky outcrops among the trees on the far side of a ravine that cut deep into the hillside. Enzo found parking for his beloved, mud-spattered Citroën 2CV below the square and walked up past an ugly, modern building that housed the Hôtel de Ville. A line of blue gendarmerie vehicles stood nose to tail along one side of the street.

The gendarmerie itself, next to the Café Central, lay on the other side of the square, a handsome building of yellow brick and white stone, inlaid with patterns of red. Enzo climbed a short flight of steps and walked through a tall, arched doorway into the reception area. A middle-aged gendarme behind the desk wore a dark blue pullover with a single white stripe across chest and upper arms. He looked up. Whatever he might have expected to see, it certainly wasn't this tall, ponytailed Scot in baggy cargo trousers, hiking boots, and khaki anorak, a large canvas satchel slung over one shoulder. Curiosity raised a single eyebrow as Enzo gave him his best smile.

'I'm looking for Gendarme Dominique Chazal.'

Curiosity gave way to mild suspicion. 'Are you?'

'I am.'

'And who should I say is looking for her?'

'Enzo Macleod.'

The gendarme hesitated for a long moment, as if reluctant to submit to the notion that he might actually be a public servant rather than simply a wielder of power over the populace. Then he turned and disappeared briskly through a door behind him. It was less than a minute before the door opened again and a young woman in uniform emerged, wide-eyed and smiling. She reached across the counter to shake Enzo's hand.

'Monsieur Macleod.'

Enzo tipped his head in acknowledgement, impressed by the warm firmness of her handshake.

'I've been expecting you for quite some time.'

*

Enzo followed her blue van north on the D906 towards Vichy, where the collaborationist régime of Marshal Pétain had once set up government during the Nazi occupation. Several kilometres out of Thiers they turned off east towards the small village of Saint-Pierre, a clutch of houses gathered around an indulgent church built from the local rusted ochre stone. The village nestled in the fold of a valley between two impressive volcanic crags, and just beyond it, a private road turned off to the right, flanked at its entrance by two stone blocks, each bearing a grey marble plaque chiselled with the monogram, MF.

The road climbed through a pine forest that rose darkly above it on both sides. After a couple of hundred metres, Dominique pulled off into a beaten-earth parking area where a dirt track headed up through a fire-break in the trees. She was already out of her van and standing at the foot of the track before Enzo could get out of his driver's seat. 'The Auberge Fraysse is at the top of the road, about a kilometre further up the hill. Marc used to go running every day in the afternoon. He came. . .
We hope you are enjoying the book so far. To continue reading...
Blowback
Peter May
Copyright © 2023 All Rights Reserved
Also in this series
Also by this author