Book info
Sample
Audiobook
Media
Author updates
Lists
Synopsis
"[An] epic series,"* the Novels of the Change by New York Times bestselling author S. M. Stirling chronicle a postapocalyptic landscape of medieval and mystical monarchies ruling and warring across a world where mysterious Powers removed advanced technology. A new alliance has been forged between the High Kingdom of Montival and the Empire of Japan, but at the cost of a lost prince...  

John Arminger Mackenzie wanted to be a troubadour, but fate made him the son of the King of Montival. His sister Princess Órlaith will deservedly inherit the throne of the High Kings, and it will pass on to him only in the event of her death, leaving the young prince on an unknown path to discover his true role in the family.

The opportunity to prove his mettle comes when John's ship, the Tarshish Queen, is caught in the fierce storm raised against the enemies of the alliance. When the clouds recede and the skies clear, John and his crew find themselves on the other side of the Pacific, in the island chains of the Ceram Sea, fighting to survive against vicious pirates and monstrous creatures of the deep while meeting new allies and mysterious enemies of this world and another.

Now Prince John must seize his birthright and lead his people in battle against the darkest forces man and nature can conjure against them.


*Amazing Stories
Release date: September 6, 2016
Publisher: Ace
Print pages: 432
* BingeBooks earns revenue from qualifying purchases as an Amazon Associate as well as from other retail partners.
Listen to a sample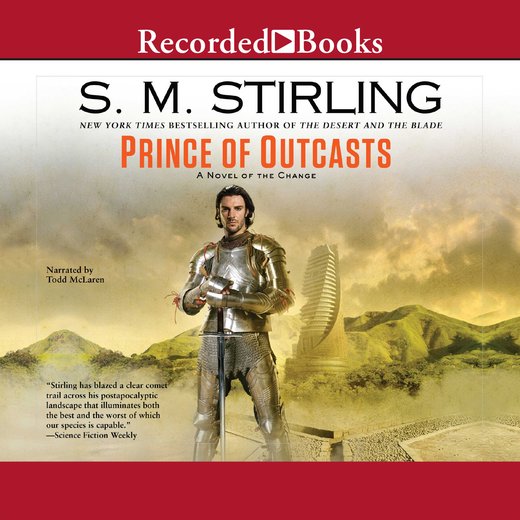 16:22:44
449.87 MB
September 6, 2016
Recorded Books
2016
Prince of Outcasts
S. M. Stirling
Chapter One

Participatory Democracy of Topanga (Formerly Topanga Canyon)
26th Change Year 46/Shohei 1/2044 AD

Prince John Arminger Mackenzie stood and sweated in his suit of chrome-steel plate, glad of the shade of the raised visor that stuck out from his flared sallet helm like the bill of the ritual cap baseball players wore. The fierce southland sun glittered off the rocky ground and sank into the faded asphalt of the ancient roadway and blinked in endless sparkles from the surface of the Pacific to the southward.

There was a familiar smell of hot horse, hot human, sweat-soaked leather and metal greased with canola oil that always went slightly rancid, a composite scent common to wherever warriors gathered, no matter how polished their appearance; it was fairly powerful since his sister, their men-at-arms and crossbowmen and Mackenzie archers and McClintock caterans, the Japanese contingent and several hundred local levies from Topanga and the Chatsworth Lancers were all standing and sweltering together. The score of robed bnei Yaakov from the Mojave were a little to one side-a people apart-but their mounts added hot camel to the mix, which was indescribable.

Despite the tension of the moment as everyone stared out over the water towards the quartet of enemy ships, he smiled to himself, remembering his parents inspecting troops once. That had also been on a hot day, in the County Palatine of Walla-Walla far up the Columbia. There had been a rather sheltered town-based cleric with them and he'd asked what the smell was. His mother had considered gravely for a moment, and said:

"Esprit de corps."

She'd said it deadpan, but he'd noticed his father working hard at not bellowing with laughter.

Today that familiar almost-stink went with the odd alien scents of fennel and sage that summer baked out of the chaparral here, harsh and spicy at once.

We're back in the stewpot just when we thought the adventure was over with, he thought. Though everything's grist for the mill.

He was a prince and warrior by birth-second child of the first High King and Queen of Montival-but a troubadour and bard by aspiration, and he could appreciate the irony of the situation from an artistic point of view. They'd dared the desert and the supernatural perils of the Valley of Death . . .

Well, to be entirely fair, mostly Orrey and Reiko dared them in that last bit. Good ensemble cast, some comic relief from the heroic characters' points of view, someone for the groundlings to identify with too . . .

. . . they'd reclaimed the fabled Grass-Cutting Sword that their Nihonjin friends had crossed the sea to find, made unexpected allies of the desert-dwelling bnei Yaakov to bring it back through the desert and the just-barely-friendly lands of the Chatsworth Lancers and the Topangans . . . and now four enemy ships were sitting out there waiting for them, instead of the clear passage back to the northern heartlands of the realm that they'd expected.

It would make an excellent startling reverse in the epical chanson he'd tentatively entitled The Desert and the Blade. A quiet interlude in the music, then a hint of doubt, minor key, crashing chords building to a crescendo-

Artistically fine. In my all too mortal person, it's a bloody menace. Not to mention those ugly-looking Eaters the Koreans have picked up from the Los Angeles ruins.

The locals had a powerful pre-Change telescope set up. One look had been enough. The Korean vessels swarmed with the naked savages, scrawny and scarred and ferocious as great rats among the ordered, armored easterners. The diabolists could control them, somehow.

This bunch look even worse than the ones we fought up on the Bay, and those were bad enough.

He swallowed and blinked as the stink came back, and the screaming faces and the ugly feel of edged metal hammering into meat and bone vibrated up into his hand. And the taste, when a gout of blood landed on his face. He hadn't had time to be frightened during the actual fighting, mostly that had been drilled reflex working.

But the times in between the rushes waiting for the wild men to work themselves up to another attack and listening to their mad squealing brabble . . . that had been fairly bad. Having to keep up appearances had helped, and so had giving everyone some verses from La Chanson deu Roland. He found that a bravura gesture could convince one's own mind just as thoroughly as it did an audience.

And the Koreans may not be savages, but they're outright diabolists. Or at least their rulers and lords are.

His eyes narrowed. It had been servants of the Korean ruler who killed his father the High King only a few months ago, a spillover of their long war with Dai-Nippon, and a chess-move in the game Heaven and the Malevolence were playing in the Changed world. There was a blood-debt yet unpaid. That would be part of the song too.

"Reiko, can I borrow your Captain Ishikawa, and his men?" Crown Princess Órlaith said.

John's ears perked; when his older sister . . .

. . . three years older. I'm almost twenty and it's not as if we were children anymore . . .

. . . adopted that crisp tone, things were about to happen. She sounded like their father when she used it, allowing for her being a woman of twentyone and not a man in his forties.

The Empress of Dai-Nippon nodded decisively, and spoke a word of command to her followers. She was actually a little older than Órlaith, though her almost-delicate features made some layer of his mind see her as closer to his own nineteen summers. He'd been half in love with her since they met at Montinore Manor in June, when his sister had brought him into the conspiracy. It was more or less required of a young knight when confronted with a beautiful, absolutely unobtainable foreign princess. The romaunts made that clear enough. And of course her father had died in the same skirmish as his, just too late for rescue. He hadn't been there, she had, and somehow that made her a link to that tremendous absence, the loss that still broke through the shell of his life at times with a jarring suddenness that he never expected.

In actual fact as opposed to aesthetic theory he found her very capable, and very likeable on the rare occasions when she relaxed . . . and more than a little intimidating.

"Johnnie," Órlaith went on in a clipped tone.

Her chiseled face was utterly intent as she weighed the situation. The cooler sea-breeze cuffed at the little wisps of sun-faded yellow hair that escaped her tightly-clubbed fighting braid; she took more after their father's side of the family, while he had the hazel eyes and brown hair and blunter features of the Armingers. She was also an inch taller that he was, but since that made him a very respectable five-ten he didn't mind.

Come to think about it, she's getting very focused too. Granted this is a good time for it.

They'd always been fairly close, and the gap in their ages mattered less now. He gave her the Associate salute, a martial clank of gauntlet against breastplate.

"Take Ishikawa and the Nihonjin sailors, and go there."

She pointed westward and downslope from the low ridge that bore the old coast road.

"There are some longboats at the Topangans' saltworks. Take them, and . . . the crossbowmen from the Protector's Guard, and a few others, say four, pick them yourself. Feldman's short-handed; you reinforce him. And tell him to be cooperating fully with the Stormrider."

He shot her a swift look of surprise; for weeks now they'd been dodging the Royal Montivallan Navy warship their mother had sent to drag them back as if they were naughty toddlers to be hauled in by one ear. And there it was, to seaward of Captain Feldman's Tarshish Queen, their own hired ship, which in turn was slowly cruising back and forth south of the four Korean ships at anchor just offshore.

Órlaith stepped closer and spoke softly; there was no need to broadcast the facts about their little disagreement with their mother, High Queen Regnant Mathilda.

"Johnnie, Reiko has her Sacred Treasure the now. We've done what we set out to do. Now we clear this up, go back to Mother, roll on our backs, wave our paws in the air and whimper for forgiveness. We'll get it, too. Eventually."

He didn't let the jolt of raw fear that image brought show on his face.

I knew we'd have to confront Mother eventually. Ah, well, better to seek forgiveness than ask permission! And we did bring it off. Success has a thousand fathers and failure's an orphan.

"She'll recognize a magic sword when she sees one!" his sister said, echoing his thought.

Her hand rested on the moon-crystal pommel of the Sword of the Lady, the heirloom of their House that their father and mother had won on the Quest.

"So will anyone with the least bit of the Sight, without Reiko having to do anything too . . . dramatic."

John gave the not-really-a-katana-anymore at Reiko's side a glance and suppressed an impulse to cross himself. The Sword of the Lady was disturbing enough, but his Church officially regarded it as the gift of the Lady, Mary Queen of Heaven and Mother of God, which pagans like his father and sister unfortunately conflated with their mythology. Coming from a mixed family could be awkward at times; his mother was a devout Catholic, and he was too or tried to be, but Órlaith followed the Old Faith as their father had. It wasn't like having the old wars of Clan and Association in the same household-the union of their parents had laid that to rest, with many other feuds-but it could be . . . difficult.

Kusanagi-no-Tsurugi, the Grass-Cutting Sword, was something else entirely, altogether outside Montival's complex of religions and all their mixed history and old grudges and sometimes grudging common life. As far as he could tell from what Órlaith and Reiko had let slip, the pieces of it had been absorbed into her Masamune sword as the Empress fought her way through that lost castle and his sister stood guard outside with the Lady's blade. There had been something about a monster with eight heads as well. . . .

Deor Godulfson was standing close. The wiry Hraefnbeorg poet nodded. Among his folk, a scop was likely to know something of rune-craft too, the arts of magic reborn since the Change. The angular raven image on his round shield wasn't just the symbol of his people, but also of Woden Allfather, and a protective sign.

"It burns," he said. "Like carrying the very sun in your hand . . ."

John nodded himself, giving it a glance. He felt it like a prickling on the skin. A little like the feeling of the Sword of the Lady, but . . . he could hold the Sword; he didn't like to, but it was in his blood and if his sister fell-which God forfend!-he would have to bear it.

Kusanagi was wholly alien.

"Then why not just have everyone go out to the Tarshish Queen and show them our heels?" he said quietly to his sister and liege-lady. "Stormrider would be glad to escort us back to Portland, since that was what Mother tasked them with in the first place."

She shook her head. "They've some on those Korean ships who could sense Reiko and me moving, given what we bear," she said.

The enemy called their adepts kangshinmu, and John swallowed at the thought of meeting one again. Especially on his own. As their father's heir Órlaith carried the Sword of the Lady, which was proof against all fell enchantments and a great deal else besides. All he had was his own entirely mortal and fallible self and a length of very skillfully reworked leaf-spring at his side; and while he was a faithful son of Mother Church, he didn't delude himself that he was any sort of saint, or as armored in sanctity as he was in plate.

I'm the son of a great hero-King and a great and powerful Queen, he thought as he pulled out his crucifix and kissed it before tucking it away again. What I am myself . . . isn't entirely apparent yet. There would be better ways of finding out than being thrown in over my head, though!

Órlaith went on: "They'd be waiting for us on the water, that they would. For you, not so much."

Deor Godulfson made a soft sound of agreement at that, too; and John remembered how he'd tracked the Haida shaman at the battle on the shores of the Bay.

"Also I'm not inclined to leave our new subjects in the lurch," Órlaith said, and tapped her titanium-sabaton-armored foot on the dusty faded asphalt with a clank.

Her voice rang. "This is Montivallan soil now, and by Macha Red-Locks and Nemain of the Blood-Shout and Badb of the Crows, these are our folk, every one of them, and House Artos stands with them! The Shadow Queen bear witness!"

John nodded; he agreed with every word of that, barring the paganism, and he knew that she meant it too. But there was an element of performance to ruling. He'd been surprised to find so many similarities to the family business he'd been raised in when he also took up music seriously.

Except that if you're born to our House, you never get to step away from the limelights and sit backstage laughing with a glass in your hand and a towel around your neck.

Now he saluted again and decided:

"Deor, Thora, Evrouin, you're with me. Sergeant Fayard, your squad. Captain Ishikawa. Thora, get mounted and scout ahead. Let's go!"

Deor was a valuable asset for a whole clutch of skills, and the scop's oath-sister Thora Garwood of the Bearkillers was a warrior's warrior who went where he did . . . and neither of them was part of a larger unit that would be disrupted by tagging along with him, and besides, he liked them both.

Though not in the same way!

Evrouin, John's valet-bodyguard-minder, wasn't going to go more than arm's length from his charge anyway: they hadn't been able to shed him when they skipped out to begin all this, despite vigorous efforts. Before they'd gone more than a dozen paces someone else dashed up; it was one of the young Mackenzies who'd come on the journey with them, Ruan Chu Mackenzie of Dun Fairfax. He and Deor embraced fiercely for an instant, and they were both grinning as they caught up.
We hope you are enjoying the book so far. To continue reading...
Prince of Outcasts
S. M. Stirling
Copyright © 2022 All Rights Reserved
Also in this series
Also by this author