Pomfret Towers
Available in:
eBook
Paperback
Audiobook
Hardcover
Book info
Sample
Audiobook
Media
Author updates
Lists
Synopsis
Pomfret Towers, Barsetshire seat of the earls of Pomfret, was constructed, with great pomp and want of concern for creature comforts, in the once-fashionable style of Sir Gilbert Scott's St Pancras station. It makes a grand setting for a house party at which gamine Alice Barton and her brother Guy are honoured guests, mixing with the headstrong Rivers family, the tally-ho Wicklows and, most charming of all, Giles Foster, nephew and heir of the present Lord Pomfret. But whose hand will Mr Foster seek in marriage, and who will win Alice's tender heart? Angela Thirkell's classic 1930s comedy is lively, witty and deliciously diverting.
Release date: November 21, 2013
Publisher: Little, Brown Book Group
Print pages: 304
* BingeBooks earns revenue from qualifying purchases as an Amazon Associate as well as from other retail partners.
Listen to a sample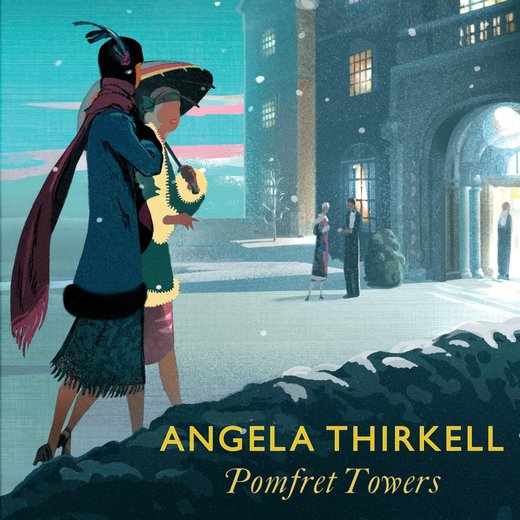 08:30:38
233.76 MB
April 9, 2015
Little, Brown
1938
Pomfret Towers
Angela Thirkell
Nutfield is quite the most delightful town in that part of England. Most of the land round it is owned by families who have remained rich enough not to be obliged to sell their estates, so the speculative builder has been kept at bay and the town is very little larger than it was in the eighteenth century. In 1847 a branch line of the railway was indeed, after terrific opposition, brought to Nutfield, but the station is so inconveniently situated, far away on the north side of the rising ground upon which the town is built, and has so poor a train service, that it is hardly ever used by the townspeople, who prefer to drive to the junction.

The town itself is on the estate of the seventh Earl of Pomfret, who refuses to allow chain stores or cinemas, and exercises a personal and terrifying supervision over the exterior of shops and garages. The principal inhabitants of Nutfield are occasionally invited to dine at Pomfret Towers, but without their wives, as Lady Pomfret, who is an invalid, mostly lives abroad. These evenings are celebrated for their appalling tedium, but no one has been known to refuse an invitation. Respectable heads of families have been heard comparing notes about his lordship's dullness and rudeness, even boasting with some complacence when he has singled out one of them by some special neglect, or deliberate want of courtesy. Anything that is one's own property tends to acquire lustre in one's eyes. People can find a matter for pride, and even boasting, in a set of false teeth, or an artificial leg, while a glass eye can make them almost unbearable. So did the inhabitants of Nutfield boast about Lord Pomfret's rudeness, looking down with condescending pity upon their less fortunate neighbours.

Nutfield High Street is a wide thoroughfare, running gently downhill southwards to the river, with fine elms on each side. The red brick Georgian houses lie back from the pavement behind walls or handsome iron grilles, and all have large gardens at the back. At the bottom of the hill the road makes a sweeping curve to the right and crosses the river on a fine stone bridge, dating from the fifteenth century. The turn of the road and the narrowness of the high-arched bridge are distinctly dangerous, but Lord Pomfret, to the great inconvenience and yet greater pride of his loyal tenants, has so far successfully resisted all efforts to have the corner straightened out or the bridge widened.

In the large, irregular piece of land between the turn of the road and the river stands Mellings, once a dower house of the Pomfrets, now tenanted by a prosperous local architect, Mr Barton, senior partner in the firm of Barton and Wicklow, which has an excellent county connection and a good reputation for handling old buildings with care and discretion. The only fault that a critic can find with Mellings is that it is so near the water, but the foundations and cellars are in excellent condition, and the river-bank along the south front is so strongly embanked and terraced that no complaint of damp has ever been heard, and the house is excellently heated.

Mr Barton had had a hard struggle with Lord Pomfret before he could install central heating, his lordship having the firm conviction that only foreigners liked their houses warm. When Mr Barton had at last overruled these patriotic objections, his lordship brought forward the unanswerable argument that his grandfather never did that sort of thing. Mr Barton had enough self-control not to point out to his landlord that the fifth earl's early death at twenty-one, due to drinking damnation to his trustees for a week on end when, after a long minority, he came of age, had hardly given him a chance to show his feelings about central heating, a science then in its infancy. He bided his time. A month later Lord Pomfret, growling with fury, was ordered abroad for his rheumatism. His agent, Mr Hoare, was empowered to act for him in his absence; Roddy Wicklow, son of Mr Barton's partner, had just gone into Mr Hoare's office, and Mr Barton got his way.

When once the heating was installed, Mr Barton had no fault at all to find in his house. The fine original Jacobean building on the north, where the kitchen and servants were now housed, the large dignified south front which was added about 1760, were described in every guide book, though not all of them mentioned what was perhaps in its master's eyes its most peculiar beauty. This was a two-storey gardener's cottage which the genius of Repton had changed, in or about 1803, from an uncompromising but comfortable brick house to a small-scale model of the Parthenon, with pillars and portico that cut off all light and air from the interior. Of all this Mr Barton was a passionate lover and faithful guardian, finding it of infinite comfort when his wife seemed farther away than usual.

Mrs Barton was well known as the author of several learned historical novels about the more obscure bastards of Popes and Cardinals, with a wealth of documentation that overawed reviewers. Owing to living so much in the fifteenth and sixteenth centuries, she sometimes found it difficult to remember where she was. She was an excellent housekeeper, who never failed to care for her family and give them good food, and all servants adored her, but though she never obtruded her work, or spoke of it as if it mattered, she only had to go into her sitting-room and take up a paper or a book, to be at once engulfed in the ocean of the past, re-living with intensity the lives of people about whom little was known and whose very existence was dubious. When the tide ebbed, leaving her stranded upon the shores of everyday life, she would emerge in a dazed condition to preside at her own table, or take a fitful interest in her neighbours. Her own son and daughter she treated rather as amusing guests who happened to be making a prolonged stay, though her anxiety for Alice, a delicate girl, the younger by several years, pursued her even among her books and research.

Her husband had long ago given up any hope of competing with the illegitimate offspring of poisoners and intriguers. He was a successful and busy man and his life was a full one. When, at rare intervals, he allowed himself to feel that something was wanting, he took refuge in the beauty of his house. If Mrs Barton had been abroad too long collecting material, her husband might be found at odd times in the drawing-room, filling his eyes with the charm of the exquisitely proportioned white panels, or on the stairs, affectionately fingering the carved balustrade, absorbing from their quiet beauty something that restored him to his usual outward calm.

On a cold morning in January, as Mr Barton sat at breakfast in his warm dining-room, he congratulated himself for the hundredth time on having got the better of Lord Pomfret in the matter of the heating. On the previous night he had been dining at the Towers and had listened unmoved to his host's gloomy though hopeful prediction that a beam would begin smouldering and the whole Barton family be burnt to death.

He was joined almost immediately by his son Guy, a junior partner in his own firm, who had narrowly escaped being christened Ippolito. Guy, who had inherited his mother's good looks, together with his father's peaceful temperament, found life a very straightforward, pleasant affair.

'Morning, Father,' he said, helping himself to a large bowl of porridge and walking about professionally while he ate it. 'Hideously cold, isn't it? Mother's on her way. She said something about Pirandello or Piranesi or something and said she'd be down in a moment,' said Guy, who like most children made fun of his mother's work and was genuinely surprised when he found that real people in London spoke of her books with respect. That she earned a good deal of money by them seemed to him quite fantastic and a little unfair, but he bore her no grudge.

'If you must walk round the table, do speak to me when I can see you,' said his father good-naturedly. 'I can't eat my breakfast with my head twisted round and I can't speak out of the back of my neck.'

'Sorry, Father. It's a kind of affectation that I have to do. I got it in Scotland last autumn and it hasn't quite worn off. It will soon though. Did you have the usual hilarious evening at the Towers?' said Guy, at last sitting down with a plate of eggs and bacon.

'Much as usual,' said his father. 'Hoare and I were the only guests. Pomfret was not quite so rude as usual, because Lady Pomfret was there for once. I don't wonder she prefers living in Florence. She looks more of an invalid than ever, and the Towers is bitterly cold. I've got some news for you and Alice. They want you to come for a weekend before the hunting is over.'

'Well, well, well,' said Guy. 'When you think that we, by which I mean you, have been paying rent regular for the last seven years, and it's the first time our landlord has asked me and Alice to his hospitable board it comes as a bit of a shock. Alice,' he said to his sister as she came in, 'what do you think of staying at the Towers?'

'At the Towers,' said Alice. 'Why?'

'Because Lord Pomfret asked you,' said her father. 'Lady Pomfret is down, and they are having a big house party and want some young people.'

'Oh, I shouldn't feel safe,' said Alice, backing nervously against the sideboard.

'Safe about what, you great silly?' asked her affectionate brother. 'Old Pomfret chucking you under the chin in the corridor? Here, get yourself some breakfast and you'll feel better.'

'No, not Lord Pomfret,' said Alice. 'I don't think he knows me. I meant nightgowns and housemaids and tips and all that sort of thing. I'd be terrified.'

Mr Barton considered his daughter with a mixture of concern and affectionate annoyance. A delicate child, she had never been able to go regularly to school, so that a natural timidity had been fostered by her semi-invalid life. Her health had improved so much of late that there was no longer cause for anxiety, and her father hoped that she would make friends among the young people of her own age in Nutfield, but she held aloof, painfully conscious that she could not compete in their sports and interests. The wish of her heart had been to study architecture and go into her father's office. Failing this she found solace in painting. The old nursery from being her sitting-room gradually became her studio. There she worked happily by herself, but if anyone asked to look at her work she went through such agonies of shyness that she could not paint for several days. Her father and mother, understanding something of her difficulties, never came to her studio without an invitation. Guy's usual criticism of 'Top hole, but a bit queer, isn't it,' she did not mind. The only other visitors welcomed in the studio were Roddy Wicklow and his sister Sally, who felt the combined kindly contempt and almost superstitious respect that the sporting have for the artist. Of her own want of good looks she was fully conscious, accepting this with the humility which was almost a vice in her. A thin girl, with a sallow complexion and dark, lifeless hair, no stranger would have looked at her twice, though her father's eye could see in her a certain grace of movement and elegance of bone which gave promise for the future. Her only assets at present were her long sensitive hands, her large anxious brown eyes, and a smile whose sudden brilliance flashed in gratitude for any kindness shown to her. At this moment the mere thought of two nights away from home with strangers was making her suffer such anticipatory pangs of homesickness as none of her family could quite understand.

'Tips, I admit, are terrifying,' said Mr Barton, 'but why nightgowns?'

'Oh, they despise one,' said Alice. 'I mean the housemaids despite the kind of nightgowns one has, and they hide all one's things. Oh Father, need I?'

'Well, ask your mother,' said Mr Barton in a cowardly way. 'Here she is. Susan, Pomfret has asked Guy and Alice to the Towers. Alice doesn't much want to go. What do you think?'

Mrs Barton laid a heap of letters on the table and sat down.

'I haven't seen Lady Pomfret for years,' she said. 'Not for years,' she added reflectively.

'Well, darling, none of us have,' said Guy, kissing the top of her head, 'because she hasn't been there. If I brought you some coffee and some food, do you think you could concentrate for a moment. Lord Pomfret has asked us for a weekend. Lady Pomfret hasn't, but I don't suppose that matters. I do want to go. Alice doesn't. Father says ask you.'

'But Lady Pomfret has asked you,' said Mrs Barton. 'Don't give me eggs, because I ordered fish cakes as well, and I want to show that we eat them. I brought Lady Pomfret's letter down to show you all. It is somewhere among my post. Oh, here it is. I haven't seen her since Florence before the War. She had a German doctor, which annoyed the Italians so much. I don't suppose they would mind so much today, but really I don't know, because they are so very, very insular, though that can't be exactly what I mean. She writes to me that she has been seeing the Skinners in Florence, who sent all kinds of messages to us, Walter, and would like to have my young people to stay. I do detest the phrase young people.'

'Well, say Giovinezza, darling,' said Guy, 'and here are the fish cakes, and I'm glad you drew my attention to them, because I just felt I needed a little something to fill in the gaps, and they will do admirably. Who are the Skinners?'

'People we used to know,' said Mr Barton vaguely. 'People you would never have heard of, too dull to explain. It is a remarkable thing that when people know people in Florence they are always English. I've never been there myself, but I've never met anyone who knows an Italian there, and I imagine it as consisting entirely of Skinners.'

'You are perfectly right, Walter,' said Mrs Barton, turning her beautiful eyes upon her husband. 'Perfectly right. That is why people like Florence. They could never find so many concentrated Skinners in England. Alice had better have a new frock and go.'

'It isn't frocks, darling, it's nightgowns,' said Guy. 'She thinks the housemaids will despise her.'

'Oh I know they will,' said Alice, flushing darkly with misery. 'Please, please need I?'

Mr Barton and Guy very basely said goodbye and went off to their work, leaving Mrs Barton to deal with her daughter. Mrs Barton did not at all wish to be unkind to her, but she felt it was really high time that Alice began to get about and learn to meet people. Her suggestion of a little coming out dance had been received with a frightened resignation that entirely wrecked her plans. It was impossible to invite guests to a party when the heroine of the evening was losing weight at the mere thought, and every day had darker circles under her eyes. Mrs Barton then suggested that the ball should be changed to a small evening party, at which Alice's relief was so great that she could only cry. As she looked like tears every time the party was mentioned, her mother again abandoned her plans, and said a little dinner party would be nice. Alice falteringly said that it would be very nice, but she supposed she would have to speak to the people on each side of her, and looked so abjectedly wretched that her mother gave up the idea altogether. Alice could hardly believe her good fortune and went about for several days with terrified eyes, shrinking from everyone, but she had now recovered her spirits and relapsed into her usual routine, painting in her studio, occasionally taking tea with Sally Wicklow, or visiting the kennels in a timid way with Roddy Wicklow. Not that she particularly liked dogs, whose loud, indiscriminating hospitality she found rather overpowering, but Roddy was so large that no one ever noticed her when she was with him, which gave her a safe feeling.

Alice sat in miserable silence, twisting her legs round her chair and fiddling with her cup and saucer, while her mother considered how best to persuade her unhappy daughter that two days at Pomfret Towers would not last for ever, and that far from all eyes being critically fixed upon her, it was probable that no one would notice her. It was true devotion on Mrs Barton's part to take so much trouble, for she was burning to get back to Ganimede, a vicious but artistic little hunchback, whose exact position in an illegitimate branch of the Borgia family was still undefined.

'Alice,' said her mother.

Alice dropped her cup onto her saucer with a crash and looked wildly round for help. As none was forthcoming she twisted her hands desperately together and said 'Yes, Mother.'

'I don't think the Towers would be so bad,' said her mother, with a carelessness that did not deceive herself or Alice in the least. 'It isn't as if Lord Pomfret were a stranger, and it's only for two days, and Guy will be with you. It might be rather fun.'

Emboldened by despair Alice at last gave voice to the awful fear that had been haunting her ever since the plan was mentioned.

'Do you think there would be any other girls there?' she asked, hopelessly.

'Oh, I should think so, certainly,' said Mrs Barton, glad that Alice was for once showing a little interest in people of her own age. 'And I daresay there will be some dancing, or games, in the evening.'

This was almost more than Alice could bear. Her own mother had entirely misunderstood her, and was pushing her helpless offspring with all her might into the lion's den. A weekend at the Towers might just, just be bearable if no one else were there, or if under cover of a crowd of grown-ups one could stay in a corner, restfully ignored. But if there were to be girls, Alice thought she had better die. They would all have wonderful dresses and exquisite shoes, and be permanently waved and made up, and be frightfully clever and know all about people and theatres and films, and despise one, and why couldn't Mother understand that girls of one's own age were simply the most awful thing one could be asked to face.

'I see,' she said, in a voice whose want of enthusiasm her mother decided to ignore.

'So it won't be awful after all,' continued Mrs Barton with monstrous want of tact, 'and it will be such fun for you and Guy to go together. I must go and see cook now. Don't go out this morning, will you, darling? There's such an east wind, and it won't do you any good.'

She collected her letters, kissed Alice, and left the room. Alice, who had been toying with the idea of walking very slowly by the river till she was frozen to death, obediently got up and went to her studio. She was designing a dust jacket and end-papers for her mother's new book. These were to be a surprise, and though she humbly felt that her clever, beautiful mother would probably find them quite inadequate, she took a great deal of pleasure in the work. From time to time she stopped working to look out of the window at the bitter, frostbound world and thought that even Pomfret Towers might be better than walking in the cold wind till one died, though if any warm and painless kind of death were handy she would much prefer it to Pomfret Towers. She had her mother's way of becoming completely absorbed in what she was doing, and by lunch-time had almost forgotten the impending doom. Mr Barton and Guy, who came home for lunch, were full of a fifteenth-century manor house which its new owner wanted reconditioning, and could talk of nothing else. Mrs Barton, lost in the mazes of Ganimede's family, who had very careless views about marriage, sat in a kind of trance, eating her lunch abstractedly, though with a good appetite, and not hearing anything her family said. So nothing was said about the visit, and Alice went off to have the afternoon rest, which was still part of her regime, in fairly good spirits.

When she came down at tea-time the cold world outside was safely shut away. In the drawing-room a huge log fire threw a golden light on the panelling, the heavy curtains were drawn, and Mrs Barton, looking a little tired, but triumphant, was lying back in a big chair beside the fire.

'Will you pour out for me, darling,' she said to Alice. 'I am quite exhausted.'

'Was it your book?' asked Alice, whose attitude to her mother was worshipping awe that anyone could look so nice and yet be so clever.

'Yes. It's rather stupid of me to take it seriously, and we'll talk about something else.'

Alice, afraid that the something might be Pomfret Towers, set herself to make her mother talk about her work, but this was always difficult, and they sank into a warm, comfortable silence. This was suddenly broken by a deafening noise of barking in the hall.

'Sally and her horrible dogs, I suppose,' said Mrs Barton, sitting up and pushing her hair back. 'I do wish —'

But what she wished, and the butler's announcement of Miss Wicklow, were equally drowned in the noise of three dogs who came bouncing into the room under the false assumption that they were all welcome and honoured guests, paying no attention to their mistress's loud commands of silence.

'Sorry,' said Sally Wicklow, picking up a fox terrier, half throttling a large lurcher, and kicking in a friendly way an excitable Airedale. 'They must have smelt Penny. They're as quiet as angels as a rule. How do you do, Mrs Barton. Any more books lately? I always tell Roddy I can't think how you do it. Hullo, Alice, I didn't see you. How's art.'

Without waiting for any replies Miss Wicklow sank into a chair and stretched out her long legs in riding breeches towards the fire. From under her chair a hoarse subterranean growl arose and all the dogs began to bark again.

'Hullo, it's Penny,' said Miss Wicklow, feeling under the chair and dragging out an old Scotch terrier with a face as large as an elephant's. 'Isn't he a clever dog to know his Aunt Sally is here? And weren't Aunt Sally's dogs clever children to smell Penny?'

'No, they weren't, Sally,' said Mrs Barton rather sharply. 'Anyone could smell Penny. I have told Walter again and again that he ought to be destroyed, and Penny knows he isn't supposed to be in the drawing-room. Ring, Alice.'

The butler came almost at once and Mrs Barton delivered Penny to him.

'And take Miss Wicklow's dogs into the hall, Horton,' she said. 'No, Sally, I will not have dogs in the drawing-room, and you know it. Horton can look after them.'

Miss Wicklow accepted the situation calmly and began to make a very substantial tea, explaining that she had been riding with her brother and had forgotten to have any lunch.

'Roddy'll be along in a moment,' she said. 'He had to go up to the Towers for Mr Hoare about something. I say, I hope Horton isn't feeding those dogs, Mrs Barton. Hadn't I better go and bring them in again? They won't make a sound now, or if they do I'll give Wuffy a good beating – he's the one that always sets them off.'

'I'm sure Horton would. . .
We hope you are enjoying the book so far. To continue reading...
Pomfret Towers
Angela Thirkell
Copyright © 2023 All Rights Reserved
Also in this series
Also by this author