Myths and Mortals
Rone seems determined to help her, but Sandis has no intention of letting him get close to her again.
Available in:
eBook
Paperback
Audiobook
Hardcover
Book info
Sample
Audiobook
Media
Author updates
Lists
Synopsis
Wall Street Journal bestselling author Charlie N. Holmberg builds her bewitching world of beasts and betrayal as the Numina Series continues.
Sandis has escaped Kazen's grasp, but she finds herself unmoored, reeling from her thief friend Rone's betrayal.
Kazen has been hurt but not stopped, and he'll do anything to summon the monster that could lay waste to the entire world. Sandis knows she must be the one to stop him, but with her own trusted numen now bound to another, and finding herself with no one she can trust, she is in desperate need of allies. Rone seems determined to help her, but Sandis has no intention of letting him get close to her again. What she doesn't know is how much Rone gave up to protect her. Or how much more he is willing to give up to keep her safe.
As chaos mounts, Sandis must determine whom to trust. After all, the lines between enemy and ally have never been less clear…and corruption lurks in the most unlikely of places.
Release date: April 16, 2019
Publisher: 47North
Print pages: 284
* BingeBooks earns revenue from qualifying purchases as an Amazon Associate as well as from other retail partners.
Listen to a sample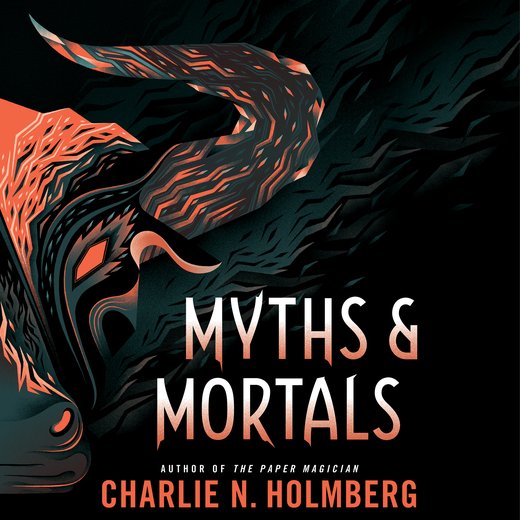 09:57:01
273.31 MB
9781721357345
April 16, 2019
Brilliance Audio
2019
Myths and Mortals
Charlie N Holmberg
Prologue
In a room clouded with cigar smoke, Sandis stood between two men who had betrayed her. In front of her, her great-uncle; behind her, Rone. If Rone was to be believed, her great-uncle had sold her to Kazen, her worst enemy. Then again, Rone had been the one to deliver her to the summoner.
Sandis had been looking for her great-uncle for weeks. Talbur Gwenwig, her grandfather's brother. The only living family member she had left, even if he was a stranger. She had envisioned their reunion countless times and in countless ways, but never quite like this. The dim office with its aged wooden walls had no windows, nothing to air out the stench of the burning roll held between the stocky man's fingers. The only light came from two lamps, one on his simple desk, the other in the far corner. The light was a dehydrated sort of yellow. She could barely breathe—but that might have been due to Rone's presence behind her.
Hugging herself, she took a step away from him, and closer to Talbur. She saw a few traces of her father in his face, something that let her relax a fraction. His hair was thinning and receding from his forehead. He had a large nose and wide-set eyes, the same shade of brown as hers. She guessed him to be in his sixties.
His words, "I was so hoping I'd get a chance to meet you," rang in her ears, colliding harshly with what Rone had told her just an hour before.
If he'd truly sold her off, he wouldn't have expected to meet her. Right?
She shifted her weight from one foot to the other. Her clothes, despite the rough wash she'd given them in a horse trough, were growing stiff around her. The blood would never wash away completely. But she didn't want to save the clothing. This uniform marked her as a vessel. It would expose the golden Noscon brands cascading down her back the moment she removed Rone's jacket.
His jacket. She didn't want it. She didn't dare remove it.
"You knew I was coming?" she asked, taking another step toward him and away from Rone. Tension rolled off Rone like steam. Because of Talbur, or because he'd lost his priceless amarinth?
"Knew? No. Only hoped. Grafters are a tricky lot." Talbur dragged on the cigar and let a spicy cloud pass from his lips. "I wasn't sure where you'd end up, or even if dear Engel here would keep up his end of the bargain."
Sandis stiffened. Refused to look back at Rone, though she direly wanted to read his face. Was he angry that her great-uncle questioned his loyalty to the stack of cash likely still tucked away on his person? Was he hurt by the reminder of what he'd done?
Rone had come back for her. Helped free her. But he'd been the one to cage her in the first place. Sandis couldn't sort through it all, not now.
Celestial, she was so tired of crying.
"You sold me." It wasn't a question.
Talbur reached toward an ashtray and tapped his cigar against its side. "I am a broker, my dear girl. I merely made the arrangements. Your master came to me a while ago, believing you'd come looking for me. I didn't even know you existed! Apparently you're quite the magnificent woman. It is woman, yes? How old are you?"
Sandis swallowed. "Eighteen." The walls felt too close. Her hands sweated, and her nostrils burned from the cigar smoke. And yet, outside this room, she had nothing. Nothing. Nowhere to go, no one to trust. Kazen had tried to sacrifice her to the demon Kolosos. She could still feel the heat in the back of her throat, the other sensations from her near brush with possession—or death. Although she'd acted as a vessel many times in the past, it had always been for Ireth, the fire horse. Ireth, who, against all odds, had managed to communicate with her. She and the numen had shared a special connection, one that had allowed her to summon him into herself, if only for a matter of seconds. But Kazen had ended all of that. Stripped Ireth's name from the base of her neck so she could serve a new monster.
But Ireth had never been a monster. Not to her. Not that it mattered, anymore.
The thought of him sent a hard pang of loss through her chest. Without Ireth, her only options occupied this room with her: two men who could not be trusted.
Still, Talbur was family. She had family, and it was sitting right in front of her, separated only by an old wooden desk. That meant something, didn't it?
Talbur nodded. "Yes. That grafter was very interested in having me return you, should you come knocking on my door. Paid a remarkable sum, with a bonus after I delivered you. Of course you never came. But Engel here did."
Behind her, Rone took a heavy step into the room. "Don't act innocent, you piece of sh—"
"My, my." Talbur took another drag on his cigar, this time letting the smoke blow out his nostrils. Sandis watched it dissipate, unsure where else to look. "Such language in front of a lady. I speak only the truth, Mr. Verlad. And might I offer you similar advice? Don't act innocent. See here." He gestured toward Sandis with the lit end of the cigar. "You're hurting her again."
Sandis stiffened and forced her face to slacken. What had her expression been? She blinked, ensuring her eyes stayed dry. She would not look at Rone. She would not look at him.
Her chest hurt, like her body was too weak to hold up the leaden ball of her heart.
"My dear woman." Talbur rotated his chair and focused solely on her, his cigar seemingly forgotten. "I looked into you. The daughter of my nephew, Hammett. I knew the lad when he was a boy more than as an adult. Never met the lass he married. Never met you.
"But how you do pique my curiosity." He smiled, and despite everything she knew about him, that single gesture puffed oxygen on the tiny ember of hope burning in her gut. The one that was nearly extinguished under a pile of dark ash. "Everyone wants you. And I must wonder, what if we had known each other earlier? What if I had met you as a great-uncle meets his great-niece, and not as a broker meets a pawn in someone else's game? I am terribly sorry. You've obviously been through quite the ordeal."
Sandis remembered the blood dried into her clothes. Acid climbed up her throat, and she pressed her tongue to the roof of her mouth to keep it at bay. This was Galt's blood. He had been an enemy, to be sure, but she would forever be haunted by the memory of Kazen slaughtering him in front of her. Of his blood seeping between her toes. Kazen had killed his own friend and follower in an effort to draw forth Kolosos. There was ox blood on the clothes, too. Maybe even Kazen's.
Talbur snuffed his cigar in the ashtray, despite it being barely spent, and gestured to the chair on the other side of the desk. "Sit, my dear. I'd like to get to know you. I'll send my secretary to get you something to eat and something to wear. And a pitcher. You're quite the mess."
Sandis swallowed before inching toward the chair.
Rone stormed forward until his darkness filled her periphery, forcing Sandis to turn away or break the promise she'd made herself. You will not look at him. "You bastard. If you think you can win her over with pretty words and ignore everything that—"
"Mr. Verlad." Talbur's voice was so strong, so low, so final. He looked Rone in the eyes. "I do not believe I invited you to stay."
Rone's fury flashed hot as a bellows. "You think you can make me leave?"
"Please, Rone." Sandis's harsh whisper sounded like fingernails sliding across splintered wood. She stared at the corner of Talbur's desk, unwilling to turn her head toward either of them. "Please, just go."
"Sandis." His voice was strained as he moved toward her. She retreated from him, and he stopped. "I had to. He gave me emigration papers. My mother is safe in Godobia now."
Sandis took a deep breath, though it shuddered through her throat. A cool flare of relief pulsed in her gut. At least he'd betrayed her for something important, something far more precious than the trivial sum Kazen had claimed he'd accepted. Documents like that were nearly impossible to come by—she remembered her father filing for them once. Two years of waiting, only to get a denial.
One set of emigration papers. One thousand kol. The price for her life. "I'm glad."
"Please." His shadow moved nearer. "I came back for you."
Sandis's nails dug into her palms as tears—damn these tears—blurred her vision. He'd come back eventually, yes, and before it was too late. He'd helped her escape the prison he'd willingly cast her into.
But he hadn't come back when she'd screamed his name in that alleyway. He hadn't come back when she'd begged him to change his mind. Hadn't rescued her as grafters and mobsmen alike descended upon her. As Kazen pushed his hand into her hair and took away every shred of freedom she'd fought so hard to gain.
Rone had sold her, and therefore had sold Ireth, too—her one and only reliable companion.
"Please go." She had to whisper so he wouldn't hear the tears in her voice. Tears that joined the countless number she'd already cried for him.
Rone didn't reply. Didn't move.
Talbur cleared his throat. "You heard her. I do have the means to forcibly remove you, my boy. But my dear niece has had a long day. It would be better if you didn't make her suffer more."
The floorboards creaked as Rone's weight shifted. Sandis could imagine him glaring at her great-uncle, fire in his eyes.
Then he strode out of the room, slamming the door behind him.
Chapter 1
Sandis stood in her bedroom, which was half the size of the entire flat she'd grown up in. The bed was too wide and too high, the walls too white, the curtains too gauzy. The carpeting, also pale, was thick and long and gave under her feet like newly fallen snow. Something about the colors reminded her of Kazen's lair, but she wouldn't let herself dwell on the similarities. If she started thinking of that other life, she'd think of the vessels she'd left behind. Of sweet Alys, bleeding on the floor from a gunshot wound to her arm . . . The others hadn't been wounded in her escape, but she worried about them, nonetheless. Kaili, quiet and nurturing. Rist, temperamental but caring. She even thought of Dar, though he'd always been so aloof and self-possessed.
Even after a few weeks, Talbur's home in District Three felt foreign. Wrong. Like it shouldn't exist in the world Sandis knew. In this room, she was apart from time and place. She was someone else.
That someone else looked in the mirror above her vanity and picked up the polished wood comb, one that mimicked the design of the ancient Noscon people who'd once inhabited the land on which Dresberg now nested. It was a forgery, of course—such a thing couldn't have survived through so many years. She pulled it carefully through her hair, which the maid had trimmed for her the day after she met Talbur. It still hung above her shoulders, straight and clean cropped, but now it was just a little longer in the front than in the back. Apparently, it was more fashionable than the cut Kazen had given her. The cut made to expose the golden script burned down her spine.
She parted her hair down the middle. Talbur wanted it on the side, but the strands just wouldn't stay that way without a mess of pins. Sandis couldn't fit them into her hair the way the maid, Amila, did, but she didn't want to bother the woman with something so unnecessary. So she fixed it herself, pinning the locks framing her face back behind her ears.
A hot, clawed hand grabbed her shoulder, its touch charring her skin—
Sandis jumped and whirled around, the comb flying from her fingers. Her heart thudded hard against her ribs. Gooseflesh pocked her arms.
Alone. She was alone. Imagining things again.
Sucking in breaths so deep they hurt, Sandis hugged herself and slowly, carefully, turned back to the mirror. The woman looking back was wide eyed and pale. Lifting a hand, Sandis touched her shoulder. Pulled up her sleeve. The skin was unblemished, but she could feel the burns there. The touch of each hard, hot claw—
Kolosos.
She squeezed her eyes shut. Not Kolosos. She wasn't bound to him. The markings Kazen had painted on her skin before the botched summoning had long since washed away.
Twenty days had passed since she ran from his lair. Twenty days, and still she felt as if those marks had sunk into her skin.
Swallowing against her dry throat, Sandis sidestepped to the basin on her vanity and splashed her face with cool water, then hung over the bowl, waiting for her pulse to slow while droplets ran off her nose and chin. When she had calmed, she used a scrub made of some sort of cream and finely crushed pits from stone fruit. Talbur had told her to do it every morning. She didn't want him to be angry with her, so she did. Just like she applied the rouge and the kohl. She thought they made her look strange, but today they might help mask the pallor still clinging to her features.
She was grateful for the clothes.
As she did every morning, Sandis walked down to the dining room. Sometimes Talbur was in there; sometimes he worked in his study or at his single-story office deeper in the city. Today, he was absent, but there was a plate of tarts sitting in the middle of the lace tablecloth. Sandis sat down, picked up one of the delicate pastries, and sank her teeth into it. She was also grateful for the food, despite the guilt she felt eating it. How many people in this city had never tasted a tart? How many were skipping breakfast today, while she wore expensive clothing and makeup and ate finely catered food?
What were the other vessels eating? Was Alys all right? Had there really been no way to grab her and take her with them? Would she have wanted to come?
The injury to her arm had looked pretty bad. Maybe even bad enough to impact her ability as a vessel.
Sandis stared at the imprint of her teeth in the broken tart crust. She had no idea if the others wanted to risk escape. With the exception of Heath, who'd been killed in one of Kazen's attempts to summon Kolosos, none of them had spoken about it. They hadn't dared.
Heath.
Celestial above, he must have been so scared. So scared and so alone, just as she had been when Kazen had attempted the same with her.
Her stomach tightened, but Sandis finished the tart, regardless—she wasn't one to waste food. She considered eating another, if only to prolong breakfast, but ultimately stood from her chair and wandered the house, passing Amila once as she did so. So much space for so few people. Amila didn't even live here.
The house consisted of three stories, though only two were aboveground. The third was the basement, where Talbur kept his study.
Rone hated houses like this. Too short for roof jumping—
Stop it. But she didn't chide herself soon enough to avoid the hollow pang that radiated in her chest. Sucking air through her nose, Sandis filled her lungs to bursting, pushing away the unpleasant sensation. It worked, a little.
Wandering to a window, she peeked out to the street. The sunlight had a gray cast to it from all the pollution, even this far from the smoke ring. No one lurked in the bushes across the street. No one lingered in the windows. She was safe.
The strange feeling of being watched pressed into her hair. Sandis whirred around, heartbeat quickening. The kitchen and dining areas were empty. Nothing out of place. Yes, safe. She was awake. She had to be safe.
Needing distraction, Sandis sought to busy herself. She didn't have much to do during the day, a complaint she didn't dare voice. She was incredibly fortunate. She feared getting a job in case Kazen still searched for her, but Talbur wouldn't have allowed it, anyway. "You work for me now," he'd said after first bringing her here. "Only a few hours a week, and you'll have all of this. Not bad, is it?"
It was only a few hours a week. But what started as simple filing had already shifted to delivering packages at night to darkly clad messengers who reminded her all too much of grafters. To walking into a bar with her bloodstained vessel shirt on under her jacket—Talbur had kept it—and revealing the Noscon letters of her script to a client who owed his dues. That one had happened just a few days ago. Sandis hadn't spoken to the man. She'd barely looked at him. Just lowered her jacket and turned her back long enough to let him know she was a threat. A weapon. Talbur's weapon.
He takes care of you, she reminded herself as she climbed back up the stairs. He's family.
She thought again of the other vessels. Would Kazen try to summon Kolosos again, into one of them? But Heath had died under the monster's brute strength. Kazen wouldn't waste the others. They weren't like her.
A low, otherworldly growl sounded in her ears. Pausing at the top of the stairs, Sandis shook her head, listening to the rhythm of her own too-quick breathing. They're fine, they're fine, they're fine. You're fine.
She stopped at the nookish library and picked a book she hadn't yet perused. She'd never had access to books like she did here. She was a slow reader, having had so little practice, but she could read, so she took the book back to her out-of-place bedroom and sat on the floor with it.
She picked her way through the words until the bell rang for lunch.
We hope you are enjoying the book so far. To continue reading...
Myths and Mortals
Charlie N Holmberg
Copyright © 2023 All Rights Reserved